Wood Ear mushrooms are a type of edible mushroom. It has a delightfully gelatinous and crunchy texture. They are used extensively in Chinese cuisine and are known for their medicinal properties.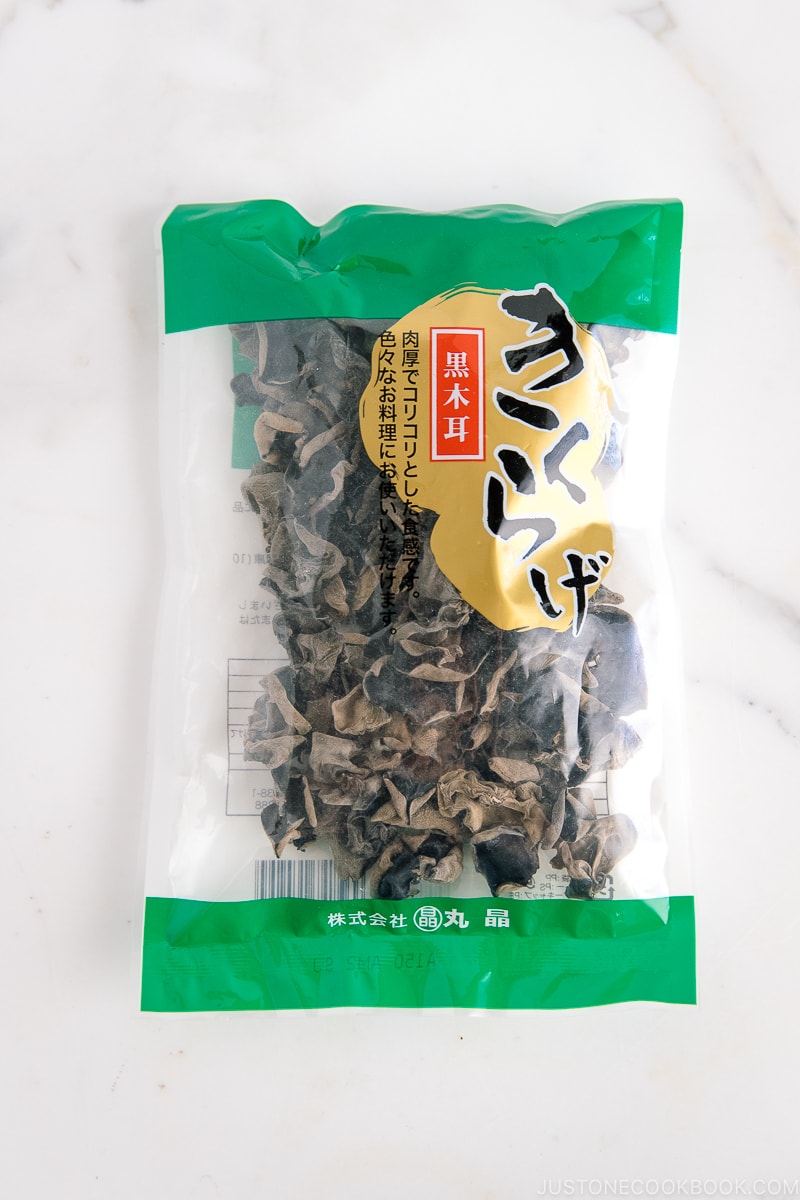 Dried wood ear mushrooms (きくらげ) are a type of black fungus that have the appearance of black trumpet mushrooms. Native to China, the fungus is called cloud ear fungus, wood fungus, black mushrooms, tree ear fungus, jelly ear, and kikurage.
What Is Dried Wood Ear Mushroom
Wood ear mushrooms (Auricularia auricula-judae) take their name from the fact that they grow on the sides of decaying trees. The broad, flat shape of the mushroom makes the tree look like it has ears.
They are used in Asian cooking, especially in Chinese cooking. You have probably tasted wood ear mushrooms in Chinese hot and sour soup, stir-fries, and salads.
What Do They Taste
Tasteless, they are crunchy and gelatinous and have a delicate forest aroma. The mushrooms will take on flavors from other ingredients when cooked and add texture to the dish.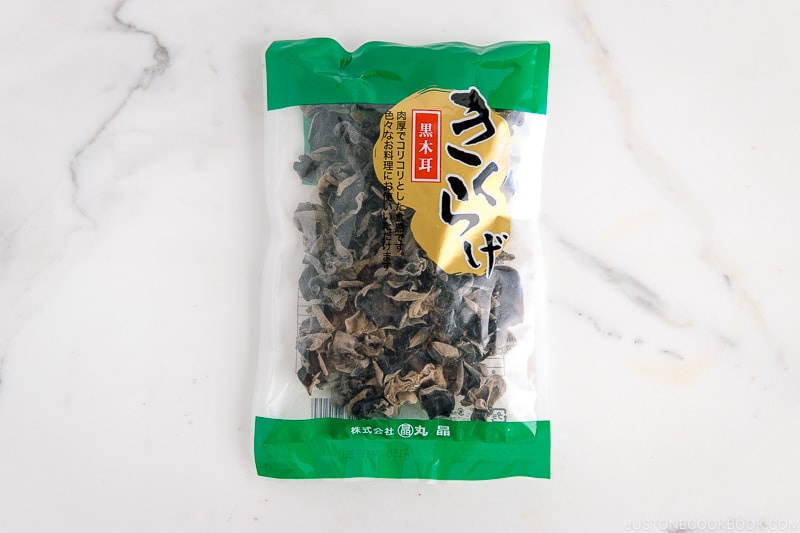 How To Use
Dried mushrooms are hard, brittle, and inedible. You need to reconstitute in cold water for 15-30 minutes. Note that the wild mushrooms can expand 3-4 times in size.
When reconstituted, they turn into a large wavy black mushroom. Clean them well, and trim off the stems with kitchen scissors. Slice the mushrooms into matchsticks. The soaking liquid does not add flavor to a finished dish, so discard. Add the rehydrated mushrooms toward the end of your cooking to retain their chewy texture.
If using raw wood ear mushrooms, clean well and add directly into your cooking.
The Japanese use the mushrooms in many Chuka Ryori recipes, such as noodle soups and stir-fries.
Where To Buy
You can find wood ear mushrooms at Japanese and Asian markets, either in fresh or dried form.
How To Store
Keep the dried mushrooms in a cool place with low humidity. Store reconstituted mushrooms in a container or bowl with clean water.
Health Benefits
Like many types of mushrooms, they are low in calories and high in protein, dietary fiber, vitamin D, potassium, and antioxidants. It can improve iron deficiency, reduce inflammation, lower cholesterol levels, and regulate gut health. In traditional Chinese medicine, it is believed to have immune-enhancing and antimicrobial properties.
---
Wish to learn more about Japanese cooking? Sign up for our free newsletter to receive cooking tips & recipe updates! And stay in touch with me on Facebook, Pinterest, YouTube, and Instagram.