With a crispy pork cutlet and runny egg simmered in a savory broth and served on a bed of hot steamed rice, this Baked Katsudon (Pork Cutlet Rice Bowl) is pure comfort. Follow my tips for baked tonkatsu that is juicy and extra crunchy—and just as good as the deep-fried version.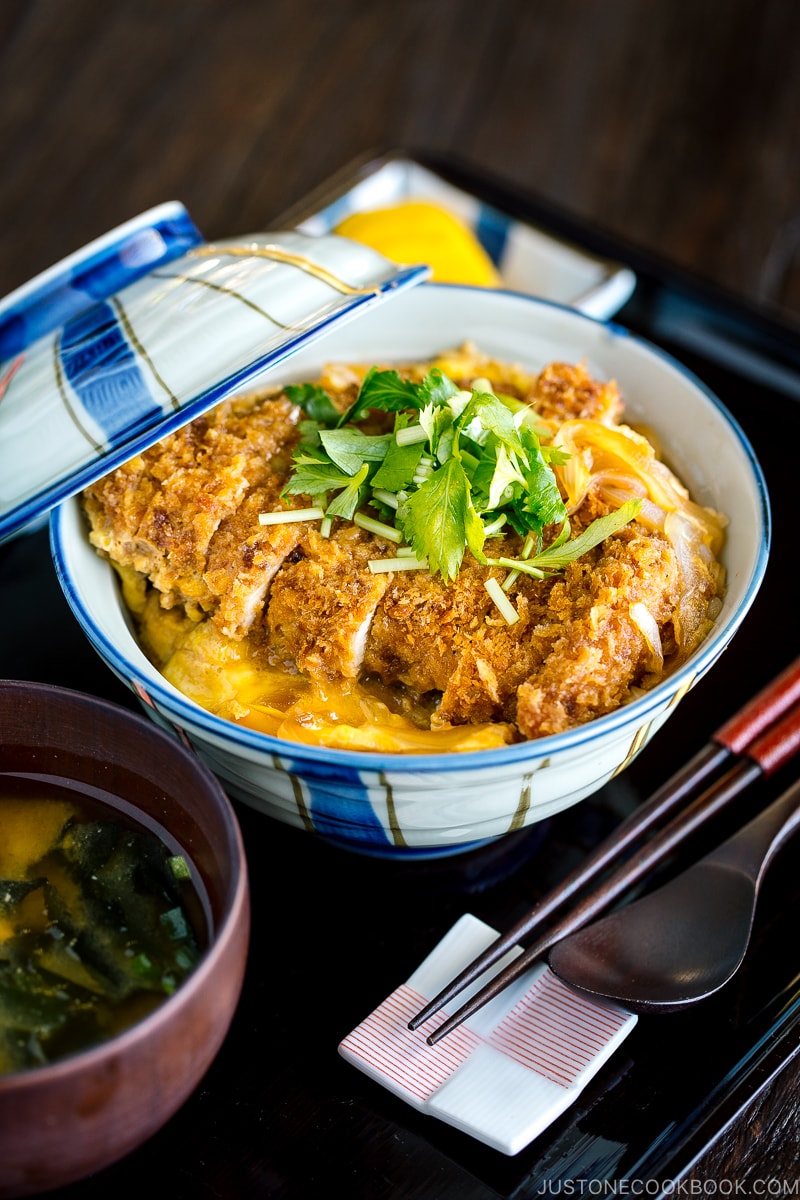 Are you a big fan of Japanese deep-fried pork cutlet Tonkatsu? Then don't miss out on this simple and delicious donburi –Katsudon (カツ丼). The true soul food of Japan, Katsudon is said to have the ability to warm the coldest of hearts. Case in point: Irresistibly juicy cutlet, creamy eggs, and steamed rice soaked in a savory sauce, Katsuson is nothing but pure comfort.
The cutlets typically get their crunchy texture from deep frying, but today we're going to take the mess-free route and make Baked Katsudon (揚げないカツ丼). Follow my simple tips, you'll be able to achieve the same golden katsu for your rice bowl. I promise the baked version is just as good as deep-fried one.
3 Secrets to Make Delicious Baked Katsudon
1. Pre-Toast The Panko Breadcrumbs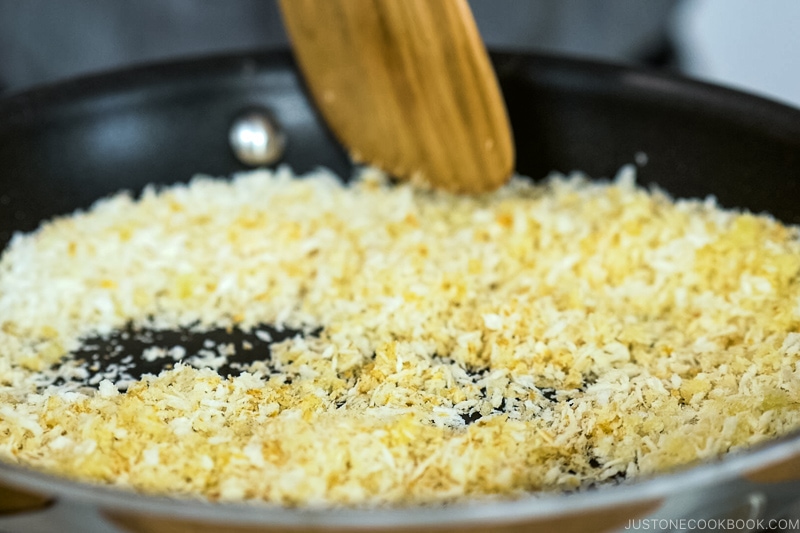 Before breading the pork cutlets, pre-toast the panko in a frying pan until nicely brown. Since we're not deep frying the cutlets, this step is the golden trick in achieving a beautiful crust and crunchy texture for the baked tonkatsu.
I use the same technique for my Baked Tonkatsu or Baked Chicken Katsu recipes.
2. Make One Serving At a Time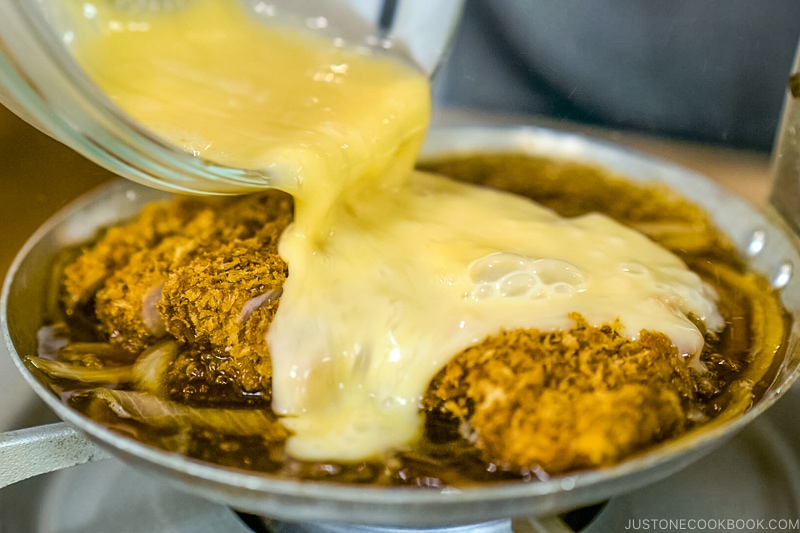 When making Donburi dishes like Katsudon and Oyakodon, we make one serving at a time using a special Oyakodon Pan (親子丼鍋). This way, you can keep the balance of ingredients and distribute them evenly. It also makes it easier to transfer the cooked food over to the rice as the size of the cooking pan is similar to a donburi bowl.
In this recipe/ video, I used my mom's Oyakodon pan that I found in her kitchen last summer. I brought it home with me and I'm happy that I could use it in this recipe.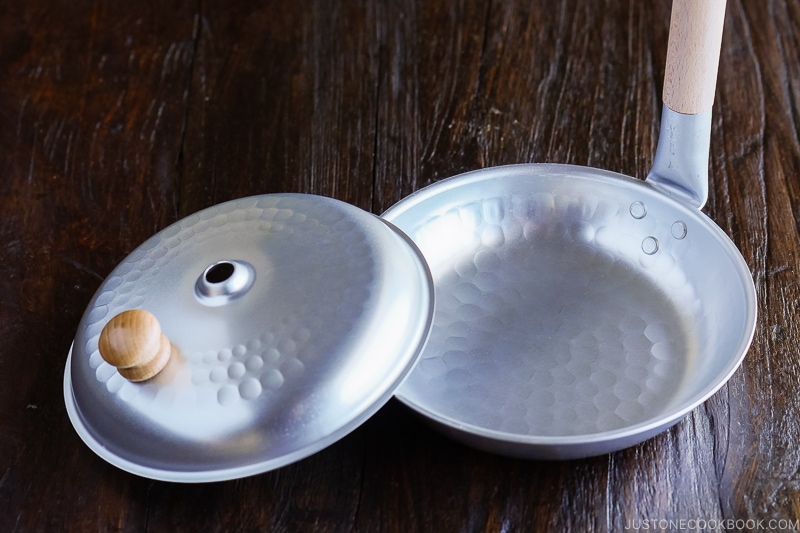 However, my mom's pan is smaller and shallower than what we can get these days. So I got a brand new Oyakodon pan with a lid (picture above). Alternatively, you can use a 5-6 inch pan instead.
3. Use Good Dashi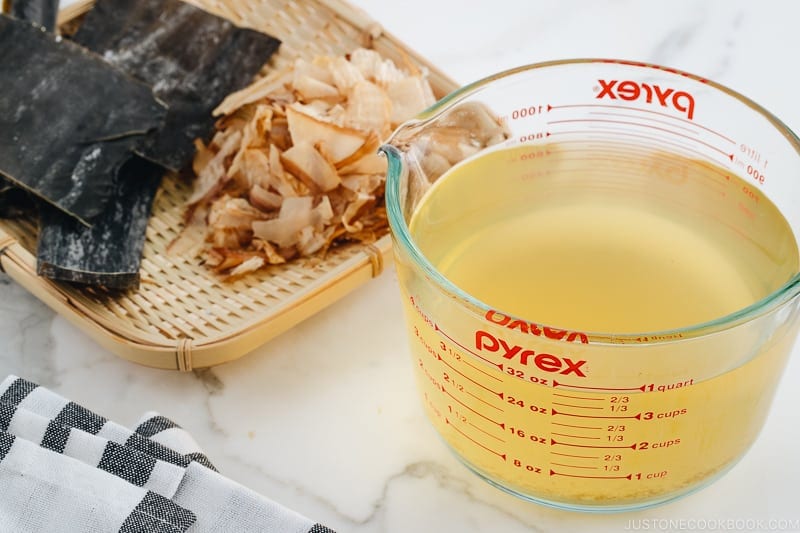 When you make Katsudon sauce, it's important to use good dashi. I highly recommend making your own dashi, but if you're too busy, you can use a dashi packet. It still tastes better than dashi made with dashi powder. For vegan/vegetarian, use Vegan Dashi.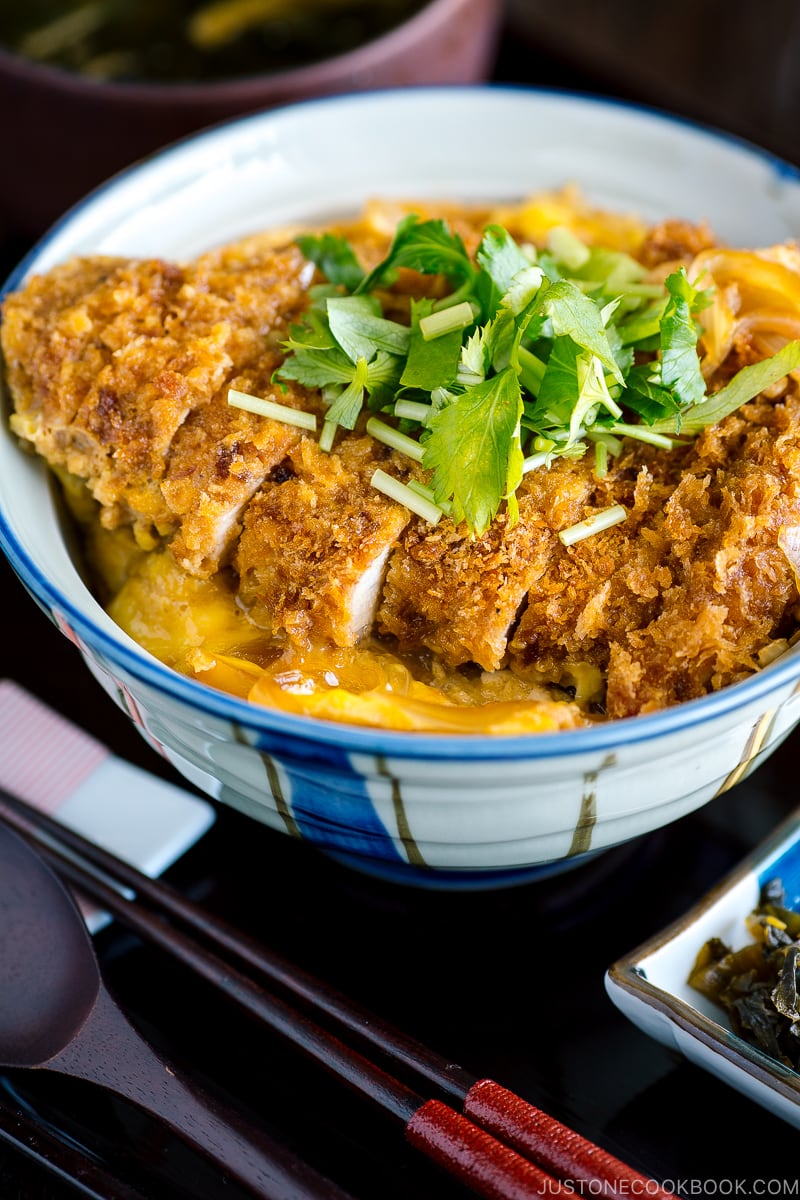 Donburi – The Ultimate Comfort Food
If rice bowl is your type of dinner, you will enjoy this Baked Katsudon as much as I do. The contrast of juicy panko-crusted pork, sautéed onion, soft eggs, fluffy steamed rice, and a flavorful sauce, all come together to deliver a bowl of deliciousness.
For more mouthwatering Japanese fried foods in baked versions, try out my Baked Croquettes and Baked Chicken Katsu recipes!
More Delicious Donburi Rice Bowl Recipes You'll Love:
Wish to learn more about Japanese cooking? Sign up for our free newsletter to receive cooking tips & recipe updates! And stay in touch with me on Facebook, Pinterest, YouTube, and Instagram.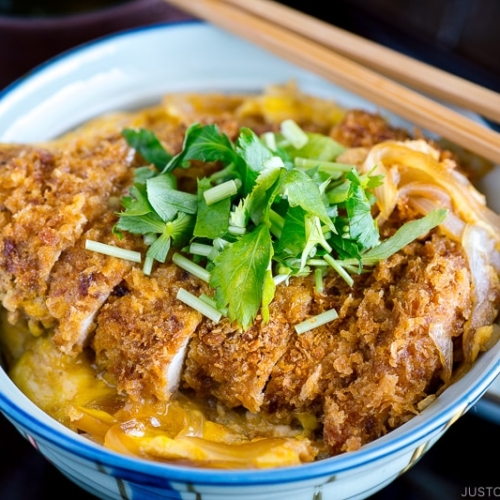 Baked Katsudon (Japanese Crispy Baked Cutlet Rice Bowl)
Warm your heart and soul with this irresistible Baked Katsudon. With a crispy pork cutlet and runny egg simmered in a savory broth and served on a bed of hot steamed rice, this Baked Cutlet Rice Bowl is pure comfort. Follow my tips for a baked tonkatsu that is juicy and extra crunchy–and just as good as the deep-fried version.
Video
Ingredients
Japanese Ingredient Substitution:
If you want substitutes for Japanese condiments and ingredients, click
here
.
Instructions
Before You Start…
For the steamed rice, please note that 1½ cups (300 g, 2 rice cooker cups) of uncooked Japanese short-grain rice yield 4⅓ cups (660 g) of cooked rice, enough for 2 donburi servings (3⅓ cups, 500 g). See how to cook short-grain rice with a rice cooker, pot over the stove, Instant Pot, or donabe.

Gather all the ingredients. Adjust the oven rack to the middle position and preheat the oven to 400ºF (200ºC). For a convection oven, reduce the cooking temperature by 25ºF (15ºC). Prepare a rimmed baking sheet with an oven-safe wire rack or line it with parchment paper. I prefer to use a wire rack as it allows hot air to circulate around the cutlets and prevents the panko underneath from getting crushed.
To Toast the Panko
Combine

1 cup panko (Japanese breadcrumbs)

and

1 Tbsp neutral oil

in a frying pan. Toast the panko over medium heat, stirring frequently, until golden brown. Transfer the toasted panko into a shallow dish and allow to cool.
To Prepare the Pork
Cut off the extra fat from

2 pieces boneless pork loin chops (½-inch thick)

. Make several slits on the connective tissue between the meat and remaining fat. Tip: Red meat and fat have different elasticities, and they will shrink and expand at different rates when they are cooked. Making a few slits will allow the tonkatsu to stay nice and flat and prevent the cutlets from curling up.

To tenderize the meat, pound both sides of the cutlets with a meat pounder; if you don't have one, then use the back of the knife. Mold the flattened meat back into the original shape with your hands.

Sprinkle the cutlets with

1 tsp Diamond Crystal kosher salt

and

freshly ground black pepper

.

Dredge the pork pieces in

1–2 Tbsp all-purpose flour (plain flour)

to coat completely. Pat off the excess flour.

Next, beat

1 large egg (50 g each w/o shell)

in a bowl. Then, dip the pork into the beaten egg and coat with the toasted panko. Press on the panko flakes to make sure they adhere to the pork.
To Bake
Place the pork cutlets on the wire rack or parchment paper on the prepared baking sheet. Bake at 400ºF (200ºC) until the pork is no longer pink inside, about 20 minutes.

Remove the tonkatsu from the oven and cut into 1-inch (2.5-cm) pieces (so you can eat them with chopsticks). Press the knife directly down into the cutlets, instead of sawing back and forth. This way, the panko crust will stay on the meat. Set aside for now.
To Prepare the Katsudon Ingredients
Cut

½ onion

into thin slices and divide into

2

portions. Chop

4 sprigs mitsuba (Japanese parsley)

(optional) into small pieces.

Combine the sauce ingredients in a liquid measuring cup or bowl:

1 cup dashi (Japanese soup stock)

,

2 Tbsp sake

,

2 Tbsp mirin

,

2 Tbsp soy sauce

, and

2 tsp sugar

. This amount could be more than you need, depending on the frying pan size you use. You can store the extra in a mason jar in the refrigerator for up to a week. In a separate small bowl, beat one of the

2 large eggs (50 g each w/o shell)

.
Why Use an Oyakodon Pan?
In the following step-by-step instructions, I will show you how to make Katsudon using a traditional single-serving oyakodon pan. The oyakodon pan is similar in size to a donburi bowl; therefore, the food cooks in the right size and shape to slide easily onto the steamed rice in the bowl. You can make two servings at once in one large frying pan and carefully divide it, but each portion won't be a round shape that fits perfectly into the donburi bowl.
To Make the Katsudon
For each serving, put 1 portion of the onion slices into the pan and pour ½–¾ cup (120–180 ml) of the sauce on top to cover them. Adjust the amount of sauce based on your frying pan size. Bring the sauce and onions to a boil. Lower the heat to medium and cook the onion slices until translucent, about 4–5 minutes.

Carefully place one baked and sliced tonkatsu cutlet on top of the onions in the sauce and turn the heat to medium high. Then, slowly drizzle the beaten egg, evenly distributing it over the tonkatsu and broth. Cover the pan with the lid.

When the egg is half cooked, about 30 seconds, turn off the heat. The egg should be almost set but still runny.
To Serve
From the

2 servings cooked Japanese short-grain rice

, add 1 serving of hot steamed rice into a donburi bowl. Slide the cooked tonkatsu and egg mixture, including the sauce, on top. Continue cooking and plating the second serving. Sprinkle the chopped mitsuba on top, and serve with

shichimi togarashi (Japanese seven spice)

on the side.
To Store
You can keep the leftovers in an airtight container and store them in the refrigerator for up to 3–4 days. You also can freeze the baked and cooled cutlets separately in an airtight container or freezer bag for up to a month. To reheat, bake it at 375ºF (190ºC) on a wire rack until the inside is warm.
Nutrition
Nutrition Facts
Baked Katsudon (Japanese Crispy Baked Cutlet Rice Bowl)
Amount per Serving
% Daily Value*
* Percent Daily Values are based on a 2000 calorie diet.
©JustOneCookbook.com Content and photographs are copyright protected. Sharing of this recipe is both encouraged and appreciated. Copying and/or pasting full recipes to any website or social media is strictly prohibited. Please view my photo use policy
here
.
Editor's Note: The post was originally published on July 26, 2017. It's been edited and republished in May 2020.