Katsudon is a Japanese pork cutlet rice bowl made with tonkatsu, eggs, and sautéed onions simmered in a sweet and savory sauce. It's a one-bowl wonder and true comfort food!
Donburi (or rice bowls) are one of the giants of Japanese cuisine. They are the mainstay of teishoku-ya (Japanese diners) and staples in many family dinners. They are also the weeknight heroes that I count on for meal rotation.
Today's recipe is one of the most popular and classic types of donburi – Katsudon (かつ丼). You have soft and sticky Japanese rice topped with pork cutlet nestled in pillowy eggs and onions simmered in a sweet-savory sauce. It's the best kind of comfort food everyone loves! Now let's make this at home.
What is Katsudon
The word "katsudon" is a portmanteau, or a blending of two separate Japanese words. "Katsu" comes from "tonkatsu," or breaded, fried cutlet, and "don (丼)" comes from "donburi" (丼ぶり), which translates to "large bowl."
This dish is primarily made up of layers of steamed rice, breaded pork cutlet, and an umami-rich sauce. There are many versions of katsudon based on the region, but everyone seems to love the addition of simmered onions and egg poured on top.
How this winning combination of pork cutlet, rice, and sauce came to be is up for debate? I have read a few fascinating theories. The dish has even become a kind of good luck charm for Japanese students! More on this below.
Brief History of Katsudon
Deep-fried, breaded cutlet (tonkatsu) goes all the way back to Japan's Meiji period (1868-1912). However, one theory on the birth of katsudon is said to have taken place in 1921, when a high school student at Waseda University was looking for an alternative to katsu curry at the café he frequented.
The student, Keiniro Nakanishi, is said to have gone into the kitchen and layered the fried pork cutlet over a bowl of rice and then simmered in tonkatsu sauce together before pouring it over the tonkatsu. He convinced the restaurant owner to sell the dish, and it wasn't long before it became a local favorite among students.
Another interesting association katsudon has is with police interrogations, thanks to one fictional story. In post-War Japan, katsudon was a rare treat among the working class, and a popular detective story written around that time featured the dish when a detective ordered it for a suspect during interrogation because he knew the food in jail would not be nearly as delicious. The suspect was moved by his kindness and confessed to the crime. I guess even in fiction, katsudon is quite powerful!
How to Make Katsudon
Ingredients You'll Need
Ingredients You'll Need
Overview: Quick Steps
Make Tonkatsu (I have a very detailed recipe here) if you haven't made yet.
Cook the onion in the savory broth till tender.
Place Tonkatsu on top to let it absorb the flavors of the broth.
Add the beaten egg mixture and cook till just set.
Serve over steamed rice and enjoy!
Helpful Tips to Make Katsudon
Make sure to use a tight-fitting lid so the broth doesn't evaporate too fast!
The onion should be translucent and tender so they give sweet flavors to the dish.
Should Tonkatsu be crispy? No, the bottom of the tonkatsu is supposed to absorb all the delicious broth flavor, and the top of the tonkatsu should be coated with creamy egg!
Do not overcook the egg. Usually, it takes between 30-60 seconds for the egg to set. I make sure to buy fresh eggs for this kind of dish so we can enjoy its runny texture.
No Deep-Frying? Try My Baked Katsudon!
For those of you who still prefer a lighter version of tonkatsu and don't want to deep-fry in your kitchen, you can check out my Baked Katsudon recipe. It's wildly popular, and JOC fans simply love it!
Eat Katsudon for Luck!
Because "katsu" is also a Japanese word meaning "to win (勝つ)," katsudon is a dish that students and athletes eat on the day of, or the day before, big exams or games. So, the next time you have a test or competition where you need a good luck charm, consider this recipe!
Love Donburi? Check out these 12 popular rice bowl recipes!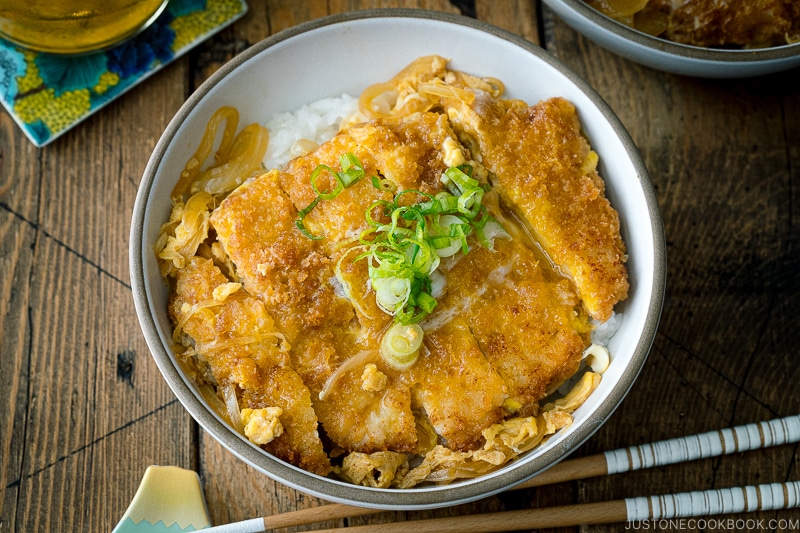 Wish to learn more about Japanese cooking? Sign up for our free newsletter to receive cooking tips & recipe updates! And stay in touch with me on Facebook, Pinterest, YouTube, and Instagram.
Katsudon
Katsudon is a Japanese pork cutlet rice bowl made with tonkatsu, eggs, and sautéed onions simmered in a sweet and savory sauce. It's a one-bowl wonder and true comfort food!
Video
Ingredients
For the Katsudon
½

onion

(

4

 oz, 

113

 g)

1

green onion/scallion

(for garnish)

3

large eggs (50 g each w/o shell)

2

tonkatsu (breaded and fried pork cutlet; make the regular deep-fried version or my baked version)

2

servings

cooked Japanese short-grain rice

(typically 1⅔ cups (250 g) per donburi serving)
Japanese Ingredient Substitution:
If you want substitutes for Japanese condiments and ingredients, click
here
.
Instructions
Before You Start: Gather all the ingredients. For the steamed rice, please note that 1½ cups (300 g, 2 rice cooker cups) of uncooked Japanese short-grain rice yield 4⅓ cups (660 g) of cooked rice, enough for 2 donburi servings (3⅓ cups, 500 g). See how to cook short-grain rice with a rice cooker, pot over the stove, Instant Pot, or donabe.
To Make the Dashi
In a small pot, add

1 cup water

and

1 dashi packet

. Start cooking over medium heat. Tip: While I used a dashi packet here, you can substitute it with standard Awase Dashi, dashi powder, or Vegan Dashi. If you're new to dashi, learn more about it by reading my ultimate dashi guide.

After it starts boiling, reduce the heat to medium-low heat and simmer for 2 minutes. Shake the bag a few times to get more flavors out. Discard the packet and dashi is ready to use.
To Prepare the Ingredients
Thinly slice

½ onion

and

1 green onion/scallion

. I highly recommend cutting the onion thinly to reduce the cooking time.

Crack

3 large eggs (50 g each w/o shell)

into a medium bowl. Using a pair of chopsticks, lift the egg whites to "cut" them 5–6 times into a few smaller clumps so the yolks and whites are marbled. This will prevent the egg whites from falling into the frying pan all at once. Do not whisk or beat the eggs together. Tip: Aim for high color contrast between the white and yellow parts of the eggs in your finished dish.

Cut

2 tonkatsu

into pieces 1 inch (2.5 cm) thick.
To Cook the Katsudon
In a large frying pan that can fit

2 tonkatsu

pieces, place the onion slices in a single layer. Then, add the dashi to the pan.

Cover the frying pan with a tight-fitting lid (so the broth does not evaporate too quickly). Then, turn on the heat to medium and start cooking until the onion is tender and almost translucent.

Then, add

2 tsp sugar

and

2 Tbsp mirin

.

Add

2 Tbsp soy sauce

and mix together.

Place the tonkatsu over the onion and cover with the lid to reheat the tonkatsu, about 2 minutes. The bottom of the tonkatsu will absorb the broth.

Once the tonkatsu is reheated and the broth is simmering, evenly distribute the egg over the tonkatsu and onion in a circular pattern, avoiding the edges of the pan where the egg can easily overcook. (If you prefer to cook your green onion slices, add them over the egg mixture now.) Cover with the lid for 1 minute, or until the egg is just set.
To Serve
Divide

2 servings cooked Japanese short-grain rice

into large donburi bowls. Place the tonkatsu, onion, and egg mixture on top. Drizzle with extra broth, if you'd like. Garnish with sliced green onion and serve immediately.
To Store
You can keep the leftovers in an airtight container and store them in the refrigerator for up to 3–4 days.
Nutrition
Nutrition Facts
Katsudon
Amount per Serving
% Daily Value*
* Percent Daily Values are based on a 2000 calorie diet.
©JustOneCookbook.com Content and photographs are copyright protected. Sharing of this recipe is both encouraged and appreciated. Copying and/or pasting full recipes to any website or social media is strictly prohibited. Please view my photo use policy
here
.