The Northeast US has some of the most renowned universities in the US. Join us on university tours as we stop by for quick visits.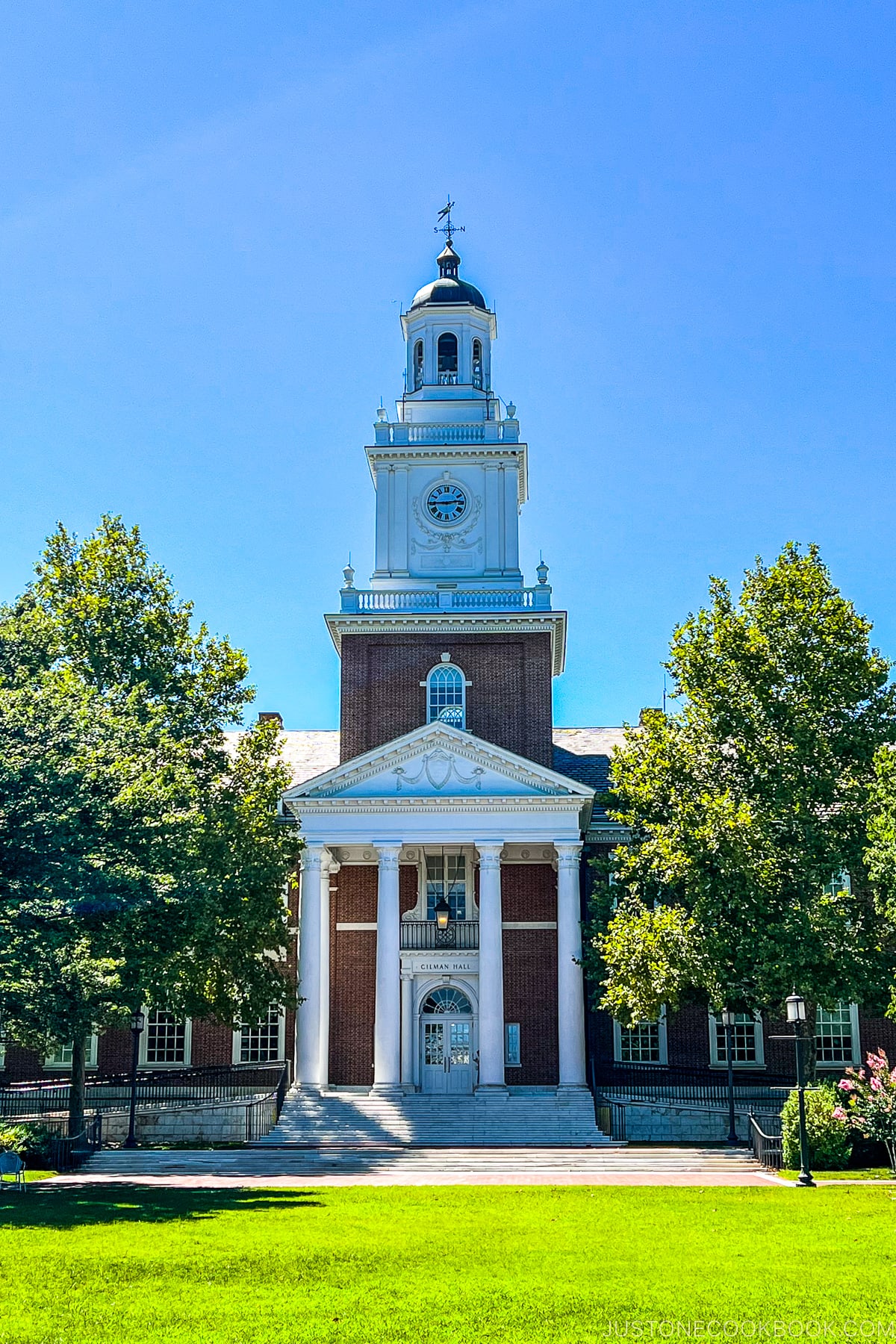 After visiting UCs earlier this year with our children, our family took a week to do university tours in the northeastern part of the US over the summer. It was an epic road trip spanning 7 nights in 7 cities and 11 schools.
The goal of the visits is to expose our children to a variety of university campuses outside of California. And although the schools are all renowned, each of them has its own unique offerings and the culture and learning environment can be vastly different. Since they'll be spending four years at the school, we want them to understand their options before they make up their mind on what type of school they would like to attend.
For each school, we'll provide our views of the surrounding neighborhood, the campus size, campus design and buildings, and what stood out to us. For details on each school and what they offer, please visit the school's website.
Since the schools we wanted to visit are spread out geographically, we flew into Boston and flew out of Washington DC. This way, we didn't have to drive all back to Boston when the school visits were complete.
Boston University
Our first stop is Boston University, founded in 1839. The BU campus borders Charles River on the north side and is near the historic Fenway Park. It is located just west of downtown Boston and situated in an urban metro area. BU has several campuses and the main campus is about 10 large city blocks running east/west but just 2 or 3 blocks north/south.
Commonwealth Ave, one of the larger streets in Boston runs through the campus so it doesn't have a traditional enclosed university campus. The mix of traditional and modern buildings blends into the Boston cityscape and the surrounding neighborhoods.
Situated in Boston, students would be able to access all the city's amenities easily. However, it does lack the traditional "college" feeling.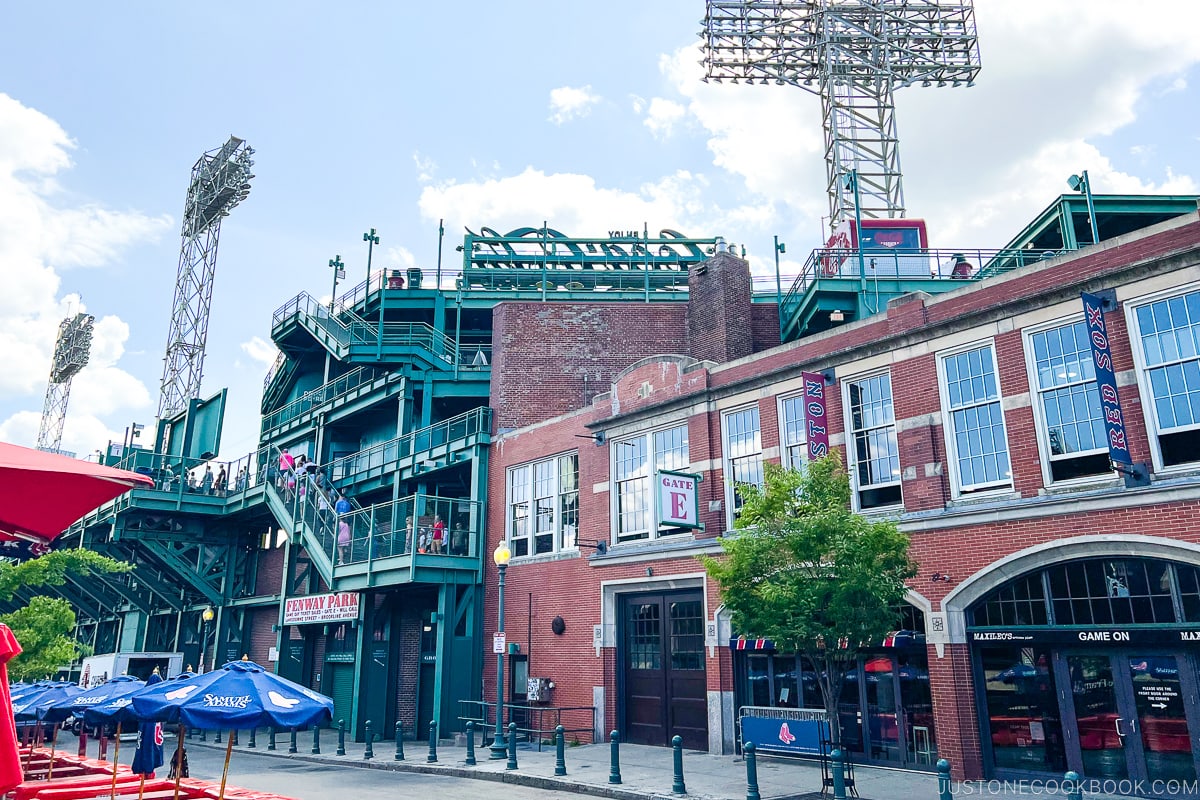 Tufts University
Not far from Boston is Tuft University in Medford, founded in 1852. Located a short 10 min drive north of downtown Boston. The school is situated in a developed suburban area surrounded by mostly residential housing.
The main campus is about 5 residential blocks by 7 blocks and is located in a slightly hilly area. Walking around the campus, we love how beautiful it is. There are plenty of greens so it feels spacious and the buildings are spread out. The designs of the buildings are mostly traditional with stone or brick exteriors but there are several newer and modern buildings sprinkled throughout the campus.
Since the campus is not too large, it's not difficult getting around the different buildings. Boston is also just a short drive or train ride away so it's very accessible to what large cities offer.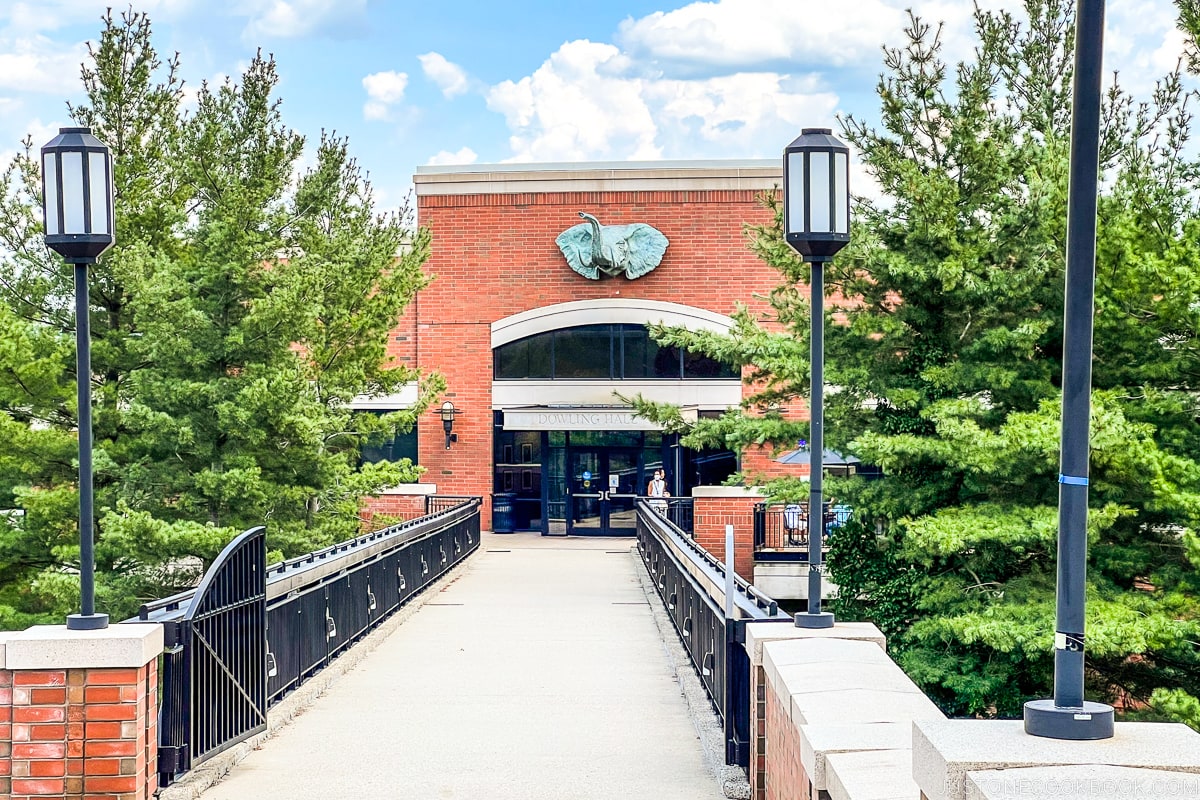 Brown University
After Boston, we headed down to Providence, Rhode Island. The drive took about 1½ hours. The first school we visited was Brown University, founded in 1764 and it is part of the Ivy League. Providence is the capital of Rhode Island but it is not a large city, with a population of about 190,000.
Brown University is located just up the hill from downtown Providence across the Providence River. It's a short 10 min walk or 2 min drive. Brown's main campus is not too large, with about 9 residential blocks north/south and 5 blocks east/west.
The campus is in a quiet residential area and there is a lot of open space all around the campus. The buildings are mostly traditional with red brick exteriors.
We loved how peaceful the campus is and the beautiful surroundings. It has a small-town feel while still having the conveniences of downtown nearby.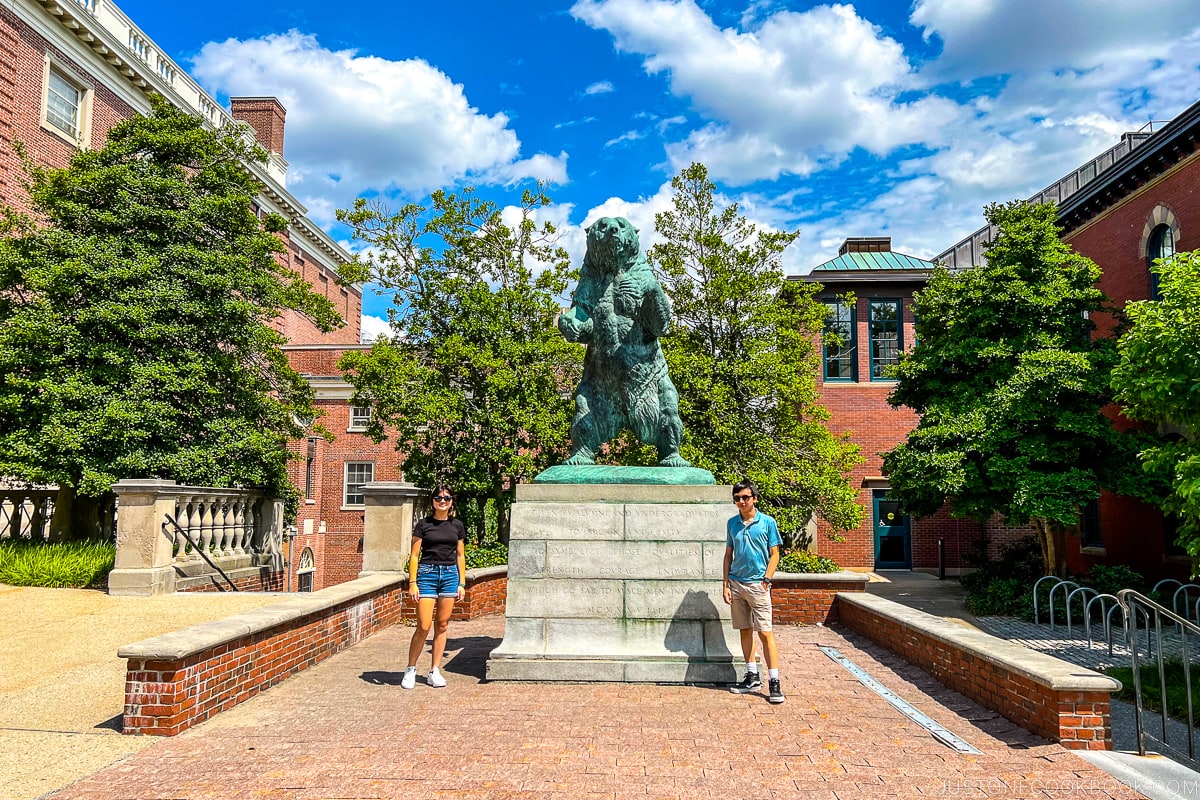 Rhode Island School of Design
After visiting Brown, we headed to Rhode Island School of Design or RISD. Founded in 1877, RISD is one of the top design schools in the US known for its art and design programs.
RISD's campus sits between Providence River and Brown University and borders downtown Providence. The campus is not large, with about 5 residential blocks total. The buildings are located on a hill so there's a bit of walking up and down.
Since it is right on the river and closer to downtown Providence, it has more of a city feel compared to Brown.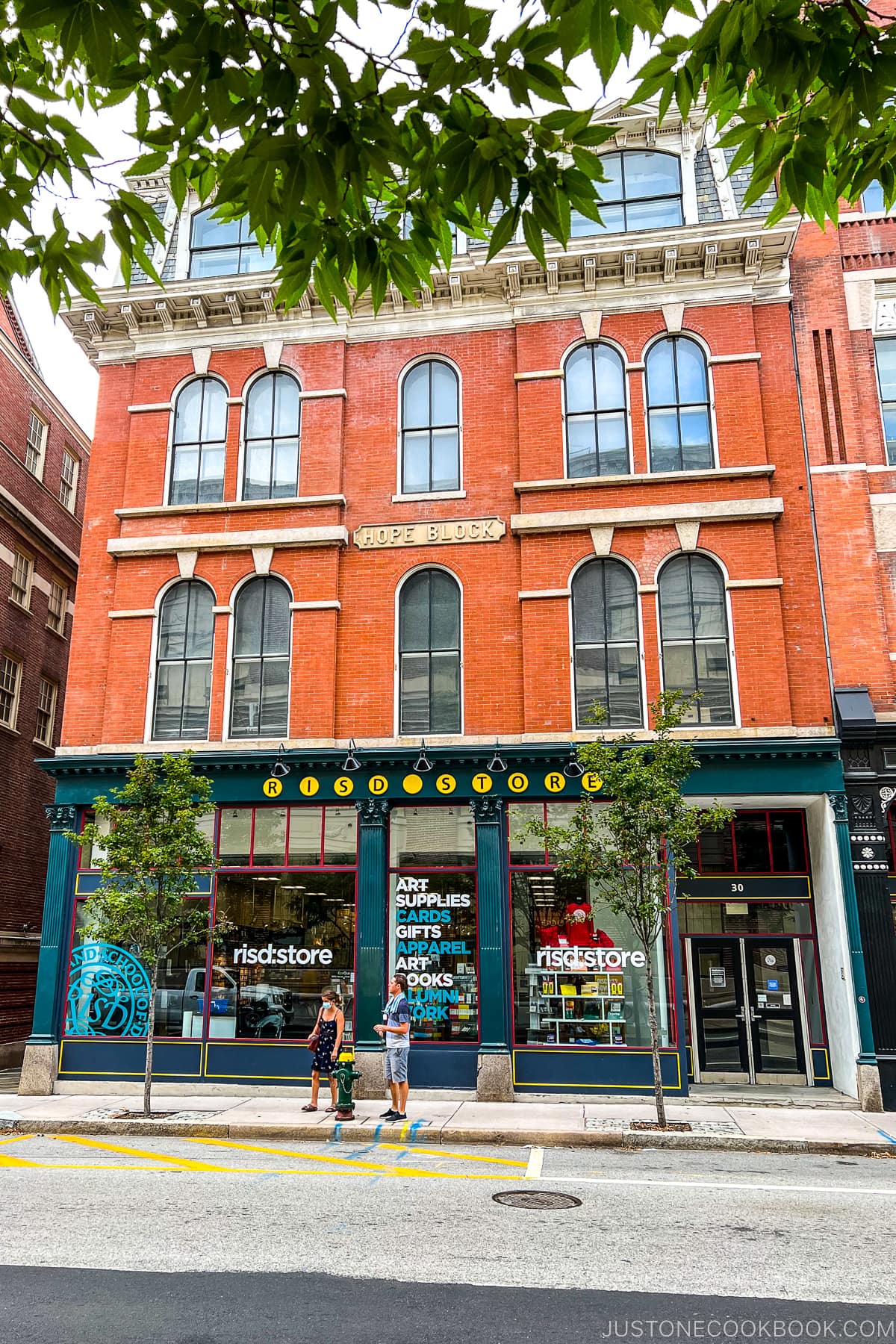 Besides walking around the RISD's campus, we also spent quite a bit of time in the RISD Museum of Art. The museum has one of the most prominent university art collections in the US with over 100,000 objects. It displays students' work as well as works by known artists.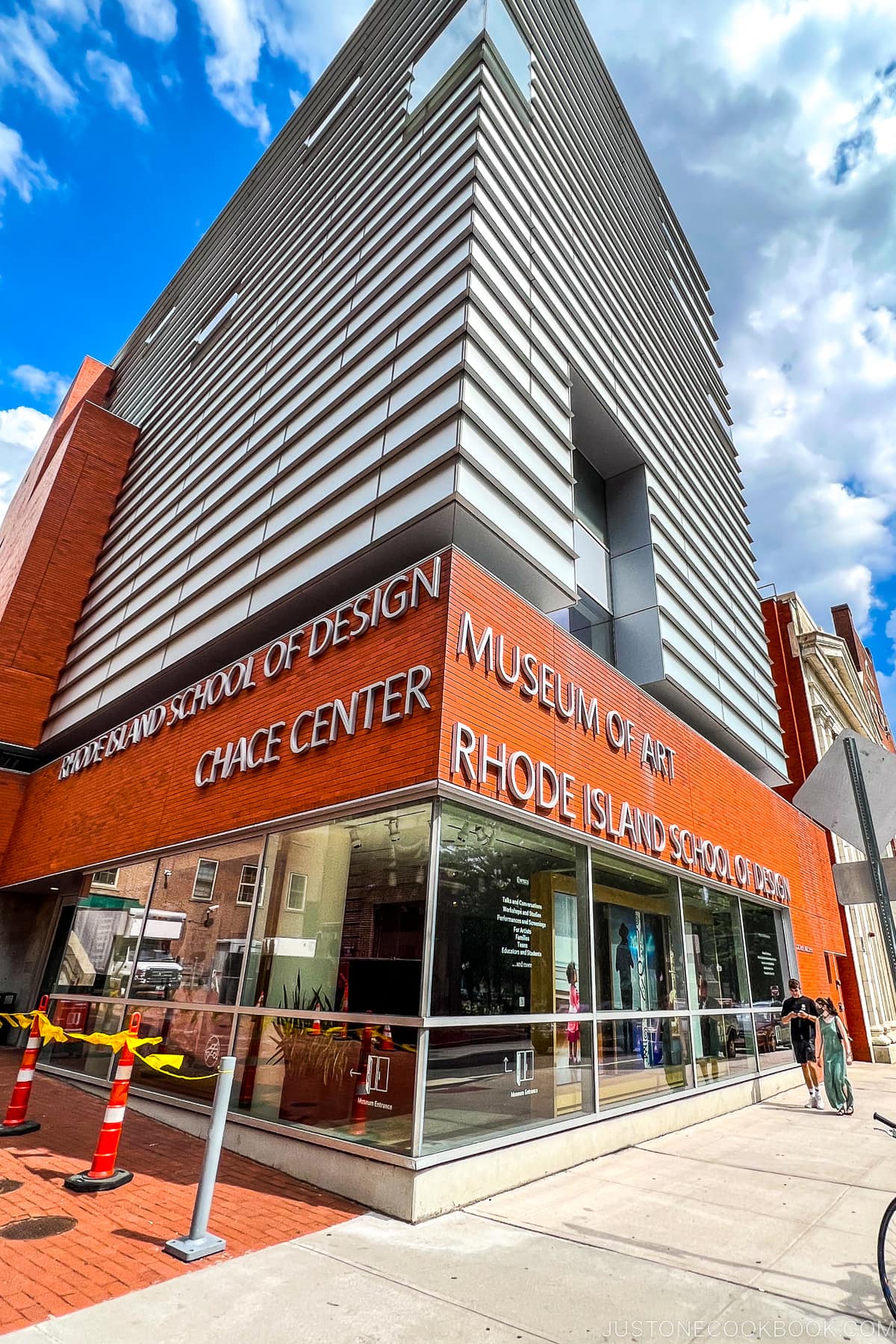 Yale University
Our next stop continuing south is Yale University in New Haven, CT. For those that are not familiar, New Haven is about a 2-hour drive northeast of New York City and located on Long Island Sound. Yale was founded in 1701 and it is part of the Ivy League.
The university makes up a good portion of downtown New Haven (population 134,000) and it is quite large at 1,000 acres. The buildings are spread out and the main campus is roughly 9 blocks by 4 blocks. We didn't get a chance to explore the surrounding neighborhood around Yale but we've been informed it's not the safest.
The campus building has mostly traditional brick or stone exteriors with some stunning gothic architecture. Yale had a very friendly visitor's center that told us which buildings we should visit and are allowed to enter.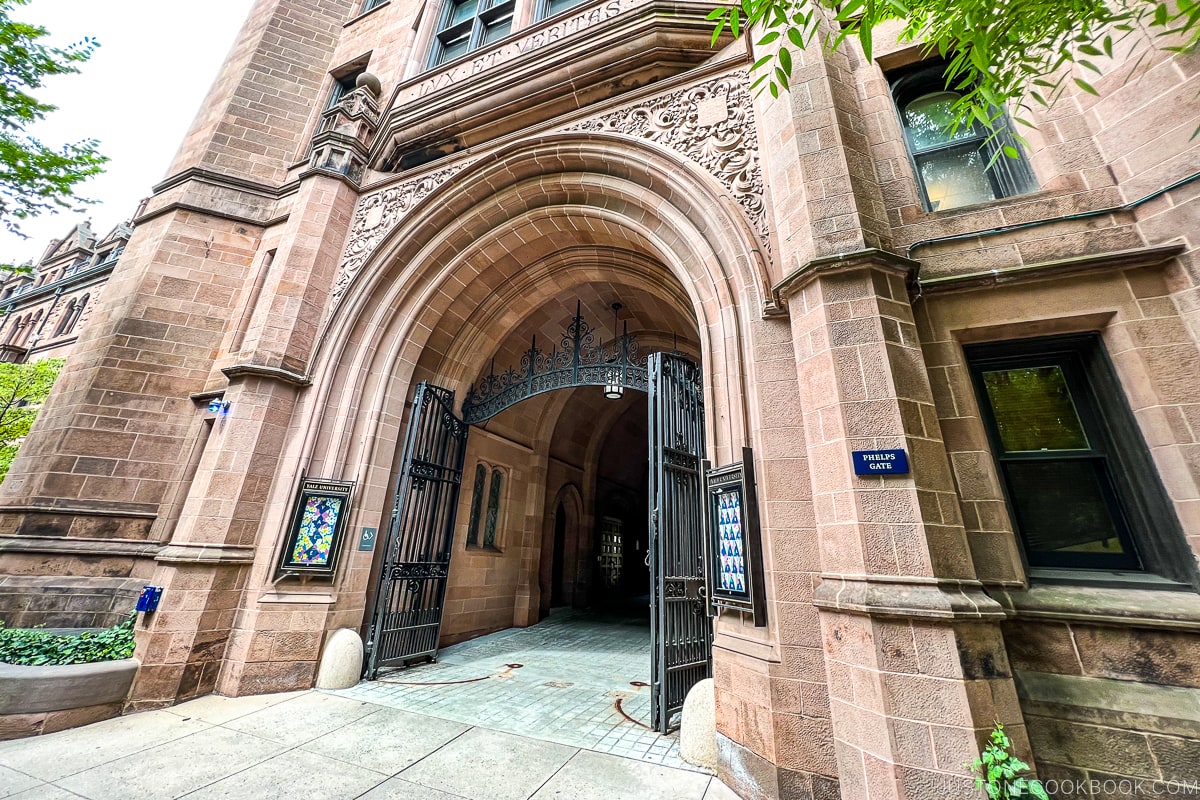 As we walked around, we made a stop at Yale University Art Gallery. With a similar expectation to a typical university museum, we were totally surprised at Yale's art collection. The museum is the oldest university art museum in the US. The number of art pieces (200,000) and the quality of the collection rivals most large city museums if not better. We ended up spending quite a bit of time in the art gallery but there was still a lot more to see.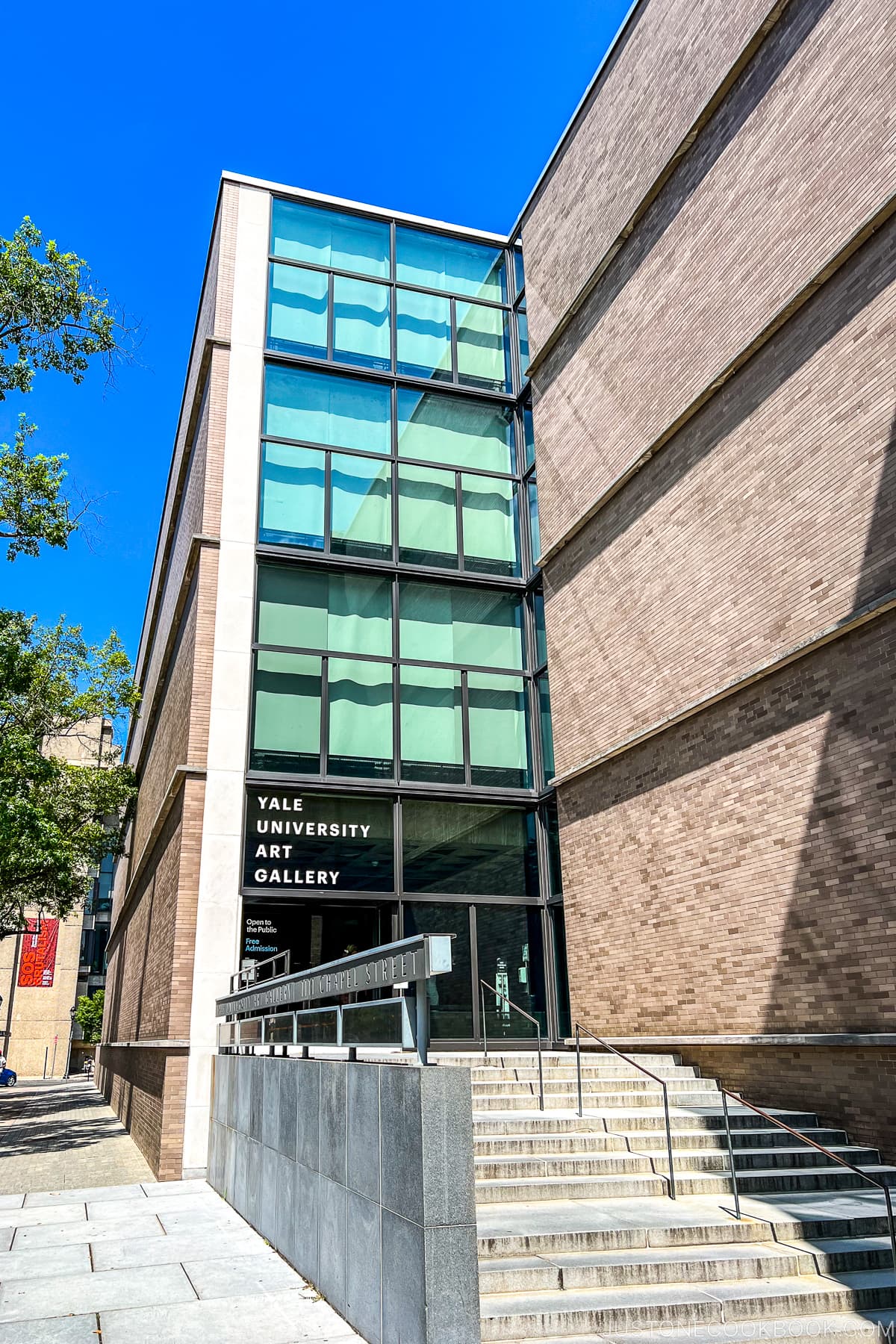 Columbia University
Our next stop is Columbia University in New York City, founded in 1754. It is also an Ivy League school. The Columbia campus is located near Harlem and upper Manhattan. Similar to Boston University, Columbia is located in a large metro area surrounded by busy streets. However, Columbia's main campus is bordered by a large fence so it feels enclosed.
The campus is relatively small, stretching a few large city blocks. There's a large open area in the center of campus with green lawns. The buildings are a mixture of modern and classic designs. Being in New York City, students have unparalleled access to a global city's offerings compared to the rest of the schools we visited.
After Columbia, we also drove by New York University on the opposite end of the city in lower Manhattan. However, we didn't walk around the NYU campus since it's similar to BU and doesn't have a traditional enclosed campus. The NYU campus surrounds Washington Square Park and is spread out among 8 small city blocks.
Princeton University
After New York, we drove one-hour southwest to Princeton University, located in Princeton, New Jersey. The university was founded in 1746 and it is an Ivy League school.
The Princeton campus is in a secluded suburban location and it is quite large. For comparison, Brown University's campus is 150 acres while Princeton's is 600 acres. For visitors, there's a convenient visitor's map that takes you to buildings the school recommends visiting. We didn't see much of the surrounding neighborhood as the school campus is so large and student activities seem to be primarily on school grounds.
The majority of the campus buildings are traditional stone and brick design and there is quite a bit of open space. If you plan to visit, plan at least 2 hrs to give yourself enough time to walk around.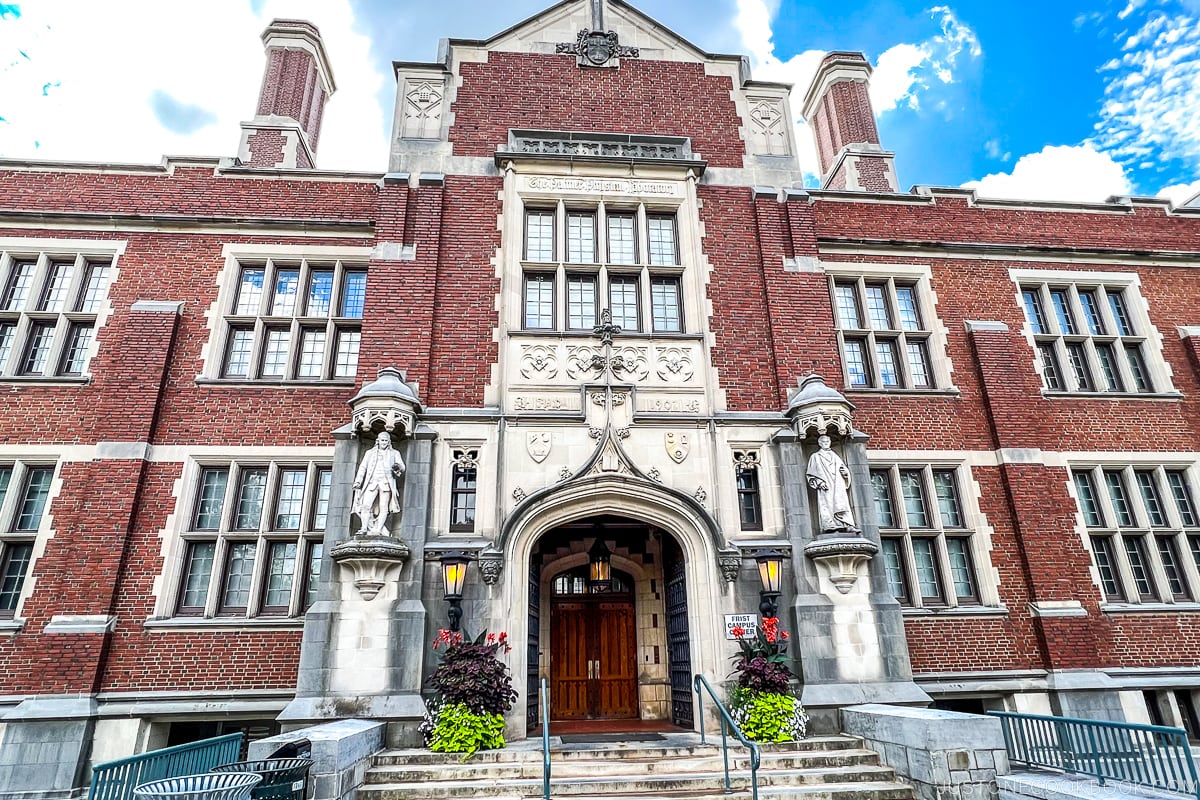 University of Pennsylvania
We continued our journey to Philadelphia and the University of Pennsylvania. It is about a 45 min drive from Princeton.
The University of Pennsylvania (UPenn) was established by Benjamin Franklin in 1740 and it is part of the Ivy League. The school is located in an urban area, right across the Schuylkill River from downtown Philadelphia.
The main campus is not large, 4 city blocks by 3 blocks with city streets running through the campus. The buildings are a mixture of traditional stone exteriors and newer designs. Even though the campus is located in an urban area, there are plenty of greens and an enclosed campus feel when walking around.
Being close to downtown Philadelphia, UPenn has amenities accessible in urban metro areas.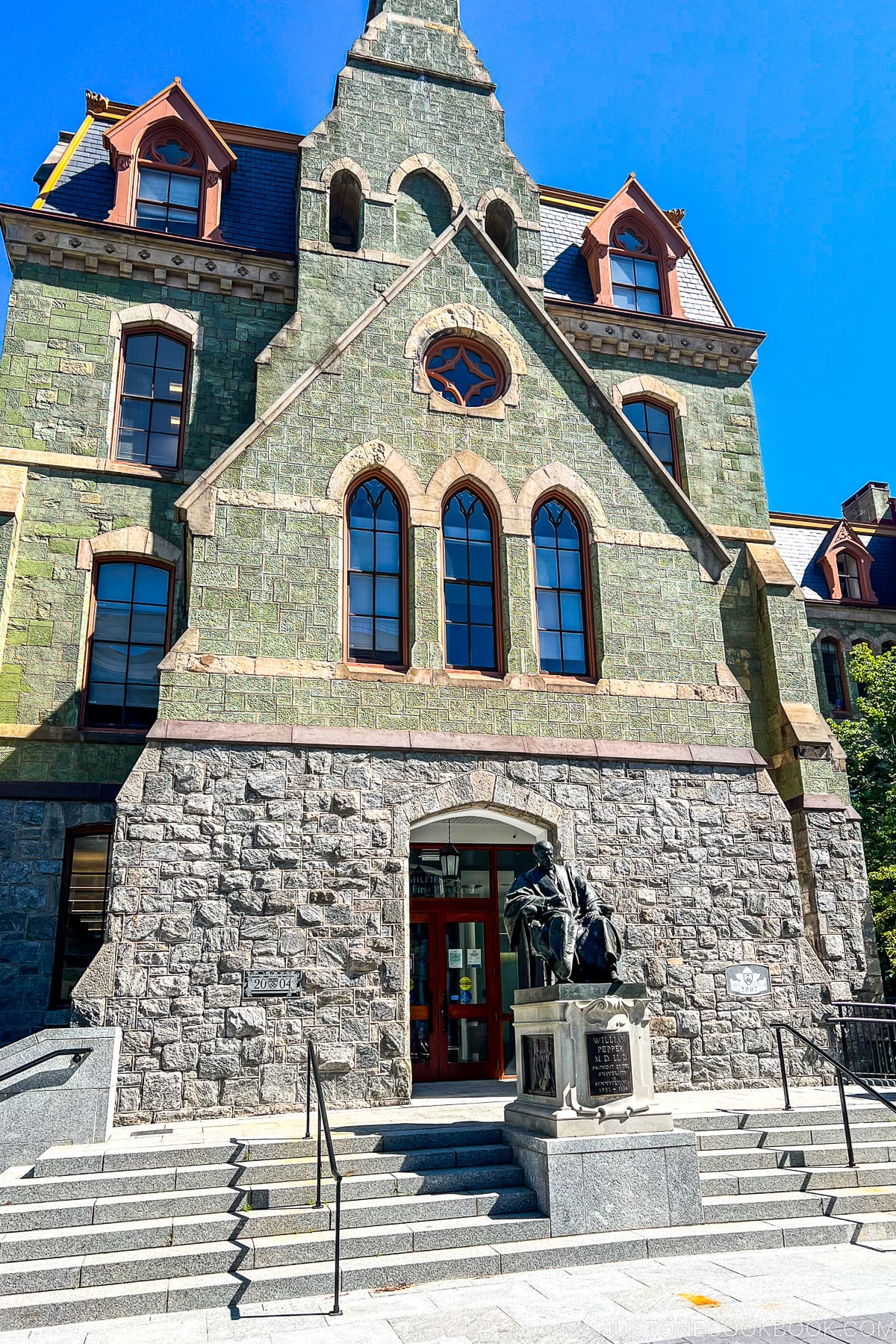 Johns Hopkins University
Our next stop is Johns Hopkins University in Baltimore. Baltimore is about 2 hours southwest of Philadelphia (we took a detour to Amish Village).
Johns Hopkins University is located in the northern part of Baltimore, located in the city but around a residential neighborhood. It was founded in 1876. The campus size is quite large and most buildings are of traditional design with classic brick exteriors.
The campus ground is beautiful, with multiple quads of green lawns. It is a similar size to Brown University at 140 acres but the main campus feels larger since the buildings are more spread out.
Right near the campus is a large park and the Baltimore Museum of Art. Our kids loved the campus and were smitten by the gorgeous architecture. However, Baltimore is one of the more dangerous cities in the US with a high crime rate. So safety would be our main consideration.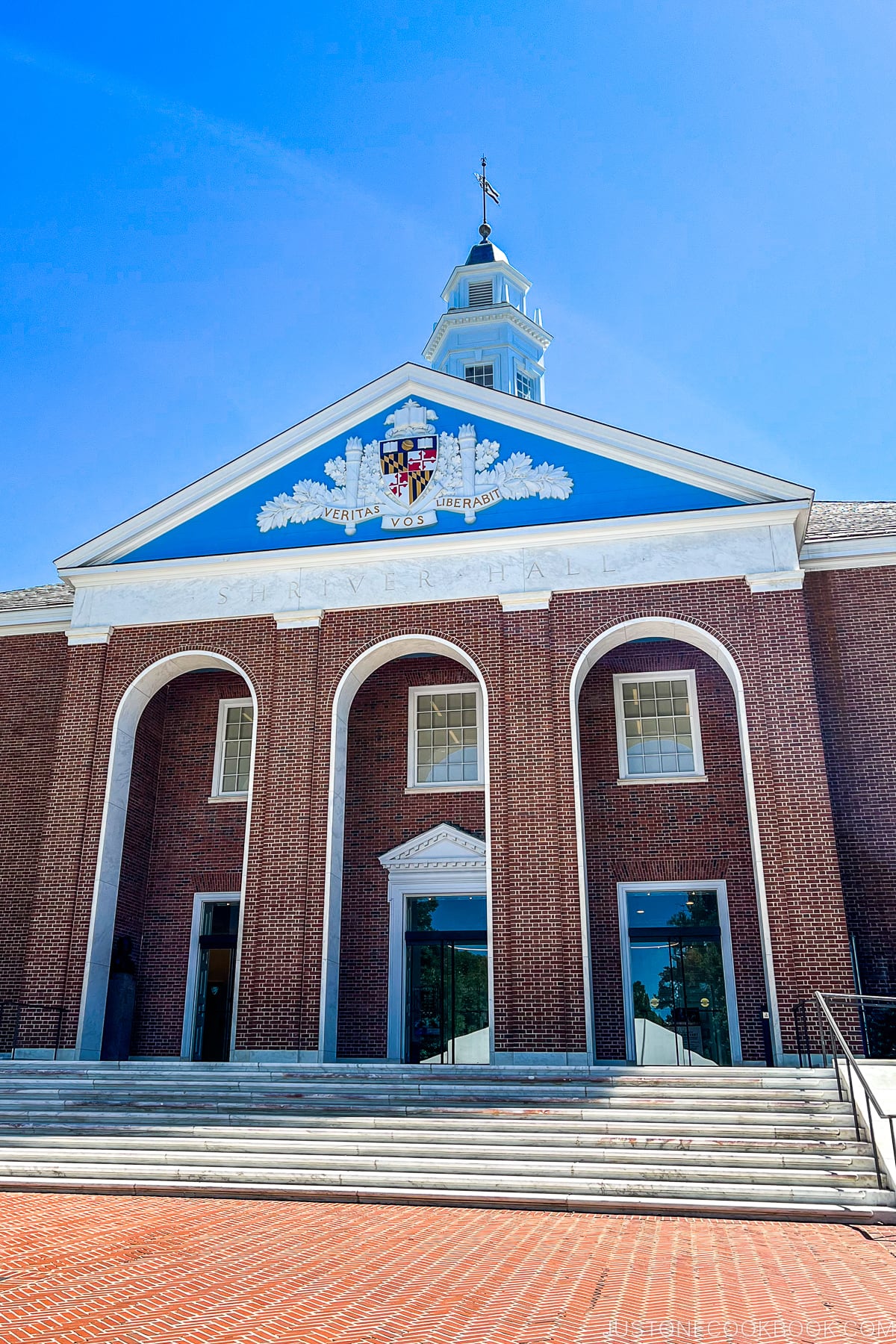 Georgetown University
The last school we visited on the trip is Georgetown University. It is located in the Georgetown neighborhood of Washington DC. The surrounding area around the school is charming with classic-looking buildings and an upscale neighborhood. It borders the Potomac River on the south side and is a short 10 min drive to the National Mall and the White House.
Georgetown was founded in 1789 and sits in a hilly area by the Potomac River. The campus is in a metro area but enclosed. With taller and more modern buildings, the campus feels more compact even though it's quite large.
The school is beautifully maintained and the sports fields occupy a large portion of the prime school ground. Being in Washington DC, students have access to large metro amenities as well as federal government-related career opportunities.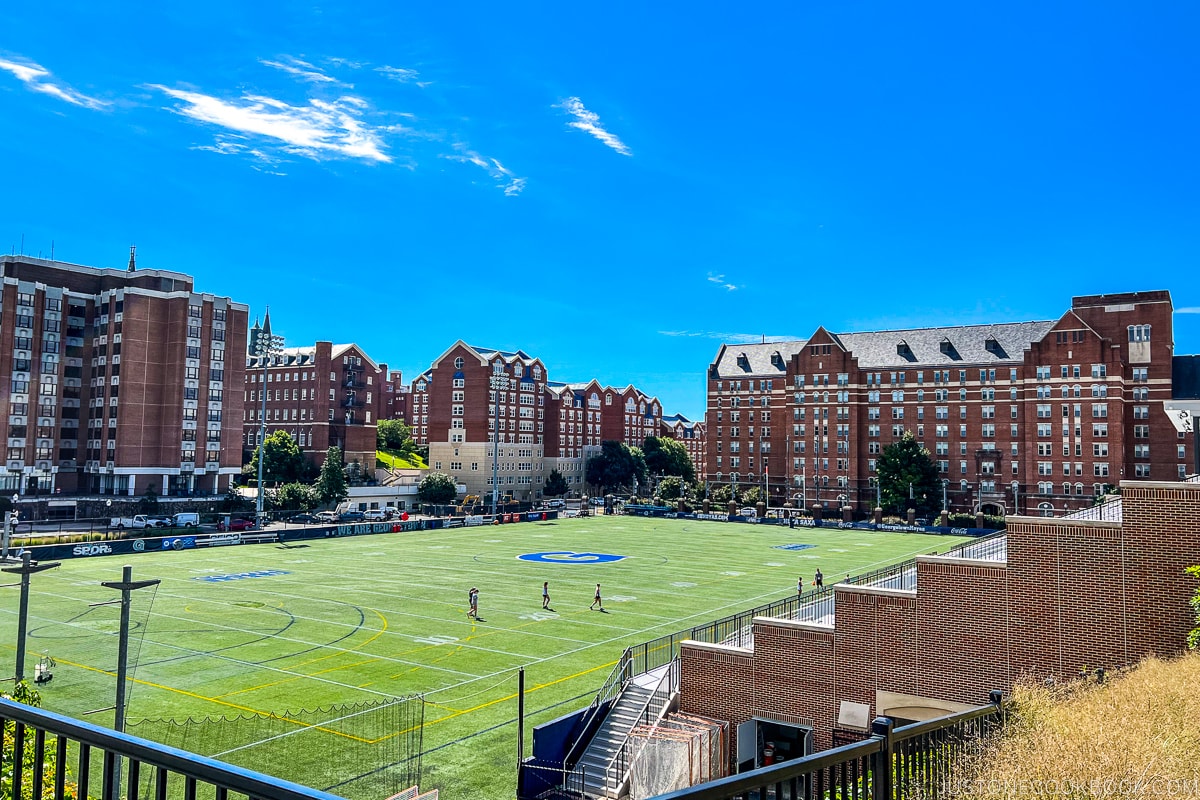 We hope you enjoyed traveling to the different universities with us. Our children appreciate being able to go on the trip and see what all the different schools were like, as well as the environment they offer.
If you are from the above alma mater, please leave us a comment as we'd love to hear about your experience with the school!