Looking for a perfect loaf pan to bake Japanese Milk Bread called Shokupan? In this post, I'll show you how to order a loaf pan from Japan, season it, and care for it after baking.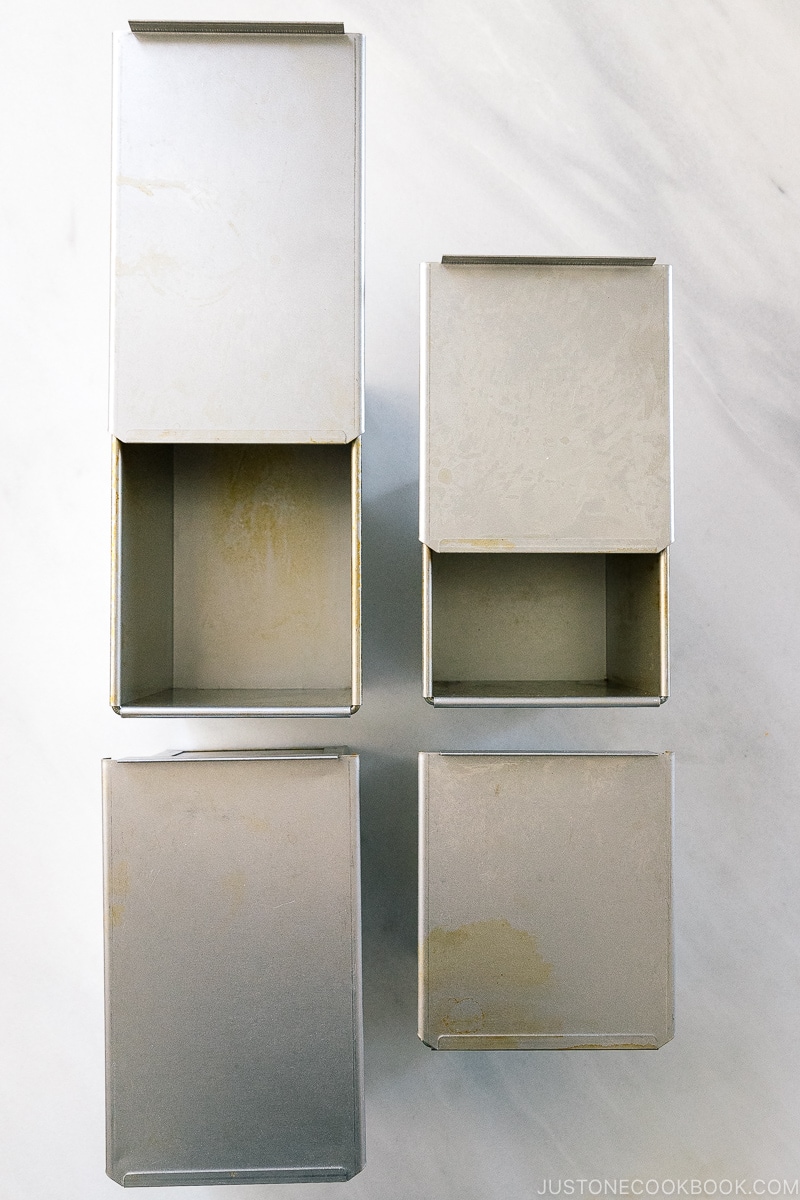 If you're looking for a good Japanese loaf pan, this is the right place! Read on for my tips and resources to find the right pan for you. I also share how to season it and properly care for it after baking, so that your pan gets better with use.
Where to Buy a Japanese Loaf Pan
If you don't mind that your loaf is NOT a standard Japanese milk bread size, then get a loaf pan on Amazon US. Some molds that look good include: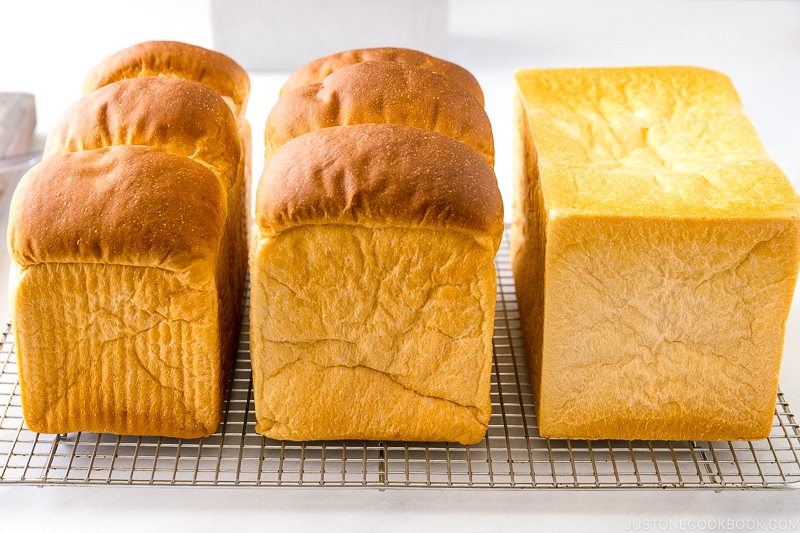 However, if you're like me and you really want to make true Japanese milk bread called shokupan, then you have to get an authentic Japanese loaf pan from Japan.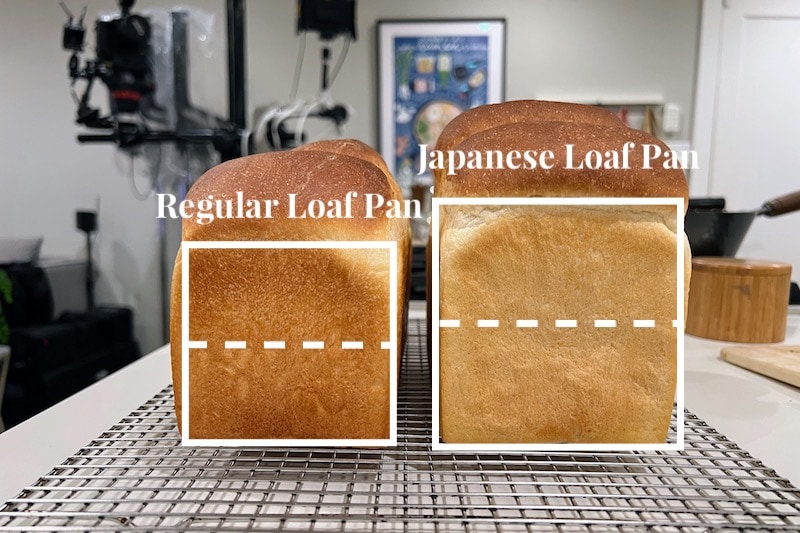 As you can tell, the Japanese loaf pan is much bigger than the typical ones you can buy here in the US.
The Loaf Pans I Recommend
The loaf size in Japan is measured in "kin (斤)." It is an old Japanese unit for measuring bread weight that is based on the traditional system of British Imperial units for weight based on pounds.
I love this 1.5 kin loaf pan and this 1 kin loaf pan from Asai Shoten (浅井商店), the famous kitchen equipment company in Kappabashi, Tokyo.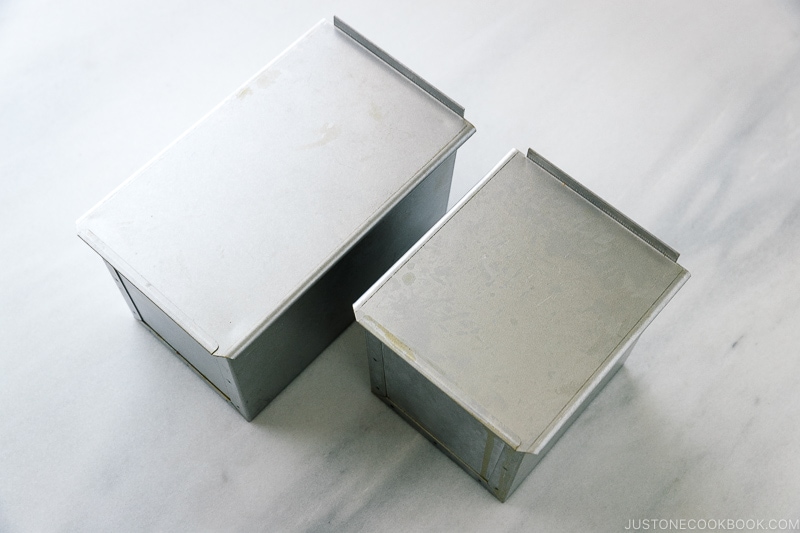 In recent years, they created their own line of "Ideal Shokupan Molds (理想の食パン型)." These pans produce loaves that are really close in size to the shokupan sold in bakeries and supermarkets across Japan. At this time, there is NO other company that makes these ideal-sized molds aside from Asai Shoten.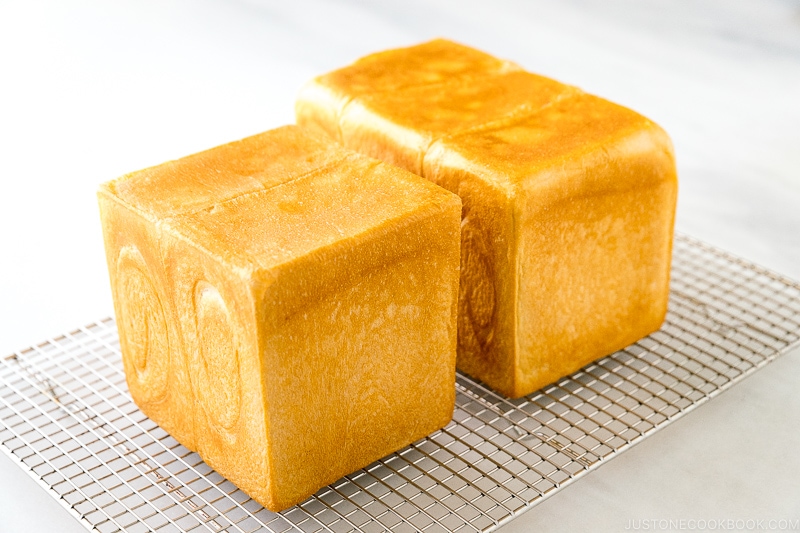 Here is more detailed information about these loaf pans:
1.5 Kin Loaf Pan

Item #: AT-PB-200
Shape: Rectangular
Size: 1.5 kin (斤), 12 × 20 × 13 cm (4.7 in. x 7.8 in. x 5.1 in.)
Volume: 3100 ml
Material: Altite—see below

1 Kin Loaf Pan

Item #: AT-PB-120
Shape: Square
Size: 1 kin (斤), 12 ×13.5 × 13 cm (4.7 in. x 5.3 in. x 5.1 in.)
Volume: 2070 ml
Material: Altite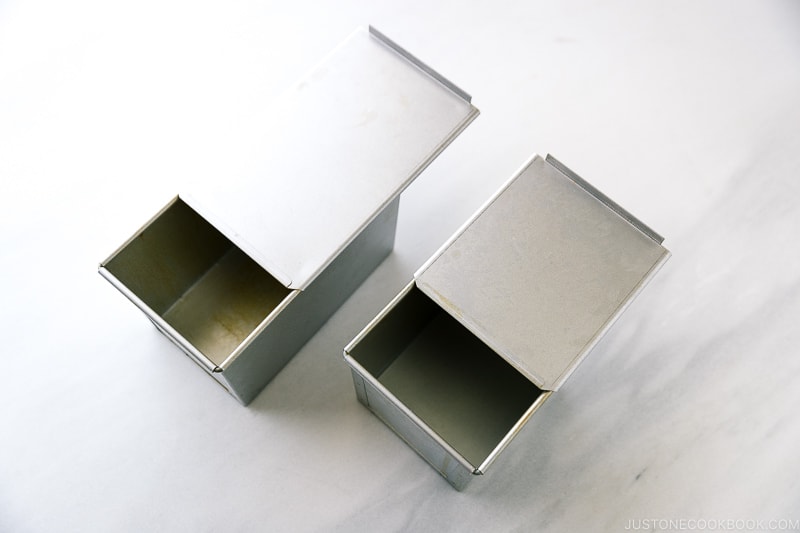 What is an Altite Loaf Pan?
Altite (アルタイト) is steel plated with aluminum. Since the base is steel, it has good thermal conductivity and is very durable. One drawback is that it gets rusty with moisture. So, you have to make sure that the pan is completely dry at all times. Altite loaf pans are used both by professionals in the baking industry as well as home bakers.
Should I Get 1.5 or 1 Kin Size?
If the loaf you're baking is for 1 to 2 persons, I recommend getting a 1 kin loaf pan. You can cut it into 5-6 slices and keep the leftovers in the freezer.
For a family, I definitely recommend a 1.5 kin loaf pan. You can cut it into 8-9 slices. My family usually finishes a loaf in 2 days.
My Suggestion: Buy 2 Loaf Pans
Since you're ordering a loaf pan all the way from Japan, may I suggest buying TWO loaf pans?
After making Japanese milk bread almost weekly for a while, I find it worthwhile to make TWO loaves each time. If I spend 3.5 hours making just one loaf, why don't I make two loaves at the same time?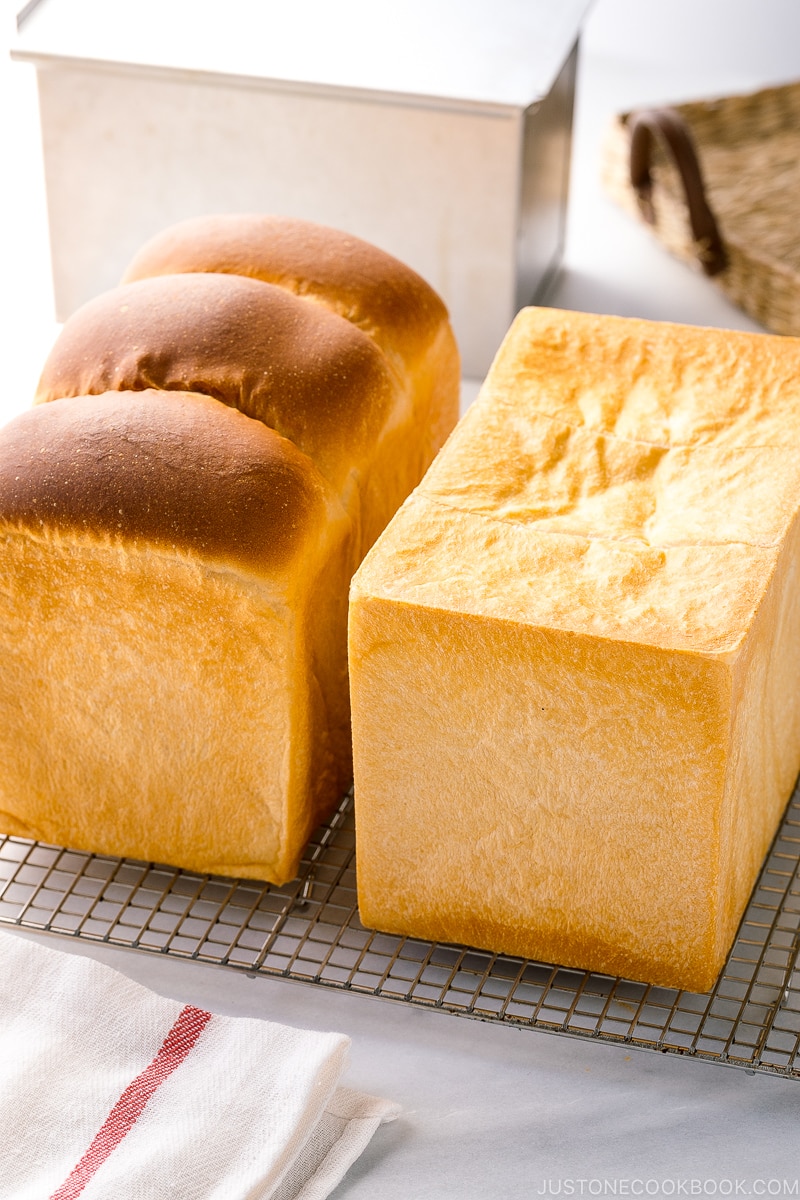 How to Order a Loaf Pan from Japan
Unfortunately, this specific brand of loaf pan that I recommend is not available outside of Japan. At this time, there is the only way to order this specific pan.
Here's how to proceed:
Sign up for Rakuten Global Express (RGE). (This post is NOT sponsored by Rakuten, by any means). To get started, create a free Rakuten membership at the RGE website. You'll register your user information such as your address, phone number, and password. Be sure to enter postal code "000-0000" and select prefecture "Other," and then fill out your home address that matches your ID. Please see the image and my note below.
RGE then assigns you a "personal address" in its Japan warehouse, like a mailbox. You can save this address in your RGE account and select it as your delivery address every time you order from Japanese e-commerce sites through Rakuten.
You must complete the identification verification process before you can shop. When prompted, you'll capture an image of your driver's license or passport using your computer or mobile phone and send it instantly to RGE to confirm your identification and address. You'll also capture and send an image of your face for verification. RGE states that the entire process takes 10 minutes, but it was very quick.
Now, you're ready to start shopping. Be sure to select "translate to English" on your Google Chrome browser, and select the assigned mailbox at RGE warehouse as your delivery address at checkout.
RGE will send you an email when your purchase arrives at your mailbox. You can also sign into your account to check the arrival status. You can then select "request for packaging." If you purchase items from different shops, you may want to wait until all the products have arrived at your mailbox.
You will receive an email once RGE has packed your purchases into one box. Then, select and pay for one of three shipping options that RGE has calculated for your shipment. I've found that Super Express (1-3 days) is cheaper than Standard Express (5-10 days); I do not recommend Surface (60-90 days) shipping because it's very unreliable, in my experience. Once you pay the shipping and service fees, your package(s) will be on the way!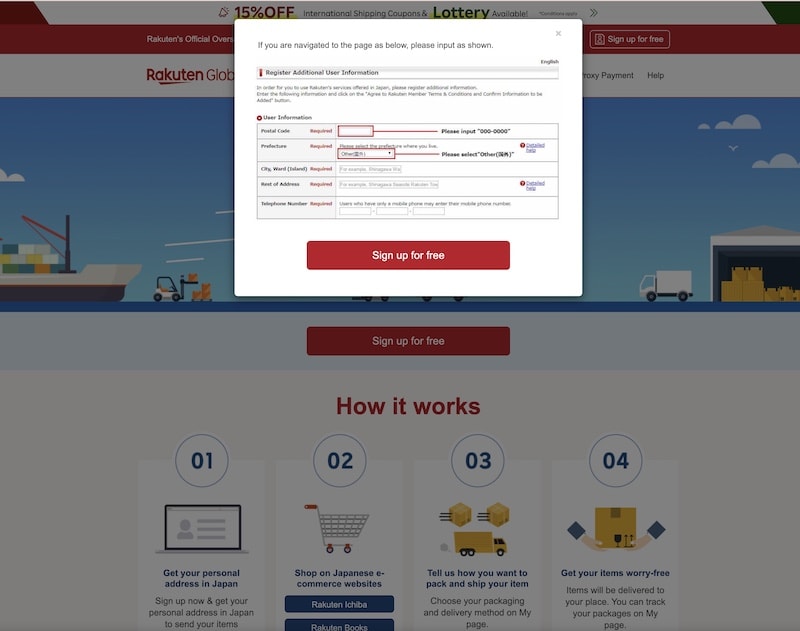 Here's the Tip: Some of you may have an issue with signing up. It's because you missed this tiny "popup" instruction that is actually very important. Remember to put postal code 000-0000 and pick the prefecture Other (国外). Then fill out the rest of your home address that matches with your identification card. If you don't do it correctly, you can't sign up.
A few things to note…you will be paying the:
price of the product(s) plus tax;
shipping fee (if there is any) from the online store to your mailbox;
Rakuten Global Express service fee; and
shipping fee from Japan to your home.
A shokupan loaf pan in Japan is quite affordable ($13-15), but with shipping, it can get quite expensive. They revised the shipping fees recently due to the global spike in the price of shipping. See the shipping fee per weight for North America, Asia, and Europe, and more details on the Rakuten Global Express page.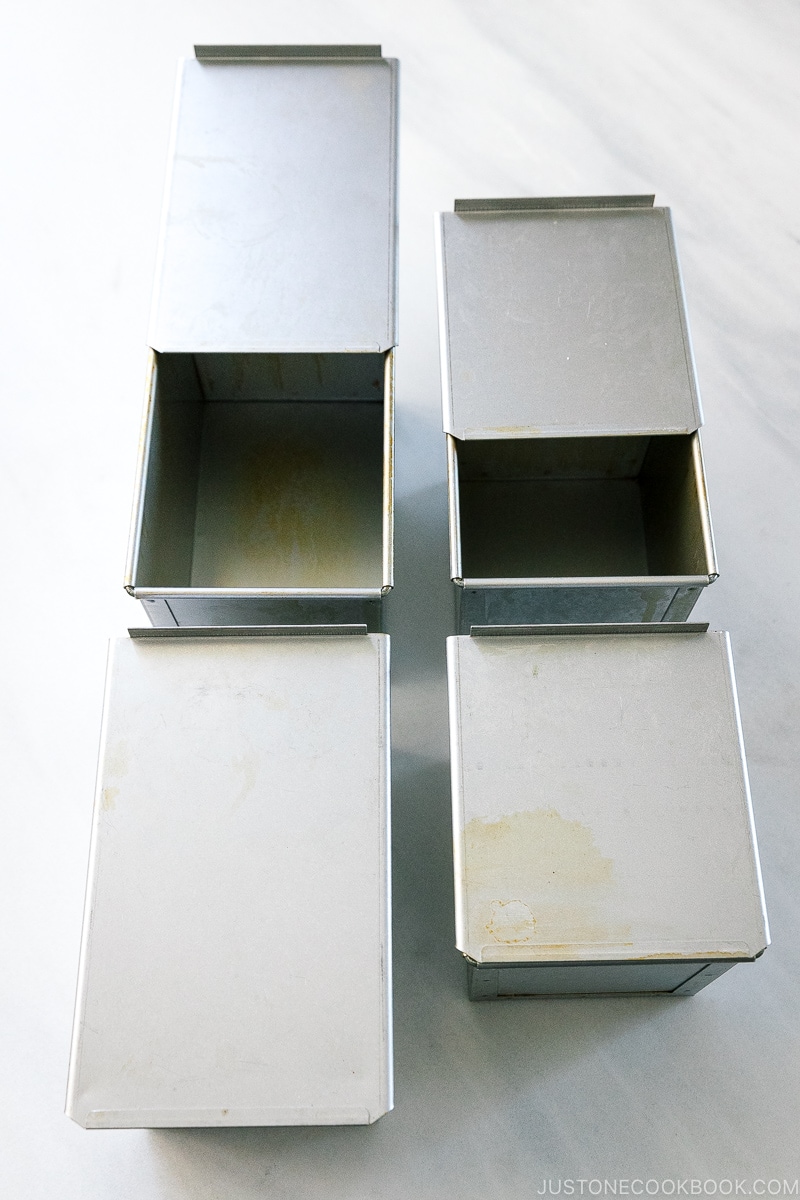 How to Season a Japanese Loaf Pan
Once you receive your Japanese loaf pan, your next step is to season it. You may wonder why you need to season your brand new loaf pan. Can you skip it? The answer is "no" (sorry!) if your pan is the one I suggested.
First, we need to season it to burn off the smelly factory oil. We also want to develop a coating of clean oil and fat on the pan surfaces so a loaf of bread will release easily. Trust this process and you will not regret it:
Once your loaf pan has safely arrived at your home, carefully inspect the condition of the pan. Check for any dents or scratches.
Next, preheat your oven to 340ºF (170ºC). Thoroughly wash the pan and its lid with a soft sponge and dish soap and immediately wipe off any water with a kitchen towel. Bake the pan and lid separately in the preheated oven for 20 minutes.
Take out the pan and let it cool completely. Meanwhile, increase the oven temperature to 450ºF (230ºC).
Apply a thin layer of spray oil to the inside of the pan and the lid. Then, distribute it evenly with a paper towel, making sure to rub away any excess until the loaf pan looks dry. You want as thin a layer of oil as possible. Excess oil will leave you with a splotchy, sticky coating that can be difficult to fix.
Bake the pan and lid separately again for 20 minutes. Turn on the kitchen vent as it can get smoky while you season the pan.
Repeat this process (let cool, apply a thin layer of spray oil, and bake) 3 more times. Don't cut this step short. With good seasoning, your bread will never stick to the pan.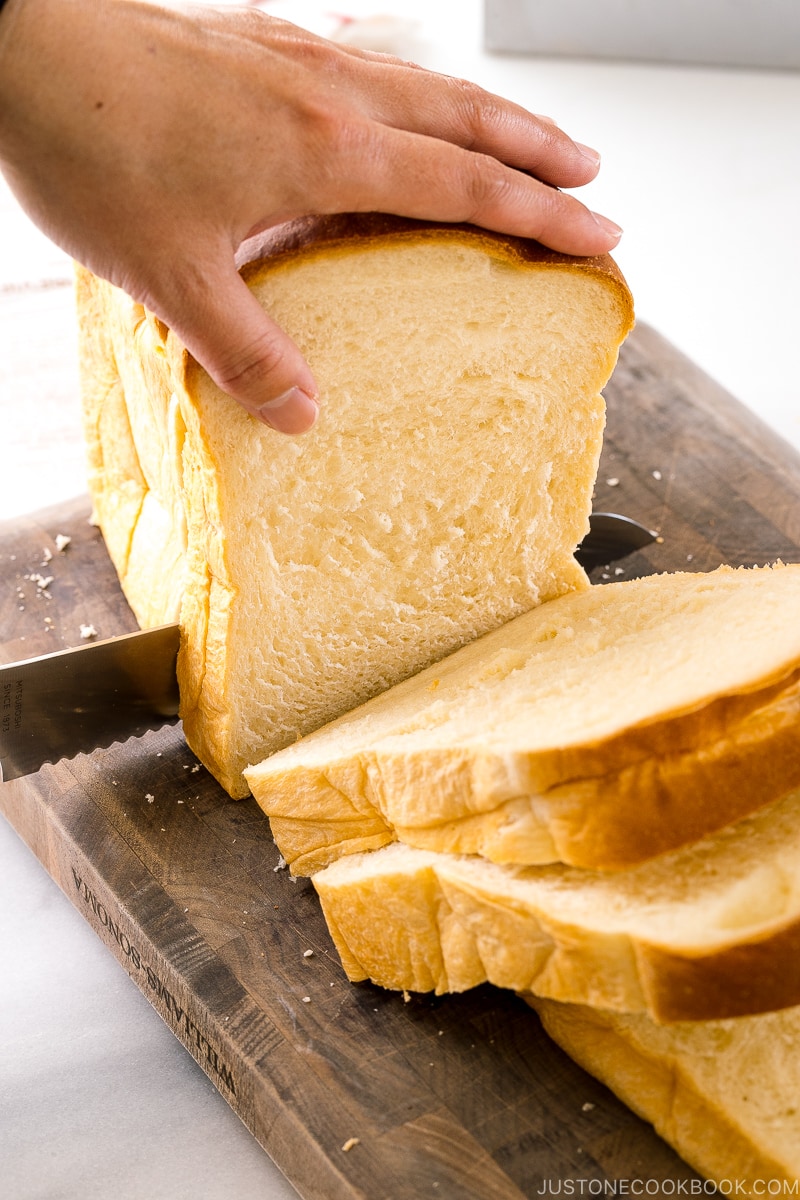 Aftercare (After Baking)
After baking a loaf, all you have to do is wipe off any crumbs and leftover grease with paper towels before the pan cools down. DO NOT WASH the pan.
The only exception is when your pan gets really dirty and there is no way you can wipe it off. In this case, you can wash the pan with a tiny bit of dish soap, immediately dry it with a kitchen towel, and then further dry it completely with the remaining heat in the oven. However, it's best to avoid this scenario as you've worked very hard to season your pan and don't want to lose this coating.
The more you use the pan, the better it will get—just like well-seasoned cast iron and carbon steel pans!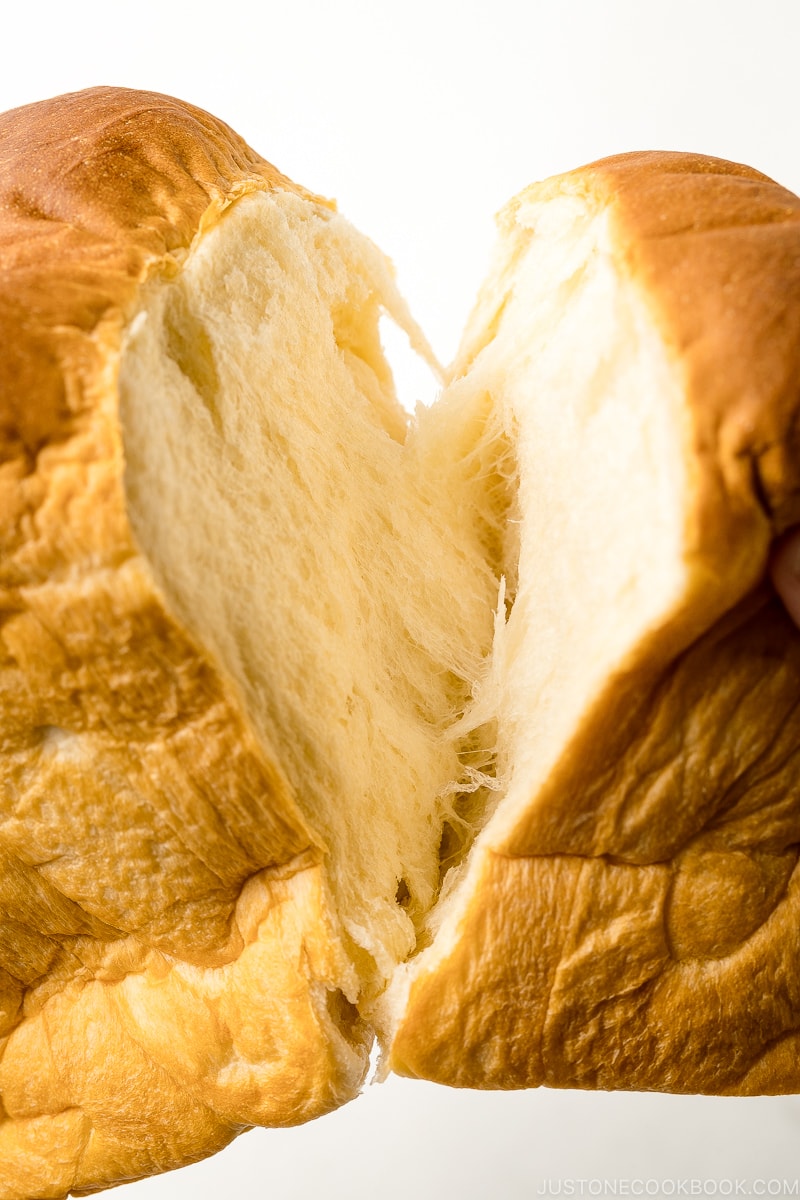 FAQs
Can I order a loaf pan from Amazon and make your recipe?
Yes! Just be aware that your bread will be on the small side. I recommend these Japanese loaf pans because I want to help readers who want to make the standard-sized shokupan that we can get in Japan. I was very disappointed when I first made it with a smaller loaf pan, so I want to save everyone's time and money by ordering the right loaf pan from the beginning.
Do I still need to season if I get a loaf pan from Amazon?
Please check the manufacturer's instructions. If a pan is made with nonstick materials, for example, then you do not need to season it.
How do you like using Rakuten Global Express?
I am not technology savvy, so I was a bit intimidated to sign up and use this service. However, once I started the application form, I realized it was very easy to set up.
I find this service very useful and have been using it to shop for things that I can't find here in the US. With the increase in shipping fees, be careful not to buy too many things! It can be quite costly to ship.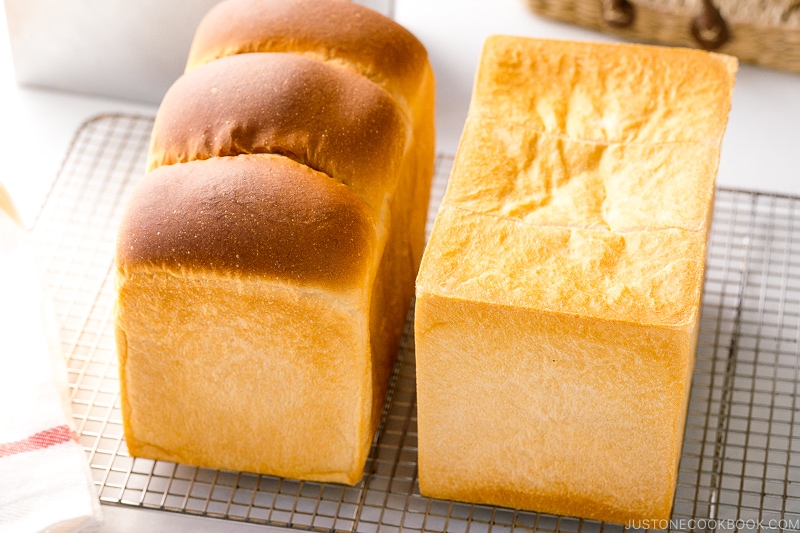 Japanese Milk Bread Recipe
Ready to make a delicious loaf of my Japanese Milk Bread (Shokupan)? Hop over to my recipe. Happy baking!
---
Wish to learn more about Japanese cooking? Sign up for our free newsletter to receive cooking tips and recipe updates! And stay in touch with me on Facebook, Pinterest, YouTube, and Instagram.