Remember those few really special meals you'll cherish for the rest of your life? Dining at Atelier Crenn exceeded our expectation and it's one of those meals we'll remember for a long time.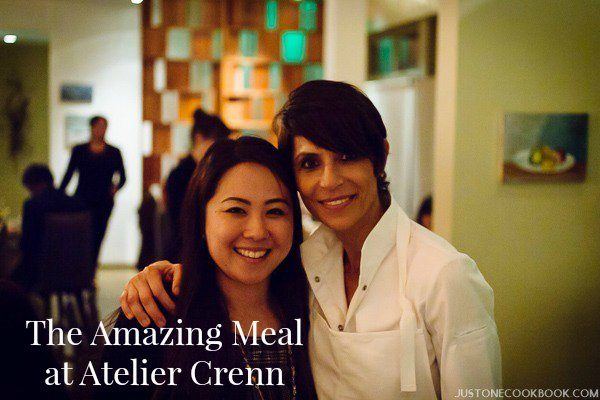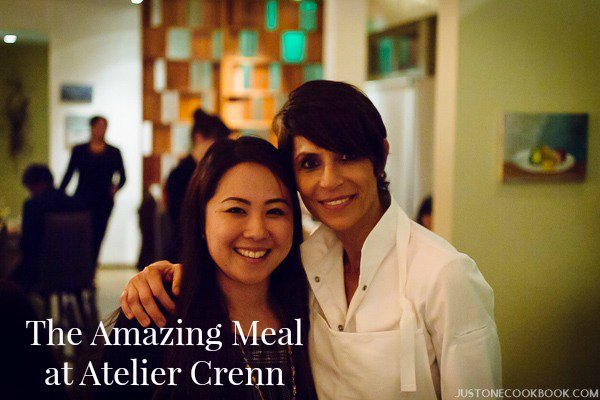 With two kids at home, Mr. JOC and I do not often get the chance to enjoy fine dining. The only exception is when we celebrate our birthdays and anniversaries, Mr. JOC and I would get a sitter and select a restaurant we both really want to try. After watching Atelier Crenn being featured on Chef's Table and falling in love with her story, we decided on dining there for our 40th birthdays.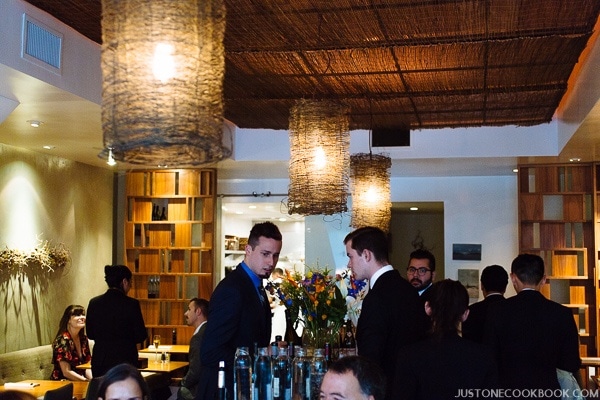 The restaurant is located in the Cow Hollow neighborhood in San Francisco, and the space is quite small and seats only 22-25 diners. We were seated promptly after arriving and when we saw Chef Dominique Crenn in person, we could hardly conceal our excitement being there. Before the meal, Chef Crenn stopped by each table and greeted her guests, how cool is that!
The Tasting Menu at Atelier Crenn
We were presented with the day's menu, which was written as a poem. We tried reading each verse carefully hoping to decipher the day's dishes, and we did manage to get some right, but many dishes were surprises! As to why it's poem and not a regular menu, it's because beyond just sharing her food with her guests; Chef Dominique Crenn wants to share her story and have a dialogue with her guests.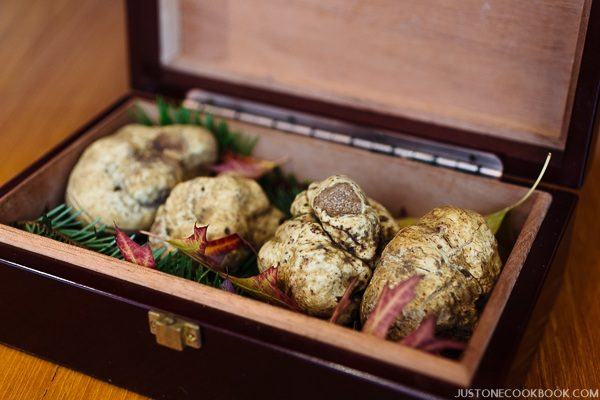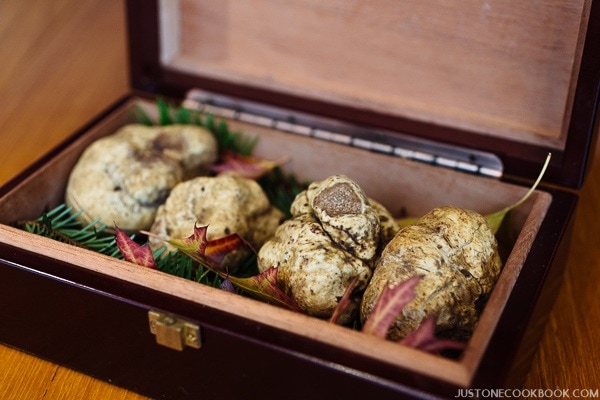 The dinner is served as a prix fixe menu, and diners have the choices adding wine pairing (2 different choices) and white truffle shaving. The white truffles are kept in a closed box and presented at your table right before the meal. The aroma of white truffle hits your nose as soon as the lid opens, and if you love white truffles it's really hard to say no. We opted for 1 wine paring and 1 white truffle shaving.
There was a total of 19 dishes that we enjoyed including 6 desserts. I'll do my best to describe them, but I won't do them justice so I hope you'll have the chance to enjoy a meal there one day to experience it.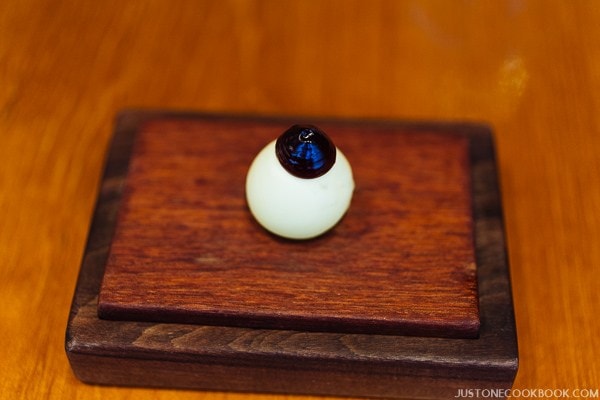 The first dish for every diner at Atlelier Crenn is a spherical version of Kir Breton – classical aperitif of Brittany. Instead of liquid form, it is apple cider frozen in a spherical mold and covered in cocoa butter with creme de casssis jam on top. As you pop it in your mouth, intense sweet liquid explodes inside your mouth with a fruity finish.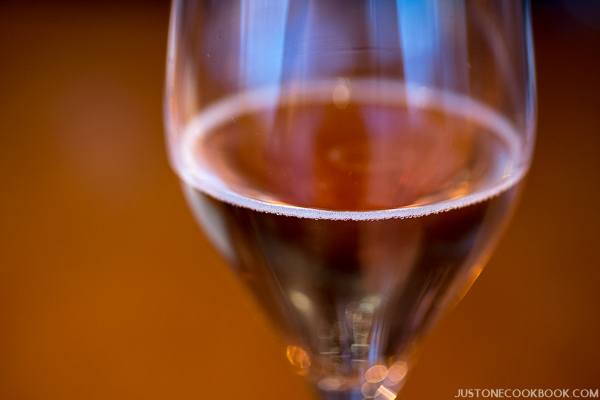 First drink pairing – Ployez-Jacquemart Rose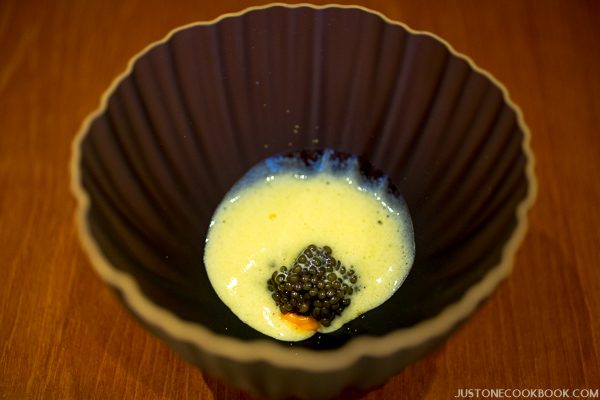 The second dish was caviar in a ginger and carrot sauce with hazelnuts shaving. I loved how well the carrot balanced with the strong salty characteristic of the caviar. The dish had an interesting salty and umami flavor.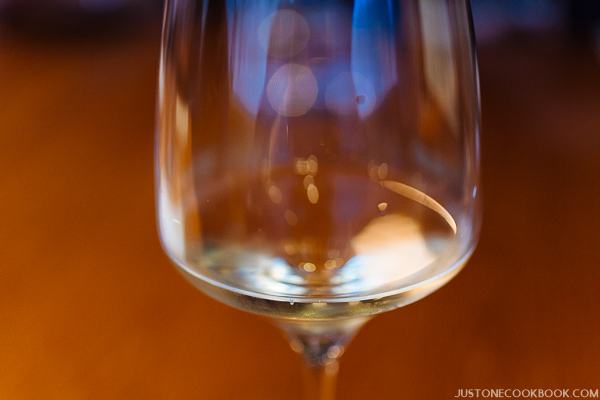 Second wine pairing – 2014 Pascal Jolive Sancerre, Le Chene Marchand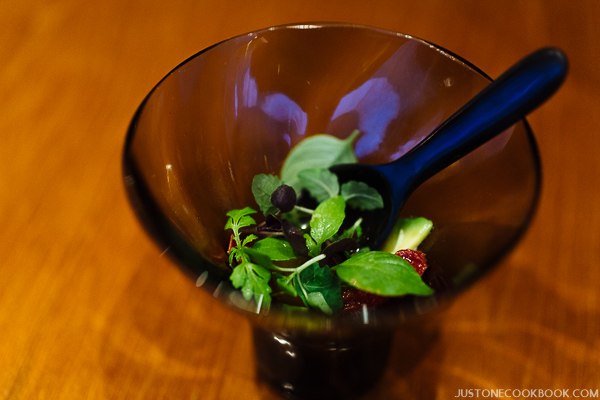 The third course was composed of a pair of dishes. The first dish was tomato jelly with trout roe. It had a very intense smoky taste, surrounded by a thin layer of creme fraiche. As you bite into the crust, the crunchy shell and soft eggs popping in your mouth forms an distinct contrast. The micro green salad had intense flavors with avocado, dried tomato, and lemon basil leaves.
3rd wine pairing – 2014 Chablis Tete D'or
The fourth course was Monterey Bay abalone in smoked oyster creme fraiche, topped with an oyster leaf (yes the leaf tastes like oysters) and mignonette gel. The abalone was extremely tender and the sauce had subtle umami flavors, almost like Japanese dashi.
The fifth course was again a pair of dishes with Maine lobster prepared two ways; the first one had frijoles beans mixed with wakame seaweed and the texture was rich like a soup.
For the second dish, the lobster was prepared with citrus fennel and fermented melon. The lobster was cooked perfectly and tender, the meat was served warm but still nonetheless refreshing, from the vinegar-like syrup jello and floral leaves.
4th Wine pairing – RIED Renner 1, Kamptal Reserve
The sixth course was also a pair. It was really pretty, seaweed on lightly fried potatoes and malt vinegar, on a rock with gold flake. Is it art, is it food? The lines are starting to blur.
5th Wine pairing – 2015 Dönnhoff Oberhäuser Leistenberg Riesling Kabinett
The other dish for the course is mountain trout and Greek yogurt and white shaved foie gras. The trout skin has been dehydrated so it was super crispy (almost plastic-like), the trout itself melts in your mouth with smoky flavors. The contrast was fabulous and worked really well.
6th wine pairing – Peay 2013 Pino Noir Anderson Valley Savoy Vineyard
The seventh dish was herb butter with housemade brioche.
As part of the white truffle service, it's shaved on top of matsutake mushroom with Meyer lemon dressing. The dish had intense earthy flavors from the truffles and matsutake mushroom, and a bit of the Meyer lemon's acidity breaks up the dullness.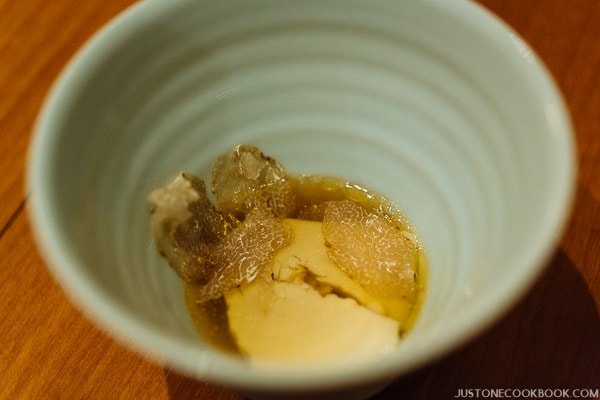 The next dish with white truffle service was custard of wild mushroom and parmesan cheese. The custard had a tofu-like texture, yet you taste the cheese with the amazing mushroom flavors.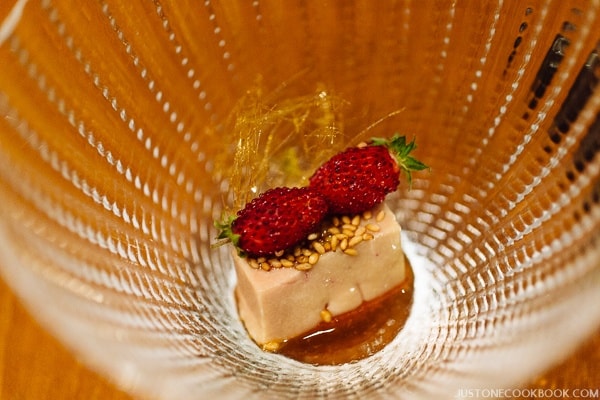 This next dish is composed of wild strawberry and smoked foie gras on top of honey. The dish is nutty, citrusy, topped with soft stringy sweet glaze.
7th wine pairing – Château Larruau Margaux 2012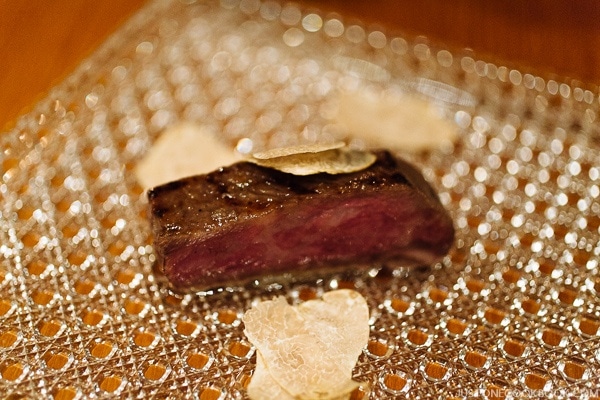 Finally, the meat dish! It is A5 Miyazaki wagyu with white truffle shaving, Tokyo turnips, chicory. I feel the beef was slightly overcooked, it would be even more tender if served more rare. A5 Miyazaki beef was amazing, I loved the heavenly flavors that keep coming out over and over again as you chew on the meat.
Dessert Course at Atelier Crenn
Port paired with dessert course – Quinta do Infantado, 10 Yr. Tawny
The first dessert dish was an olive and pistachio sorbet in olive oil and sea salt, simply amazing! It had a strong nutty flavor, with the texture of chilled iced crystals and rich olive oil.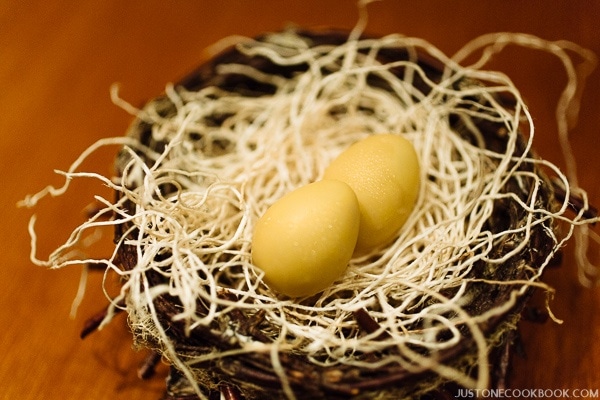 The next dessert dish was recreated egg, made of sage and chestnut. As you bite into the eggs, the creamy filling was delicious.
The third dessert dish was made of two parts, the first is filo pastry stuffed with yogurt and fennel jam – it was tart, earthy, with a hint of licorice flavor.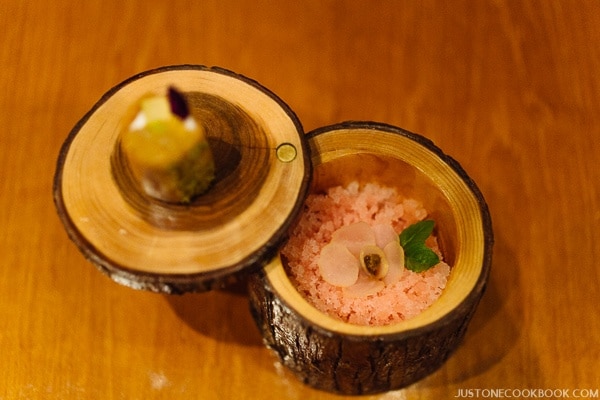 On the right side, it was filled with pickled apple ice and pickled Buddha's hand – as you enjoy this refreshing dish, you can taste the intense apple flavors with floral hints.
This next dessert dish is inspired by her memory of walking through the forest with her father, filled with sweetness, bitterness, wetness, darkness. It's composed of crumbled buckwheat, frozen sorrel and pine needles mousse, blackberry jam, pine nuts, and shaved sablés that resemble black truffle. It's so hard to describe this dish, all I can say was it was fabulous and unbelievably creative.
The last dessert before chocolates was a dessert tree, there were passion fruit beehives with sparkling rose jam inside. The beehives were crispy and contrasted well with the chewy nougut wth nuts. The other piece was caramel with cripsy flakes.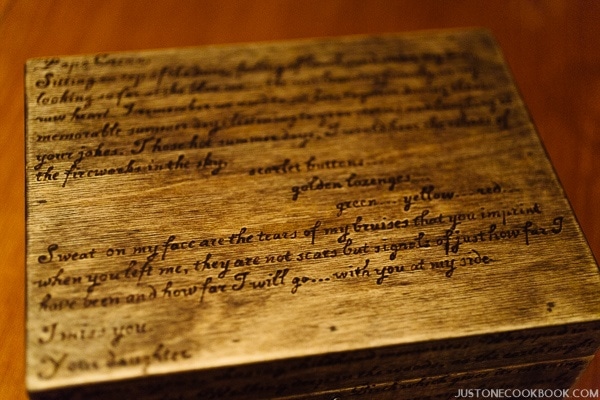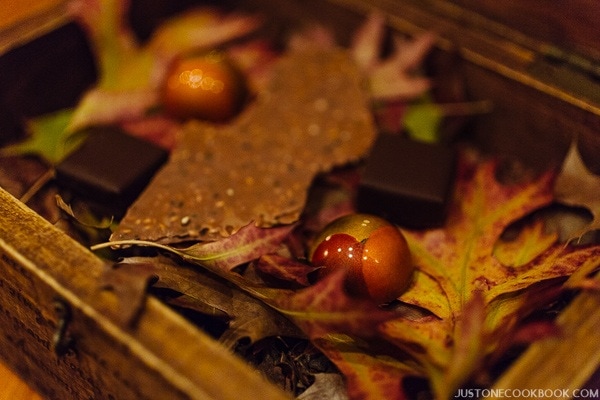 For the finale, it's rich dark chocolates, pumpkin bonbons, and sesame crisps to finish off the meal. The crisps were made of quinoa and sesame barks ganache, and the chocolates were pumpkin bonbons!
Last wine pairing – Chateau de Montifaud Pineau Des Charentes dessert wine
I hoped you enjoyed the journey with us at Atelier Crenn. I look forward to going back one day in the future to be surprised by her creativity. If you love wine with your food, I recommend the wine pairing. The wine paired really well with each dish, and the way the wines were selected allows you to taste even more flavors instead of numbing your taste buds. If you are not a big white truffle fan, I would recommend skipping it as it was quite pricey.
Atelier Crenn | 3127 Fillmore St, San Francisco, CA 94123

Don't want to miss a recipe? Sign up for the FREE Just One Cookbook newsletter delivered to your inbox! And stay in touch with me on Facebook, Google+, Pinterest, and Instagram for all the latest updates.
Other SF Restaurant Reviews You Might be Interested in …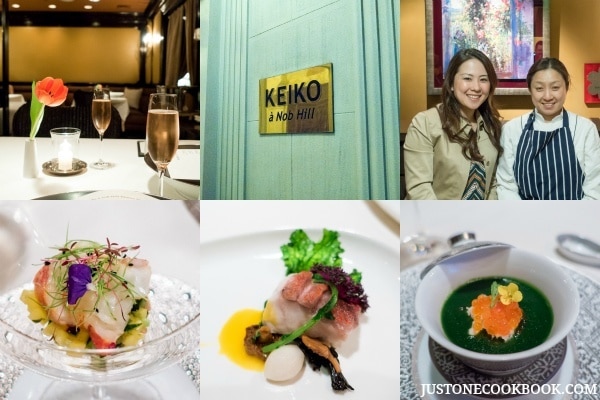 Keiko à Nob Hill – Restaurant Review