Each summer, visitors from all over flock to Furano to see the vast and colorful flower fields. Join us in touring the lush lavender farms and trying the local foods in this guide.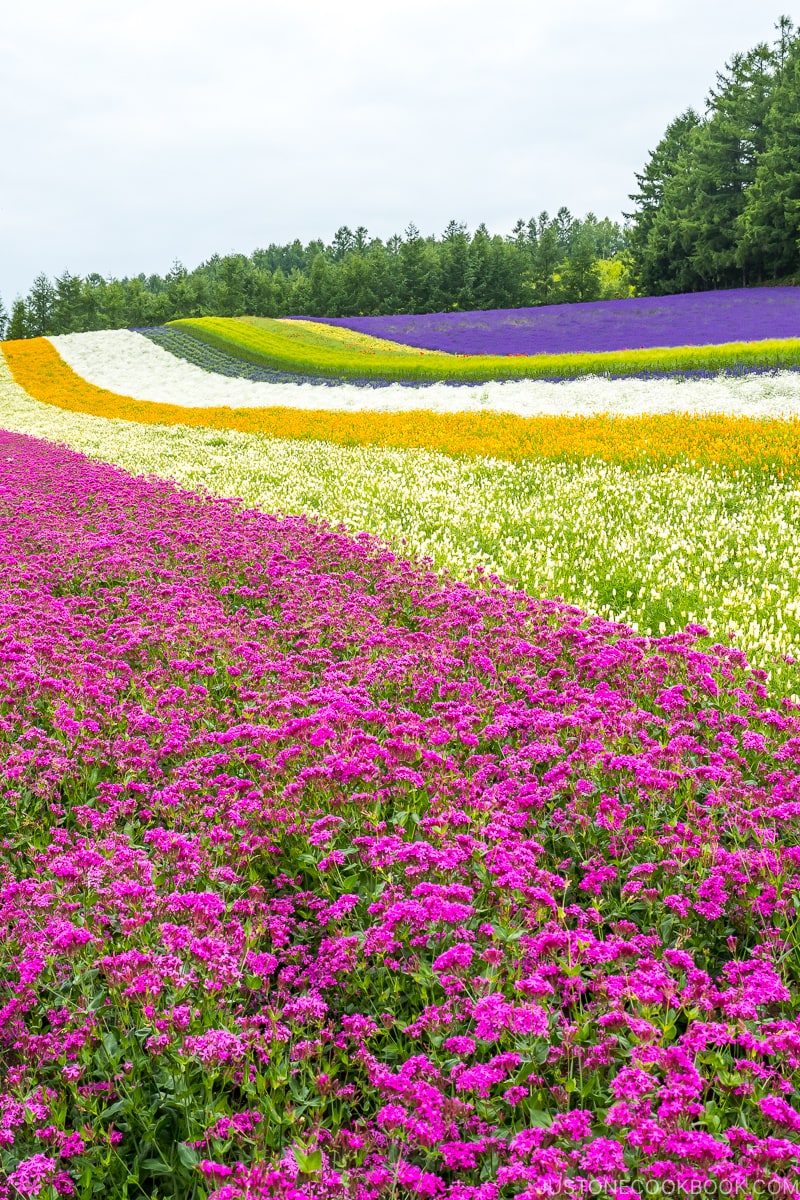 Furano is located in the center of Hokkaido and it is known for the colorful and brilliant flower fields that come alive each summer. It was one of the main highlights of our visit to Hokkaido and we highly recommend it for anyone who plans on visiting during the summer months. Ready to check them out? Let's go!
Where is Furano
Furano 富良野 is 2 hours by car or train northeast of Sapporo (the largest city in Hokkaido). It only takes 1 hour from our last destination Asahikawa in Hokkaido.
We encourage renting a car when traveling in Hokkaido as it's much easier getting around. If you have questions about driving in Japan, you can check out our Ultimate Guide for Driving in Japan.
Though this travel guide is named Furano for name recognition, we'll also visit flower fields in Biei.
Shikisai No Oka 四季彩の丘
Our first stop from Asahikawa is Shikisai No Oka in Biei 美瑛. It is known for its vast flower garden (37 acres/150,000 sq meter) and it is free to visit (pricing could change so please check before visiting).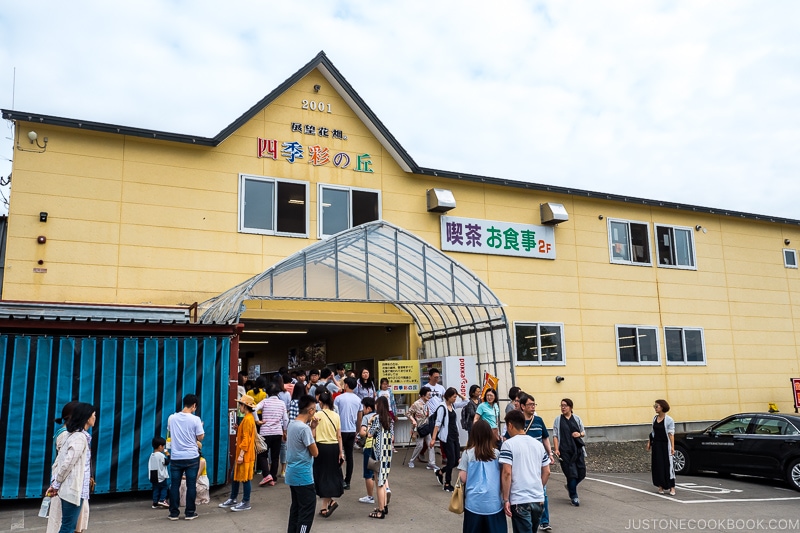 The entrance building to Shikisai No Oka is nondescript and it houses the gift shop on the first floor and a cafe on the second floor.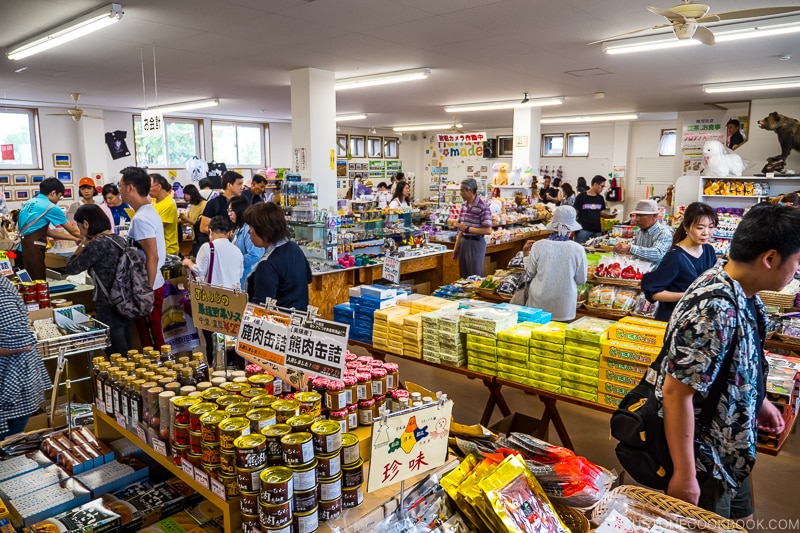 However, as soon as visitors pass through the building, they are greeted by several sweeping, picturesque flower fields as far as their eyes can see on the rolling hills.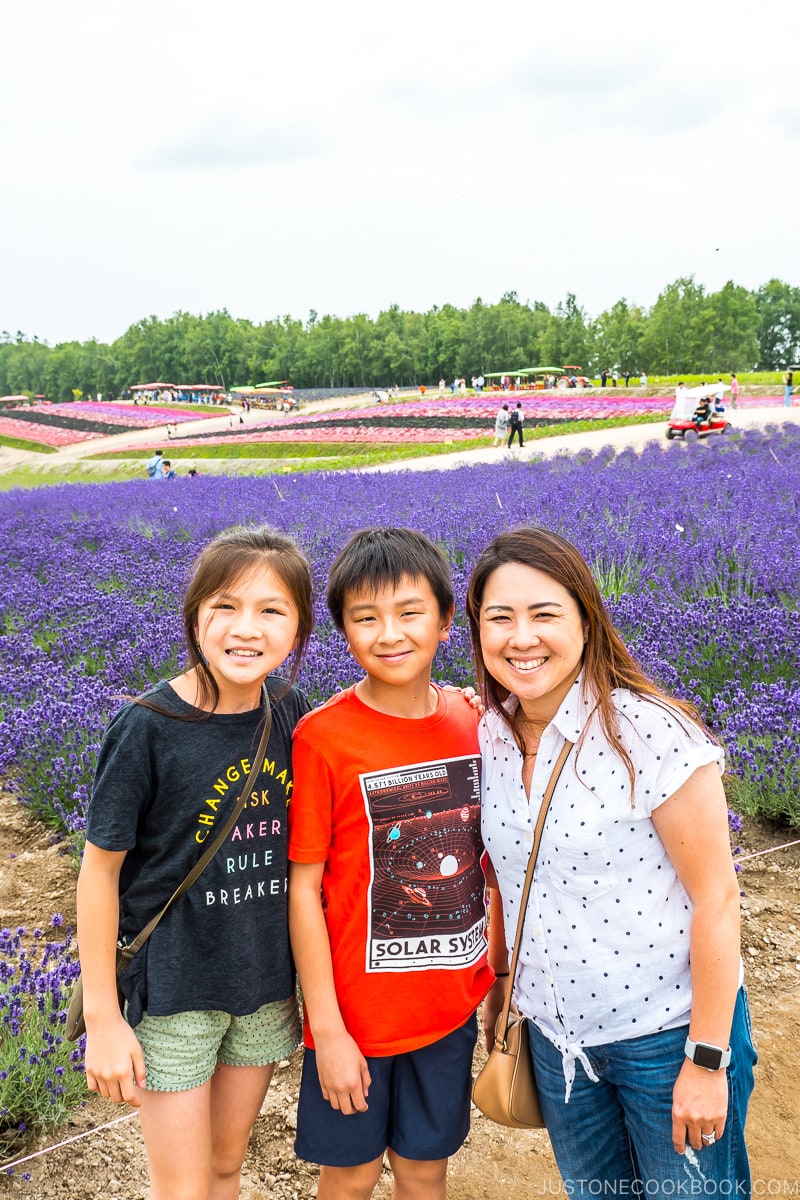 To tour the flower garden, visitors can choose to walk, ride on buggies towed by tractors for 500 yen, or rent a golf cart for 2,000 yen.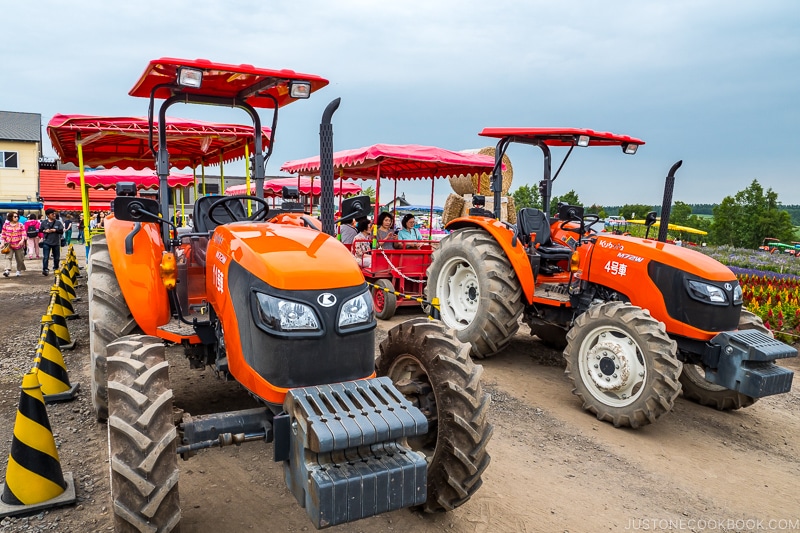 With an assortment of flowers showcasing their bright, vivid hues, the flower fields are quite a sight to see.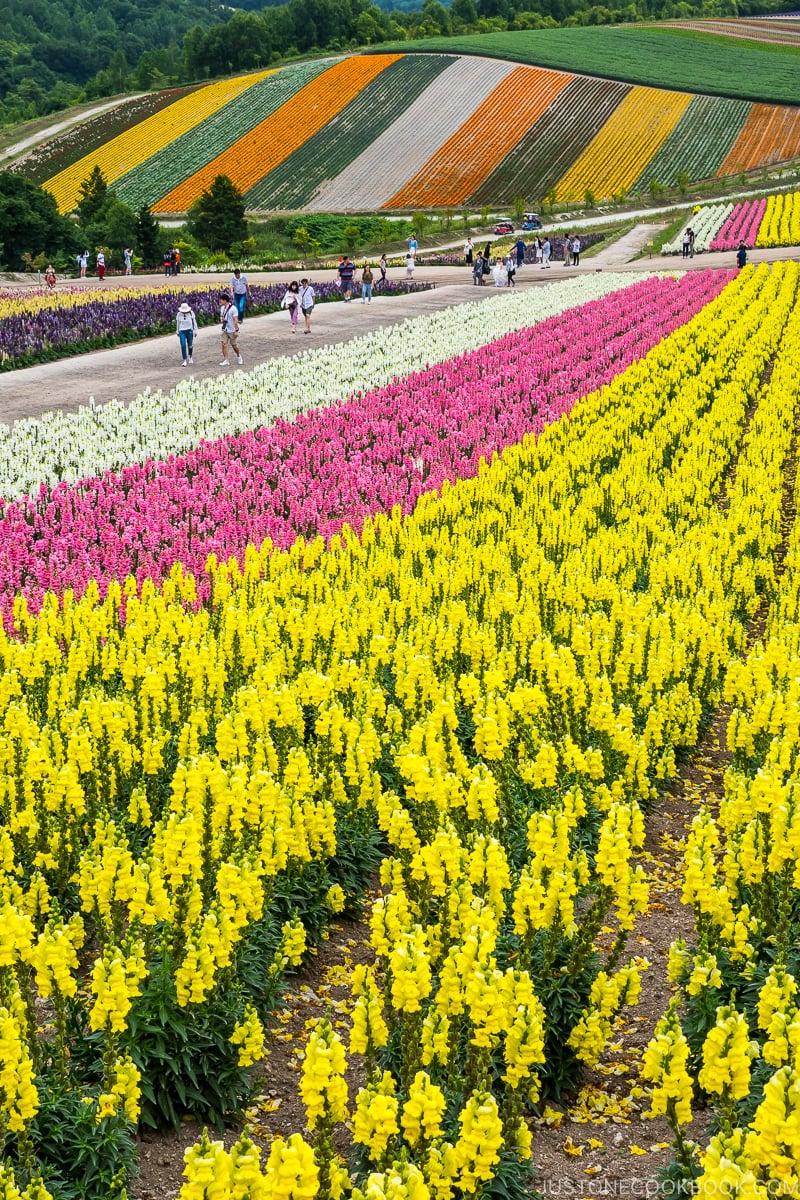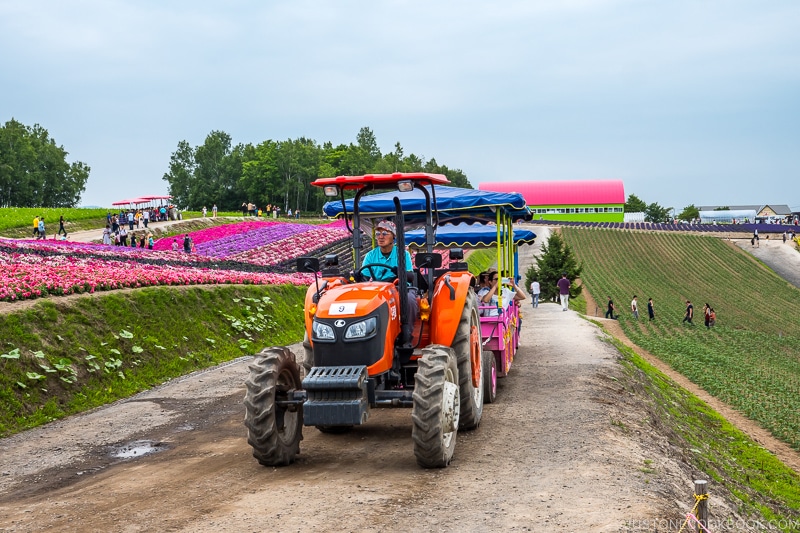 We spent some time walking around the fields and taking in the scenery before heading back towards the entrance and stopping by the alpaca farm.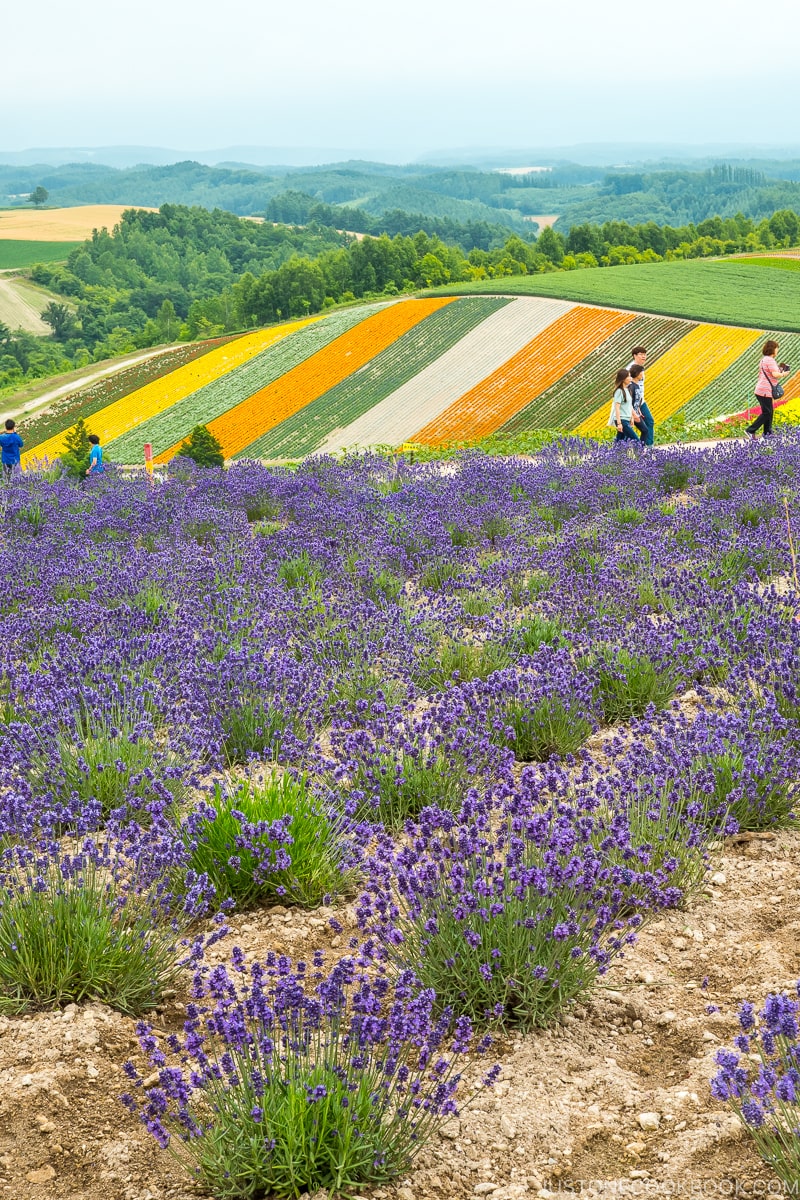 Alpaca Farm at Shikisai No Oka
The cute and friendly alpaca are the mascots of Shikisai No Oka. Our kids love animals so they insisted on feeding the alpacas.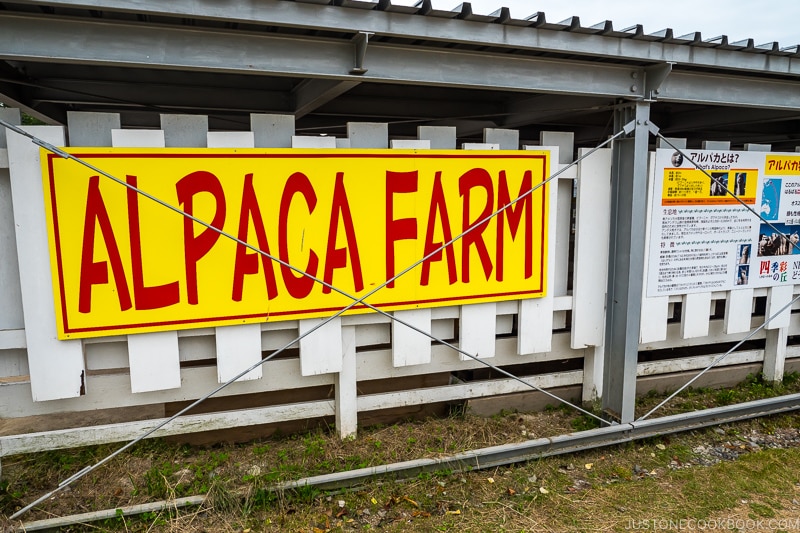 The alpacas are inside the pen and visitors can feed them for 100 yen. Our kids had a lot of fun feeding the gentle woolly animals. It was their first time!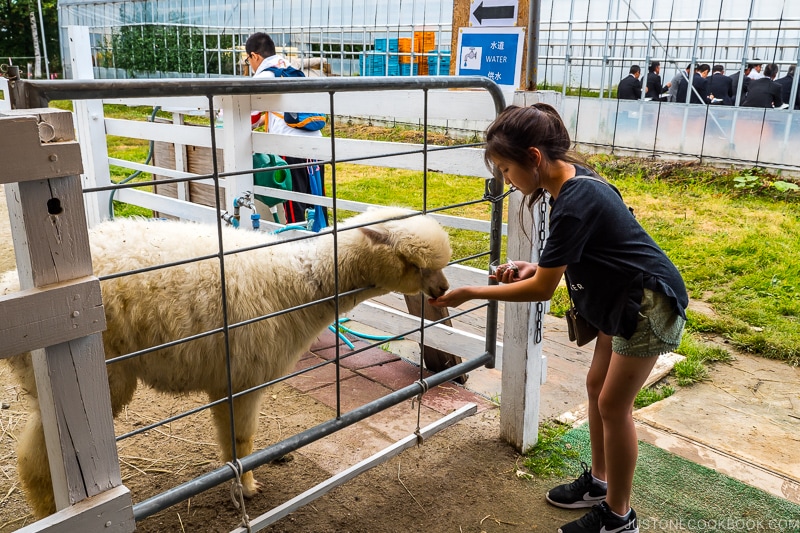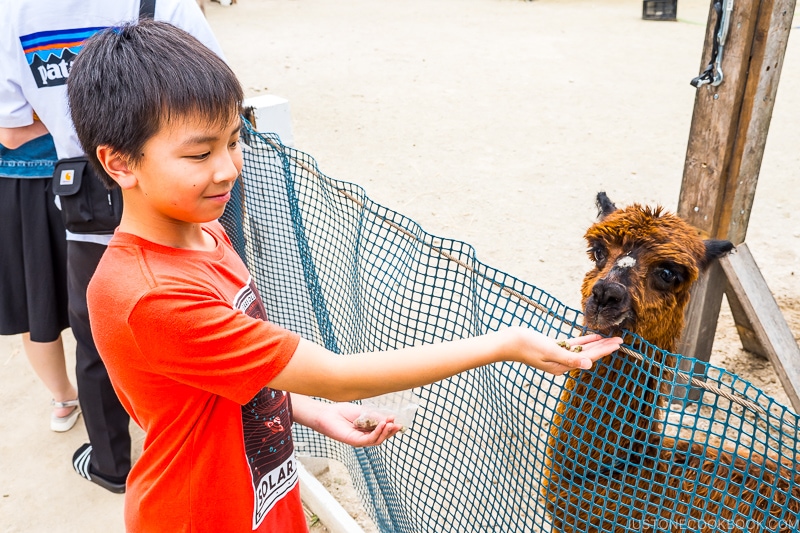 Farm Tomita ファーム富田
Head south from Shikisai No Oka for about 20 min and you'll reach Nakafurano, home to one of the most famous lavender farms in the Furano area – Farm Tomita.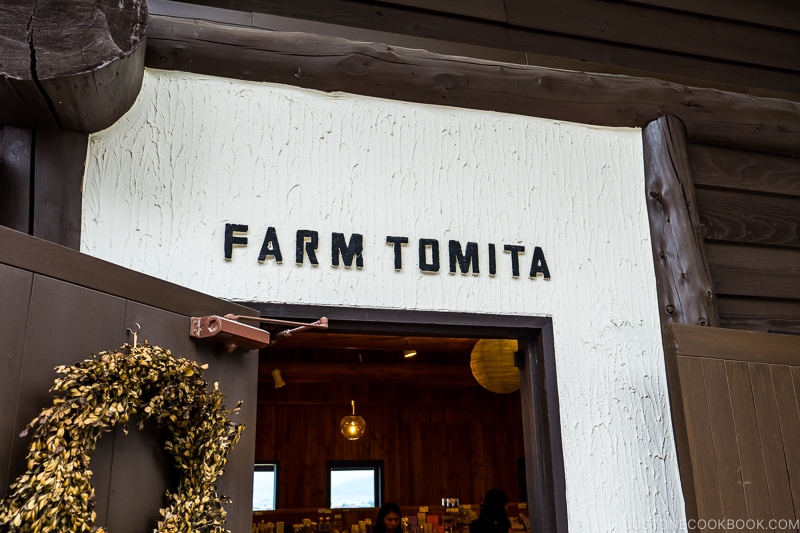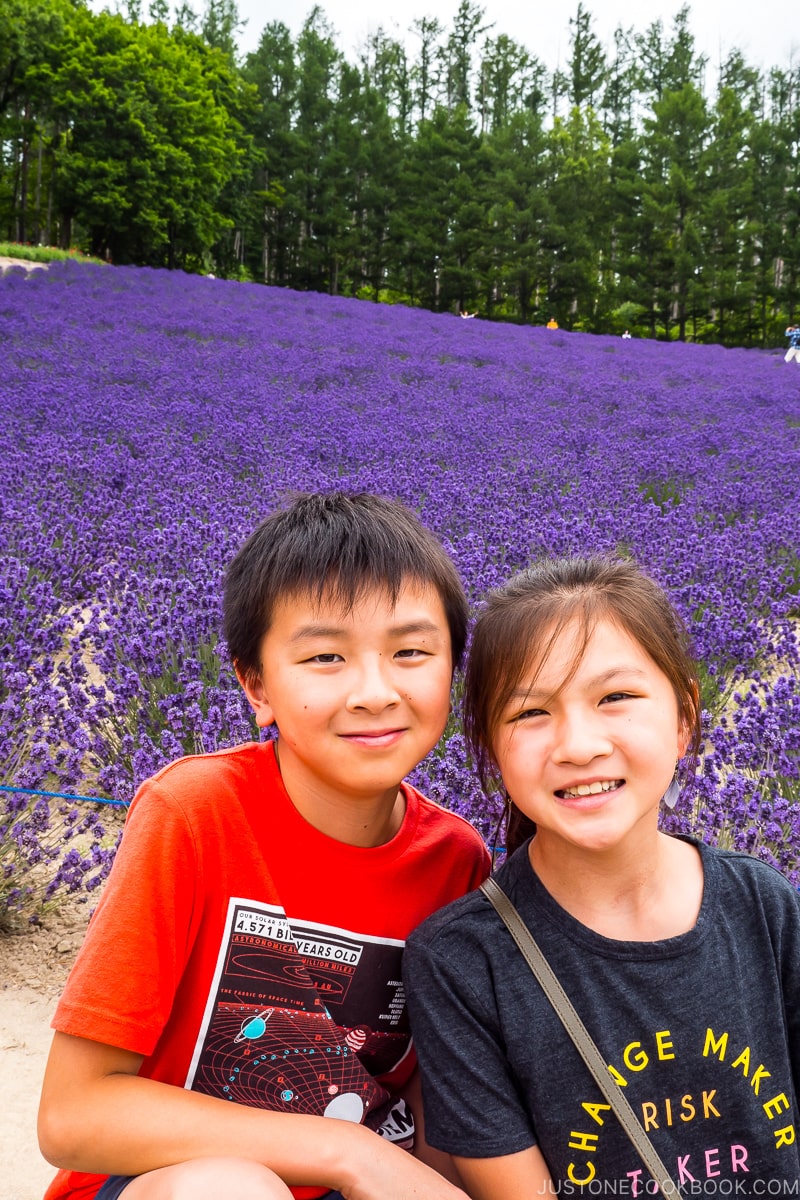 Farm Tomita has been cultivating lavender for over 50 years but it didn't become a popular tourist destination until the 1970s. Today, gorgeous flowers bloom throughout the massive property during the summer for visitors to walk through. It is free to wander around the flower fields.
Farm Tomita is known for lavender scented gifts and goods, including lavender ice cream, soap, candles and perfumes.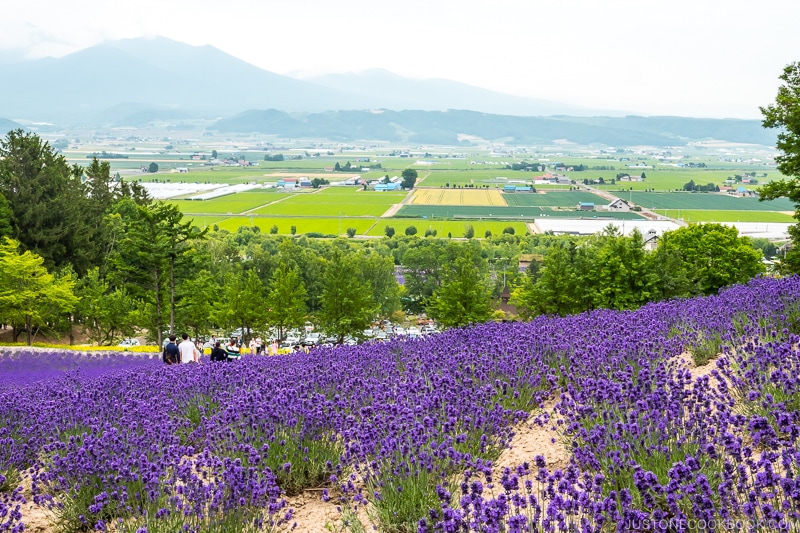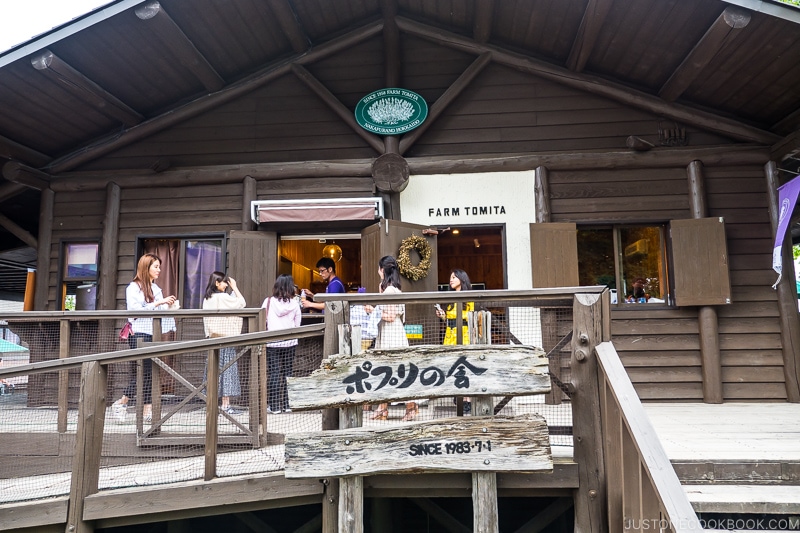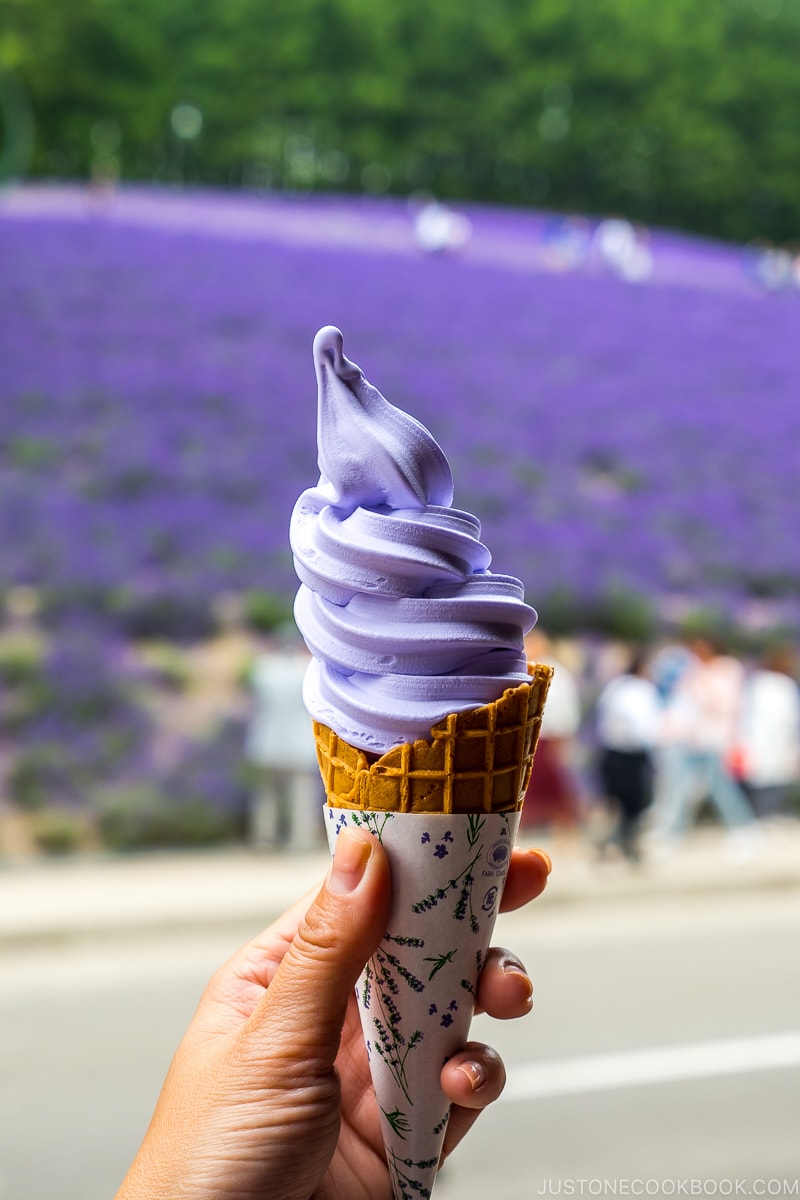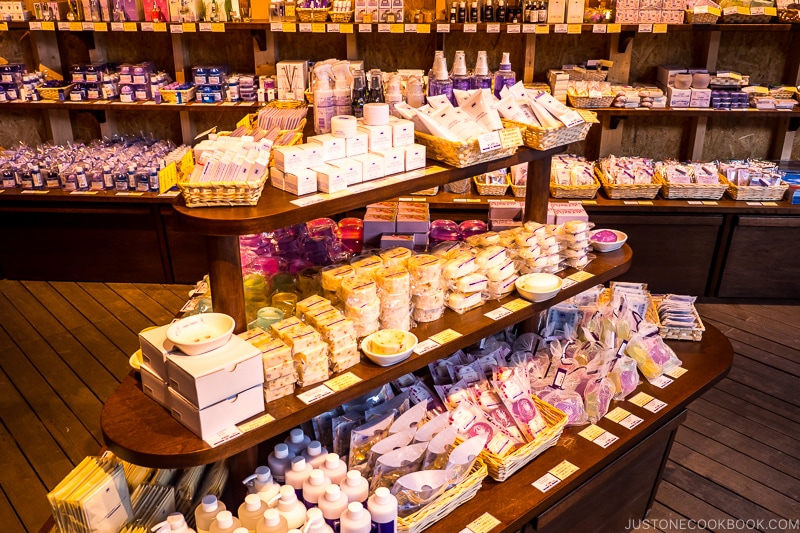 Farm Tomita has over 13 fields with various flowers and the best time to view is early through mid-July.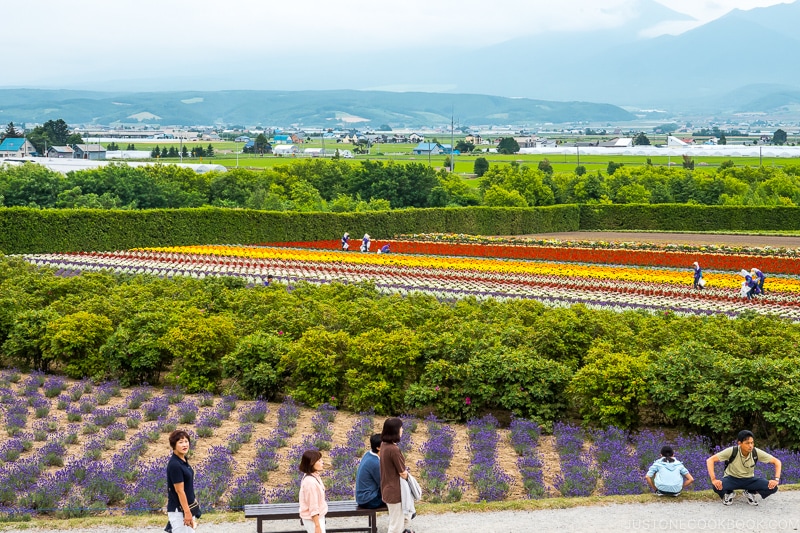 Our favorite is the Irodori Field, with flowers from seven plants creating rivers of color stretching across the hillside. We could just look at it forever and enjoy the splendor.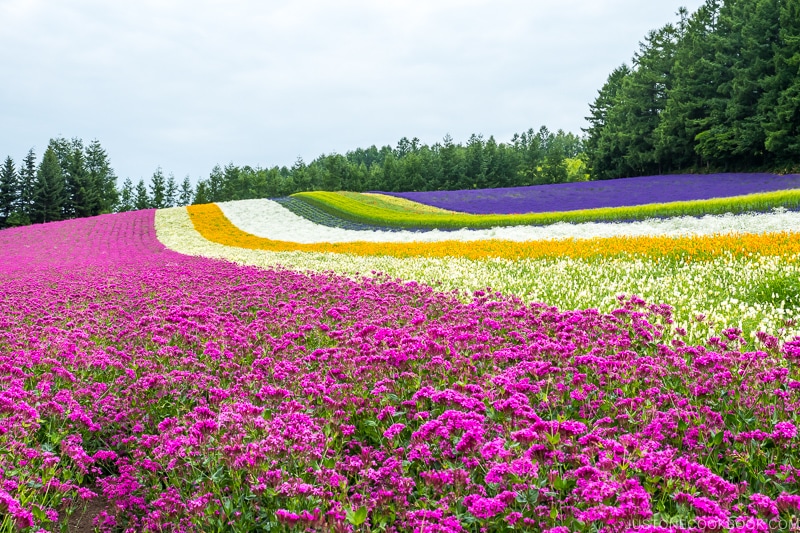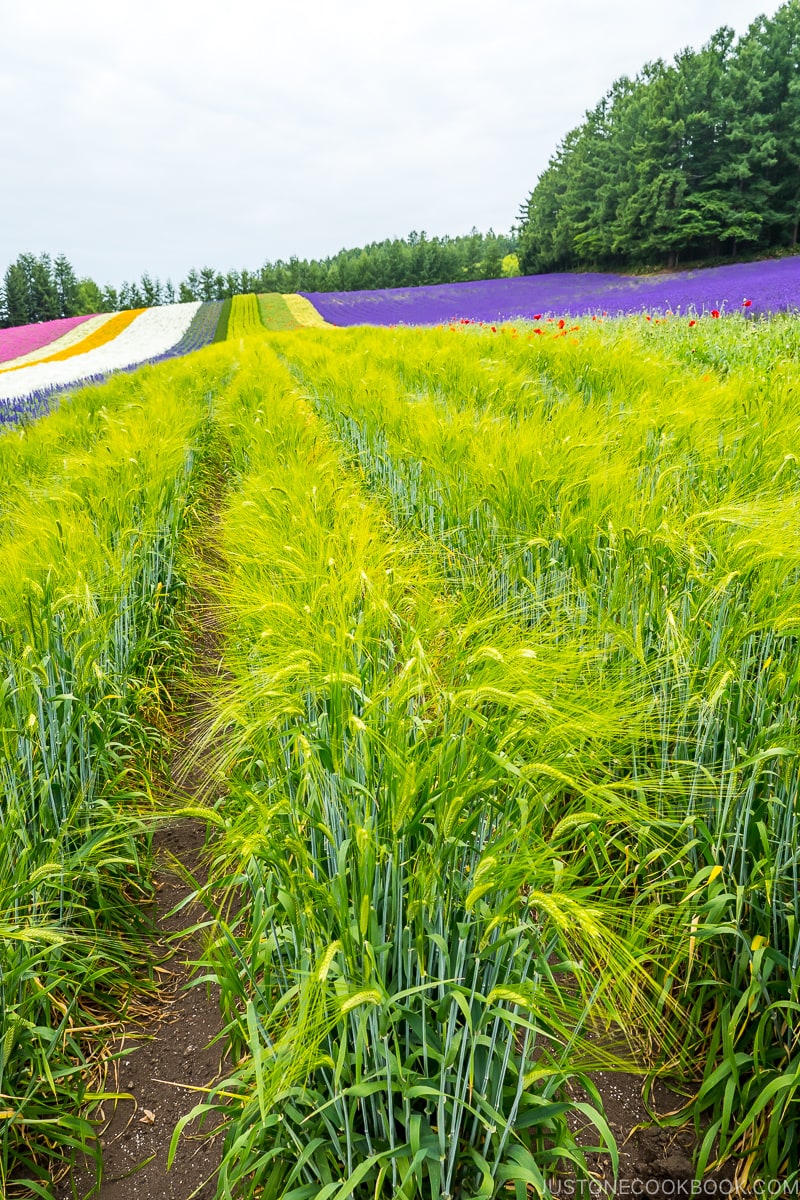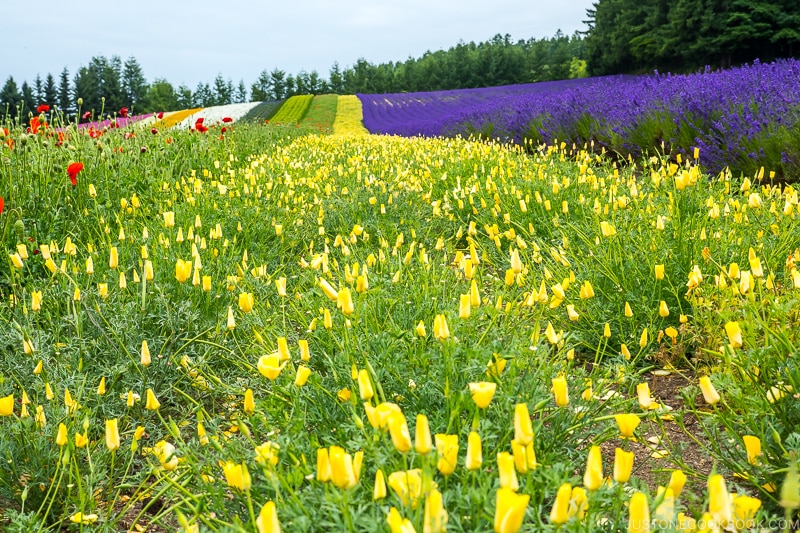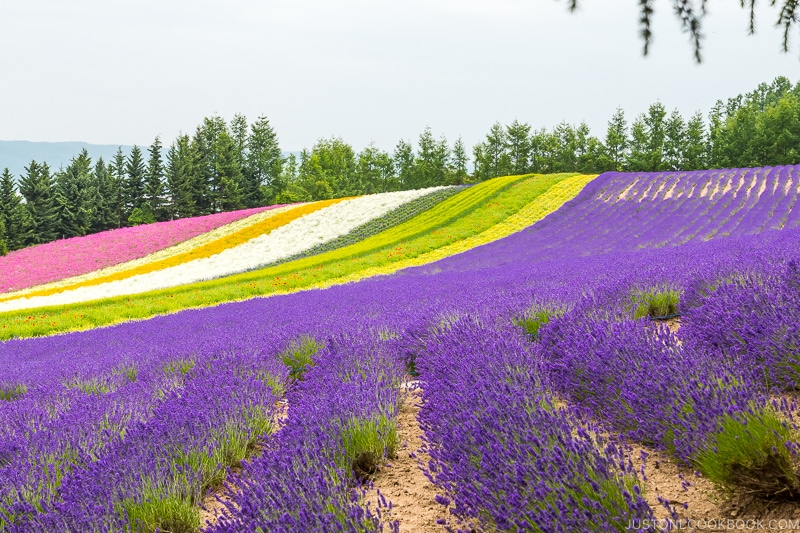 Farm Tomita also offers other activities and some of the favorites include cafes, lavender essential oil distillery, art gallery, and perfume workshop. If you are limited on time and had to choose between Shikisai No Oka and Farm Tomita, we would recommend the latter.
After visiting the flower fields, it's time to settle at the hotel, enjoy a good dinner, and relax in onsen.
New Furano Prince Hotel 新富良野プリンスホテル
We stayed at New Furano Prince Hotel for our visit to Furano. In hindsight, we wished we had head back to Sapporo instead. The reason is we visited Furano during the peak season (July) so there weren't too many hotels available and the prices were quite high.
When we booked the hotel, we didn't know how late it would be by the time we were done with the flower fields. It turned out we were done by 4 pm and could have made it back to Sapporo in time for dinner.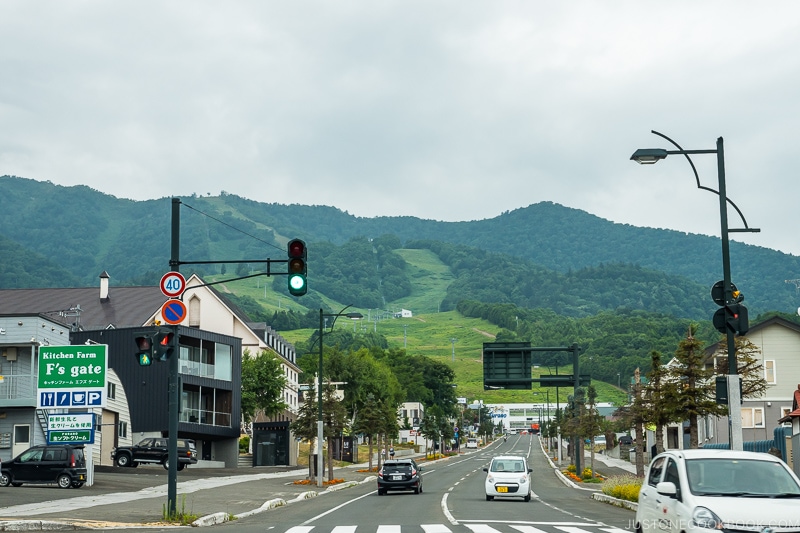 We booked a suite at New Furano Prince Hotel that could sleep four people. The hotel had added two beds in the living room to accommodate us. The window had a great view and looked east into Furano.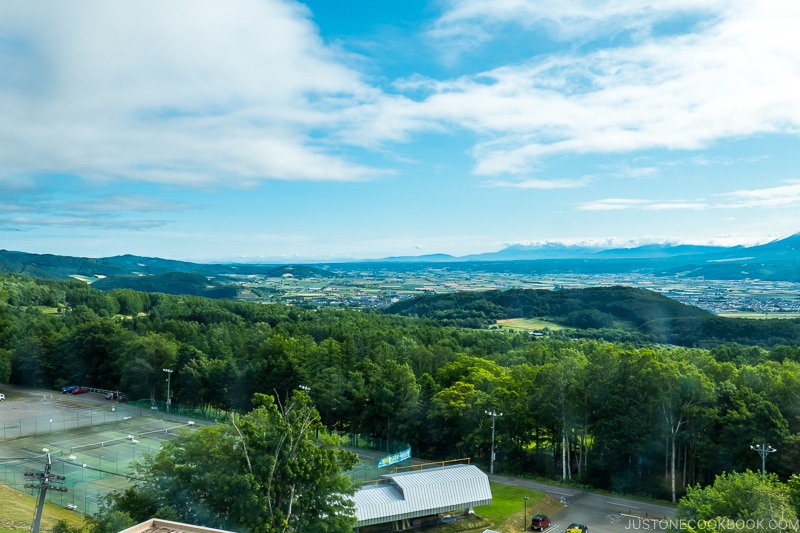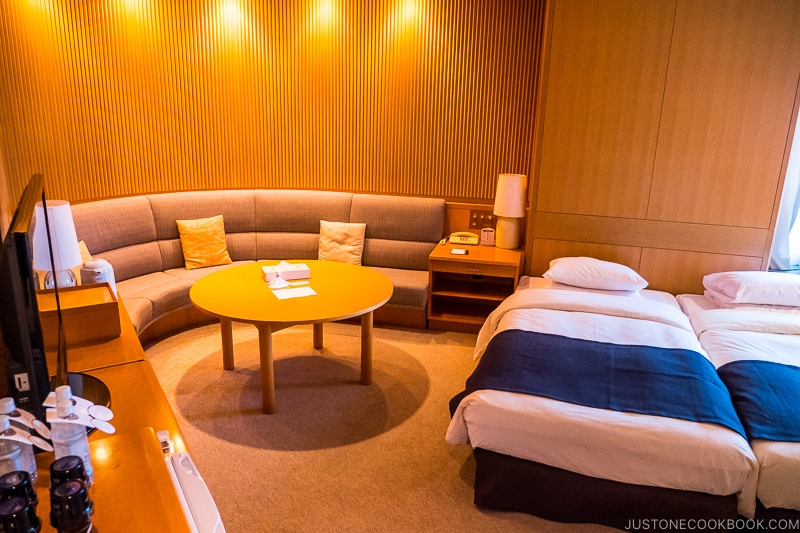 The decor in the hotel is a bit dated but it was very clean and well maintained.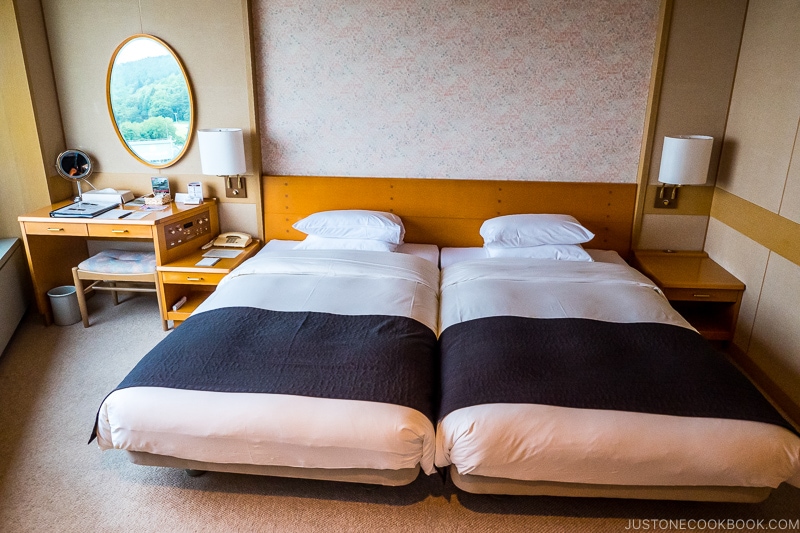 The dinner buffet was included as part of the room package and it was luxurious. It offered western, Japanese, and even Chinese dishes. The buffet also included a sushi bar and all-you-can-eat crab!
After dinner, we got to soak in the hotel's onsen. The onsen was nice but located very far from the room elevator. Guests had to walk through a really long lobby, the souvenir shop, and down some stairs before reaching the hot spring reception area.
Tree Adventure Furano
The next morning, our family was excited to experience Tree Adventure Furano on the hotel grounds. It is a 19-stage zip line and rope adventure course.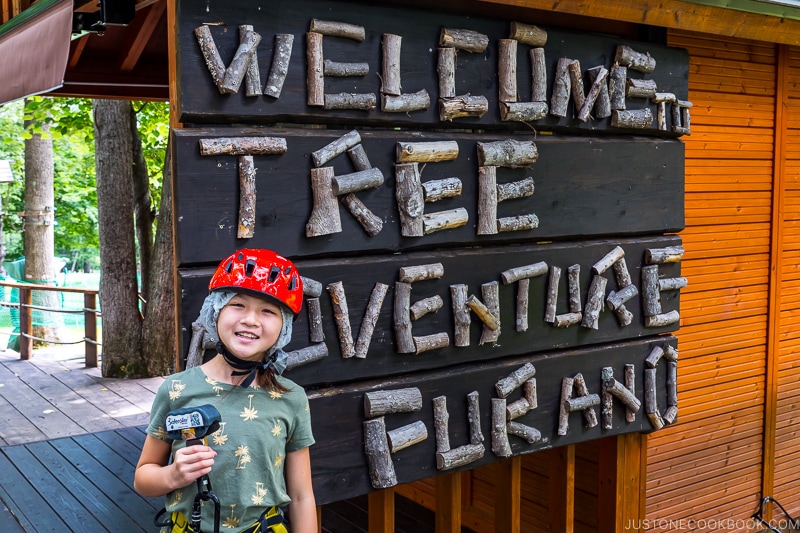 The obstacle course is suitable for slightly older children and adults. It was fun and beginners-friendly.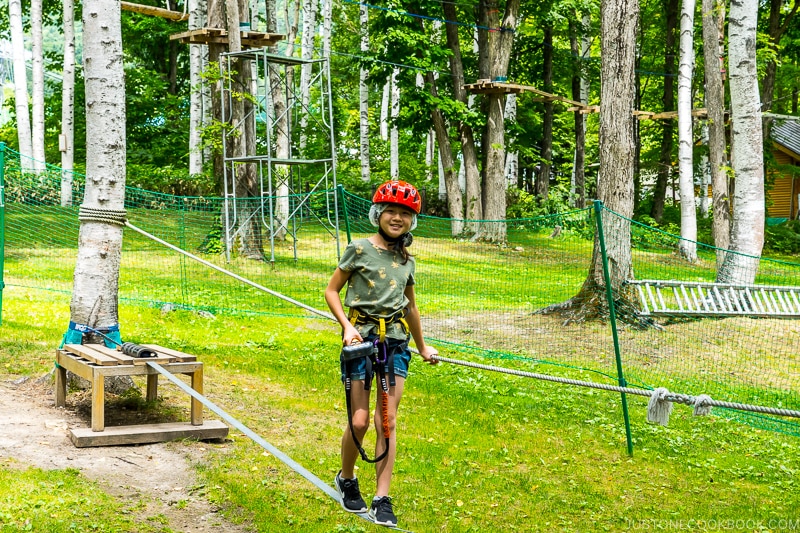 Ningle Terrace
Another part of the hotel that is interesting is the Ningle Terrace shopping area.
The terrace is located in the densely forested area in front of the hotel. It's made up of log houses that serves as artisan shops and cafes. Guests stroll along a raised walkway through the forest in the terrace.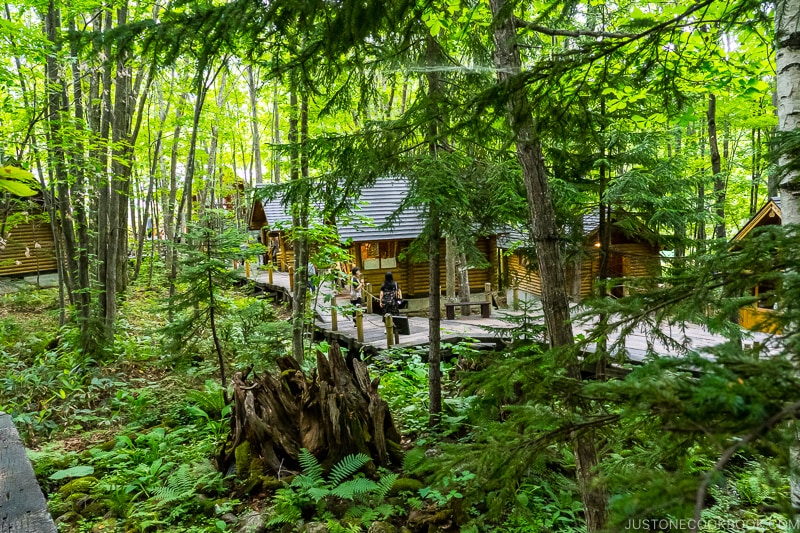 The craft workshops feature handmade items by the artists. At night, the area is lit up with lights and turns into fairytale-like scenery.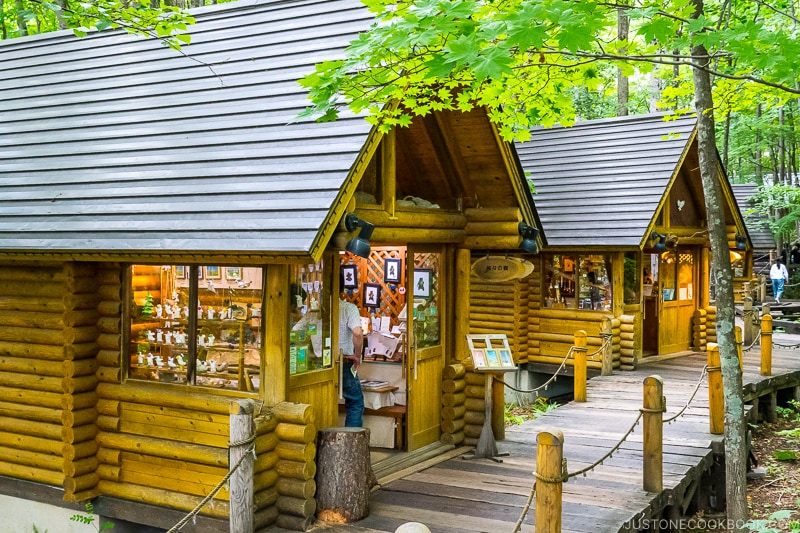 Furano Cheese Factory 富良野チーズ工房
Hokkaido is known throughout Japan for its excellent dairy products. Knowing this, we didn't want to miss the chance to visit Furano Cheese Factory. At the factory, visitors can see and learn how cheese is made.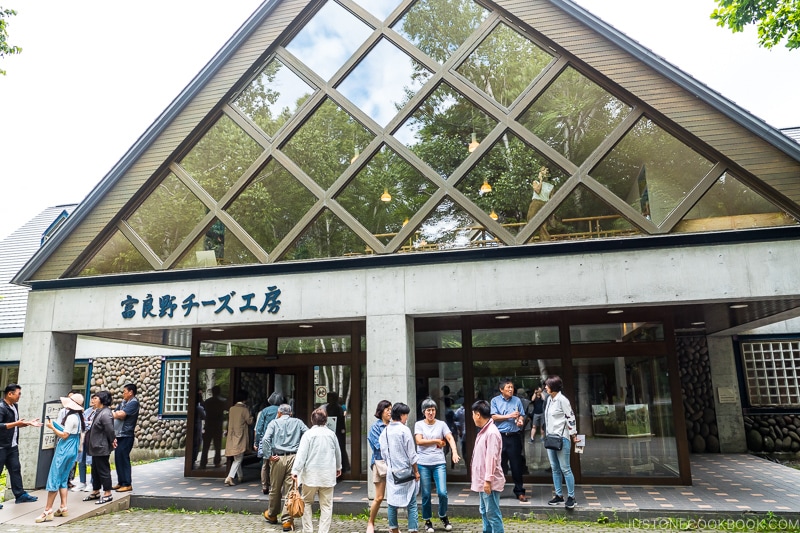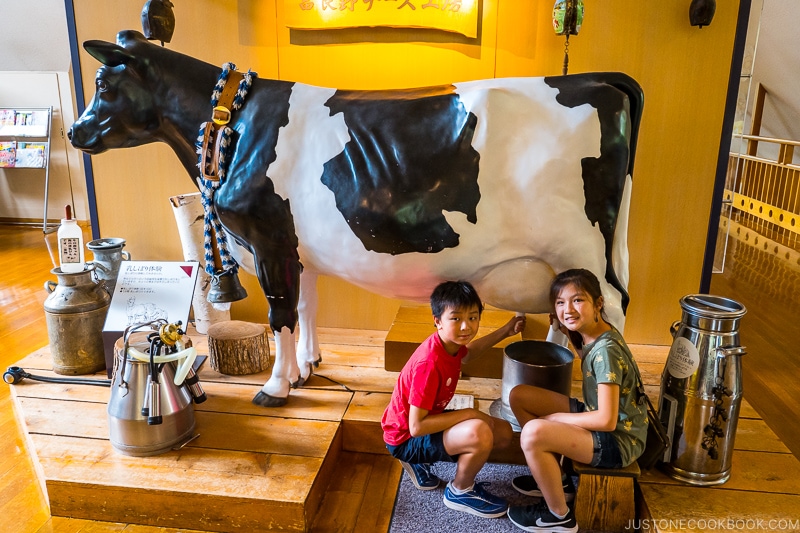 Visitors can also sample and buy the cheese they like and even try making their own cheese. There's also a popular ice cream shop and pizza restaurant on site.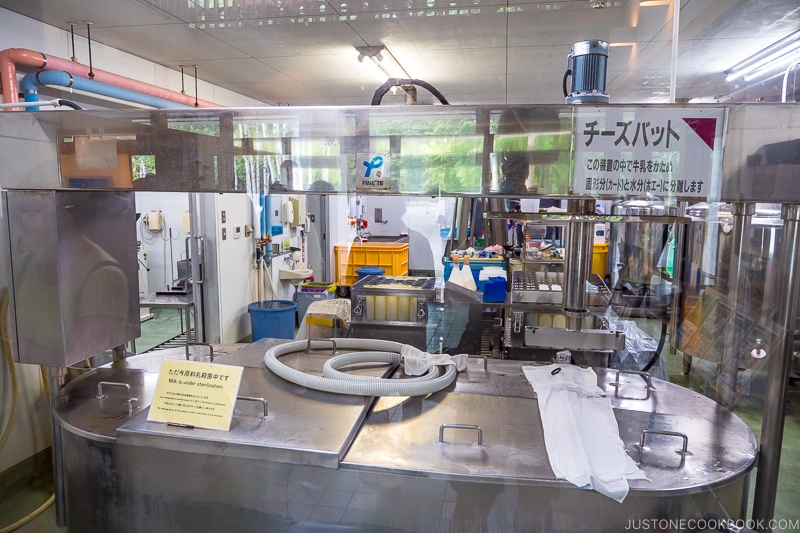 Furano Melon
Before we say goodbye to Furano, we found a local shop that sold the famous Furano Melon.
Not quite as famous as Hokkaido's Yubari King melon, Furano's melon is still really good. The red meat is super sweet and not as pricey as Yubari melon. However, they were still around $20 USD each. It was a lavish treat but definitely a true Hokkaido experience.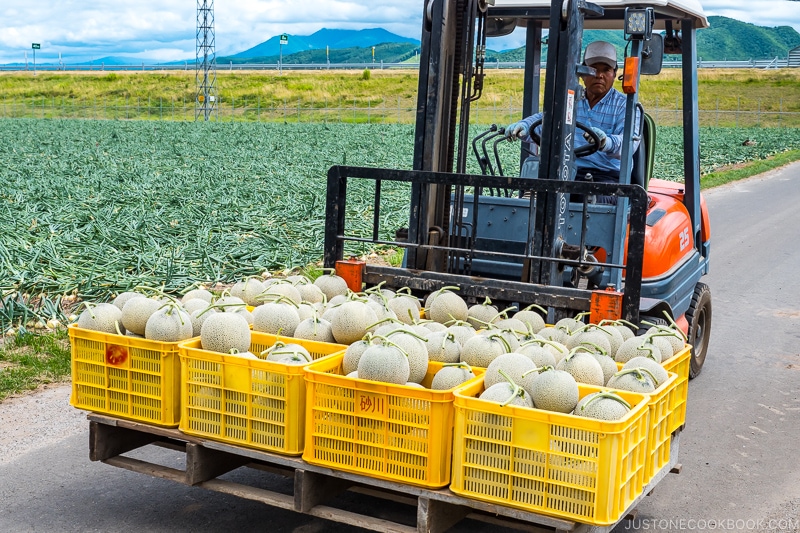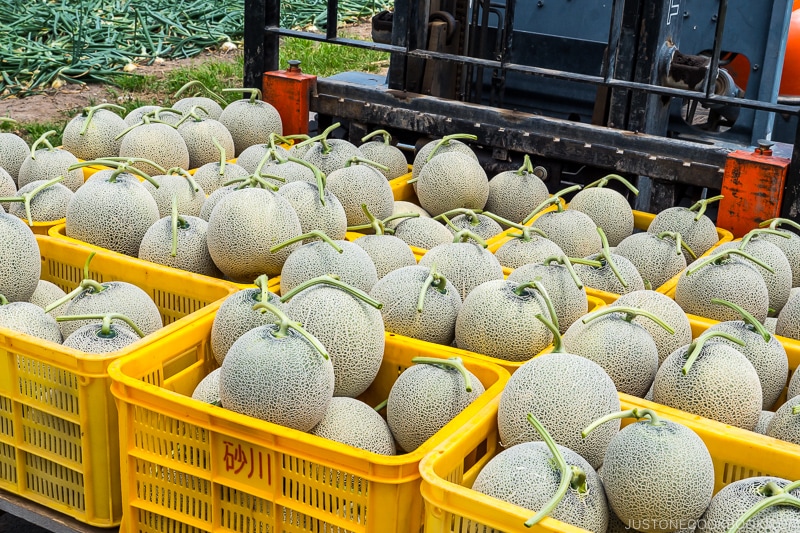 The shop we purchased the Furano melon from is called Sato Farm (佐藤農園) and it's just a small warehouse off of the main road. The farmer kindly cut some melon for us to try before we made up our mind to purchase.
The grandparents appreciated the sweet gifts from the children as we carried the sweet melons back to Yokohama.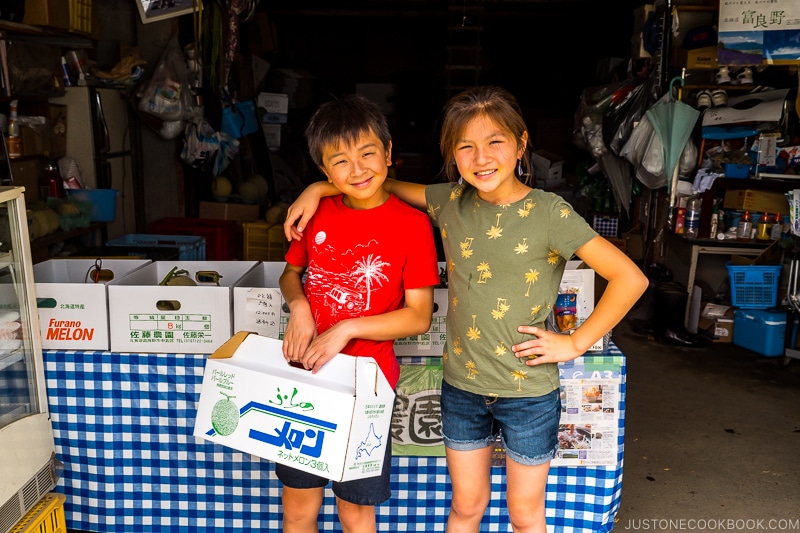 We thoroughly enjoyed our trip to Furano and Biei. The dazzling flower fields are unlike anything we've ever seen. In the wintertime, Furano transforms to one of the most popular ski destinations in Hokkaido. Perhaps we'll get to visit one day and ski there. Next up, Sapporo and all its wonderful food!