We absolutely love our carbon steel pans. They are durable, easy to maintain, and do not contain toxic chemicals. Learn how to season a carbon steel pan with these simple steps.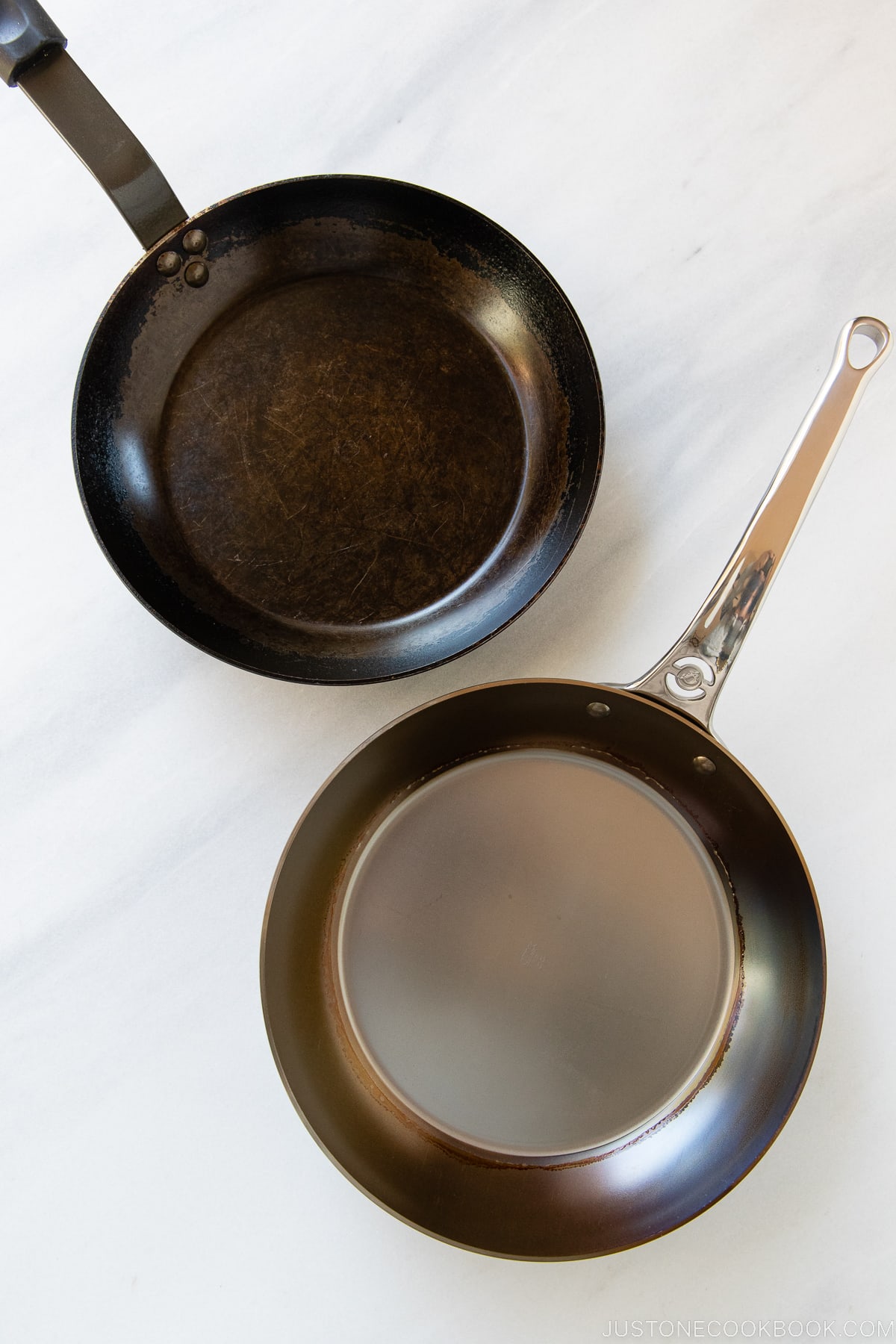 Like most families, we were using non-stick frying pans for quite a long time. The main reasons are obvious. The convenience of cooking all types of food and the ease of cleaning. Whenever the protective coating started to peel or showed scratches, we would replace them. After a while, the cost seemed to be adding up as we were replacing them yearly the moment we spotted visible scores and scratches.
Why We Started Using Carbon Steel Pan
In 2018, we watched the investigative documentary called The Devil We Know. That was when we fully understood the toxic compounds that are used on non-stick cookware and the ill effects they have on the human body. It was a wake-up call and we started getting rid of all our non-stick cookware and switched to carbon steel pans.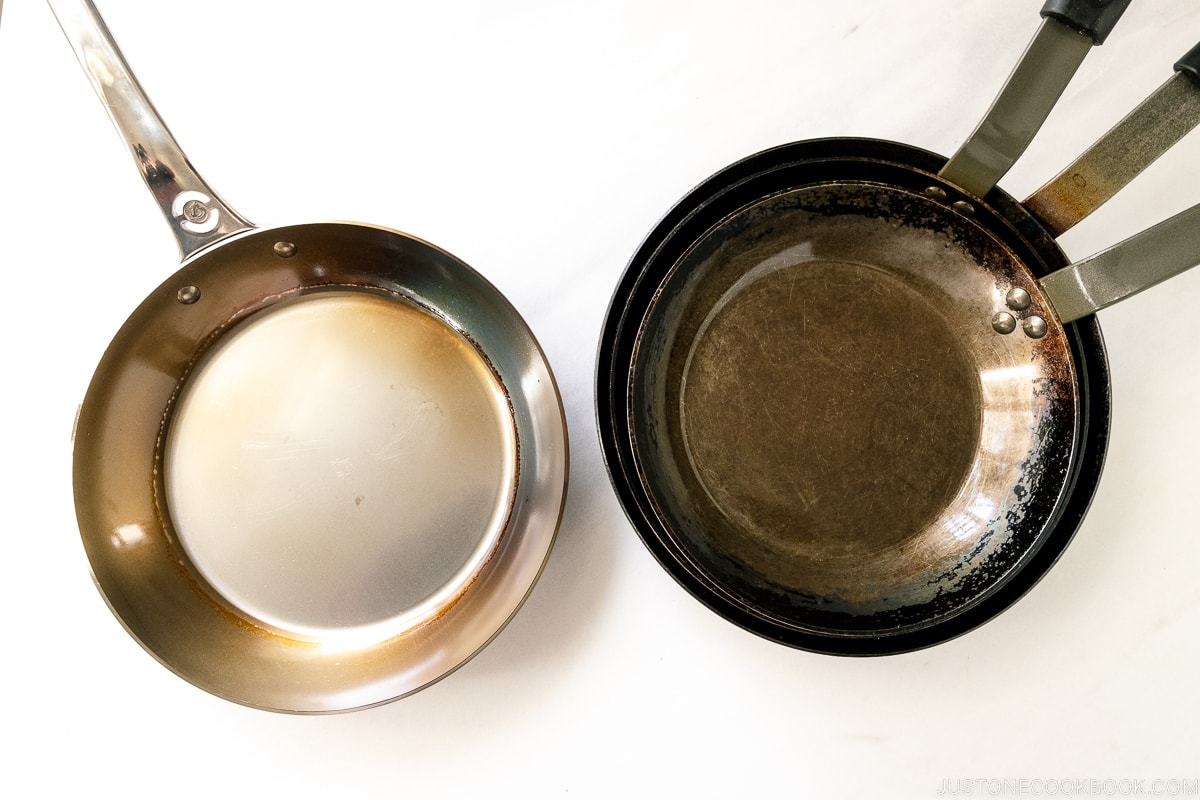 What Is A Carbon Steel Pan
A carbon steel pan is simply a frying pan made with carbon and iron. The percentage of carbon may vary from various manufacturers but high-carbon steel is defined .6 to 1% carbon (the pans are typically 1% carbon). The pans are a bit heavier than stainless steel pans but still lighter than cast iron pans. Once seasoned, a natural nonstick layer forms on the pan and it's really great for cooking almost all types of food and can handle high heat. Whereas non-stick pans shouldn't be used at higher than medium heat.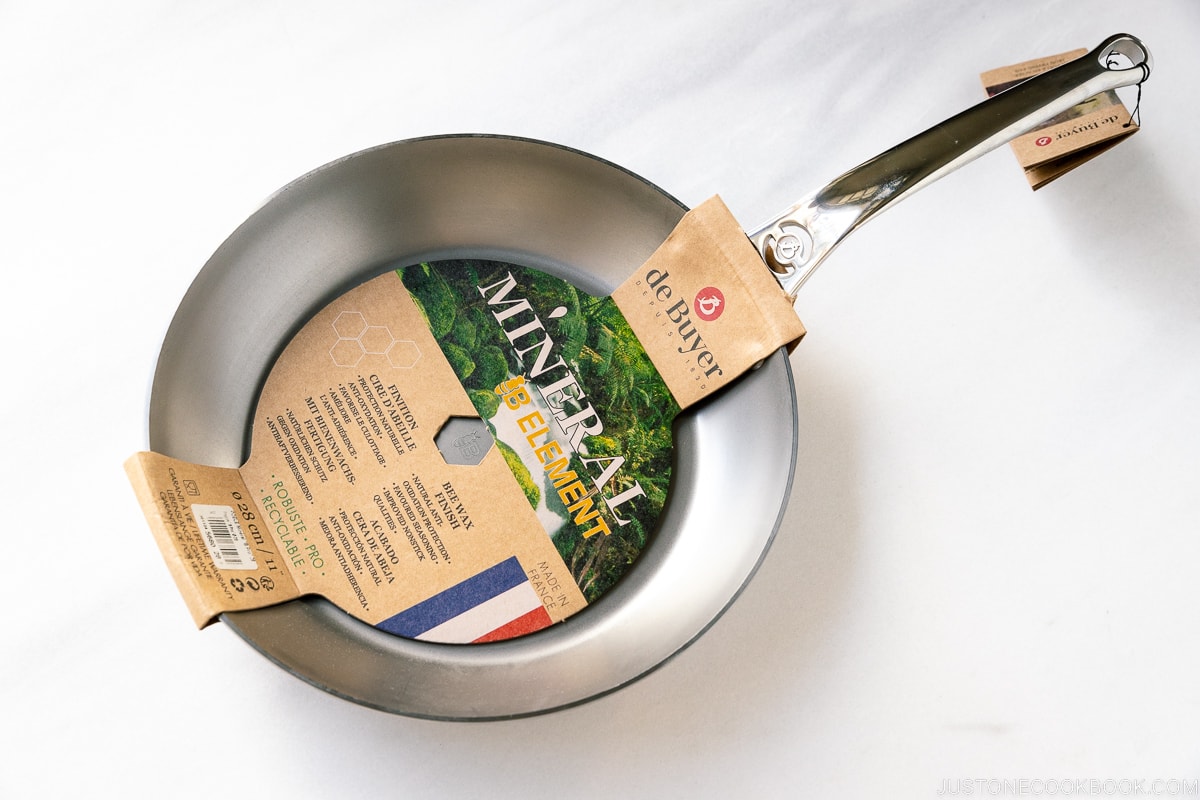 What Are The differences Between Seasoned Carbon Steel And Seasoned Cast Iron?
Another popular type of pan that is without toxic non-stick coating is a cast-iron skillet. Cast iron cookware is also made of iron and carbon but with a higher carbon percentage. The key differences are that cast iron pans are heavier, don't have a smooth surface for cooking, but do retain heat longer. However, they also take longer to heat up.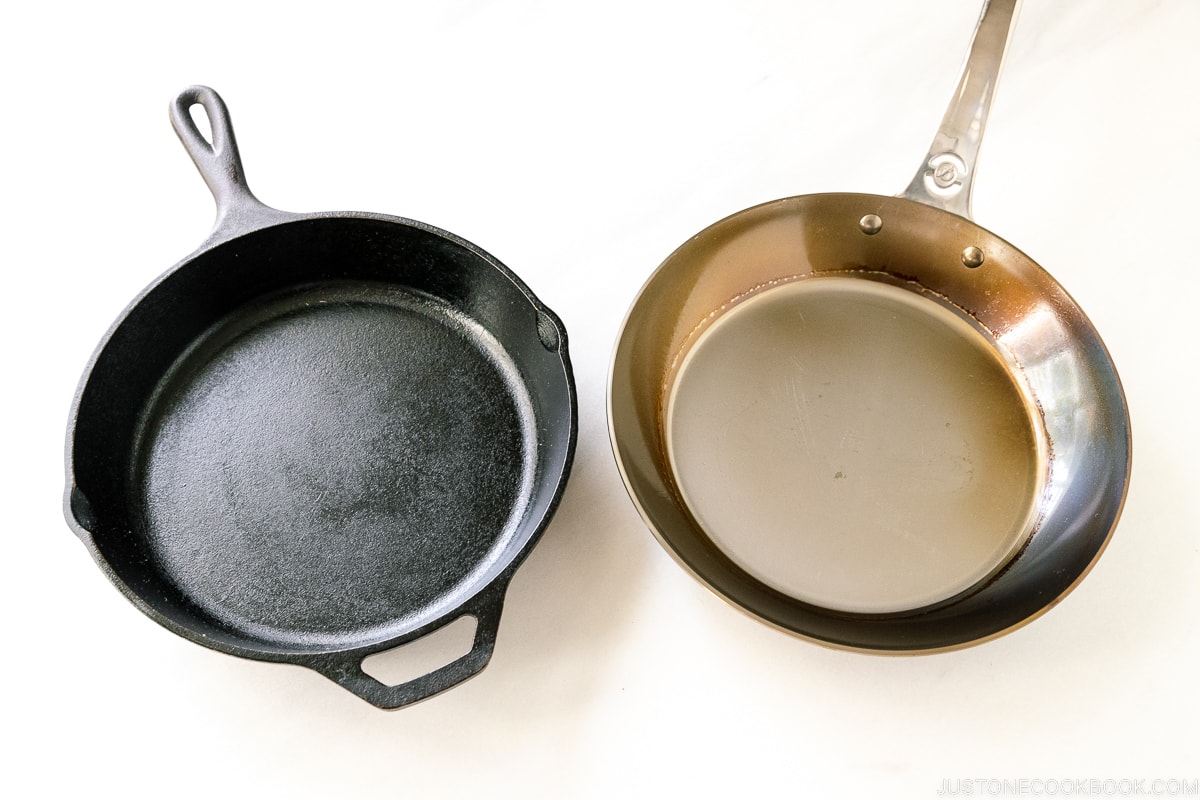 Seasoning And Cleaning
Now you know the similarities and differences between carbon steel vs. cast iron pans, let's demystify the two most asked questions: how to season and clean these pans. Let's cover the seasoning first.
Why Do We Need To Season A Carbon Steel Pan?
There are a few reasons why we need to season a carbon steel pan. First, seasoning creates a protective layer on the pan, preventing it from rusting. Second, seasoning also transforms the surface of the pan into a non-stick, enhancing the overall performance and durability of the pan. The very same reasons why we need to season a cast iron or a wok.
The seasoning process involves heating oil in the pan so that the fat bonds with the cooking surface and becomes part of the pan, forming a natural protective coating over time. This coating prevents your food from sticking just like the Teflon-type non-stick pans, only without the concerns of breaking down over high heat.
Luckily, seasoning a carbon steel pan is easy and straightforward. Once you season it properly, you can use the pan for frying eggs, searing a beautifully marbled steak, pan-frying tofu and gyoza, stir-frying vegetables, and more! It's built to last and you'll enjoy cooking with it.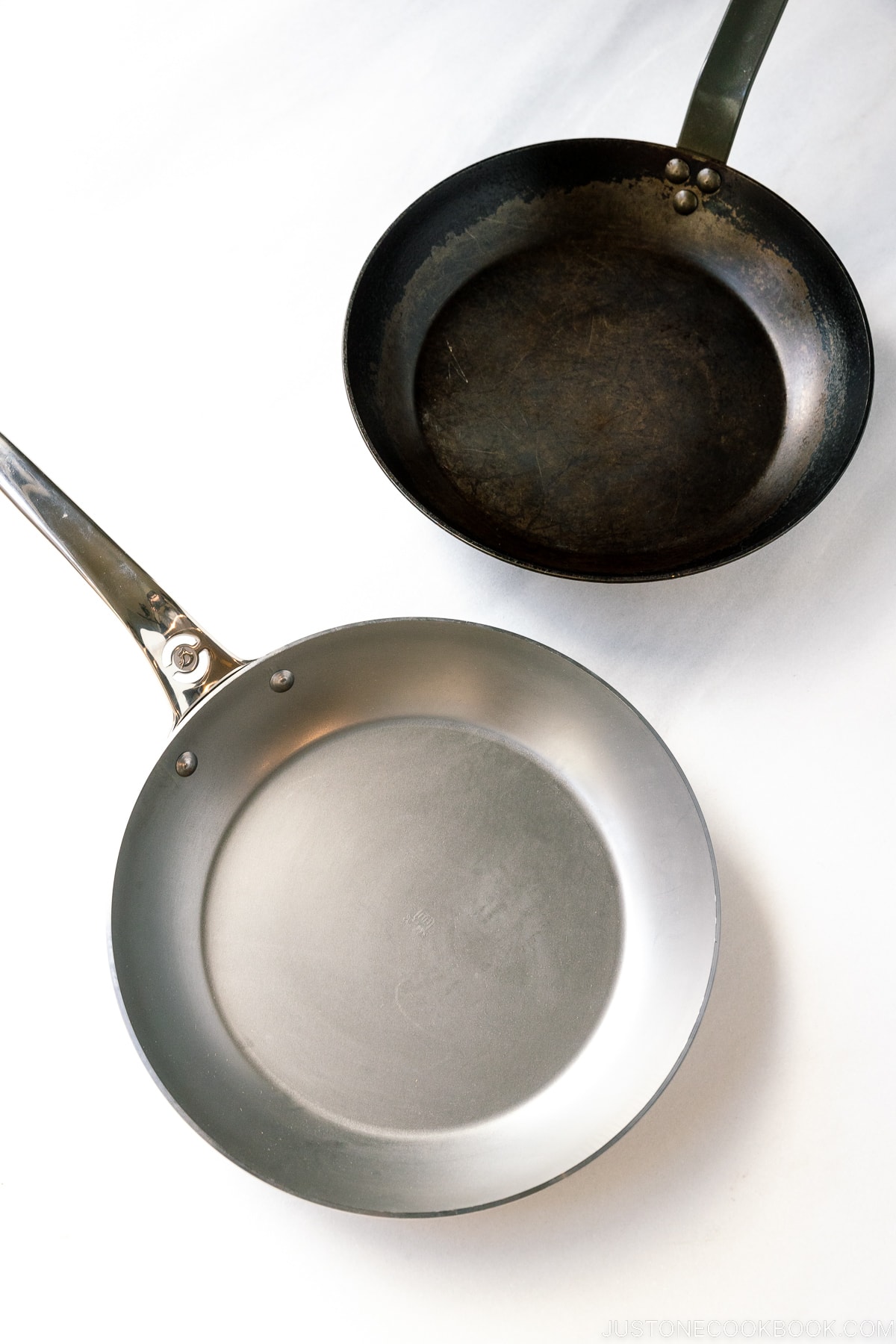 We've tried a few different brands of carbon steel pans and we really like de Buyer's. The main advantage is they are very easy to season compared to other brands we've had. de Buyer coats their pans in beeswax from the factory and it can be easily removed.
To season the de Buyer pan, simply scrub off the wax with hot water and a sponge. Pour a thin layer of oil and avoid getting it on the sides. Heat on medium-high until smoking and dispose of the oil. The pan is now ready to use.
Other brands of carbon steel pans require a bit more work to season. We've shared links to other seasoning methods at the bottom of this post. The methods include sautéing potato peels with salt multiple times and the oven method. We really don't like the oven method as the kitchen becomes very smoky and the air becomes hard to breathe.
How To Season A Carbon Steel Pan
Step 1: Remove protective wax with a sponge and hot water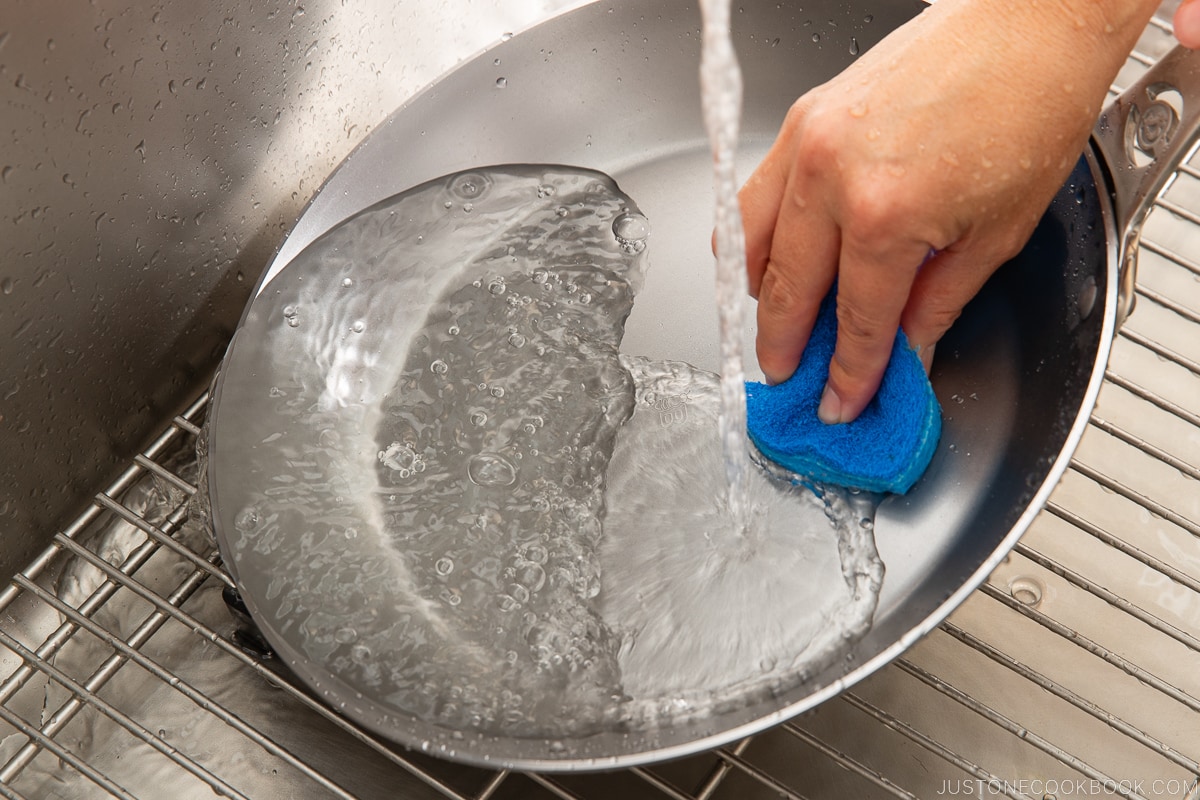 Depending on the manufacturer, various protective coating is applied. Regardless of the coating, it should be removed.
Step 2: Dry the pan thoroughly with a towel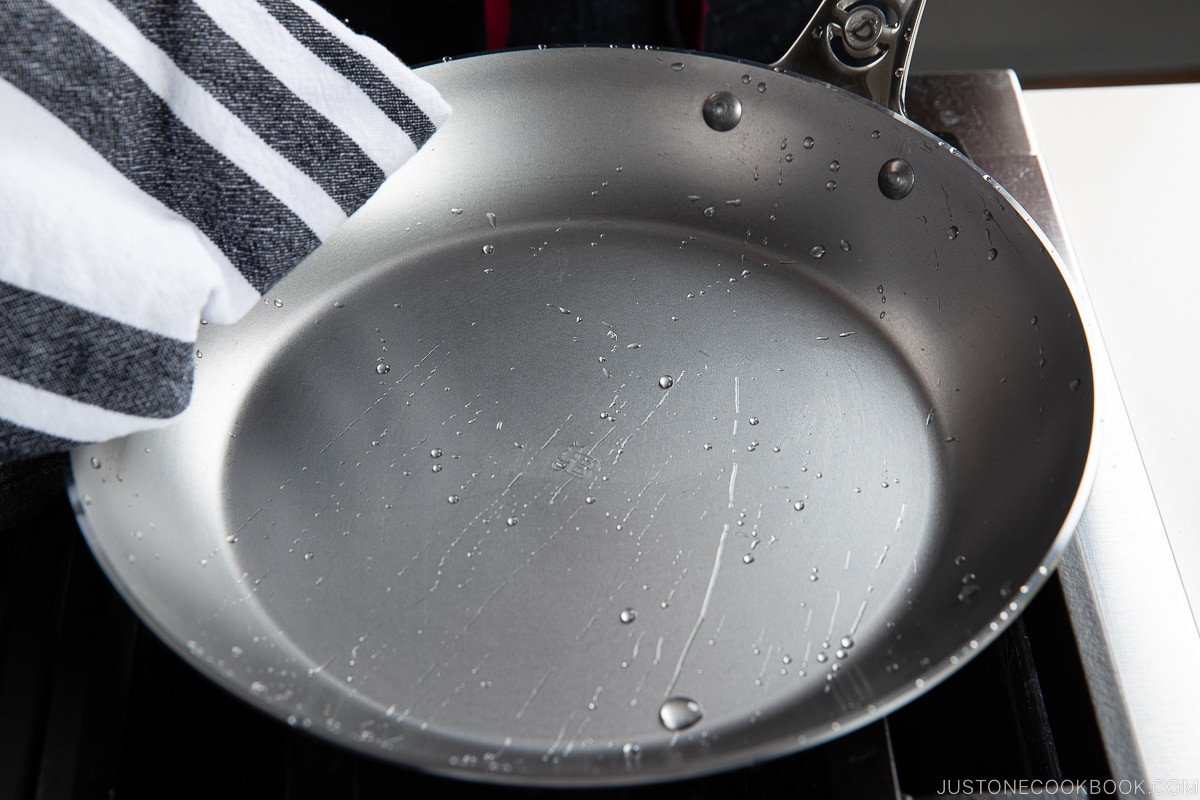 Take extra time to dry the pan, any water leftover in the pan will splatter with hot oil causing potential harm and accidents.
Step 3: Pour 1 mm of oil to cover the bottom of the pan.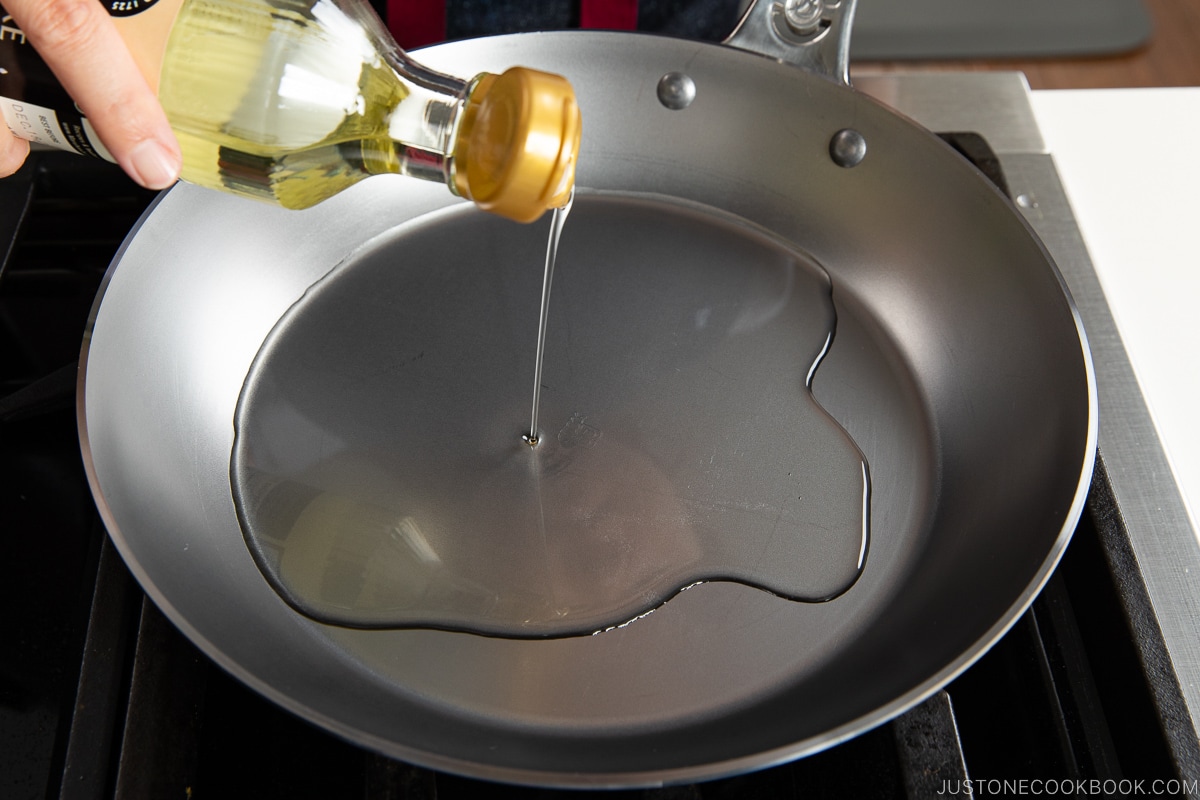 Do not pour more than 1 mm as the sides will burn the residual oil and turn the sides black instead of a beautiful patina finish.
Step 4: Heat the pan on medium-high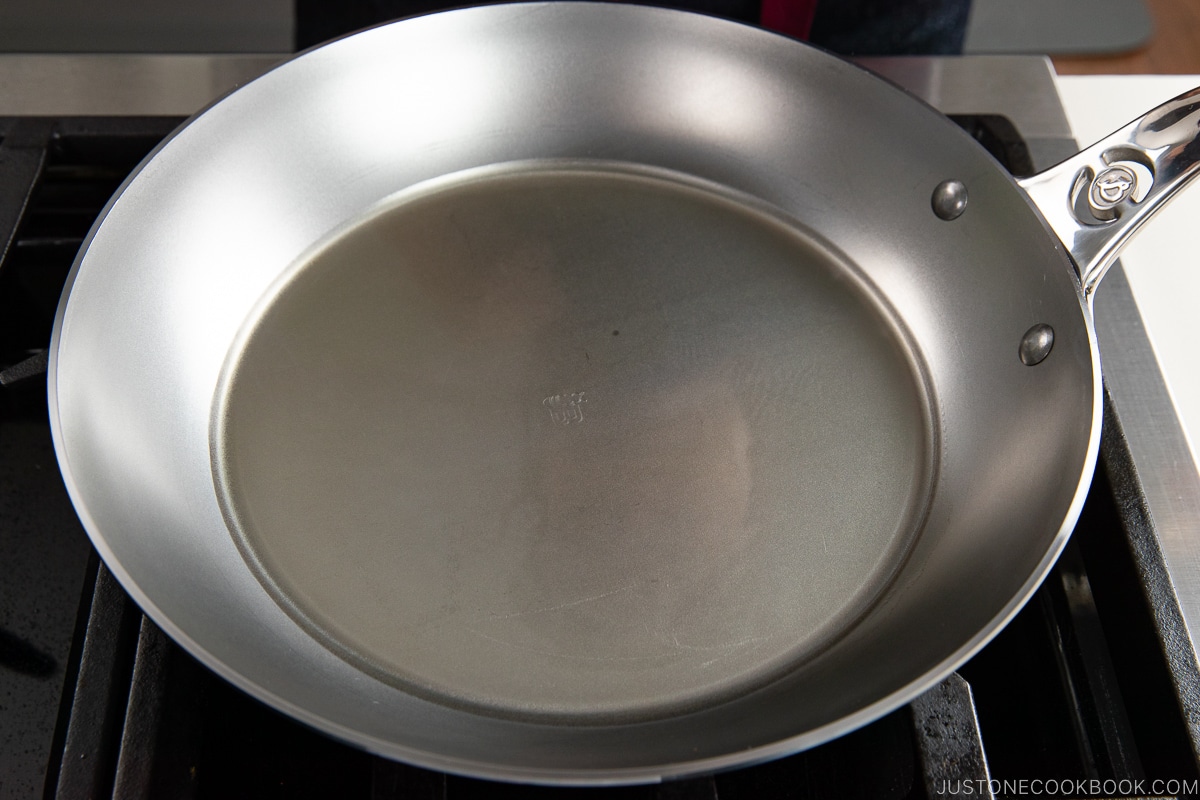 Once the stove is on, do not move the pan too much, and do not swirl the oil around. The oil residue will leave a black mark. Heat the oil until smoking, about 5-8 minutes depending on the stove. Once smoking, turn off the stove and let the oil cool.
Step 5: Pour the oil out and wipe down with a paper towel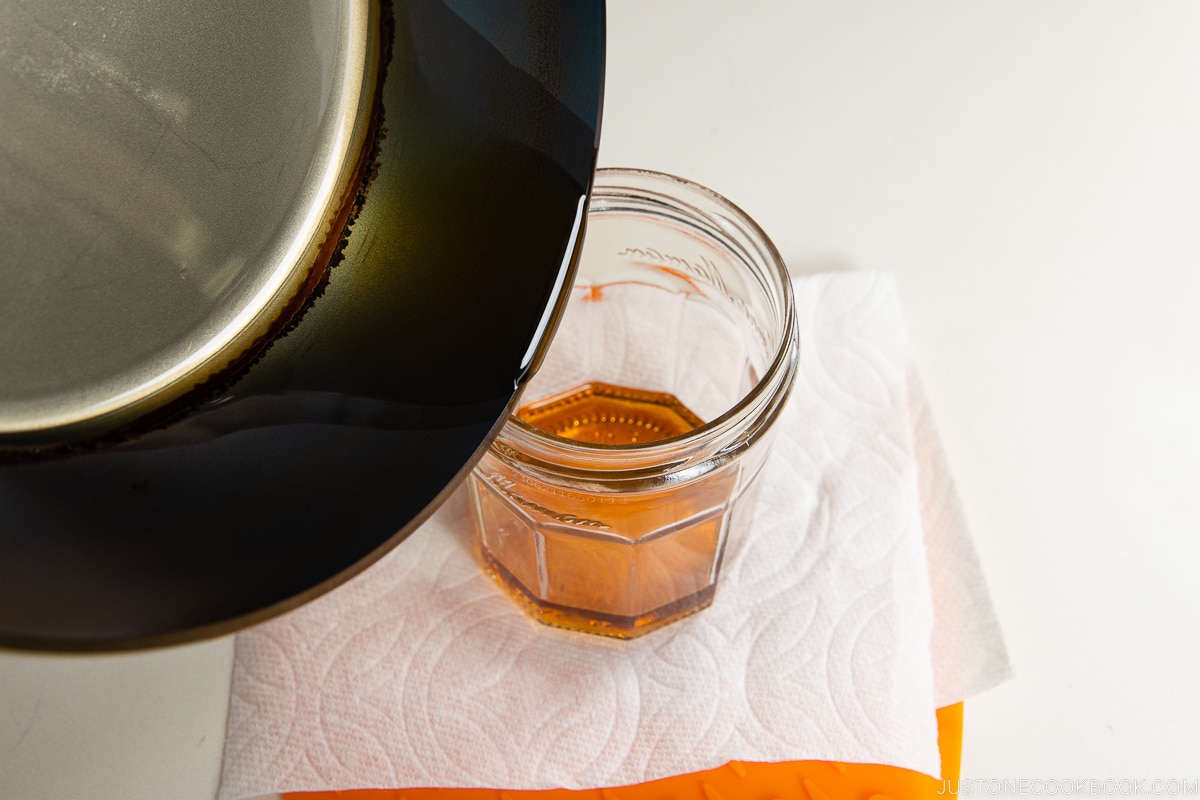 Once the oil has cooled, pour it out and wipe the pan with a paper towel. It is now seasoned and ready to use! Easy right?
Maintenance And Making Your Pan Last
The more you use the pan, the darker it'll become and the pan will take on a nice patina. It'll become more and more non-stick with use. You can see in the gallery below with the newly seasoned pan, the fried egg already easily glides around.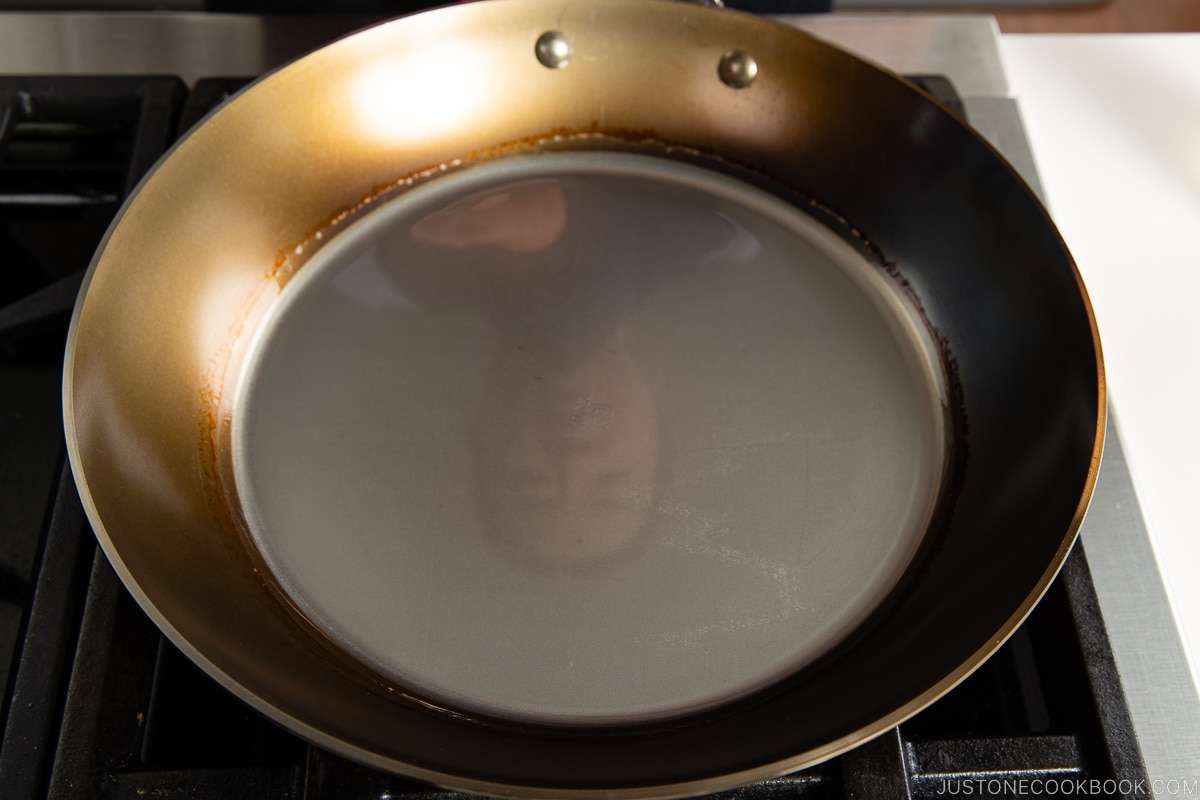 The key is to remember to clean the pan only with hot water after each use. Here are the easy steps to maintaining your carbon steel pan.
How To Clean A Carbon Steel Pan
Step 1. Rinse with hot water and scrub with a brush/sponge
Do not use dish soap to wash your carbon steel pan. It'll remove the natural non-stick coating. Any remaining food should come off easily with a brush or sponge.
Step 2. Heat the pan on the stove until dry and then pour a bit of oil
Heat the pan on medium heat until all the water has evaporated. Turn off the stove and pour a bit of oil into the pan.
Step 3. Rub oil all over the pan with a paper towel and let cool
If there are stubborn pieces of leftover food stuck onto the pan, I use these plastic scrapers to remove them. My favorite is the Lodge one since it's very stiff and effective at removing food.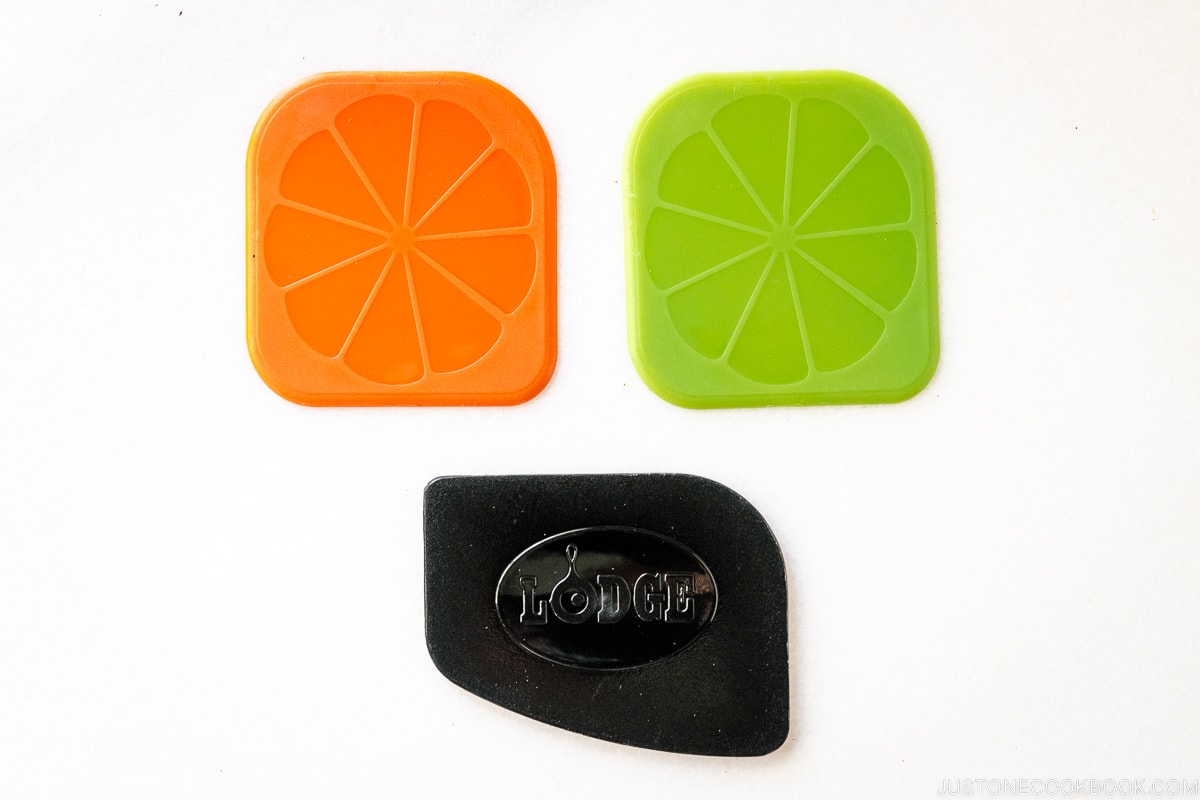 Additional Questions About Carbon Steel Pans
Q: What kind of cooktops work for carbon steel pans?
A: Carbon steel pans work on electric cooktops, induction cooktops, and gas burners. If you are using an induction cooktop to season the pan, bring the heat up slowly to prevent warping.
Q: What is the best oil to season a carbon steel pan?
A: For seasoning a carbon steel pan, it's best to use a neutral oil with a high smoking point. Canola oil, vegetable oil, avocado oil, and sunflower oil are all great choices. Avoid butter and unrefined oils with lower smoking points.
Q: What do you use on the handles to protect from the heat?
A: The handles on some carbon steel pans heat up during cooking. We use a silicone pan grip to protect from the heat and provide a better grip.
Q: Any food to avoid on carbon steel pans?
A: Avoid cooking acidic food like tomato, citrus, and vinegar sauces. The acid in the food will remove the seasoning from the surface.
Q: Why does my pan still stick after seasoning?
A: It's possible there are some food scraps on there or the seasoning has been scraped off from the surface. Just season it again with a thin layer of oil until smoking.
Q: Can you use metal utensils on carbon steel pans?
A: Yes, be gentle while the pan is still building the seasoning or you may see scratches. Once heavily seasoned, you don't have to be concerned with metal utensils.
Q: How to re-season a carbon steel pan if it's rusting?
A: Always rub down a pan after rinsing with oil to prevent rusting. de Buyer recommends using a rust cleaner to remove the rust. Scrub and re-season the pan.
Q: Are carbon steel pans oven safe?
A: Depending on the pan and the manufacturer. For example, de Buyer's MINERAL B PRO is oven-safe but not MINERAL B.
Additional Resources For Seasoning Carbon Steel Pans
Hope we answered any of the questions you may have about seasoning and maintaining carbon steel pans. Let us know in the comments below if you have any additional questions we did not cover.
JOC Discount Code
A special 10% discount code for JOC readers: JOCB10
You can use this code to shop at the de Buyer website. The discount code will apply to everything.
Carbon Steel Pans I Own