This post may contain affiliate links. Please read my disclosure policy for details. As an Amazon Associate I earn from qualifying purchases.
London has many museums with amazing collections of arts, treasures, and significant pieces from different time periods and civilizations in the past. The best part? Many of these museums are free and you can spend days in them. The photos I've shared below doesn't truly represent the breadth and depth of each museum. If you missed Day 1 and Day 2 of my London posts, click here to get started.
Just a reminder, this is by no means a comprehensive London travel guide. This London travel guide is written for those who might go to England one day and want ideas on what you can see and do based on my own experience.
The guide will be shared over 6 posts:
Day 1 – Places you can go by utilizing the London Pass
Day 2 – Places you can go by utilizing the London Pass
Day 3 – Museums (Free!)
Day 4 – Warner Bros. Studio Tour London – The Making of Harry Potter
Day 5 – Windsor, Bath, and Stonehenge
Day 6 – Different parts of London, London eats, Tips, and Accommodation
London Travel Guide – Day 3
Each of the museums I'll be sharing below hosts massive collections and you can easily spend more than one day in each of them. If you want to see the highlights of each museum, they all have brochures letting visitors know their top 15-20 items that are must-see with a brief description.
The British Museum
The British museum houses some of the greatest treasure (8 million pieces) from across the globe. The different sections of the museum are categorized by regions and civilization, from ancient Greece and Rome, ancient Egypt, Asia, to the Middle East. It is the most visited museum in the UK and 5th most popular museum in the world.
The exterior of the museum is Greek architecture.
There are many sections to the museum, the Great Court pictured above was built in 2000.
The Rosetta Stone.
There is an extensive display of Egyptian artifacts arranged in chronological order.
Statue of Ramesses II.
Many of the artifacts on display has the photo of where it originated.
The Gayer-Anderson Cat.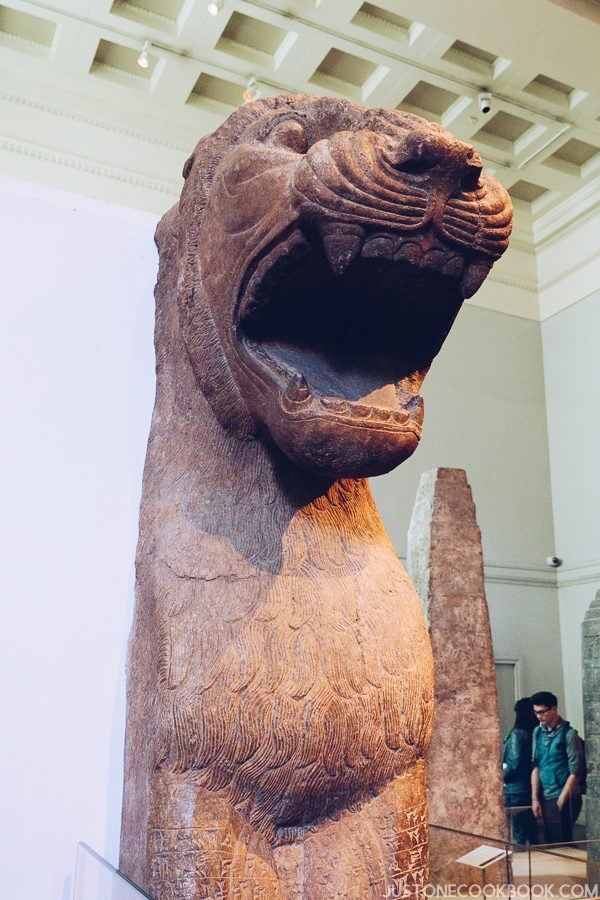 Assyria: Lion Hunts sculpture.
Many of the statues were very tall, it's impressive many thousands of years ago humans were already capable of creating these masterpieces.
Parthenon sculptures.
Hoa Hakananai'a Easter Island statue.
Double-headed serpent.
The mummy of Cleopatra.
Hinton St Mary Mosaic.
Lewis Chessmen.
There is a cafe in the Great Court that serves lunch.
Classic Fish and Chips.
As you can see, the collection spans the globe and different time periods. My children really enjoyed the museum and we bought a book detailing the history and background of some artifacts after we came home.
National Gallery – London
Located at the top of Trafalgar Square is the National Gallery, housing Western European paintings from 13th to 19th century. As I mentioned above, you can find guides for must-see painting both online and at the museum.
The exterior and design of the National Gallery are highly debated with it's Greek and dome architecture, read more here.
The interior space is really stunning, each piece of art fits into the space perfectly.
The Baptism of Christ, Piero della Francesca.
The Arnolfini Portrait, Jan van Eyck.
The Burlington House Cartoon, Leonardo da Vinci.
The Virgin of the Rocks, Leonardo da Vinci.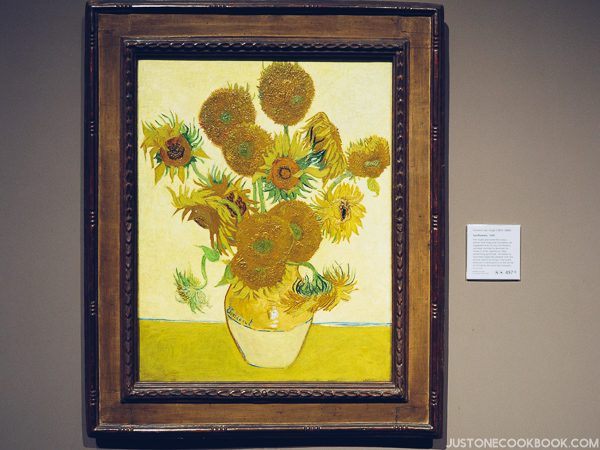 Art by Van Gogh.
And Monet.
It was very inspiring being able to enjoy the works of many great artists. I recognized a lot of them as I studied in art class in elementary and middle school back in Japan. I wish I knew more about art and artists so I would appreciate their work even more.
There were many people with sketch books sitting in front of the paintings to sketch them so my children did the same. Let's just say they need to work on their artistic skills more.
Tate Modern
Located on the banks of River Thames is the Tate Modern, housing modern art works from 1900 to now. The building looks nothing like a museum as it was formerly a power station. The museum has been open since 2000.
There are 2 areas that house the art works, the Switch House and the Boiler House each spanning 3-4 floors. It is a huge space and will take some time to go through all the galleries. The coolest about Tate Modern? We got to see the original art work of the many poster and prints we see in our daily lives.
Views of the River Thames from the balcony of Tate Modern.
Special exhibition for children that were interactive when we visited.
Andy Warhol.
Pablo Piccaso.
Piet Mondrian
Two Women Holding Flowers, Fernand Léger.
Autumnal Cannibalism, Salvador Dalí
Number 14, Jackson Pollock.
Besides the few world renowned modern artist I've listed above, there are works by Degas, Monet, and other masters of the arts. There is also Rothko's Room with many of his pieces on display. It's rare to see a piece by any of these artists and to see so many of them in one museum was a very memorable experience for us. If you are a fan of modern art, then you definitely should visit Tate Modern while in London.
Victoria and Albert Museum
I'll be honest, we spent the least amount of time in Victoria and Albert Museum (3 hrs). However, it is by far the largest museum in the UK at 330,000 sq ft (30,658 m2). It houses the world's largest decorative arts and design collection with over 4.5 million objects. There are 145 galleries and the art spans over 5,000 years. It ranges from Leonardo da Vinci's handwritten notes, Chinese Emperor's clothing, to Indian sculptures, and Persian carpets.
We followed the 20 Greatest Treasures at V&A guide. This Glouceter Candlestick is one of the treasures featured in the guide.
Samson Slaying a Philistine, Giamologna.
The First Folio of 1623, first collected edition of William Shakespeare (one of the most valuable books in the world).
Leonardo da Vinci's notes.
The Luck of Edenhall.
There is a large beautiful court yard inside the museum for visitors to browse and relax.
My question is how did they manage to move that art piece in there?
The Ardabil Carpet, one of the largest Persian carpets in the world.
Tipu's Tiger.
The Raphael Gallery at the V&A.
We didn't come close to stopping at all the galleries. There were just too many things to see and our time was limited.
Which Museum To Visit?
It's very difficult to fit all four museums into your itinerary if you have a short visit to London. Which one would I recommend the most if you can only see one? I would recommend the V&A over the rest. The reason being the British Museum is more focused on ancient Greek, Roman, and Egyptian, Tate is mostly modern, and the British Gallery is only paintings. The V&A has a mixture of everything and a lot less crowded than the other museums (maybe because it's so big).
It's wonderful for the U.K. to offer these museums for free and allows visitors to experience the real works for art by past giants of the human civilization.
Hope that was a fun filled Day 3 for you. If you missed London Day 1, click here. and London Day 2 click here. On Day 4, we'll go to Warner Bros. Studio Tour London – The Making of Harry Potter!
ENJOY LONDON TRAVEL GUIDE?
Check out my travel posts on Japan, Taiwan, and the US! Sign up for the FREE Just One Cookbook newsletter delivered to your inbox! And stay in touch on Facebook, Google+, Pinterest, and Instagram for all the latest updates.
Just One Cookbook Japan Travel Guides