Growing up in Japan, one of my dreams was visiting Europe one day. My grandparents used to visit quite often and told me about places they've visited. When I was attending college in the US, I always went back to Japan to see my family during the summer/winter breaks so I didn't have the chance to visit other places. Then life got really busy with job, marriage, and children. Fast forward 20 years, I finally got to visit England this past spring with my family! It was an amazing experience and I want to share my trip with you.
First of all, I want to add a disclaimer. This is by no means a comprehensive London travel guide. To me, London is very similar to Tokyo. There is something for everyone to do, and way too many options for me to possibly list. This London travel guide is written for those who might want to go to England one day and want ideas on what you can see and do.
I am going to spread out the guide over 6 posts:
Day 1 – Places you can go by utilizing the London Pass (more info below)
Day 2 – Places you can go by utilizing the London Pass
Day 3 – Museums (Free!)
Day 4 – Warner Bros. Studio Tour London – The Making of Harry Potter
Day 5 – Windsor, Bath, and Stonehenge
Day 6 – Different parts of London, London eats, Tips, and Accommodation
Now, let's go!
London Pass
We used the 2-Day London Pass (no travel) to get started on our trip. I would highly recommend it for first-time visitors to London so you can experience many of the attractions and know how much you'll be spending. There is quite a high number of landmarks and admission included with the pass. If you can, purchase the London Pass online and have it shipped to you before you leave for London. Optionally you can purchase the London Pass at most major railway and Underground stations including:
Heathrow (TFL Information Centre and British Hotel Reservation Centre)
Gatwick (British Hotel Reservation Centre)
Victoria (TFL Information Centre)
Liverpool St (TFL Information Centre)
Euston (TFL Information Centre)
Piccadilly Circus (TFL Information Centre and HotelWorld)
Paddington (British Hotel Reservation Centre)
King's Cross St Pancras (TFL Information Centre)
Earls Court, Tower Hill and many more…
London Travel Guide – Day 1
Westminster Abbey
Armed with your London Pass, go straight to Westminster Abbey by 9:15 AM. It opens at 9:30 AM but by that time the line for London Pass holder is really long (London Pass line is different from general admission). Keep in mind on Sundays the Abbey is open to worshippers and not to visitors so plan accordingly.
Westminster Abbey is an absolutely gorgeous architecture with a thousand years of history. Besides being a place of worship, it has been the place for Coronation since 1066 and many royal weddings have been held there. What was the most surprising to me is the fact that 3,000 people that are buried there (including Sir Isaac Newton and Charles Darwin).
There is no photography allowed inside the Abbey so I don't have any interior images to share. However, I loved it and wished I had photos with you. If you never visited the inside, I highly recommend it. It is a massive church with intricate carvings and filled with a rich history.
You don't have to know much about the Abbey before you go. As you enter, you will be handed a digital audio guide that will walk you through the different parts of the Abbey in order and explain and the stories and histories behind different parts of the Abbey. Plan on spending at least 1-1.5 hours. The audio guide is available in multiple languages.
To learn more about the Abbey, click here.
London Hop on Hop off Bus
As part of the London Pass, it comes with a hop on hop off (HOHO) bus tour. At the time when we took the bus, the tour was conducted by Golden Tour. Why the HOHO bus? It's a great way to see the city from the top of a double decker open roof bus! There are audio-jacks in front of the seats where you can plug in a headphone. As the bus goes by a point of interest, the audio guide plays. The audio guide is not perfect but does a decent job telling the visitors about the various points of interests. The audio guide is also available in a few different languages.
By David McKay (Golden Tours – 110 – BV13 ZDD – Blue Route) [CC BY 2.0], via Wikimedia Commons

Click on the map to enlarge route map.
There are several routes on the HOHO bus, at the time of writing (July 2017) I recommend taking both the red and blue route (skip the orange). The two routes will cover most of the well-known locations and give you a good sense of the city. You can take a break between the two routes and grab a bite to eat. Even though it's a HOHO bus, the pass is only good for 1 day so I recommend not getting off, and instead just enjoy the scenery by staying on the bus for the majority of the routes.
There are 2 locations which are on the routes that I am going to recommend getting off. It's because they're far from the rest of the attractions that we want to utilize the London Pass for. Let's go to the first location, the queen's palace.
Buckingham Palace
The Buckingham Palace is open to the public only about 3 months a year (check here for more info). Unfortunately, during the time we visited it was not open to the public (something to do next time I'm there!). Regardless it was super cool just being outside the palace gates. The London Pass includes entry into The Queen Gallery and The Royal Mews which are next to the palace. We skipped those attractions due to time constraints.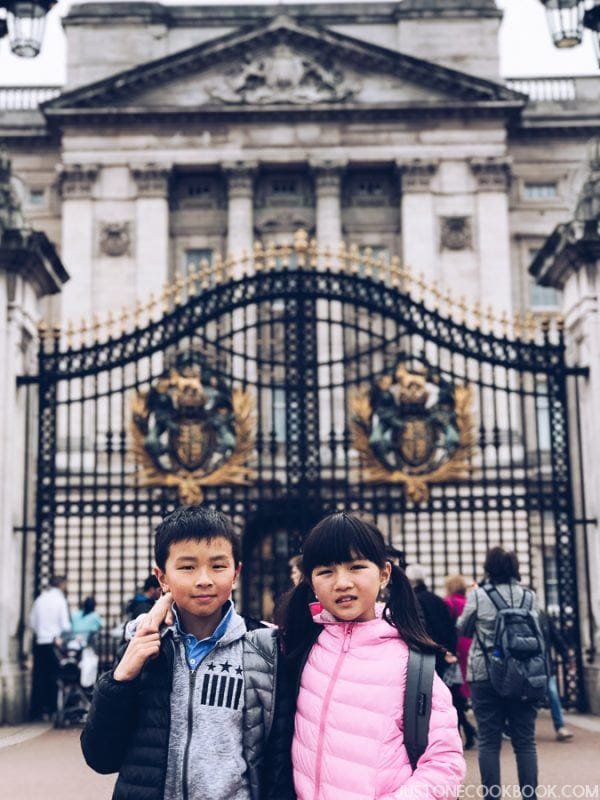 Victoria Memorial monument in front of Buckingham Palace.


Now hop on back on the bus (red route) and head over to where the other royal family members live.
Kensington Palace
Kensington Palace is located on the west end of Kensington Gardens. Currently, the members of the British royal family that reside there include the Duke and Duchess of Cambridge (William and Kate), Prince Harry, the Duke and Duchess of Gloucester, the Duke and Duchess of Kent, and Prince and Princess Michael of Kent.
The day we visited, London had beautiful weather and clear blue sky. The Garden was full of visitors relaxing and walking about.
Queen Victoria statue in front of Kensington Palace.

With your London Pass, the entry is included and you can walk through the palace and visit the staterooms. For me, this was a really special experience because it's the first time I was inside an authentic European palace!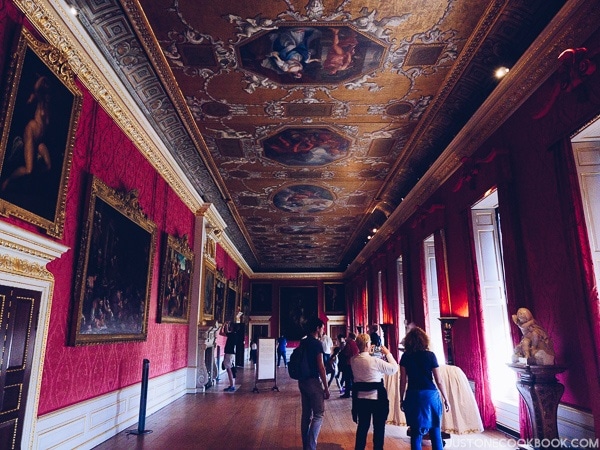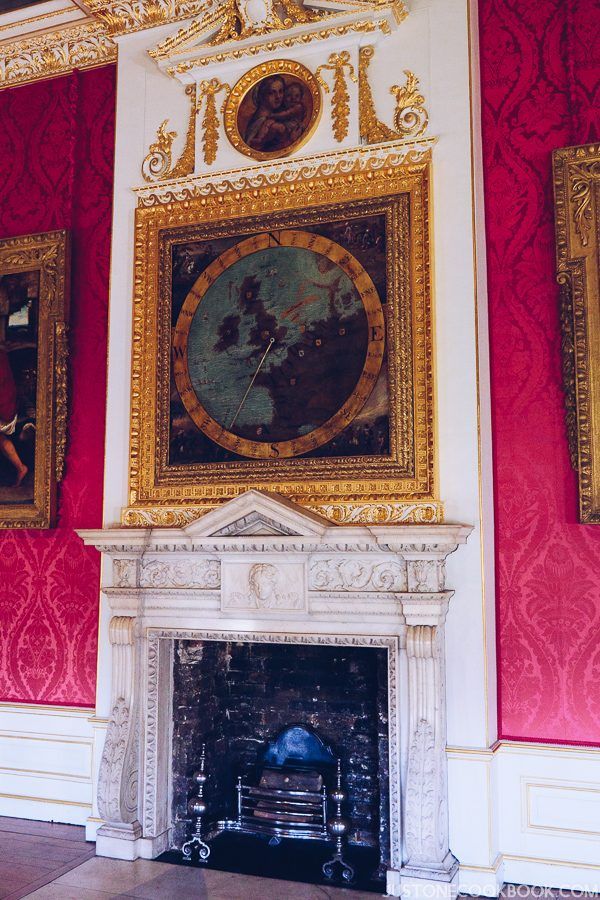 View of the Garden from inside the palace.
Many of the rooms had royal items on display with explanation of what they are.
Currently, there is a special exhibition (until Feb 2018) about Diana and the evolution of her styles, featuring many dresses from her notable public appearances.
In front of the palace, there is the Princess Diana Memorial Garden.
Expect to spend 2-3 hours to finish walking through the Kensington Palace, Diana: Her Fashion Story, and walking around Kensington Gardens. The sky is getting darker so get back on the red route and head back towards the Houses of Parliament (Palace of Westminster) so you can enjoy the view of majestic London during sunset.
The London Eye
When it was built in 1990, the London Eye was the tallest Ferris wheel (now 4th) in the world. The ride is 30 min for a full loop and you can take in amazing views of the city from the capsule. It is the most popular paid tourist attraction in the UK and not included as part of your London Pass. I highly recommend buying fast track ticket if the line looks to be super long.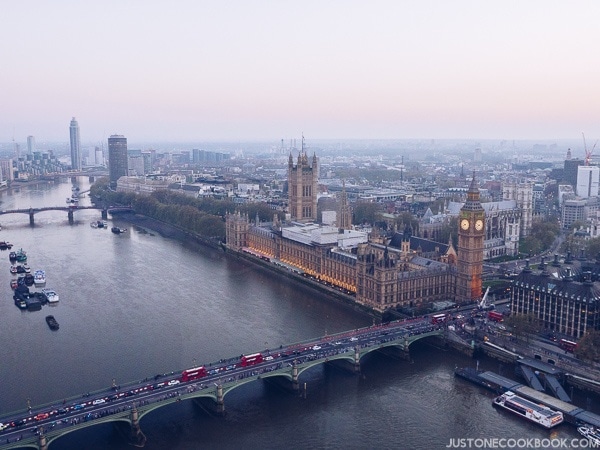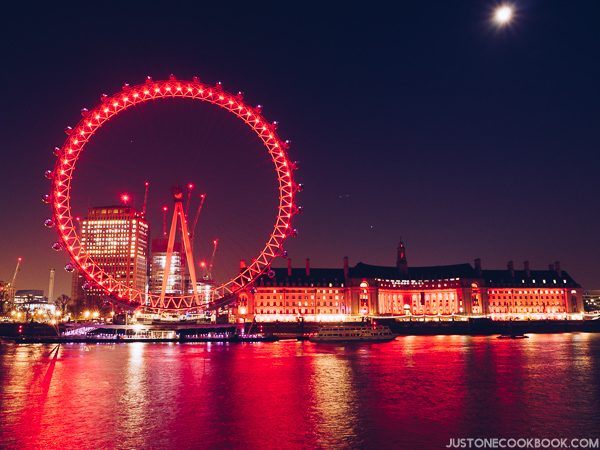 I hope you enjoyed Day 1 in London so far. On the next post, we'll visit bridges, tower, ships, and more. Read Day 2 in London now.
Enjoy London Travel Guide?
Check out my travel posts on Japan, Taiwan, and the US! Sign up for the FREE Just One Cookbook newsletter delivered to your inbox! And stay in touch on Facebook, Google+, Pinterest, and Instagram for all the latest updates.