Explore Akan Mashu National Park and Japan's largest caldera lake – Lake Kussharo in this travel guide.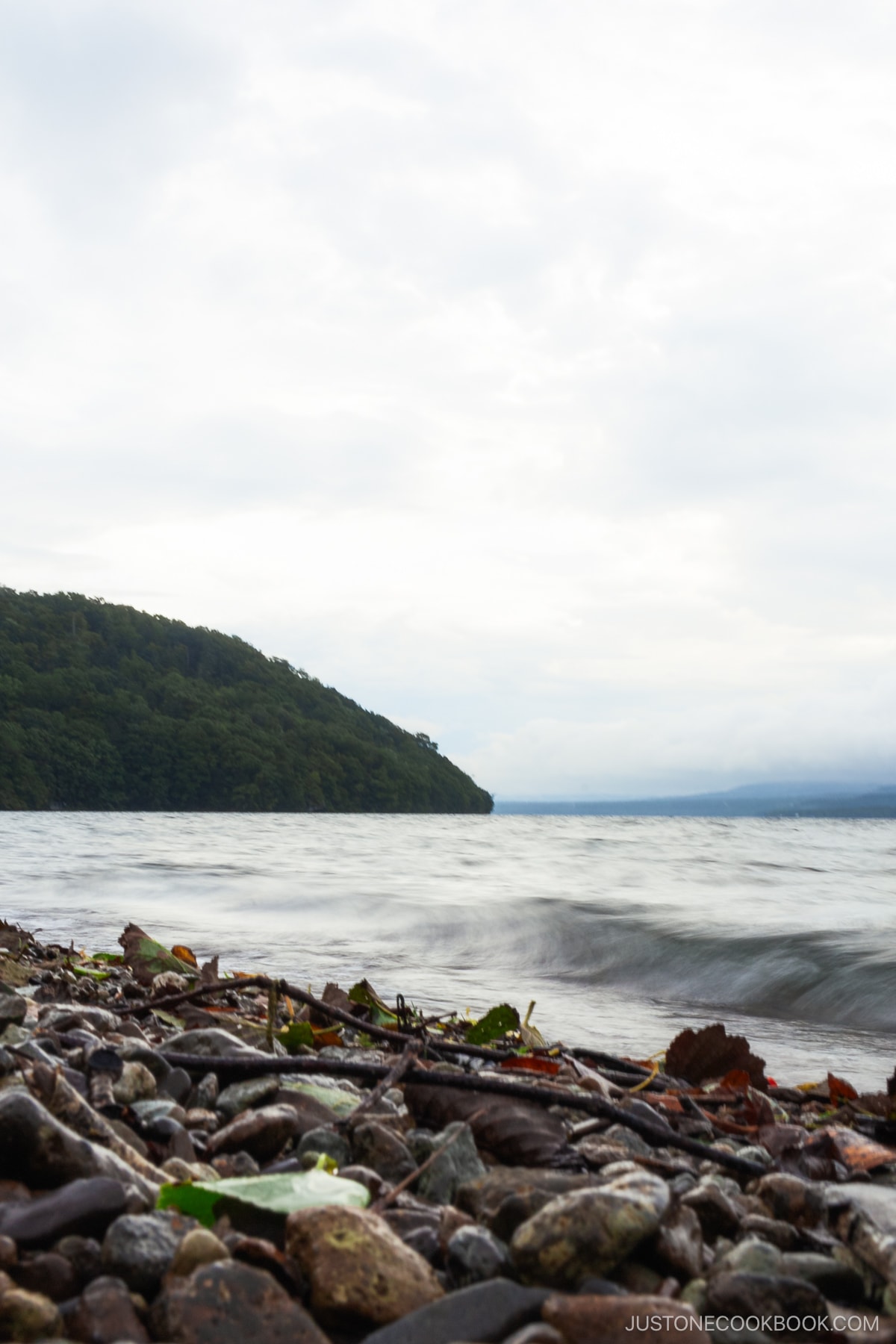 Hokkaido is the largest prefecture in Japan, covering 32,221 sq mi (83,454 km²), which is twice as large as the entire Kyushu island! The northern island is characterized by expansive mountains, farms, and vast open plains that stretch as far as the eye can see. While the central and western areas, such as Sapporo, Otaru, and Hakodate, are popular tourist destinations, the eastern areas are often left untouched, boasting scenery that is equally, if not more, beautiful and breathtaking than that of the rest of Hokkaido.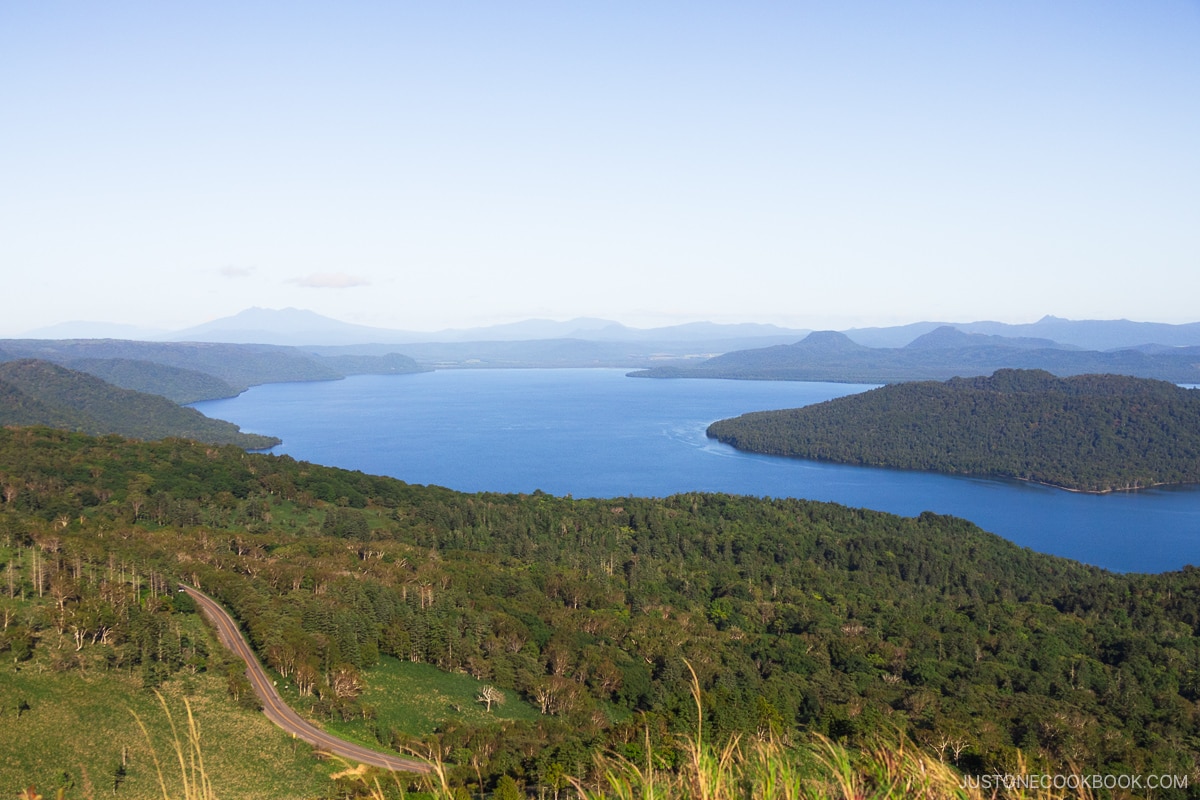 Despite living in Sapporo for over four years, I had never visited the eastern side of Hokkaido due to its relative inaccessibility. Friends and colleagues often told me about the beauty of the area around Lake Akan, famous for its Marimo algae, wildlife, hot springs (onsens), and mud volcanoes. So, I packed my bags and embarked on a 2-day road trip, which I will share with you!
Let's dive into part one of this two-part guide to Eastern Hokkaido in Akan Mashu National Park!
What is Akan Mashu National Park
Akan Mashu National Park, established in 1934, is one of the longest-established parks in Hokkaido. The park is renowned for its crystal-clear lakes, onsens, and unparalleled views. However, before being designated as a park, it was home to the Ainu indigenous group. While the Ainu population has dwindled, you can still experience their history and traditions at the Ainu Kotan village, which I'll delve into further in the next post.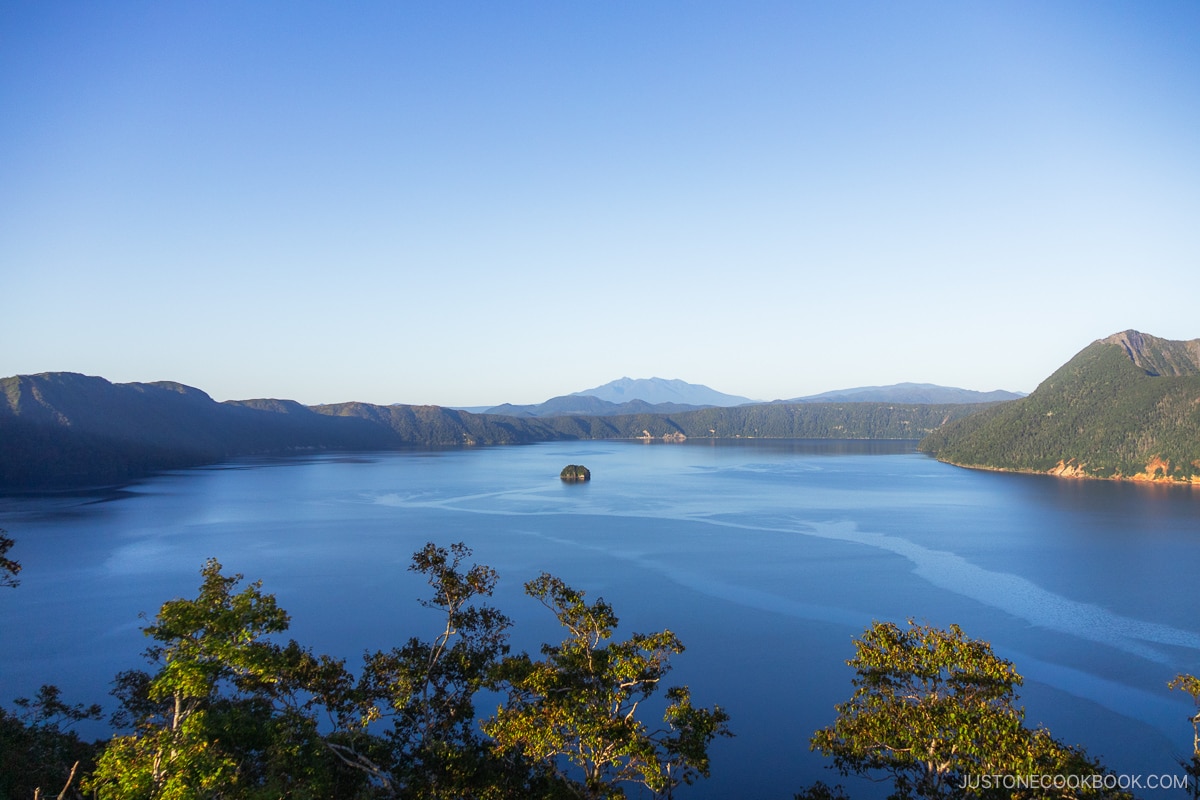 The core of the national park is formed by the Akan Caldera, Kussharo Caldera, and Mashu Caldera, which were all created by a series of eruptions from the Chishima Volcanic Zone. The park is divided into two main areas: Kawayu and Akan. Kawayu encompasses the stunning Lake Kussharo and Lake Mashu. Meanwhile, Akan consists of equally impressive Lake Akan, Lake Onneto, which is situated southwest of Lake Akan, and numerous other small mountains and lakes.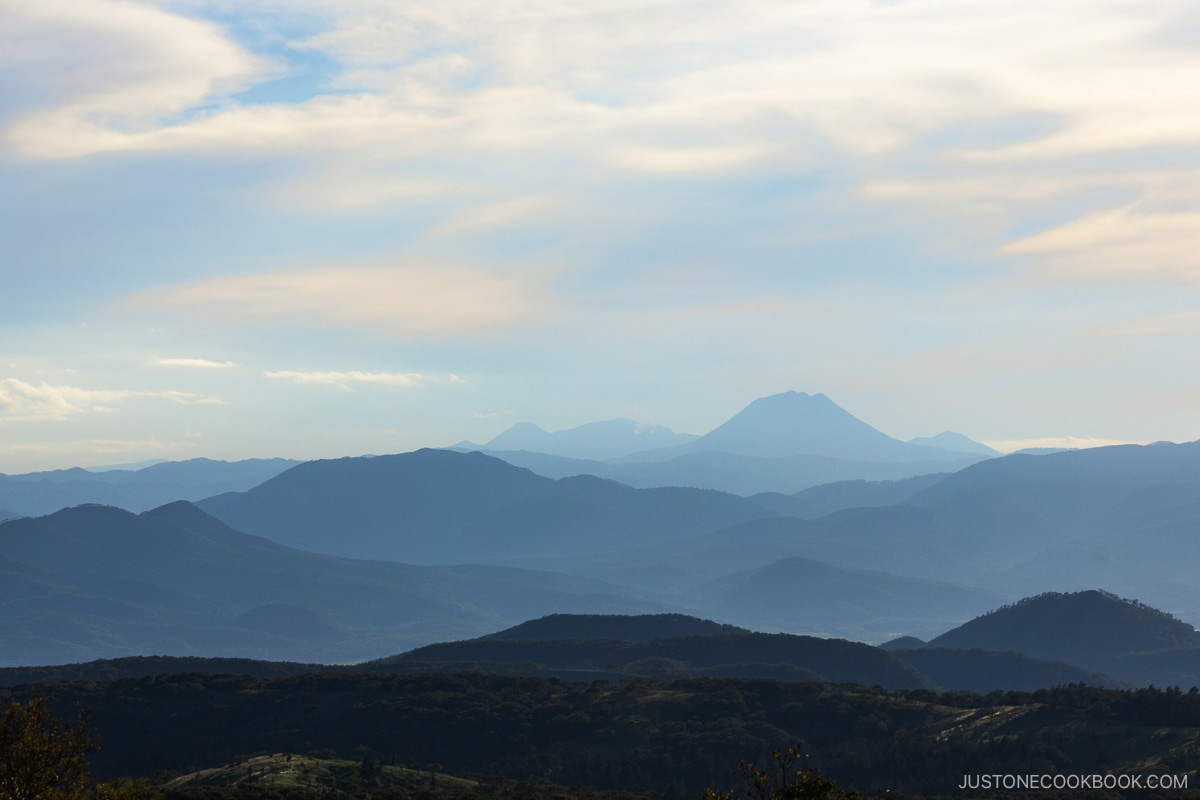 When is the best time to visit Akan Mashu National Park
The national park reveals its captivating charm year-round, with each season offering its unique scenery.
From June to September, it's all about soaking up the summer greenery and getting into all sorts of outdoor fun. It's prime time for hitting the mountain trails, taking in the epic views, and just generally enjoying the great outdoors.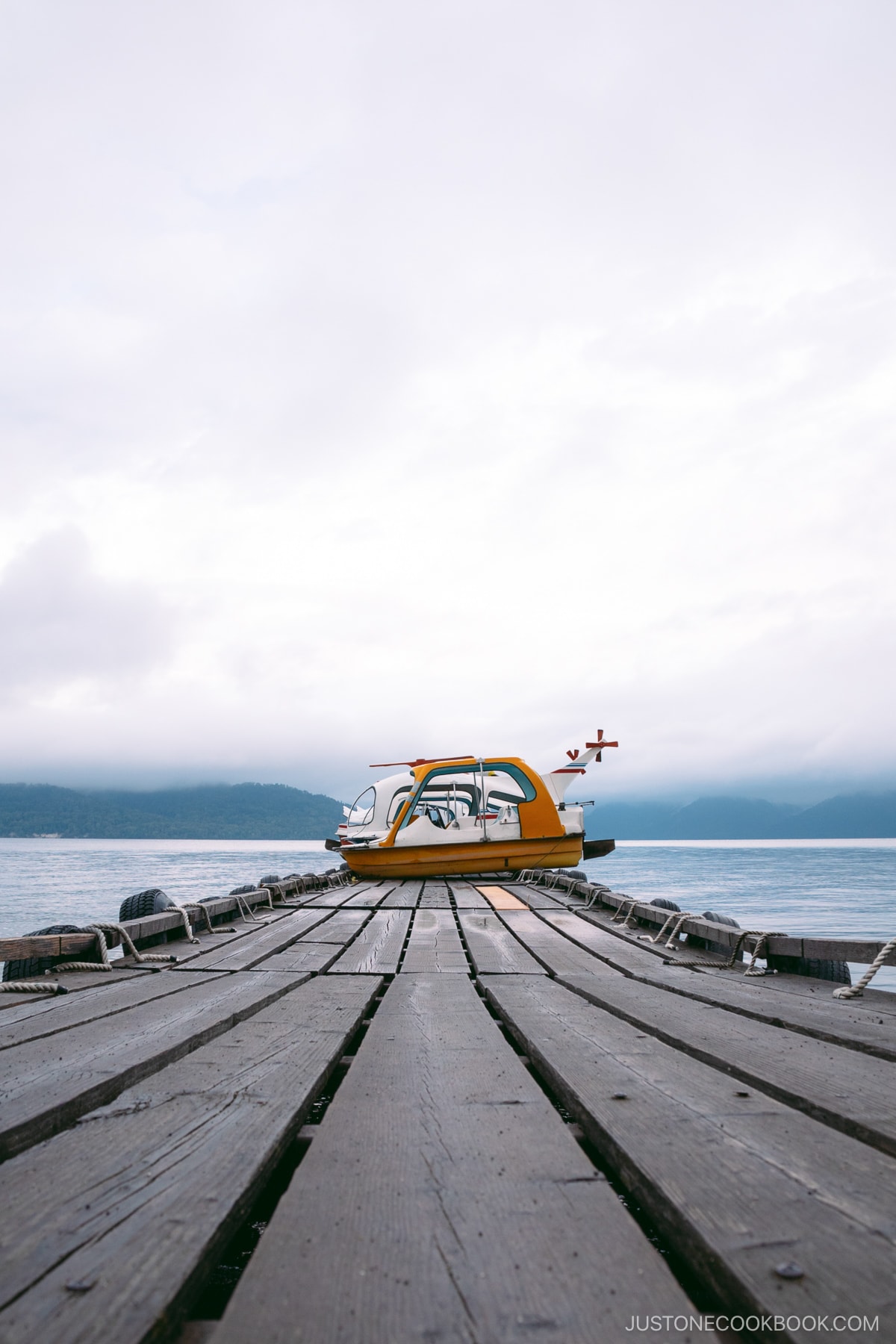 Come late September and October, it's like the mountains and lakes decided to throw on their fancy autumn jackets—all decked out in golden yellows, oranges, and deep crimson reds. It's a total leafy takeover!
And when December rolls around, brace yourself for a winter wonderland! The freezing temps work their magic, turning everything into a snowy paradise. Mountains wear cozy snow blankets, and lakes freeze over, opening the door for all kinds of winter fun, like trying your hand at some ice fishing. It's chilly but oh-so-magical!
How to get to Akan Mashu National Park
Car
From Sapporo, it takes approximately four and a half to five hours to reach the park. One route takes you through the center of Hokkaido, passing through Obihiro. Another route takes you slightly further north, through Asahikawa. Both routes take roughly the same amount of time, but it's worth noting that tolls can cost more than 6000 yen one way (USD $40 in 2023).
Plane
If you don't enjoy driving long distances, traveling by plane may be the most convenient option. When departing from Sapporo, you have two airports to choose from: Okadama Airport and New Chitose Airport. From either of these airports, you can fly to Memanbetsu Airport or Kushiro Airport.
From Memanbetsu Airport, you can take a taxi to Nishimemanbetsu Station. Then, board the KR Sekihoku Main Line to Abashiri Station, which takes approximately 25 minutes and costs 540 yen. From Abashiri Station, transfer to the JR Senmo Line to Kawayu Onsen, which is a 2-hour journey and costs 1,890 yen.
If you're arriving at Kushiro Airport, you can board the Akan Airport Liner bus, which will take you directly to Lake Akan in 70 minutes. This bus operates only four to five times a day and costs 2,190 yen for a one-way ticket.
Train
From Sapporo, you can take the Ozora Limited Express to Kushiro Station, which is about a four-and-a-half-hour journey and costs 9,990 yen (USD $67 in 2023). From Kushiro Station, you can then board the Akan Airport Liner bus, as mentioned earlier.
The public transport within and around the park is limited and may vary depending on the season. Therefore, I highly recommend renting a car when you arrive at the park, the station, or the airport.
Lake Kussharo – Sea of Clouds
As I had limited time to travel, I wanted to make the most of my time in the park. I left in the evening and drove for five hours before reaching Lake Kussharo.
My hope was to witness the Sea of Clouds during sunrise from Tsubetsu Pass Observatory—a dream of mine, albeit notoriously challenging as it depends entirely on weather conditions. Anyway, I arrived at Lake Kussharo around 1 am, and it was pouring rain. Opting to catch a few hours of sleep in my car, I woke up later to make the drive to the observatory. The road up is narrow and dark, with wild deer roaming, so please be careful if you plan to go. Unfortunately, my view was obscured by a blanket of gray. It was so cloudy that I couldn't see more than five meters in front of me… I guess my dream continues!
Here's a picture of what the sea of clouds should look like when the conditions are right.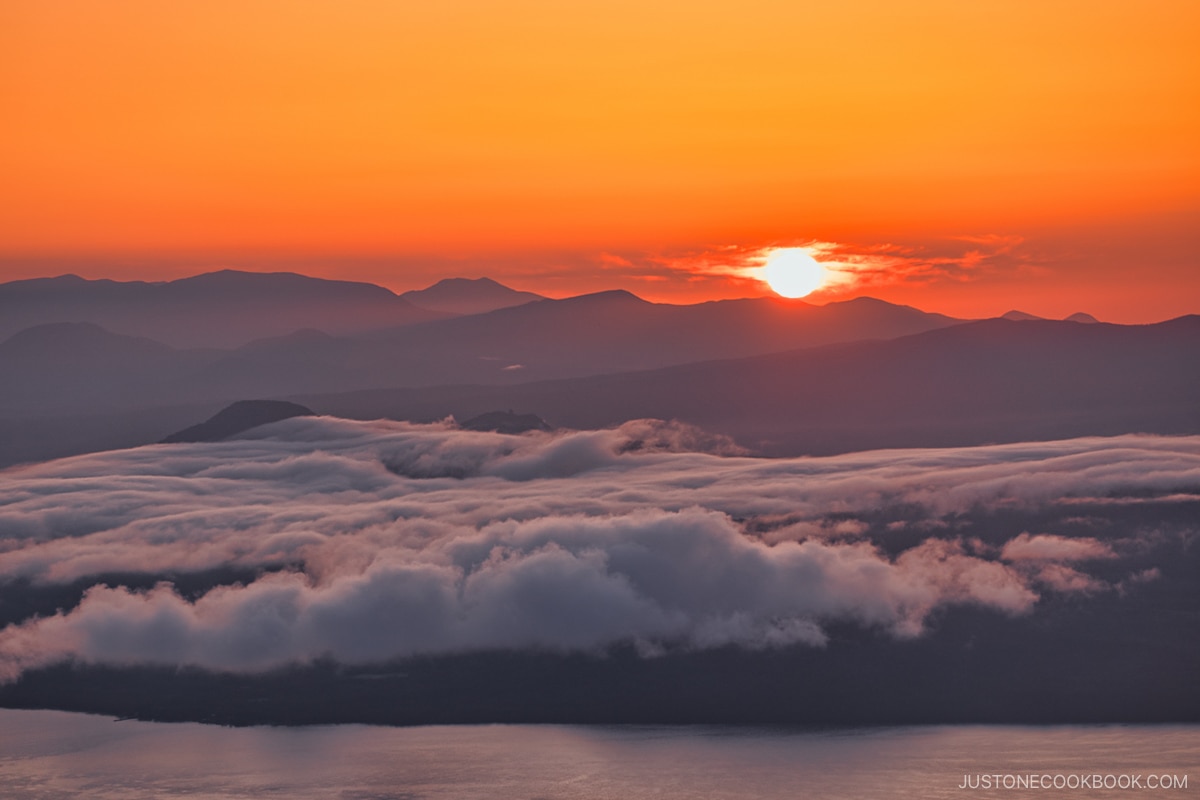 Exploring Lake Kussharo
After getting a few more hours of sleep, I set aside my disappointment (and fatigue) and decided to start exploring the lake. By that time, it was cloudy, but visibility was good.
When you visit places like these, you always hope for good weather and clear visibility to fully enjoy the surrounding scenery. However, driving through the mountains with morning clouds rolling down the mountainsides, the sound of awakening birds, and scattered rays of sunshine piercing through the clouds proved to be just as beautiful. It was a very different atmosphere from what I had envisioned, but it was serene and peaceful—a perfect start to the day.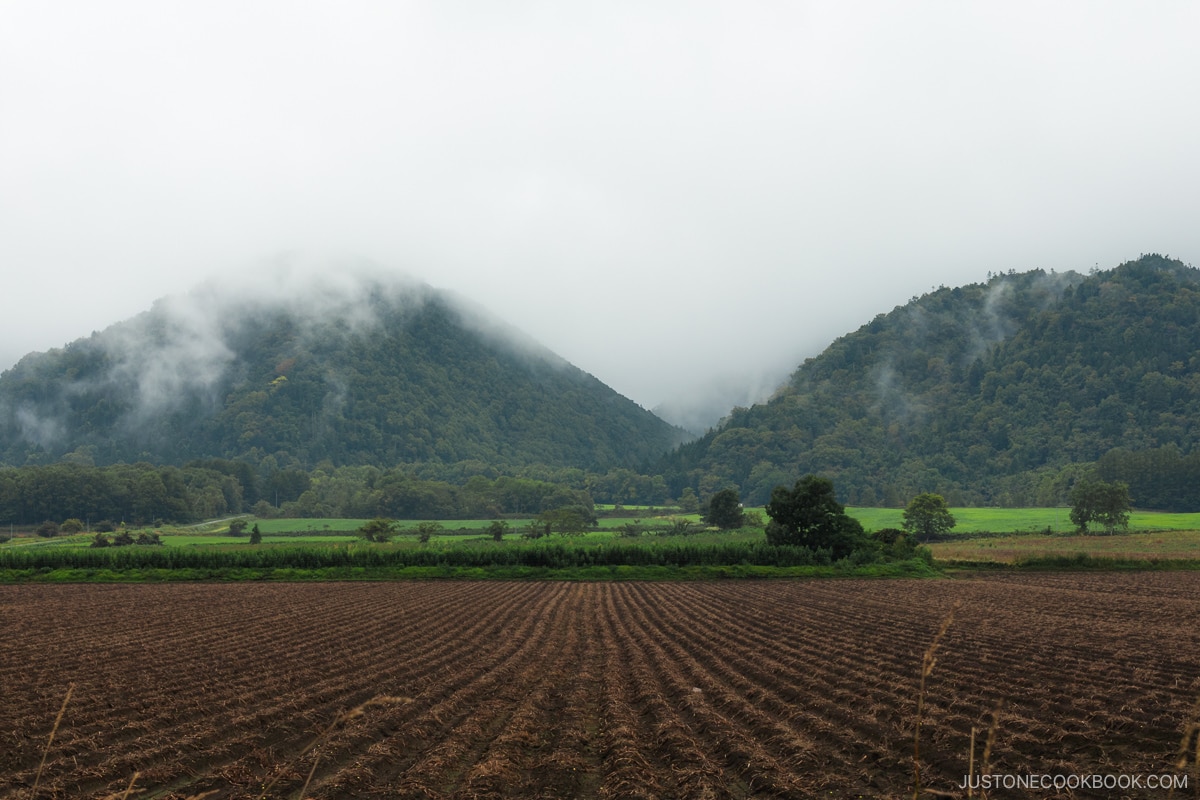 Lake Kussharo is the largest of the three lakes in the park, with a circumference of 35 miles (57 km). It's also the largest caldera lake in Japan, offering various vantage points from which you can appreciate its size and beauty. Its name is derived from the Ainu language, "kut-char" (クㇳチャㇻ), which means "marsh water outlet."
Around Lake Kussharo, you can find many open onsens that are accessible to both genders. These onsens are free to enter, and you can choose to use them with or without a swimsuit, depending on your comfort level.
My first stop was at Wakoto Peninsula, where you could see a panoramic view of Lake Kussharo and the surrounding mountains. Despite the bad weather the previous night, many people were camping and enjoying nature. The nearby Wakoto Hot Spring and shared bathhouse are close by, so you can have a relaxing morning. Unfortunately, as the facilities were in use, I wasn't able to take pictures.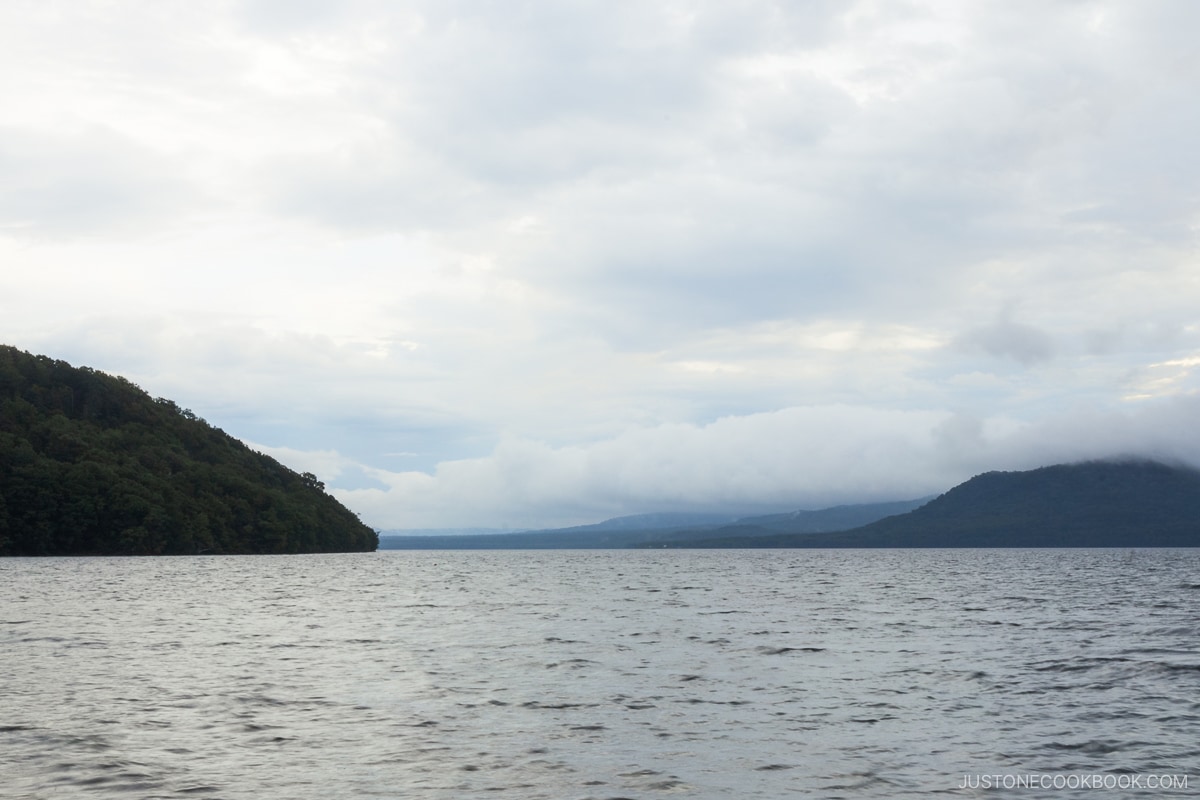 Continuing along the eastern side of the lake, I made two more stops at onsens, Ikenoyu Open-Air Bath, and Kotan Open-Air Bath. Both are free to use and are mixed-gender baths. Ikenoyu is a spacious bath with fantastic views over Lake Kussharo, while Kotan is a bit more secluded, giving you the feeling of bathing in the lake. It is divided by some rocks into two halves for males and females, with two small huts for changing.
Heading a little further up north, I reached Sunayu Onsen, which offers a unique open-air onsen experience. Along the lakeside sandy beach, if you dig a hole, natural onsen water will appear on the surface so you can dip your feet whilst enjoying the surrounding scenery. During summer, you can enjoy the warm waters in the lake, camping and ride one of the pedal boats.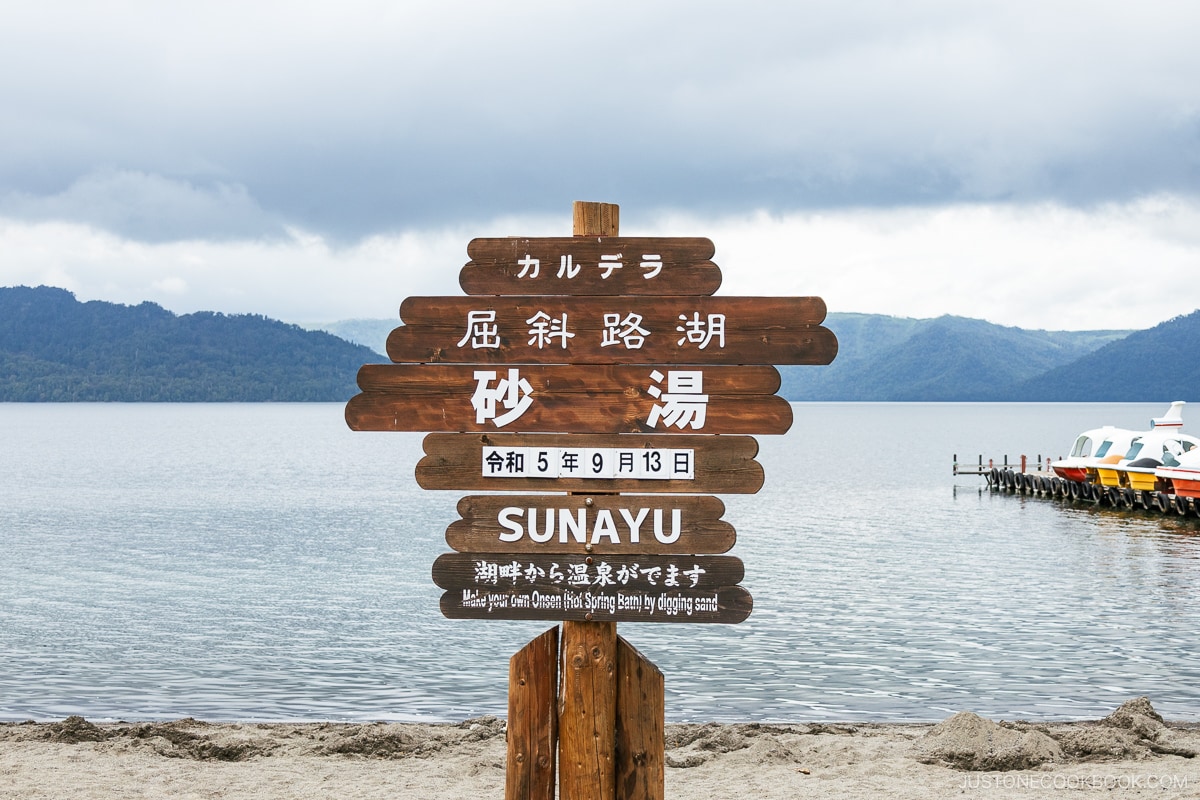 In winter, the geothermal activity attracts whooper swan colonies, creating a picturesque scene that is popular with photographers.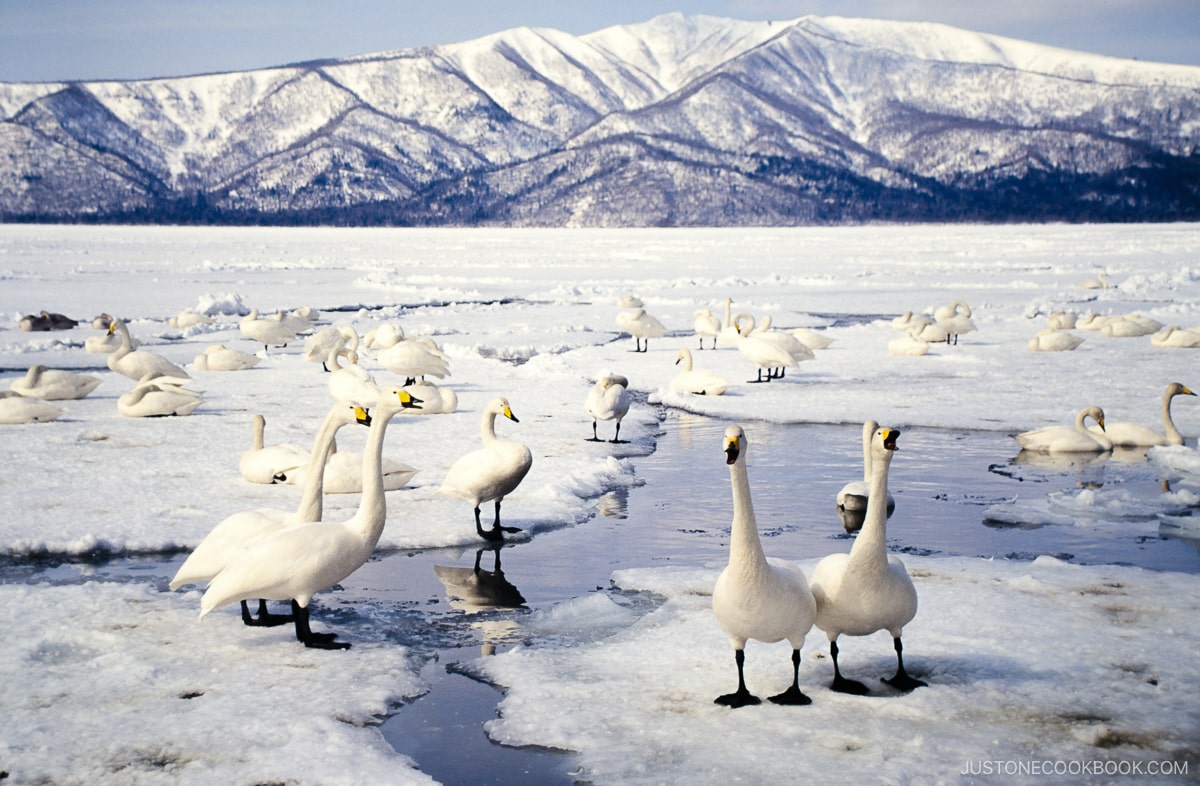 Pistachio soft serve! No matter the time or season, you can find soft serve everywhere.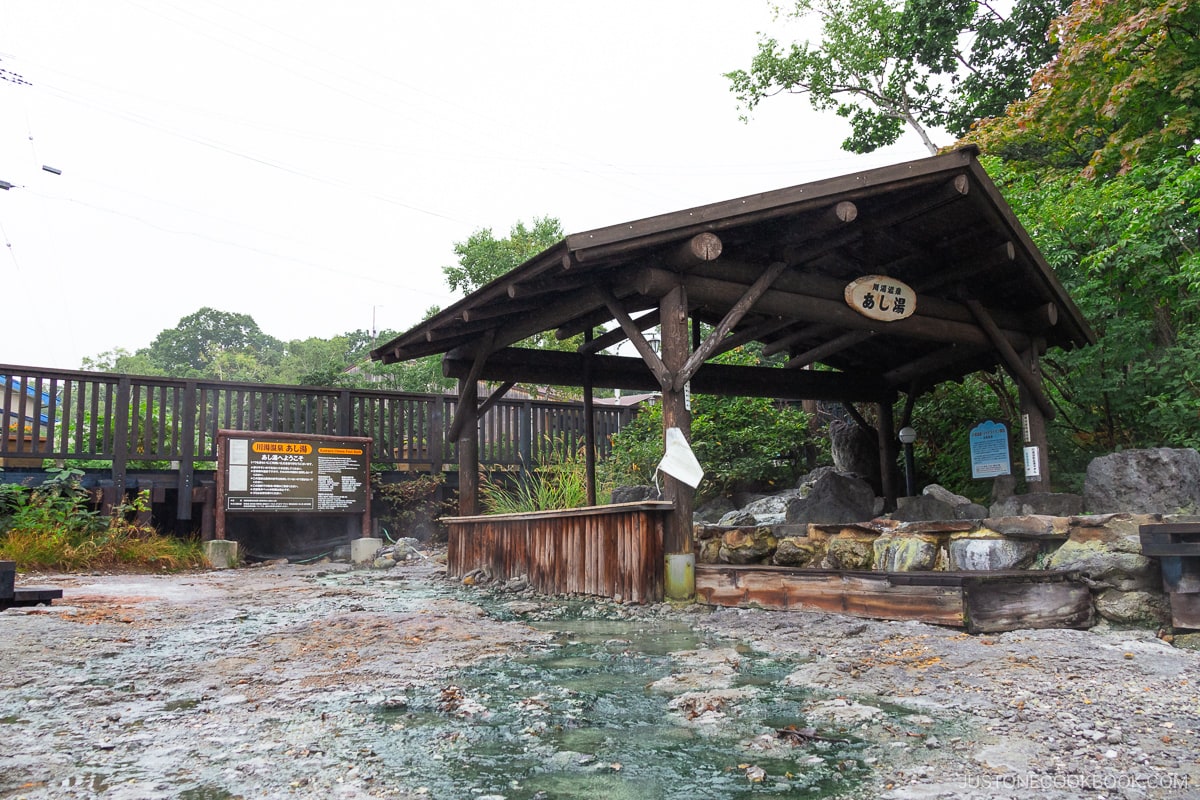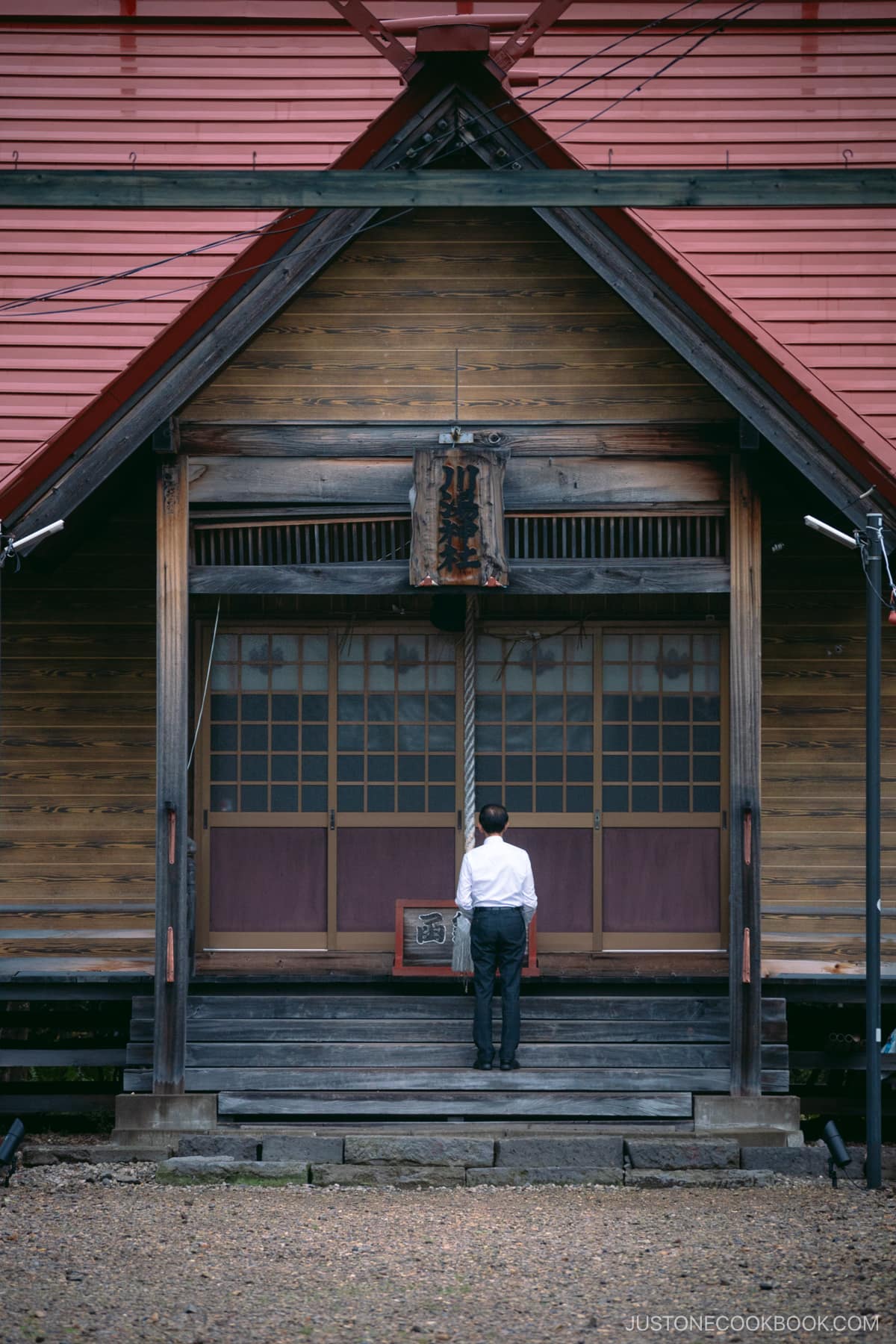 Mt. Io (Sulfur mountain). As you approach, there's a distinct sulfur smell in the air.
Lunch – Miso Venison Ramen
For those reading that have visited Sapporo, you'll be familiar with miso ramen. Close to Lake Kussharo is Teshikaga Town, home to the flagship store, Teshikaga Ramen (which also has a shop in the famous Sapporo Ramen Alley). I've had the miso ramen in the Sapporo shop many times but one particular dish caught my eye: miso ramen topped with venison.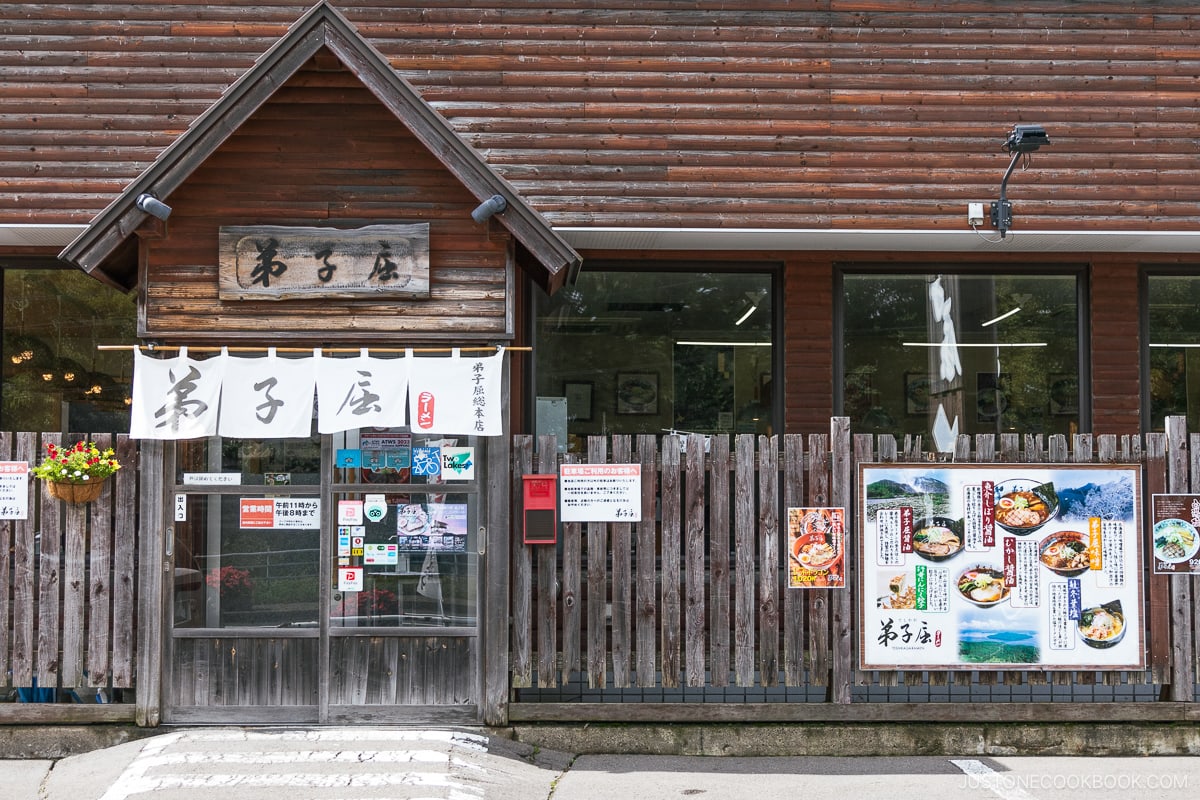 You might be wondering, why venison? There are two reasons. First, deer have long held a place in Hokkaido's culinary tradition, as the indigenous Ainu group used to hunt deer for their meat and fur to make clothes.
Secondly, there's a sizable deer population in Hokkaido. While there's no official number, it's estimated to be in the hundreds of thousands. The sheer number of deer has led to problems with local farms and deforestation. During winter, due to a lack of food, these deer eat the soft inside layer of tree bark, causing the trees to wither.
Therefore, deer are hunted humanely and sustainably, with the aim of mitigating harm to the surrounding forests and farms and maintaining a balanced population.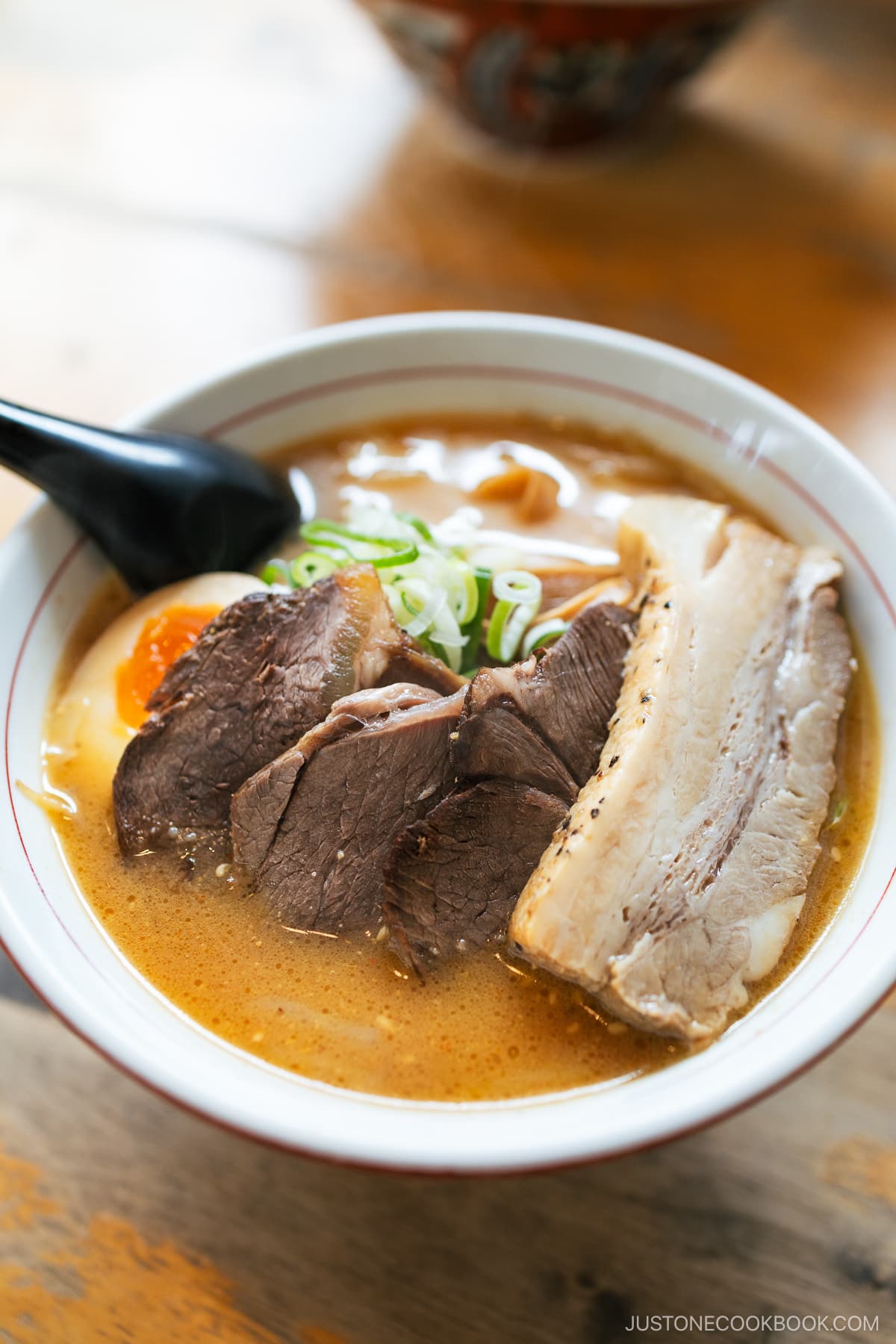 Anyway, the ramen was delicious. For those that haven't tried miso ramen, it is so rich, deep, and packed full of umami. It's completely different from classic shouyu (soy sauce) or tonkotsu (pork broth) ramen. At first glance, I thought the venison would be tough but it was surprisingly tender and had a delicious gamey flavor. I wouldn't say it's a must eat but if you are craving ramen, then it's worth a try.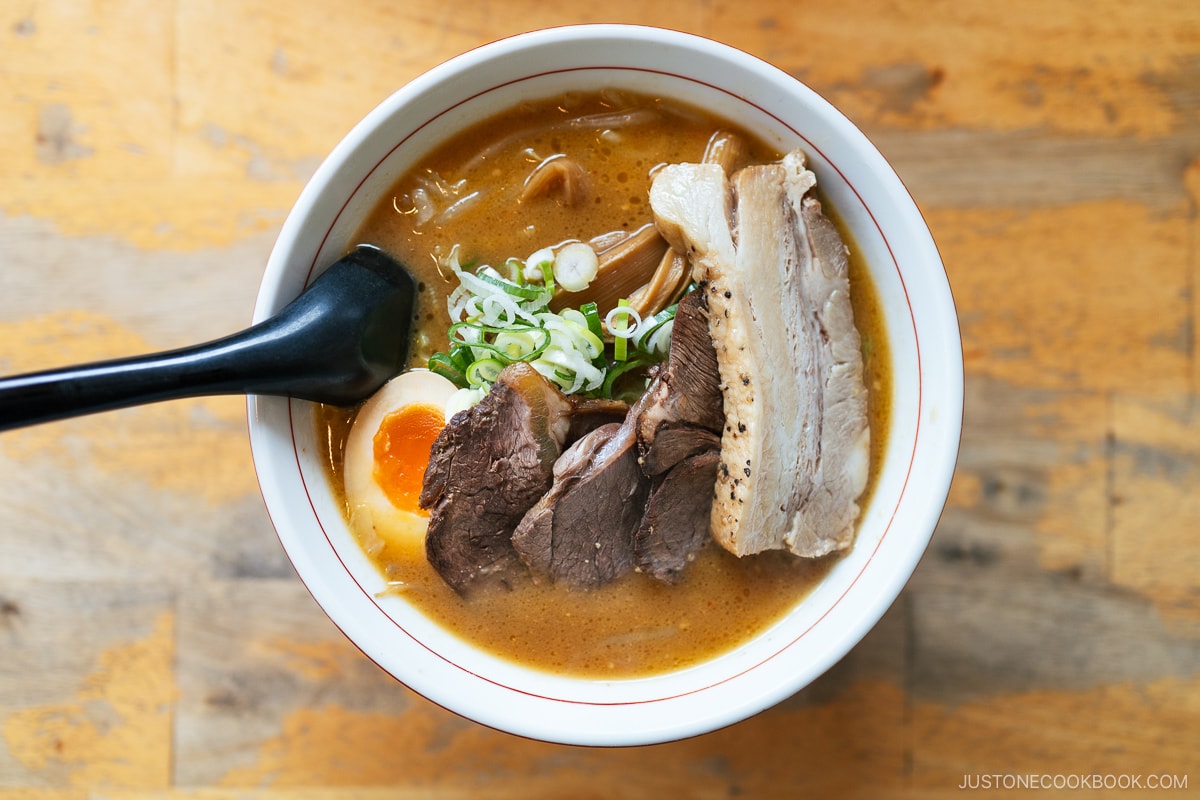 Hotel & Spa Resort La Vista Akangawa Kushiro
After all the traveling, I decided to check in to my hotel for the night, Hotel & Spa Resort La Vista Akangawa Kushiro, located 10 minutes away from Lake Akan. The hotel is nestled in Akan's serene nature, next to the Akan River, making it the perfect retreat to relax in.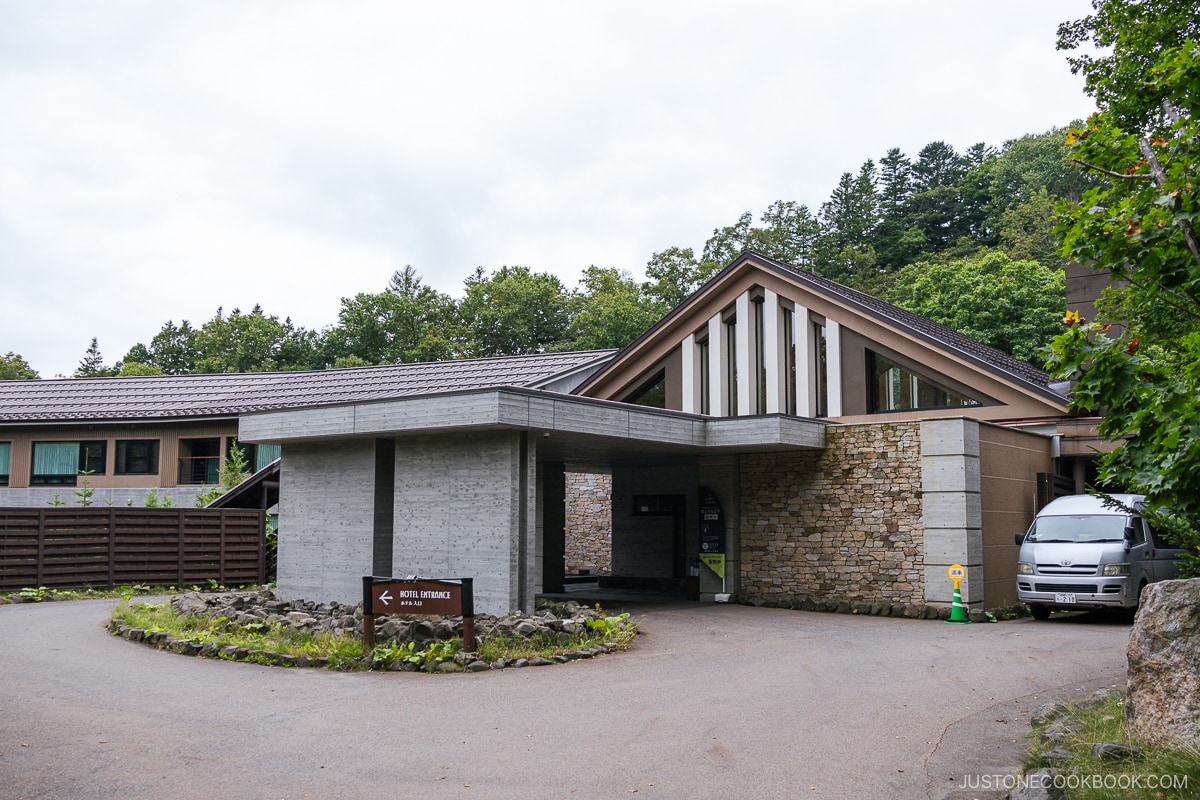 Each room comes with its onsen bath with views overlooking the forest and meandering river. There's also a public onsen with an outdoor bath, sauna, and water bath as well as three different private baths for free use on the ground floor. All of the water used to run these onsens is sourced from nearby springs.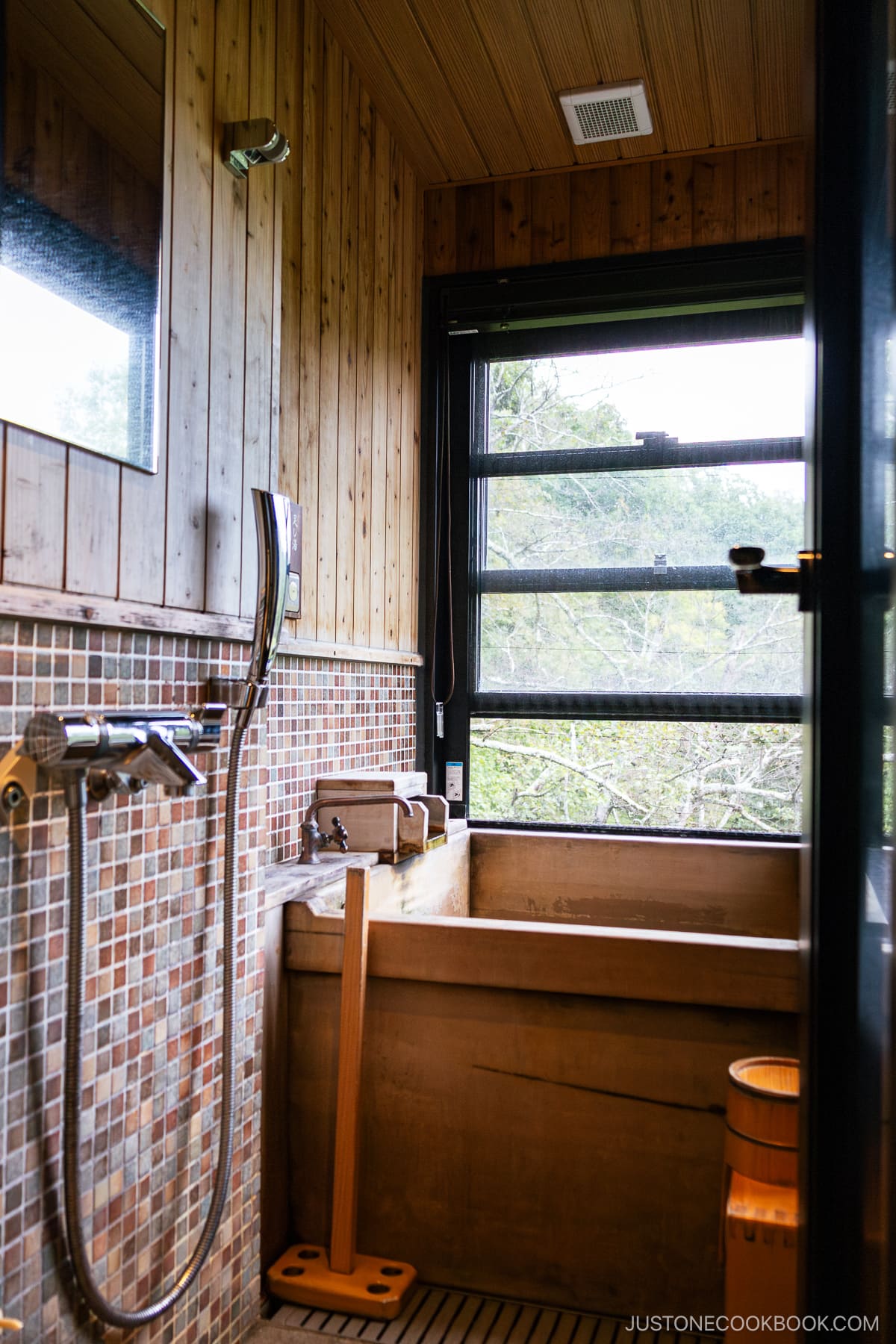 The room was spacious with possibly the largest bed I had ever seen! At the end of the room, there was a beautiful view of the Akan River, which often had wild deer roaming through and feeding on the grass. Honestly, I wish I could have spent a week there as it felt like an oasis, which helped me escape my hectic life back in Sapporo.
I can't say enough good words about La Vista, from the facilities, plethora of onsens, cozy room and food, which I'll get into now.
Dinner at Hotel & Spa Resort La Vista Akangawa Kushiro
The dining room is located on the ground floor, overlooking the Akan River. As you eat, you can enjoy the roaming deer and tranquil setting. The menu consisted of local ingredients caught around the area.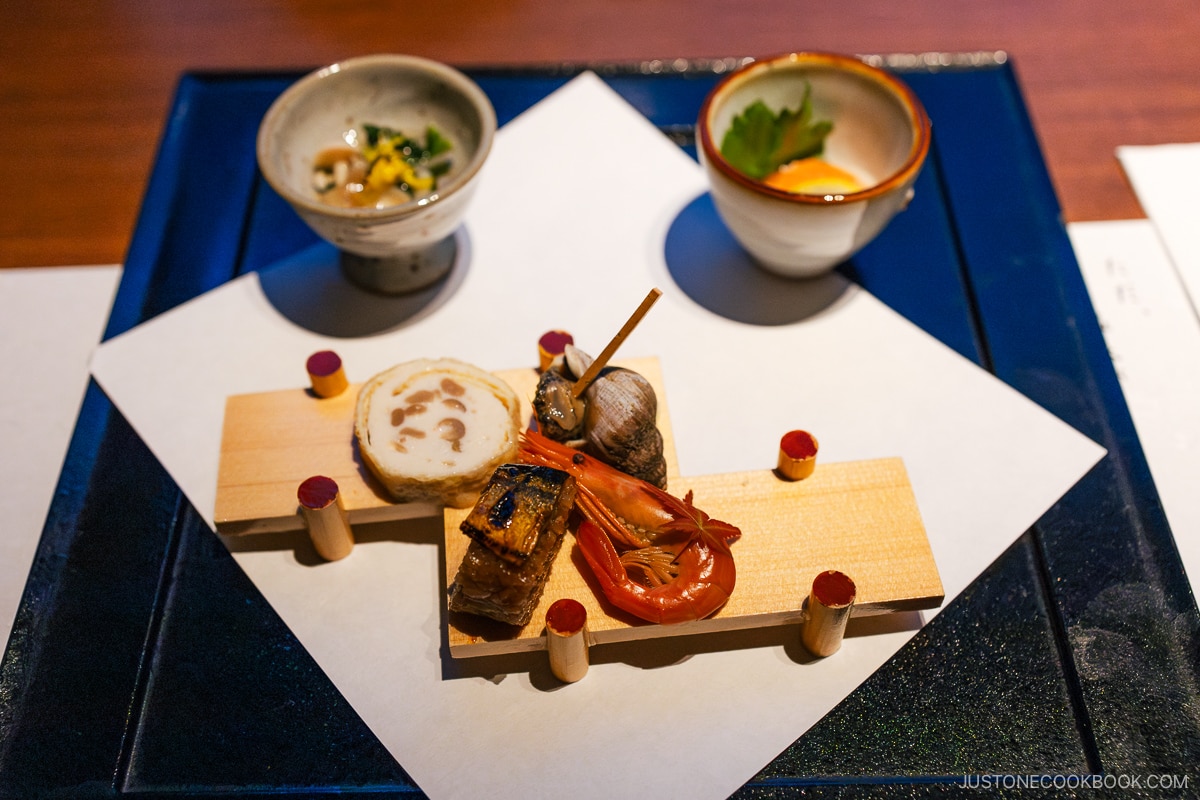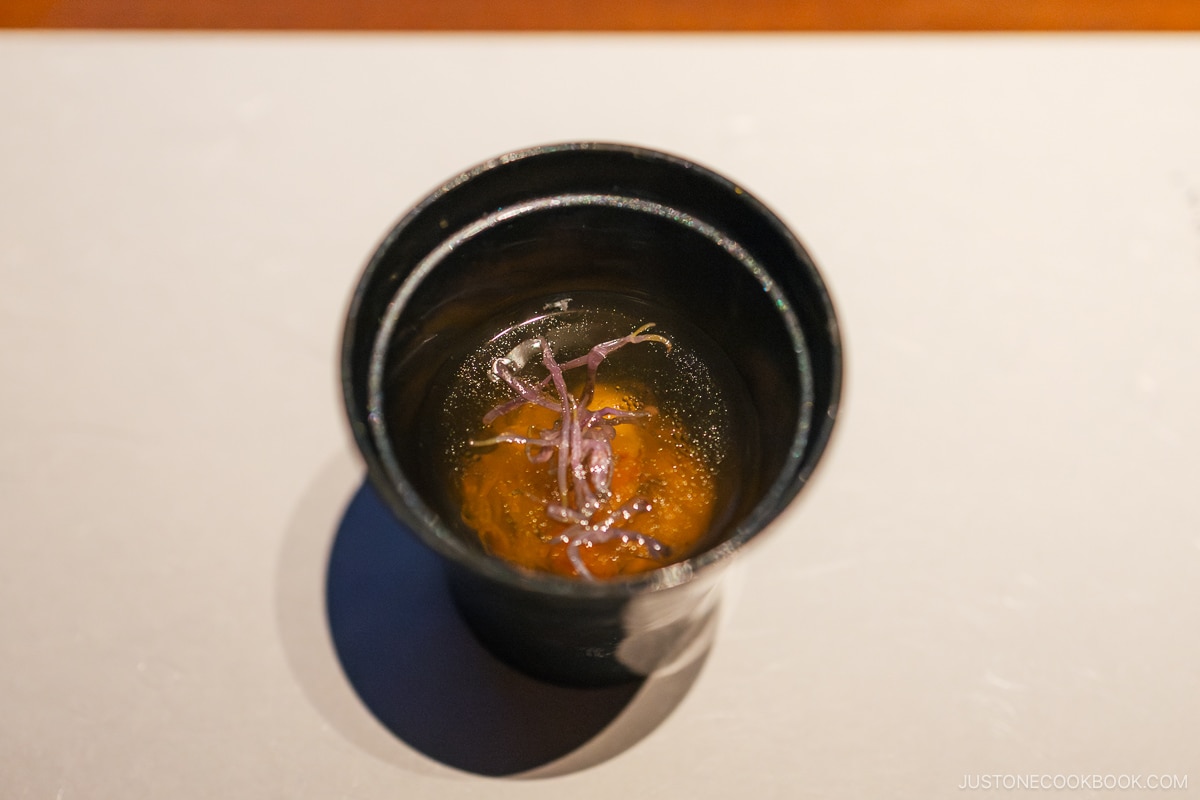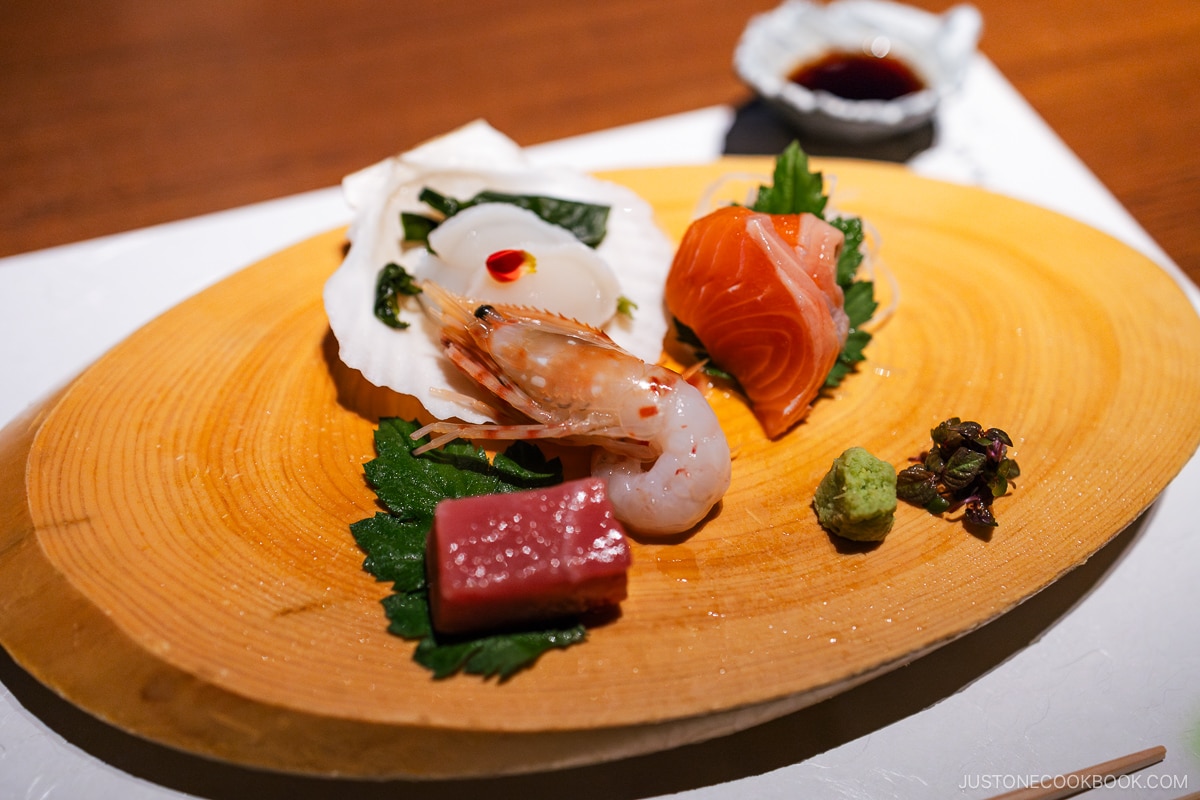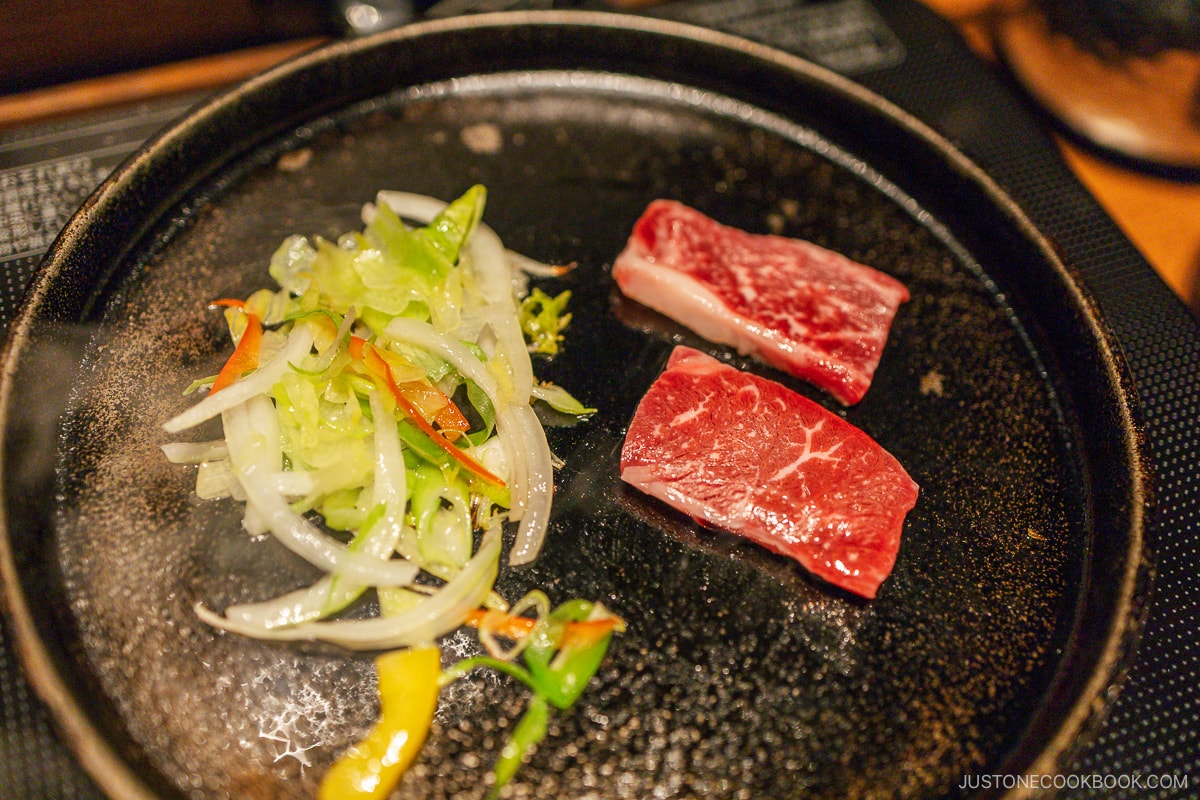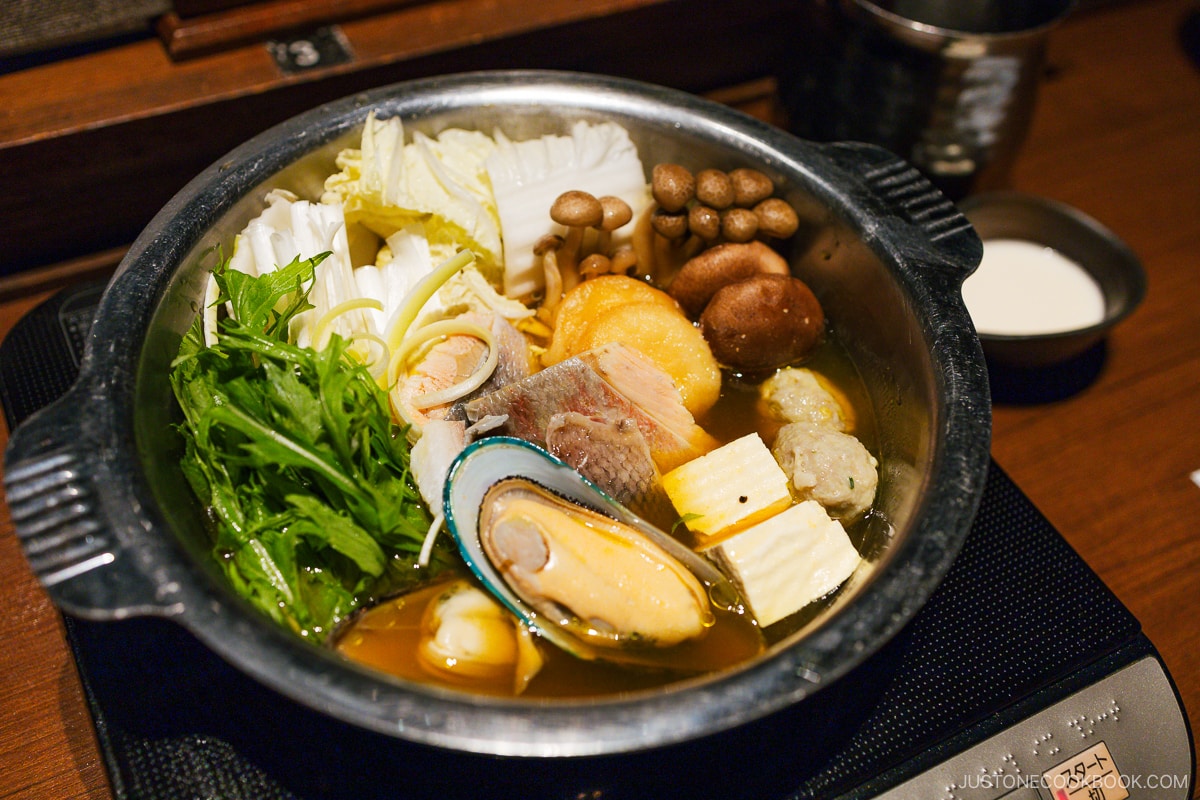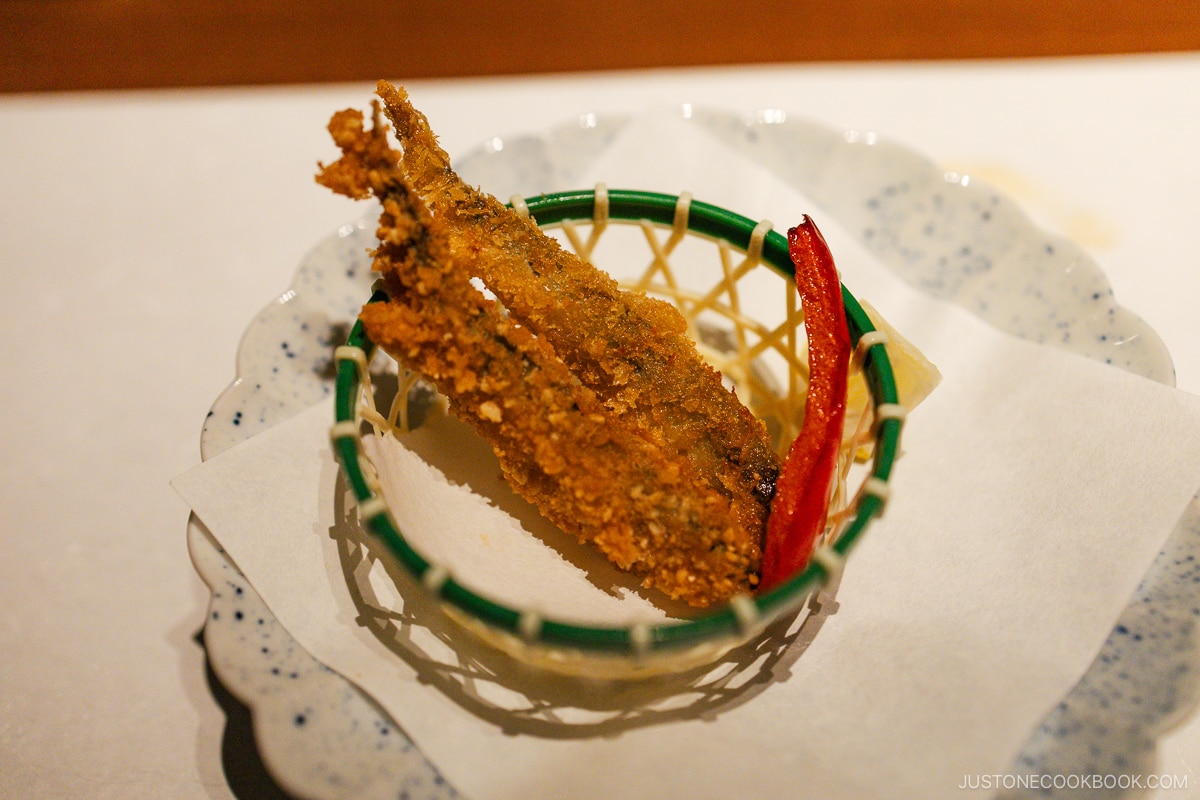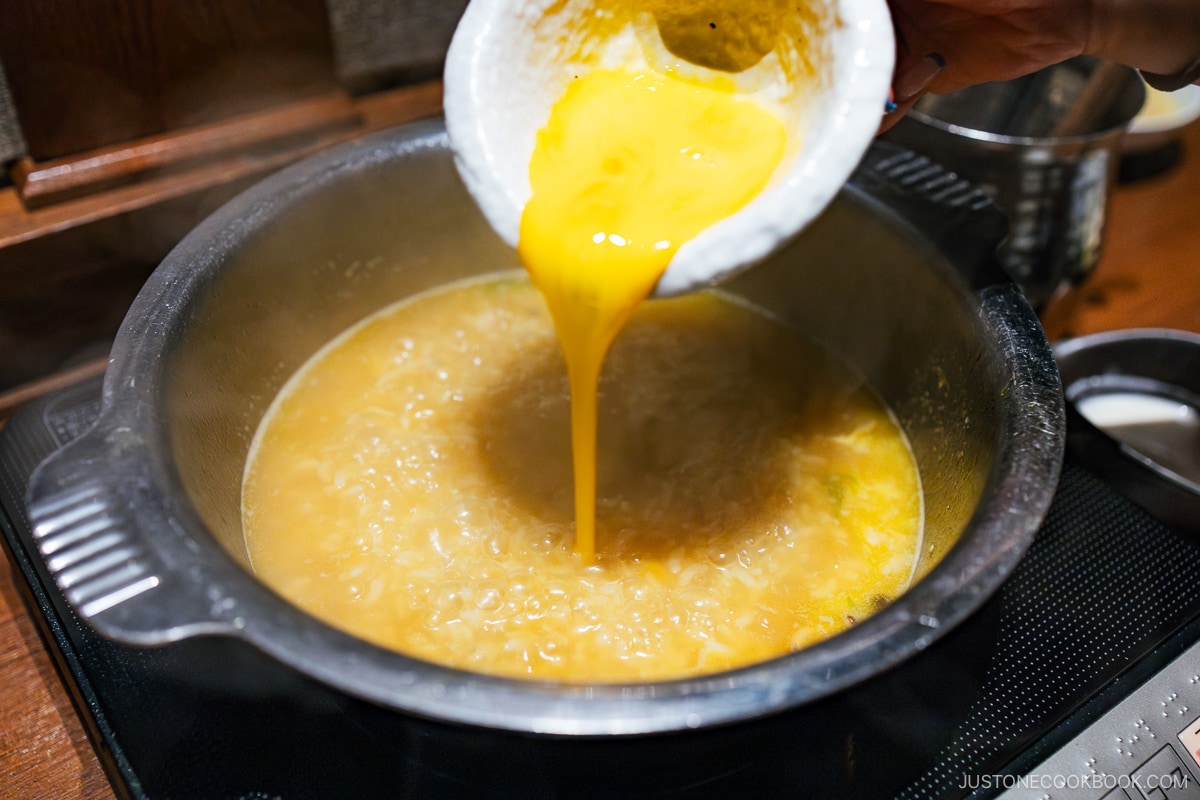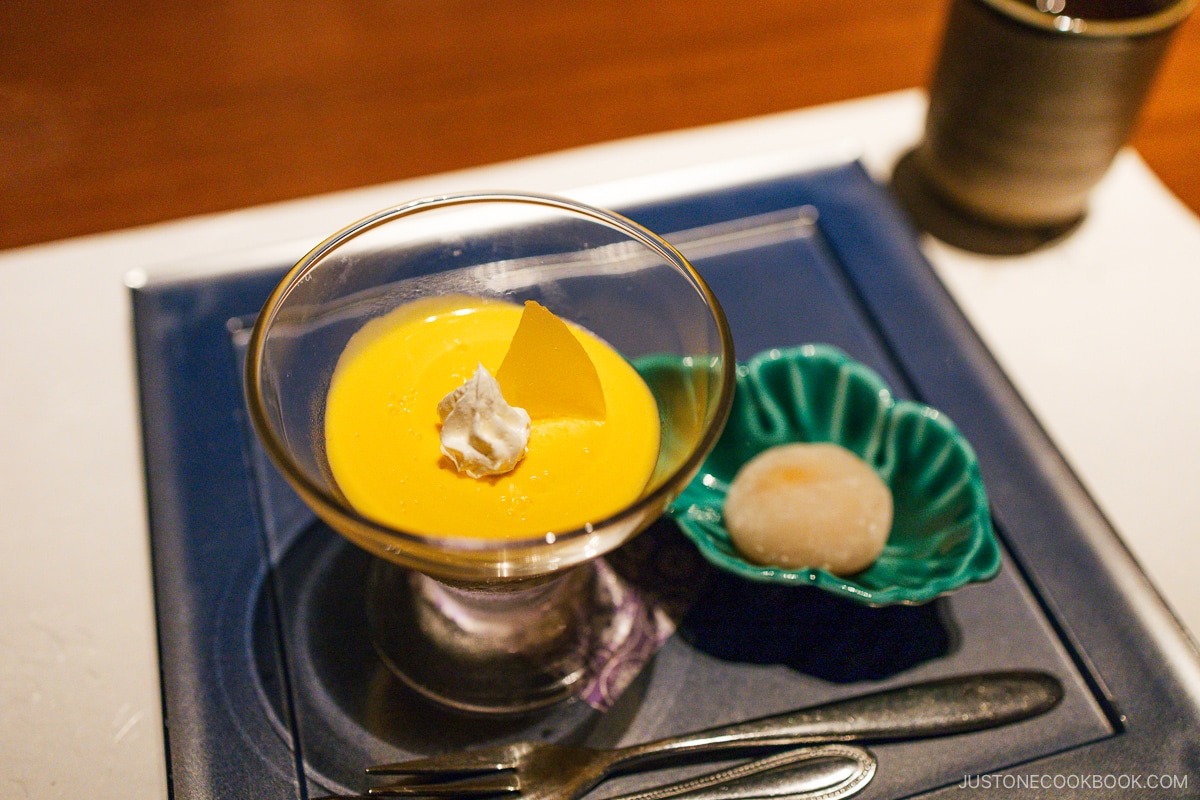 The whole meal was fantastic but there was A LOT of food, which is a good thing! Just make sure you make enough room beforehand. We were also greeted by some wild deer that strolled past right in front of our window!
Kamuy Lumina – Night Walk at Lake Akan
After the delicious dinner, I headed out to a special night event called, Kamuy Lumina. Inspired by the Ainu culture, the Ainu legend, "The Tale of the Owl and the Jay Bird," and the natural beauty of the forests in Lake Akan, the enchanting experience takes you along a 1.2km night walk. You are given a 'Rhythm Staff' to use throughout the walk, immersing you through lights, soundscape, scenography, and video projection.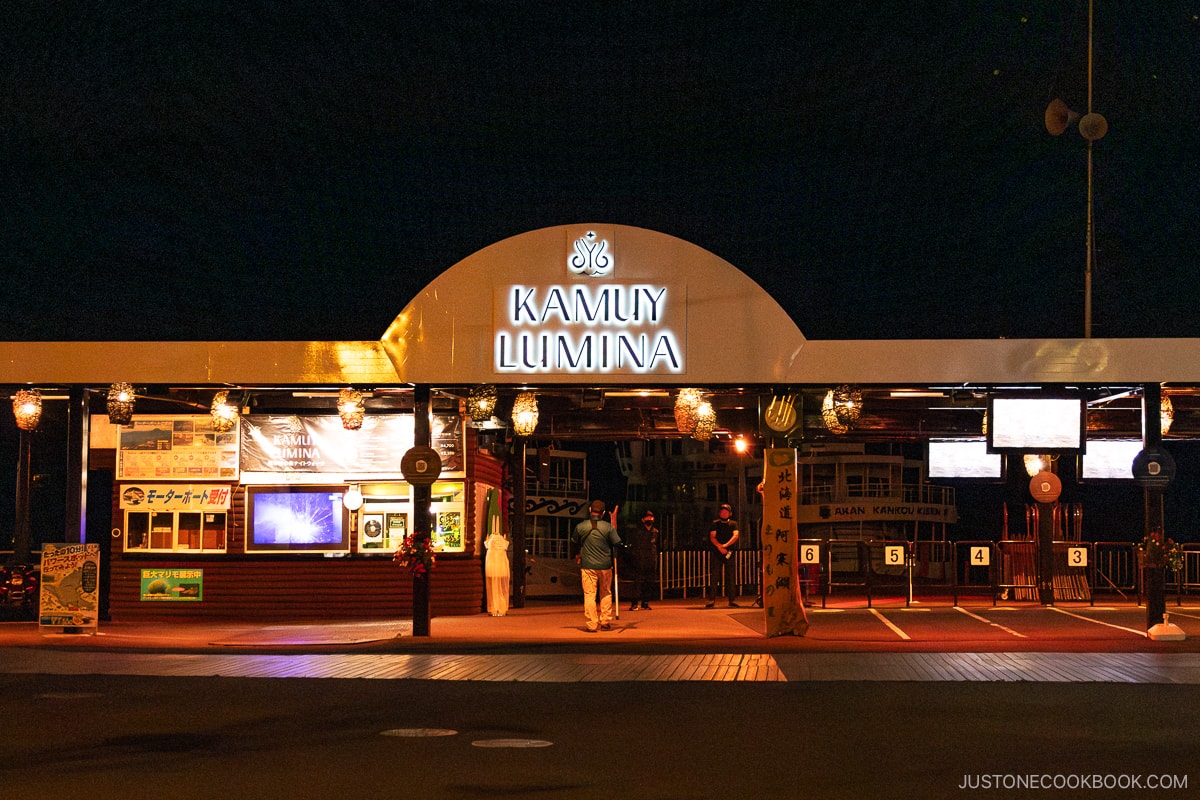 The walk takes you along eight different story points throughout the forest, each with a unique setting. I loved every part of it, from the lights and projection mapping to the music and story.
Tickets are 3,500 yen (USD 23) on the day or 3,000 yen (USD 20) if booked in advance. You can book tickets online but your hotel may also sell discounted tickets at the hotel reception. The narration and story are only in Japanese but there is a mobile app, where you can follow the story in English. You can find more information here!
After a long day out, it was time to enjoy the hotel's onsen and relax.
I'll get more into Lake Akan, Lake Mashu, and the Ainu Kotan (village) as the cloudy skies disappear and the sun finally comes out! Stay tuned for part two!