Hakodate is located at the southern tip of Hokkaido. This charming seaside city offers tasty seafood, relaxing onsen, and an amazing night view.
Last summer when I visited Japan, we took a family trip to Hokkaido (北海道), the second largest island of Japan. Since we've already spent quite a bit of time around Sapporo on our previous trip, this time we took a side excursion to Hakodate (函館).
Where is
Hakodate

?

Hakodate is Hokkaido's 3rd largest city, located at the island's southern tip. It actually has a much longer history than Sapporo, the current capital of Hokkaido prefecture, dating back to 1400's.
 (Click to enlarge)
Hakodate was also the first Japanese city opened for foreign trade in 1854, and has a large foreign influence with many of the first consulates being built there. Since the city managed to avoid damages during World War II, quite a few of the original buildings from the 1800s still stand.
Through the years, it's lost some of its luster compared to other Japanese cities, but it still has its charm and holds the claim of having one of the Three Great Night Views in Japan.
How to get to Hakodate?
From Sapporo, your choices are either driving by a car or taxi (about 4-4.5 hours) or taking a JR line (Hokuto or Super Hokuto about $86 one way, 3 hr 30 min).
(Click to enlarge)
Or like us, book a tour package that includes the round-trip bus ride from Sapporo.
Typically tour companies in Japan provide all inclusive package plans including round trip bus ride, hotel stays, breakfasts and dinners inside hotel, and a day tour. Would I personally rank this high on a Japan travel list? Probably not. But we were already in Hokkaido and were looking for relatively affordable trip within the island (by Japanese standards), this $200 per adult ($99/child) package deal seems too good to pass up.
The four-hour bus ride was pretty comfortable. There were a few rest stops and lunch stop, and we could stretch our legs and walk around at some local souvenir shops. When we saw Mt. Komagatake along the ocean, we knew our destination was slowly approaching.
Sightseeing in Hakodate
Once you're in Hakodate, there are few major sightseeing spots you should not miss. I'll divide the city into a few areas.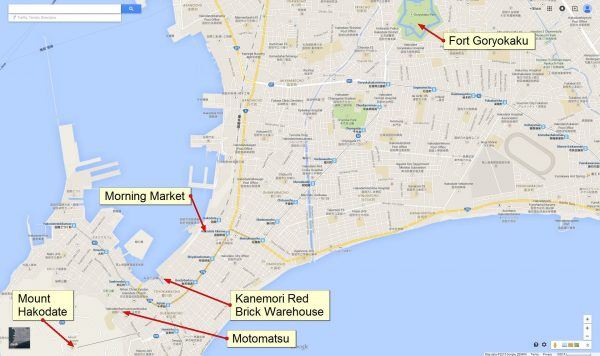 (Click to enlarge)
1. Morning Market (函館朝市)
When in Hokkaido, it's time to eat! I consider Hokkaido the food heaven of Japan, the area unique surrounding and size provides all type of delicious food from fresh seafood to dairy to vegetables. Hakodate is well known for its delicious, fresh seafood!
The morning market is about 3 city blocks filled with vendors and dozens of restaurants. Vendors often offer you bits of food to try as you walk along the stalls.
The prices are simply amazing, and I don't think I've ever seen seafood offered at these prices in Japan. There are many creatures which I don't recognize but I am sure they are tasty. While walking in the market, one of the vendor even let my children hold a king crab.
For lunch, all the restaurants are competing for your business asking you go in and sit down. Look at this value price! $5 for a small bowl of seafood donburi and miso soup. The freshness and price for seafood in Hokkaido can't be beat!
We choose a restaurant and as we tasted the food, you could taste the freshness with the seafood.
Besides eating, my children also got to fish squid and the lady at the shop cut the live squid to make sashimi for us. We dip in soy sauce with a bit of ginger to enjoy. It was a fun (and scary – look at my baby girl's expression!) experience for them.
2. Red Brick Warehouses (金森赤レンガ倉庫)
As you finish eating your breakfast or lunch at the morning market, talk a stroll along the water towards Mt. Hakodate and you'll end up at the Red Brick Warehouses, which were built in 1909.
The warehouses today house gift shops, a beer hall, and various other stores. Where you're there, don't forget to buy Royce's Nama Chocolate!
If you fall in love with these soft chocolate, you can always make it at home using my Nama Chocoolate and Green Tea Chocolate recipes. They taste just like ROYCE's!
3. Motomachi District (元町エリア)
When Hakodate started foreign trade in 1800's, the foreigners settled in this area and the churches and consulates still stands there today. Besides the churches and the old public hall, there is also the Motomachi Park. From Motomachi area, there's an amazing view of harbor from the top of the hill looking down.
(Above image by 663highland (Own work) [GFDL, CC-BY-SA-3.0 or CC BY 2.5], via Wikimedia Commons)
4. Fort Goryokaku (五稜郭)
Alright, it's time to hop on the trolley and head on over to Fort Goryokaku. It's about a 13 min walk (1.1 km) from the nearest station. This unique star shaped fort was built based on designs from 16th century Europe, which reduced the blind spots in gun battles. This is also the site of the Hakodate War and marked the end of the Tokugawa shogunate era.
The viewing tower for the park is pretty new and you can see the old viewing tower next to it. The new tower is 107 meter allowing you to see the entire park, as well as views around Hakodate. Part of the floor in the tower is glass and you can see all the way down.
5. Mt. Hakodate (函館山)
Hakodate is best known for the spectacular views to be enjoyed from Mount Hakodate.
You can ride the cable car both ways up Mt. Hakodate. The package we purchased from the hotel had the bus bring us to the top, and then we rode the cable car down.
The view was breathtaking, and I can check one of Japan's Three Great Night Views off my list. With the clear sky you could see miles and miles away, as the city light sparkled in the night. You could see the entire harbor and the city in its entirety. We spent about 30 minutes up there enjoying the scenery before taking the cable car down.
If you are not planning to visit, you can enjoy the cable car ride video below! If you do visit Hakodate, I highly recommend going up there to take in the view.
Here's the video on Mt. Hakodate Ropeway on my YouTube Channel! Enjoy!
Accommodation with Bus Tour Package
The bus tour includes the 2 night hotel stays with the breakfasts and dinners.
Hakodate Hotel Room
The hotel room is about the typical size. Before bedtime, the hotel workers came to move the table and chair to the side of the tatami room and make Japanese style bedding futon for our family.
Meal Plans
The meals for the package is not as fancy, but it all depends on what your travel package focuses on. Some value package focuses on meals more than accommodation, while some focuses on tours, etc. The first night our dinner was a Japanese buffet style and the second night we had a private room to dine where each dish was served one after another. The breakfast was buffet style where you can choose Japanese style breakfast and/or western style.
Hot Springs (Onsen)
The hotels and ryokans (Japanese style inns) around this area has great hot springs "Onsen (温泉)" inside the hotels/inns. This area is called Yunokawa Onsen (湯の川温泉) which is a well known onsen located on the outskirts of Hakodate City. This onsen is considered to be one of the three major hot springs in Hokkaido.
If you decide to stay in a hotel or ryokan around this area, it should have a onsen inside the hotel. Since we were on a budget package, our hotel rooms were not in pristine condition and hotel itself could use some update. However the hot spring at the hotel was still very enjoyable and relaxing.
After a day of walking, time to soak and relax. My children loves soaking themselves in Onsen. They change into Yukata (summer kimono) and get ready to relax in a hot bath.
If you're interested in our past trip to Hokkaido, you can read about food here and sight seeing spots here.
If you're interested in my travel posts on our trips to Japan, Taiwan and local California, please click here.
Thank you so much for reading my travel post!
Don't want to miss a recipe and post? Sign up for the FREE Just One Cookbook newsletter delivered to your inbox! And stay in touch on Facebook, Google+, Pinterest, and Instagram for all the latest updates. Thank you so much for reading, and till next time!