What's the best method to store cooked rice? Simply freeze the rice in airtight containers and reheat to enjoy later on! This is by far the best approach to keep your rice fresh and moist.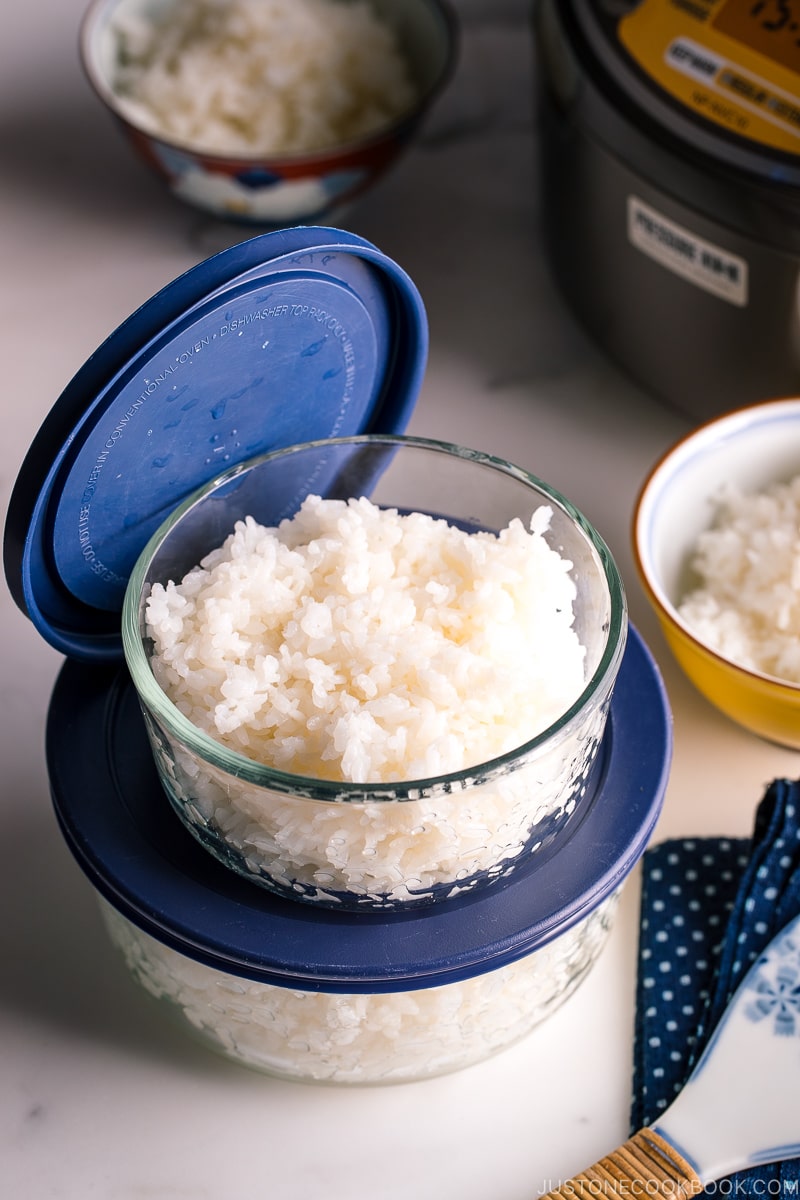 I often get questions from readers about how I store cooked rice. I usually make extra rice so that we always have some extra cooked rice ready at hand. What's the best way to store cooked rice?
What's the Best Way to Store Cooked Rice
When you end up with extra rice in your rice cooker after a meal, you have several options to store it.
Option 1 – Keep in your rice cooker with "keep warm" function on
Option 2 – Keep at room temperature
Option 3 – Store in your refrigerator
Option 4 – Store in your freezer
Which option do you normally use?
From my experience, freezing rice is the best way to store cooked rice, and I freeze cooked rice even if I plan to use it the next day. Here's why.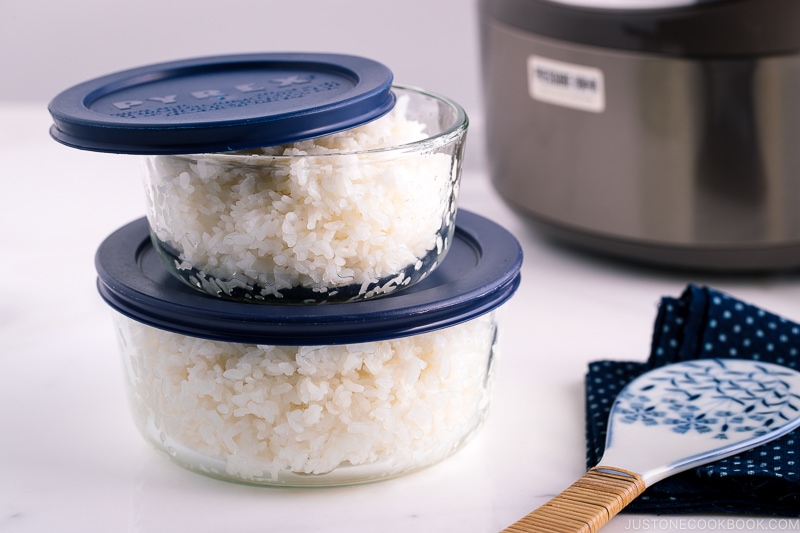 3 Reasons Why You Should Freeze Rice
1. Stay moist, fresh, and delicious
There are many Japanese articles online that prove frozen then reheated rice tastes the best (by testing different storage methods).
You might have tried to refrigerate rice, but the texture becomes hard and dry. Unless you have plans to make fried rice the next few days, refrigerated leftover rice doesn't taste good, even the next day!
With the freezing method, pack up the freshly cooked rice with steam (moisture) in an airtight container and close the lid immediately. So when you reheat the frozen rice, the rice is moist, fresh, and delicious just like freshly cooked rice!
2. Store for up to 1 month
The freezing method allows you to store the cooked rice for up to 1 month, so you don't feel obligated to use it immediately or for 2-3 days.
Here's how long the cooked rice last, compared to other storing options.
Option 1 (rice cooker) – Up to 3 hours (best quality) to 1 day
Option 2 (room temperature) – Up to 6 hours (summer) to 1 day (winter)
Option 3 (refrigerator) – 3 days
Option 4 (freezer) – Up to 1 month
3. Save money and time
If you need to cook rice for just 1 to 2 servings every day, cooking rice every day might not make sense. It's great that you can eat freshly cooked rice, but it does not save your money and time. And rice tastes better when you cook (at least) 2 cups of rice.
Therefore, I highly recommend making extra rice and freezing it. That way, you can just cook rice when you are running out of frozen rice.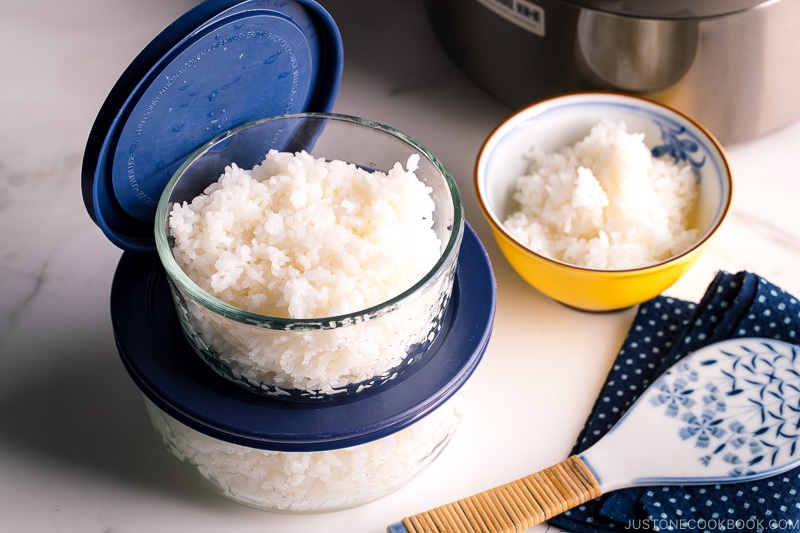 How to Freeze Cooked Rice
1. Pack immediately
Ideally, as soon as the rice is finished cooking, pack away the amount of rice you do not need or plan to keep. Make sure to pack the rice with steam and cover the lid immediately to trap the steam and moisture.
Sometimes, you didn't plan to leave any leftover rice. In that case, just pack the leftover (you can add some water when you're reheating).
2. Let cool completely
You do not want to spoil your food in the freezer with your hot/warm rice. So make sure to cool the rice containers first before storing them in the freezer.
3. Put in the freezer
The rice quality will stay well for up to 1 month!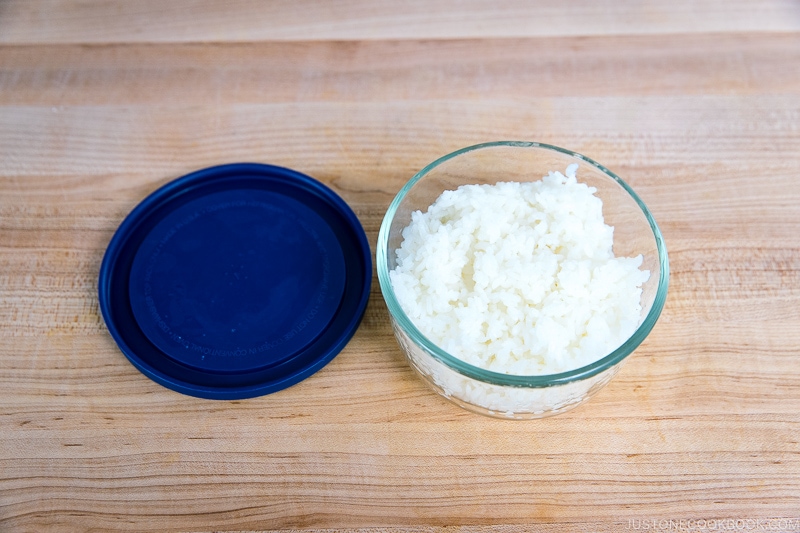 Best Containers for Freezing Cooked Rice
Option 1: Glass container with a lid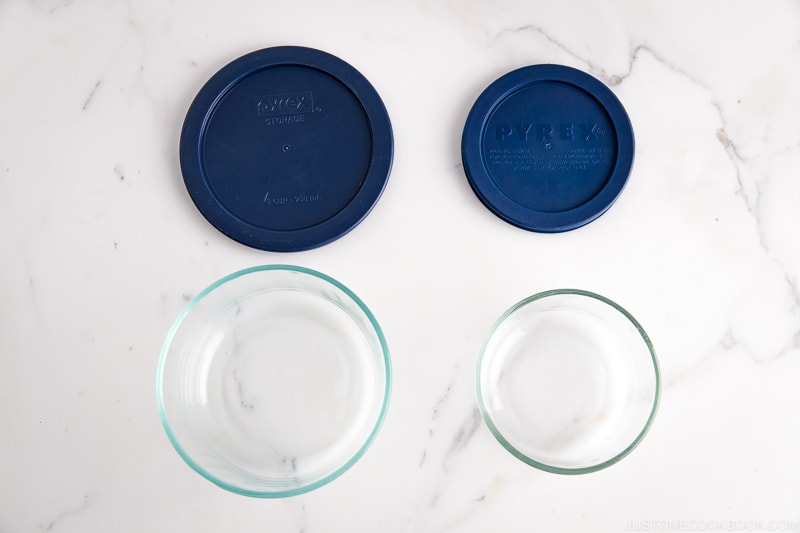 I recommend a glass container with a lid such as Pyrex 4-Cup Round Dish Storage Container with a Cover. The 4-cup container fits 2 servings of cooked rice, which is perfect for my children's lunchbox (2 lunch boxes). Pyrex 2 -Cup Round Dish Storage Container with Cover works great for a single rice bowl portion.
Option 2: Japanese rice container with air vent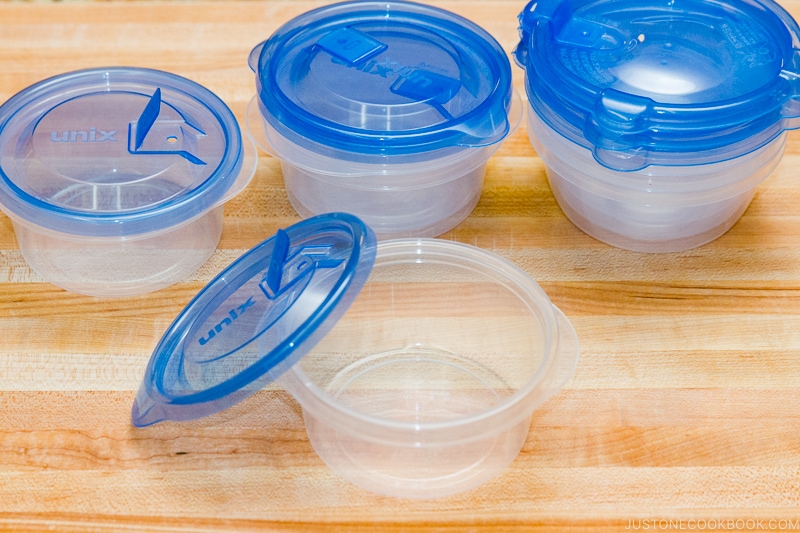 In Japanese grocery stores, you might find these plastic containers that are specifically made for freezing and then microwaving rice.
Option 3: Microwave-safe plastic wrap or freezer Bag
This may not be the most environmentally-friendly method with so much plastic usage. However, if your freezer is tiny and cannot fit the glass containers (I used to live in a dormitory with a tiny freezer space), this might be your only option.
Here's how you prepare the "frozen rice package". You can use the same method when you use a freezer bag.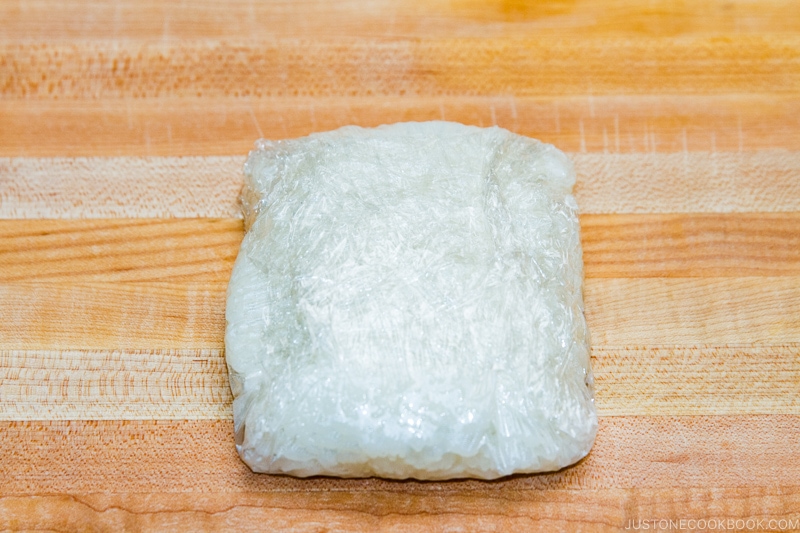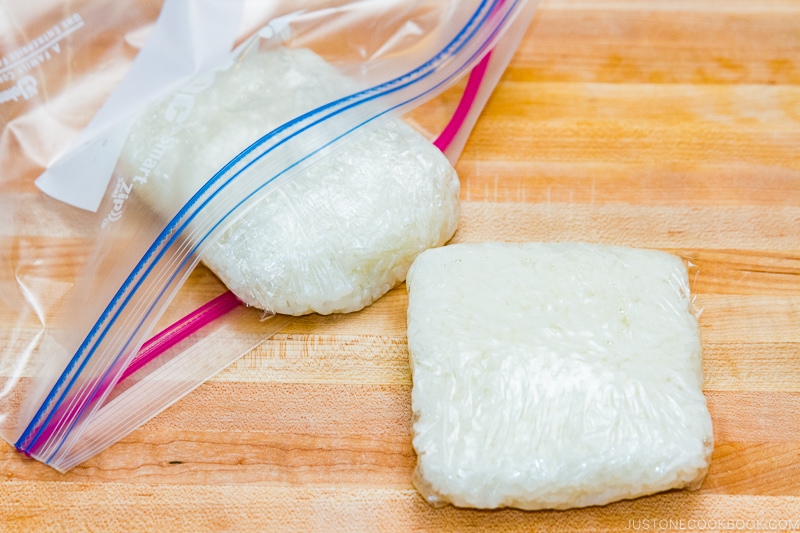 How to Reheat the Frozen Rice
1. Use the Microwave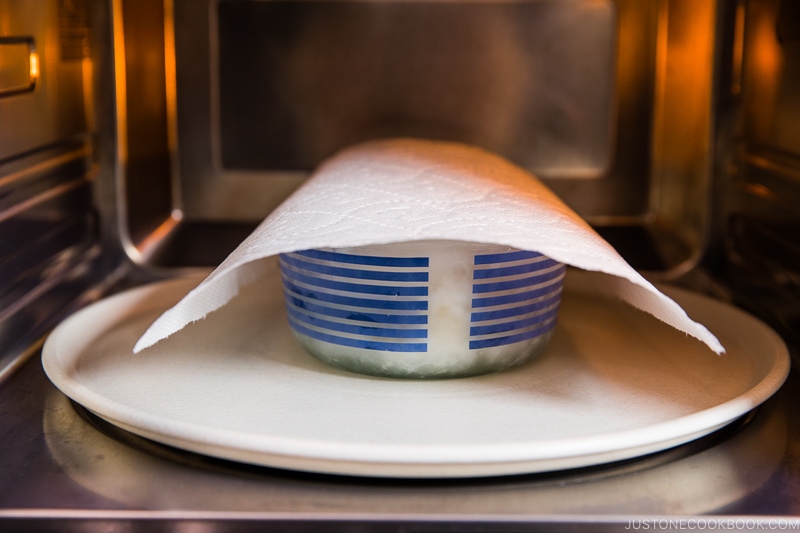 >> To reheat the frozen rice in the glass container…
Take out the frozen rice container from the freezer.
Open the lid and loosely cover it with a paper towel.
Microwave until the rice is hot all the way through.
This particular 4-cup container requires microwaving for 4 minutes (1100 w). You might want to experiment with your microwave to see how long it takes to defrost properly.
>> To reheat the frozen rice in the plastic wrap/bag…
Defrost the rice package in the refrigerator or on the counter until the plastic wrap comes off.
Transfer to a bowl/plate.
Sprinkle a little bit of water to add some moisture.
Loosely cover it with a paper towel.
Microwave for 1 ½ to 2 minutes, or until hot all the way through.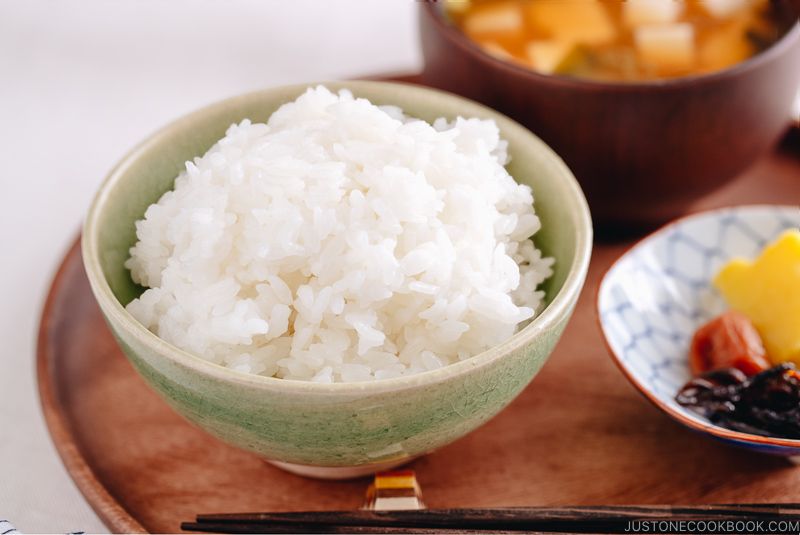 2. Use the Steamer
When you need rice, here's what you need to do:
Take out the rice from the freezer and open the lid.
Prepare the steamer using a large pot (See the pictures below).
Bring the water to a boil and steam the frozen rice in the glass container until the rice is defrosted and warm.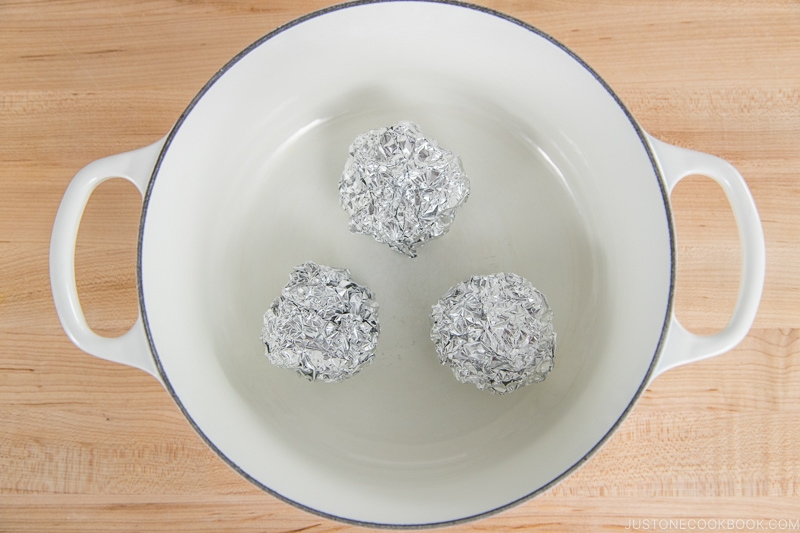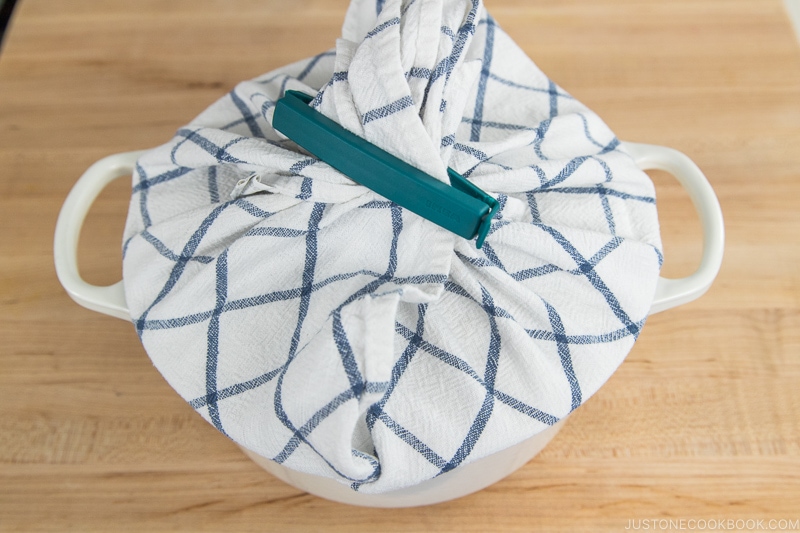 Delicious Rice Recipes
Here are quick rice recipes you can make after defrosting the frozen rice.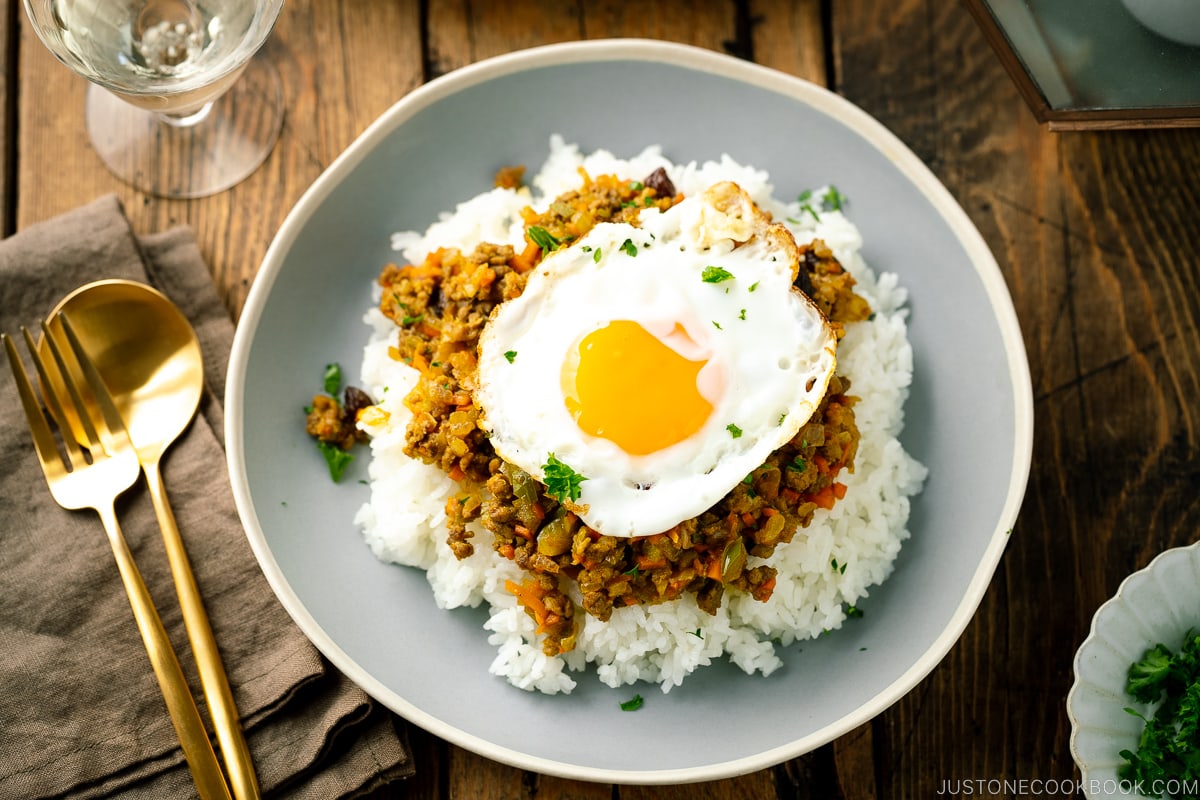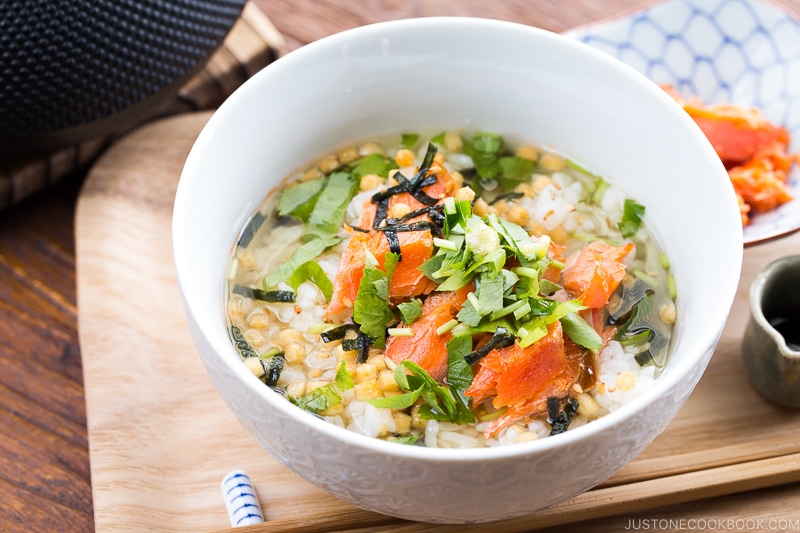 Editor's Note: The post was originally published on June 10, 2013. The post has been updated with new pictures and more detailed content in January 2020.