In Japan, when the sweet summer days are here, it is time to don a yukata and join the locals to attend a Japanese Matsuri (festival). Experience a one-of-a-kind street food fair and here are just some of the popular Japanese festival foods enjoyed in Japan.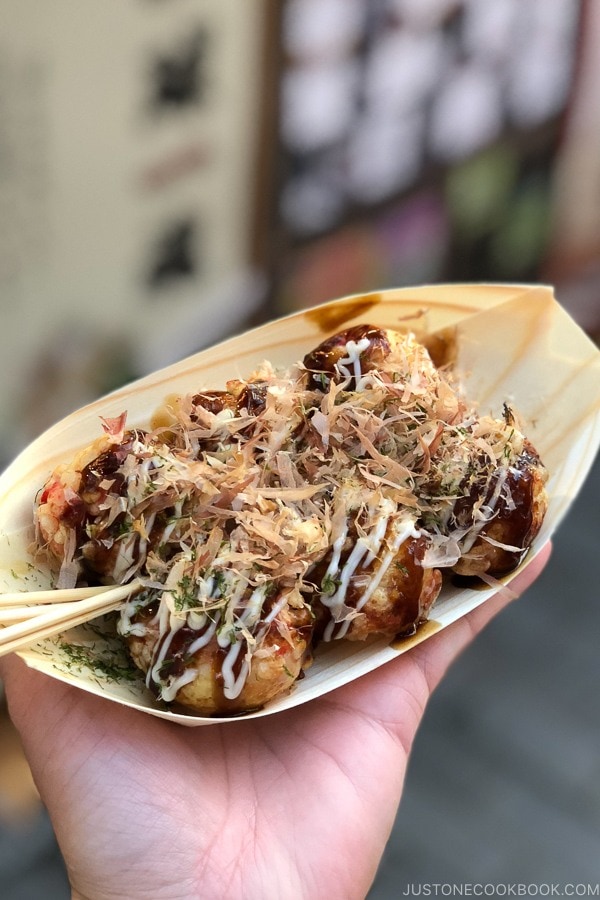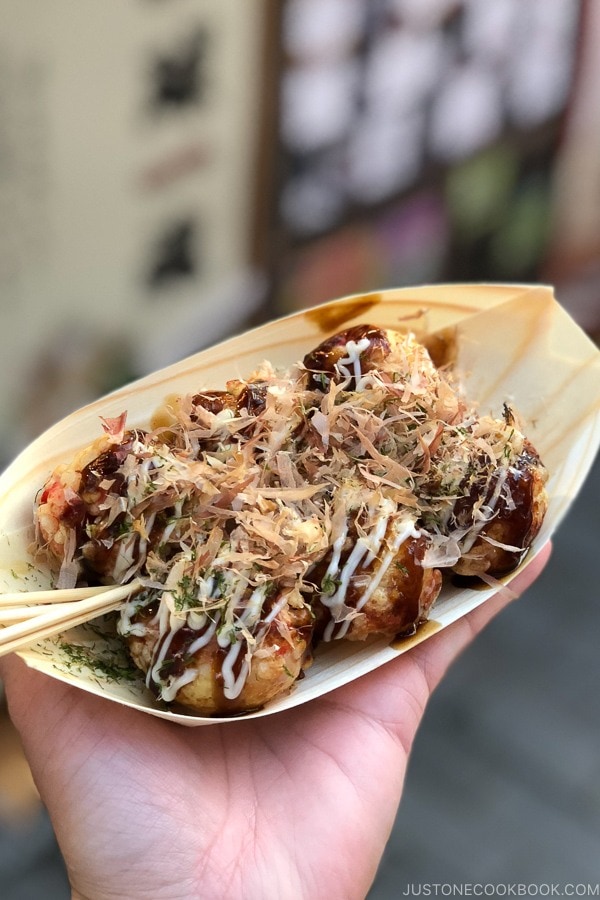 Summer in Japan is brimming with celebrations. Obon (お盆) is an annual Buddhist event held in mid August (or mid July in some regions) for commemorating one's ancestors. It is believed that the ancestors' spirits return to this world to visit their relatives during obon.
During this time, there are lively festivals (matsuri 祭り), obon dance (bon odori 盆踊り), and firework displays (hanabi 花火大会) taking place all over Japan. Expect a high level of exuberance from participants and spectators alike, whether it's a local neighborhood event or a grander city-run matsuri. You will see festival floats (mikoshi 神輿), dramatic masks, decorated banners, ornamented shrines, and of course, a sea of people enjoying the spectacle. 
Where there is a lot of people on the streets, there will be a lot of street food to savor! You will see endless yatai (屋台), mobile food stalls, occupying the masturi venues and offering a delicious variety of foods. From traditional Japanese dishes to western-influenced sweets, Japanese festival foods offered at yatai rarely cost more than ¥700, which is about US$6-7. There are plenty of food-on-a-stick choices for take-out, and it's acceptable to walk around while eating them. This is great chance for any tourist to try many dishes in one night, and some foods that are only available at a matsuri.
Here are just some of the popular Japanese festival foods enjoyed in Japan. It is a time for indulgence and fun, so don't expect them to be healthy choices! If you are interested in making them at home, we included some of the recipes for you to try.
---
Popular Japanese Festival Foods お祭り屋台の食べ物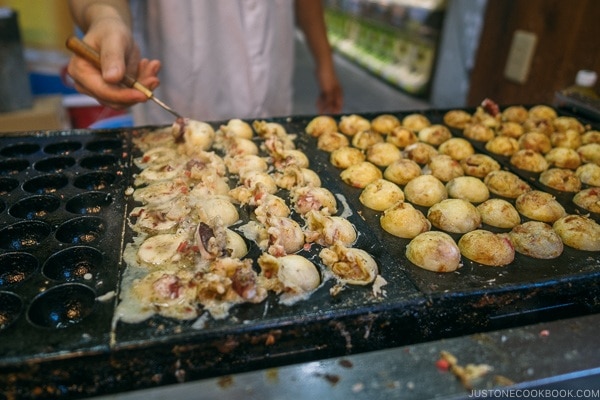 Takoyaki たこ焼き
Originated in Osaka, Takoyaki, or grilled octopus balls, are tiny wheat flour balls filled with cubed octopus (tako), tempura scraps (tenkasu), pickled ginger and green onions. When the balls are cooked, they are topped with sprinkles of shaved bonito flakes, dried green seaweed, and drizzled with a sweet-tangy takoyaki sauce and a squirt of Japanese mayo. With crispy skin and a soft-gooey inside, these octopus balls are literally one of the best street food inventions. At a matsuri, you get to watch the takoyaki vendors flipping the balls on rows and rows of hemispherical cast iron pans with their deft hands. It's mesmerizing to watch!
Want to make Takoyaki at home? Click here for the recipe.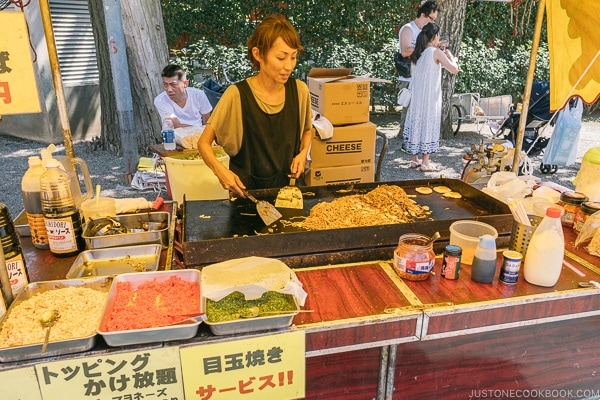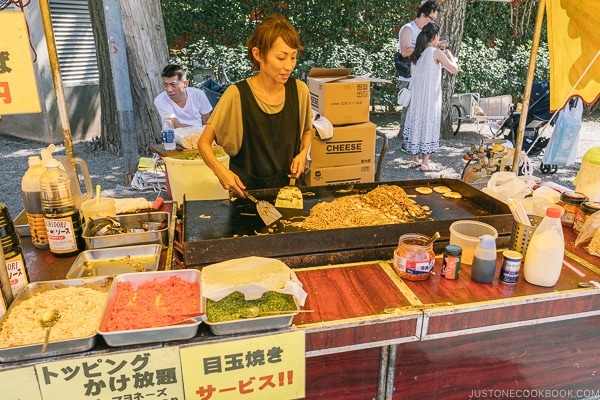 Yakisoba 焼きそば
Toothsome noodles fried on a sizzling hot griddle with meat and vegetables, and seasoned with a sweet & savory sauce similar to Worcestershire sauce, Yakisoba is an iconic Japanese street food and a must-try at a matsuri.
Want to make Yakisoba at home? Click here for the recipe.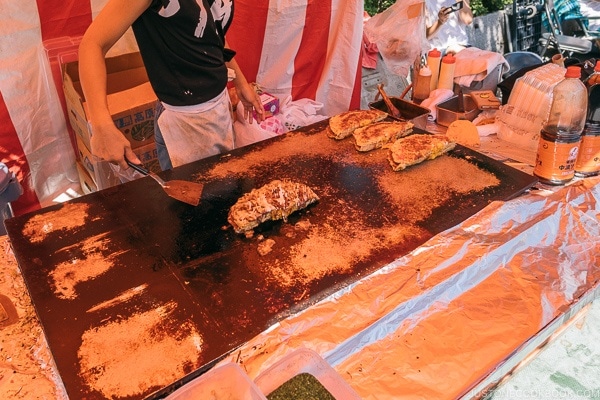 Okonomiyaki お好み焼き
Literally translate to 'grilled as you like it', Okonomiyaki is a giant savory version of Japanese pancake, made with flour, eggs, shredded cabbage, and meat/ protein. It is then topped with a variety of condiments similar to Takoyaki: bonito flakes, dried seaweed, red pickled ginger, sweet-savory brown sauce and Japanese mayo. Sometimes Okonomiyaki is called Japanese pizza. Pizza or pancake, or whatever you call it, it is promisingly delicious. If you get to attend more than one matsuri in Japan, you want to try out the different versions too.
Want to make Okonomiyaki at home? Click here for the recipe.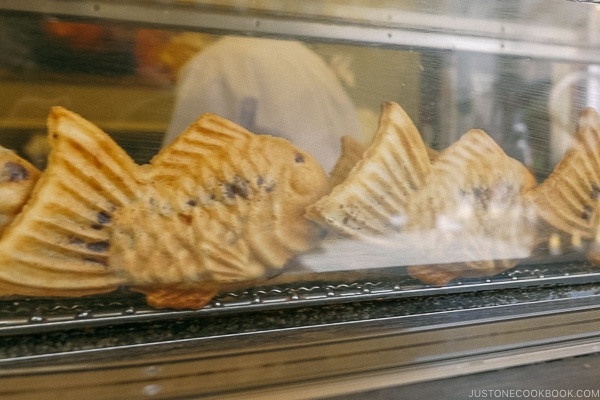 Taiyaki 鯛焼き
Made using a waffle-like batter and a red bean filling, Taiyaki is a classic matsuri snack that comes in an attractive sea bream shape. When it's freshly made, the crispy exterior surrounding the warm soft cake with sweet red bean filling is simply delectable. You can also find other flavors like chocolate, custard or sweet potato.
Want to make Taiyaki at home? Click here for the recipe.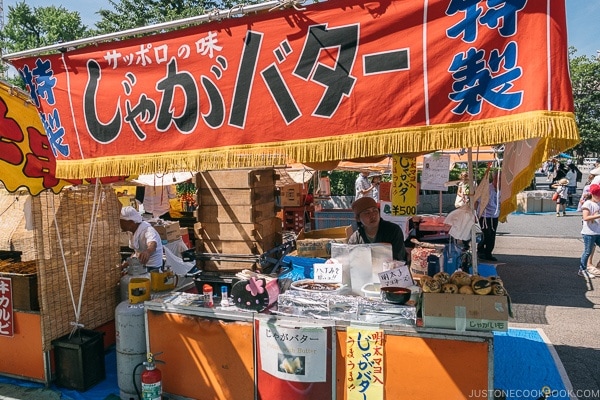 Jaga bata (Potato with Butter) じゃがバター
Matsuri is also all about comfort food, only at a much more indulgent level. Baked in steaming wooden ovens, jaga bata, which means buttered potatoes, look and smell even more appealing when they are prepared this way. There is a giant tub of butter at the stand for you to drench the freshly baked hot potato. You may be tempted to slather as much butter as you can, but it's wiser to save the appetite for more later.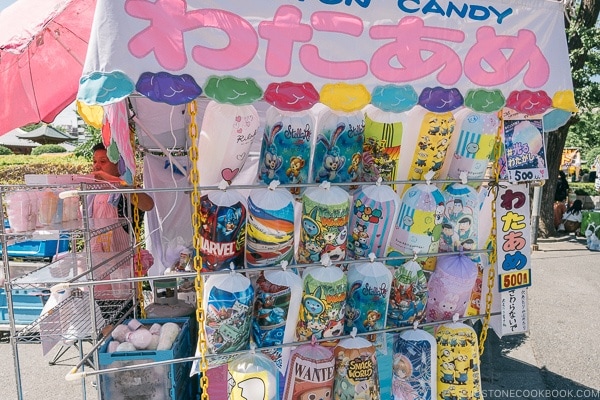 Wata Ame (Cotton Candy) 綿あめ
Just like any food fair at festivals, watame or cotton candy is wildly popular at matsuri. They come in colorful bags featuring characters like Hello Kitty, Doreamon, Pikachu, Totoro, Anpanman and so on, making them extra attractive for the little ones.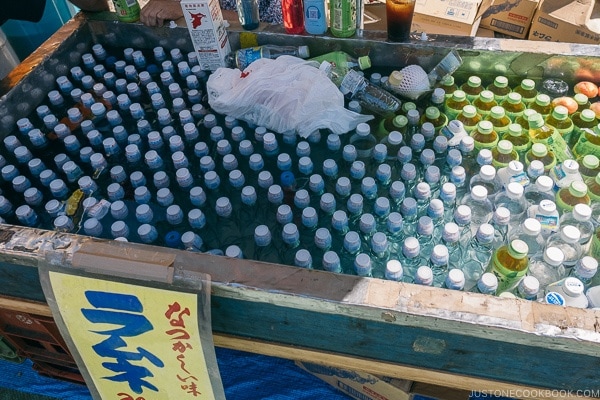 Ramune ラムネ
Ramune is a sweet sparkling soda that has been around at matsuri for many decades. It is known for its special bottle design where the glass bottle is sealed with a marble around the neck to keep the fizziness in. To open the bottle, you pop the marble down using a small piece of plastic and the soda fizzes, making it extra fun to quench your thirst. Kids love the drink and adult enjoy it for nostalgia sake. The original ramune is lemon-lime flavor, but you can now find over 35 flavors to choose from.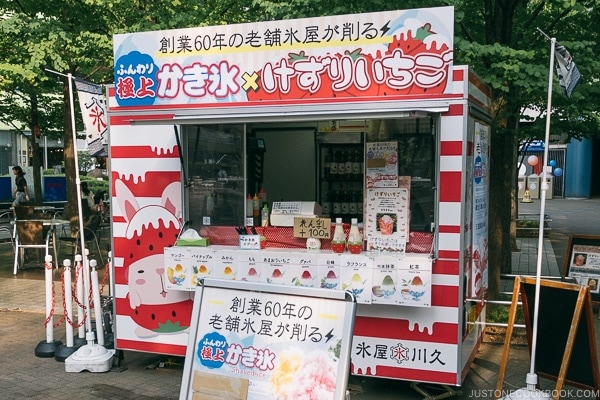 Shaved Ice かき氷
When you need to cool down from all the walking in the balmy evening,  there is always shaved ice at a Japanese matsuri for your refreshment. Finely crushed ice covered with colorful syrups with flavors like green tea, strawberry, melon, blue Hawaii, peach and so on. It's a simple pleasure of a summer fun.
Want to give this dessert a try at home? Try our Green Tea Shave Ice recipe (it's topped with red bean paste, sweetened condensed milk, and green tea ice cream!). 
Kushiyaki 串焼き
It is impossible to pass by a street vendor selling Kushiyaki without taking a second look. In the air, you can smell the rising smoke infused with an irresistible mix of savory soy sauce and sweet briny scent. At a closer look, you can see all kinds of ingredients (beef, pork, chicken, squid, octopus, scallop) skewered on wooden sticks are on displays or are placed on hot gridirons and grilled to perfection. You don't want to stop there and watch. You want to grab a stick of Kushiyaki for yourself. One bite, and you'll be in heaven.
Want to make Kushiyaki (similar to Yakitori) at home? Click here for the recipe.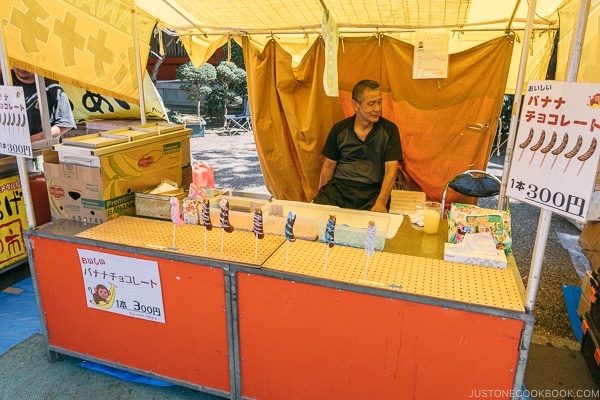 Choco Banana チョコバナナ
Everybody knows what a choco banana is. They are just as popular at a Japanese festival, especially among the kids.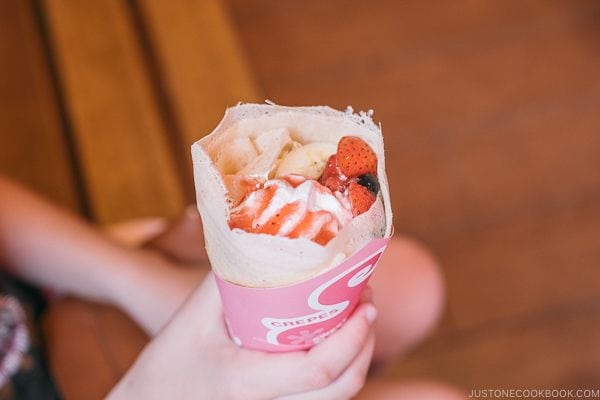 Crepes クレープ
Japanese is obsessed with crepes and it is everywhere in Japan. While French crepes may be filled with sweet or savory ingredients, the sweet variety is much more popular in Japan. At the masturi, they come with endless possible fillings and toppings. Some of the popular flavors include chocolate, strawberry, cream cheese, banana, kiwi, whipped cream, nutella and so on. You can even ask for an extra scoop of ice cream! The crepe makers make them on the spot by spreading the batter over a large flat grill, folding them in half before topping them with fillings and handing them to you in a giant cone shape.
Want to make Japanese-style crepe at home? Click here for the recipe.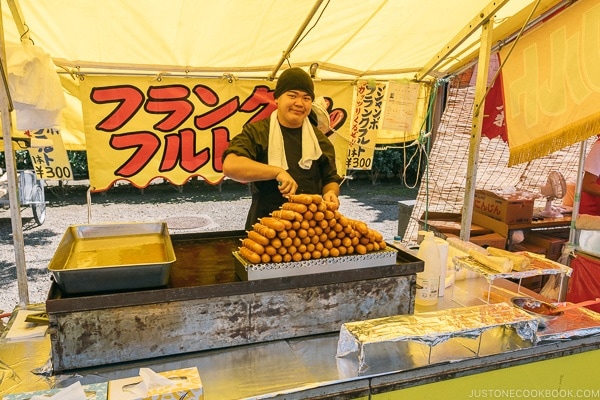 Hot Dog & Corn on a Stick
Another universal favorite, hot dog or corn on a stick is also another festival food you can find in Japan. When you just want something to munch on, there's always hot dog/corn on a stick for the option.
Have you experienced a Japanese matsuri in the summertime before? What are some of your favorite festival foods and favorite moments? Tell us in the comments below. 
Sign up for the free Just One Cookbook newsletter delivered to your inbox! And stay in touch with me on Facebook, Pinterest, YouTube, and Instagram for all the latest updates.
---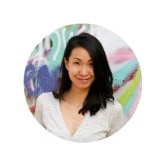 Originally from Penang, Malaysia, Reese lives in Minnesota with her husband and their baby boy. She previously ran an Asian spice shop, and also worked on UNESCO Heritage projects in Penang in the areas of performing arts, history, and arts education. Reese loves spending time with her family, listening to podcasts, and reading up on art & design. And of course dreaming of another trip to Japan to hike mountain trails and eat her favorite street food Okonomiyaki. More from Reese →