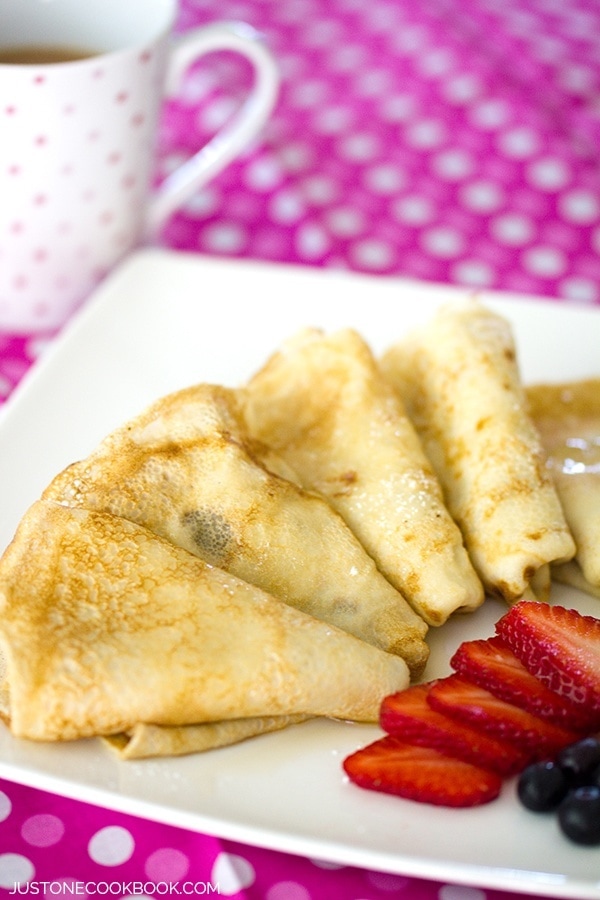 Ahem.  Do you see anything different from my normal pictures?  Anyone?  Well, I hope that was a very obvious question.  The picture is bright, isn't it?  Spring is finally here and I can take pictures under the natural light as long as I cook during daytime.  It makes a huge difference compared to my posts below.  Ugh look at that curry picture… that was taken at night.
Also, these new pictures were taken by a macro lens.  My husband insisted to buy the lens just for the food pictures.  He's more serious about my blog than I am, I guess.  With a macro lens I can take closer shots and it's fun!  But wait, I'm still practicing photography skills so I'll have to post non-macro lens pictures until I'm ready to share.
Lastly, I'm trying to improve the layout of food.  I just added a fabric here and I think it already looks a lot different from my previous posts.  I've been learning SO MUCH from all the foodie bloggers for the past few weeks.  This is my 4th month since I started blogging and I have to start improving my site somehow.
Today's recipe is crepes.  I love crepes and it's really easy to make.  Wait, don't leave my site yet because you can see MORE PICTURES of my delicious crepes (with bright light + new lens + fabrics!), so just stick around for another minute, okay?
I served the crepes with maple syrup and powdered sugar.
You want to see close up?  Ta-dah!  Look at these fluffy layers… Yum…
The picture below is with fruits and whipping cream inside.  If you add whipping cream or ice cream, wait till the crepe cools down a bit so it won't melt.  Have a wonderful weekend everyone!
Don't want to miss a recipe? Sign up for the FREE Just One Cookbook newsletter delivered to your inbox! And stay in touch on Facebook, Google+, Pinterest, and Instagram for all the latest updates. Thank you so much for reading, and till next time!
Simple Crepes
I love crepes and it's really easy to make. I served the crepes with maple syrup and powdered sugar or fruits and whipping cream inside. If you add whipping cream or ice cream, wait till the crepe cools down a bit so it won't melt!
Ingredients
2

large eggs

1

tsp

sugar

1

tsp

pure vanilla extract

¼

tsp

salt (kosher or sea salt; use half if using table salt)

2

cups

all-purpose flour

1½

cups

milk

1½

cup

water

(1 cup for original recipe)

1

Tbsp

neutral flavor oil (vegetable, canola, etc)
Toppings of your choice:
Nutella

(maple syrup, powdered sugar, bananas, strawberries, blueberries, whipping cream, chocolate syrup, etc)
Instructions
In a large bowl, combine eggs, sugar, vanilla, and salt. Mix all together. Here my sweet little assistant is mixing it up.


First add about ¼ cup of flour and mix well.

Add about ¼ cup of milk and mix well till you don't see any lumps.

Then add ¼ cup of flour again and mix while stirring in ¼ cup of milk. Mix well until you don't see any lumps. Repeat this process until you run out of both.

Add 1 cup of water. Mix well and check the consistency of the batter. It should be runny unlike the batter for pancakes. I added ½ cup more water to have a good consistency. Please adjust the water according to your mixture.


Heat a large non-stick frying pan over high heat. When it's getting hot, grease the pan with oil using a silicone brush.

When the pan is hot, use a ladle to pour the batter in the middle of the pan. Swirl the batter around to distribute it evenly.

When the batter started to dry (see below), shift the pan to rotate the crepe. You can peek and check the color of the bottom side of the crepe. When it looks good, flip the crepe with a spatula and cook the other side until it becomes nice color.


Remove from heat. Serve with your favorite fruits or other toppings.
Recipe Notes
Recipe by Namiko Chen of Just One Cookbook. All images and content on this site are copyright protected. Please do not use my images without my permission. If you'd like to share this recipe on your site, please re-write the recipe in your own words and link to this post as the original source. Thank you.