Kamikochi is a beautiful high mountain valley located in Chubu Sangaku National Park. Largely untouched by humans, the natural landscape of the park – with towering mountain peaks, crystal clear lakes, lush forests, and the winding Azusa River – is one of the most spectacular in Japan.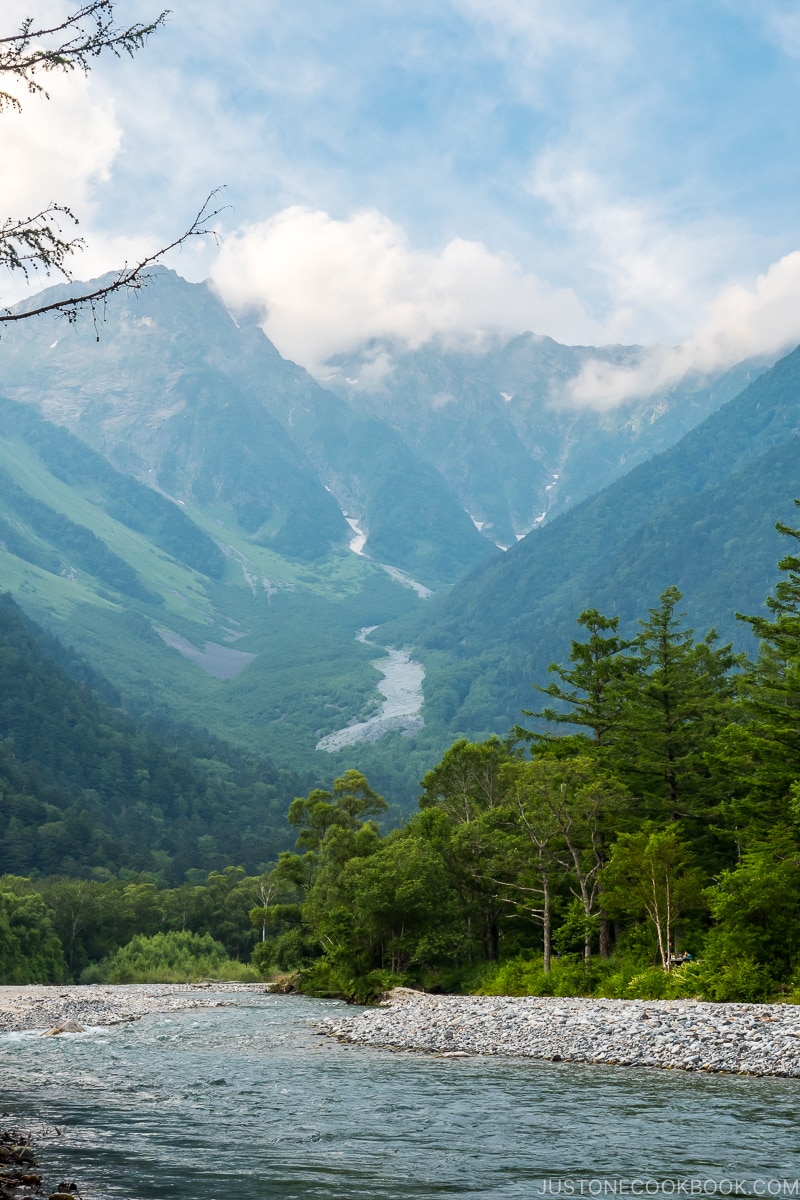 Kamikochi (上高地) is a stunning plateau, 10 miles (16 km) long and 5,000 feet (1,500 m) above sea level, located in Chubu Sangaku National Park. It's sometimes called Japan's Yosemite Valley due to the similarities to Yosemite in California (where our home is). We visited during our trip to Nagano Prefecture and were instantly drawn to the beautiful wilderness of Kamikochi.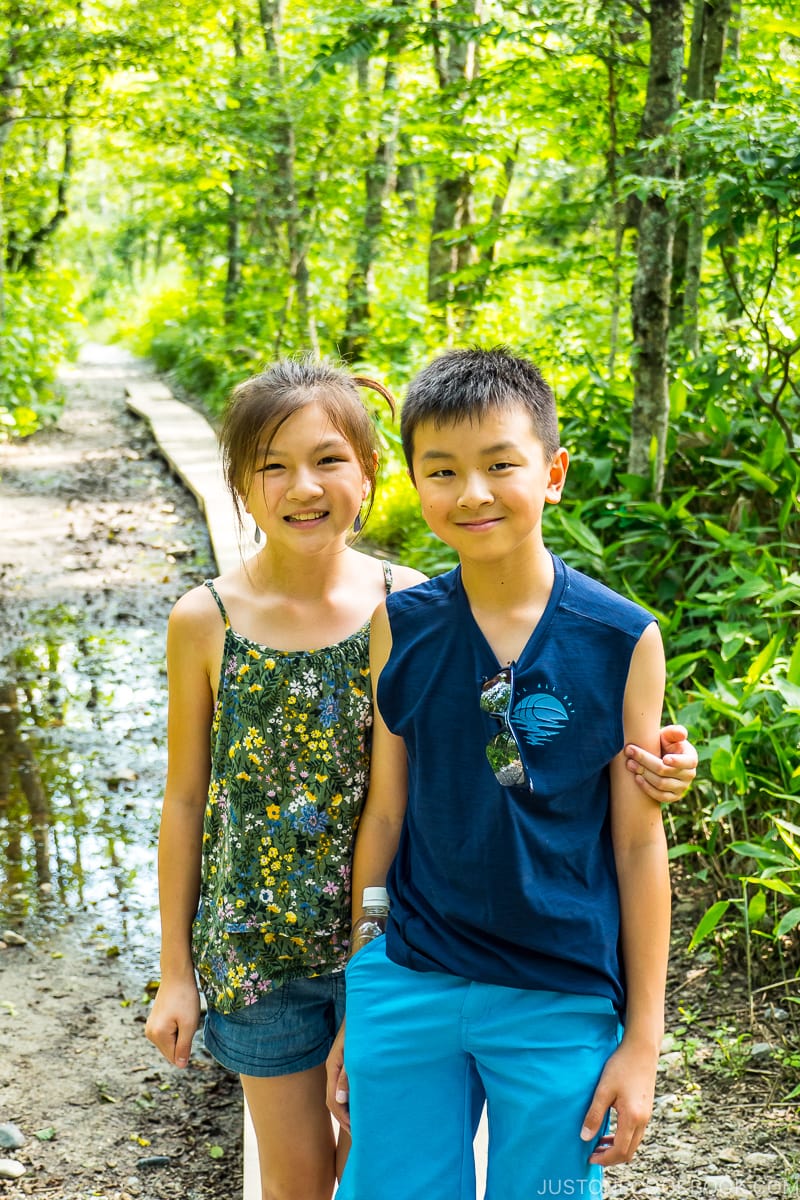 Where is Kamikochi 上高地
Kamikochi is located in western Nagano Prefecture, within the towering mountains of the Japanese Northern Alps. Some of the mountain peaks are over 3,000 meters high.
Most of the tourist locations in Japan are fairly easy to get to but Kamikochi requires a bit more work. One main reason is private passenger cars are not allowed to drive there.
Another challenge is that it's only open from April until November and shuts down during the winter because of heavy snow.
How To Go To Kamikochi
Depending on where you're traveling from in Japan, there are several ways to get to Kamikochi. The easiest way is by bus and here is the information for express and route bus from Alpico group.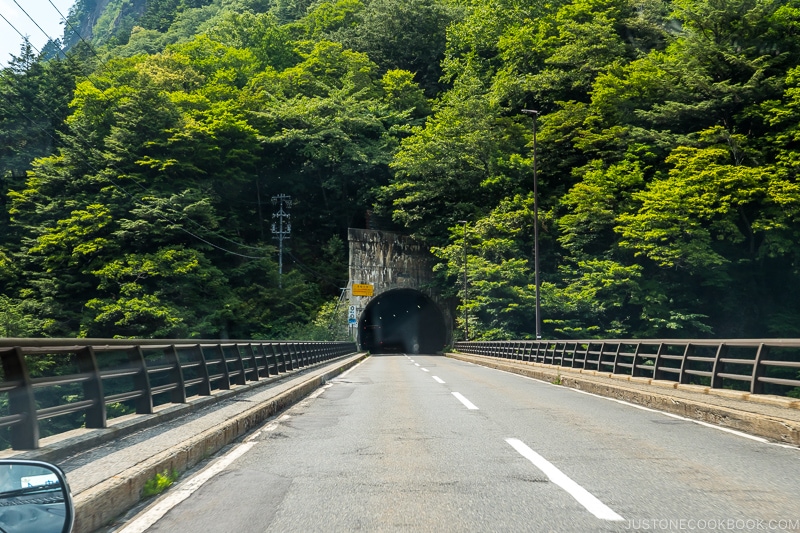 We drove from Matsumoto to near Sawando Bus Terminal. At the bus terminal, visitors can either take the bus or taxi to Kamikochi. It's more economical to ride the bus as a single person (2,100 yen) but with two or three people, a taxi is more convenient (4,600 yen) and could be cheaper (these costs are for 1-way).
Since there were four of us we opted for a taxi from Sawando Terminal. It cost 600 yen to park our rental car for 1 day and there are many parking lots all around. As soon as we parked our car, the staff waved a taxi down to take us to Kamikochi.
The taxi ride was about 30 min and we couldn't contain our excitement. It's a refreshing change to see nature and less human presence in Japan. In the summer, Kamikochi can get rather crowded. The driver told us that he would drive up and down the mountain 10 times on typical busy days!
There are only a few locations that taxis and buses can drop off visitors. If you plan to stay at a hotel, you will need to bring your luggage from the drop-off point to the hotel yourself (it can be quite a distance).
Even though we had carry-on sized luggages with wheels, it was a bit embarrassing dragging them for almost half a mile on the rocky path to our hotel. A light duffle bag for an overnight stay is recommended.
Kamikochi What to Do
It's rather simple to enjoy Kamikochi. Casual visitors can walk around and take in the surrounding sceneries from the trails next to the Azusa River. For adventurers, they may seek multi-day routes trekking to the nearby mountain peaks.
You don't need to stay overnight but we would recommend staying one night to take in the scenery. If it's difficult to book a hotel, a day trip is doable if you can arrive early in the day. Taking the most popular routes around Kamikochi will require 4-5 hours.
Our family spent 24 hours there, arriving at 2 pm and leaving at 2 pm the next day.
Kappa Bridge 河童橋
Kappa Bridge is located in the center of the Kamikochi tourist area and connects the two sides of the Azusa River. The taxi and bus drop-off is near Kappa bridge along with many hotels, restaurants, and gift shops.
We have divided this guide into three parts. South of the Kappa Bridge, our hotel stay, and north of Kappa Bridge.
Don't worry about planning your walk ahead of time. In general, the trails in Kamikochi are limited and very clearly marked.
South of Kappa Bridge
After checking into our hotel (more on this later), we headed on the trail on the west bank of Azusa Bridge towards Taisho Pond (3.5 km each way). The first thing we noticed was the air, it was so clean!
Since Kamikochi didn't allow passenger cars, the air wasn't polluted with exhaust and we relished the fresh air.
The path leading south along the Azusa river was relatively flat. It was so soothing to listen to the river flowing and with not many people around, we thoroughly absorbed the sounds of nature.
Coming up on Tashirobashi Hotaka Bridge, we crossed the Azusa River and continued heading south.
On the trail to Tashio Pond, it changes depending on the terrain. It could be a dirt/rock path, wood path, or even wood planks.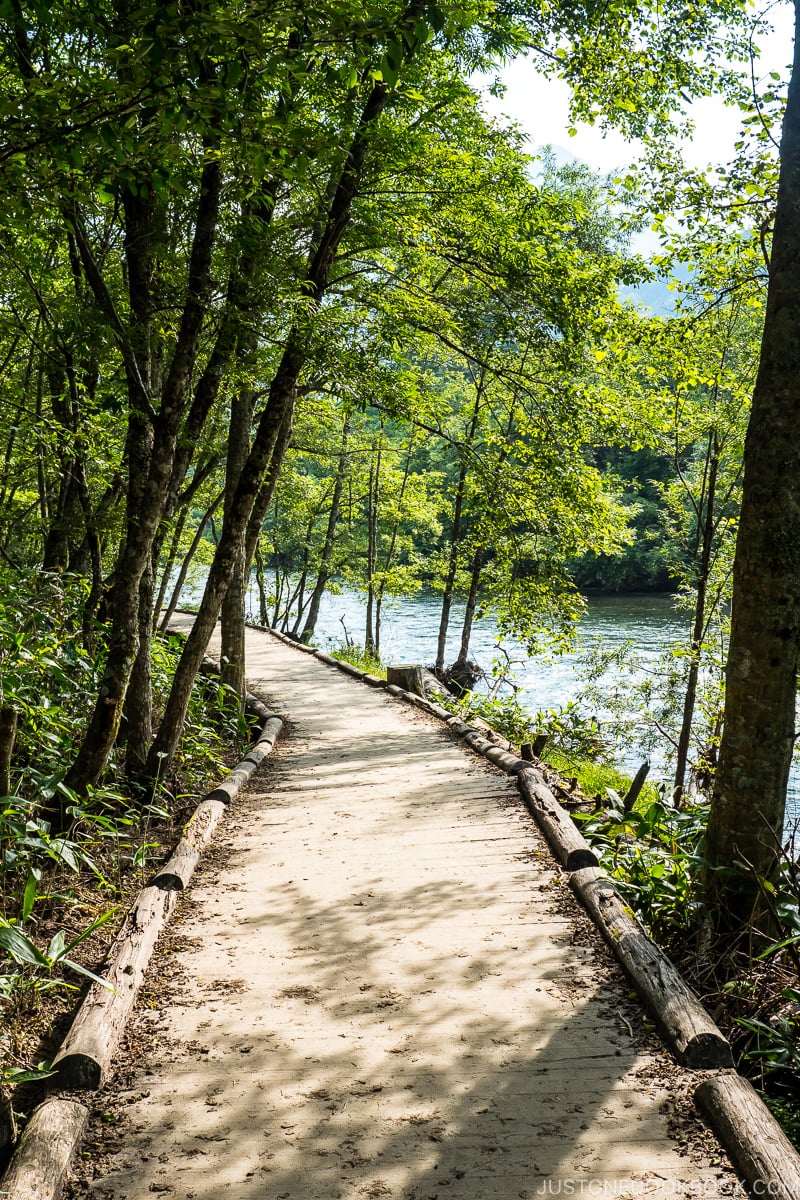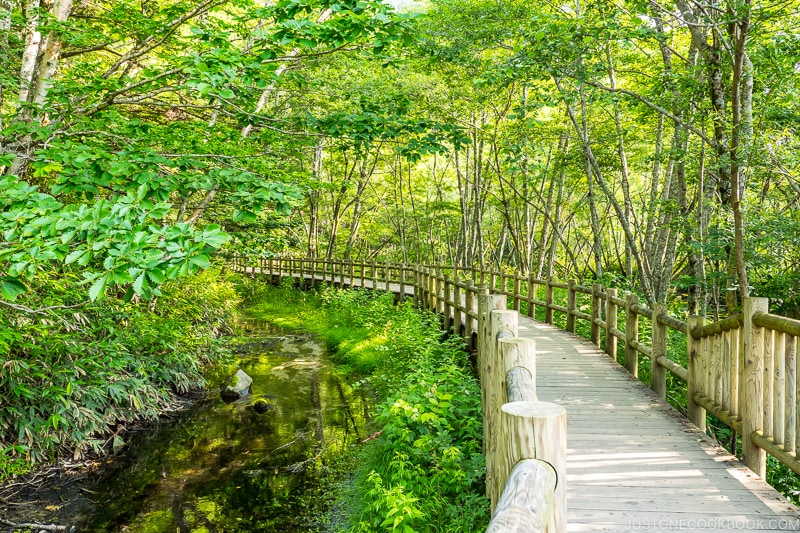 The trail weaves around and one moment we were in the forest and the next we could be in a marsh. Regardless, it was really picturesque.
After a leisurely one-hour walk we reached Taisho Pond at the south end of Kamikochi with a clear view of Mount Yake.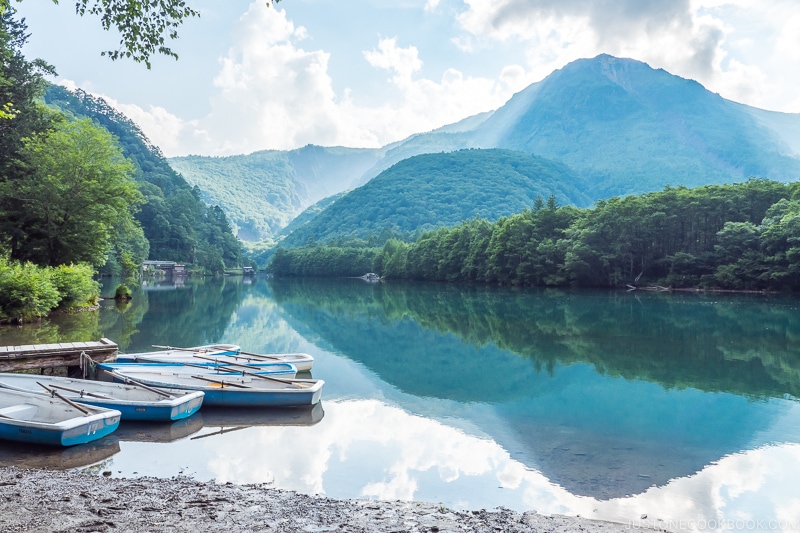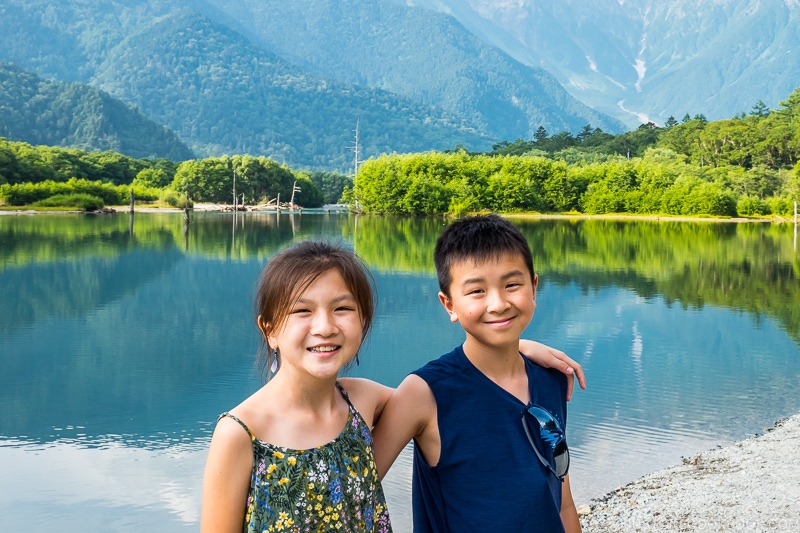 We spent some time at Taisho Pond before we made our way back to Kappa Bridge and to our hotel.
It was time to eat, take a bath, and recharge!
Kamikochi Alpen Hotel
As we made our way back to the hotel, guess who was waiting to greet us! A few of the native monkeys. There are many wildlife in Kamikochi including bears.
Our stay at Kamikochi Alpen Hotel included dinner and breakfast and the use of the bath facilities.
The lobby of the hotel reminded us of a mountain lodge with a firepit in the center. The hotel was clean, homey, and very welcoming.
For the four of us, we got 2 western beds and a tatami area that can be used for sitting and sleep two more at night. The room was comfortable but what surprised us was that there was no A/C in the rooms.
The hotel did provide a fan and with the windows open, it wasn't too hot even though it was the middle of the summer.
Later on, we found out from the taxi driver that none of the hotel rooms have A/C in Kamikochi (let me know if this is wrong). The common area such as the lobby does have A/C but the rooms do not.
Kaiseki Dinner at Kamikochi Alpen Hotel
The dinner included with our one-night stay is a Japanese kaiseki-style course meal. The food was not bad considering how remote the hotel was. We can't really compare the quality to a ryokan known for food in a popular tourist area.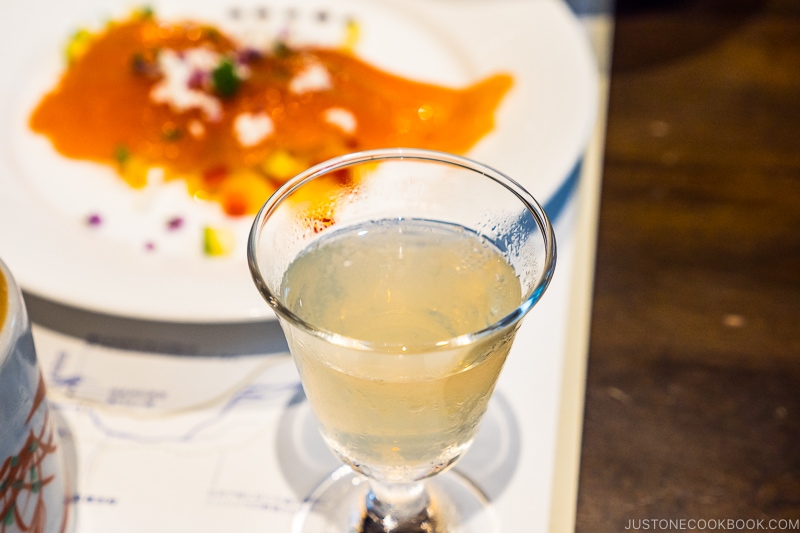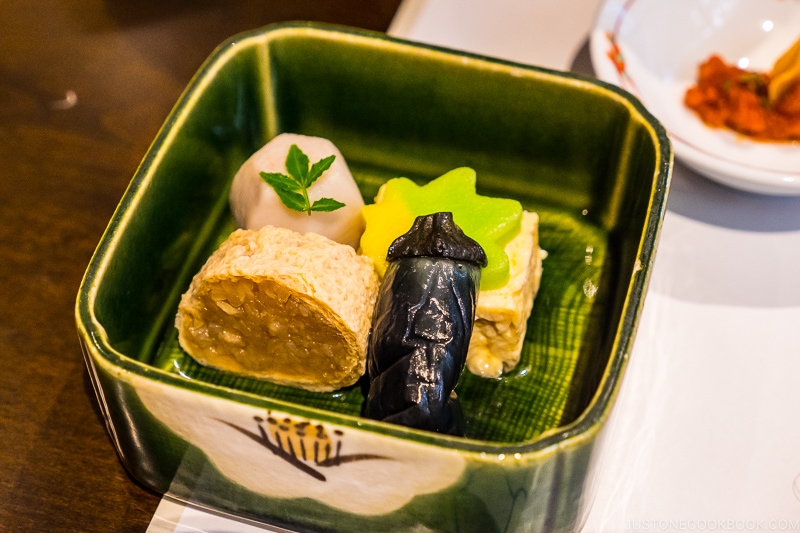 During our stay Kamikochi Alpen Hotel, we met a super friendly JOC reader (Maiko) who teaches in Japan. Small world!
North of Kappa Bridge
On the second day, we spent a bit of time by the Azusa River and then started heading up the trail along west bank.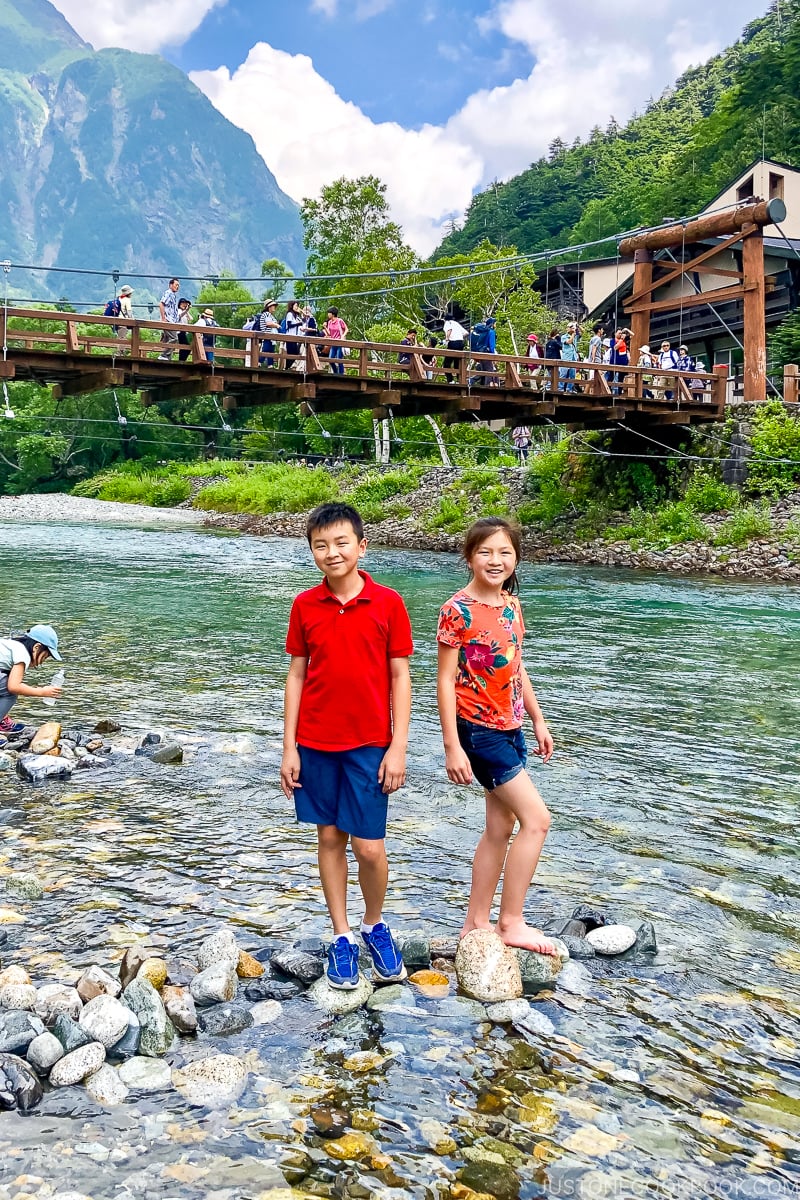 The scenery was very different from the previous day with a clear blue sky and mountain peaks ahead of us.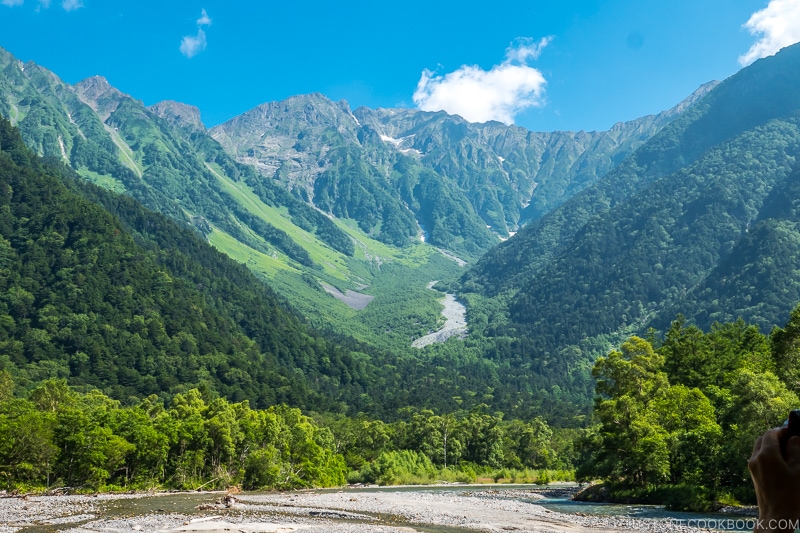 The trail goes a bit further away from the river and into the woods but the scenery was breathtaking regardless.
Similar to the southside trails, the terrain switches from dirt paths to wood planks and raised wood trails. Fun!
We couldn't help ourselves but make frequent stops to admire everything around us.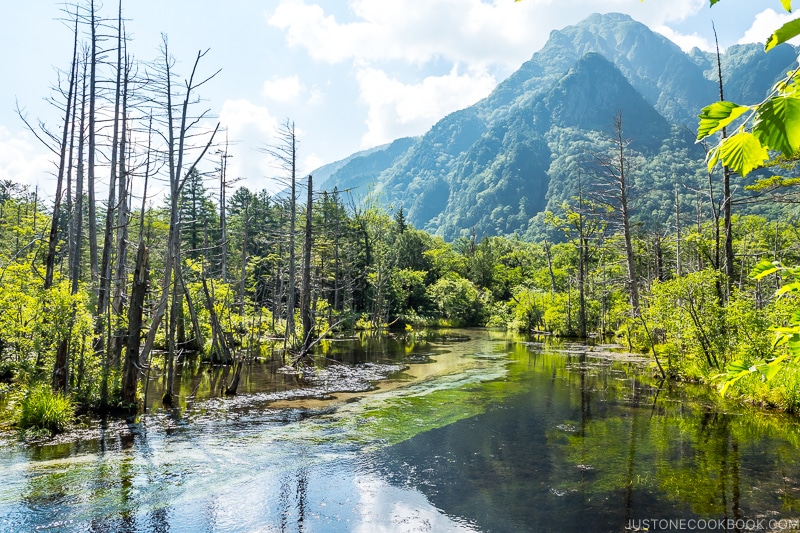 Hotaka Shrine 信濃國三之宮 穗髙神社 奧宮
After about an hour of walking, we came upon Hotaka Shrine's torii gate.
Near the shrine's entrance, there are a few places where visitors can purchase snacks and food to eat, and also spend the night.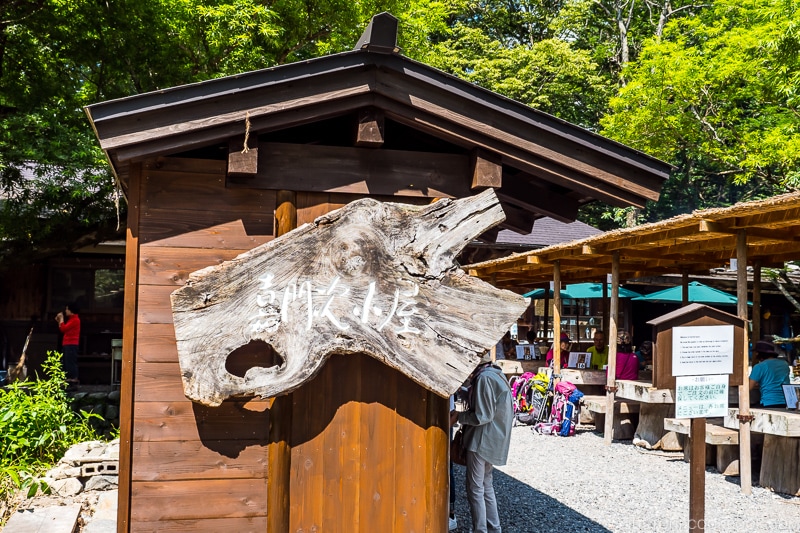 Hotaka Shrine is known for its two ponds. A small wood pier extends into the main pond with a praying altar at the end.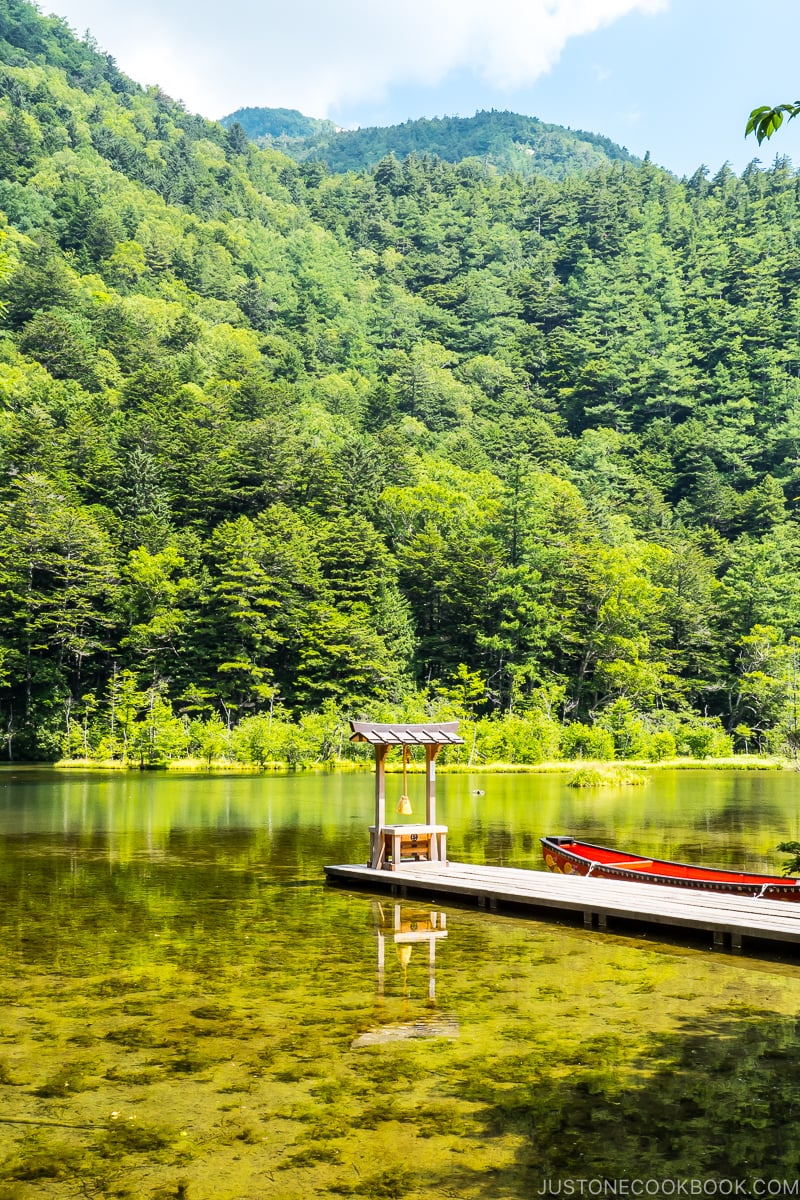 Visitors are welcomed to walk around the ponds and enjoy the beautiful scenery reflecting in the water. It was a very serene experience.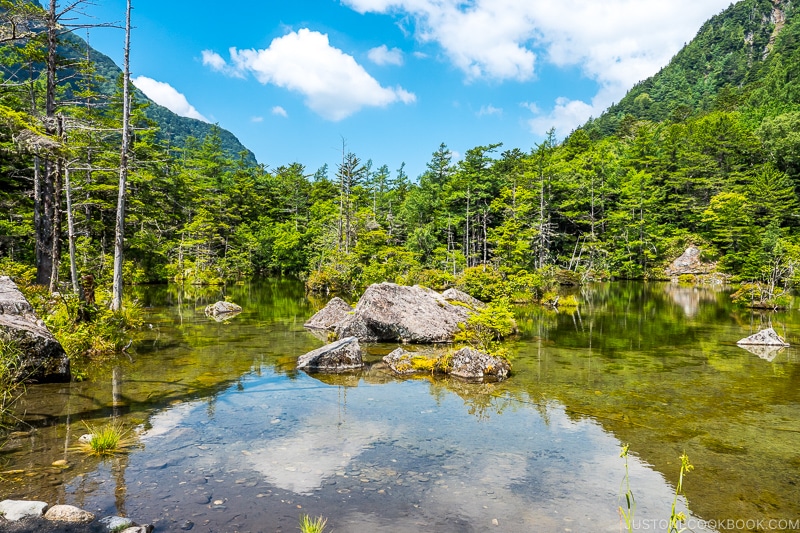 Myojin Bridge 明神橋
After visiting the shrine, we crossed Myojin Bridge and headed southwest back to Kappa Bridge area.
The trail heading back was closer to Azusa River and it was relaxing to hear the flowing water.
Kamikochi Visitor Center
We made a quick stop by the Kamikochi Visitor Center before lunch and checked out the exhibits and photography they had on display.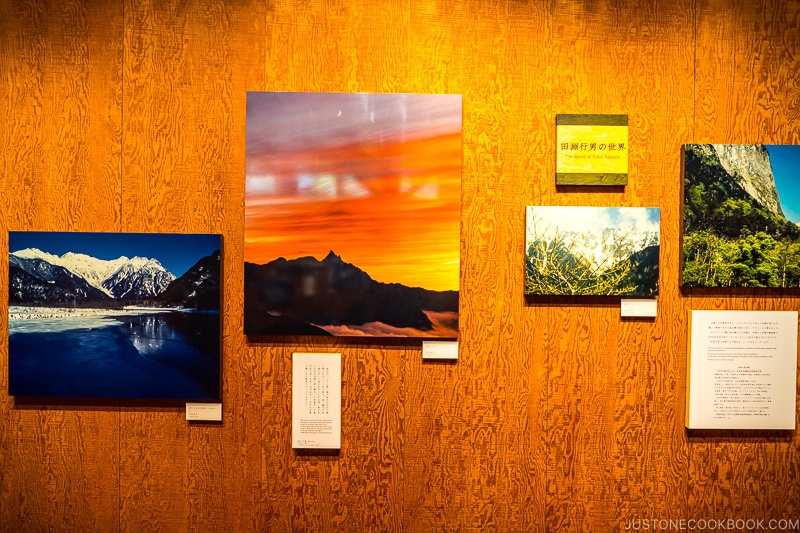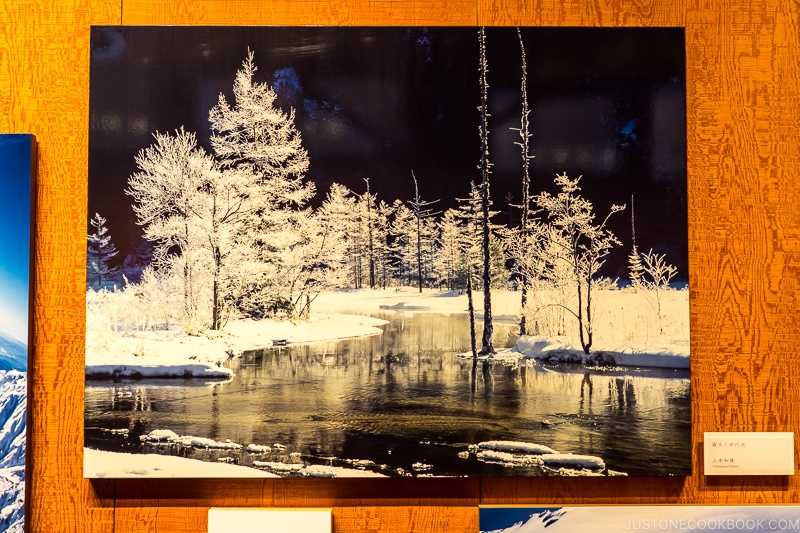 We grabbed a quick bite at the Hotel Shirakabaso's cafe for lunch and headed back to Yokohama.
Where to Stay in Kamikochi
Before ending the guide, here is some additional information on where to stay in Kamikochi. There are all types of accommodations in Kamikochi. From the very upscale Imperial Hotel to tent camping.
We would recommend staying at a hotel near the Kappa Bridge. Our hotel wasn't too far if we didn't have to drag our suitcase all the way there. With the suitcases, it was not ideal.
Around the Kappa Bridge are Kamikochi Alpen Hotel, Hotel Shirakabaso Kamikochi, and Kamikochi Nishi-ito-ya Mountain Lodge, The Parklodge Kamikochi, and Gosenjaku Hotel Kamikochi.
The Imperial Hotel seems really nice but it's quite far away from Kappa Bridge and everything else if you look at the map.
For the adventures, just north of the tourist center is Konashidaira Campground. Visitors can book one of the tents that have been set up there or bring their own.
A bit further north near Myojin Bridge are additional inns and dormitory, and there are a few more hotels on the south side near Tashirobashi Hotaka Bridge.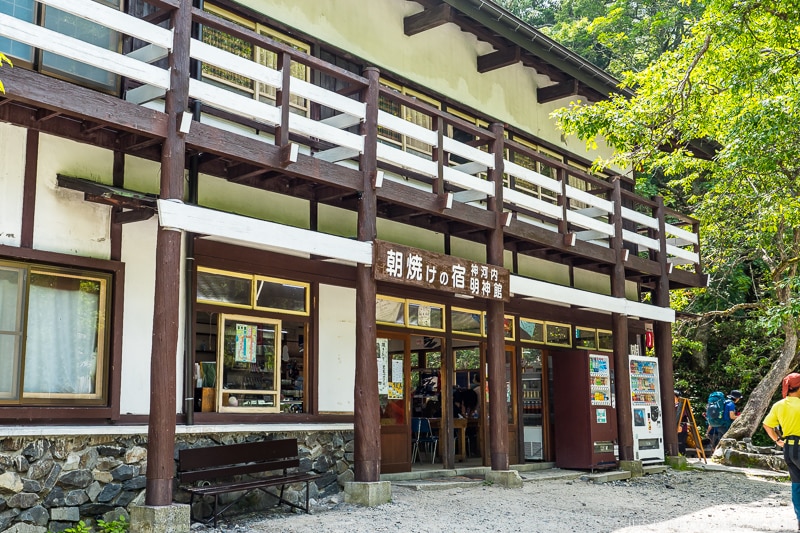 When we started research for our trip to Kamikochi, it was rather confusing. We hope our guide was hopeful if Kamikochi is in your future itinerary to visit in Japan.
As always, thank you for reading our travel guide and joining us in our adventures.