Print Recipe
Jump To Recipe
Enjoy your afternoon tea with these buttery, crispy Green Tea Cookies with Matcha powder. The unique flavor of matcha in the cookies is surprisingly delightful!
I love sweets, especially chocolate starting at a young age. As I got older, my taste buds slowly changed and I fell in love with matcha, Japanese green tea powder, and matcha flavored sweets.
Matcha sweets, pastries, and bakeries are everywhere in Japan. Every imaginable snack and sweets are available in matcha flavor. Today I'm sharing one of my favorite butter cookies, Green Tea Cookies (抹茶クッキー).
Watch How To Make Green Tea Cookies 抹茶クッキーの作り方
What is Matcha?
Before I begin talking about these cookies, let me share a bit of info on Matcha in case you're not familiar with this ingredient.
Matcha is beautiful vivid green color powder that came from tea leaves. However it's different from the "green tea" that you drink with Japanese meals. That's green tea too, but this matcha green tea leaves are grown and harvested differently.  The leaves are are grown under shade.
I found a beautiful video that explains a little bit of matcha and its making process, so please check it out if you want to learn more about matcha.
For those of you who want to try this recipe, I hope you can find 100% pure matcha powder in your local Asian grocery store.  The good quality ones should have very beautiful green color, not dull green.  Japanese grocery stores around my area sell Maeda-En matcha and it's around $8 for 1 oz (28.5g).  It's a bit pricey but matcha is expensive in Japan as well.
Green Tea Cookies with White Chocolate
These cookies are really delicious even without white chocolate chips (if you're not a fan of white chocolate). However, I highly recommend it as the green tea powder brings its characteristic bitter flavor to the cookies, and the sweetness from white chocolate chips actually balance out the cookies quite well.
If you add regular chocolate chips, the milk chocolate is too strong and ruins the unique matcha flavor and fragrance so I don't recommend it.
Without the chocolate, the cookies may not be sweet enough.  I've rolling the chilled cookie logs over white sparkling sugar (large sugar crystals) for this recipe before slicing the dough (I omitted for the blog to keep the recipe simple).  If you do this, the large sugar crystal still keeps its shape and gives nice sweetness to the cookies.  If baking with only white chocolate chips is not sweet enough, this is a great way to add some more sweetness to the cookies.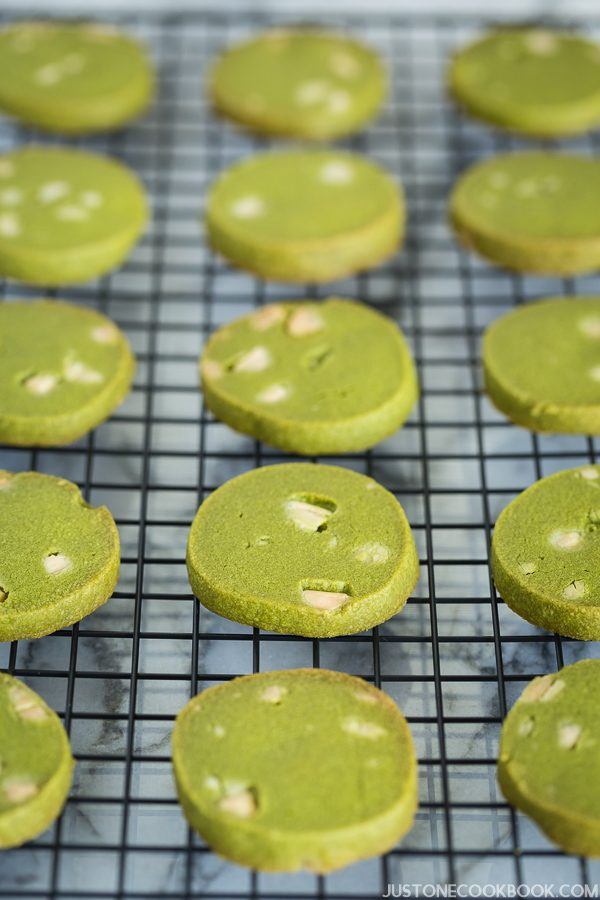 Buttery, Crispy, Green Tea Cookies
This type of cookies are known as butter cookies or also called shortbread cookies or sable cookies.
They are unleavened cookies, which mean that leavening agents such as baking powder or baking soda is not used in the recipe.
The ingredients are simple: butter, sugar, and flour (often made with vanilla extract, but for matcha flavor, we omit).
I am often asked by JOC readers about the texture of these cookies. They are crisp rather than chewy or soft cookies. If you have tried and love shortbread cookies, you can expect the same crispy texture.
Another FAQ (frequently asked question) I get about butter cookies recipe is whether we need to chill the dough. I know it's an extra step and it's not fun to wait around. However, the chilled dough will give clean, sharp edges for the cookies and holds its shape better in the oven. So before baking, make sure to chill the dough (in a log shape) and slice into rounds (or roll out the dough, chill, and cut out).
I hope you enjoy making this Green Tea Cookies recipe!  If you try it, don't forget to share your picture on Instagram, Facebook, or Twitter with #JustOneCookbook.  Thank you so much for reading, and till next time!
Don't want to miss a recipe? Sign up for the FREE Just One Cookbook newsletter delivered to your inbox! And stay in touch with me on Facebook, Google+, Pinterest, and Instagram for all the latest updates.
Green Tea Cookies
Ingredients
240

g

all purpose flour

(240 g = 2 cups) (See Notes if you use cup measurement)

15

g

matcha green tea powder

(15 g = 2 1/2 Tbsp) (1 Tbsp matcha is 6 g)

170

g

unsalted butter

(170 g = 3/4 cup) (softened)

130

g

confectioners' sugar/powder sugar

(130 g = roughly 1 cup)

pinch

Kosher salt

2

large egg yolks

50

g

white chocolate chips

(50 g = 1/4 cup)
Instructions
Gather all the ingredients.

Combine 240 g (2 cups) all-purpose flour and 15 g (2 ½ Tbsp.) matcha green tea powder in a large bowl.


Sift the flour and the matcha powder.


In a stand mixer with the paddle attachment or in a large bowl with a hand mixer, beat 170 g (3/4 cup) unsalted butter until smooth and creamy. It's important to soften the butter ahead of time.


Add a pinch of salt and blend.


Add 130 g (roughly 1 cup) powder sugar and blend until soft and light. Scrape down the bowl as needed.


Add 2 large egg yolks and mix well until combined.


Gradually add the flour and matcha green tea powder mix and blend until the dough is smooth.


Add 50-65 g (1/4-1/3 cup) white chocolate chips and blend well.


Cut the dough in half and shape into 2 cylinders, about 1.5 inches (4 cm) diameter, 7" (18 cm) long.


Wrap the logs in plastic wrap and chill in refrigerator until firm, at least 2 hours (or overnight). Optional: you can place the logs on a bed of rice while chilling. It'll keep the dough in nice cylindrical shape, so your cookie slices won't be flat on one side.


Preheat the oven to 350F (175C) degrees. Line the baking sheet with parchment paper or silicone baking liner. Remove the dough from the plastic wrap, and with a sharp knife, slice the dough into ⅓ inches (7 mm)-thick rounds. Place them on the baking sheet, leaving about 1" (2.5 cm) between rounds.


Bake the cookies at 350F (175C) degrees for about 15 minutes, or until the edge of the cookies starts to get slightly golden brown.


Remove from the oven and let cool on the baking sheet for 5 minutes; then carefully transfer to a cooling rack and let cool completely. If you pack the cookies in an airtight container, they will keep for at least 4 days.


You can also freeze the unbaked logs of dough, wrapped in plastic wrap, for up to 2 months. Let sit at room temperature for about 10 minutes before cutting and baking. Do not let the dough fully defrost.
Recipe Notes
A properly measured cup of all purpose flour weighs 4.25 oz (120 g). The weight for 1 cup of all-purpose flour varies depends on how you measure it. When you measure flour by volume, please follow the methods below. I've tested this method many times, and if you do it properly, 1 cup is VERY close to 120 g each time.

1. Fluff up the flour several times with a spoon.
2. Using the spoon, sprinkle the flour into your dry-cup measure (the one that measures exactly a cup at the top).
3. Scrape off the excess with a knife.

Recipe is slightly adapted from A Food Lover's Journey, originally from Okashi Treats by Keiko Ishida.
Editor's Note: The post was originally published on November 11, 2011.  Since then the post has been updated with new video, new pictures, and updated recipe in July 2016.