Chinese Almond Cookies are simple, crisp, buttery, and full of almond flavor.  It's a perfect treat to make for Chinese New Year!
These Chinese Almond Cookies are one of the easiest cookie recipes I've tried.  All you need is simply combine all the ingredients in a bowl, roll into small balls, and bake in the oven for 15 minutes.  The cookies are crisp, buttery, and full of almond flavor!
Chinese Almond Cookies

for Lunar New Year!
In Japan, we celebrate the New Year on January 1st (read more).  As I married a Taiwanese American husband, I started to celebrate Lunar New Year as well.  Since the holiday is a regular day here in the U.S., we typically go out to eat at Chinese restaurants to celebrate with his family and friends instead of cooking up a storm like most families do in Asia.
One exception is I make these almond cookies.  I learned from my Chinese blogger friends in Asia that these traditional Chinese almond cookies are enjoyed during the Lunar New Year.  Almond cookies symbolize coins so people make or buy these cookies to bring good fortune.
Almond cookies have a crisp bite and sandy crumbly texture.  When you bite, almond meal/flour and almonds on top give really nice almond flavor in your mouth.  These cookies are delightful with a cup of tea or coffee.
Almond Meal vs. Almond Flour for Chinese Almond Cookies
Almond meal and almond flour both consist of ground almonds, but almond meal is a coarser grind made from almonds with their skins while almond flour is ground more finely and usually made from blanched almonds without skins.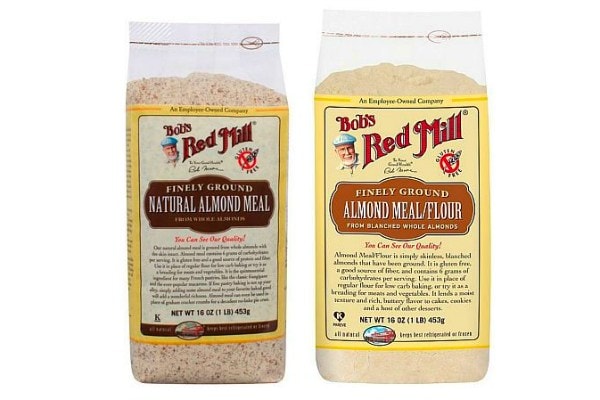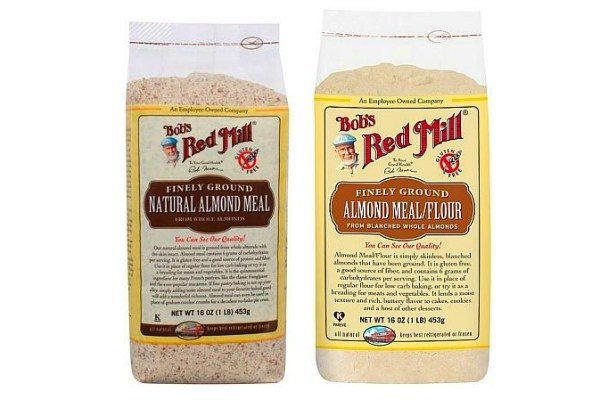 The only real difference is in how they look.  Almond meal is speckled with bits of almond skin, while the blanched almond flour is a creamy tan.
The almond meal that I use is from Trader Joe's, but Bob's Red Mill has both types (Natural Almond Meal vs Almond Meal/Flour).
By the way, if you're wondering whether only almond meal/flour can be used to make these Chinese almond cookies, my answer is no.  Almonds don't contain any of the gluten that flour contains, so we need to mix with flour to make the right texture for these cookies.
If you have almond extract (I use them for my pancake recipe too!), you can drop a few extract for even more intense almond taste.
Serve these cookies for the upcoming Chinese New Year and if you celebrate this holiday.  I hope you have a wonderful celebration with your family and friends.
新年快乐 (Xin Nian Kuai Le)!
Happy New Year!
恭喜發財 (Gong Xi Fa Cai)!
Wishing you a prosperous new year!
I hope you enjoyed this Chinese almond cookie recipe!  If you make this recipe, snap a picture and hashtag it #JustOneCookbook.  I love to see your creations on Instagram, Facebook, & Twitter!  Thank you so much for reading and trying the recipes!
Don't want to miss a recipe? Sign up for the FREE Just One Cookbook newsletter delivered to your inbox! And stay in touch with me on Facebook, Google+, Pinterest, and Instagram for all the latest updates.
Almond Cookies
Chinese Almond Cookies are simple, crisp, buttery, and full of almond flavor. It's a perfect treat to make for Chinese New Year!
Cuisine:
Chinese, Japanese
Keyword:
almond biscuit, crisp cookie
Servings
:
54
1-inch cookies (or 27 1 ½ inch cookies)
Ingredients
120

grams

almond meal/flour

(1 cup) (See Notes)

180

grams

all-purpose flour

(1 ½ cup) (See Notes)

120

grams

sugar

(⅔ cup minus 1 Tbsp)

¼

tsp

salt (kosher or sea salt; use half if using table salt)

1

tsp

baking powder

1

tsp

baking soda

120-150

ml

neutral flavor oil (vegetable, canola, etc)

(½-⅔ cup, more or less)

1

large egg yolk

Roasted unsalted almonds

(for decoration) (optional)
Instructions
Gather all the ingredients. Center a rack in the oven and preheat the oven to 350F (180C).

Combine all the dry ingredients in a stand mixer. With your mixer on low medium speed (with the beater attachment), mix all together.


Slowly add oil and mix until a cohesive dough forms.


The dough should be just enough to hold its shape when you try to roll into a ball. If they look more like crumbs, add 2-3 tsp. (10-15 ml) vegetable oil at a time.


Weigh the dough to make 0.4 oz/10 g (1 inch cookies) OR 0.7 oz/20 g (1 1/2 inch cookies) rounded portion and roll it into a ball with your palms. Place it on a baking sheet lined with parchment paper and repeat until all the dough is used up. You can make a 10 gram ball using a teaspoon measuring spoon.


(OPTIONAL) If you want to put a piece of almond on the cookie, hold the cookie ball on your palm and gently press the almond into the dough.


Beat the egg yolk in a small bowl. Using a pastry brush, lightly glaze the top of the cookie balls with the egg yolk.


Bake at 350F (180C) for 15-20 minutes, or until the cookies become slightly golden. Let them cool on a wire rack and store in an air tight container.

Recipe Notes
Almond Meal/Flour: If you use almond meal/flour with skin (the brown bits), you may need to add more oil. Adjust the oil amount as you combine the dough. You should be able to make the dough into balls.
All-Purpose Flour: A properly measured cup of all-purpose flour weighs 4.25 oz (120 g). The weight for 1 cup of all-purpose flour varies depends on how you measure it. When you measure flour by volume, please follow the methods below. I've tested this method many times, and if you do it properly, 1 cup is VERY close to 120 g each time. Use the following method:
1. Fluff up the flour several times with a spoon.
2. Using the spoon, sprinkle the flour into your dry-cup measure (the one that measures exactly a cup at the top).
3. Scrape off the excess with a knife.
Slightly adapted from Through The Kitchen Door, originally from My Secret Recipe Series: New Year Cookies by Alan Ooi.
Editor's Note: This post was originally published on February 10, 2013.  The content has been updated with more information.