Enjoy fresh and delicious sushi without breaking the wallet at conveyor belt sushi (sushi boat) restaurants in Japan.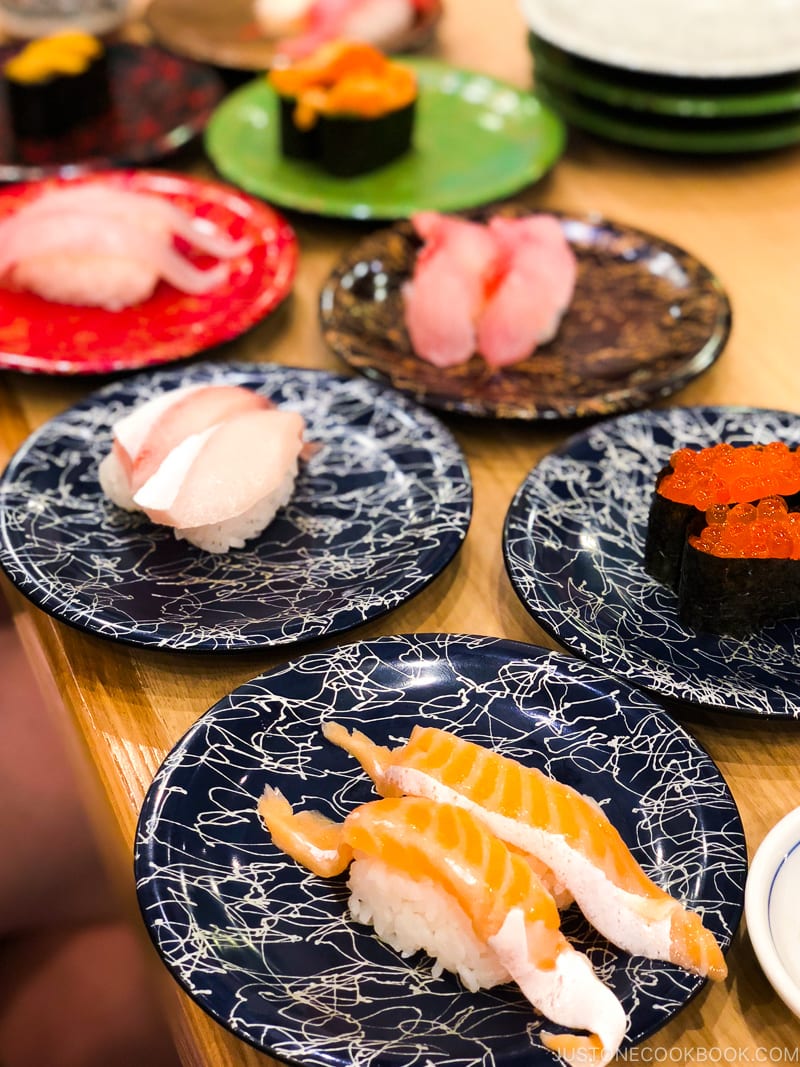 Our family loves eating sushi, and we try to enjoy it at least a few times whenever we're in Japan. Since we usually have our children with us, our usual go-to are conveyor belt sushi restaurants as they offer an amazing selection and the prices are fair.
If you've always wanted to eat sushi in Japan but worried about not being able to order sushi in Japanese. Don't worry! You can still enjoy a great sushi meal at foreigner-friendly conveyor belt sushi (sushi boat) restaurants. Read more about it below.
What is Conveyor Belt Sushi?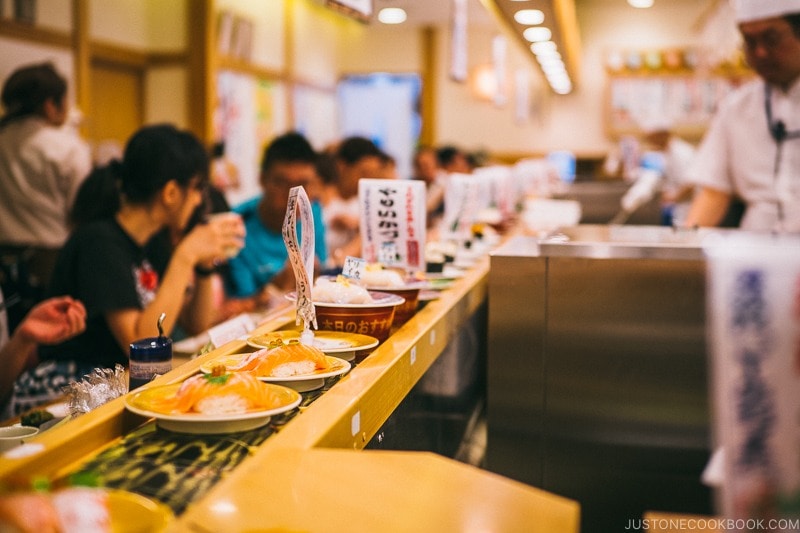 Unlike traditional sushi restaurants, conveyor belt sushi, or kaiten sushi (回転寿司) in Japanese, serves pre-made sushi on a small plate traveling on a moving conveyor where customers can grab and enjoy sushi immediately without having to order. When we're in Japan, we like to enjoy conveyor sushi at least a few times as the quality is decent and prices are very reasonable.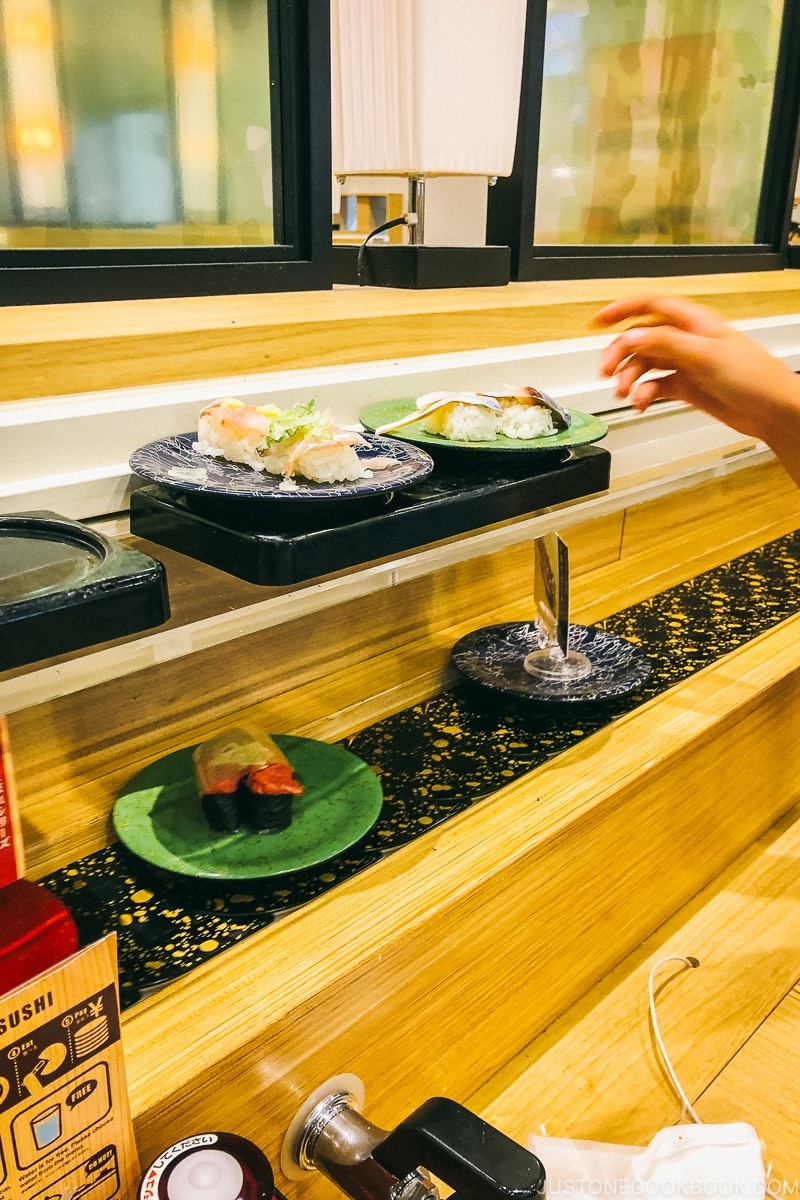 These days even though there is pre-made sushi available on the conveyor belt, customers typically order what they like and have it freshly made. The wait for the freshly made sushi is very short and it's wonderful knowing the sushi was made just for you. Not sure which plate of sushi was the one you ordered? No worries, the plates have a chip underneath and your orders are usually sent directly to your seat or table.
Seating Options at Conveyor Belt Sushi Restaurants
Most conveyor belt sushi restaurants in Japan offer both counter and booth seating. Depending on the size of the restaurant, the booths usually fits 4 – 6 people. If there is a waiting list to be seated, the restaurants usually ask whether you prefer the booth or counter seating. You can also indicate either one works for you if you want a shorter waiting time.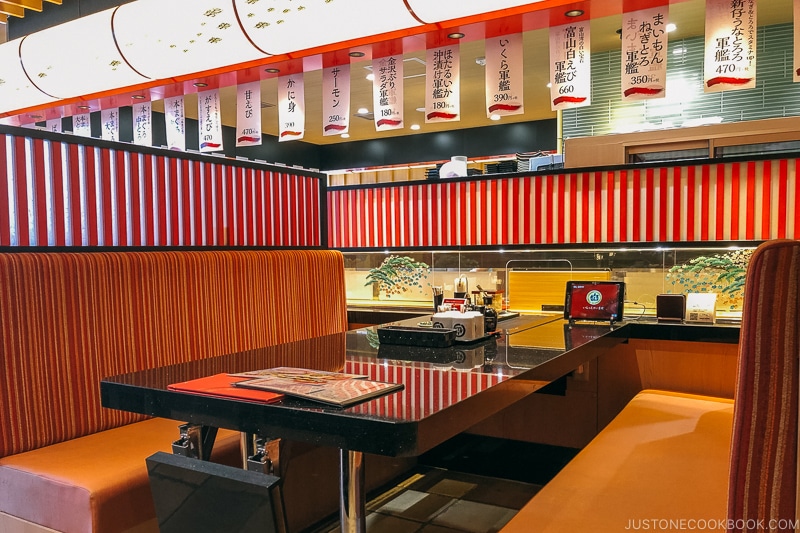 Kaiten sushi (sushi boat) restaurants are very popular on weekends for families so keep this in mind. The wait time in Nami's neighborhood is usually over 1 hour during the peak meal time on weekends.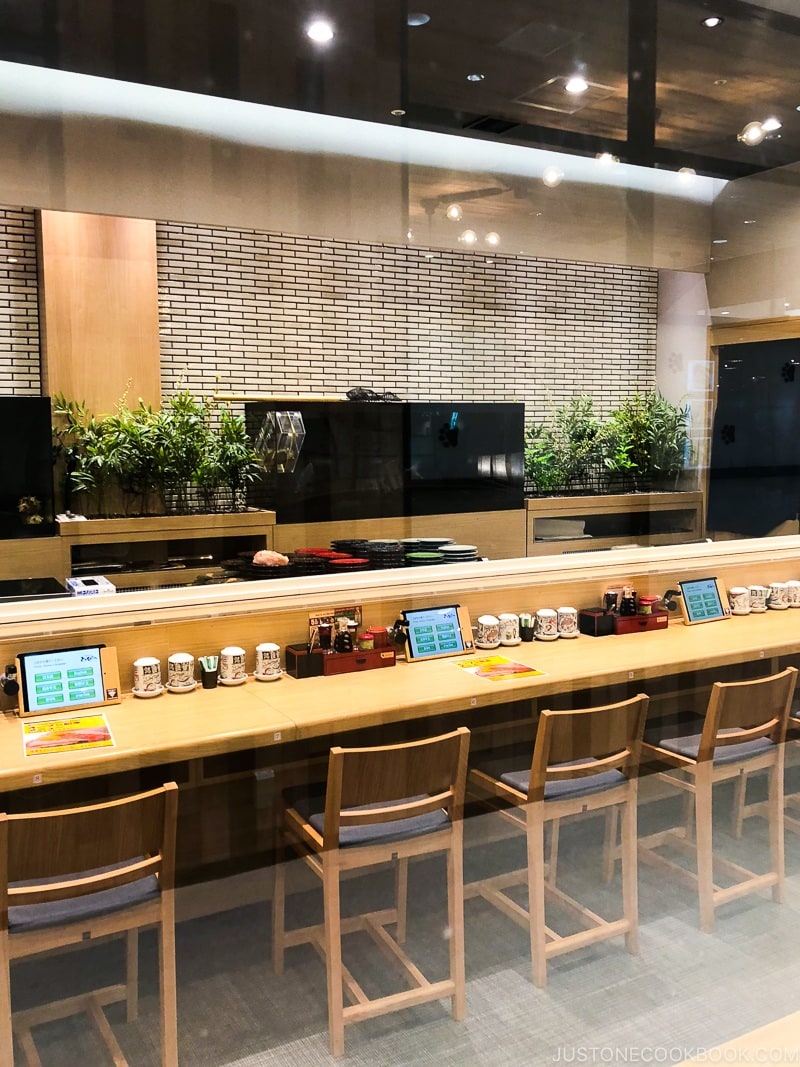 How to Enjoy Conveyor Belt Sushi in Japan?
Eating conveyor belt sushi in Japan is straightforward as it's mostly self-serve. After you've been seated by the host, set up the soy sauce and chopsticks. If you like hot green tea, simply scoop 1 spoonful of green tea powder into a cup and add the hot water from the faucet at the table.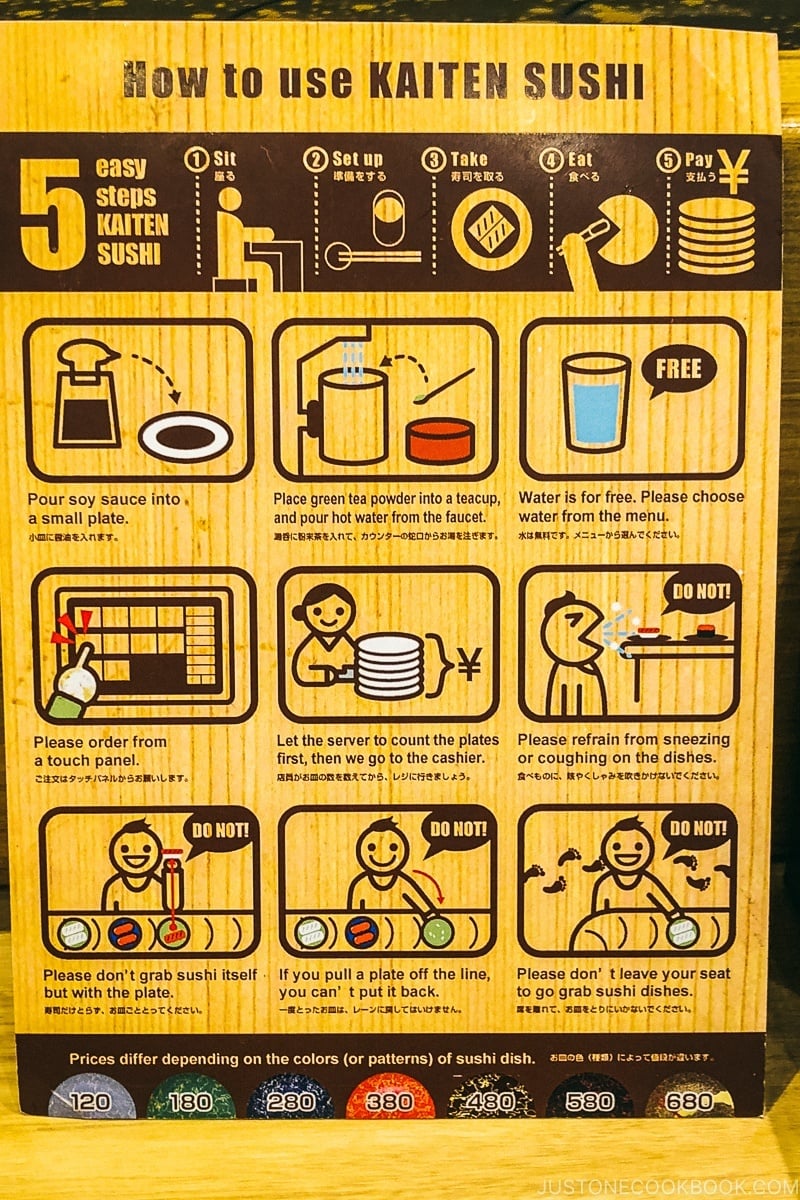 Worried about not being able to speak Japanese to order what you want? Don't worry!
Even if you don't speak Japanese, you can easily enjoy conveyor belt sushi in Japan. Many of the big kaiten sushi chains offer a digital menu in Japanese, English, Korean, and Chinese. You can order sushi, food, and desserts all directly from the digital menu. If the restaurant doesn't have a digital menu then they usually have an English menu with a number next to the sushi names. You can write the number on the order sheet and indicate the quantity.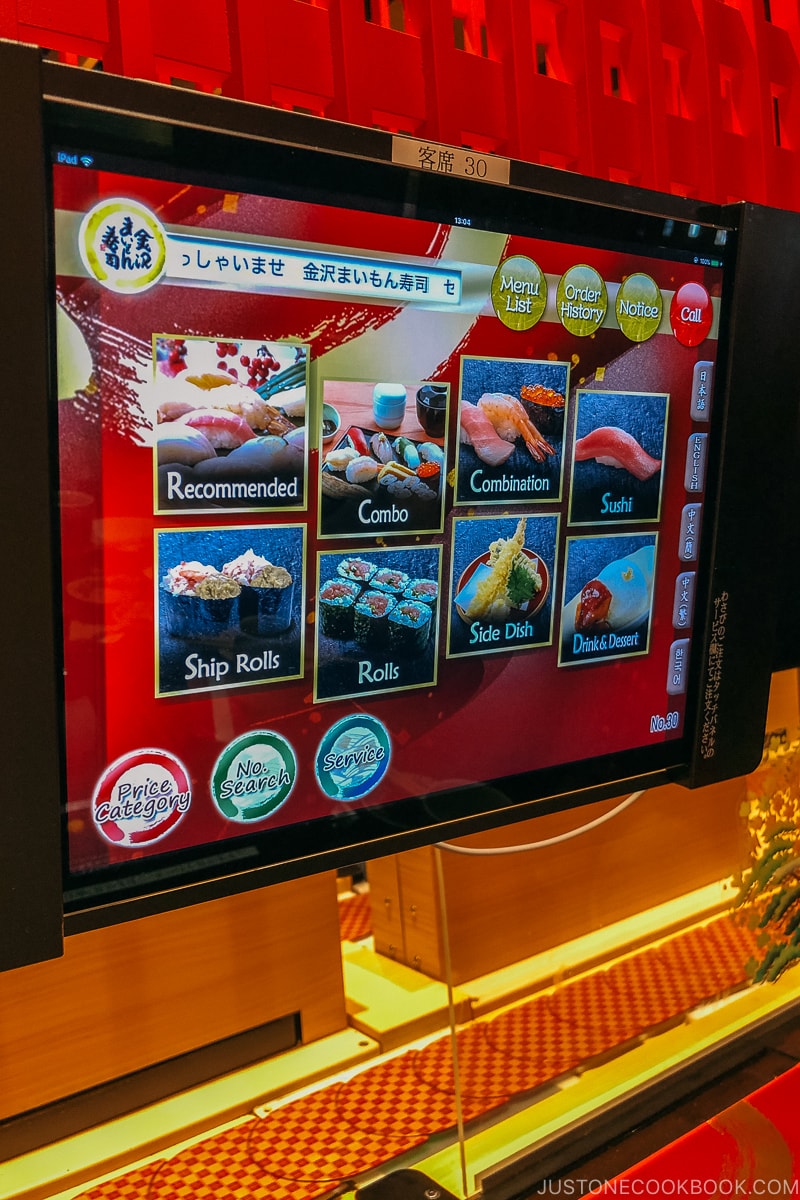 When you are ordering the sushi, there are usually 2 additional options for the order. The first option is whether you want wasabi and option two is if you want the sushi to be cut in half so it's easier for children to consume. After you order, the screen will let you know when your orders are about to arrive.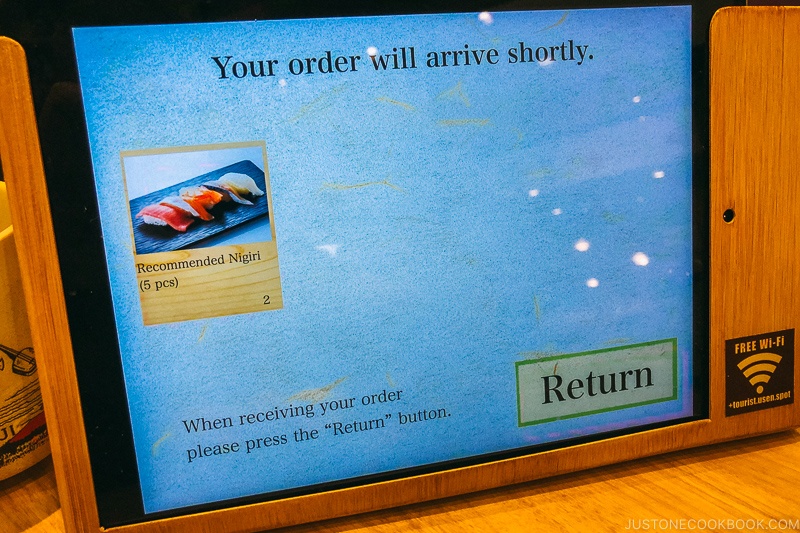 After the sushi starts arriving, the rest is easy. Simply enjoy all the sushi you want until you can't fit any more in your stomach.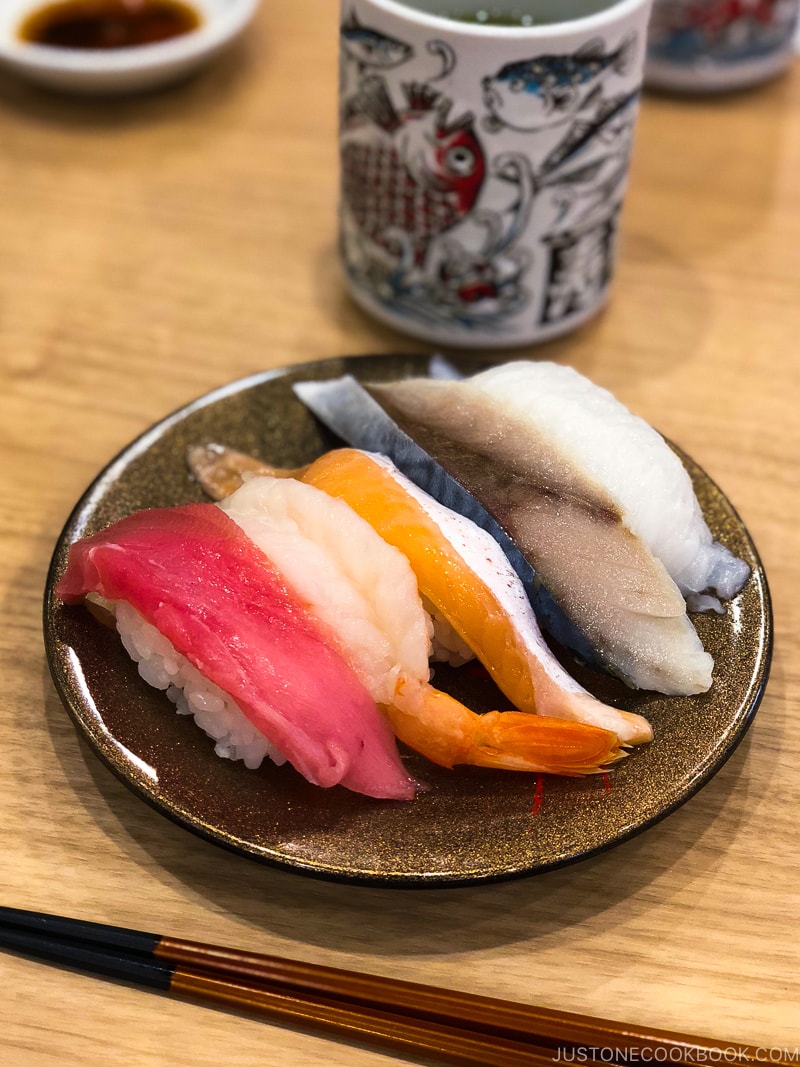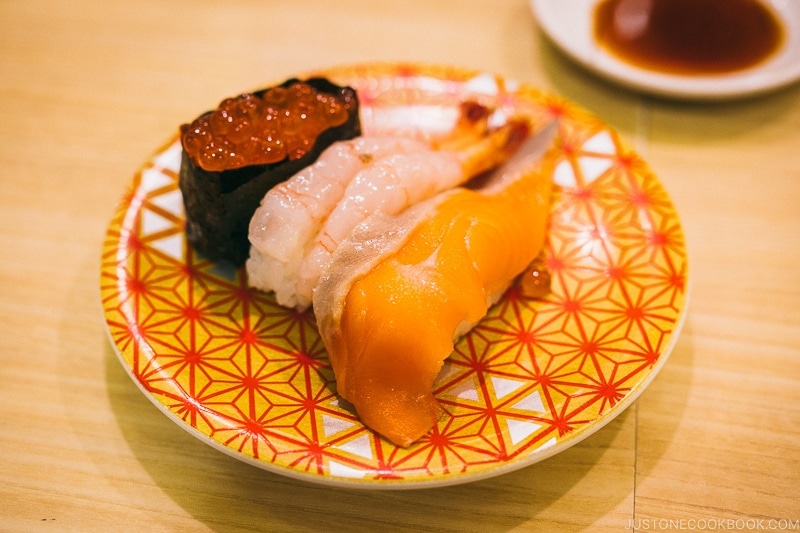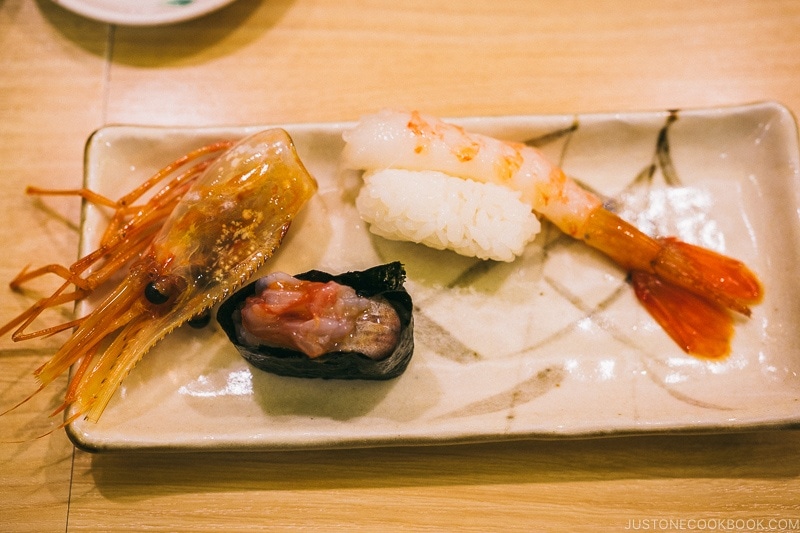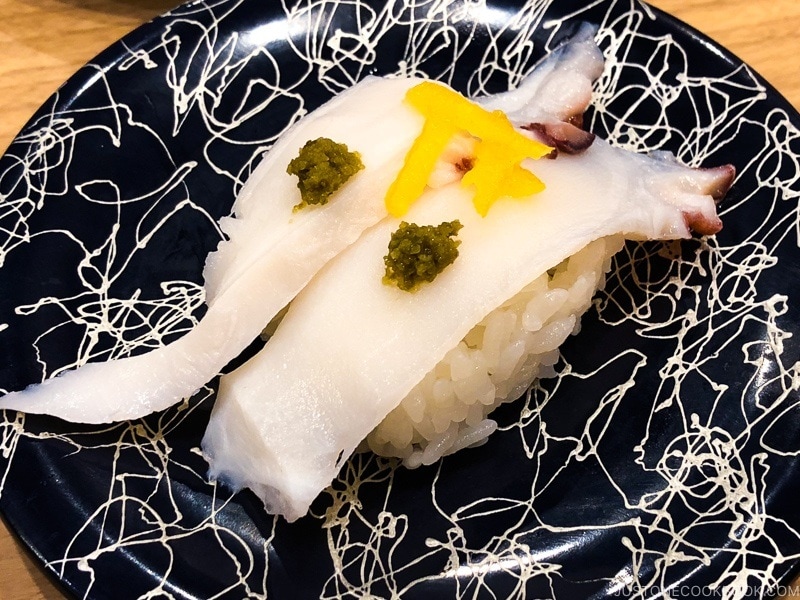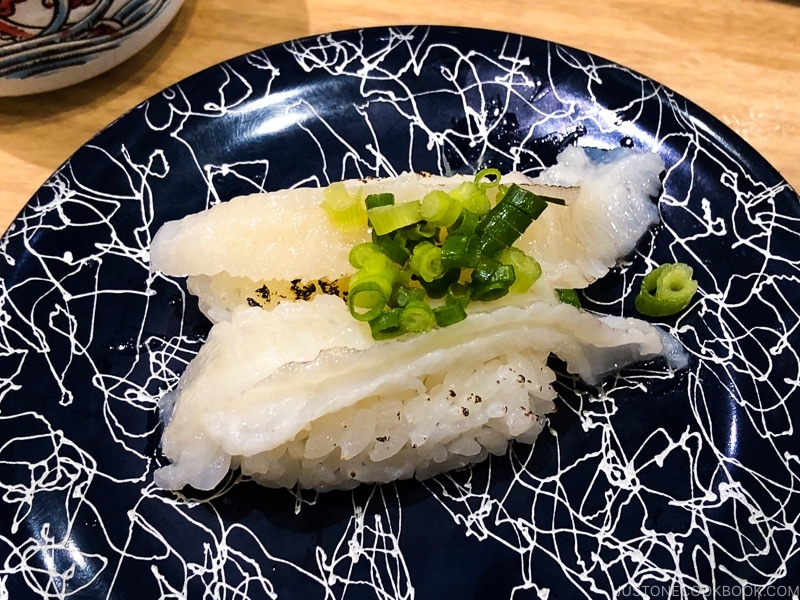 Getting the Check at Conveyor Belt Sushi Restaurant
The pricing at the kaiten sushi restaurant is based on the plate pattern. If you are not sure how much the sushi is, simply match the pattern to the price. The range of most plates is from 150 yen ($1.50) to 600 yen ($6). Some of the daily specials or seasonal specials could be more pricey.
After you finish the plates of sushi, they are usually not cleared and kept on the table. The reason is when you ask for the check, the staff will come by and scan all the plates for the total. It's quite an interesting experience if you've never seen it before as it takes just a few seconds to sum up all the plates.
Our Favorite Kaiten Sushi
According to Tabelog, there are over 350 kaiten sushi restaurants around Tokyo. Our favorite is Toriton which originated from Hokkaido with 2 outlets in Tokyo. Both of their stores are ranked in the top 20 in Tabelog in the Tokyo area.
Besides Toriton, we also like Maimon Sushi which has 4 restaurants in the Kanto area including one in Ueno. The chain originated from the Kanazawa area and offers fish from the Sea of Japan like nodoguro (blackthroat seaperch) which are less common.
We hope this guide to conveyor belt sushi was helpful if you plan on visiting Japan. Although they are not fine dining quality, kaiten sushi is a great way to enjoy fresh seafood without breaking your wallet.
Going to Japan soon? Head on over and read our other Japan guides, including driving in Japan or things to know before visiting for helpful tips.