This easy homemade Corn Dogs (アメリカンドッグ) recipe takes just minutes to make. They are a perfect snack for your summer BBQ and parties. Inspired by the Japanese drama Midnight Diner.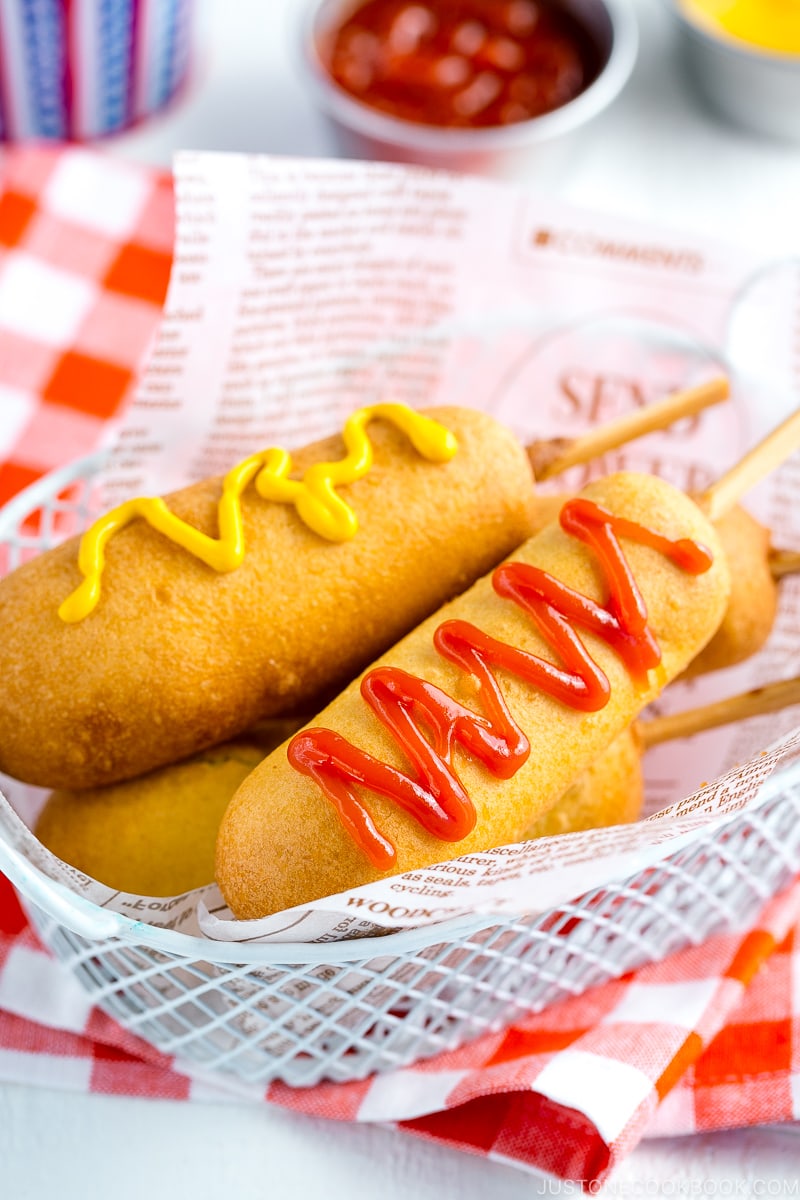 First thing first, this is a Japanese version of American Corn Dogs. They do look like corn dogs, don't they? Well, in Japan, we call this American Dogs (アメリカンドッグ) and they are made slightly different from the corn dogs in the US. This recipe was featured on the popular Japanese TV program called "Shinya Shokudo (深夜食堂)" or "Midnight Diner: Tokyo Stories" which is available on Netflix.
Midnight Diner features dishes that are more representative of Japanese home cooked recipes that you might not have seen in your local Japanese restaurants. If you're interested in Japanese home cooked meals, I encourage you to check out this awesome drama series. Corn Dog episode is Season 1, Episode 2 on Netflix.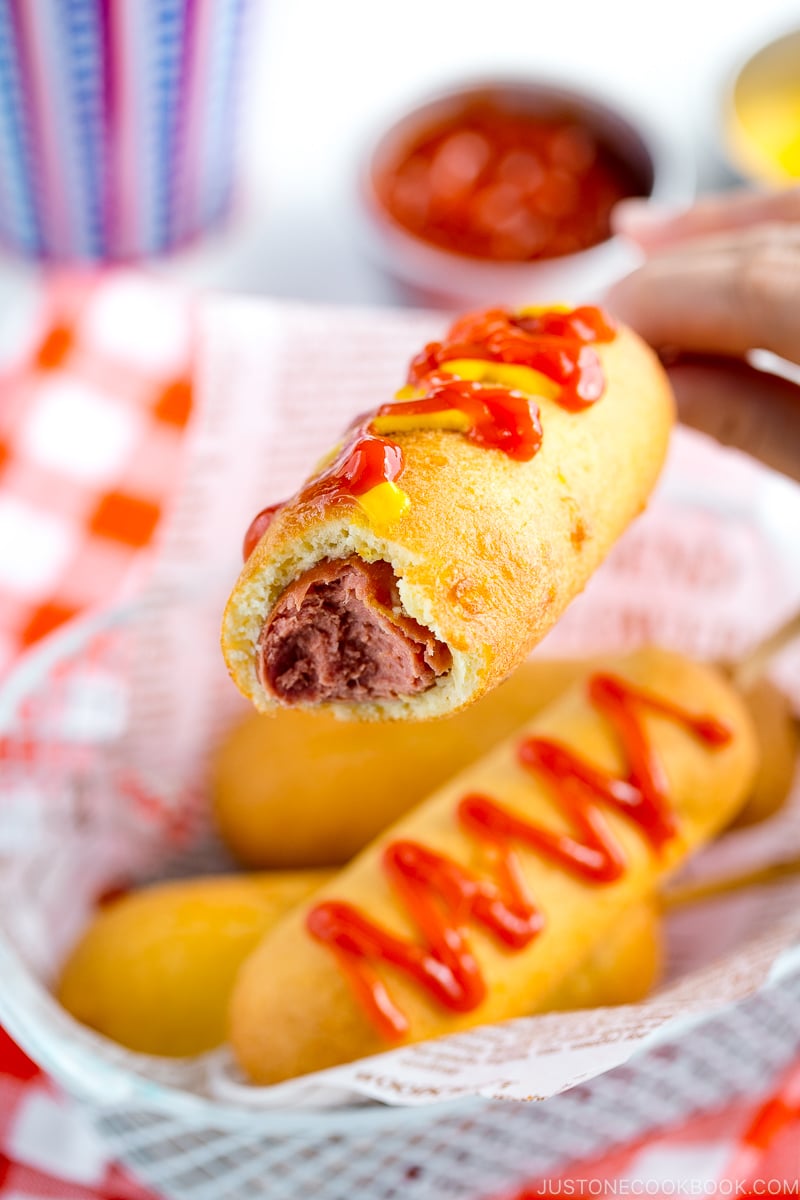 "American Dog" aka Corn Dogs
Why do we call corn dogs American Dog in Japan? It's simply an American hot dog – a Japanglish (和製英語). The way American dogs are made in Japan is similar to corn dogs except for 3 things.
Unlike the traditional corn dog recipe that uses the combination of cornmeal and flour for the batter, American dog batter is made of flour, eggs, sugar, baking powder, and milk (or water). At home, the Japanese use Hotcake Mix (pancake mix). Therefore, technically it's not really a

corn

dog.
As the hotcake mix is slightly sweet with the sugar in the mix, the cakey bread around the hot dog is sweeter compared to the bread of the traditional corn dogs. The difference is like a hot dog with pancake vs. a hot dog with corn bread.
Lastly, American dogs use fish sausage (魚肉ソーセージ) instead of pork, beef, chicken, turkey or combinations that are used for corn dogs.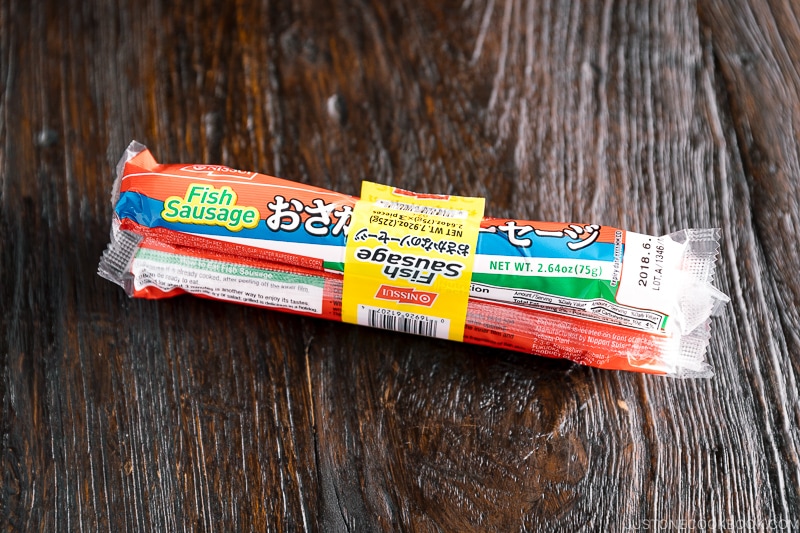 I know fish sausage sounds a bit strange and I can hear your "ewwww" coming from near and far. But honestly, it doesn't have the fishy taste that you might be imagining and it's a lighter version of hot dog as there is no strong meaty taste or smell. In short, it's not bad as you may consider.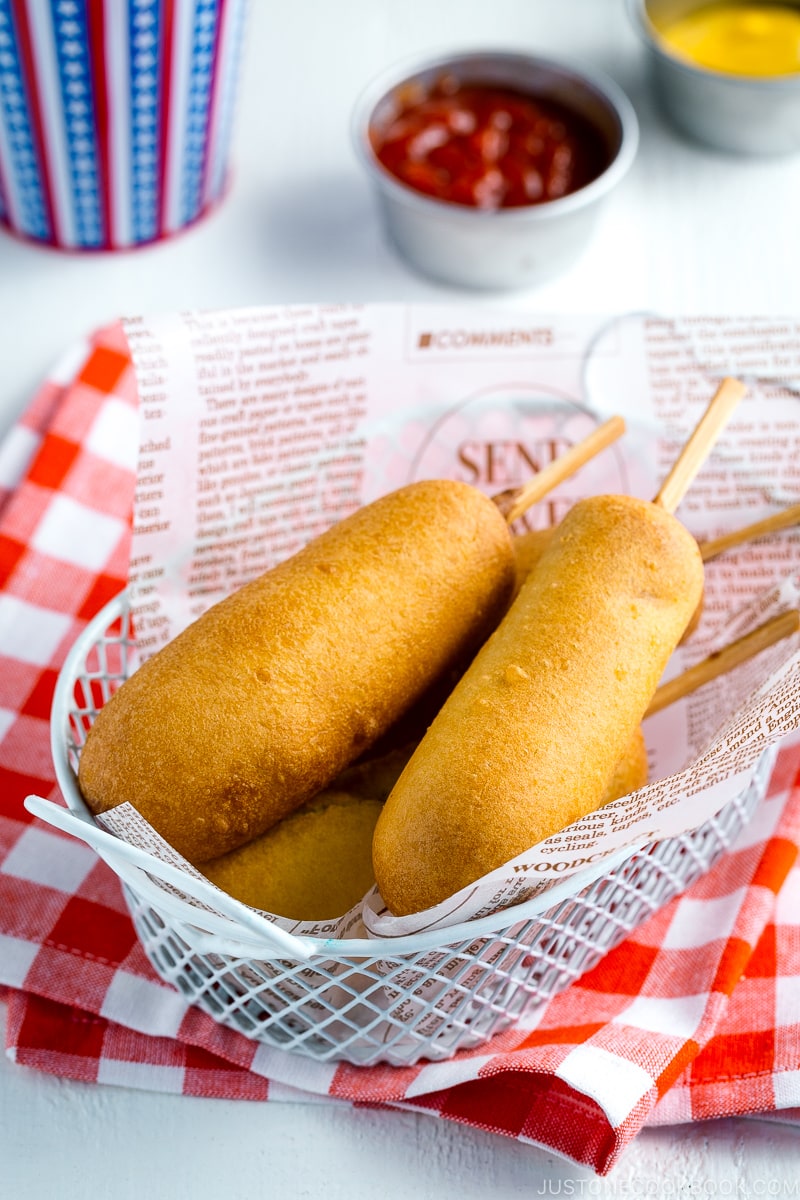 5 Tips to Make Perfect Corn Dogs
1. Size of Hot Dog & Sticks
I looked for fish sausages in Japanese supermarkets, but they don't have it… So I used American Wagyu Gourmet Hot Dogs from Snake River Farms (I got them at my local Japanese grocery store Nijiya). I am actually not a huge fan of hot dogs (I occasionally eat it at BBQs and baseball games etc), so I splurged a little to get a good quality hot dog. These hot dogs are perfect for the "American dog" shape/size that I was looking for.
As the hot dogs are thick and bamboo skewers were too thin to hold the weight, I used a split wooden chopstick as the stick. I cut a few inches off so that it's the typical length. Alternatively, you can use popsicle sticks or toothpicks for smaller sausages/hot dogs.
2. Thick Batter
Even though we use hotcake (pancake) batter, the consistency of batter has to be thicker than normal hotcake batter. If it's too thin, the batter won't stick to the hot dog. The consistency of the batter should be similar to mud (I am open to other words to describe the consistency).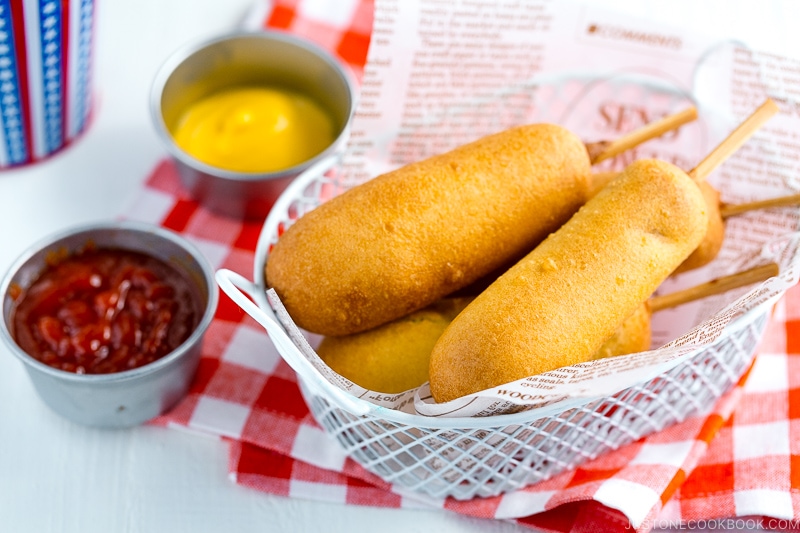 3. Even Coating
In order for the corn dogs to look pretty, you need to make sure the batter around the hot dog is evenly coated. The secret to an even coating is to pour the batter into a tall glass (or container) instead of dipping the long hot dog in a bowl of batter. It's a very simple tip, but it works perfectly. After dipping the hot dog into the batter, drip off excess batter from the tip of hot dog, flip quickly, and then immediately dunk in the deep fry oil.
4. The Right Oil Temp
The oil temperature for deep frying corn dogs is relatively low compared to other deep-fried foods. If it is too low, the batter absorbs too much oil so make sure it's around 320-340F (160-170C). If you're new to deep frying, I recommend using a candy/deep fry thermometer or an instant-read thermometer. Another trick is to check the approximate oil temperature with chopsticks.
5. Constant Rotating
When the corn dogs start to float on the surface of the oil, use a pair of tongs (or chopsticks) to rotate and hold the hot dogs as they don't rotate themselves, and you don't want half of the corn dogs to be browned unevenly. This extra attention helps corn dogs resulting in a nice even golden brown.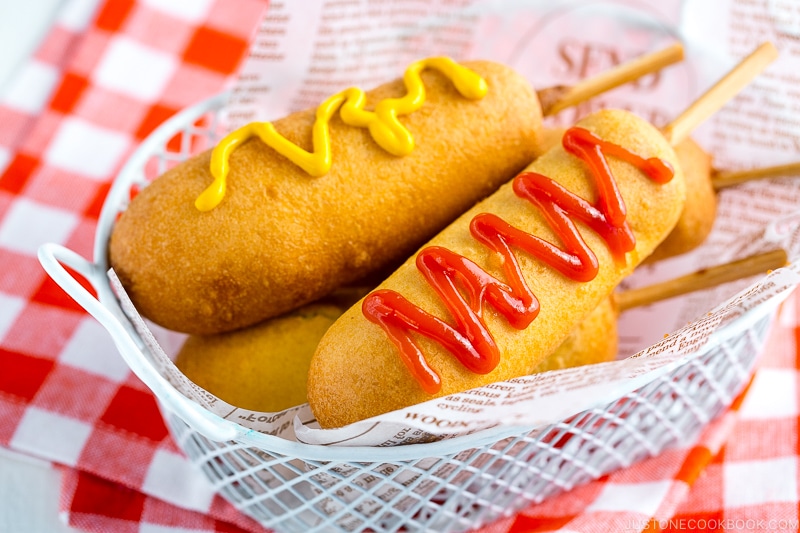 Sign up for the free Just One Cookbook newsletter delivered to your inbox! And stay in touch with me on Facebook, Pinterest, YouTube, and Instagram for all the latest updates.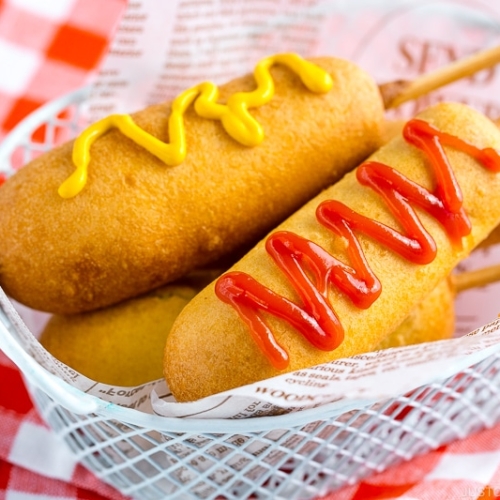 Corn Dogs
This easy homemade Corn Dogs (アメリカンドッグ) recipe takes just minutes to make. They are a perfect snack for your summer BBQ and parties. Inspired by the Japanese drama Midnight Diner.
Ingredients
5.3

oz

Japanese Hotcake Mix (

1

bag Morinaga Hotcake Mix; or use your favorite pancake mix or homemade pancake recipe for the batter; make sure the batter is thick, so you can coat the hot dogs well)

100

ml

whole milk

(

½

cup minus

4

tsp)

1

large egg (50 g each w/o shell)

4

hot dogs/sausages

3

cups

neutral oil

(for deep-frying)
Japanese Ingredient Substitution:
If you want substitutes for Japanese condiments and ingredients, click
here
.
Instructions
Gather all the ingredients.

Depending on size of the

4 hot dogs/sausages

, cut each hot dog in half or two-thirds (save the remaining one-third to make mini corn dogs).

Insert a chopstick or a lollipop stick into the sliced end of each hot dog.

In a large bowl, whisk together

1 large egg (50 g each w/o shell)

and

100 ml whole milk

(½ cup minus 4 tsp).

Add

5.3 oz Japanese Hotcake Mix

and whisk well.

Fill a large heavy pot, Dutch oven, or deep fryer with 3–4 inches of oil (or enough oil to submerge the hot dogs, about 3 cups neutral oil). Heat the oil over medium-high heat until a deep-fry thermometer reaches 320–340ºF (160–170ºC). I use this instant read thermometer.

Pour the batter into a tall glass. Dip each hot dog into the batter, turning until completely coated. Let any excess batter drip off so that the hot dog is coated evenly.

Lower the hot dog into the hot oil. Immediately repeat with another hot dog. Cook until deep golden brown, about 3 minutes. Make sure to turn the corn dogs so that they get even color.

Transfer to a paper-towel-lined tray or wire rack. Working in batches of 2, repeat with remaining hot dogs and batter. Serve the corn dogs immediately with

ketchup

and

mustard

.
Nutrition
Nutrition Facts
Corn Dogs
Amount per Serving
% Daily Value*
* Percent Daily Values are based on a 2000 calorie diet.
©JustOneCookbook.com Content and photographs are copyright protected. Sharing of this recipe is both encouraged and appreciated. Copying and/or pasting full recipes to any website or social media is strictly prohibited. Please view my photo use policy
here
.