Build your own Homemade Fruit Granola with healthy ingredients of your choice! It's incredibly simple, easy, flexible, and fun. Make a big batch so you can have it for breakfast or a snack throughout the week.
Several years ago, while spending the summer in Japan, my mother got my family hooked on this Japanese brand granola called Furugura (フルグラ, Fruit Granola). Today we're making a copycat version of it, but with healthy ingredients ONLY! Because it is homemade with the freshest tasting rolled oats and all the good stuff, the flavor of this Easy Homemade Granola is unbeatable. Once you nail down the formula I share below, you can mix and match, or give it your own spins. It is a perfect way to start your morning!
What's inside the Furugura?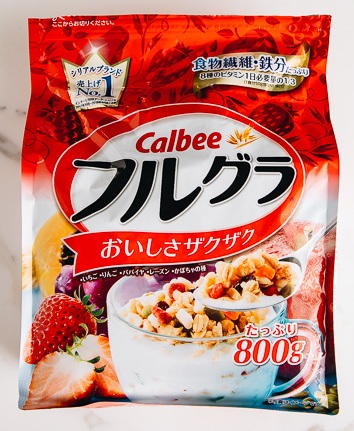 When we came back to the U.S. after that summer, we started to buy Furugura from the Japanese grocery store. The problem was that it cost almost double the price in Japan ($17 for 800 g)!
I started to wonder if I should make my own… In the first step, I needed to find out what's inside the Furugura. Here are items found on the package and what's actually in the bag of Furugura.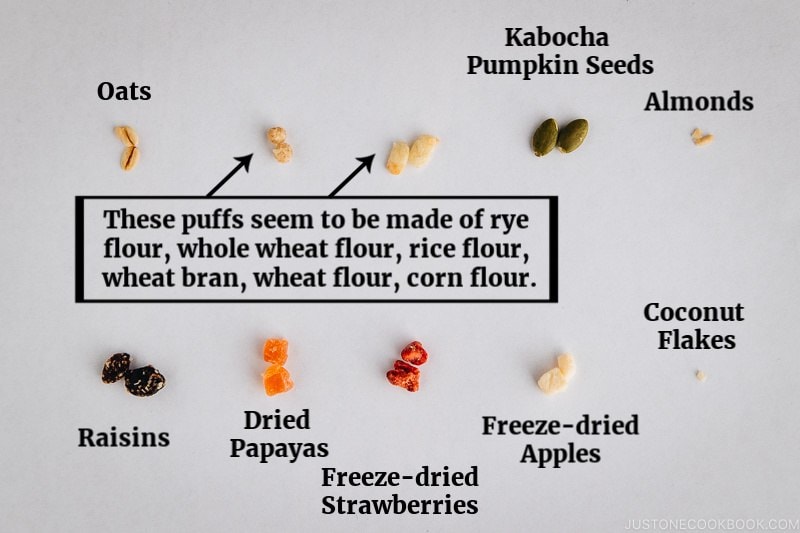 Not in this picture: Sugar, maltodextrin, vegetable oil, glycerine, modified starch, ferric sodium citrate, soy lecithin, citric acid, V.E., niacin, calcium pantothenate, sodium casein, vitamin B1 B6, A, D & B12, folic acid.
After some quick research, I found out this granola is actually not as healthy as I thought. It's sweeter than other brands of granola and the other ingredients are totally unnecessary. No wonder everyone was addicted. Granola doesn't mean it's all healthy!
It's Time to Make Homemade Fruit Granola
So I decided to make my own Furugura at home. It turns out to be really easy to make homemade granola if you haven't made it before.
My Easy Homemade Granola is healthy as it's made with whole grains, unrefined oil, natural sweetener, and delicious dried fruits and nuts! Are you ready to make it? If you put in a mason jar, it makes a great edible gift for your friends and family too!
Gather 6 Basic Ingredients
I make this recipe based on Furugura-style granola that we love, but with this basic granola recipe, you can play around with the ingredients and the mix-ins to make your favorite granola.
1. Oats
I always use Bob's Red Mill®'s Organic Old-Fashioned Rolled Oats (Whole Grain) to make my granola. Rolled oats are made from oats that are steamed until they are soft and then pressed to flatten. Since the main ingredient is made of rolled oats, the freshness determines the flavor of your granola.
2. Oil
Since Furugura has a strong coconut fragrance, I use coconut oil in my granola recipe and I love it. Even Mr. JOC who is not into coconut enjoys the flavor the oil lends to the granola. But if you prefer, feel free to use another kind of oil suggested below:
Coconut oil
Extra-virgin olive oil
Grapeseed oil
3. Sweetener
I always use maple syrup in my granola. Honey works great too, although I find the flavor a bit more pronounced. These natural sweeteners help to bind the mixture more effectively than just sugar alone. A few spoonfuls of brown sugar or coconut sugar is welcome for some textural crunch, but be sure to pair it with either maple syrup or honey.
4. Salt
I use kosher salt. The purpose of salt is not just to make the food salty, but to bring out the flavors of the food and to intensify the flavor without adding more seasonings.
Kosher salt
Sea salt
Table salt (use half amount)
5. Nuts and Seeds
For this recipe, I used sliced almonds, pecans, and pumpkin seeds. There are other nuts and seeds you can incorporate, so have fun changing up the variety.
6. Dried Fruits
Dried fruits provide little sweet bites and chewy texture in the granola so I suggest including a few kinds at least. For this recipe, I included raisins, dried apricot, dried peach, freeze-dried apple, freeze-dried strawberries, and coconut flakes. Other options include:
Dried fruits (apricots, bananas, blueberries, cherries, craisins, cranberries, currants, mango, peaches, pineapples, raisins, etc), chopped into smaller pieces if necessary
Freeze-dried fruits (apples, bananas, strawberries, etc)
Coconut flakes (raw or roasted, sweeten or unsweetened)
Remember, dried fruits are mixed into the granola AFTER it is completely cooled. Raw coconut flakes should be added to the granola at the last 10 minutes of baking time.
Optional Ingredients
Vanilla extract: Many granola recipes call for it, but I don't include in this recipe as Furugura doesn't include vanilla.
Chocolate: You can add semi-sweet or white chocolate chips AFTER the granola has completely cooled.
Spices: You can use ground cinnamon, cardamom, pumpkin spice (especially fall), or zest from citrus fruit like an orange.
My Favorite: Organic Old-Fashioned Rolled Oats (Whole Grain) from Bob's Red Mill®
To achieve the perfect texture and flavor of granola, I used Bob's Red Mill®'s Organic Old-Fashioned Rolled Oats (Whole Grain). These certified organic oats are a great choice for homemade granola. They have an outstanding flavor and are fresh-tasting no matter how you use them. It is the only brand of rolled oats I use in all my breakfast and baking recipes.
You should be able to find this product at any major grocery store. Alternatively, you can also buy it on Amazon.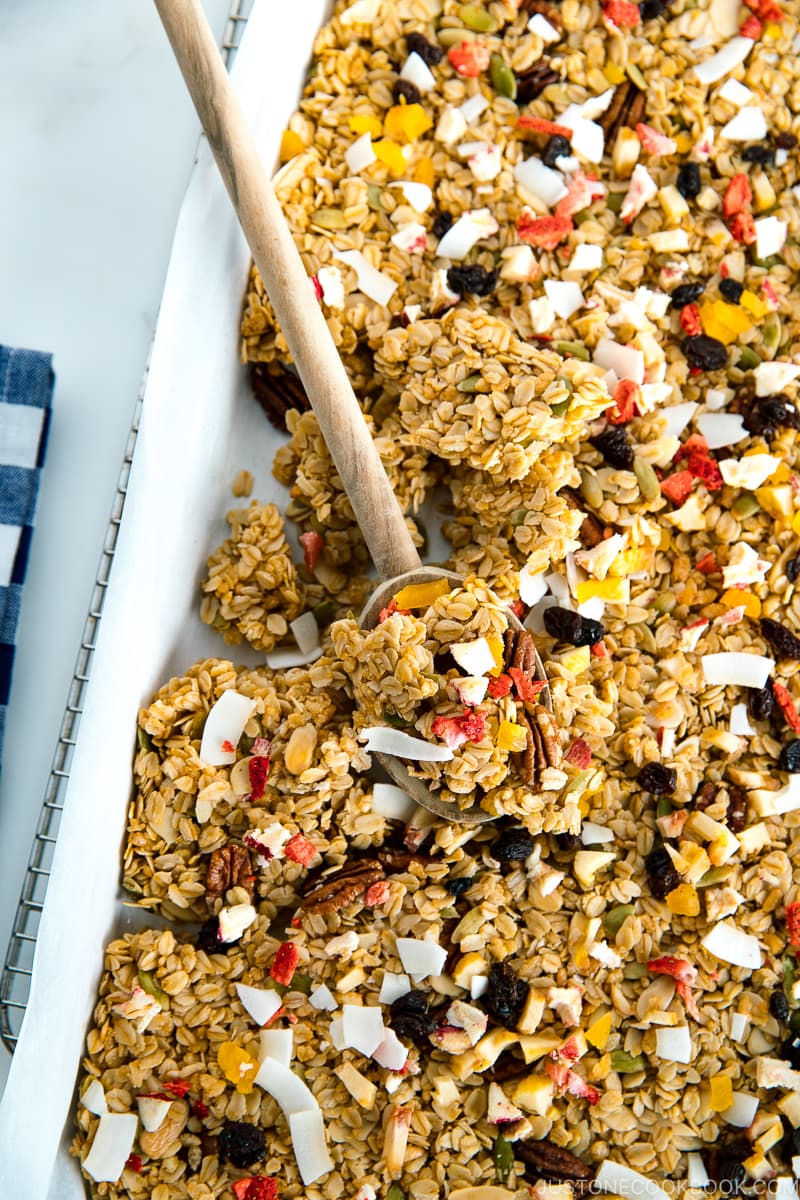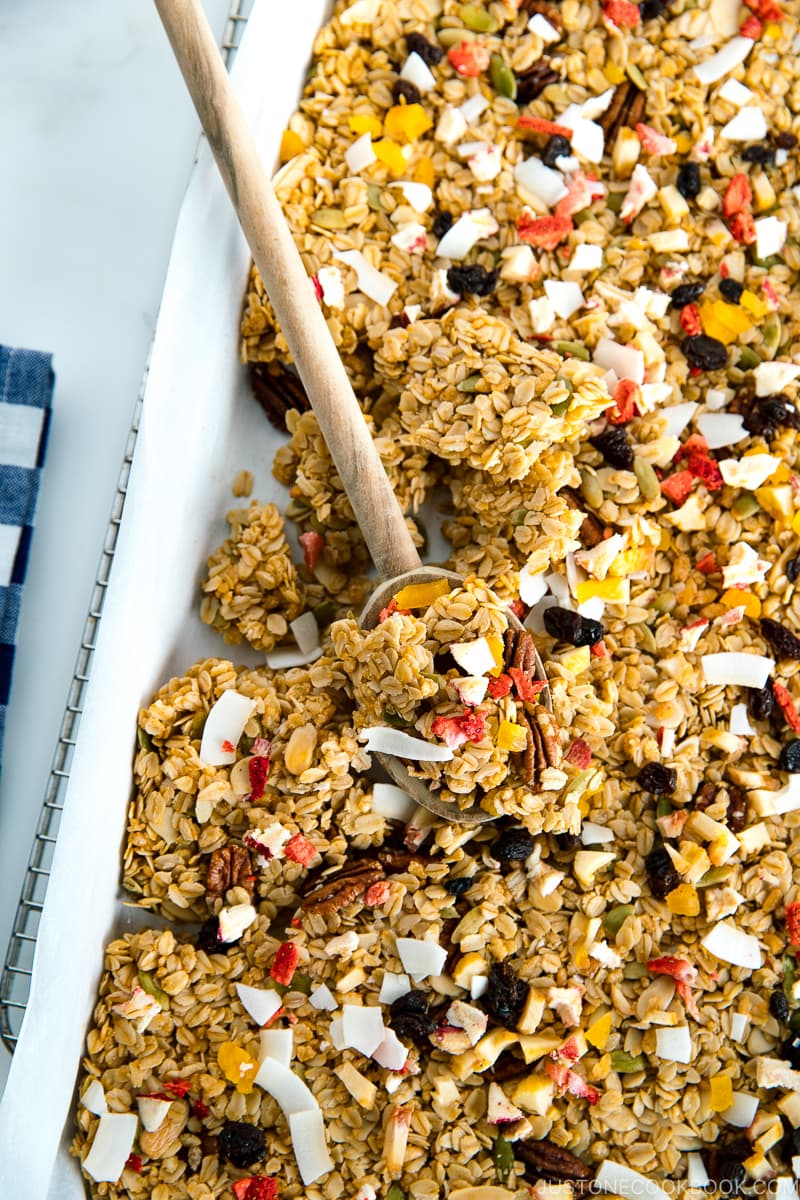 5 Tips to make Homemade Fruit Granola
Here are my tips for achieving the best homemade granola:
Sweetener and oil ratio should be one to one: The coating for your granola should be one part sweetener and one part oil.
Use parchment paper: It will help the sweetener sticks to your oats and make it easy to transfer the granola once it's done.
To get big clumpy chunky granola: you will need to 1) put the oats a little crowded in the pan so they can stick together, 2) press the granola down into an even layer with a spatula before putting into the oven, and 3) stir it only once halfway through cooking.
Do not overbake: Although you want your granola to be nicely toasted, take it out of the oven when it looks LIGHTLY toasted/golden on top and smells nice. Granola will dry and get crunchy as it cools.
Let the granola cool completely: Do not touch or break it up until then.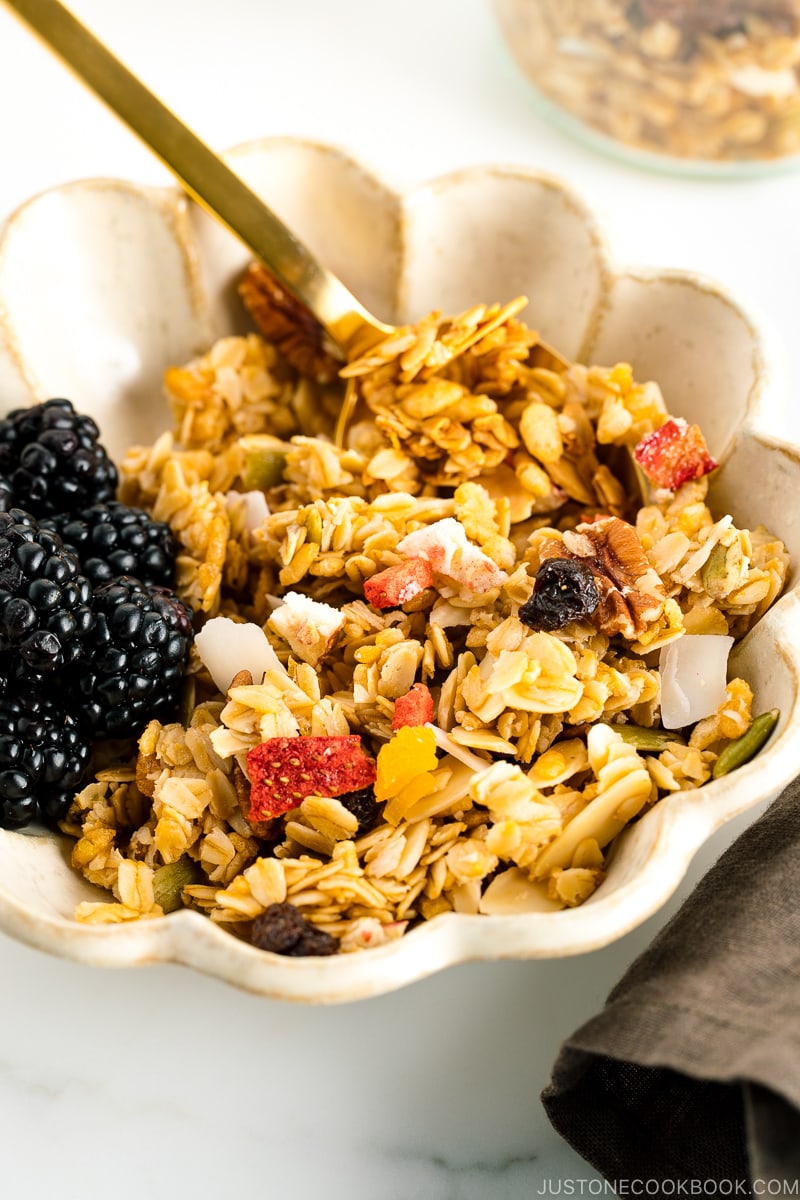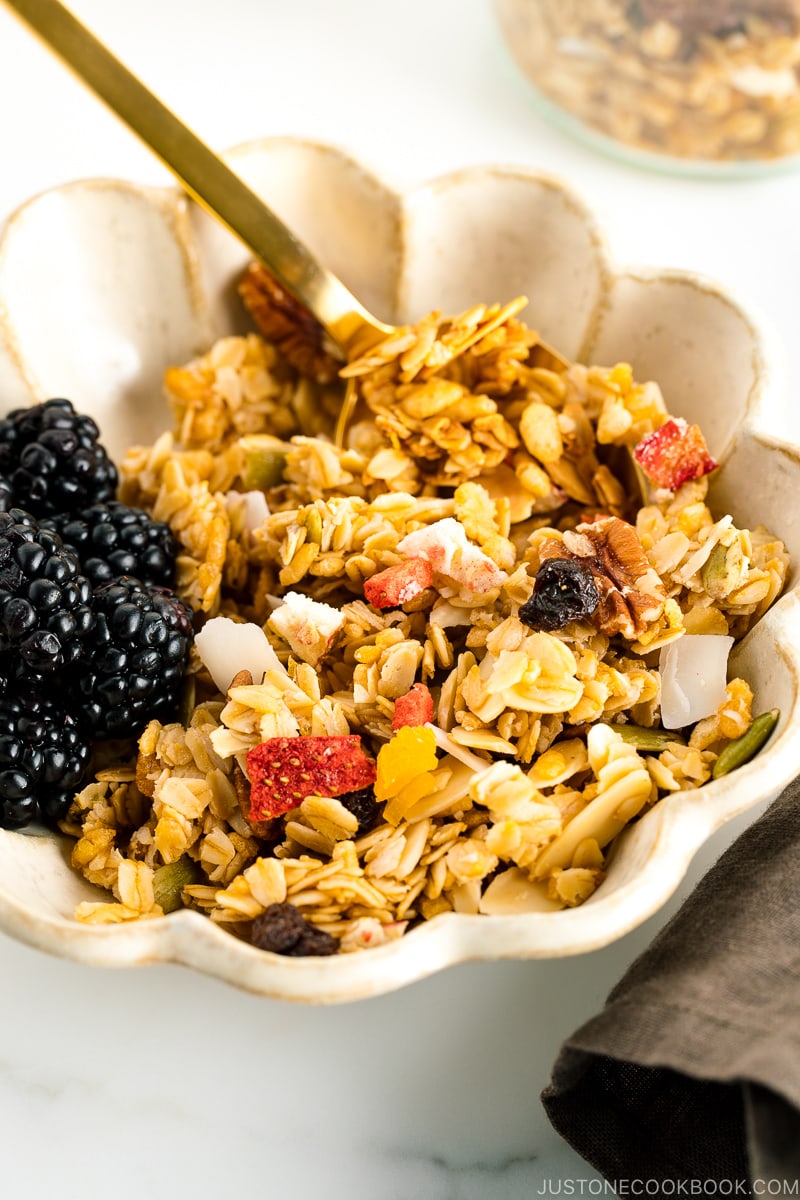 Toss in some fresh berries and enjoy the granola with milk, yogurt, or as it is! Try making your version of granola at home and let me know how you like it!
Sign up for the free Just One Cookbook newsletter delivered to your inbox! And stay in touch with me on Facebook, Pinterest, YouTube, and Instagram for all the latest updates.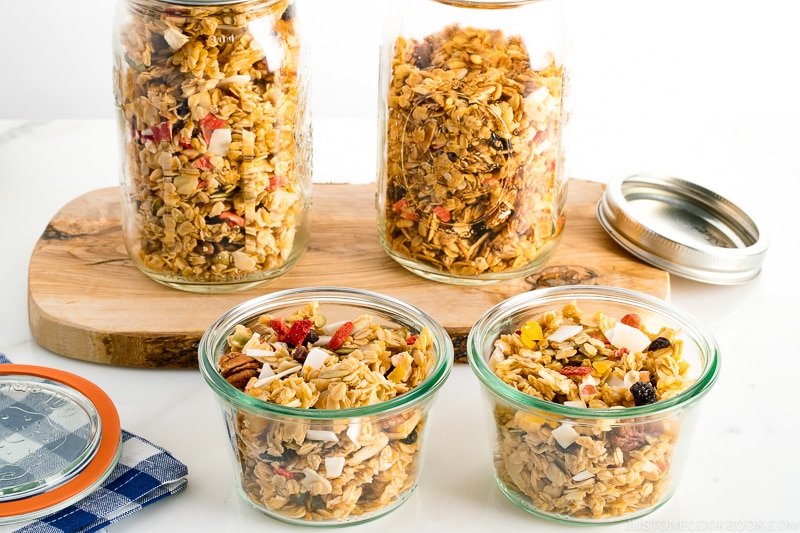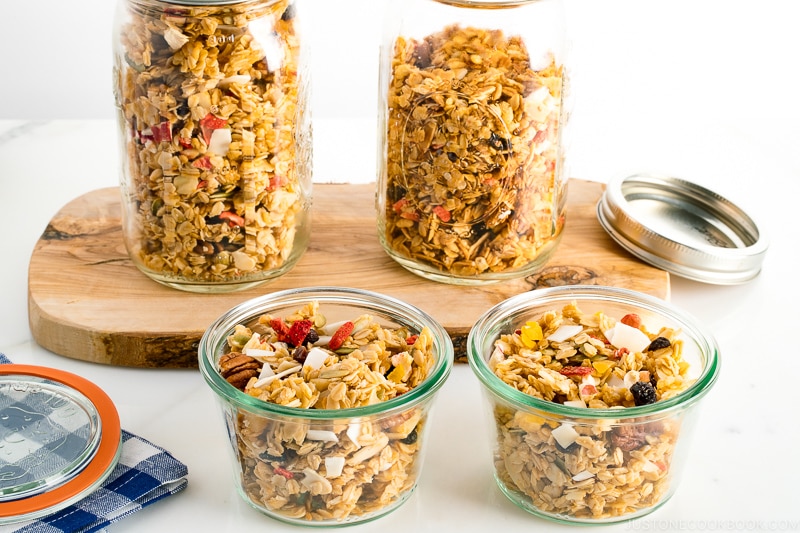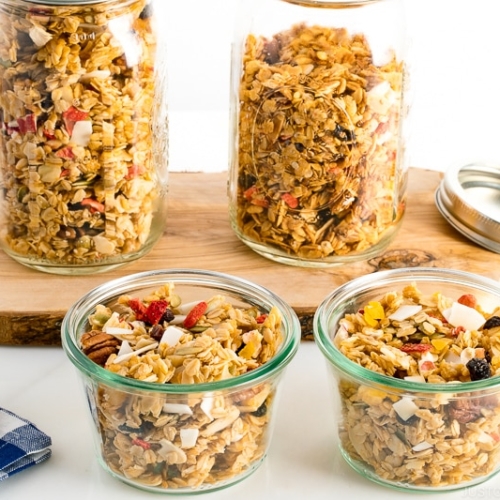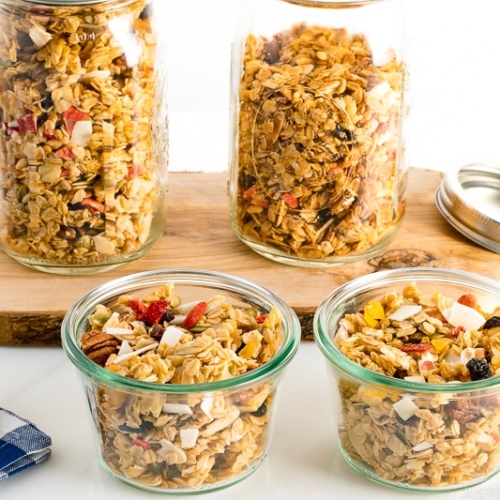 Homemade Fruit Granola (Furugura)
Build your own Homemade Fruit Granola with healthy ingredients of your choice! It's incredibly simple, easy, flexible, and fun. Make a big batch so you can have it for breakfast or a snack throughout the week.
Ingredients
3

cups

old-fashioned rolled oats

(use

4

cups if you skip the puffed rice; no substitute with other types of oats; you need to use old-fashioned rolled oats to get the right granola texture)

2

cups

puffed rice

(I used Crisp Rice Cereal from Trader Joe's)

1½

cups

raw nuts and or seeds

(I used

½

cup (

65

g) pumpkin seeds,

½

cup (

55

g) pecans, and

½

cup (

50

g) sliced almonds; if pre-roasted, add in after the granola is cool)

½

cup

coconut oil

(melted; or olive oil)

½

cup

maple syrup

(or honey)

1

cup

dried and freeze-dried fruits

(I used a mix of raisins, dried apricot, dried peach, freeze-dried strawberries, and freeze-dried apples)

¼

cup

coconut flakes

(raw or roasted)
Japanese Ingredient Substitution:
If you want substitutes for Japanese condiments and ingredients, click
here
.
Instructions
Gather all the ingredients. Preheat the oven to 350ºF (180ºC) and place the oven rack in the center. For a convection oven, reduce cooking time by 25ºF (15ºC). Line a rimmed half-sheet baking pan with parchment paper.

In a large mixing bowl, add

3 cups old-fashioned rolled oats

,

2 cups puffed rice

,

1 tsp Diamond Crystal kosher salt

, and

1½ cups raw nuts and or seeds

(unroasted pecans, sliced almonds, and pumpkin seeds). If your nuts and seeds are roasted, mix in after the granola is completely cool.

Stir to blend together with a silicone spatula. If you are going to add spices (or other dry ingredients), you can add them now and blend well before adding the wet ingredients

Pour in

½ cup coconut oil

and

½ cup maple syrup

and mix well until everything is well coated.

Transfer the granola onto your prepared baking pan. With the back of the silicone spatula, spread it in an even layer and press down the granola.

Bake at 350ºF (180ºC) for 12–15 minutes (we will bake a total of 25–30 minutes). After 12–15 minutes, remove the pan from the oven.

Stir to get an even color and make sure the granola is cooking evenly. Press down the granola with the back of the spatula to create an even layer.

Put the baking pan back in the oven, and continue to bake for another 12–15 minutes, or until lightly golden/brown and toasty. If your

¼ cup coconut flakes

are raw, add them during the last 10 minutes of baking. Remove the pan from the oven and let the granola cool completely on a wire rack, roughly for 1 hour. The granola will continue cooking and firm up during this time, so do not touch it.

Meanwhile, chop

1 cup dried and freeze-dried fruits

into small pieces.

When the granola is COMPLETELY cool, top with the dried fruits and freeze-dried fruits (including my roasted coconut flakes). Break the granola into pieces with your hands (I like to keep bigger chunks).

Store the granola in airtight jars or containers at room temperature for 7–10 days. You can also freeze it for up to 2 months.
Nutrition
Nutrition Facts
Homemade Fruit Granola (Furugura)
Amount per Serving
% Daily Value*
* Percent Daily Values are based on a 2000 calorie diet.
©JustOneCookbook.com Content and photographs are copyright protected. Sharing of this recipe is both encouraged and appreciated. Copying and/or pasting full recipes to any website or social media is strictly prohibited. Please view my photo use policy
here
.