The secret to great homemade banana bread is having a tried and tested, go-to recipe. Here I share a classic recipe that I have been using for years. The result: Fresh baked banana bread that is always flavorful and moist with the perfect amount of sweetness!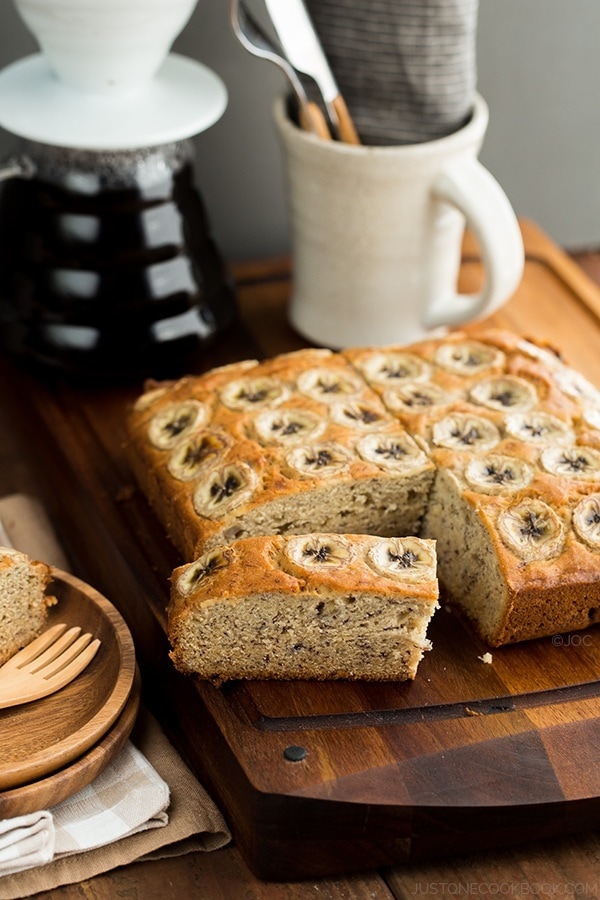 Do you have recipes to go to that you love and keep making over and over again?  For me, this banana bread recipe is one of those recipes.  I've been making this same banana bread since college!   It's so moist and delicious and it's definitely one of our family's favorite.
Watch How To Make Banana Bread バナナブレッドの作り方 (レシピ)
Homemade banana bread that's flavorful and moist. Just need a few common ingredients to make this amazingly delicious banana bread.
I got this recipe from my best friend that I met in college.  She was from Osaka and we met each other at the international students' orientation when we moved to the US for college.  She and her banana bread recipe have been my best friend since then, almost 20 years!
I wasn't into baking until I met her.  She loved making sweets and one day she gave me a few slices of this banana bread.  It was very moist and it was different from other banana breads I had before.  The texture is soft, with bits of banana and just the perfect amount of sweetness.  The store bought banana breads I've tried are usually dry and don't have too much real banana flavors.
My friend used a square 8" baking dish to make the bread.  The height of the bread is shorter than your typical banana bread but you can slice bread into thicker slices.  Simply pick up a slice with your fingers to enjoy a mouthful of this moist banana bread.  What I love the most is enjoying it with a cup of great coffee in the morning.
This is one of those recipes that I measured ingredients with a measuring cup (I didn't own a kitchen scale in college).  Even though it's not as precise, you will still get good result.  I put the weight measurement below for those of you that use a kitchen scale.  I hope you enjoy this banana bread as much as my family does!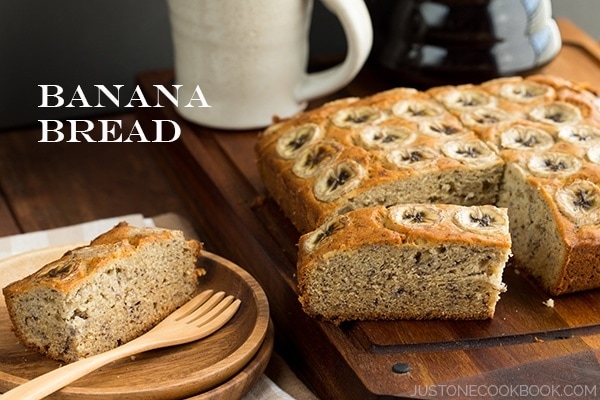 Don't want to miss a recipe?  Sign up for the FREE Just One Cookbook newsletter delivered to your inbox!  And stay in touch on Facebook, Google+, Pinterest, and Instagram for all the latest updates.  Thank you so much for reading, and till next time!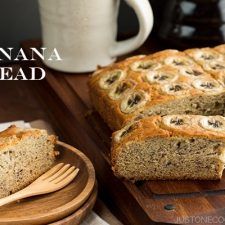 Banana Bread
Ingredients
½

Tbsp

unsalted butter

(for greasing the baking dish)

1⅔

cups

all-purpose flour

(1⅔ cups = 208 g)

½

tsp

salt (kosher or sea salt)

½

tsp

baking soda

½

tsp

baking powder

½

cup

unsalted butter

(½ cup = 113 g) (soften)

½

cup

sugar

(½ cup = 100 g)

2

large eggs

(at room temperature)

1

Tbsp

neutral flavor oil (vegetable, canola, etc)

1

tsp

vanilla extract

4

ripe bananas

(separated) (See Notes)

½-⅔

cup

raisins

(optional)
Instructions
Gather all the ingredients.

Preheat oven to 350°F (175°C) and grease an 8" square baking dish with butter (bottom and sides).


In a bowl, combine 1 ⅔ cup flour, ½ tsp salt, ½ tsp. baking soda, and ½ tsp. baking powder and whisk all together.


In another bowl, combine ½ cup soften butter and ½ cup sugar and whisk well.


Add 2 eggs, 1 Tbsp. oil, and 1 tsp. vanilla and beat with the whisk until well blended.


Mash 3 bananas with a fork and mix into the egg mixture.


Add the 1 ⅔ cups flour to the banana mixture and stir just until blended. Add raisins, if you prefer.


Pour the batter into the prepared pan, spreading it evenly with the rubber spatula. Slice 1 banana thinly into rounds and decorate on top of the banana bread.


Put the pan in the oven and bake at 350°F (175°C) until a toothpick inserted into the center of the bread comes out clean, about 1 hour. Remove the baking dish from the oven and let cool for 20 minutes. If you don't eat right away, wrap each slice or the whole cake with plastic wrap. Store at the cool place and enjoy within 2-3 days.

Recipe Notes
Banana: To quickly ripen bananas, bake at 300 F (150 C) for 30-40 minutes (depends on your banana) [source].
Recipe by Namiko Chen of Just One Cookbook. All images and content on this site are copyright protected. Please do not use my images without my permission. If you'd like to share this recipe on your site, please re-write the recipe and link to this post as the original source. Thank you.
Editor's Note: This post was originally shared in January 11, 2011.