Korean soy sauce differs from other types of soy sauce in that they're saltier, lighter in color, and used in cooking rather than as a finishing sauce.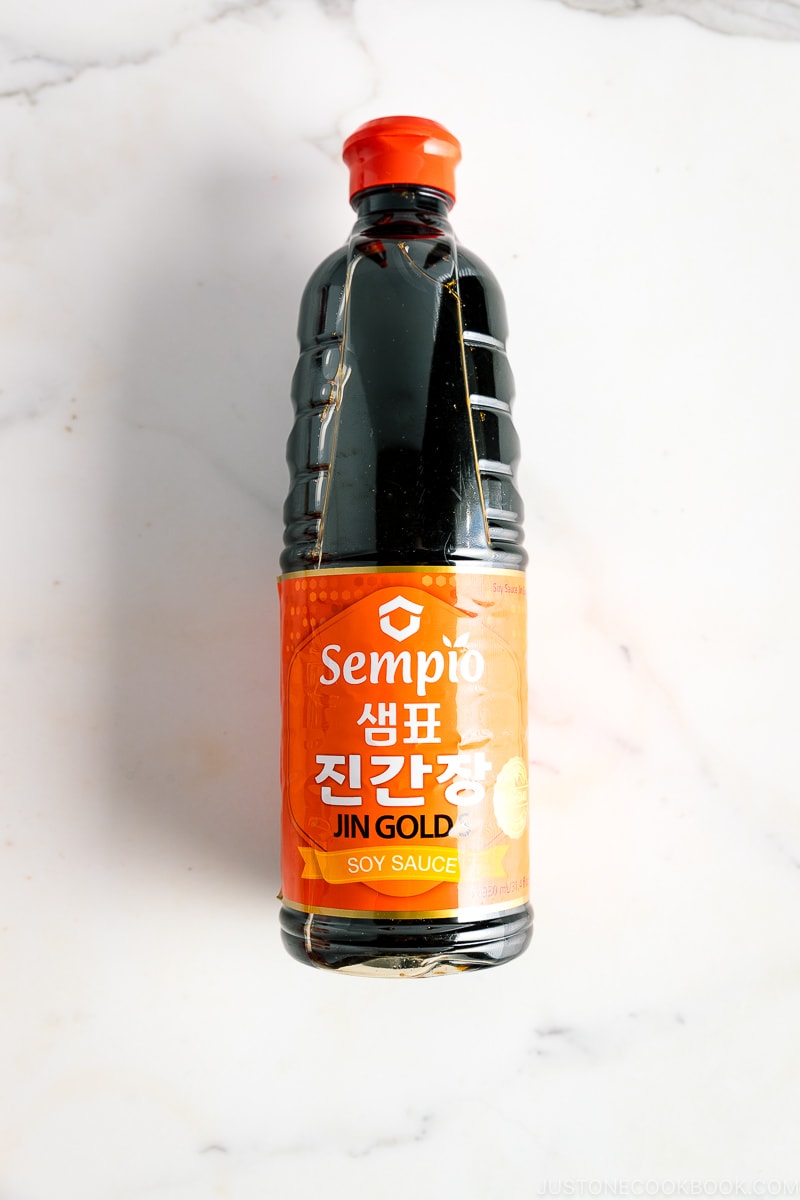 Korean soy sauce (Gan-Jang) refers to soy sauce produced by the Korean method. It's brewed slightly differently from the Japanese version. It's primarily used in marinating, stir-frying, and braising.
What Is Korean Soy Sauce
Korean soy sauce is a salty-umami condiment of soybeans, salt, and yeast. Like Japanese cuisine, Koreans use soy sauce extensively in their cooking.
To cook Korean food with integrity, I think it's important to use Korean soy sauce. Soy sauces from other countries are made for their respective cuisines. The taste and uses can differ significantly, which will alter your cooking. While it may be convenient to use one kind for all types of Asian cooking, I recommend buying Korean soy sauce if you cook Korean cuisine often.
Varieties of Korean Soy Sauce
There are several varieties:
Regular Ganjang/Whe-Ganjang (왜간장): an all-purpose soy sauce produced similarly to Japanese naturally-brewed soy sauce. Contains wheat, preservatives, and flavoring. Suitable for cooking, dressing, and dipping.
Naturally Brewed Soy Sauce/Yangjo Ganjang(양조간장): a slightly processed soy sauce made by brewing a mixture of soybeans/defatted soybeans, wheat, and yeast for six months.
Soup soy sauce/Guk-Ganjang (국간장)/House Ganjang/Jip Ganjang: strong, rich, savory, and light in color, it's a byproduct of making fermented soybean paste (doenjang). Due to its light color, it's primarily used to flavor soups, broths, and side dishes. Check the label to make sure it's not chemically produced.
Flavored Soy Sauce/Mat Ganjang (맛간장): a flavored soy sauce with ingredients such as mushrooms, garlic, onions, apple, and pear. It's usually used for braising or stir-frying.
Honhap Ganjang (혼합간장): a blend of naturally brewed soy sauce and acid-hydrolyzed soy sauce. Unlike naturally brewed soy sauce, which takes six months to brew, acid-hydrolyzed soy sauce only takes several days. It's also the cheapest version and is best avoided.
Premium quality Korean soy sauce that's naturally brewed is difficult to find outside Korea. But it's worth the splurge in terms of flavor! Use it as a finishing sauce or for dipping.
Where To Buy
I use the Sempio brand for my Japchae and Bulgogi Korean Grilled Beef recipes. You can purchase it on Amazon or at Korean or Asian grocery stores.
How To Store
Before Opening
Store unopened bottles at room temperature. Store in a pantry or dark place and avoid direct sunlight, heat, and humidity.
After Opening
When soy sauce comes in contact with air, it oxidizes, darkens in color, and gradually loses its aroma. To prevent this, make sure to close opened bottles properly.
There's an ongoing debate about whether opened bottles should be refrigerated or stored at room temperature. It's a shelf-stable product as it's high in sodium and won't spoil. While some experts suggest keeping premium bottles in the fridge, it's ultimately up to you.
Substitutions
There are no substitutes as it's a unique fermented product. As mentioned above, I highly recommend using Korean soy sauce, not Chinese or Japanese soy sauce, because each is made for its respective cuisine.
Recipes Using Korean Soy Sauce
---
Wish to learn more about Japanese cooking? Sign up for our free newsletter to receive cooking tips & recipe updates! And stay in touch with me on Facebook, Pinterest, YouTube, and Instagram.