There are many activities to do on Shasta Lake including the stunning Lake Shasta Caverns. These natural caves are enormous and filled with stalactites and helectites formed over millions of years.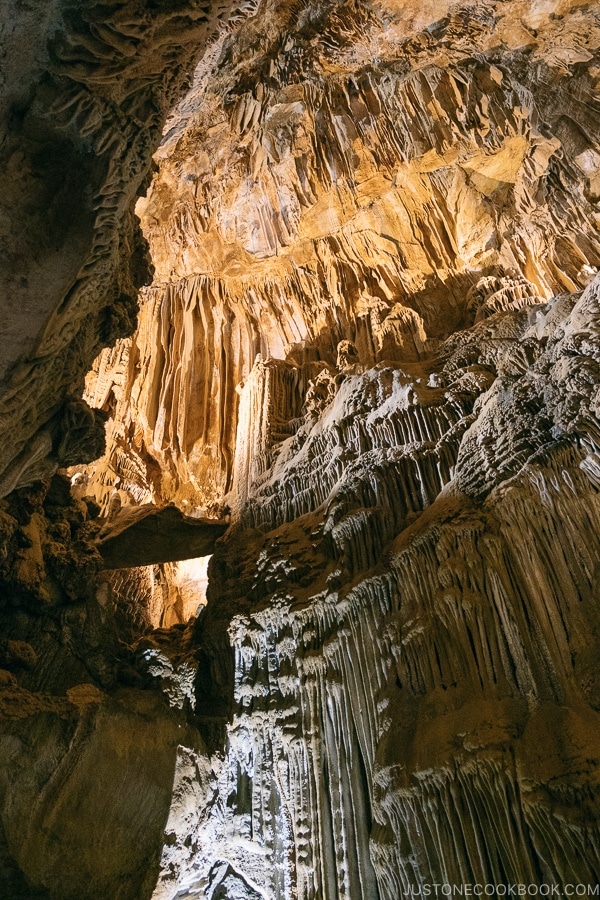 Over the memorial day break, our family took a quick trip to Redding California and visited nearby areas including Lake Shasta Caverns. We desperately wanted to spend some time in nature as we spend the majority of our time in our house cooking and filming. We missed hiking as a family since our Utah trip and it was perfect timing as Lassen Volcanic National Park was just opening their roads through the park that weekend.
We had a fun filled 4 days and we'll be sharing our experiences over the next 4 weeks in case you want to visit.
For this travel series, we'll share the following posts:
Watch Mount Shasta and Lassen Volcanic National Park Travel Highlights
Our family explored Northern California including Lassen Volcanic National Park, Mt. Shasta, and nearby areas and fell in love with the scenery and nature.
Lake Shasta Caverns Info
Lake Shasta Caverns were discovered in 1878 and opened as a public attraction in 1964. Before we visited I didn't have a high expectation as we've had been to the moaning caverns in the Sierras before and it was just 1 large cave. We were also at Okinawa World recently with its long and expansive caves. The good news is Lake Shasta Caverns didn't disappoint and our family had a fantastic time.
How to get to Lake Shasta Caverns
If you are planning to visit from the Bay Area, we would not recommend a day trip as the cavern is located almost 3 hours from Vacaville without traffic. For us, we left for the Redding area the night before and visited the caverns around 1 pm.
Lake Shasta Cavern Tickets (Important)
You can purchase your tickets for Lake Shasta Cavern online or in person, but if you do purchase your tickets online they do not "reserve" the spot for you. It is a first come, first served practice so do get there with plenty of time for the time slot you're shooting for. When we visited, it was $28 for 16 years and older, and $16 for 3-15 years old.
Lake Shasta Caverns Ferry
After purchasing the cavern ticket in the gift shop, you will head down to the dock and ride the ferry across Shasta Lake. It is a private ferry only meant for transporting cavern visitors.
It was drizzling the day we visited but the scenery on the lake was still beautiful. The ferry ride took roughly 10 minutes to cross the lake.
After the boat docks on the other side of the lake, passengers will be ushered into buses. There is no need to rush but do try to keep your group on the same bus as each bus will be divided into its own tour groups. Our bus driver was super funny and kept everyone entertained during the 10 minutes to the top of the hill.
After waiting at the small structure for a few minutes, our group was rounded up and lead into the cave. The path into the cave was completely pitch dark except for a string of dimly lit string light. It added to the suspense and excitement. Lake Shasta Cavern is a guided tour and each group is small enough so everyone could hear the guide's explanations.
At the end of the entrance path, immediately we knew this was going to be a much better experience than the moaning caverns. The first area we encountered had a long staircase heading up and you could see numerous cavities filled with helictites and stalactites all around us.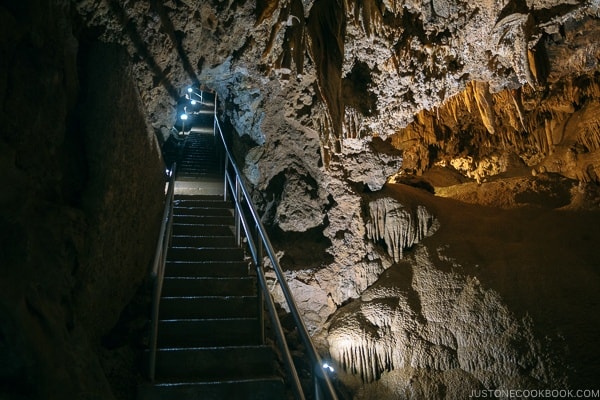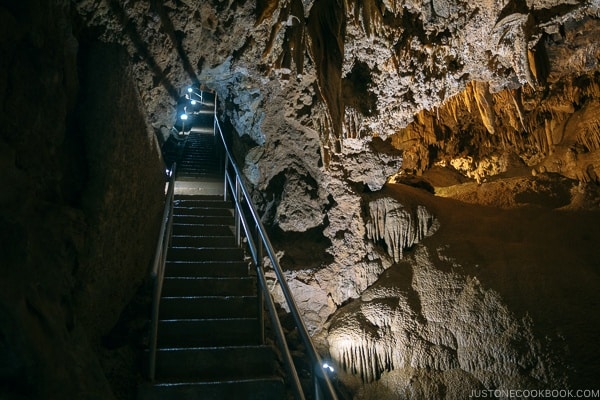 We were lead into the first room and the guide explained the history of the cave as well as different types of speleothems that have formed in the caves. The guide used a flashlight to point out the different types of formation that have grown all around the cave.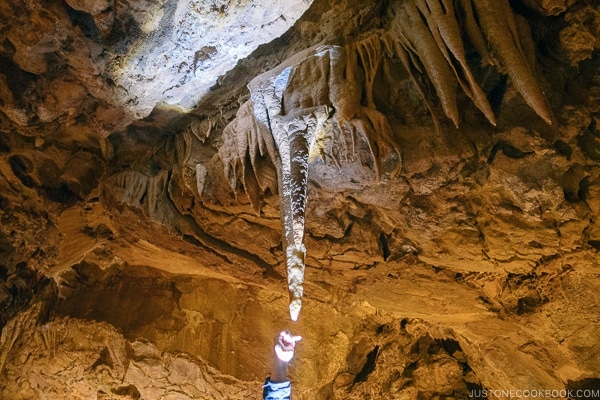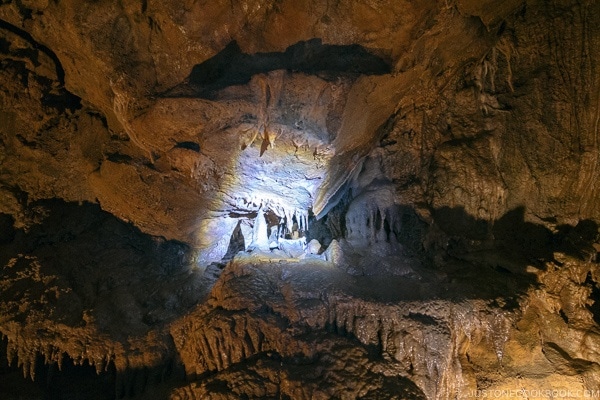 The pathways inside the cavern for visitors are paved and easy to walk around, however, they are not wheelchair friendly.
After the first room, visitors will tour another 4 cave areas. Some of the caves are 3-5 stories tall and the sights were breathtaking
To see all of the caves, visitors will need to climb up steep flights of steps. We can't remember exactly how many but it was over 70 steps. Keep this in mind if there is someone in your group that doesn't do well with steps.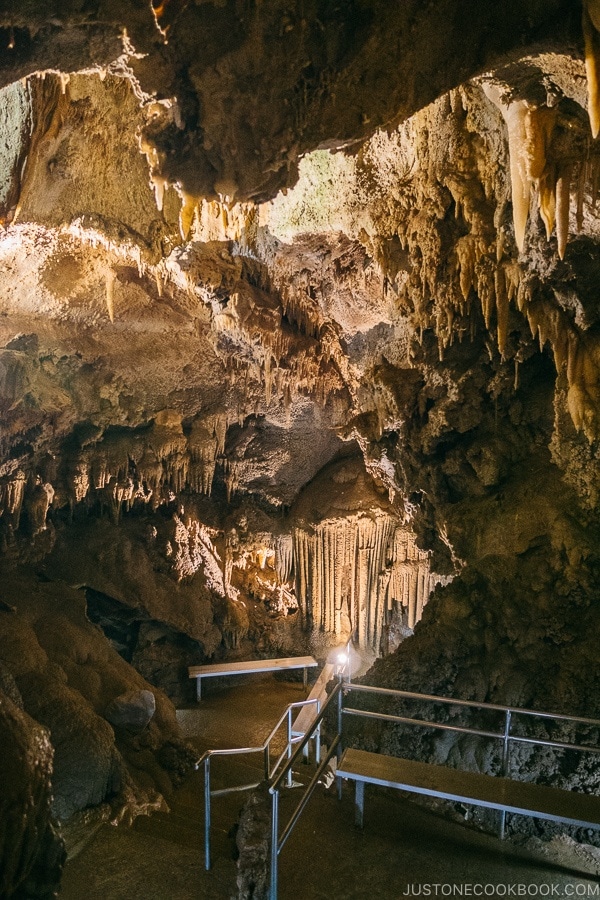 The tour is roughly 1 hour and after going through all the caves, visitors will exit a door and walk on a downhill path to the bus stop.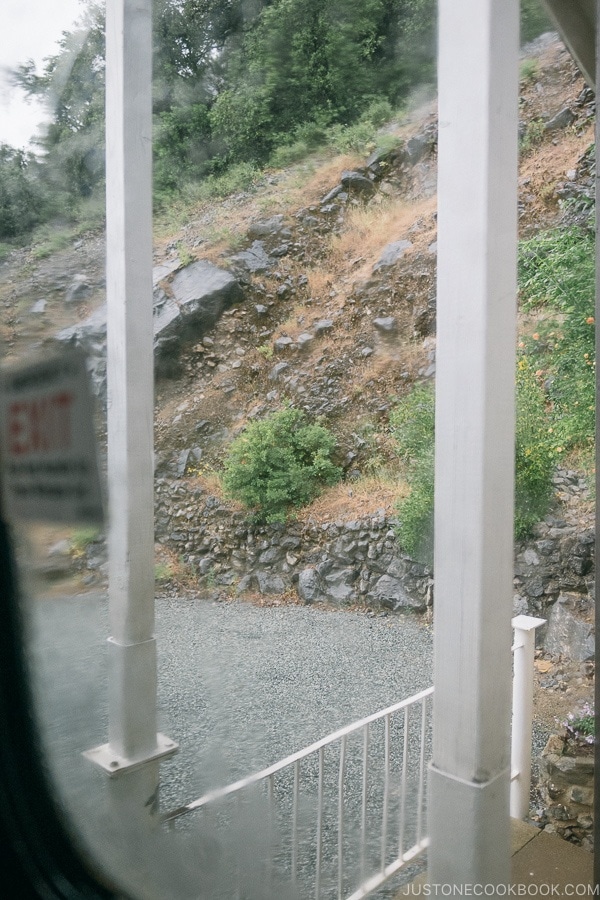 Thank you for reading and we hope you've enjoyed Lake Shasta Caverns travel guide so far and stay tuned for more Mt. Shasta and Lassen Volcanic National Park posts.