Redding is a perfect place to stay for visiting Lake Shasta, Mount Shasta, and Lassen Volcanic National Park. Here are other sights we recommend to visit around Redding California.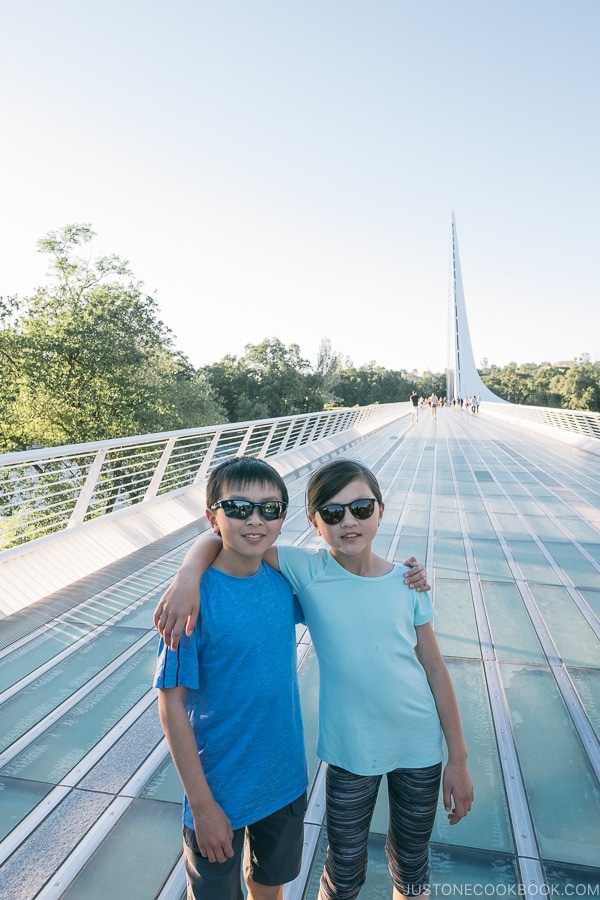 Update July 30th, 2018: Our hearts and prayers go out to the people of Redding going through the terrible Carr fire. We know the amazing town of Redding will recover and thrive more than ever from this disaster.
Over the memorial day break, our family took a quick trip to Redding, California and visited nearby areas including Mount Shasta. We desperately wanted to spend some time in nature as we spend the majority of our time in our house cooking and filming. We missed hiking as a family since our Utah trip and it was perfect timing as Lassen Volcanic National Park was just opening their roads through the park that weekend.
We had a fun filled 4 days and we'll be sharing our experiences over the next few weeks in case you want to visit.
For this travel series, we'll share the following posts:
Watch Mount Shasta and Lassen Volcanic National Park Travel Highlights
Our family explored Northern California including Lassen Volcanic National Park, Mount Shasta, and nearby areas and fell in love with the scenery and nature.
For our trip to Northern California visiting Mount Shasta and Lassen Volcanic National Park, we stayed in Redding as our home base. It's centrally located from all the sites we visited and offers the conveniences of a large city. For this final post in the Northern California travel series, we'll share our visit to Turtle Bay Exploration Park, The Sundial Bridge, Shasta Dam, and Lucero Olive Oil around Redding, California.
Turtle Bay Exploration Park – Redding California
Turtle Bay Exploration Park is a large 300-acre park centrally located in the city of Redding. During the first day of our trip, it was raining so we used this time to visit the Turtle Bay Museum inside the park. On the same day, we visited Lake Shasta Caverns later on in the afternoon. Besides the museum, other parts of the park include McConnell Arboretum & Botanical Gardens and Paul Bunyan's Forest Camp.
Turtle Bay Museum
You can't miss the Turtle Bay Museum once you're near the entrance of the park. If you are wondering about parking, there is plenty of free parking for visitors and we didn't have trouble finding a spot even during a holiday weekend.
The Turtle Bay Museum has a number of exhibitions including river aquarium, cave, Wintu bark house, and history gallery. The content and the exhibits are appropriate for age 4 thru age 10. Middle and high school students could find the exhibits and its contents a bit elementary.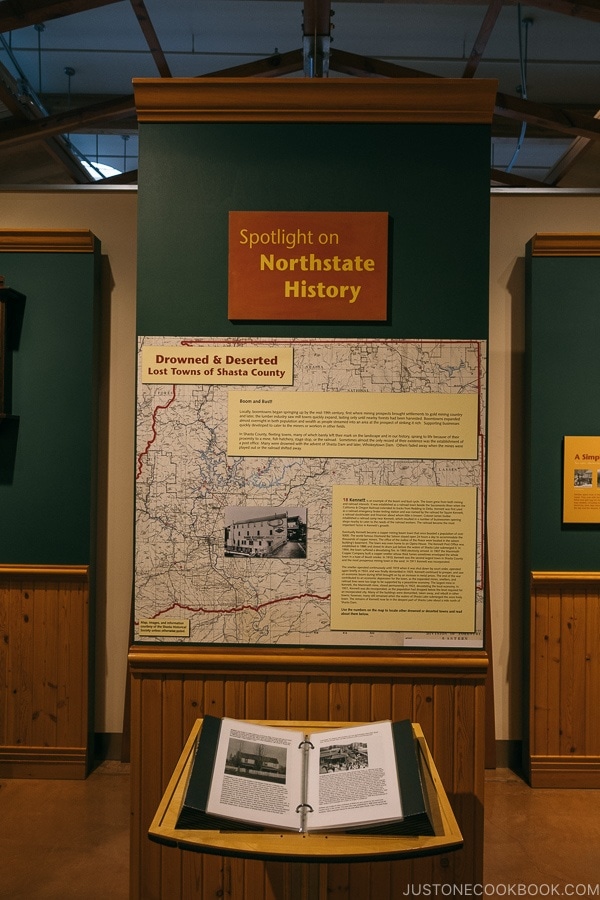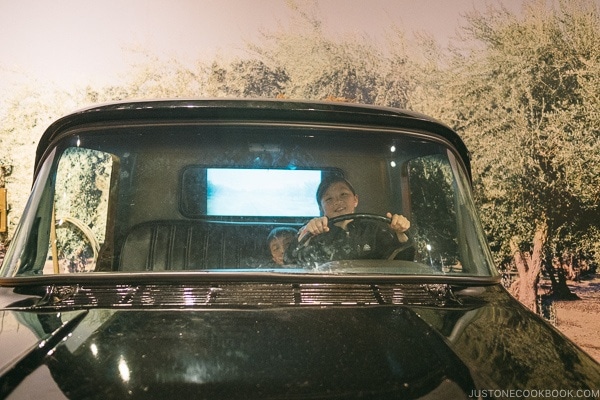 Currently, a big portion of the museum is dedicated to The World's Largest Dinosaurs exhibit on display between May-Sept 2018.
The Sundial Bridge – Redding, California
Right next to the museum is the popular Sundial Bridge, one of the largest working sundials in the world! The bridge is designed by Santiago Calatrava (who also designed New York's World Trade Center PATH station).
Sundial Bridge Fun Facts:
Took 11 years from inception to completion.
The bridge deck is made up of 2,245 glass panels.
 It is a suspension bridge.
The bridge (700 ft) has no structural support in the river to minimize the disruption to the environment.
The bridge connects McConnell Arboretum and Turtle Bay Exploration park across the Sacramento River.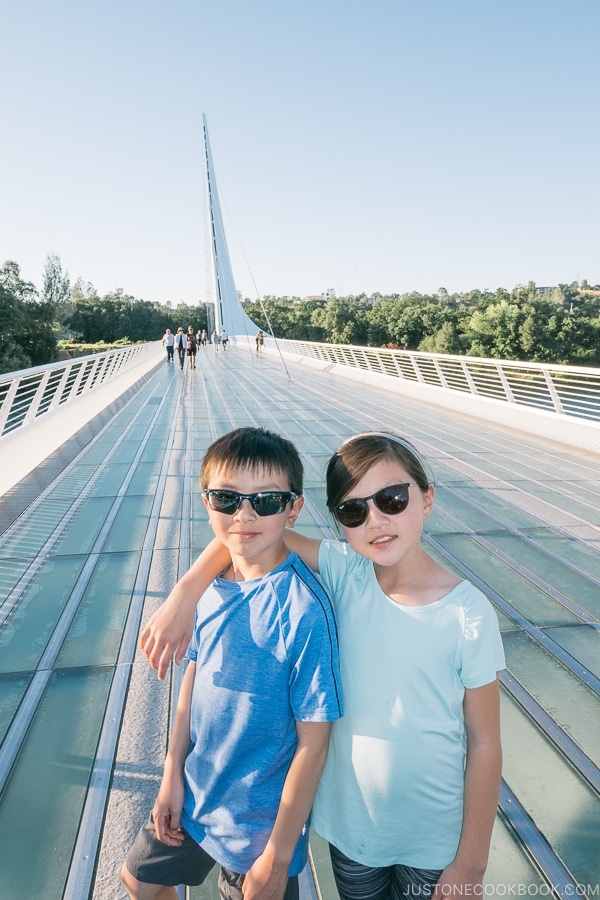 It is a beautiful bridge and we visited it twice during our trip, once when it was raining and the other time during sunset.
Shasta Dam
On the day we were heading back to the Bay Area, we made a quick stop by Shasta Dam located about 20 min north of Redding. Shasta Dam holds back the Shasta Lake, the largest reservoir in California.
There are free 1 hour tours offered at the dam which we didn't do, but we did join the 15-min presentation on the dam's history and it was fascinating. The windows from the dam's auditorium offer a panoramic view of the dam during the presentation.
Visitors are allowed to walk across the dam even without joining the tour.
Lucero Olive Oil
As we made our way back to the Bay Area from Redding, California, we saw the rows and rows of olive trees that lined Hwy 5 and decide to make a pit stop by one of the olive oil stores. We did olive oil tasting and learned from Lucero Olive Oil how olives go from harvest to milling to bottling and got to see their milling facility. We loved the different olive oils from Lucero and highly recommend stopping by (not sponsored by Lucero Olive Oil).
Where did We Eat in Redding California
We really enjoyed our trip visiting Northern California but did struggle with finding hidden gems to eat at for sharing with readers. It was disappointing not to find any restaurants we loved. We did enjoy our meal in Farwood Bar and Grill in the Orland, California on the way back to the Bay Area.
While in Redding, California, we had 2 of the meals at Champa Garden Restaurant which served Vietnamese and Thai cuisine. It is one of the most popular restaurants on Yelp so get there early or make a reservation to avoid waiting.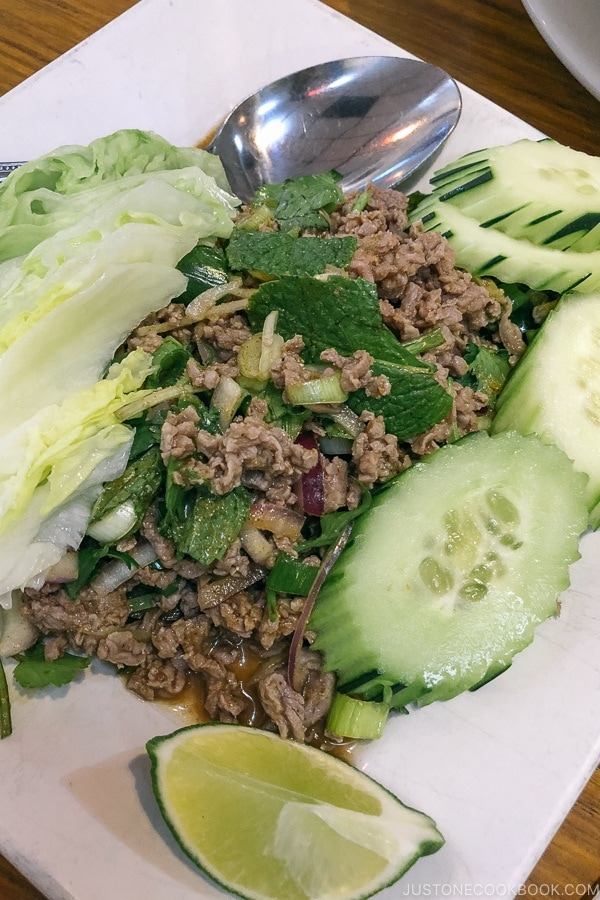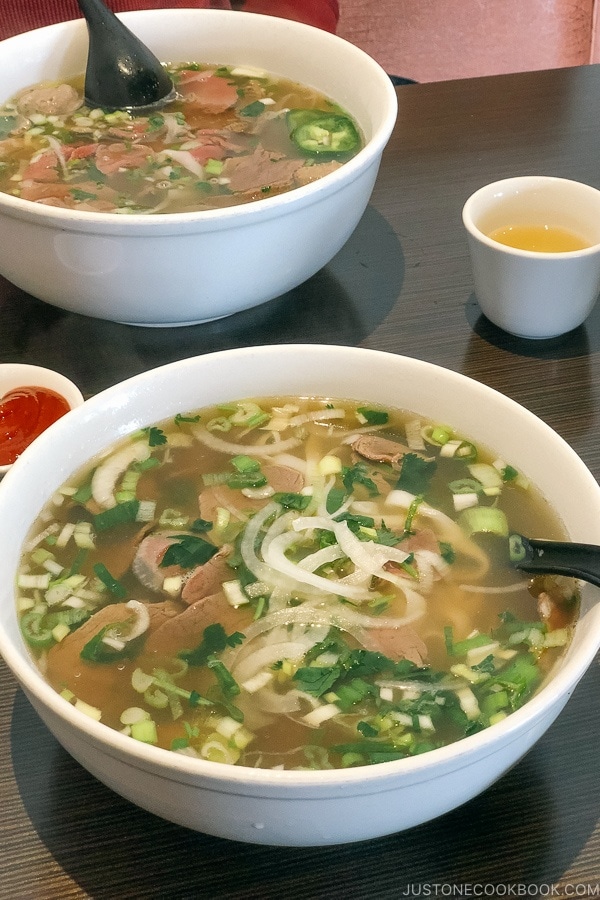 What else to do in Redding California
This post is by no means a complete guide if you decide to visit Redding and the surrounding area. I've included additional helpful links below for your reference:
We hope you enjoyed visiting Northern California with us. For our next travel series, we'll hop across the Pacific Ocean to Tokyo!