The beautiful and serene Lassen Volcanic National Park is perfect for a day trip to enjoy the outdoors, row a boat on the beautiful Manzanita Lake and check out the fascinating bubbling mudpots.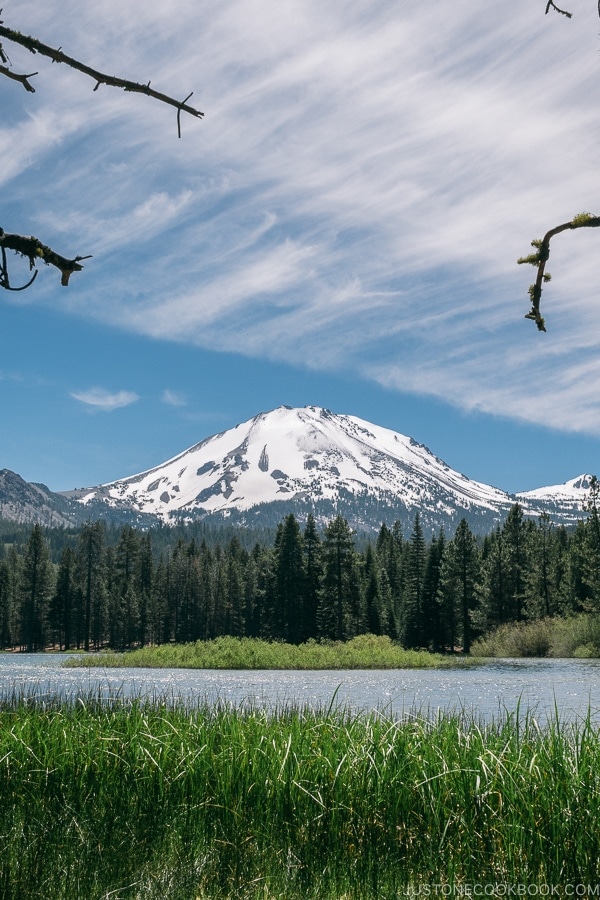 Over the memorial day break, our family took a quick trip to Redding California and visited nearby areas including Mount Shasta. We desperately wanted to spend some time in nature as we spend the majority of our time in our house cooking and filming. We missed hiking as a family since our Utah trip and it was perfect timing as Lassen Volcanic National Park was just opening their roads through the park that weekend.
We had a fun filled 4 days and we'll be sharing our experiences over the next few weeks in case you want to visit.
For this travel series, we'll share the following posts:
Watch Mount Shasta and Lassen Volcanic National Park Travel Highlights
Our family explored Northern California including Lassen Volcanic National Park, Mount Shasta, and nearby areas and fell in love with the scenery and nature.
We purchased the National Parks annual pass when we visited Zion National Park earlier in the year. It's a great deal as it's only $80 vs. $35 to visit a single park. Our goal is to visit as many national parks as we can this membership year with our children. So far we've visited Zion, Bryce, and Lassen National Parks.
Lassen Volcanic National Park
Lassen Volcanic National Park is located in Northern California and there are 2 main vehicle entrances (north and south) to enter the park, both entrances are off of SR-89. The north entrance is about 1 hour east of Redding, California where we stayed. If you drive to Kohm Yah-mah-nee Visitor Center near the south entrance it's about 1.5 hr drive from Redding.
When we visited, we entered from the north entrance and would recommend the same if you plan on visiting. We feel there are fewer cars visiting from the north entrance so you can enjoy the park with fewer people around.
Please note that Bumpass Hell (one of the main attractions) is closed for repairs until Dec 2018. Also if you visit prior to May, call the park to make sure the road is open. We visited on the first day the road was opened to cars in late May.
Loomis Museum
Soon after entering Lassen Volcanic National Park through the north entrance, you'll see Loomis Museum on your right. Park in the Loomis Museum parking lot to explore the museum and for hiking around Manzanita Lake. If you have any questions about your visit, you can speak to park rangers inside the Loomis Museum for recommendations.

Inside the museum, there are exhibits about the volcanic eruption that happened between May 19-22, 1915, and the changes to the park that happened over the past 100 years. There's a small media room in the back that plays a video about Lassen Volcanic National Park if you like to learn more.



Manzanita Lake
After spending some time in the museum, get your water pack and snacks ready and hike the easy trail around Manzanita Lake. The trail goes around the lake and you get to see amazing views of Lassen Peak and the surrounding scenery.
It took us quite a bit of time to complete the loop as we canoed as a family on the lake during our hike.


While on the trail, you'll pass by cabins and a general store where you can purchase things, including food, beverages, clothing, and also rent canoes. The cabins range in size and cost $72-$97 for 1 night. The canoes and kayaks are about $25 per hour depending the on size as well.


We really enjoyed our hike around the lake and spent most of our morning there.


After canoeing and hiking around the hike, we grabbed a quick bite for lunch at the general store and continued on.
Touring in Lassen Volcanic National Park
Lassen Volcanic National Park is very easy to get around and to see all the major points of interest since there's only one major road (SR-89). The park map we received at the entrance was very helpful in pointing all the spots to see and stop by.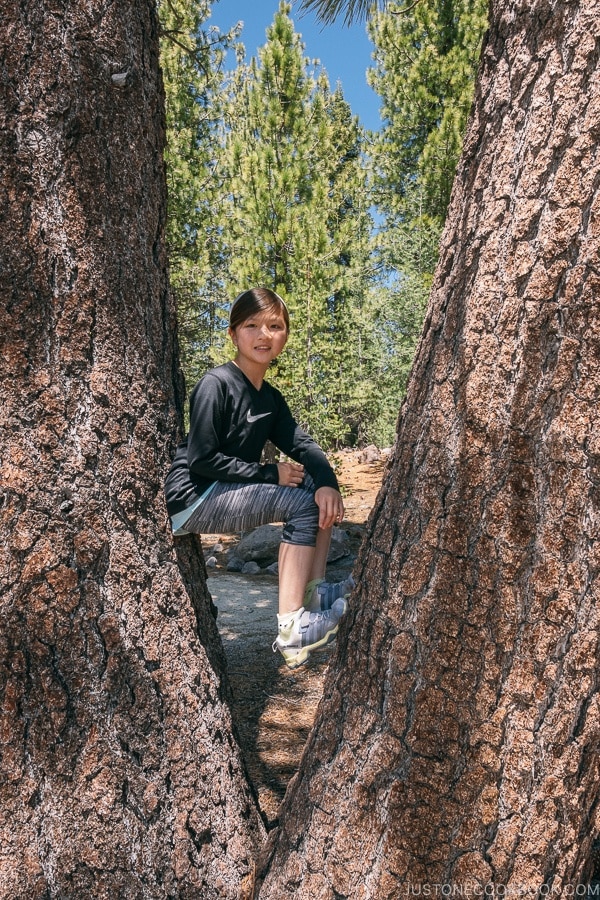 One of the longer stops we made was hiking around Summit Lake. The lake is pretty small and we finished the hike quickly.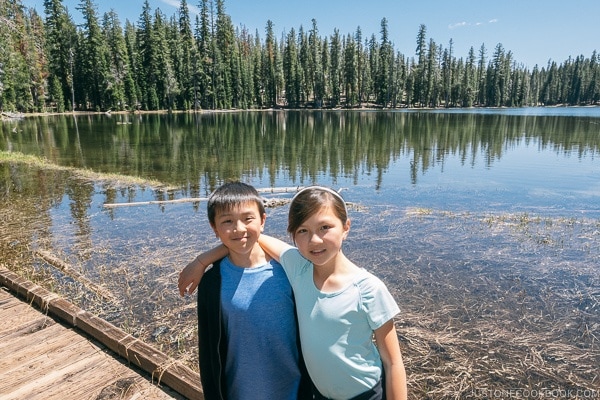 After our hike and as we continue in southward in the car, we can see that we're heading much higher up as there is more and more snow on the ground.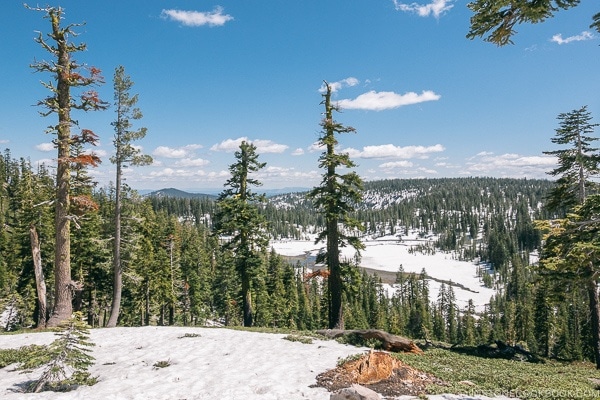 Lassen Peak Trailhead
As we got towards the top, everything was covered in snow still! At the highest point of the road, you can stop by Lassen Peak Trailhead. There's a large parking lot for visitors and when we visited there was a ton of snow. We saw folks climbing up the mountain and skiing down and as well as sledding and just having a blast playing in the snow.
After our children's clothes and pants were completely soaking with snow, we continued our road trip through the rest of the park.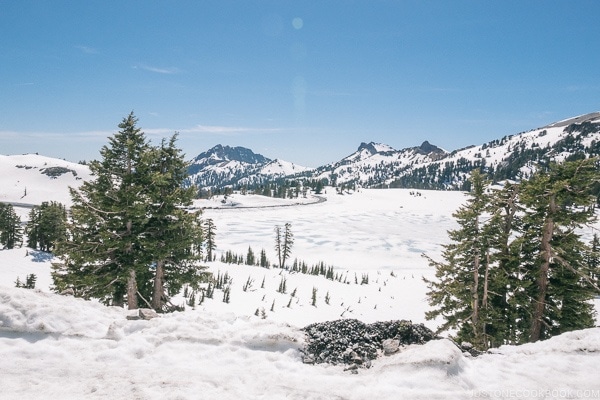 The scenery driving down the mountain was gorgeous and very relaxing. We could see many more cars heading up to the north part of the park as we made our way down.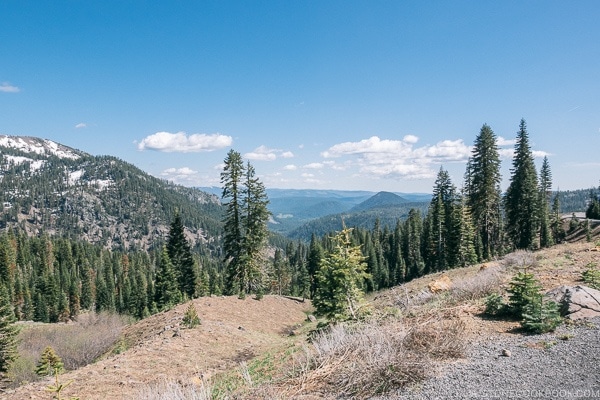 One of the cool spots you'll definitely want to check out as you get closer to Kohm Yah-mah-nee Visitor Center and south entrance is Sulfur Works. After parking your car and walking towards it, you'll see fumaroles with steam coming out of the ground and smell the sulfur in the air (it's a bit like rotten eggs).
The children were delighted to see the boiling mudpots and hot steam coming out of the ground.
Kohm Yah-mah-nee Visitor Center
Our last stop for the day is Kohm Yah-mah-nee Visitor Center. You can buy some food and gifts inside and check out various exhibitions about earthquakes and the environment around us.
The food choices are fairly limited compared to other national parks.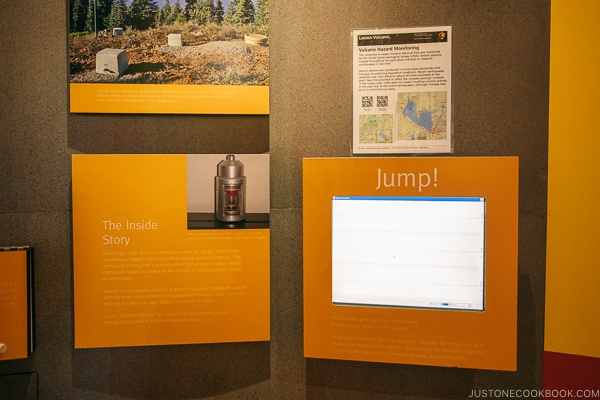 We hope enjoyed the quick day tour of Lassen Volcanic National Park with us. Our children enjoyed it because the trails we hiked were easy and the sceneries were never boring. If you are visiting Northern California and looking for a day trip, we highly recommend Lassen Volcanic National Park.