Lemongrass is an herb used in many Southeast and South Asian cuisine and tea. The oil and plant are used for their refreshing and zesty lemony flavor.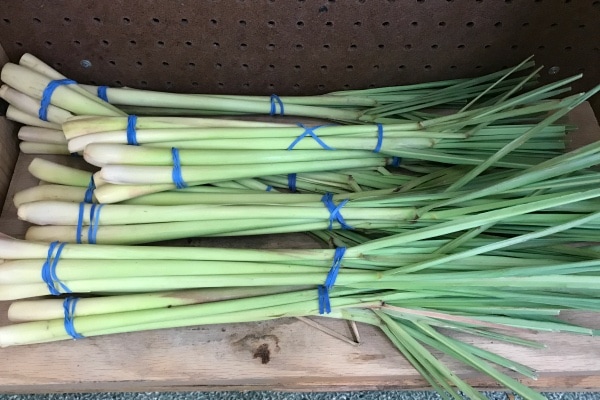 Lemongrass (Cymbopogon citratus) is a culinary herb with a lemon-like fragrance and flavor. It's used extensively in Southeast and Southern Asian cuisine.
Table of contents
What Is Lemongrass
The lemongrass plant resembles long grass with pale yellow-green stalks and an aromatic citrus scent. It's an ornamental grass that grows in dense clumps in warm and humid climates. Other names include barbed wire grass, silky heads, Cochin grass, Malabar grass, oily heads, citronella grass, and fever grass.
In Southeast and South Asian cuisine, the stalks are used in soups, stir-fries, and curries. You may have noticed its presence in Thai cuisine. It's not edible as the stalk is stringy and used as a flavoring agent. You may also encounter it in herbal teas, beverages, and cocktails.
In addition to its culinary uses, you can find lemongrass soap, candles, perfumes, and insect repellants.
What Does It Taste
As its name suggests, it tastes lemony with hints of ginger. It contains the same essential oil as lemons, and you can drink it as a refreshing herbal tea.
Where To Buy
You might be able to find dried or fresh lemongrass at your local grocery store. If not, check out the freezer section of Asian markets.
Substitutions
You can substitute it with lime or lemon juice in a pinch.
Health Benefits
Lemongrass might help prevent the growth of some bacteria and yeast. It also contains substances that may relieve inflammation and reduce fever, improve sugar and cholesterol levels, and stimulate the uterus and menstrual flow. Lemongrass tea may offer anxiety-reducing properties as well.
Recipe Using Lemongrass
---
Wish to learn more about Japanese cooking? Sign up for our free newsletter to receive cooking tips & recipe updates! And stay in touch with me on Facebook, Pinterest, YouTube, and Instagram.