Local food guide: Champon, sara udon, castella, and toruko rice are some of the iconic food to try when visiting the historic port city of Nagasaki.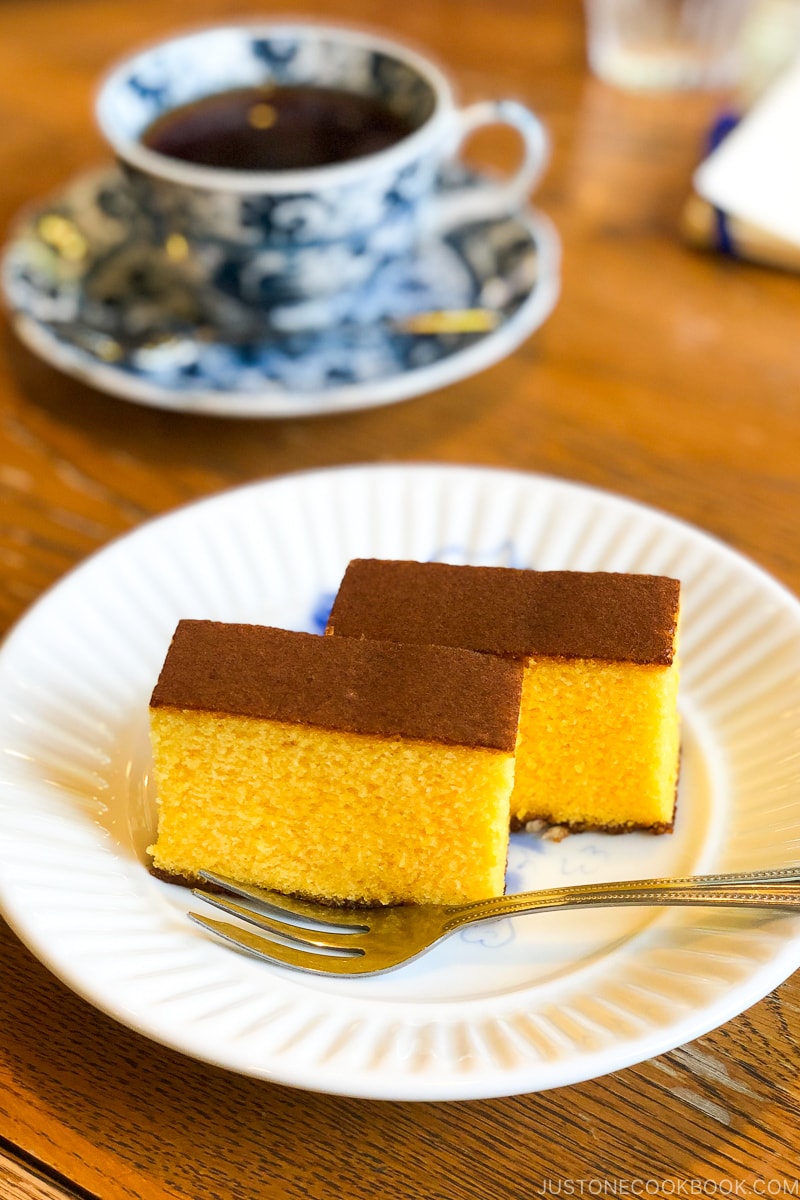 Nagasaki's food is one of the most interesting in Japan. As one of the few ports opened to foreigners during Japan's period of isolation, the diverse Nagasaki cuisine reflects a confluence of cultures.
The ancient trading port was also the trailhead of Sugar Road in Japan, which in turn introduced the use of sugar to local cooking, and its influence greatly extended to the Japanese cuisine it is today. When we visited Nagasaki, we couldn't wait to try all the iconic food it's known for.
Nagasaski Food – Champon and Sara Udon
You can't talk about Nagasaki food without mentioning champon and sara udon. Both of these renowned Japanese noodles dishes were created at Shikairou Chinese Restaurant (founded 1899) in Nagasaki.
The current Shikairou Chinese Restaurant (四海樓) is an impressive five-story building with a souvenir shop on the first floor, a champon museum on the second floor, and dining rooms on floors three through five.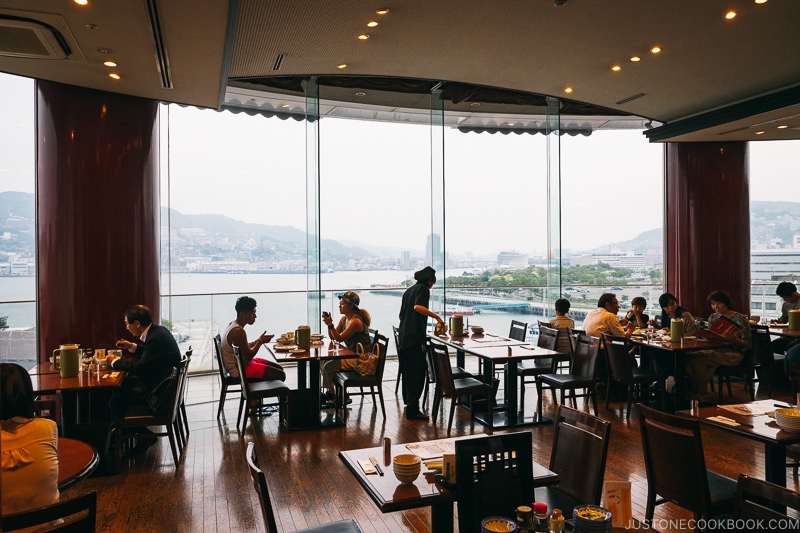 The fifth-floor dining room is set up with standard tables and chairs but offers a sweeping grand view of Nagasaki Bay with floor to ceiling glass windows. Not knowing what to expect, we were taken by surprise when the famous noodles dishes are only USD$10 each on the menu.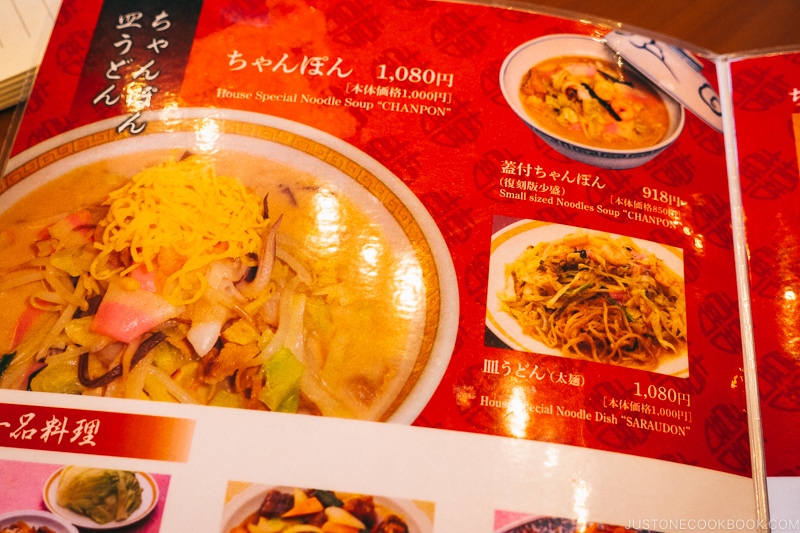 The restaurant's menu explains the origin of the two dishes. Champon was created by the founder of Shikairou Chinese Restaurant (Heijun Ching) to feed the poor Chinese students a nutritious dish for a low price in the early 1900s. Ching subsequently created sara udon by using similar ingredients as champon, but with less soup. The ingredients are stir-fried and coated with a slurry sauce, and then poured over the noodles.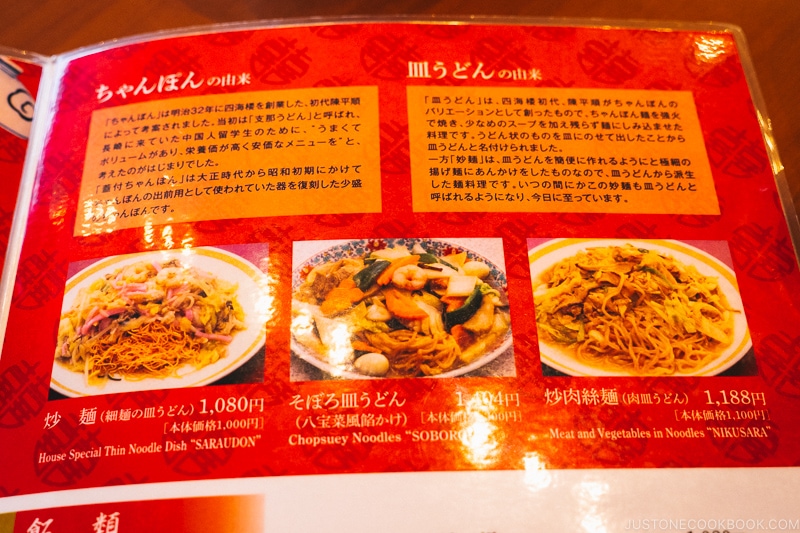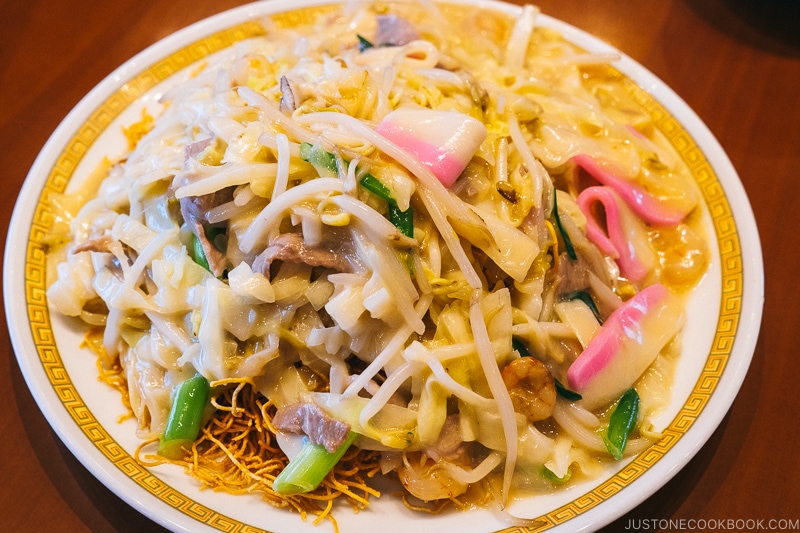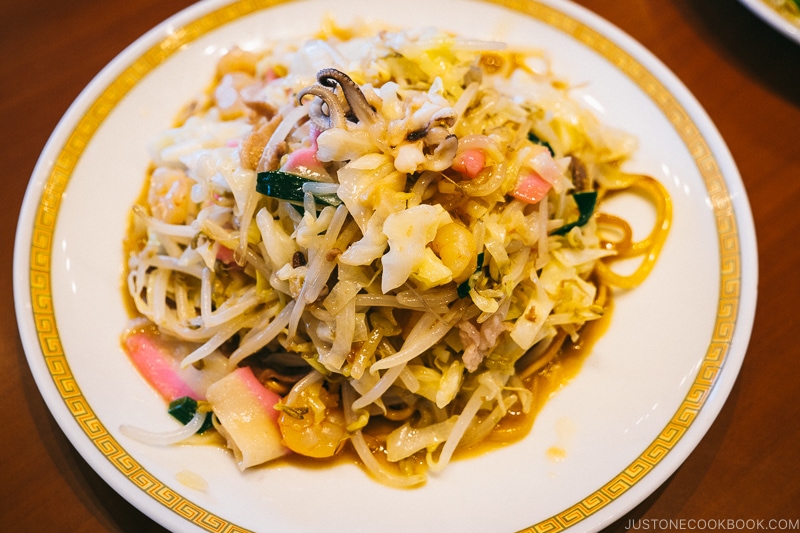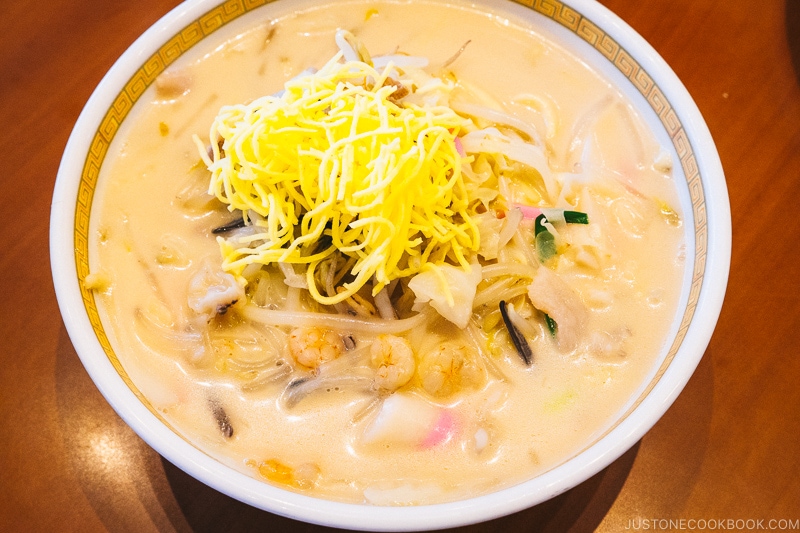 So how were the noodles? To be honest, it was a bit of a letdown. The flavors were plain and there wasn't much texture to the noodles or the ingredients. We were expecting bold broth flavors with more depth and a tasty combifnation of meat and vegetables.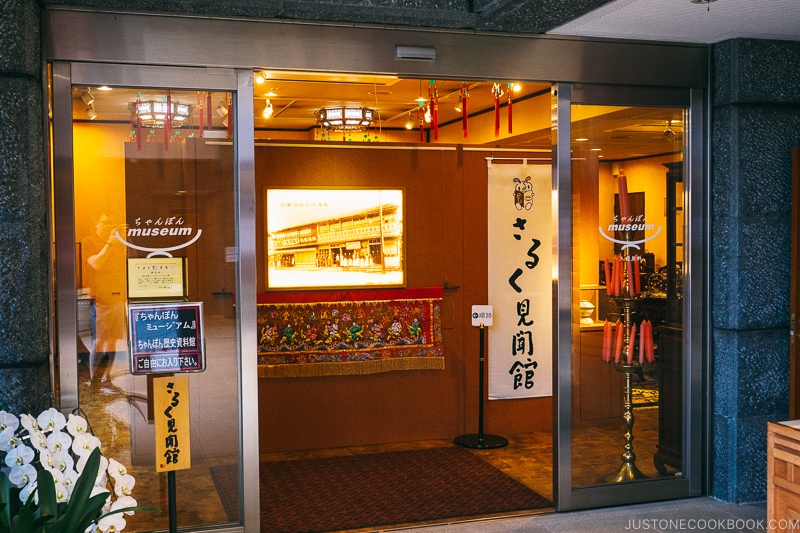 Champon Museum
After dinner, we stopped by the champon museum on the second floor.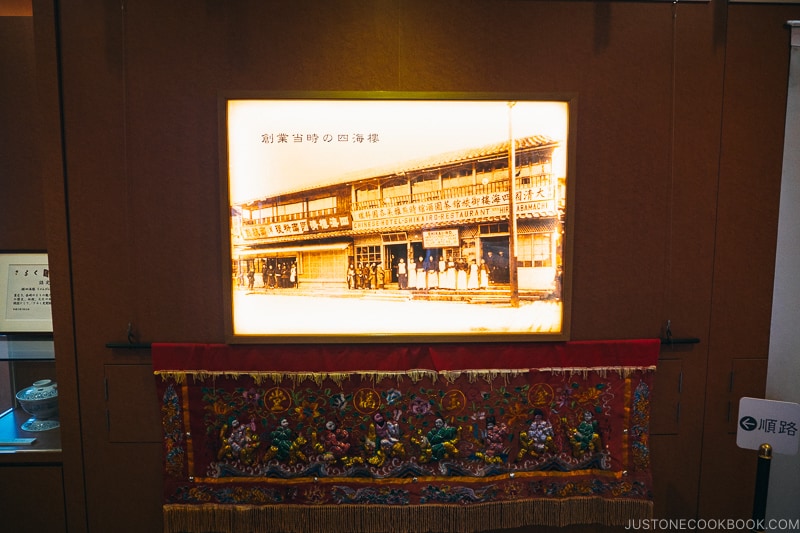 The champon museum contains previous images of the restaurant and key events that have happened there. You can find a detailed explanation of the origin of the dish.
"Champon" was derived from the Chinese Fukenese dialect "cha pon" which meant "did you eat yet". It's a common greeting in the Fukenese language.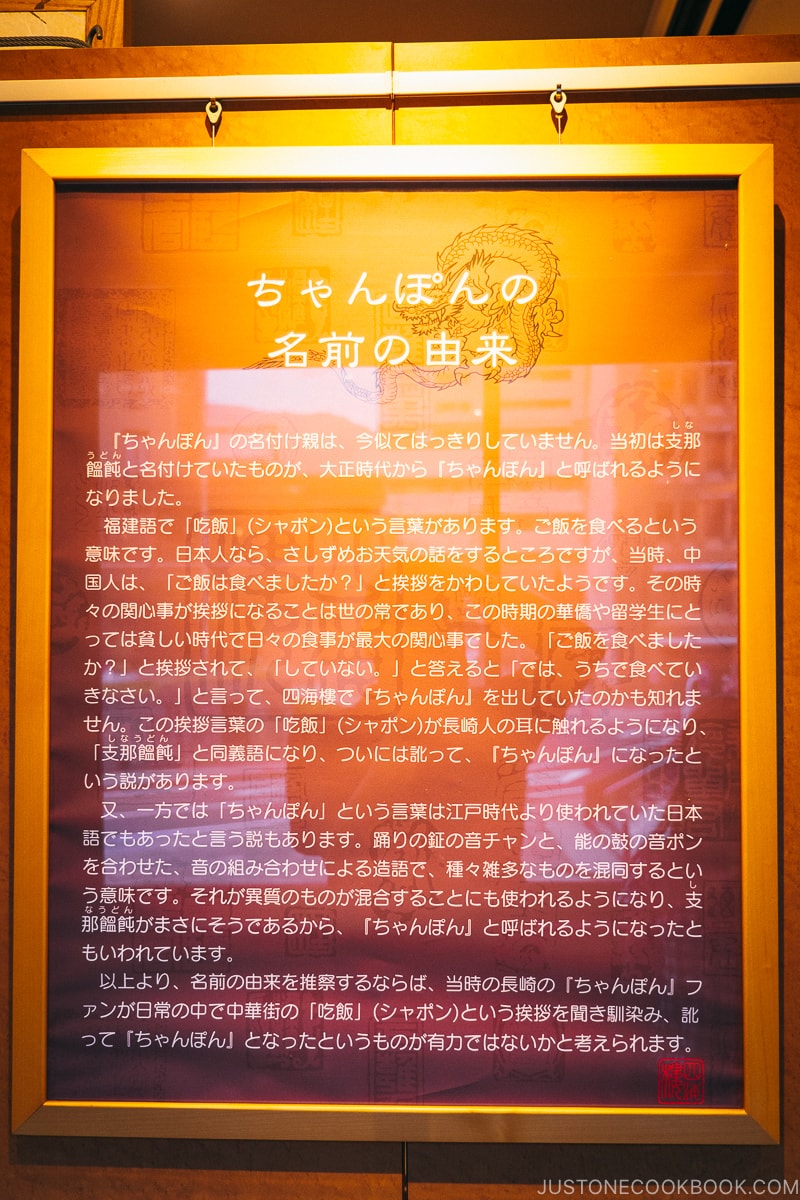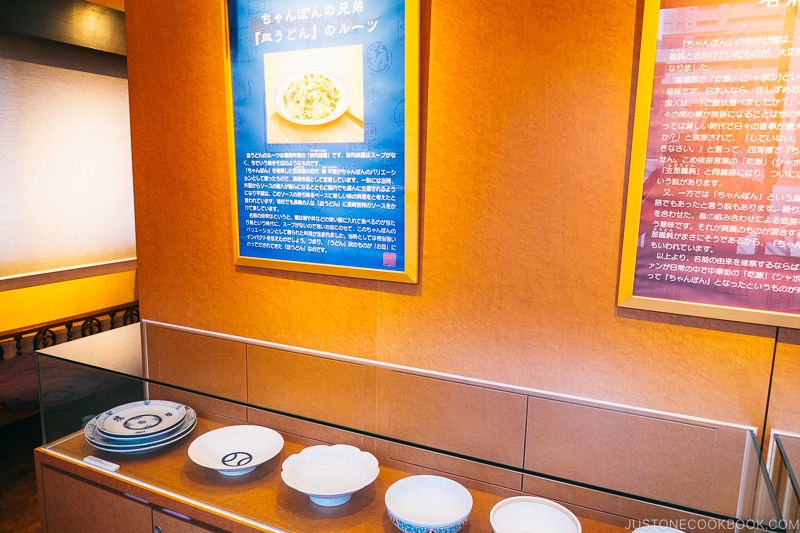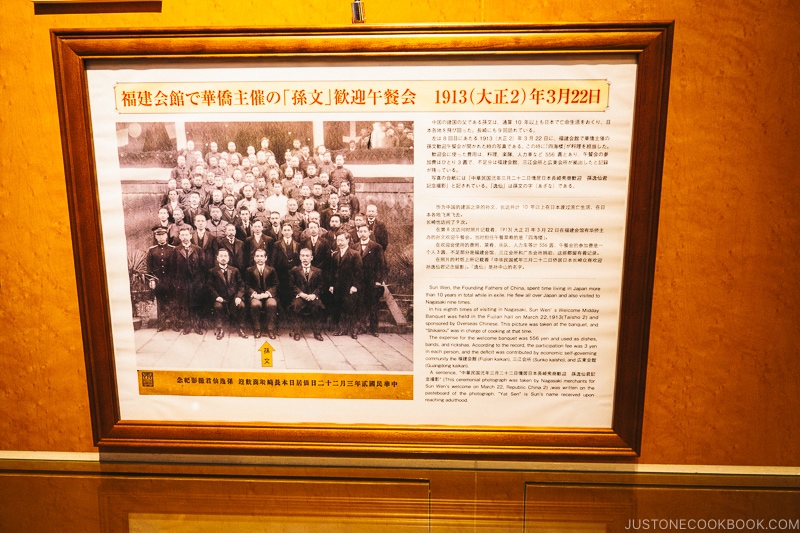 Shikairou Chinese Restaurant openly shares its ingredients and recipe for making champon in the museum. The main ingredients are pork, squid and seafood, and cabbage. The broth is made from chicken and pork, and two types of soy sauce and lard for seasoning. Stir-fry all the ingredients and pour in the soup, lastly add the noodles.
You can find Nami's Champon recipe on the blog, which in my humble opinion, has so much better texture and flavors.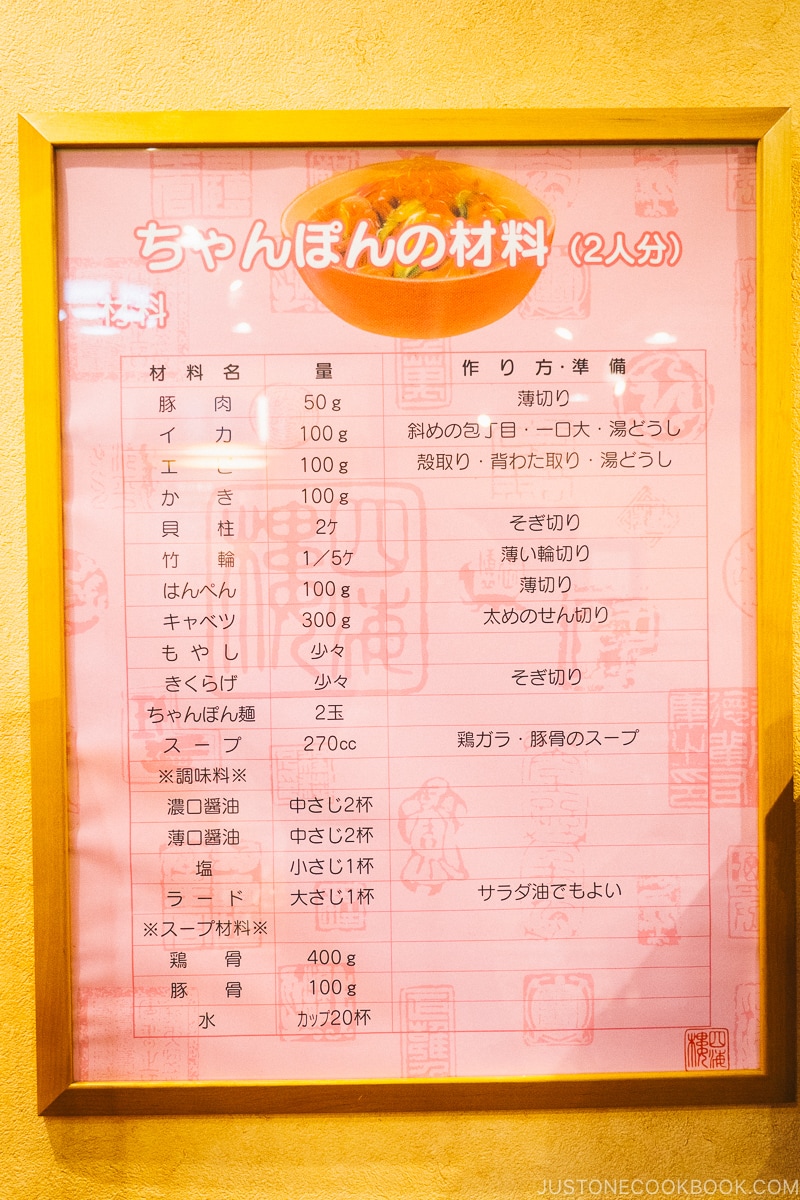 The ingredient list for Shikairou Chinese Restaurant's champon recipe
Nagasaki Castella Cake
When it comes to sweets, Nagasaki is most famous for castella cake. There are three popular castella stores in Nagasaki, Fukusaya (福砂屋), Shooken (松翁軒), and Bunmeido (文明堂). Both Fukusaya and Shooken trace their history back to the 1600s and Bunmeido started in the early 1900s. You can find usually find one of three castellas in airports and gift shops in Japan.
Nagasaki's castella cake originated from Portuguese's Pão de Castela (Portuguese sponge cake) and was brought to Japan by Portuguese merchants in the 16th century. However, today's Nagasaki castella cake and Pão de Castela are quite different.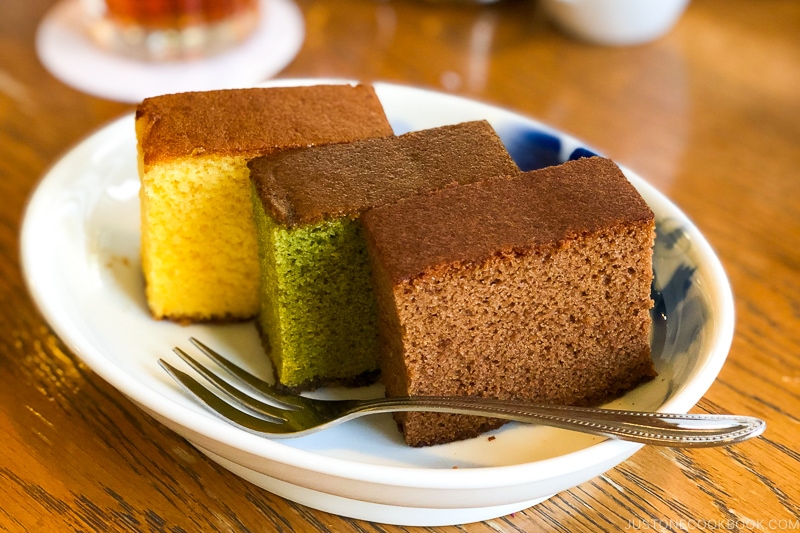 Fukusaya Castella 福砂屋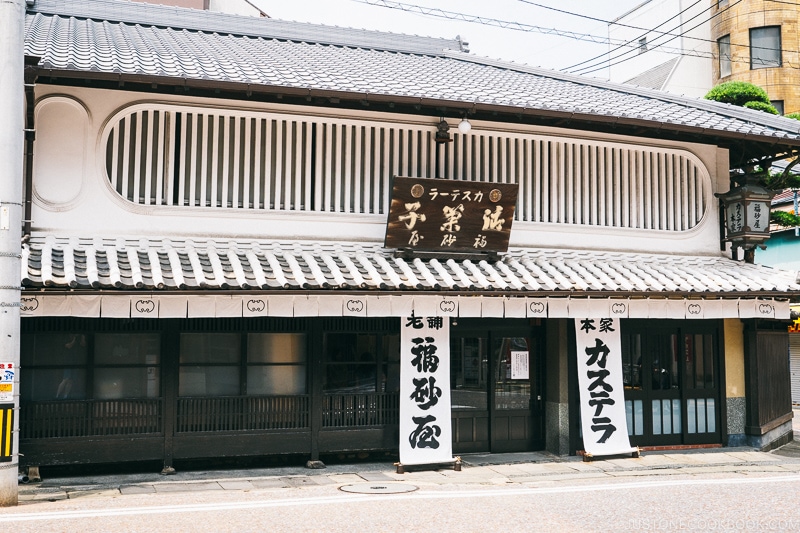 Fukusaya is the oldest Nagasaki castella shop founded in 1624. Their product selections are very simple, a few varieties of castella cake, Hollander cake (chocolate castella cake with walnut and raisin), and monaka.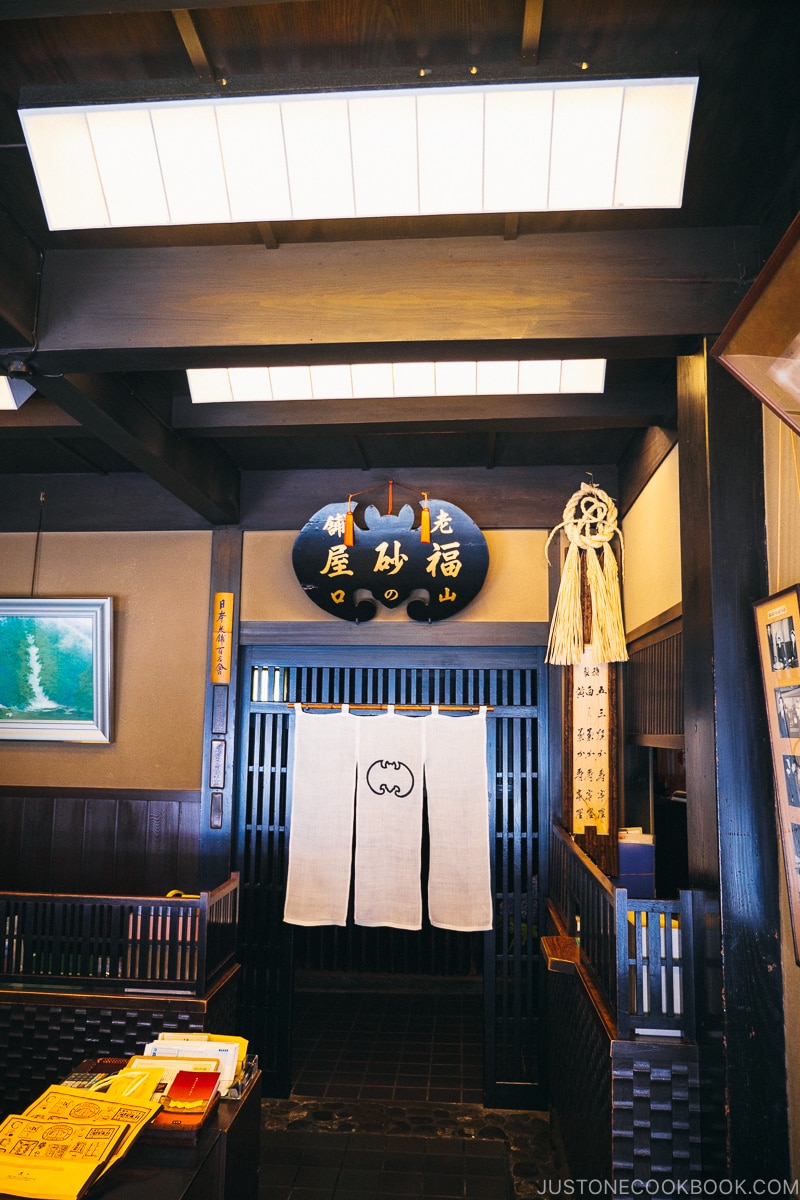 The interior of the store is traditional, accented with dark wood and cloth curtains. The logo for Fukusaya is a bat, which symbolizes good luck.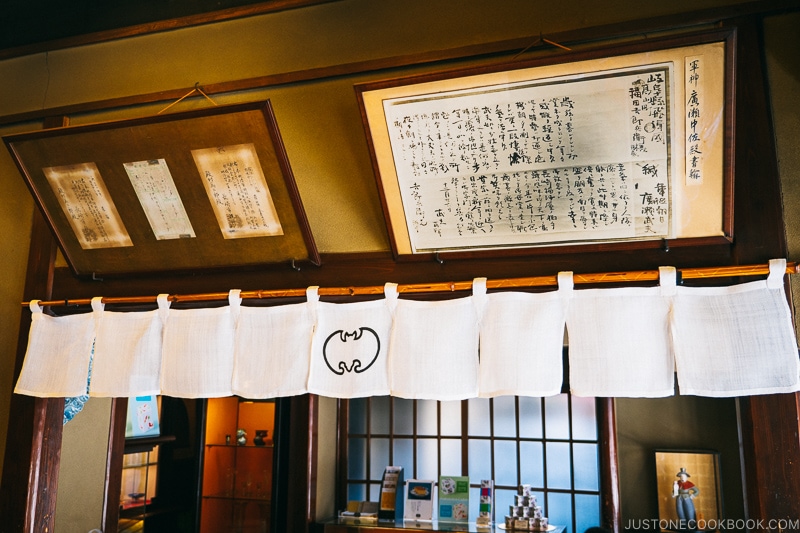 There is no seating area or space for eating castella cake in the store so we purchased a few selections to eat later.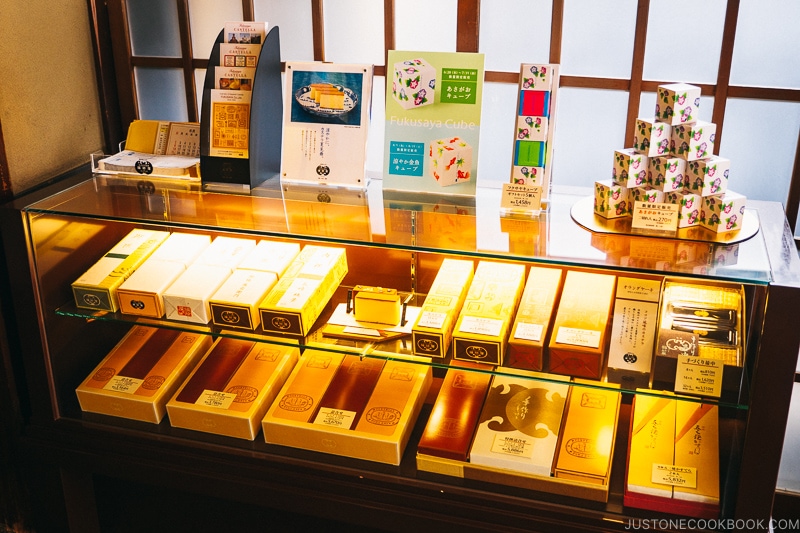 Shooken Castella 松翁軒
The second castella shop we visited was Shooken. Shooken is not as well known as Fukusaya but its long history goes back to 1681.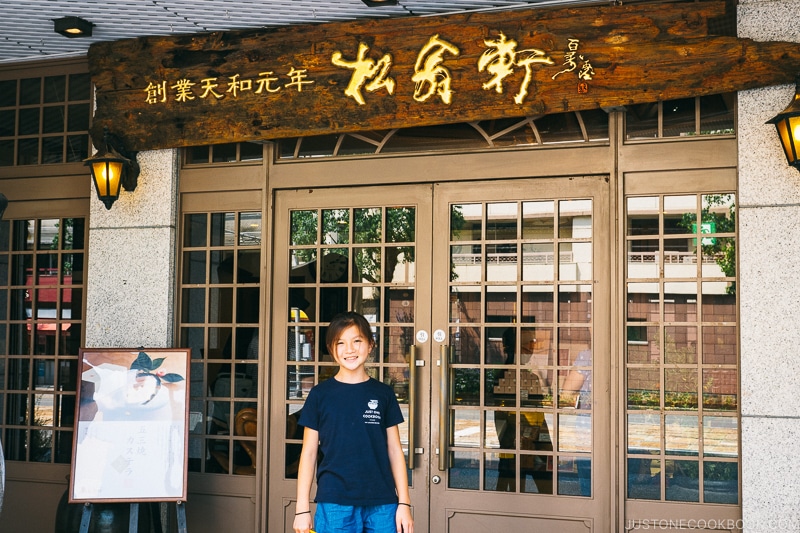 Compared to Fukusaya, the store's interior is more brightly lit and cheerful. The first floor is the retail store and there is a cafe on the second floor that serves, you guessed it, castella cakes! It made our day as we were looking for a place to sit and charge up.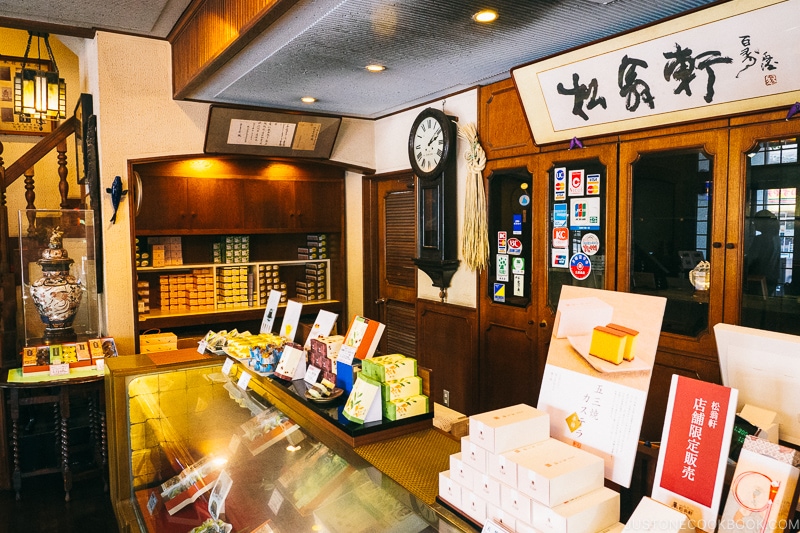 There are European influences on the decorations in the store and the cafe on the second floor.
In the cafe, beside tables and chairs, there are glass shelves and display cases with antique porcelains and glassware.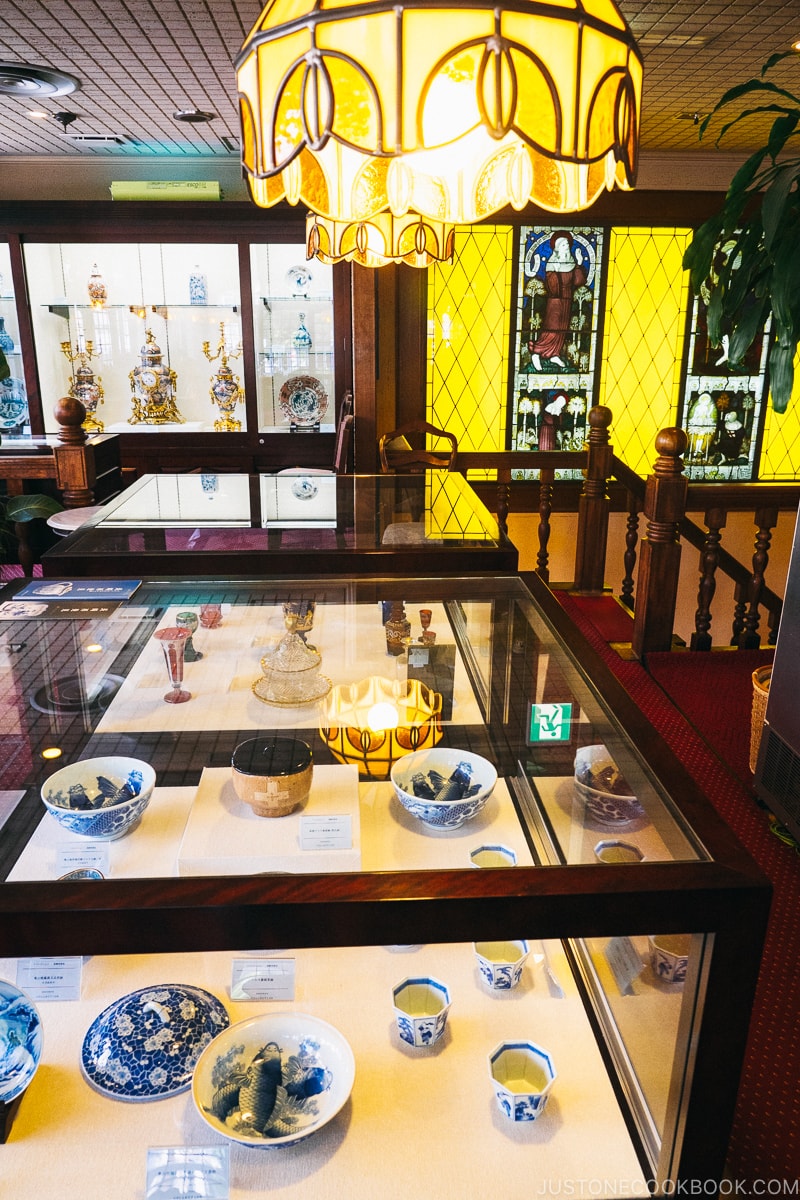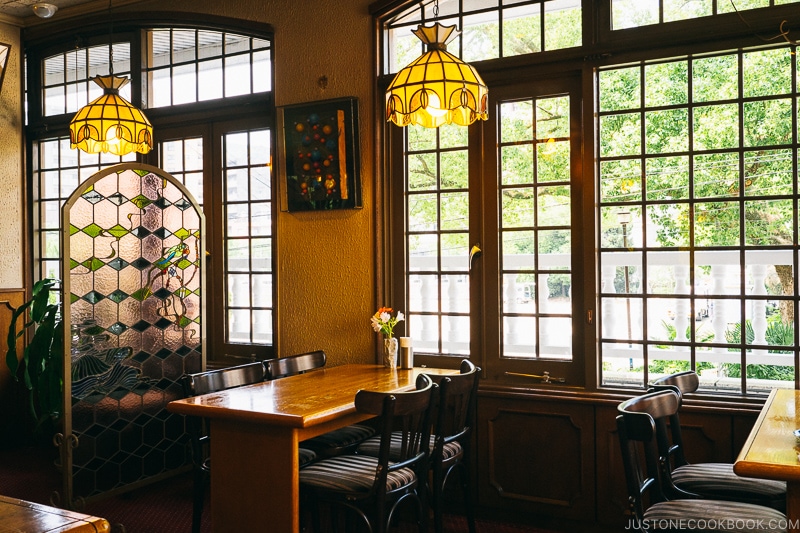 We tasted many castella cake at Shooken including chocolate, matcha, regular castella, and "gosanyaki" castella (五三焼). Gosanyaki castella have more egg yolk and sugar and less egg whites compared to regular castella. The flavorful is sweeter and richer and we highly recommend it. All the castella cakes were really good.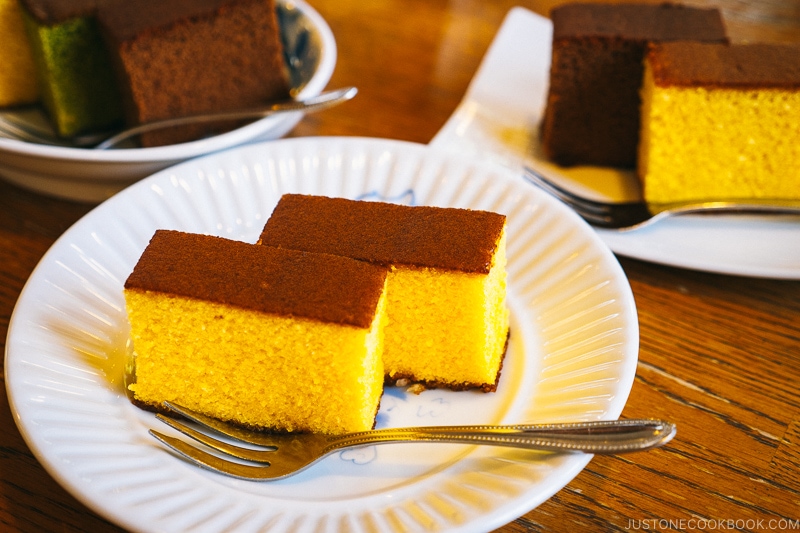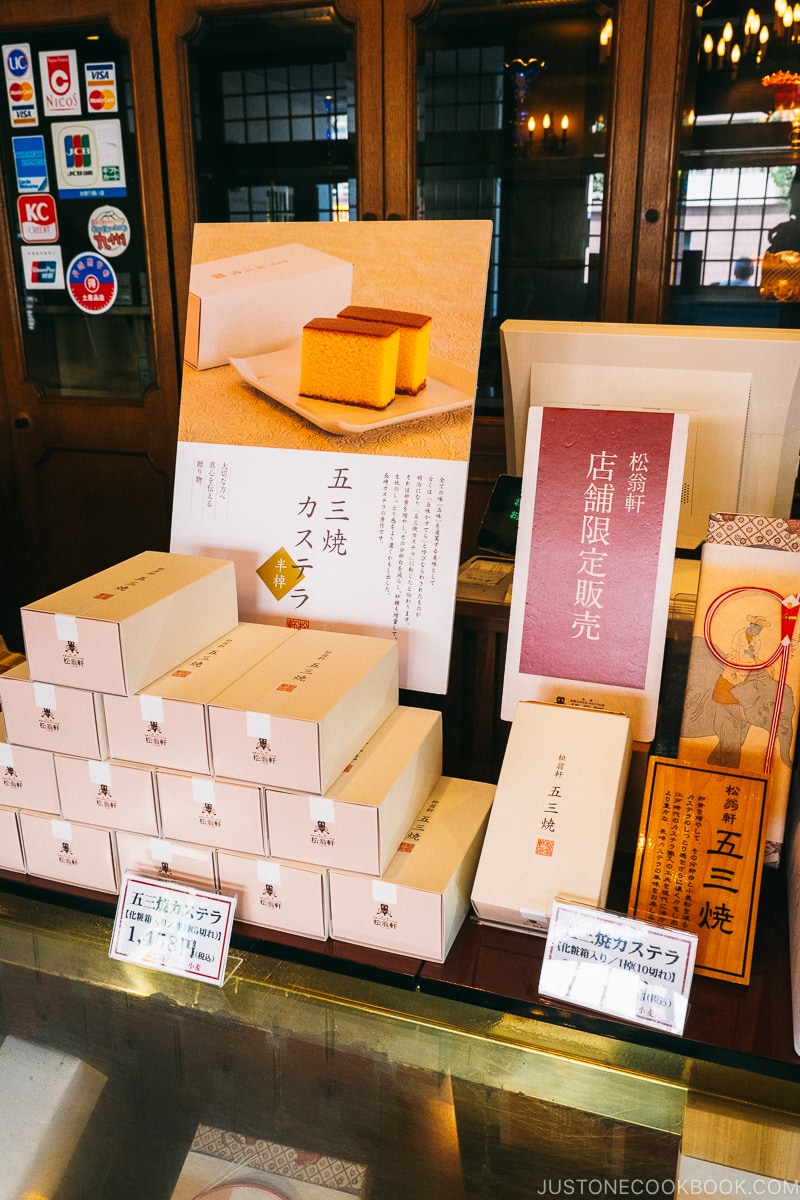 Which shop serves the best castella? Fukusaya's castella have a finer texture compared to Shooken, but Shooken's has larger sugar crystals on the bottom which gives it a unique texture. The truth is both are really good so try both of them if you can.
Bunmeido 文明堂
The third famous castella shop in Nagasaki is Bunmeido. We did not get a chance to try their castella cake. However, it is the most widely available throughout Japan so we'll try on a future trip and provide the update then.
Nagasaki Food – Toruko Rice (Turkish Rice)
The title of most mysterious Nagasaki food belongs to Toruko Rice. There are many yoshoku restaurants in Nagasaki that serve the dish but no one really knows the origin. We tried Toruko rice at the most well-known establishment Tsuruchan (ツル茶ん). Tsuruchan opened in 1925 and is the oldest western cafe in Nagasaki.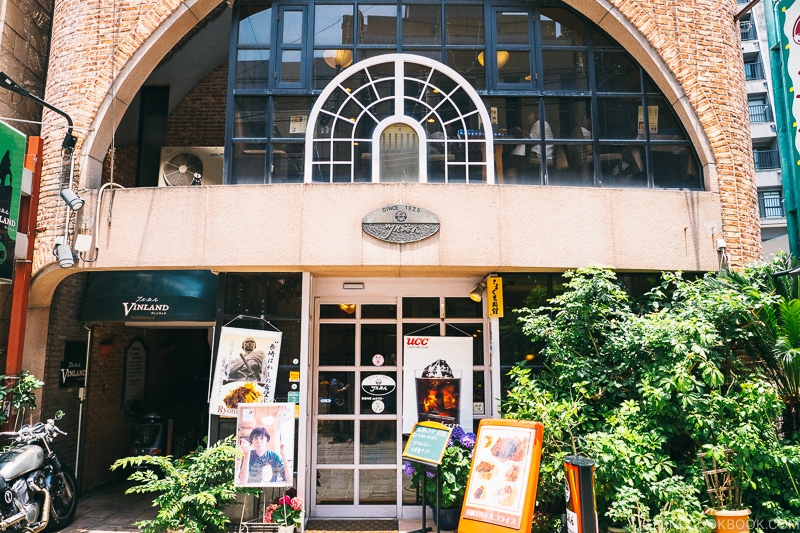 The interior of Tsuruchan restaurant is filled with old posters, and in case you visit, be warned that the space is really small. There's not much room between tables and guests.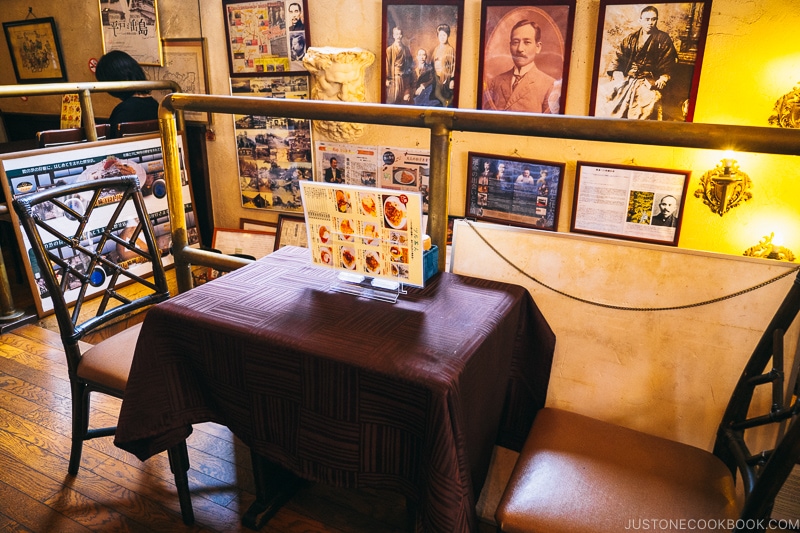 So what is Toruko rice? It's butter rice with vegetables (rice pilaf), curry pork cutlet, and Japanese napolitan spaghetti on one plate. Yes, a true mish-mash food. It is very hearty but honestly not as good as we thought.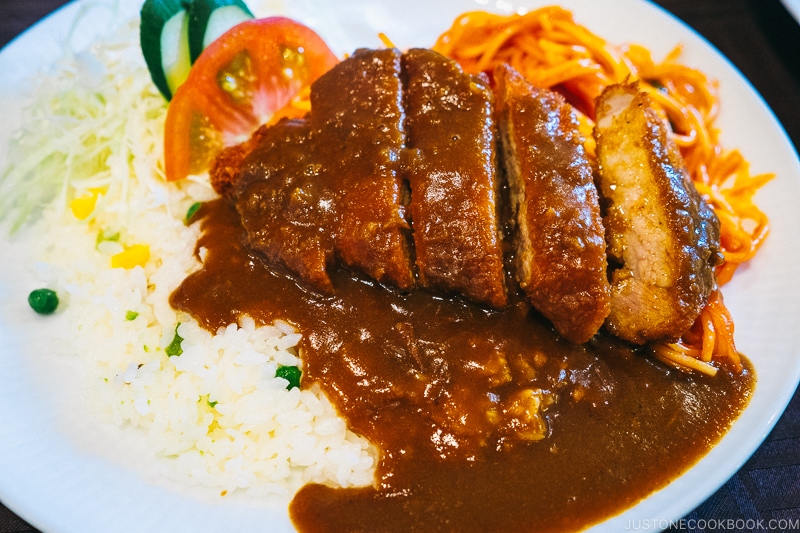 Tsuruchan offers other dishes such as Ryoma style Toruko rice and beef curry.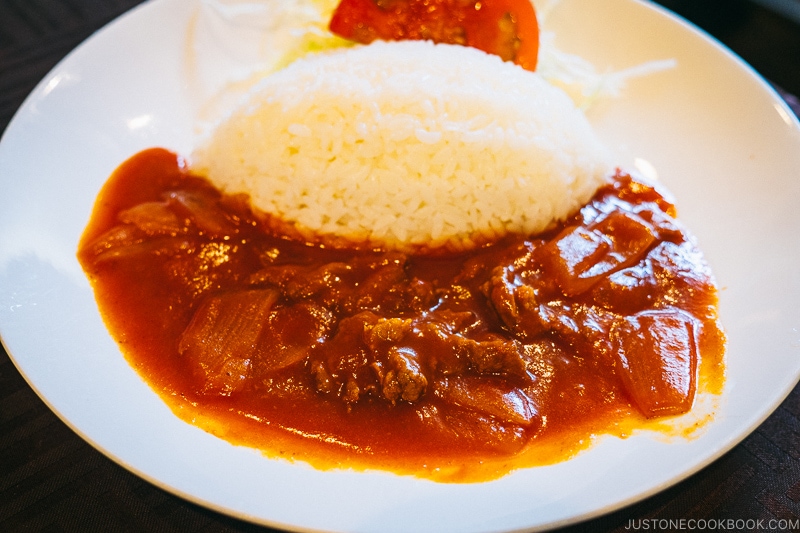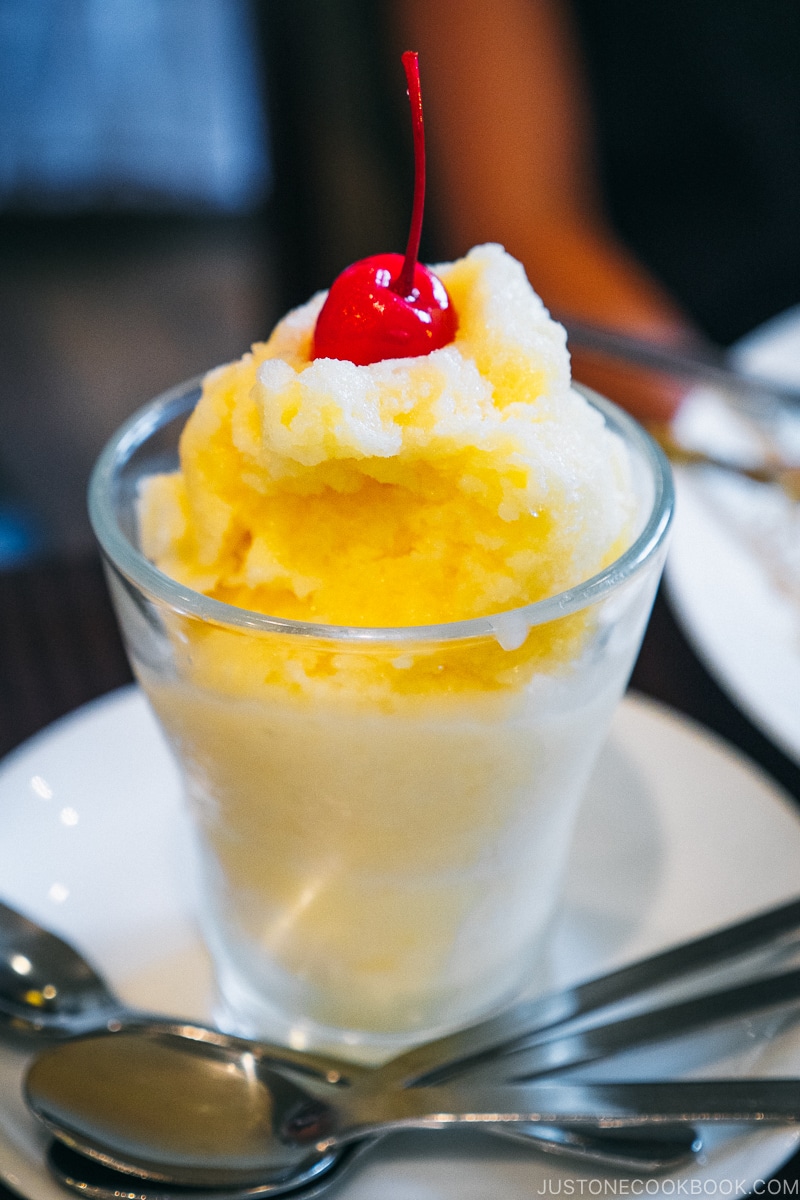 Goto Udon
The last regional dish we want to share with you is Goto udon (五島うどん). These hand-pulled udon noodles are from Goto Island and have a silkier and lighter texture compared to the standard sanuki udon. The noodles are thinner yet still have a great chewy texture. We got to enjoy the goto udon at the Nagasaki Airport right before leaving Nagasaki.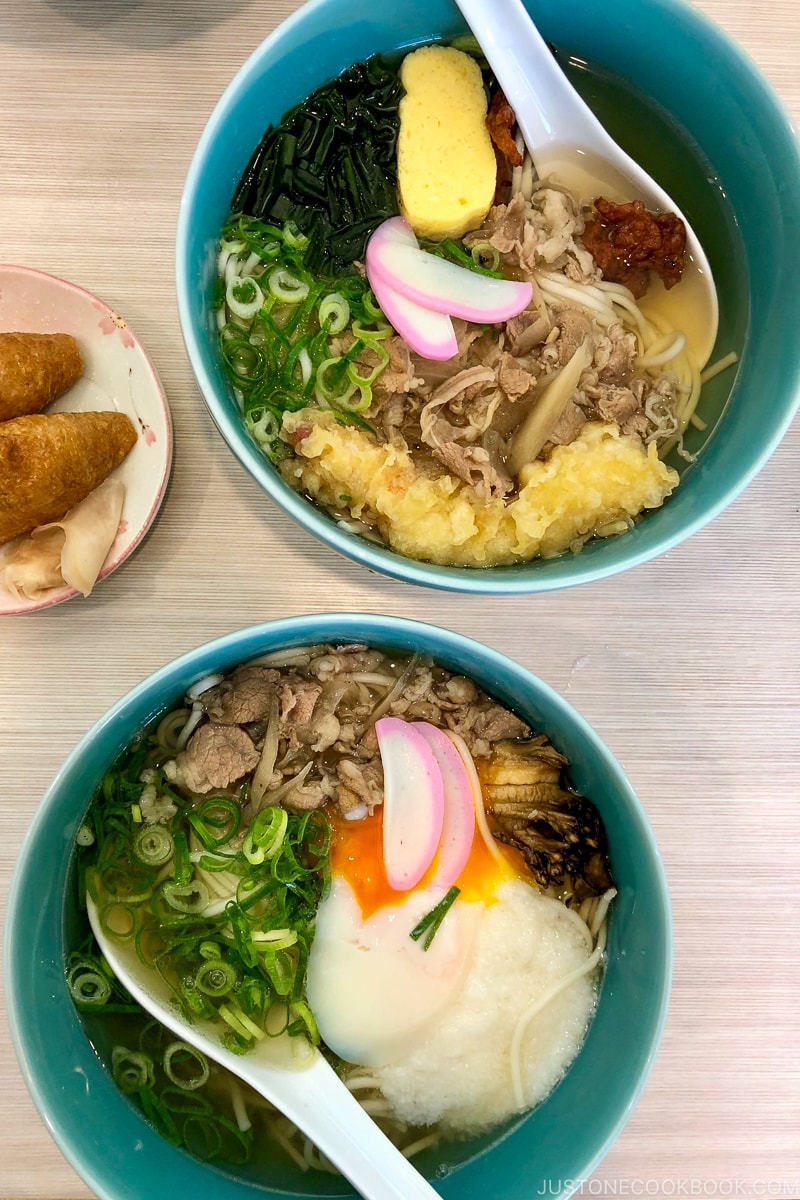 Dejima Asa
After a series of disappointment with champon, sara udon, and toruko rice during our exploration, we decided to try a popular local izakaya for our second dinner.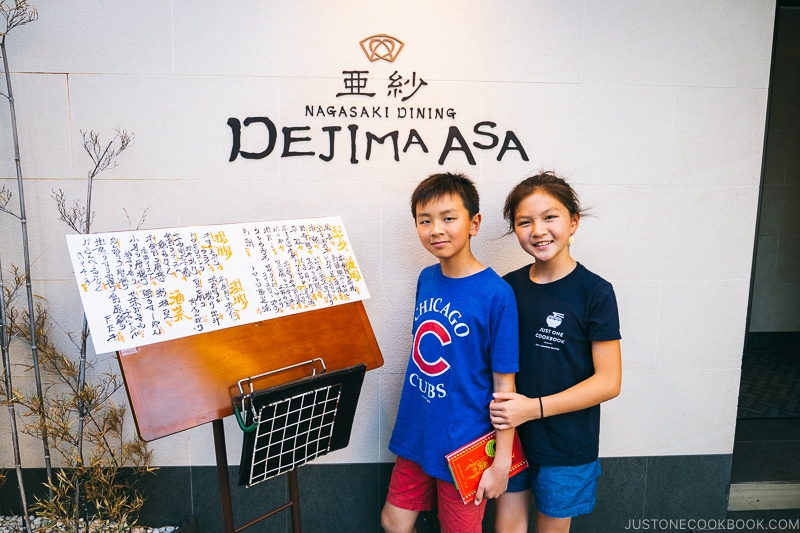 The Asa group runs several restaurants in Nagasaki and Dejima Asa offers a variety of local and popular izakaya dishes.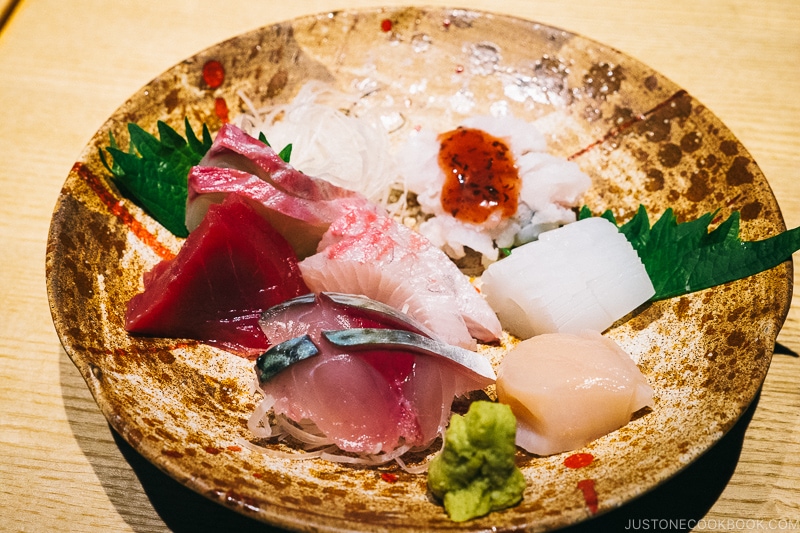 The meal was good and a saving grace from our previous eats. There were several unique dishes we tried such as fish paste stuffed inside the bread, and then deep-fried.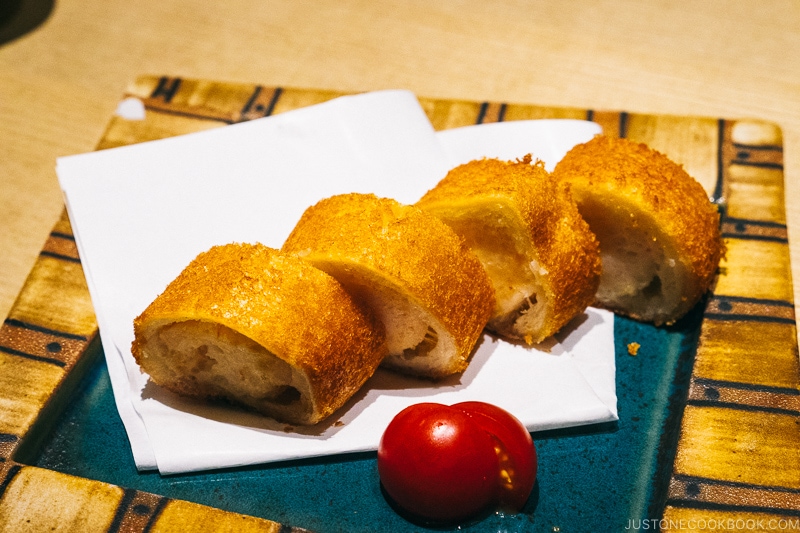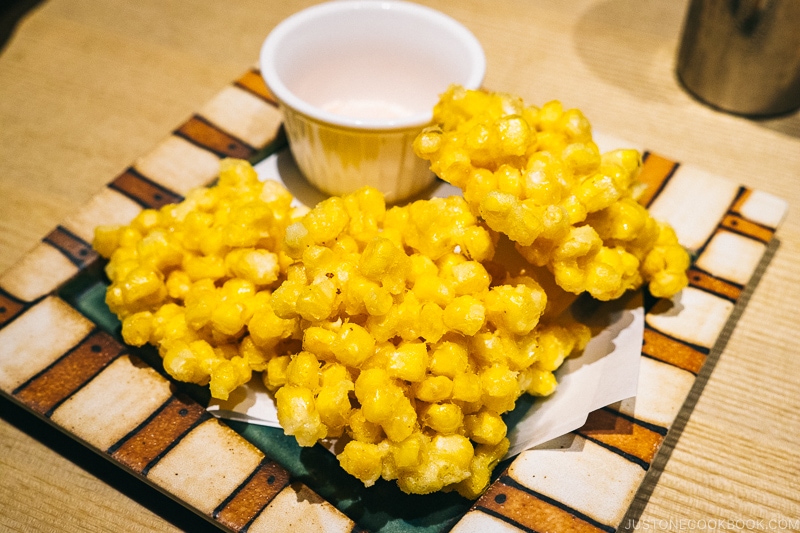 One of the dishes we had was kakuni, a braised pork belly stew of Chinese-origin, and we learned it was invented in Nagasaki.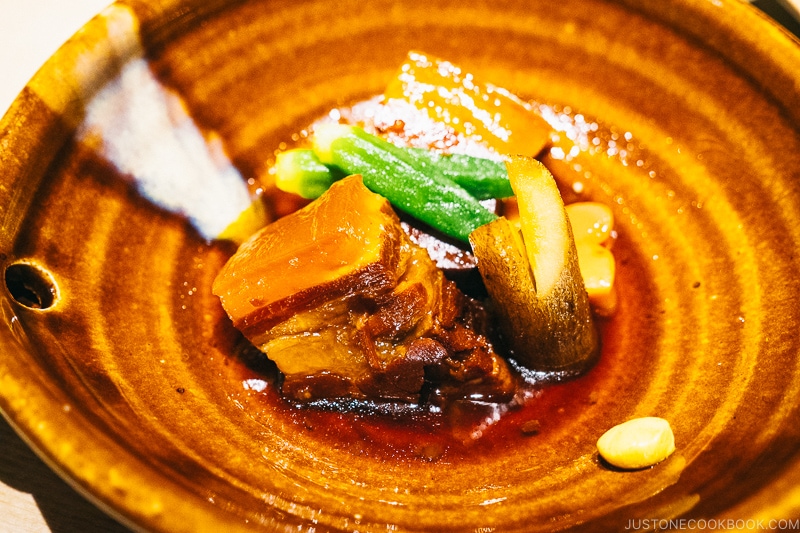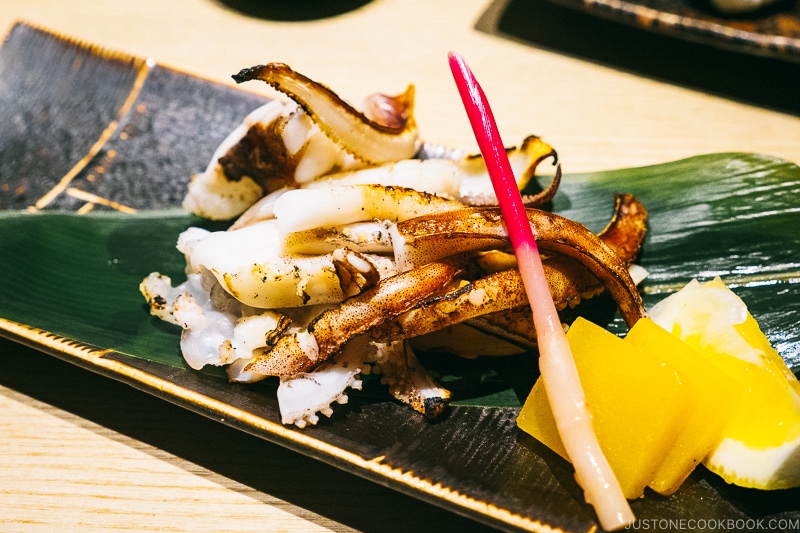 We had fun exploring the unique food culture in Nagasaki but rather disappointed with the subpar quality of the famous regional foods. Most of the foods we try all across Japan are mostly satisfactory, and if not, exceptionally top-notch. Perhaps we've set our expectations too high!
The castella cakes, on the other hand, truly lived up to its reputation. It's very difficult to achieve the refined texture and flavor at home that Fukusaya and Shooken offer.
If you have dined at the above restaurants, tell us your experience in the comments below. Did you have other recommendations besides these establishments?
As always, thank you for reading our food adventure in Nagasaki! This wraps up our series on Kyushu travel posts.