Huis Ten Bosch is a popular Dutch Town theme park in Nagasaki. Take a leisurely stroll to enjoy blooming flowers and charming windmills, and be dazzled by the light displays and fountains on the canal cruise. And as you might expect in Japan, this park just happens to be a playground for visitors into VR, robot fighting, and digital gaming.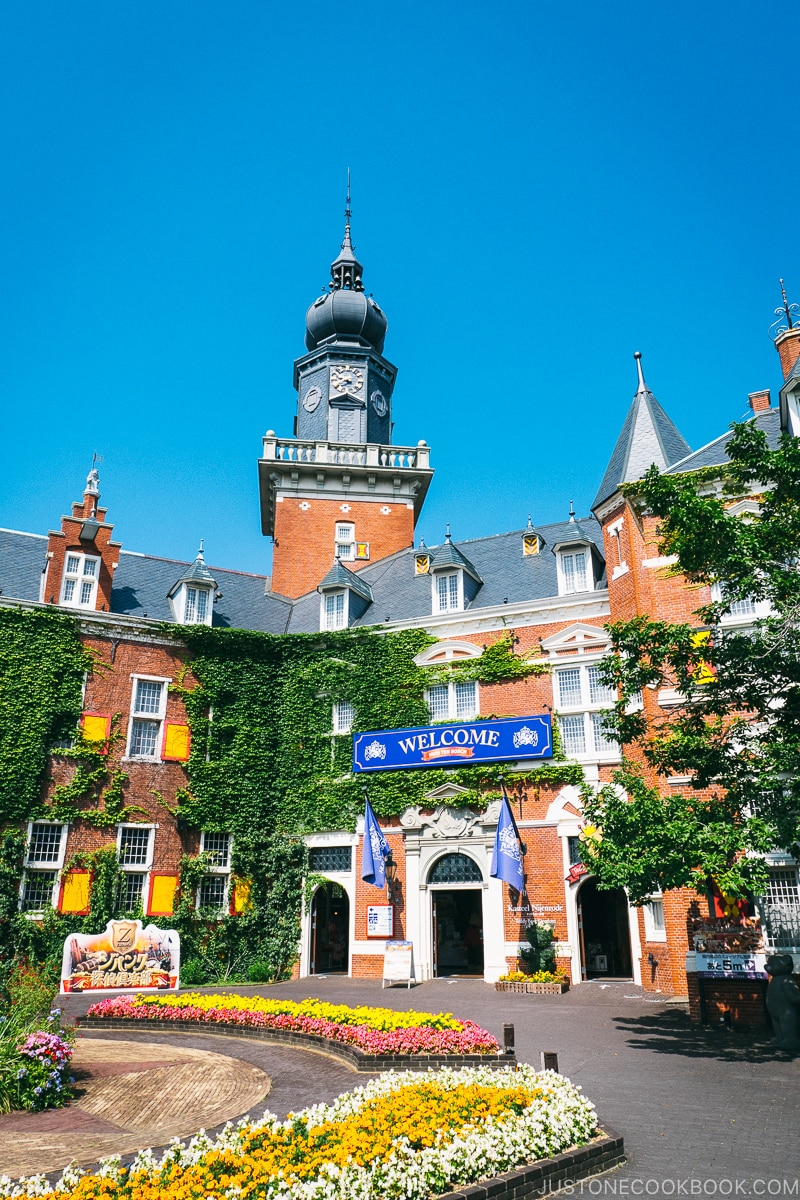 We spent a day at Huis Ten Bosch amusement park in Sasebo on the way to Nagasaki from Arita. Our children were courteous enough to spend two days porcelain shopping with us so this was our way of saying thank you for their patience.
Our family had a lot of fun at Huis Ten Bosch even though it's not your typical amusement park. Ready to tour the charming and eclectic Huis Ten Bosch? Let's go!
What is Huis Ten Bosch Japan
Huis Ten Bosch is a Dutch town theme park with replica Dutch and European buildings, canals, and windmills featuring blooming seasonal flowers. It is named after one of the three residences of the Dutch Royal Family.
Huis Ten Bosch is Japan's largest theme park by area. To explore the park, there's a lot of walking so make sure you wear comfortable shoes. It is a bit different from other theme parks as there aren't any thrilling roller coaster rides. However, there are plenty of activities to do especially for families with younger children.
Where is Huis Ten Bosch
The park is located on Omura Bay on the west side of Kyushu Island. It is 30 min by train from Arita or 2 hrs from Nagasaki City (1 hr from the Nagasaki Airport).
Huis Ten Bosch Ticket Price
It is not cheap to go to Huis Ten Bosch as the ticket prices are almost the same as Tokyo Disney. As of Aug 2020, it's ¥7,000 for an adult's day pass, ¥6,000 yen for a junior, and ¥4,600 for a child's ticket.
Huis Ten Bosch Attraction Guide
Similar to other theme parks, Huis Ten Bosch is divided into several areas. However, it is not designed as a loop so visitors will have to go out of their ways to explore the various zones.
We'll briefly cover each area and the activities we enjoyed the most as a family. Keep in mind there aren't many rides at the park, and most attractions are some type of digital game or experience.
Flower Road
Adventure Park
Attraction Town
Thriller City
Amsterdam City
Tower City
Harbor Town
Palace Huis Ten Bosch
Art Garden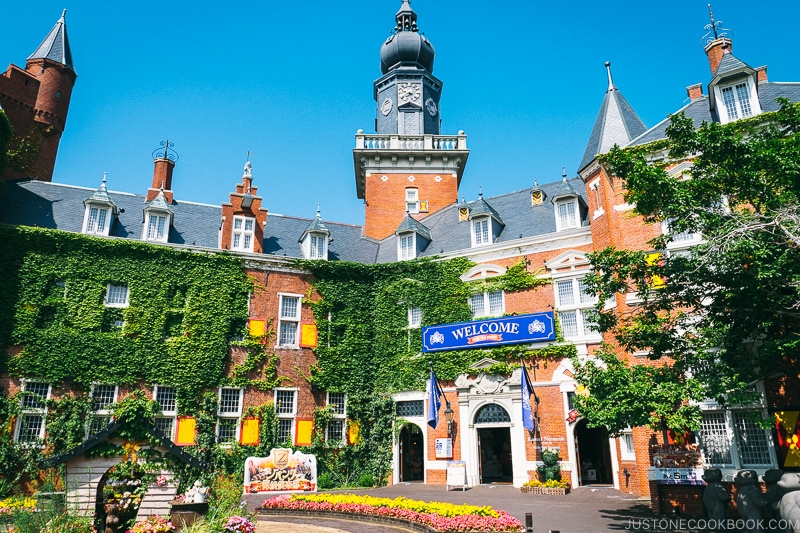 Flower Road
As soon as you enter the park, you're greeted by the large brick European style building at the welcome gate. Through the gate, sceneries of the Dutch town appears.
As you walk along the path, you are surrounded by brilliant and colorful blooming flowers, windmills, and Dutch-style buildings.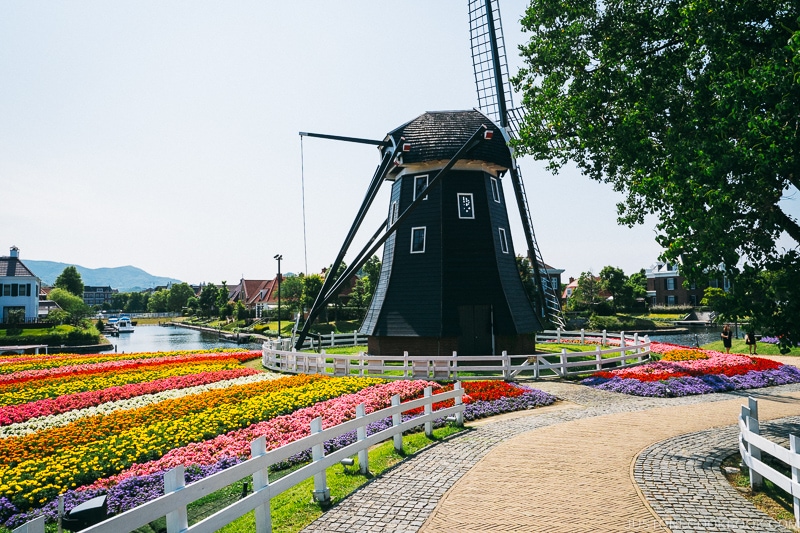 Adventure Park
We'll start our adventure at Adventure Park.
The highlight at Adventure Park was the Sky Rail Coaster Windstorm. Despite its name, the ride is very tame and suitable for young children.
Riders are strapped into a fabric seat that's hanging from a rail at the base station. The seat is then pulled about 3 stories up and then gravity does the rest. The rider glides slowly between trees and downwards back towards the station.
Other activities include a multistory maze, zipline, and sky castle suspension rope course.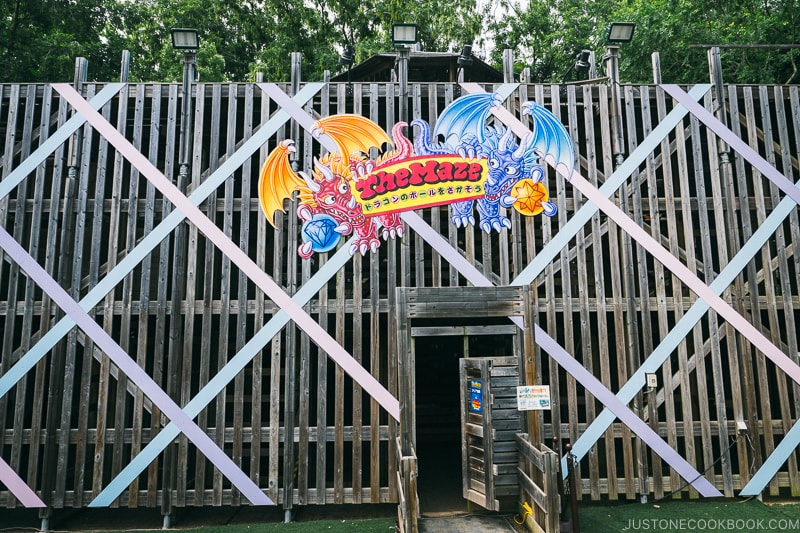 The attractions are designed with smaller kids in mind and elementary school-age children would have a lot of fun here.
Attraction Town
Next up is the Attraction Town. It is home to an assortment of VR, robot fighting, and digital gaming experiences. They were not the most fun but since there was almost no line (Japanese schools don't start summer break until late July), we went ahead and tried a few of them.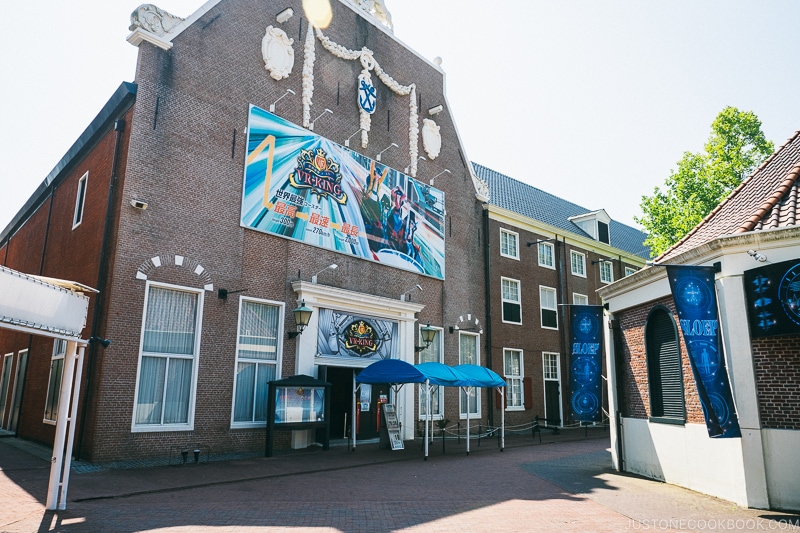 The VR King is a roller coaster ride that doesn't go anywhere. Using fans, hydraulics, and a VR headset, visitors ride on a virtual roller coaster. It wasn't horrible but doesn't come close to the real thing.
Other VR experiences include games where visitors feel as though they're flying through a city.
In Children's Robot Palace, children can battle each other driving robots and shoot at each other to score.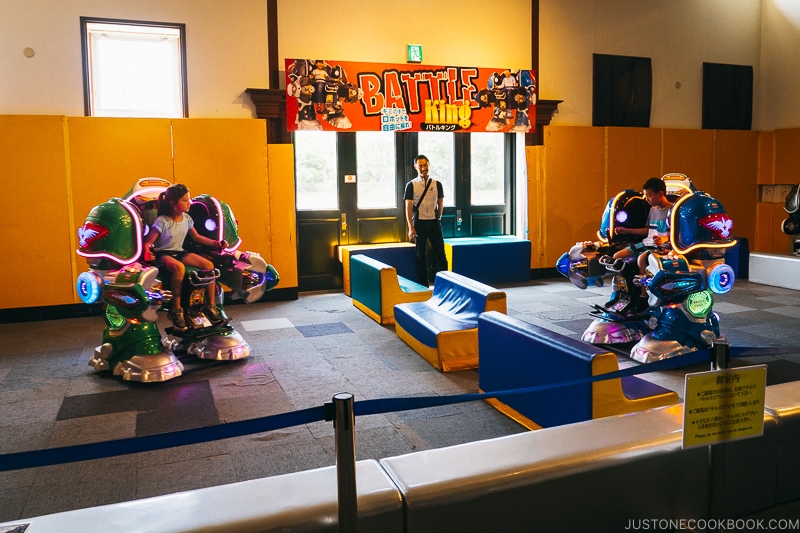 Thriller City
Moving on to Thriller City, it had a number of zombies and spooky-themed attractions. We did a zombie escape room which required finding our way out with the help of a digital device.
Besides the zombie escape room, we also visited a haunted house in Thriller City. The attractions in this area might be a bit too scary for younger children.
Amsterdam City
Amsterdam City is located in the center of the park and home to many souvenir shops, restaurants, and performances at night.
What was our favorite activity in Amsterdam City? The popular fishing game Tsuri Spirits! Our son absolutely loves this fishing arcade game in Japan and they had one the size of a small theater!
Usually, eight players can play together on a standard machine but here thirty players can play at the same time. Needless to say, we spent quite a bit of time there trying to catch mega-fish.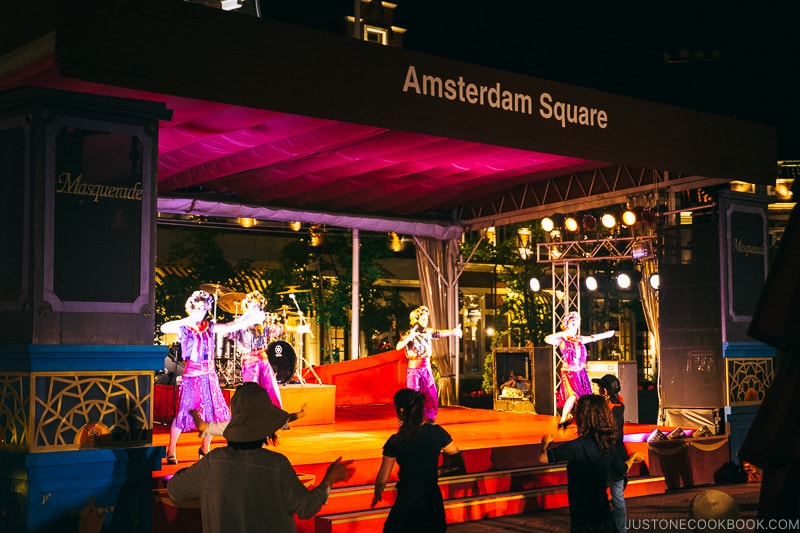 Tower City
The one building visitors can't miss at Huis Ten Bosch is Domtoren in Tower City. Visitors can see the surrounding area unobstructed from the observation platform at the top of Domtoren 260 feet up (80 meters).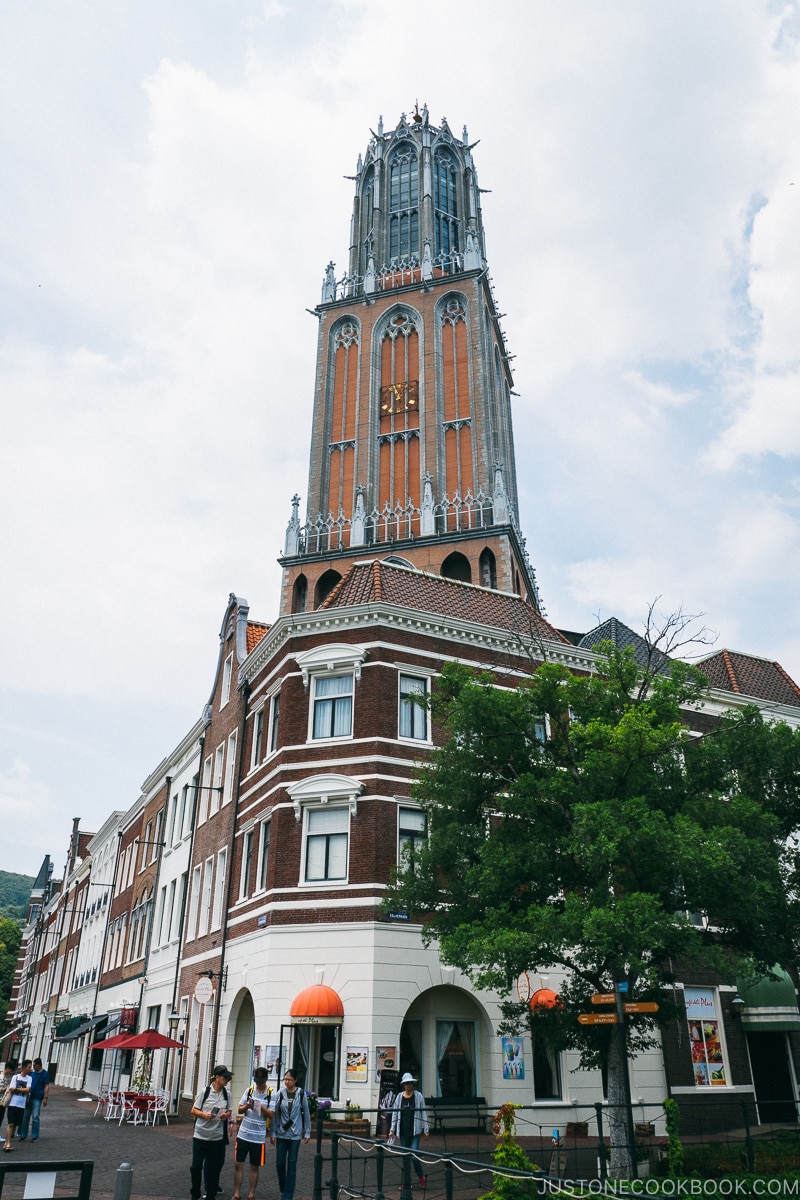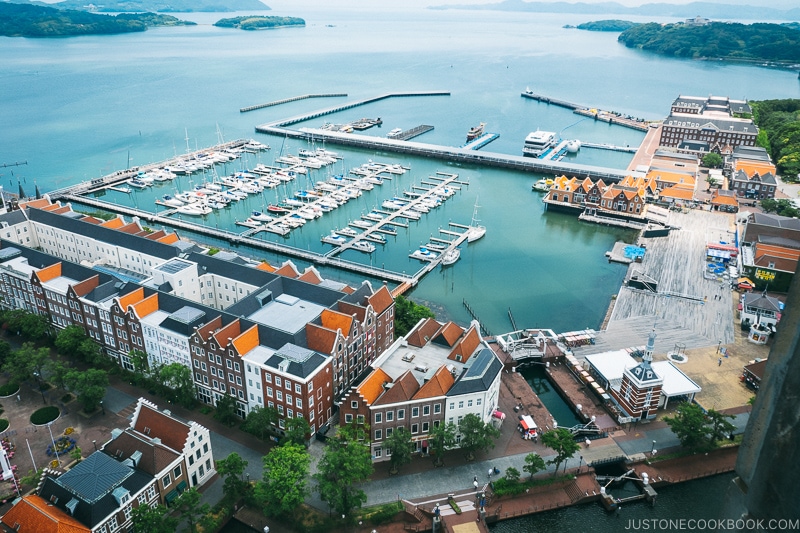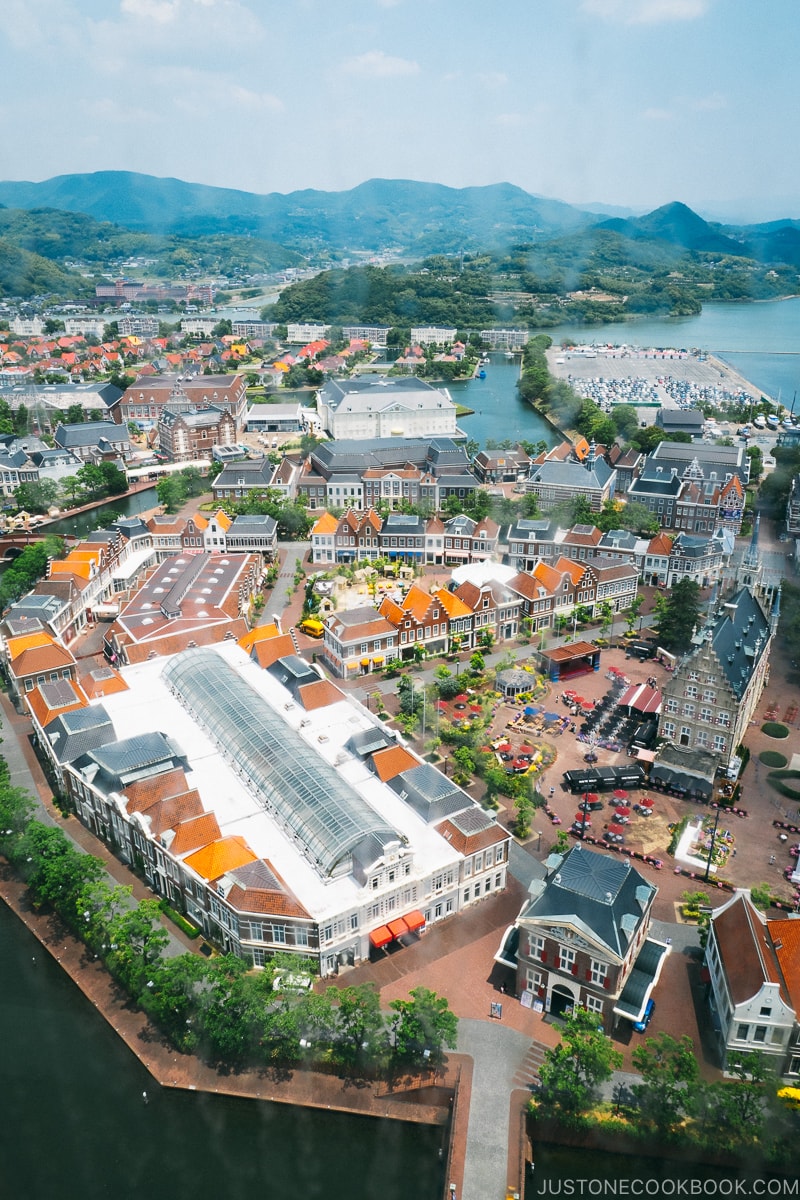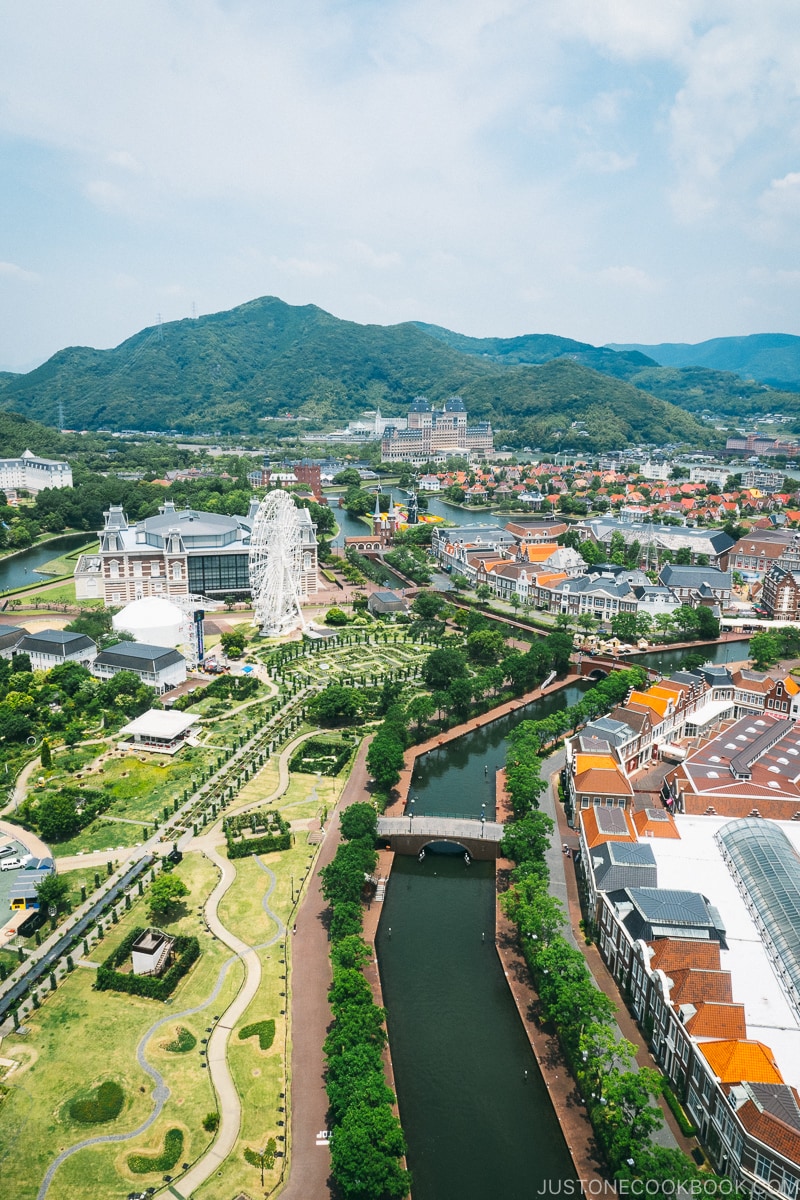 Canal Boat Ride
Visitors can take a canal boat ride that circles the park and it's a good opportunity to rest your legs and enjoy the scenery.
Along the route, water fountains dance to music and at night the canal is lit up with lights.
Besides the European buildings at the park, we noticed that there were many European style homes on the canal. It turns out that these are actually people's homes!
Harbor Town
Harbor Town is the southern part of the Huis Ten Bosch and encompasses a large area including Palace Huis Ten Bosch. Entertainment options in Harbor Town include a large video game arcade and Go & Go!! Sniper Game, where visitors can shoot actual bb guns.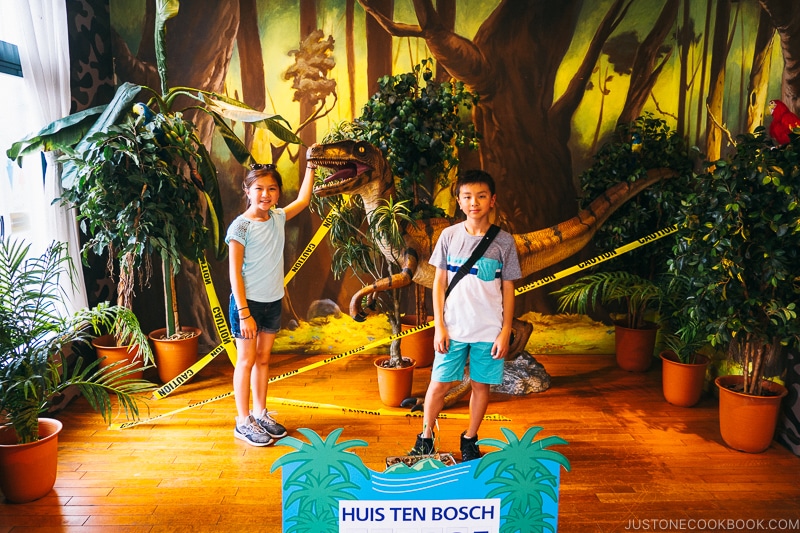 Palace Huis Ten Bosch
One of the biggest attractions in the park is the Palace Huis Ten Bosch. It's a replica of a palace in the Netherlands.
The palace houses interesting exhibits and hosts an illumination show at night.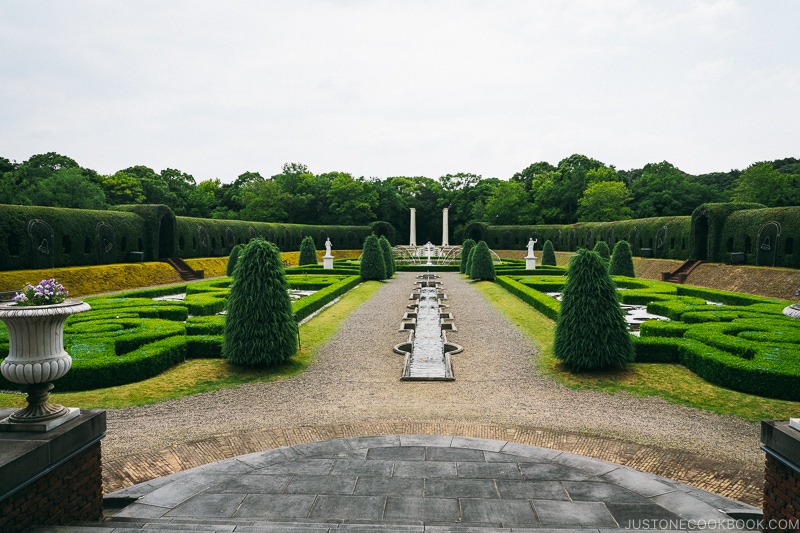 What's inside the museum? At the time we visited, one of the exhibits was large floral sculptures made of hydrangea.
Golden Castle
There was also a Golden Castle museum that featured random sculptures made of gold.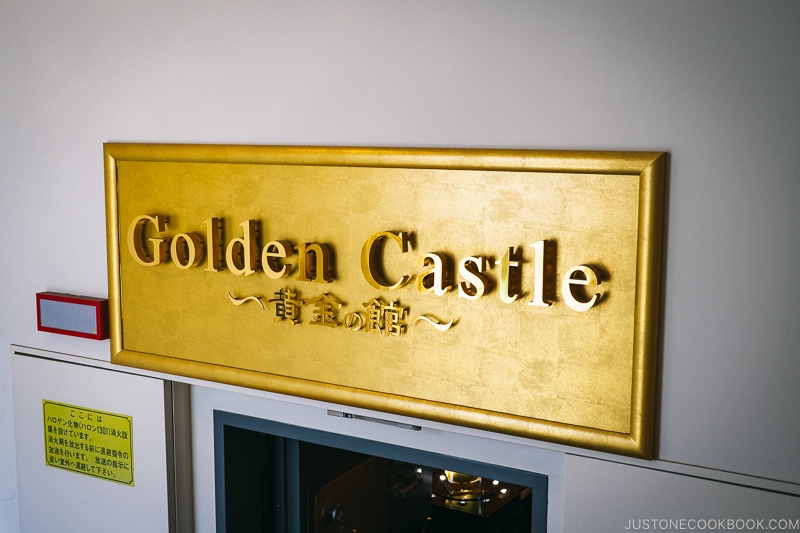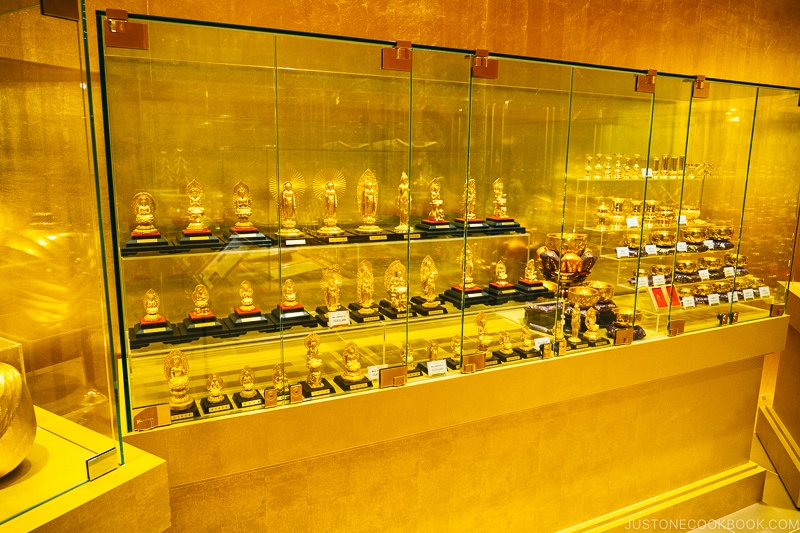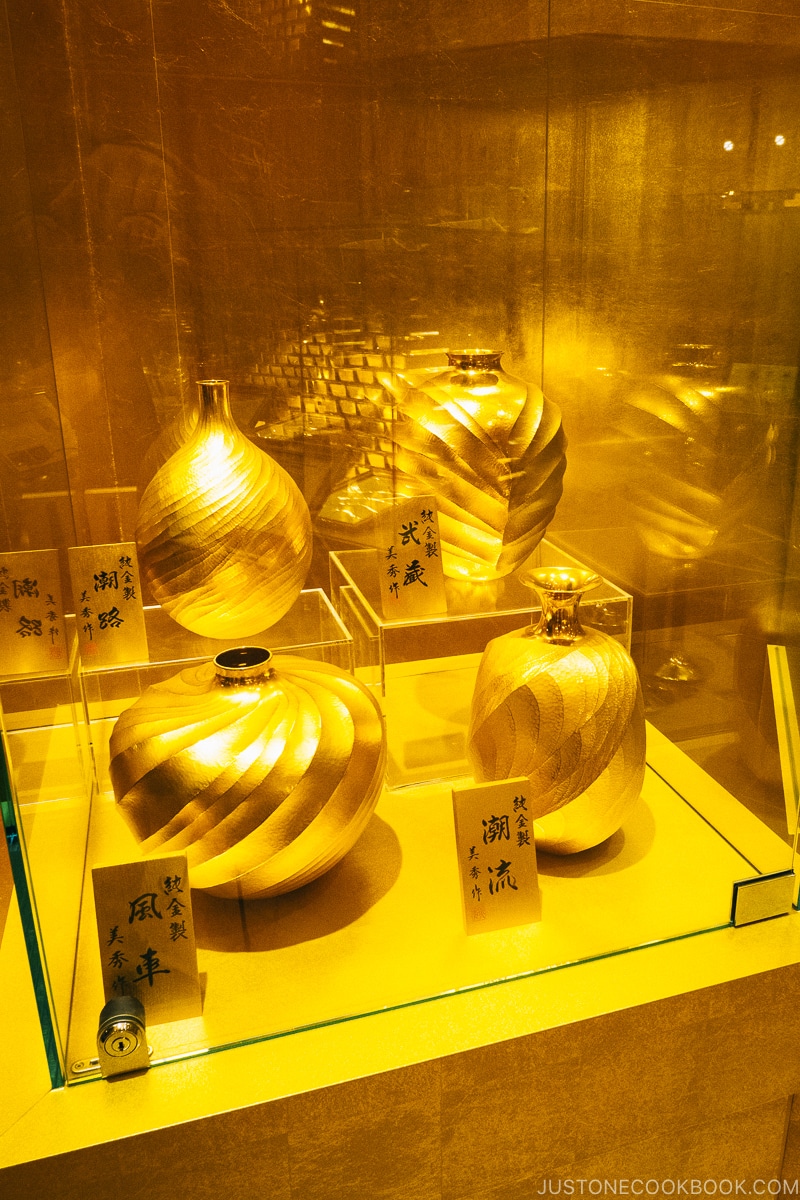 There was a solid gold bar on display which visitors can try to lift and see how heavy it is.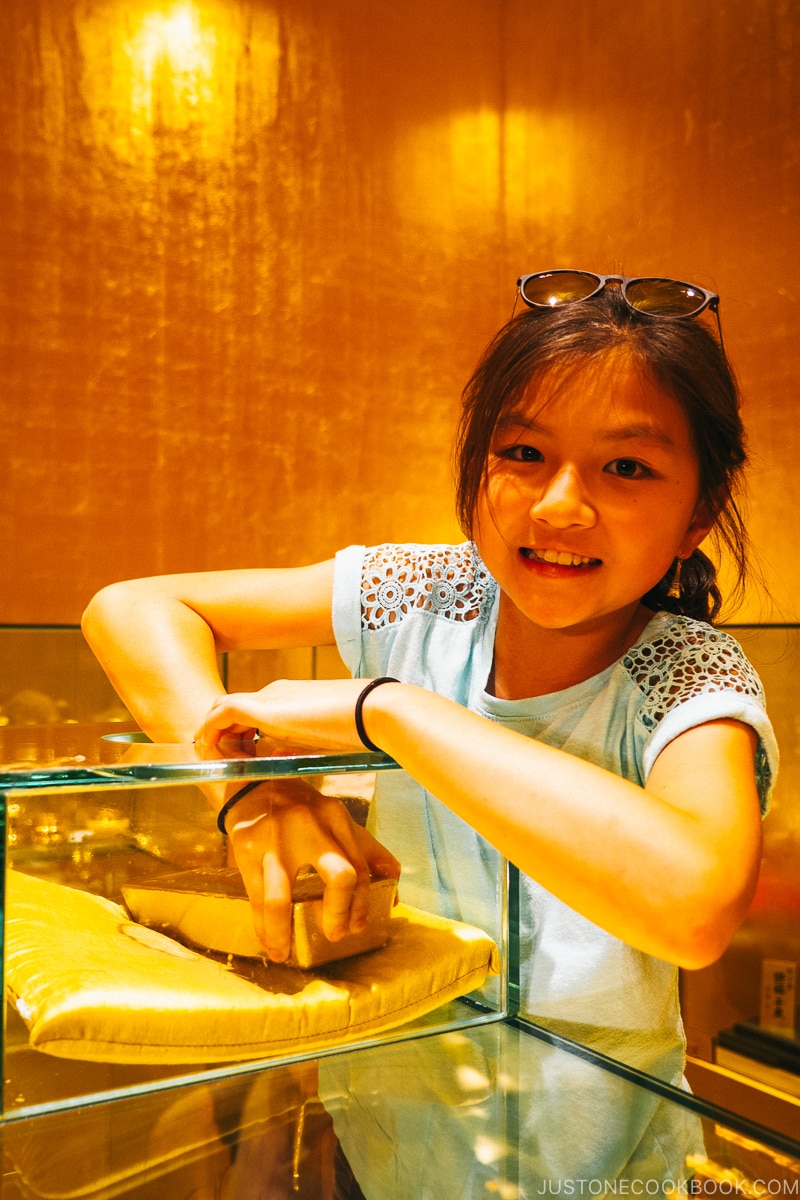 Palace Huis Ten Bosch Illumination
At night inside the park, there are multiple illuminations and light shows for visitors to enjoy. We watched the one at Palace Huis Ten Bosch which is one of the largest projections in the world.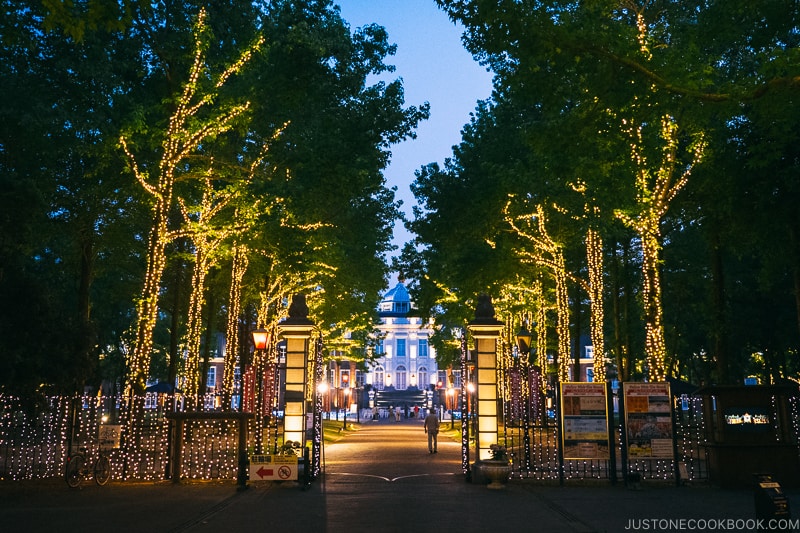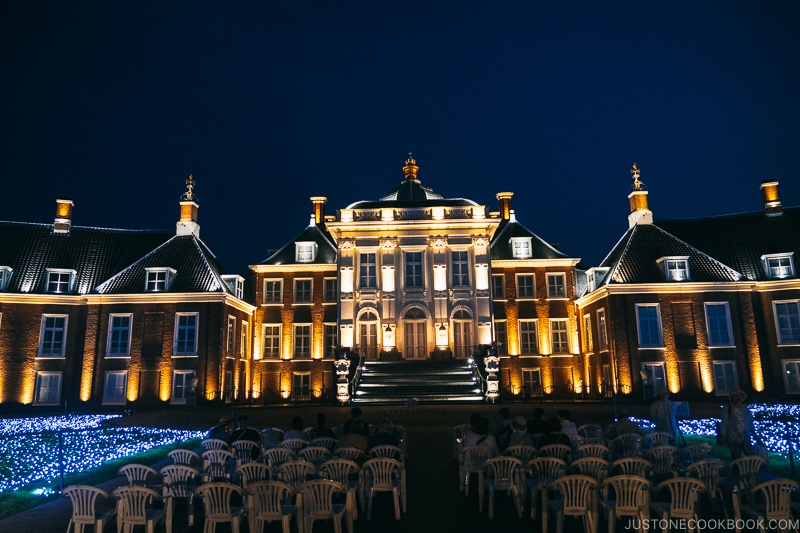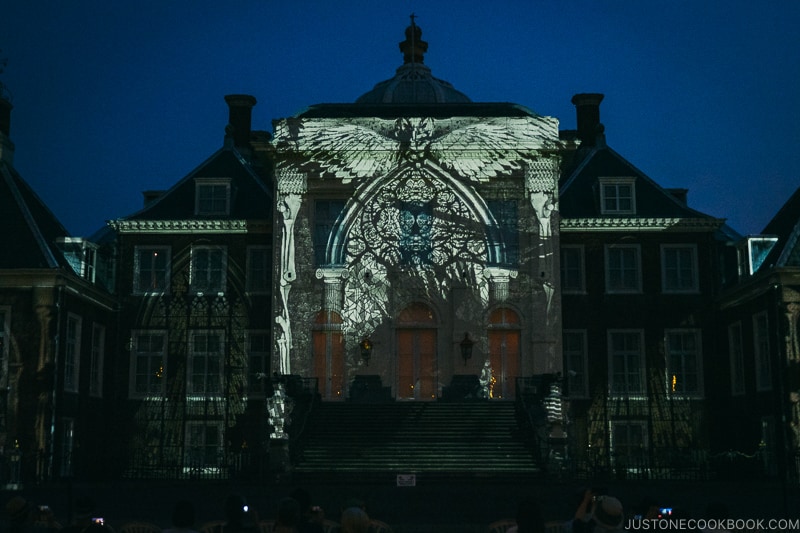 Art Garden
We ended our day by walking through the beautifully lit Art Garden. Here visitors can ride the Ferris wheel, walk through a large garden, and bungee jump.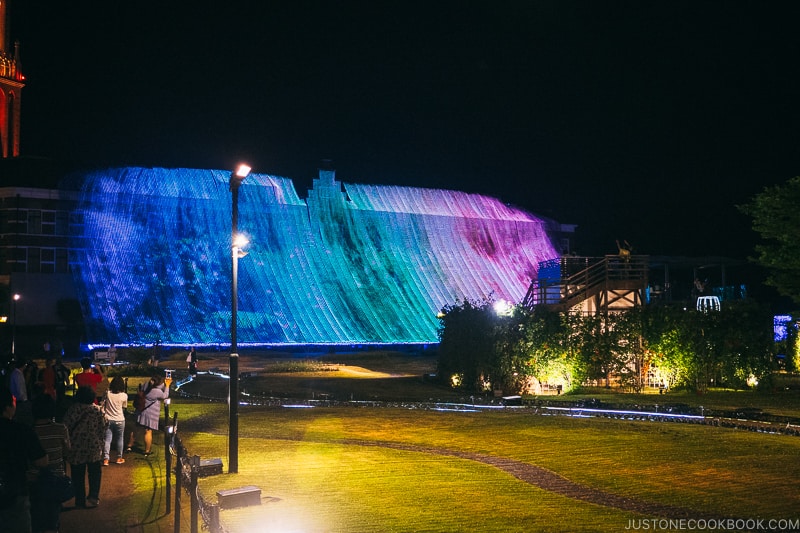 Huis Ten Bosch Japan Hotel
We didn't stay at one of the official Huis Ten Bosch hotels because the prices were really expensive. There are four official hotels, Hotel Europe, Hotel Amsterdam, Forest Villa, and Henn-na Hotel. Henn-na Hotel made the news when it opened as being one of the world's first hotels serviced by robots.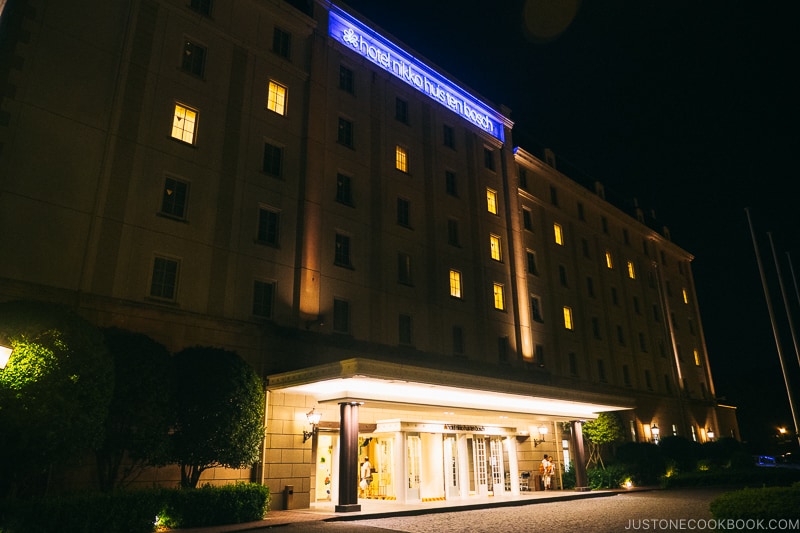 We stayed at Hotel Nikko Huis Ten Bosch which was just 3 min away from the park on foot. The room we had was for four people and included 2 bunk beds. Both the room and the bathroom were both pretty small.
However, Hotel Nikko had a large public bath which we enjoyed and included kaiseki dinner. The dinner was fabulous and one of the best we had on the trip. We were pleasantly surprised by the quality of dinner for a tourist hotel.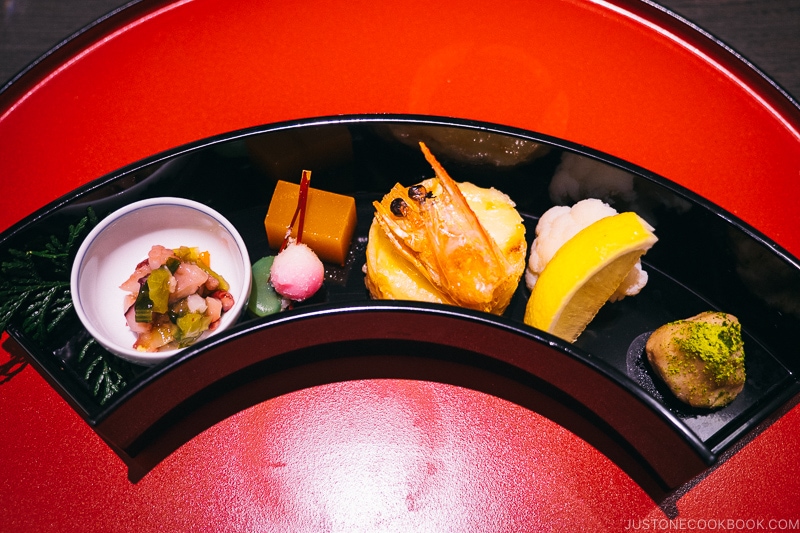 Our family had a marvelous time at Huis Ten Bosch even without any thrilling rides (we're a roller coaster family). It was a tiring day as we tried to explore most of the park, and it is big (bigger than Tokyo Disney + DisneySea).
If you have elementary school-age children and planning to spend time in Kyushu, we would highly recommend it.
The next destination is the city of Nagasaki and our final one for Kyushu.