Loaded with various and colorful ingredients, Nagasaki Champon is a hearty and comforting noodle dish you can quickly put together!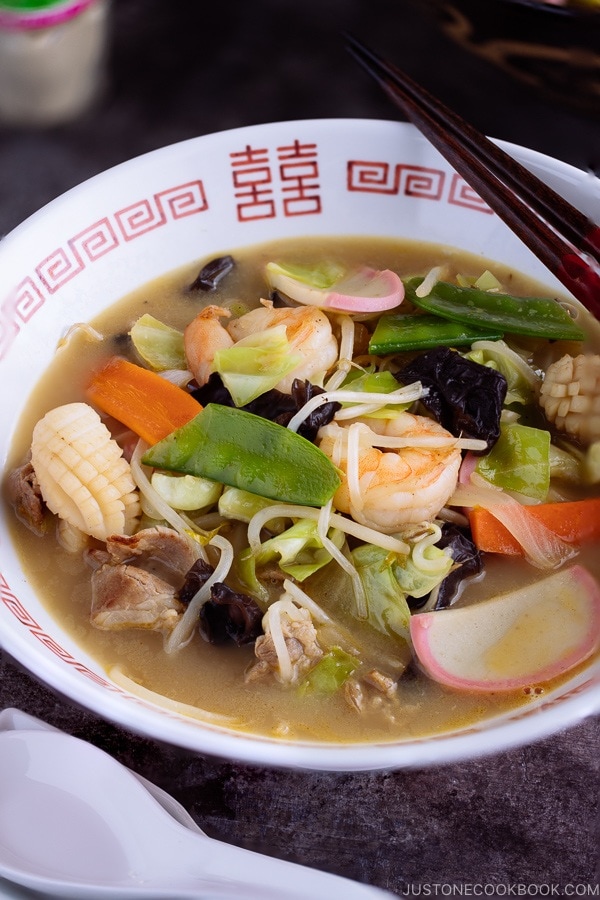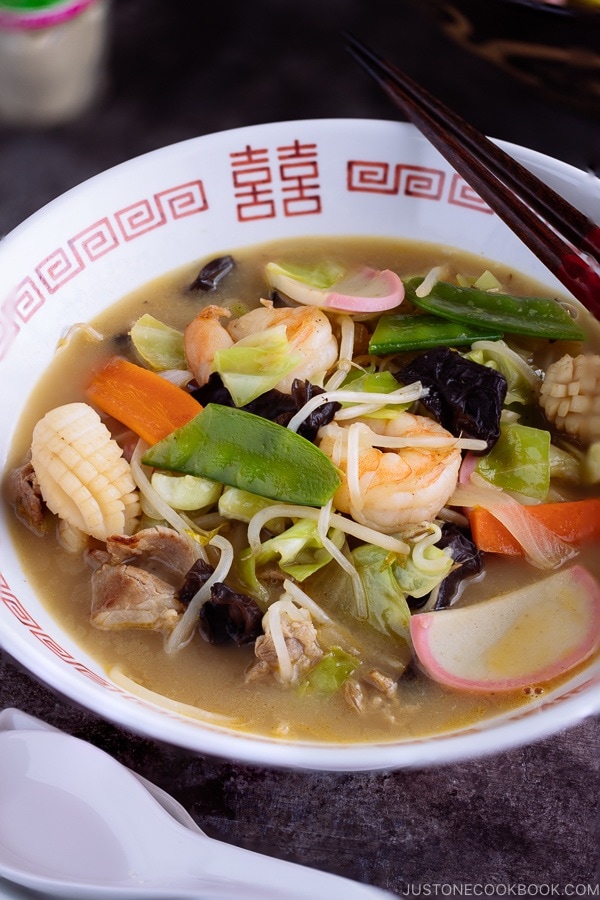 Originated in China and introduced in Japan in the 50s, Champon (長崎ちゃんぽん) is a popular noodle dish filled with miscellaneous ingredients and a hearty soup. Served piping hot, the contrasting textures and flavors and the broth are what one needs to lift the mood or kick a cold. It is absolutely delicious and heartwarming.
Watch How to Make Nagasaki Champon
Loaded with various and colorful ingredients, Nagasaki Champon is a hearty and comforting noodle dish you can quickly put together!
What is Champon?
Champon (ちゃんぽん) is a noodle soup dish consisting of pork, seafood, and vegetables served on top of the noodles. The owner of a Chinese restaurant Shikairō (四海楼) in Nagasaki first created this dish based on a Chinese dish tonniishiimen (湯肉絲麵). He served this quick, cheap, fulfilling dish to the Chinese international students during Meiji Period.
Since then this dish became a regional dish in Nagasaki. It's often called Nagasaki Champon (長崎ちゃんぽん) and loved by people all over Japan. You can find Nagasaki Champon specialty restaurants like Linger Hut (リンガーハット) throughout Japan and outside the country. There is also Linger Hut in San Jose here in California.
If you're curious about the word Champon, which definitely doesn't sound Japanese, one theory is that the word was derived from Hokkien word chia̍h-pn̄g (食飯), which means "to eat a meal". Another theory is that the word was derived from Malay or Indonesian word champur, which means "mixed".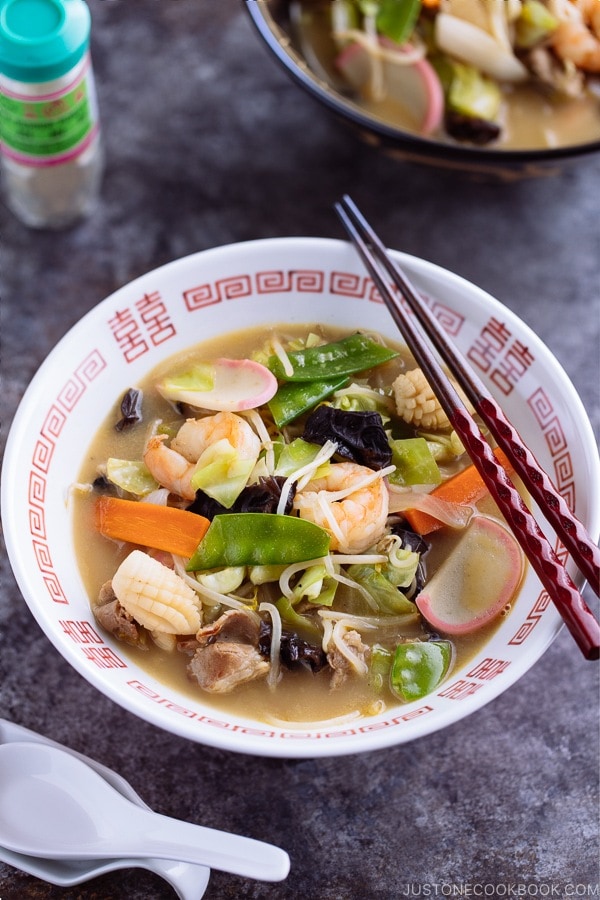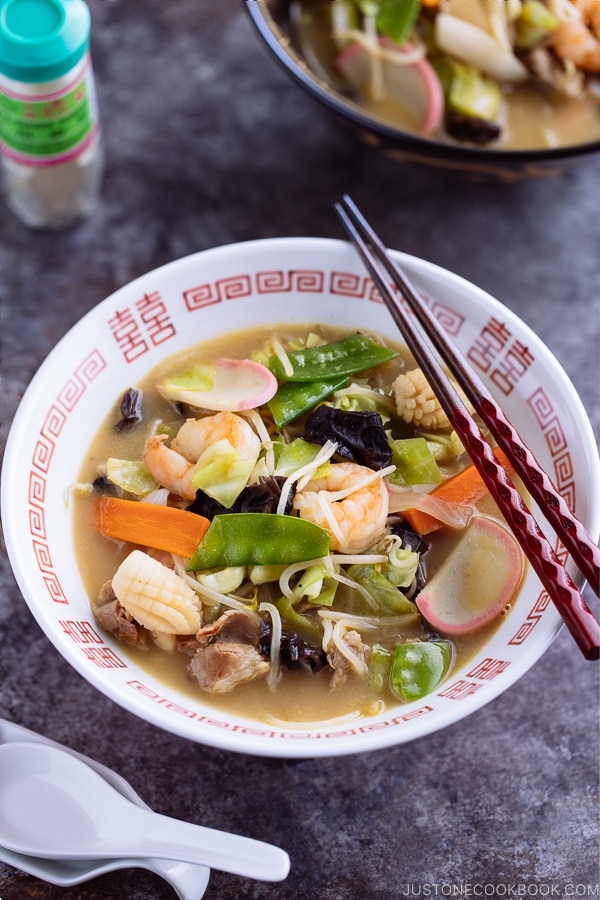 Ingredients for Champon
1. Champon Noodles
A big noodle company Myojo (明星) has a noodle package specific for Nagasaki Champon. It comes with 2 servings of noodles and soup base. I usually make my own soup so I only use the noodles and toss away the MSG-packed soup base.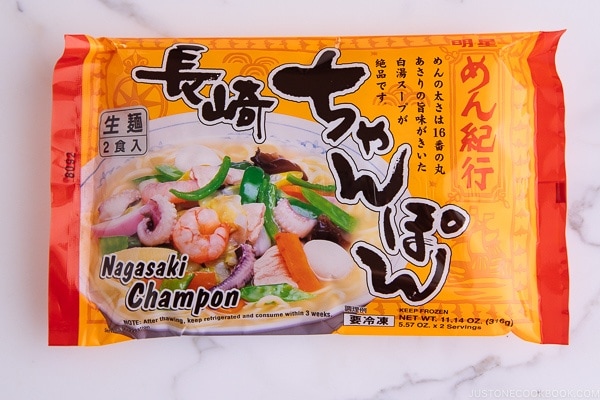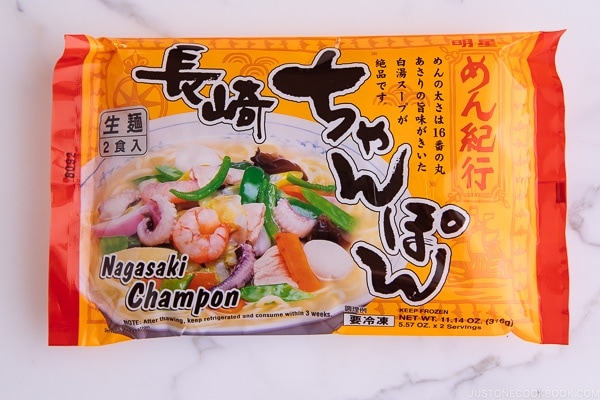 For those who can't access this noodle package at Japanese or Asian grocery stores, you can use other types of fresh ramen noodles, dried ramen noodles, or Chinese noodles that have similar thickness to spaghetti noodles.
2. Soup Base
Typically the soup base for champon is made of the combination of pork and chicken broth/stock.
I don't usually have pork bone/stock handy, so for this recipe, I use the combination of chicken broth and dashi which yields a bit lighter broth.
When I make pork broth from Rafute or Okinawa Soba, I try to make Champon the next day using the leftover pork broth. It really gives a flavorful soup for the noodles and I highly recommend!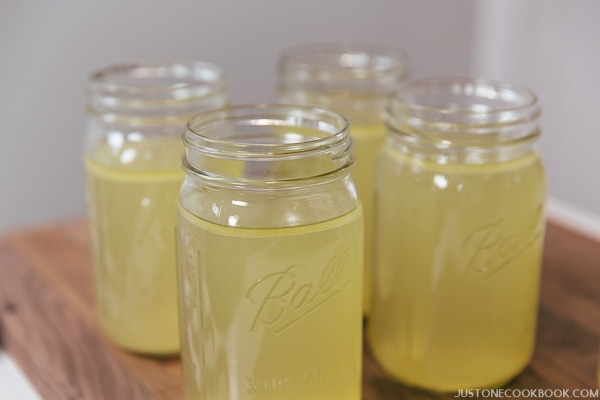 You can follow my homemade chicken stock recipe here.
By the way, the addition of milk might surprise you in this recipe. However, it is what gives the creamy color and a light sweetness of the Nagasaki Champon soup.
3. Toppings
Champon toppings usually include pork belly slices, seafood such as shrimp, squid, clams, and all kinds of vegetables, typically cabbage, onion, carrots, snow peas, bean sprouts, etc. You don't have to follow my recipe to a T by using the exact ingredients. Consider my list as suggestions. The ultimate goal is to create a bowl of noodles with colors, body, depth and contrast. Though keep in mind that root vegetables, if you use any, need to be thinly sliced or pre-cook ahead of time, since all the ingredients must be stir fried in a quick manner.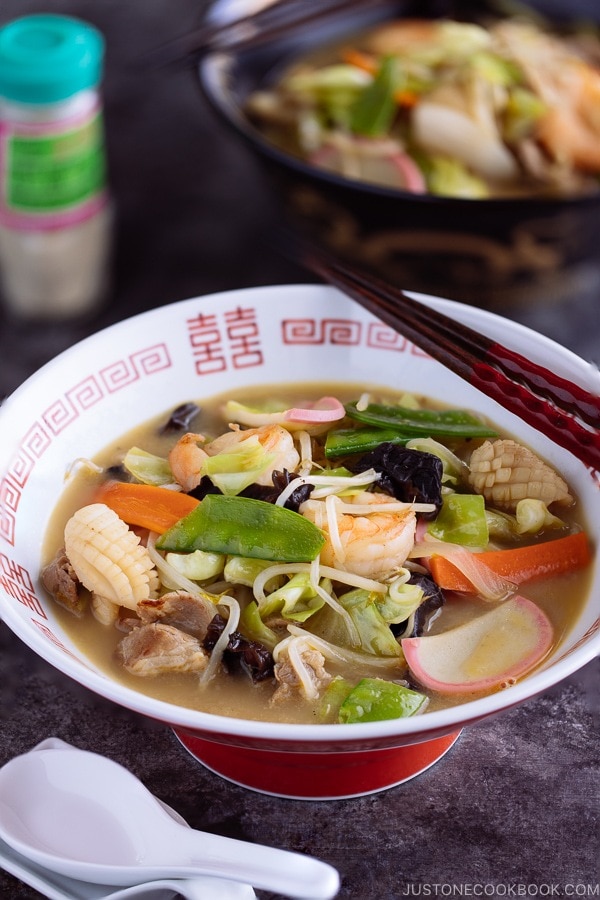 Champon Noodles on Kodoku no Gurume
I was inspired to make this hot noodle recipe after watching the popular Japanese TV drama – Kodoku no Gurume (孤独のグルメ) [Season 6: Episode 7]. The protagonist Gorō-san had a bowl of Champon at Nagasaki Hanten (長崎飯店) in Shibuya. It looked SO DELICIOUS that I had to share my version.
For those of you who are not familiar with Kodoku no Gurume, the main character Gorō is a Japanese salaryman who is in sales. As a salesperson, Gorō travels across Japan for his work and on each business trip he visits various restaurants and street booths to sample the local cuisine. Each chapter features a different place and dish.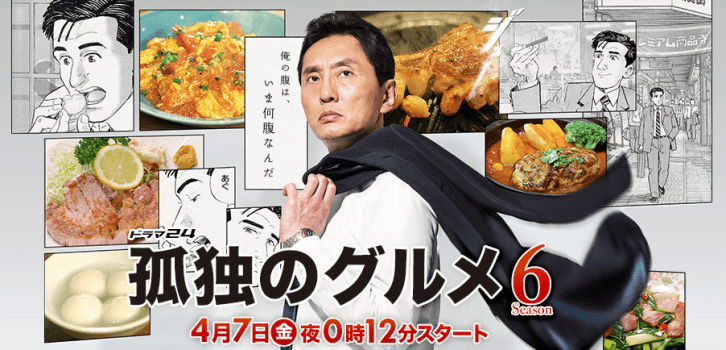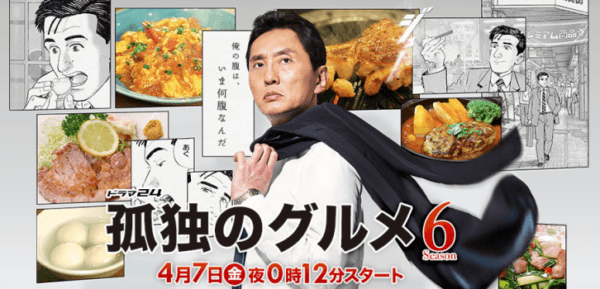 This TV drama has been around for years in Japan, and currently Season 7 is on air. Unfortunately, it is not available on Netflix like Midnight Diner: Tokyo Stories here in the States, but it's available on Netflix Japan and other sources. Maybe Netflix USA will pick it up if there's enough interest for the drama. You can find some of the older seasons available in DVD format on Amazon.
Whether you have access to Kodoku no Gurume or not, I want to share all the delicious foods the main character Gorō-san enjoyed in the show and I hope you would join me in cooking up these dishes.
Kodoku no Gurume Recipes Series on Just One Cookbook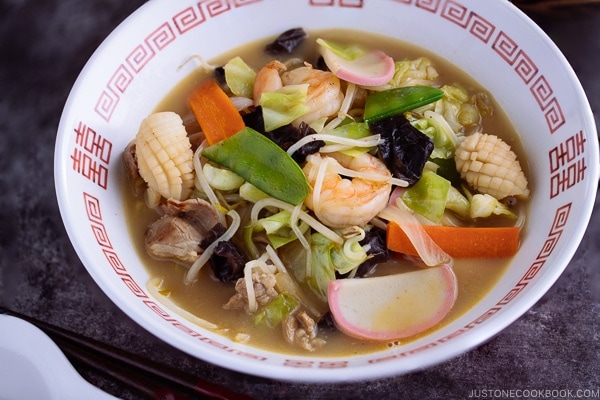 Similar Recipes:
Don't want to miss a recipe? Sign up for the FREE Just One Cookbook newsletter delivered to your inbox! And stay in touch on Facebook, Google+, Pinterest, and Instagram for all the latest updates.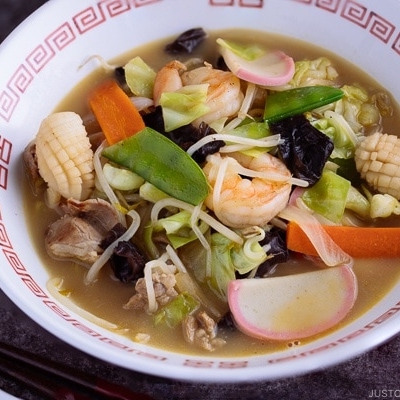 Champon
Loaded with various and colorful ingredients, Nagasaki Champon is a hearty and comforting noodle dish you can quickly put together!
Ingredients
Meat & Seafood
Vegetables and Other Ingredients
6

pieces

dried wood ear mushrooms

(4 g)

2

inches

carrot

¼

onion

5

oz

green cabbage

(145 g, 2 leaves)

1

oz

snow pea

(28 g, 8 pieces)

4

oz

bean sprouts

1

Tbsp

roasted sesame oil

(for cooking)

freshly ground black pepper

⅛

tsp

kosher salt (Diamond Crystal; use half for table salt)

11

oz

champon noodles

(311 g)
Japanese Ingredient Substitution:
If you want substitutes for Japanese condiments and ingredients, click
here
.
Instructions
Gather all the ingredients. To cook the noodles (Step 23), bring a large pot of water to a boil over low heat.

In a medium pot, combine 2 cups chicken stock/broth and 1 cup dashi.

Add 1 Tbsp sake, 1 Tbsp soy sauce, 1 tsp granulated sugar and bring to a boil.

Once boiling, add ¼ cup whole milk and ⅛ tsp white pepper.

Taste the soup and see if you need to season with kosher salt. I added about ½ tsp salt. Saltiness varies depending on the chicken stock.

Cut the pork belly into 1 inch (2.5 cm) pieces. Add 1 tsp sake and 1 tsp soy sauce.

Add 2 tsp sake for shrimp and squid (or here I put 1 tsp sake for each bowl of shrimp and squid). Set aside for 5 minutes to remove the unwanted smell.

Score the squid in the crisscross pattern by making parallel diagonal lines. Make sure not to cut it all the way through.

In a small bowl, add dried wood ear mushrooms and just enough water to cover them. Re-hydrate until soft and squeeze to remove the water. Cut into smaller pieces.

Cut the carrot into thin slabs and cut in half lengthwise.

Cut the onion into slices.

Remove the core of the cabbage leaves. Then cut into strips and then smaller square pieces.

Remove the strings from snow peas and cut in half. Thinly slice the kamaboko fish cake.

Heat the wok on medium high and add 1 Tbsp sesame oil.

Once hot, add the pork belly and cook until no longer pink.

Add the shrimp and squid and cook no longer opaque.

Then add the onion and carrot, and stir fry for 1 minute.

Add wood ear mushrooms and cabbage and stir fry for 1 minute.

Add the kamaboko fish cake, bean sprouts, and snow peas and stir fry for 1 minute.

Season with freshly ground black pepper and toss to combine.

Add the soup into the wok.

Taste the soup and see if you need to adjust with salt. I added ⅛ tsp kosher salt.

Cook the noodles according to the package instructions. Make sure to separate the noodles first before adding to the boiling water.

I usually cook the noodles 15-20 seconds less than what the package instruction recommends. Pick up the noodles (or drain the noodles into a sieve) and transfer them to serving bowls. Make sure to drain the water well so it won't dilute the soup.

Add the toppings and soup and serve immediately.
Notes
Recipe by Namiko Chen of 
Just One Cookbook
. All images and content on this site are copyright protected. Please do not use my images without my permission. If you'd like to share this recipe on your site, please re-write the recipe in your own words and link to this post as the original source. Thank you.
Nutrition
Calories:
812
kcal
·
Carbohydrates:
121
g
·
Protein:
37
g
·
Fat:
49
g
·
Saturated Fat:
19
g
·
Polyunsaturated Fat:
7
g
·
Monounsaturated Fat:
20
g
·
Cholesterol:
178
mg
·
Sodium:
1634
mg
·
Potassium:
789
mg
·
Fiber:
8
g
·
Sugar:
12
g
·
Vitamin A:
4483
IU
·
Vitamin C:
48
mg
·
Calcium:
204
mg
·
Iron:
9
mg
©JustOneCookbook.com Content and photographs are copyright protected. Sharing of this recipe is both encouraged and appreciated. Copying and/or pasting full recipes to any website or social media is strictly prohibited. Please view my photo use policy
here
.