Napa cabbage is a beloved vegetable widely used in East Asian cuisines because of its versatility. From gyoza to hot pot to easy stir-fries, we've rounded up many delicious napa cabbage recipes for you to try!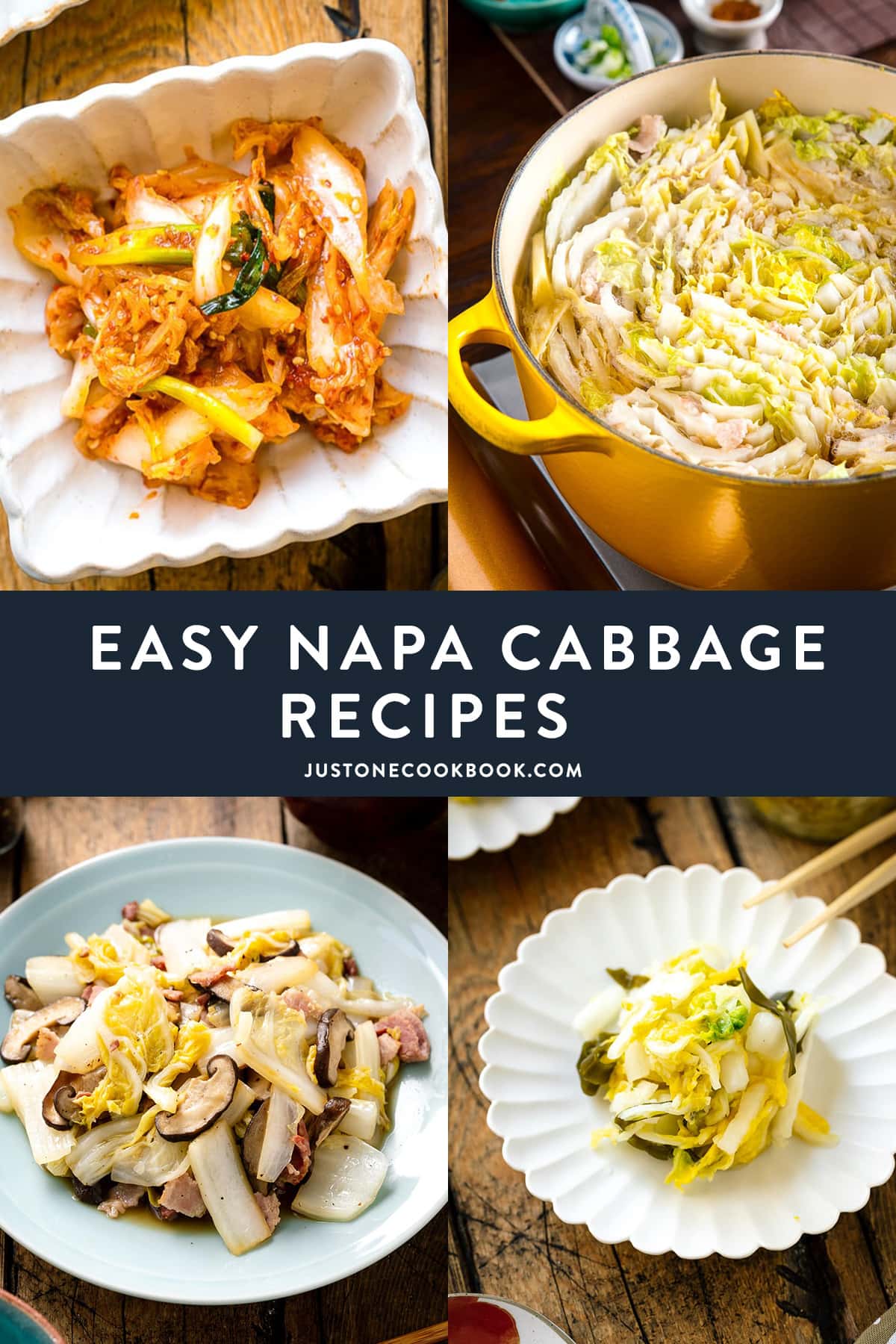 Help! What can I make with a giant head of napa cabbage? Besides using it as a tasty filling for dumplings, there are many more creative uses to discover. Here, we're going to learn more about napa cabbage and how you can utilize it in endless recipes.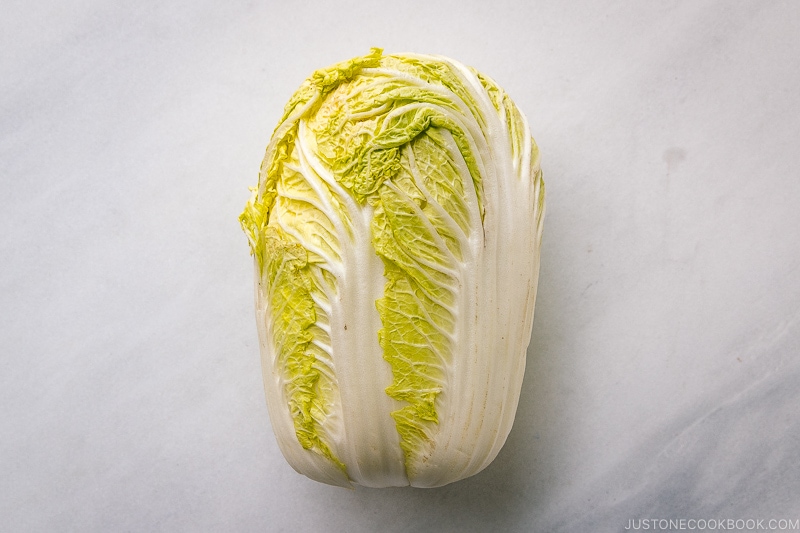 What is Napa Cabbage?
A Few Quick Facts:
Napa cabbage, also known as Chinese cabbage or hakusai in Japanese, belongs to the vast Brassica family (like broccoli and Brussels sprouts). However, it's more related to bok choy as they are from the same plant species.
The name "napa cabbage" came from the Japanese word "nappa" (菜っ葉) which means leafy green, but it has no relation to the California locale.
You can easily tell napa cabbage apart from regular cabbage for its unique oblong shape and ruffled leaves with thick white ribs. The leaves are firmly packed and tend to be light green to pale yellow in color.
It's highly resistant to cold weather, making it one of the most popular winter vegetables in Japanese and other East Asian cooking.
Napa cabbage offers a great source of dietary fiber, which is essential for digestion. It is also low in calories and full of many nutritional values such as folate and Vitamin B.
You can find napa cabbage at Asian markets and some major grocery stores carry them too. Avoid napa cabbages with limp stems or wilted loose leaves.
Napa Cabbage vs Regular Cabbage
Raw napa cabbage has a mild and more delicate flavor than regular cabbages, and once cooked it has an outstandingly sweet flavor. While the leaves are lighter in texture, the white stems are quite crisp and juicy.
Compared to other cabbages, napa cabbage is the tenderest variety and it cooks a lot quicker. As such, it makes an excellent choice for lending a natural sweetness to dishes like soups, stews and braises, and hot pots.
How to Cook with Napa Cabbage
There are many interesting ways to cook with napa cabbage! You can eat it both raw or cooked. Like any cabbage, napa makes a great addition to bulk up a dish.
Before cooking, it's important to separate the leaves and thick stalks and add them separately as the leaves wilt quickly.
To enjoy it raw, finely shred it and add it to slaws or salads or as your noodle topping. It is also excellent for pickling. If you have a few loose leaves left from making a recipe, toss them into stir-fries or soups.
For East Asian cuisines, this leafy green is a must for hot pots and stews because of its sweet and tender nature. Now let's take a look at our best napa cabbage recipes!
12 Easy Napa Cabbage Recipes You'll Love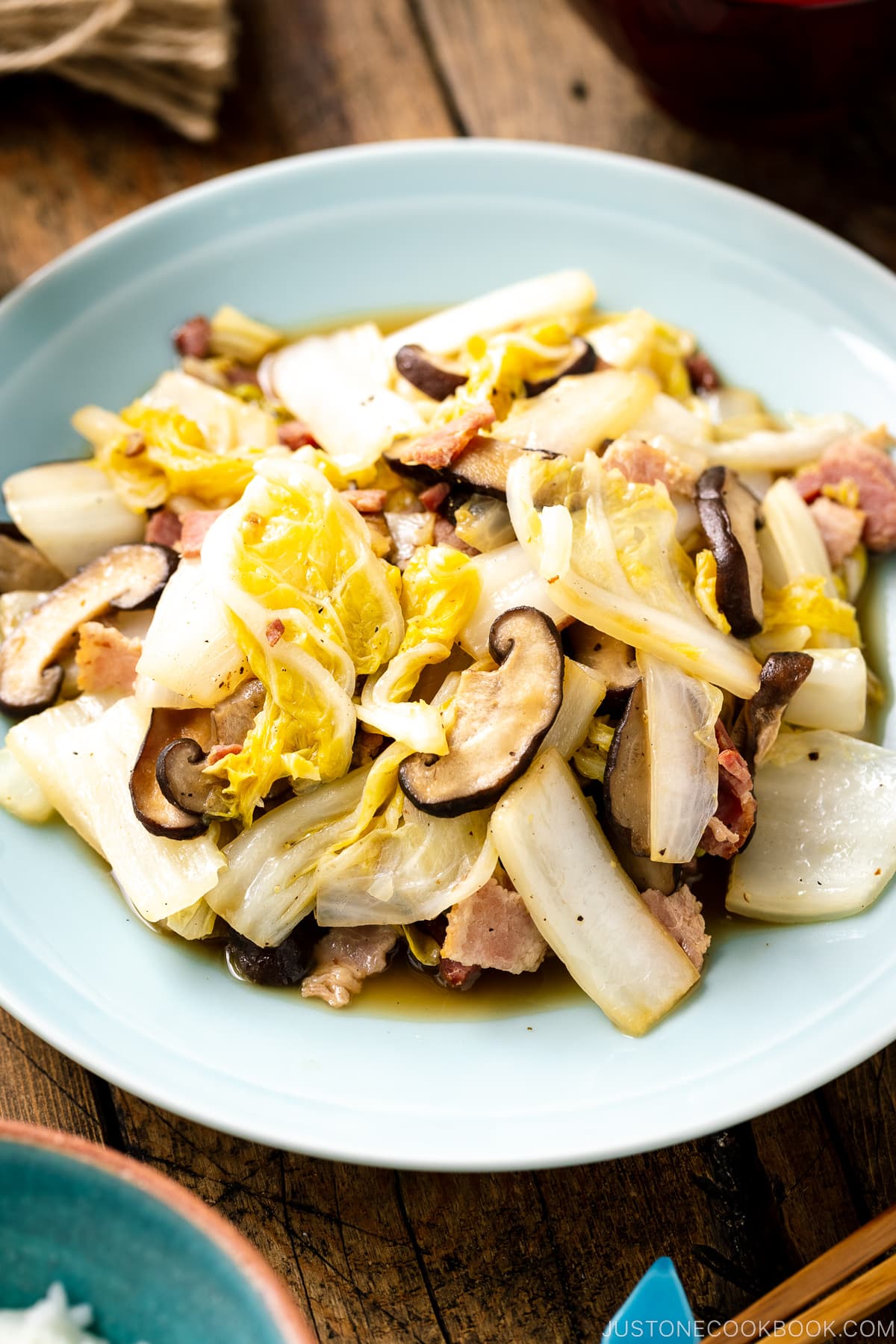 This stir-fry will use up the entire head of napa cabbage easily! You'll need just a quick cook in a hot pan and finish off with a seasoning of soy sauce and fresh grinds of black pepper. Smoked bacon adds a lot of flavors, but feel free to leave it out for a vegetarian version.
"This made a great warm lunch on a cold November day. Served it with brown rice & a bowl of miso soup with seaweed. I only had dried mushrooms, so after soaking them, used the water for my soup. Really delicious & satisfying!" — Onsen
Mille-feuille nabe is a simple Japanese hot pot that made with napa cabbage and pork belly slices cooked in a savory dashi broth. It's easily one of the most popular hot pot recipes enjoyed in Japanese home.
"I got my daily JOC email and decided to make it for dinner. It turned out fantastic! Such a tender flavor and the ponzu dip/green onion/ togarashi gives it a nice kick. I served it with ume natto, ahi sashimi, shredded daikon, and rice." — Gina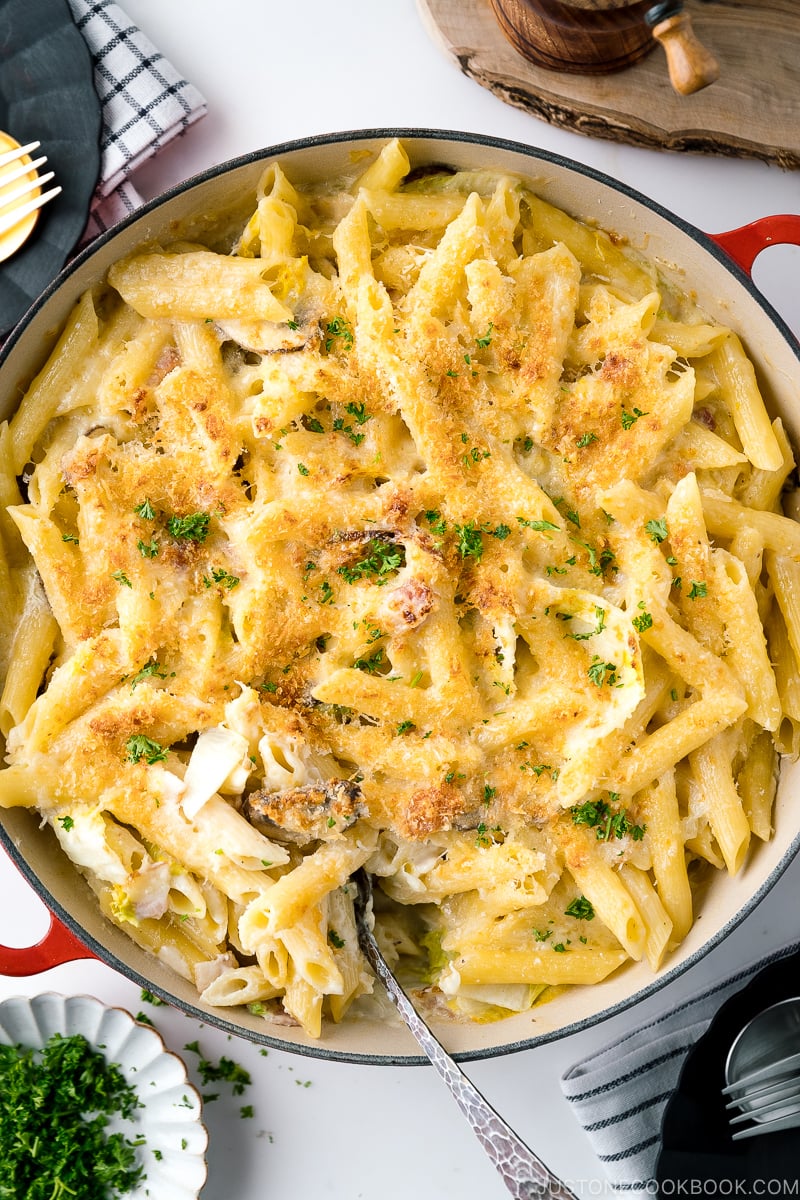 Sweet tender napa cabbage basked in penne pasta and a creamy sauce, it's everything you need for a comforting, delicious meal. The slightly charred panko topping gives the entire dish an extra perk!
"What a simple dish to make! I always struggle to use up leftover cabbage so I was great having with this, never thought cabbage would do so well as comfort food." — Julia vB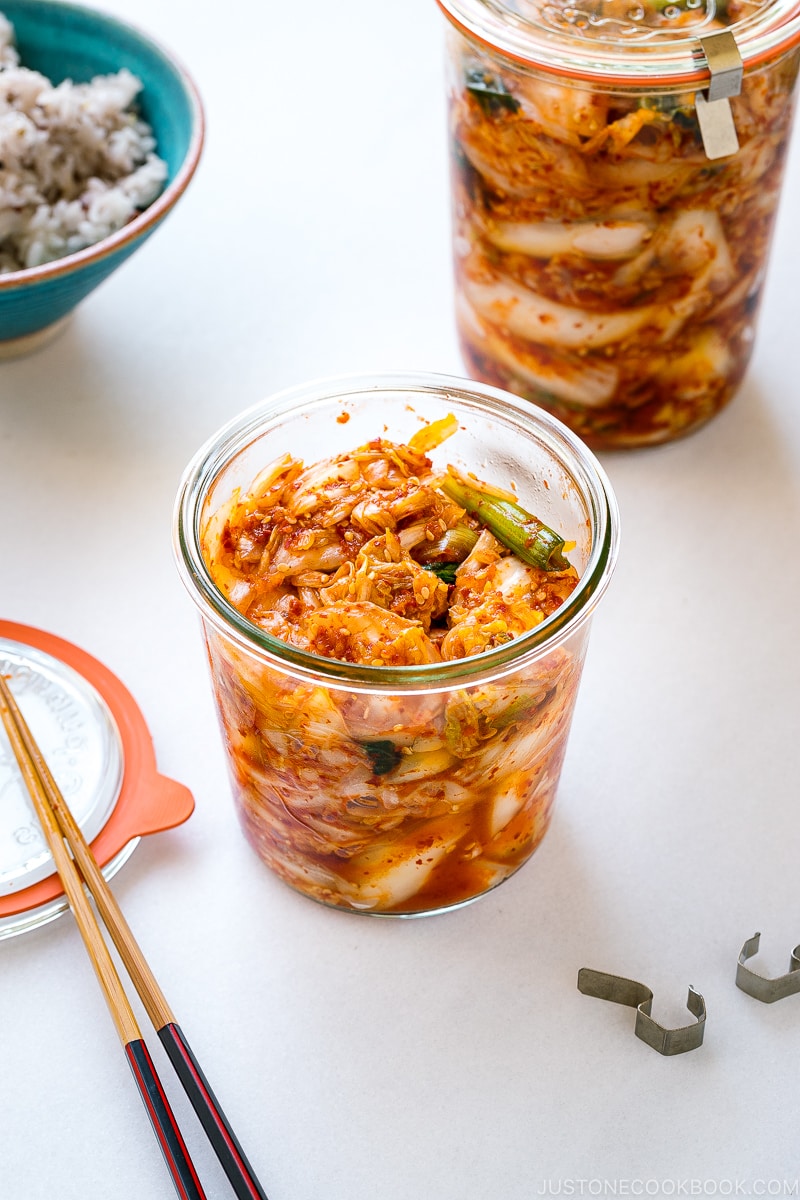 It's no brainer to use napa cabbage to make kimchi, but if you're looking for something quicker, you need to try this Korean fresh kimchi. There's no fermentation involved and it's quick and easy. You'll enjoy it as a side to serve with any Asian meal.
"This is a GREAT quick kimchi recipe. Super tasty. Our family loved it, thank you!" — Corinna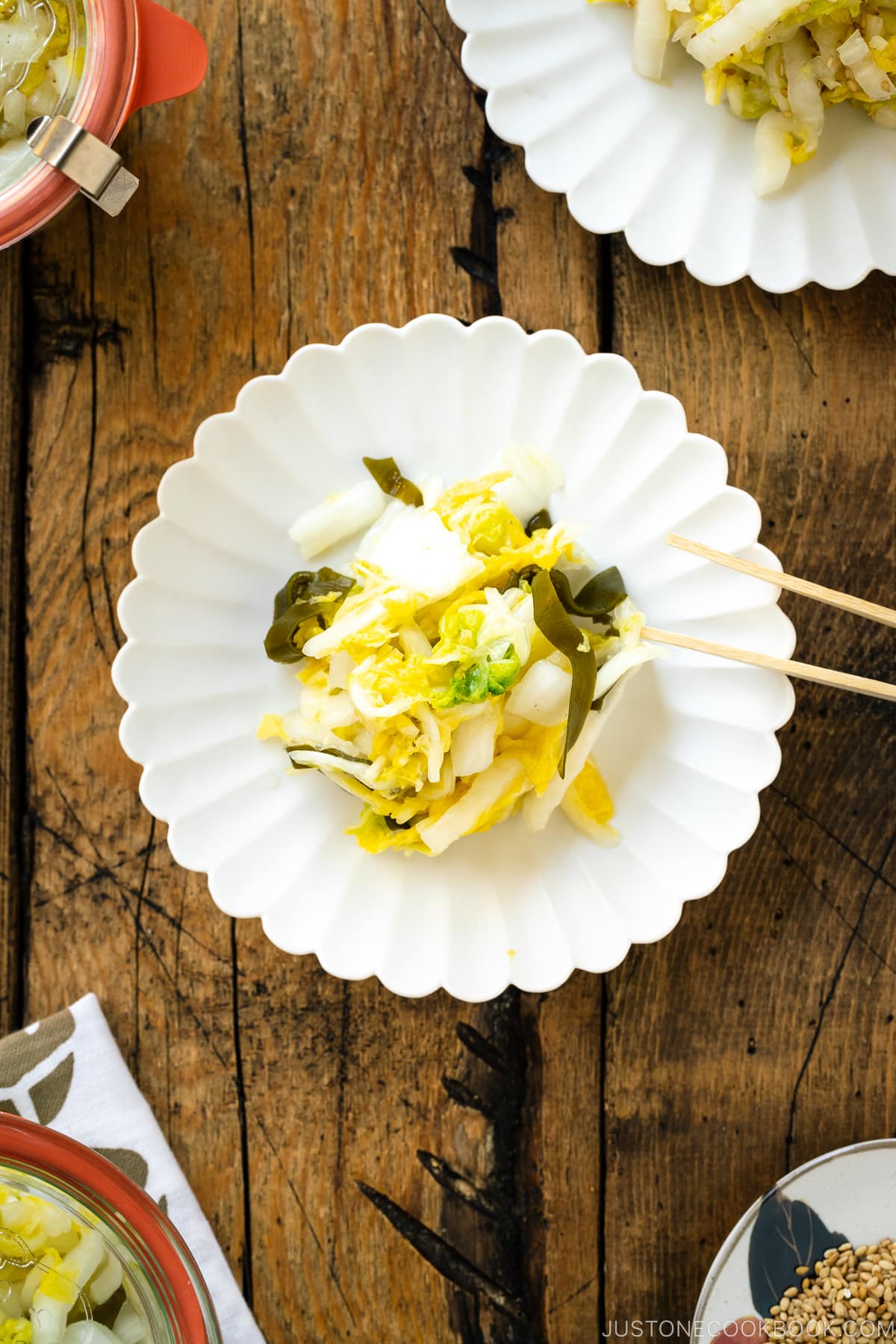 This pickled napa cabbage is a welcoming side dish to go with steamed rice or any Japanese or Asian meal. It's super easy and quick to make! You can flavor it with sesame oil and sesame seeds or with kombu and rice vinegar.
"Easy and delicious salad!! I was do the sesame flavor and added some bean sprouts and some pickled daikon and eat it for lunch. Was taste really good and refreshing." — Marco
A wintertime favorite, yosenabe is a pretty much "anything goes" hot pot. A perfect meal to clean up your leftover napa cabbage and other vegetables and meat.
"I made this recipe during the recent US cold snap and it really hit the spot and kept us warm! I appreciated going back to basics with the broth on this one–I've been doing a lot of experimenting with different seasonings for it, and I loved the return to simple beauty." — John H
Filled with sweet napa cabbage and ground pork, these pan-fried dumplings are a treat!
"I made gyoza following your recipe, only using chicken instead of pork and cooked in a bamboo steamer. And it was DELICIOUS! Same ingredients but different measures and it's not the same dish. My parents and siblings were unanimous "Keep this recipe, forget the other!" — Cassandre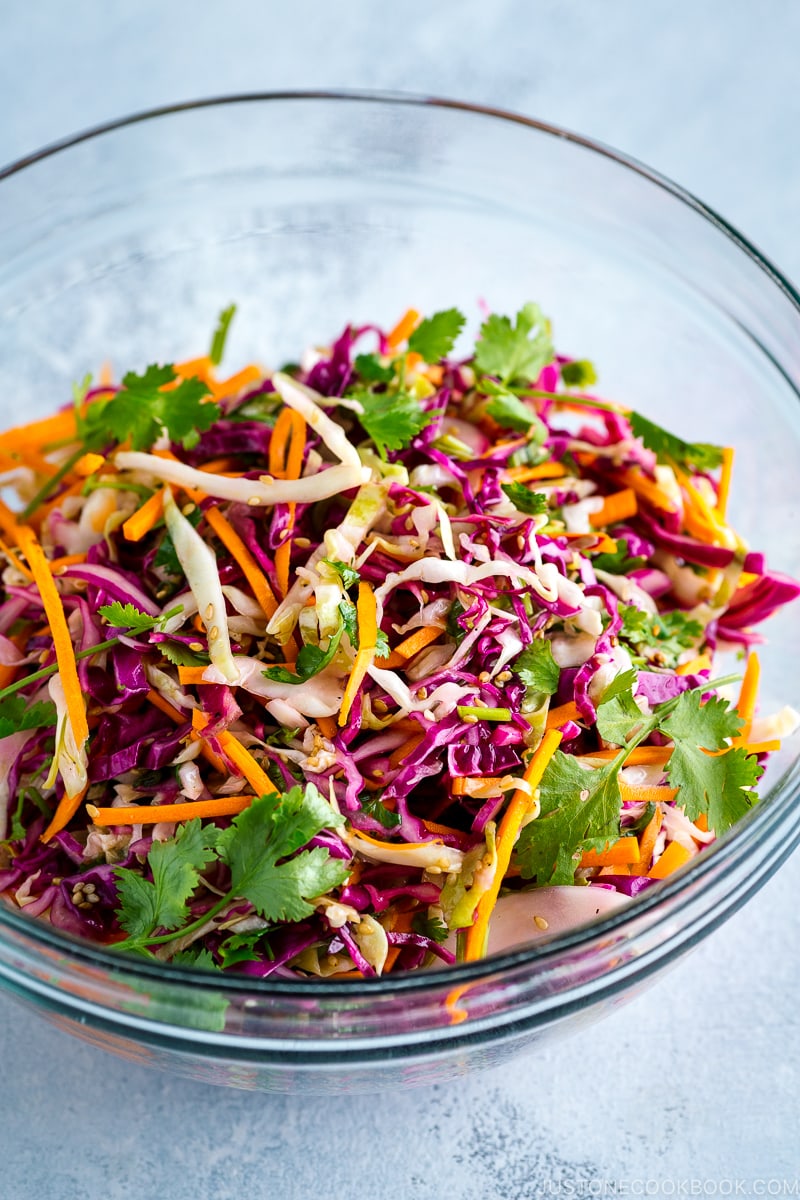 Dressed in a tangy and sweet sesame dressing, this healthy slaw is packed with flavors. It complements BBQ meats, tacos, Ahi tuna steak, and other Asian menus. I used regular green cabbage, but you can easily swap it with any leftover napa cabbage that is sitting in the fridge.
"Okay WOW!! This recipe for the slaw is so damn good!! I served it with Ahi and added a few things, edamame, mango, and sliced jalapeños. For the dressing, I added a little bit of peanut butter. It was so good!!!! 100.%%!! Best Recipe!!" — Kimberly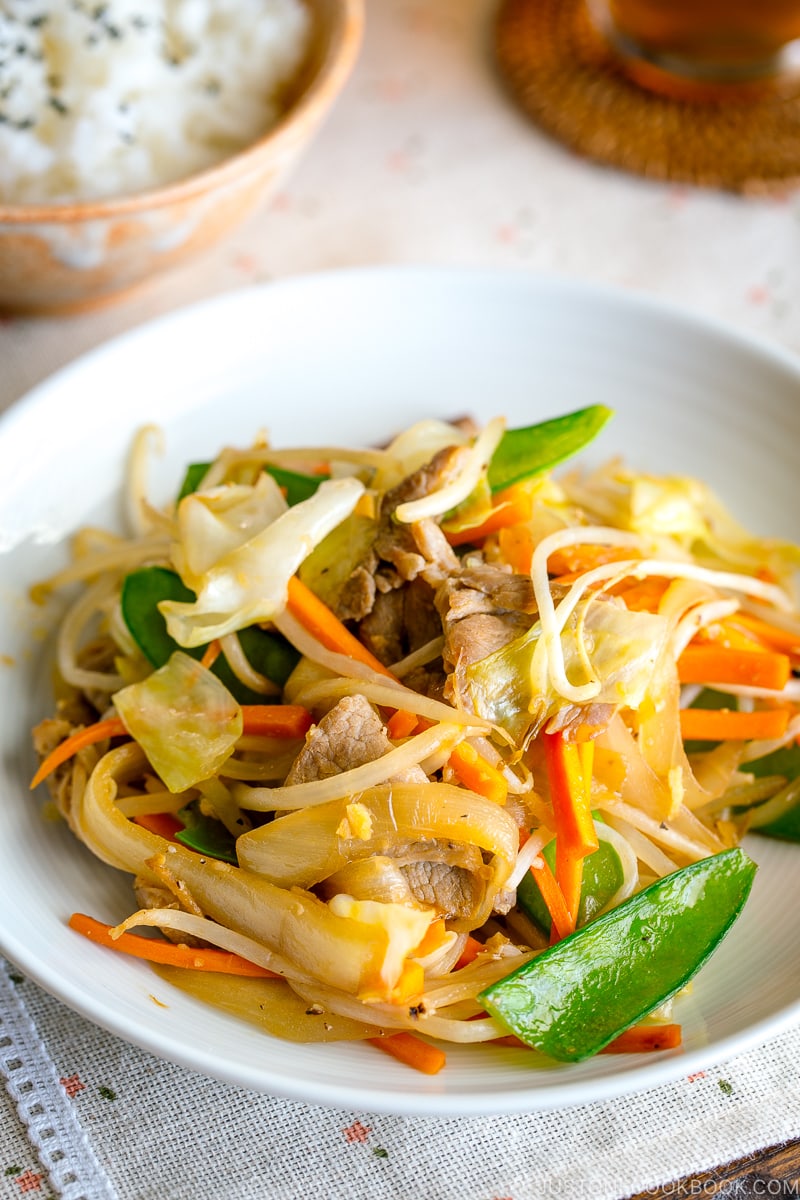 This savory yasai itame (Japanese stir fry vegetables) is a winning template for utilizing leftover cabbage (napa or regular) and other vegetables in the fridge. I added sliced pork for protein, but you can either switch it with other proteins like chicken, seafood, or tofu. the vegetable's already crispy nature.
"Once everything was chopped, it only took 15 minutes. I used a small meat tenderizer to make the pork even thinner. This recipe will definitely be added to the rotation of weeknight dinners!" — Stephanie
Tender pork belly cooked in a delicious and savory katsuo dashi with napa cabbage and enoki mushrooms. This is a quick yet fancy lunch for stay-at-home moms/dads and people working from home.
"Thank you for this recipe and for opening the door to the world of Donabe cooking for me. I got mine a week ago and coked this dish tonight. It was everything that I was hoping for: simple, healthy, fresh, clean." — Xavier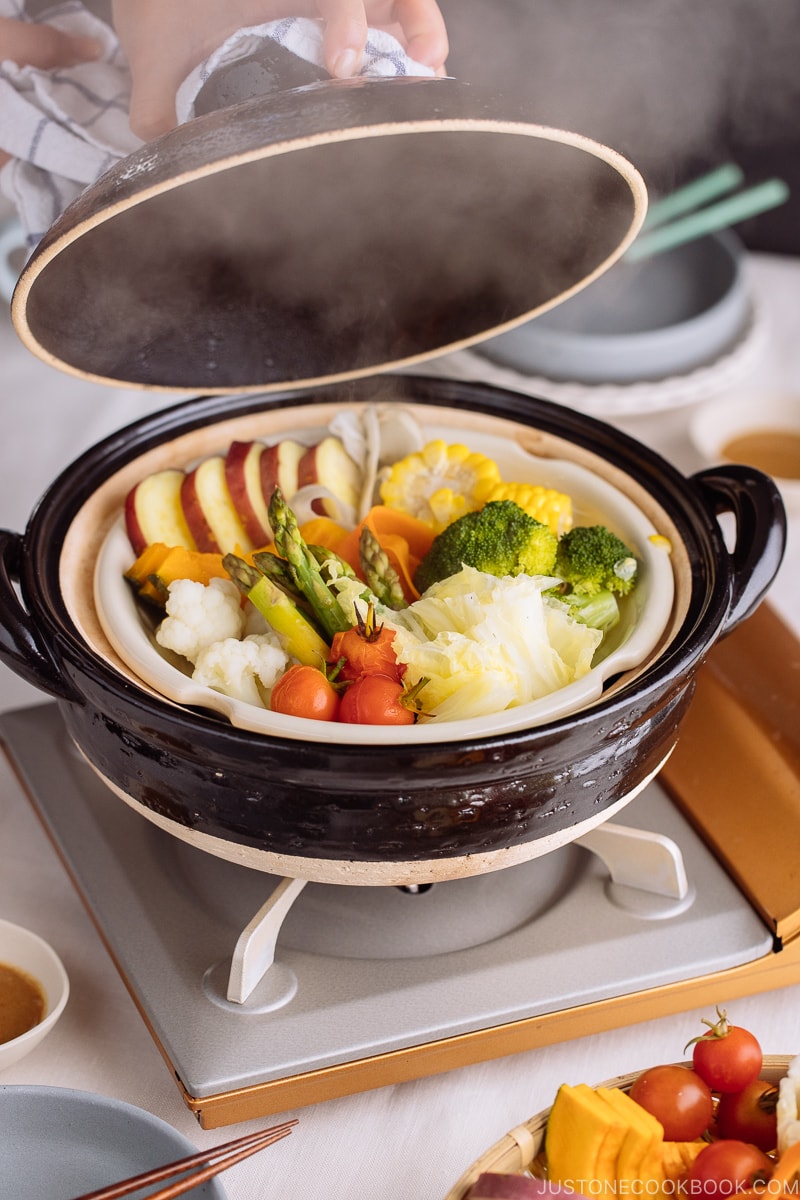 Healthy and full of flavor, this steamed vegetables recipe is the quickest way to get vegetables on your plates. Served with an umami-packed dipping sauce, you will want to eat another serving!
"We love this sauce, and the tips on steaming the veggies are so useful (even though I've been steaming veggies for decades)!" — Virginia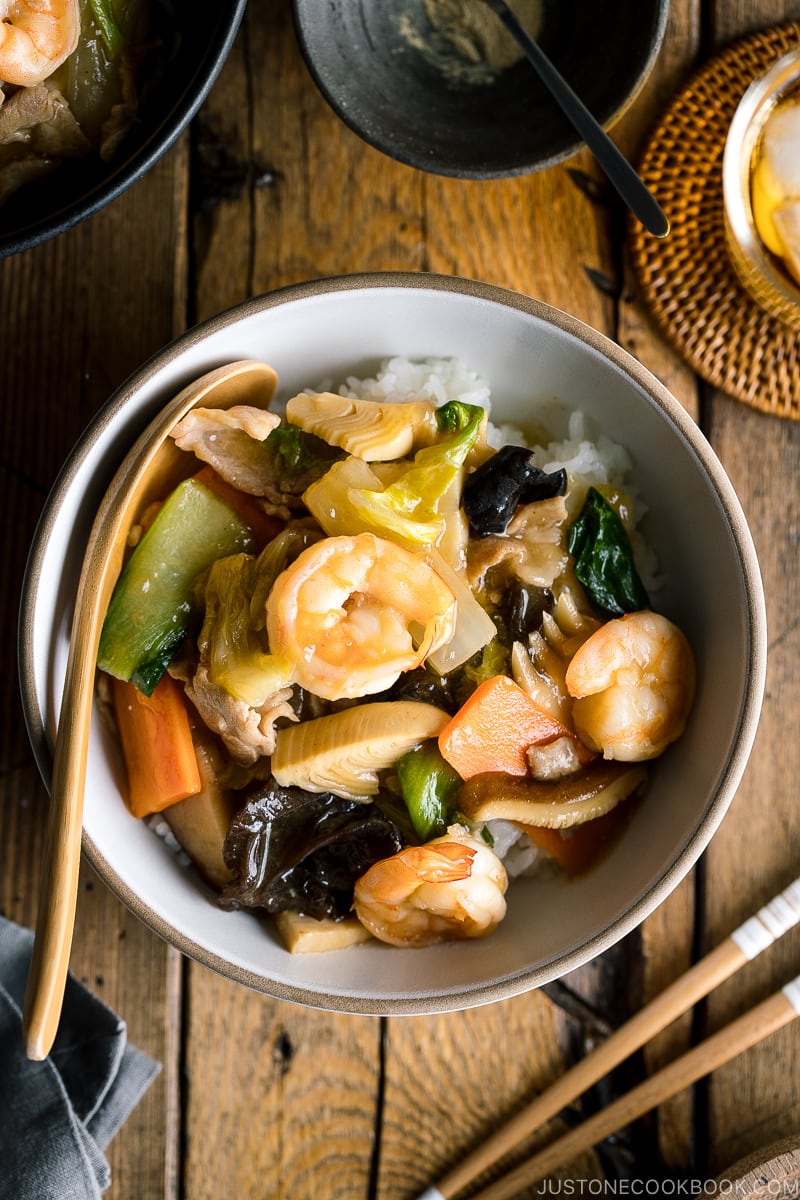 When you have a few leaves of napa cabbage sitting in the fridge, make this Chinese-style rice bowl dish. Cooked in a soy-infused sauce, it has all the flavors of your favorite take-out!
"Wow! Another amazing recipe. And so easy. Love the gravy flavor. We are gluten-free and we're able to find GF oyster sauce." — Lauren
---
What's your favorite way to use napa cabbage? And if you enjoy the above recipes, I'd love to hear from you in the comment below!
Wish to learn more about Japanese cooking? Sign up for our free newsletter to receive cooking tips & recipe updates! And stay in touch with me on Facebook, Pinterest, YouTube, and Instagram.