Make this deliciously sweet Okinawan treat called Sata Andagi with simple baking ingredients. It's a type of deep fried doughnut popular in Okinawa with the winning combination of crispy and cakey!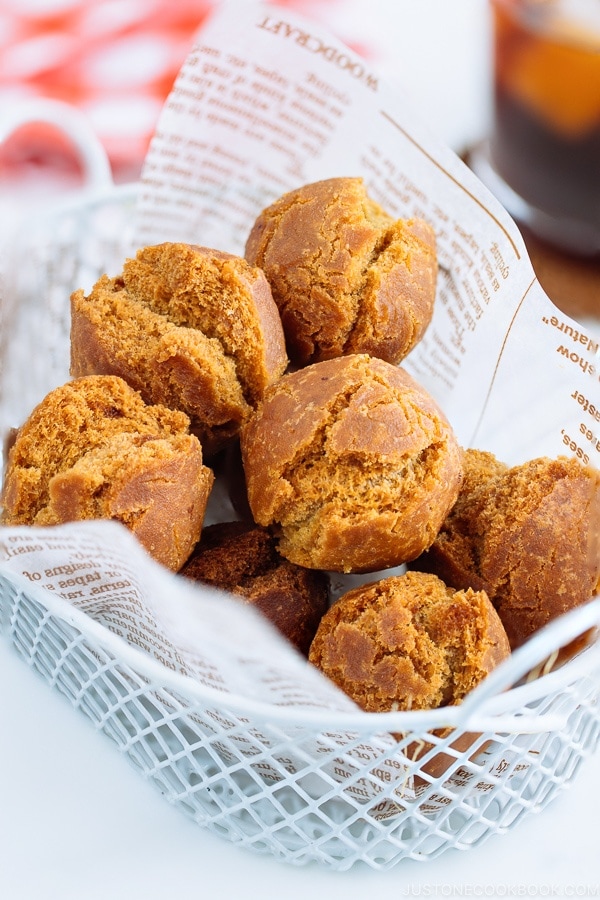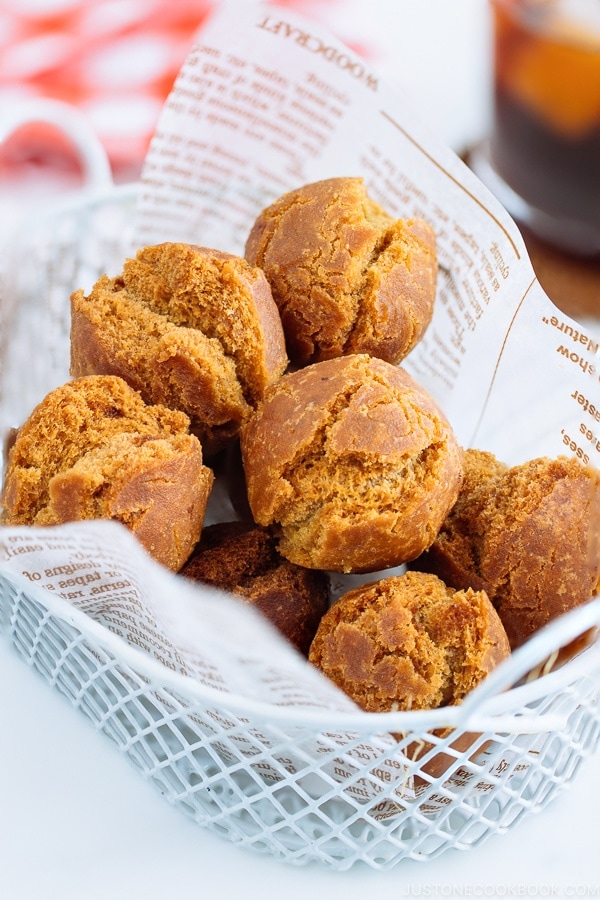 During our short stay in Okinawa, we had a few chances to enjoy different flavors of Okinawan doughnuts, Sata Andagi (サーターアンダギー). Not only these doughnuts were on a list of must-eats when you visit, they are also known as an easy homemade snack in Okinawa. Since the idea of easy is always appealing, it had been on my mind to try my hand on these yummy doughnuts for a while.
Of all the various fun flavors, I decided to make Black Sugar Sata Andagi as my first. Relatively unrefined, black sugar is a common sugar in Okinawa and its deep malty, caramel-y characteristic enhances the flavor of the doughnuts tremendously.
Watch How to Make Sata Andagi
Only 3 ingredients to make a deliciously sweet Okinawan treat called Sata Andagi. It's a type of deep fried doughnut popular in Okinawa that is the winning combination of crispy and cakey!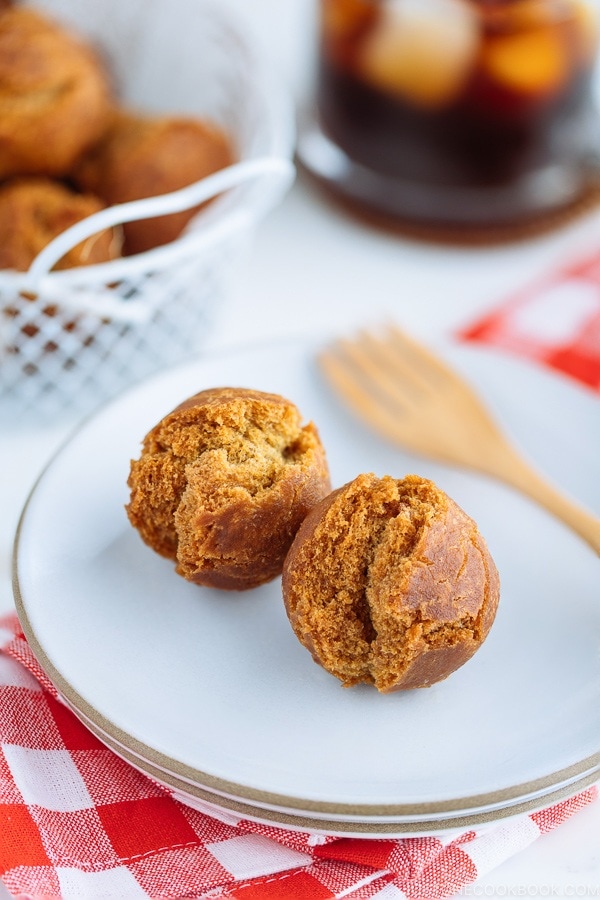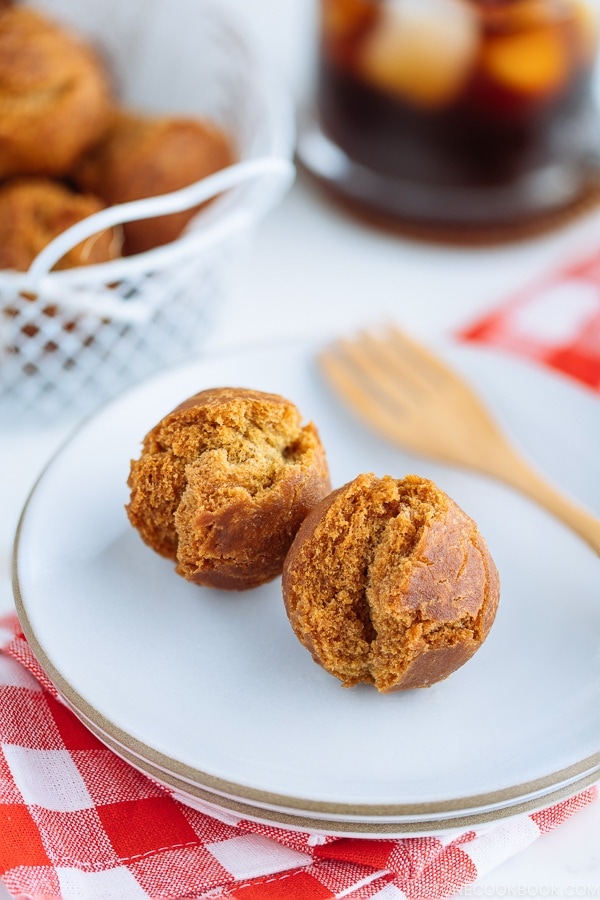 What is Sata Andagi?
Sata Andagi (サーターアンダギー or サーターアンダーギー) is a doughnut made with 3 ingredients – cake flour, sugar, and egg. The name comes from Okinawan word: sata means sugar and andagi means deep fried (food). The texture of sata andagi is very dense, and less airy and fluffy like the regular doughnuts.
When deep fried, the round balls crack with lines that resemble the smiley faces, which is why the doughnuts are considered good luck in Okinawa and are used for many happy occasions such as engagements and birthdays.
In Okinawa, where the weather is hot and humid, sata andagi keep well at room temperature for a few days. No wonder they have been enjoyed as homemade snacks for generations. If you visit Okinawa, the easiest place to spot sata andagi is at touristy places where you'll see tiny kiosks selling these sweet treats. You can also find sata andagi specialty stores throughout Okinawa.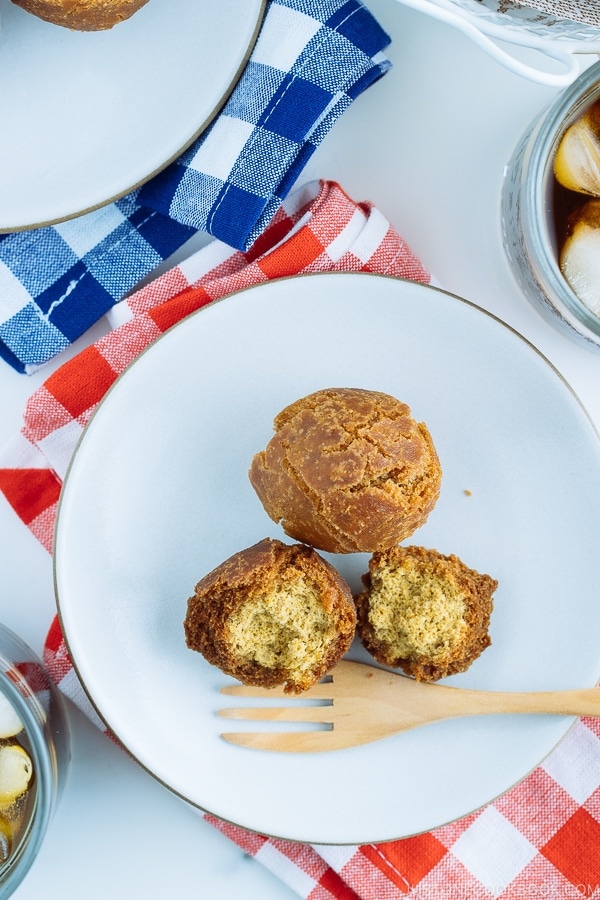 Popular Sata Andagi Flavors
Many sata andagi shops carry similar flavors (shown in bold) but there are other delicious flavors that I didn't get to try.
Plain
Beni imo (Okinawan sweet potato)
Black sugar (Kokuto)
Black/white sesame
Black tea
Caramel
Cheese
Chocolate
Cinnamon
Coconut
Coffee
Kabocha (Japanese pumpkin, Kabocha squash)
Kinako (soybean flour)
Mocha
Peanut
Walnut
Sata Andagi has no fillings or fancy frosting. The ingredients are mixed in with the dough to make different flavors. Does any of the flavors above catch your attention?
If you haven't made doughnuts before, you'd be happy to know that these Okinawan doughnuts are rather straightforward. The only caveat is the deep frying, but since they were delicious in the way that deep fried dough is, it's worth the effort. My family loves that they are not overly sweet, but more of a snacking doughnut, not a heavily glazed dessert doughnut that can bog you down easily. And yes, you can definitely eat them on a more regular basis. Okinawans say so! 🙂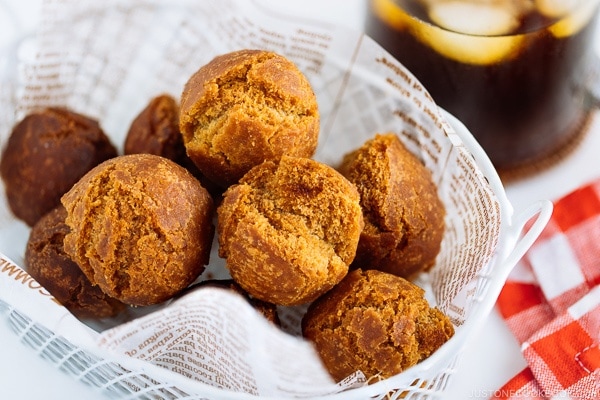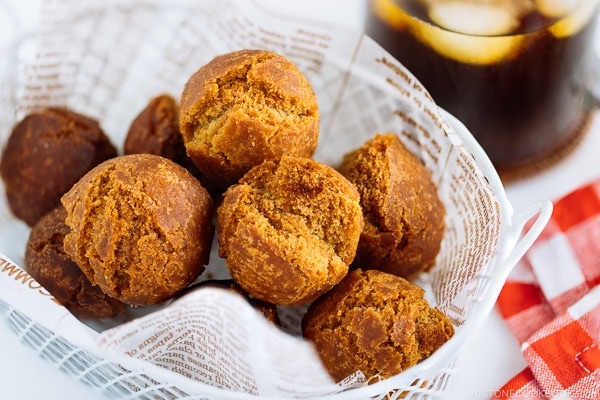 Don't want to miss a recipe? Sign up for the FREE Just One Cookbook newsletter delivered to your inbox! And stay in touch with me on Facebook, Pinterest, and Instagram for all the latest updates.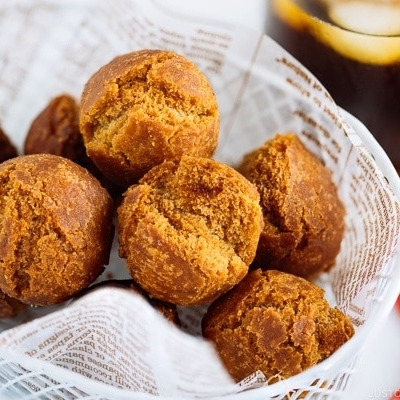 Sata Andagi
Only 3 ingredients to make a deliciously sweet Okinawan treat called Sata Andagi. It's a type of deep fried doughnut popular in Okinawa that is the winning combination of crispy and cakey!
Video
Ingredients
1

large egg (50 g w/o shell)

⅓

cup

black sugar

(packed; I used dark muscovado sugar that I bought on Amazon, but you can also purchase Okinawan black sugar on Amazon)

1

tsp

neutral-flavored oil (vegetable, rice bran, canola, etc.)

1

cup

cake flour

(plus more if needed)

1

tsp

baking powder

⅛

tsp

kosher salt (Diamond Crystal; use half for table salt)

3

cups

neutral-flavored oil (vegetable, rice bran, canola, etc.)

(plus more for rolling dough)
Japanese Ingredient Substitution:
If you want substitutes for Japanese condiments and ingredients, click
here
.
Instructions
Gather all the ingredients.

In a large bowl, combine 1 large egg and ⅓ cup black sugar, and whisk together until sugar has dissolved.

Add 1 tsp oil and whisk together.

Sift 1 cup cake flour, 1 tsp baking powder, and ⅛ tsp kosher salt over the egg and sugar mixture.

Using a silicone spatula, start to combine the dry and wet ingredients. If the dough is too wet, you can add extra flour. Moisture in the air effects, so you have to decide how your dough is like. If you feel that it's too soft and wet, add more flour 1 Tbsp at a time. The consistency is similar to cookie dough, but slightly softer. Let the dough rest for an hour.

Bring the oil in the deep fryer to 300-320ºF (150-160ºC) over medium-low heat. In order to cook inside the dough, we deep fry at low temperature. For a medium saucepan, you will need about 3 cups of oil. You can use less oil, but you will need to rotate the balls often as they won't be covered by oil.

Prepare some oil (for rolling the dough) in a small bowl and rub it on your palms which will prevent the dough from sticking to your hands.

When the oil in the deep fryer reaches 300-320ºF (150-160ºC), scoop the dough with a cookie scooper and roll into a ball. To achieve the same portion size for whatever you're making, a cookie scooper is a great tool to have. The size should be slightly bigger than 1 inch (should be around 3 cm). We say the size should be Ping-Pong ball size (if that helps).

As soon as you are done with rolling, start putting the dough balls into the oil. They will expand so do not put too many.

Once the dough balls are cooked through, they start to float. They rotate themselves, but you can help them rotate to achieve even coloring.

When golden brown, about 7-8 minutes of deep frying, pick them up and drain excess oil on a paper towel or wire rack. Let cool for 5 minutes and enjoy!
To Store
You can store the leftovers in the refrigerator for 3 days and in the freezer for 2 weeks.
Nutrition
Calories:
140
kcal
·
Carbohydrates:
16
g
·
Protein:
3
g
·
Fat:
8
g
·
Saturated Fat:
6
g
·
Polyunsaturated Fat:
1
g
·
Monounsaturated Fat:
1
g
·
Trans Fat:
1
g
·
Cholesterol:
23
mg
·
Sodium:
80
mg
·
Potassium:
30
mg
·
Fiber:
1
g
·
Sugar:
3
g
·
Vitamin A:
34
IU
·
Calcium:
36
mg
·
Iron:
1
mg
©JustOneCookbook.com Content and photographs are copyright protected. Sharing of this recipe is both encouraged and appreciated. Copying and/or pasting full recipes to any website or social media is strictly prohibited. Please view my photo use policy
here
.