Tangy, fragrant, and flavorful, Yukari (Shiso Rice Seasoning) is made of dried red shiso leaves and salt. Sprinkle this traditional Japanese-style seasoning over rice, pasta, and salads.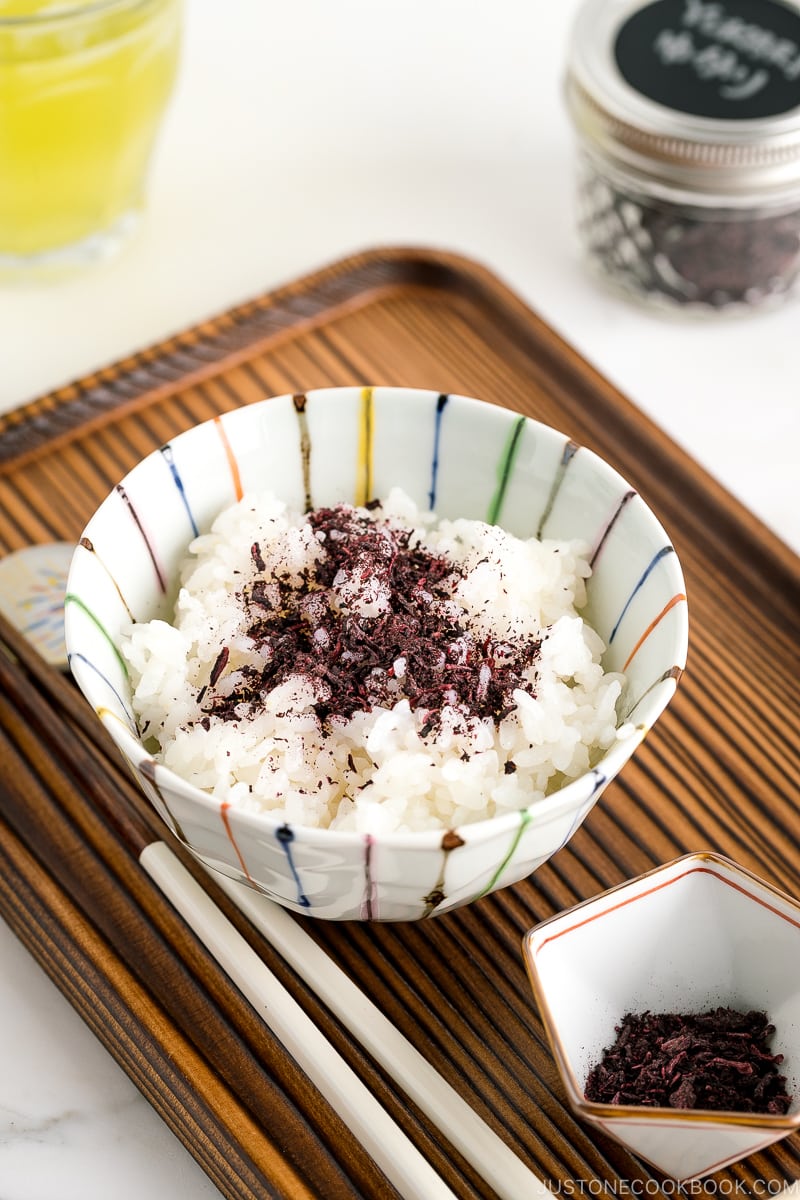 Growing up, I always like this tangy, fragrant, and flavorful rice seasoning called Yukari (ゆかり). My mom called it the edible magic dust because I'd finish up my entire bento box whenever she sprinkled Yukari on the steamed rice. It's one of the nostalgic food memories I keep close to my heart. Today, we'll make this shiso rice seasoning from scratch!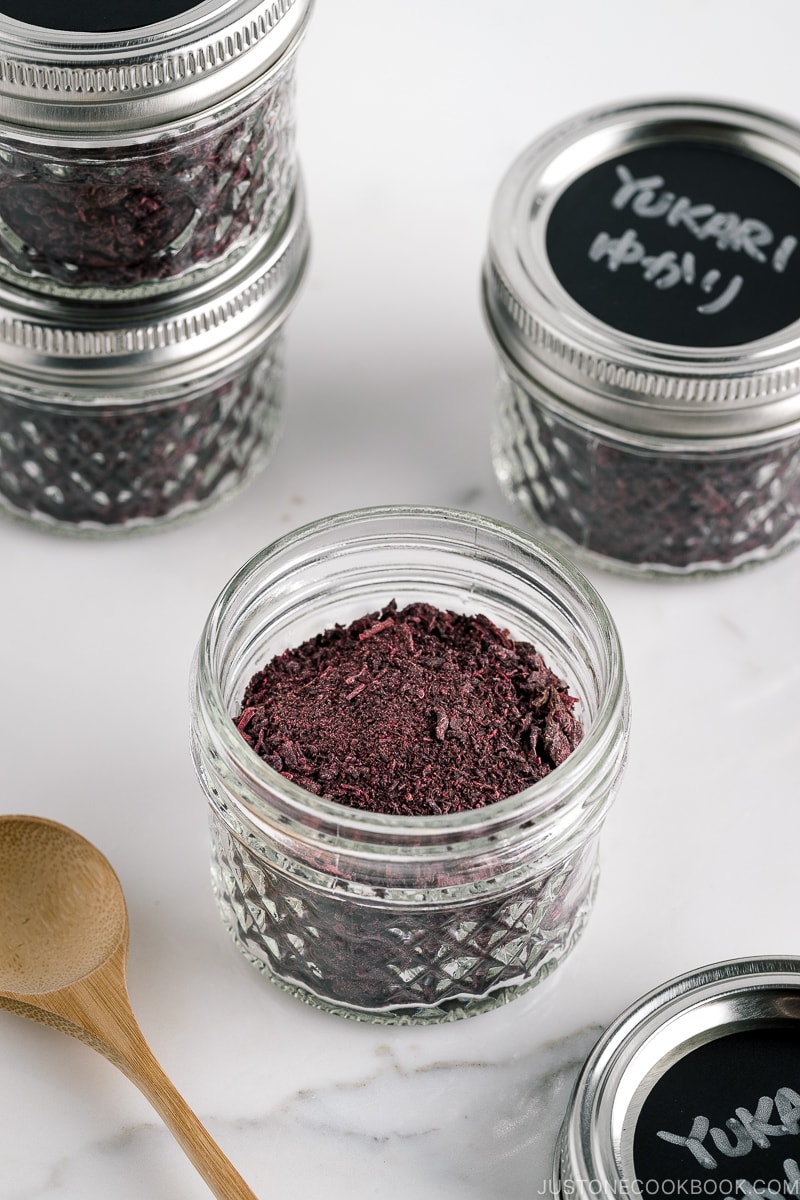 What is Yukari (Shiso Rice Seasoning)
Made of dried red shiso leaves and salt, Yukari (ゆかり) is considered a type of Furikake (Japanese rice seasoning). I've also shared the classic version of Furikake made with leftover kombu and katsuobushi.
Traditionally, rice seasoning is used as a nutritional supplement for cooked rice, by providing extra minerals, proteins, or to increase one's appetite. These days it is becoming a popular, everyday condiment that can be used to flavor just about anything.
In my opinion, Yukari is especially unique because of its striking deep purple hue. The color itself enhance the look and taste of a dish instantly.
If you're familiar with the Japanese language, you might wonder why is it named "yukari." Yukari has a few meanings in Japanese but it is most commonly used as a female name. I have a couple of friends whose names are Yukari.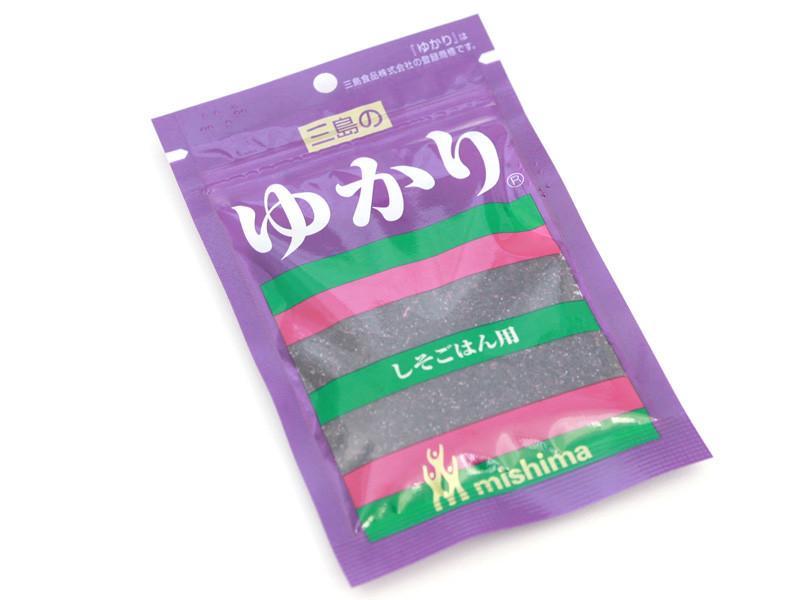 "Yukari" is actually the product name by Mishima brand (above). You can also call it aka shiso furikake (赤紫蘇ふりかけ), but the majority of people call this type of furikake "Yukari".
How to Make Yukari (Shiso Rice Seasoning)
The only ingredient you will need is red shiso leaves. They look like this.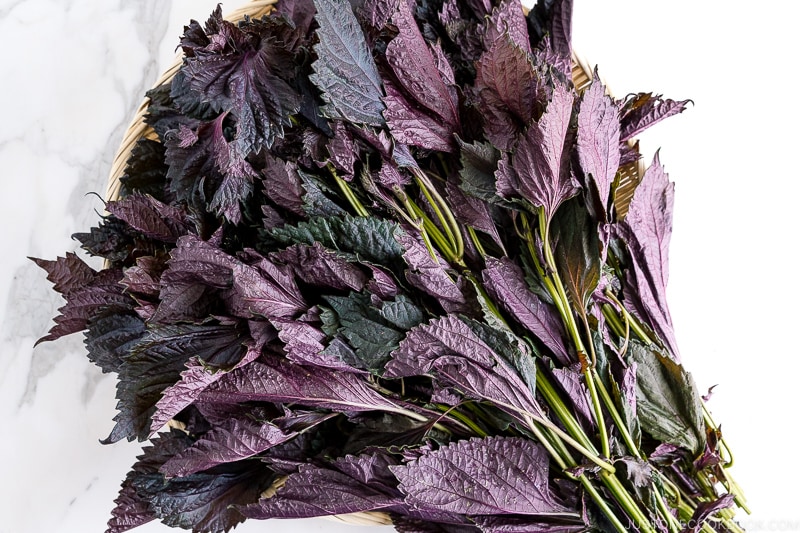 It's a bit of a waste to make yukari straight from the fresh herb, so I would make Umeboshi (pickled plums) or Aka Shiso Juice first before I repurpose the used red shiso leaves for making Yukari.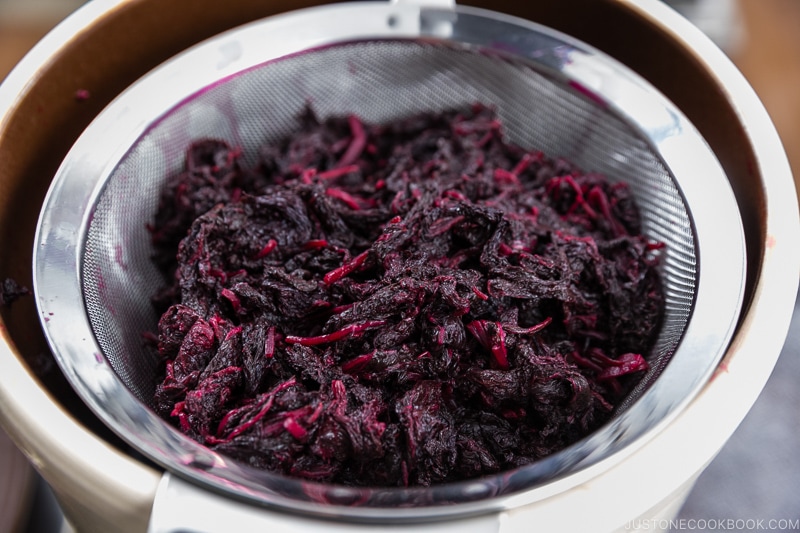 With the used red shiso leaves, all you need to do is to dry them! There are two ways to do it.
Simply dry them outside for 2 days
Use dehydrater to dry for 2 hours
The first option is for everyone. I bought this mesh hanging dry net on Amazon when I made Umeboshi and it was also useful for drying the red shiso leaves.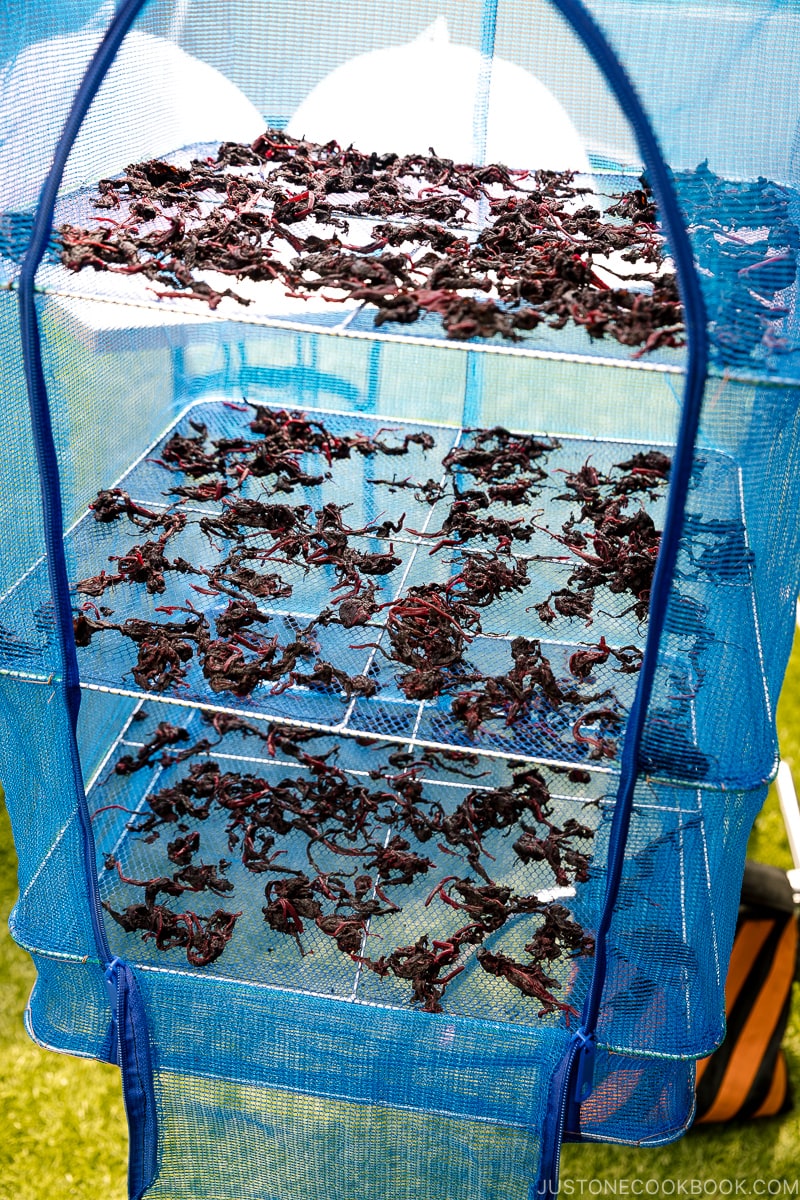 A bit creepy, isn't it? Many of my Instagram followers told me that they looked like scorpions. I love their vivid imagination, but don't let it stop you from making this delicious seasoning at home.
The second option is for those who have a dehydrator or have an oven with the dehydrator function. I actually never paid attention to my oven menus and Mr. JOC pointed out that our oven had one this year. I somehow didn't notice the option even though I have had this oven for several years already!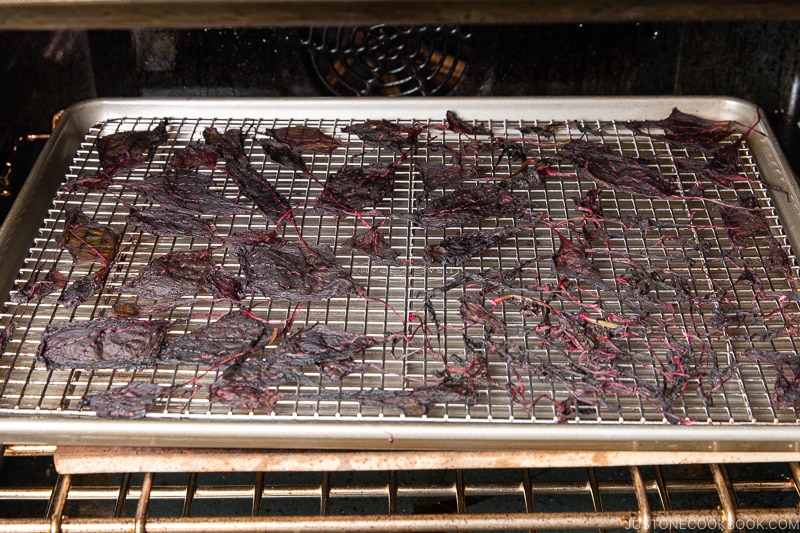 The dehydrator temperature is 140ºF (60ºC) in my oven and I let the leaves dry until the leaves are really crunchy, about 2 hours.
Once the red shiso leaves are dry and crunchy, it's time to throw them into the food processor and process them until powdery!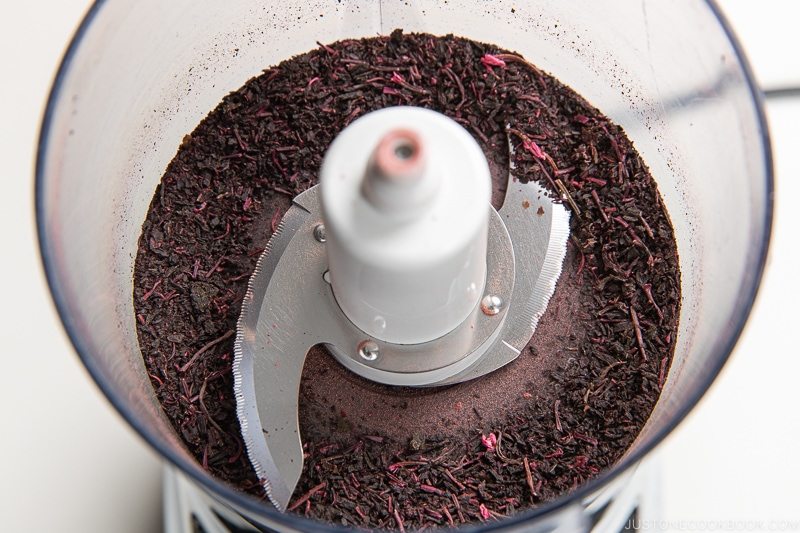 Add kosher salt or sea salt to your liking, and that's it! Here we have a very natural, tangy, and addicting rice seasoning!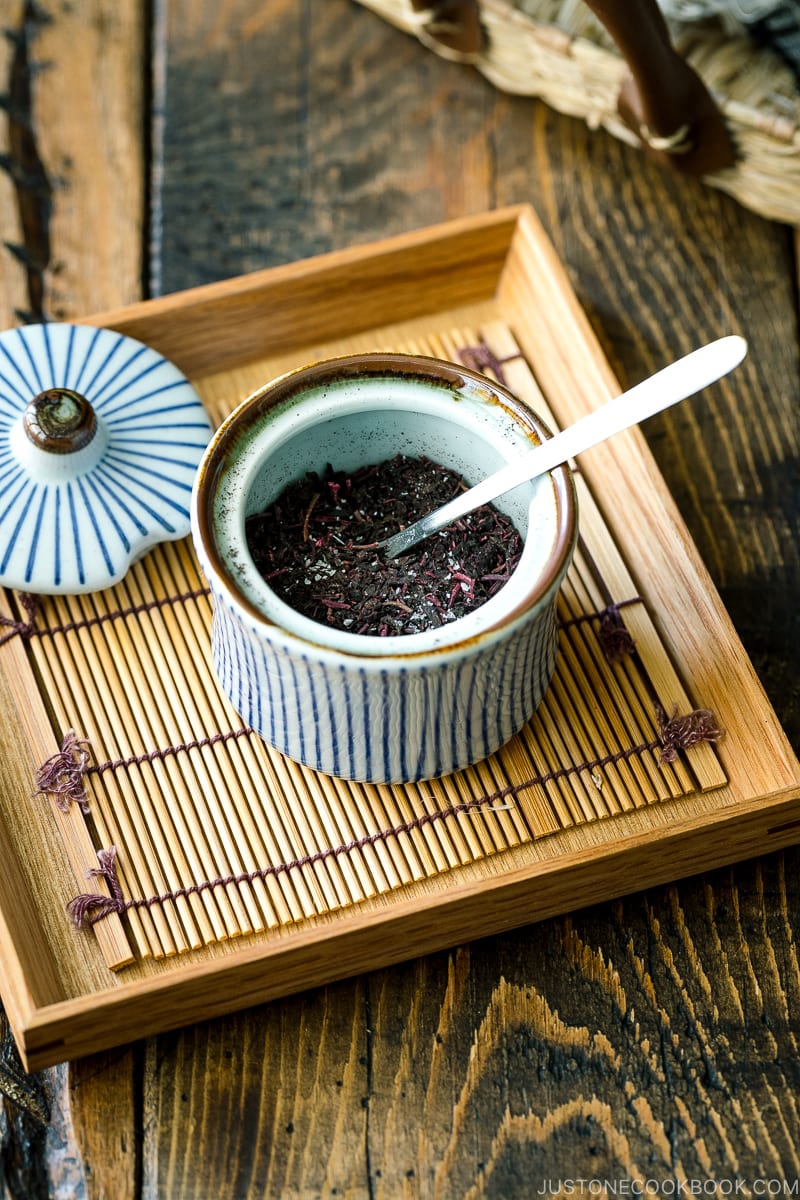 How to Use Yukari (Shiso Rice Seasoing)
If you have never tried this before, then you must first sprinkle some Yukari over the steamed rice and enjoy it.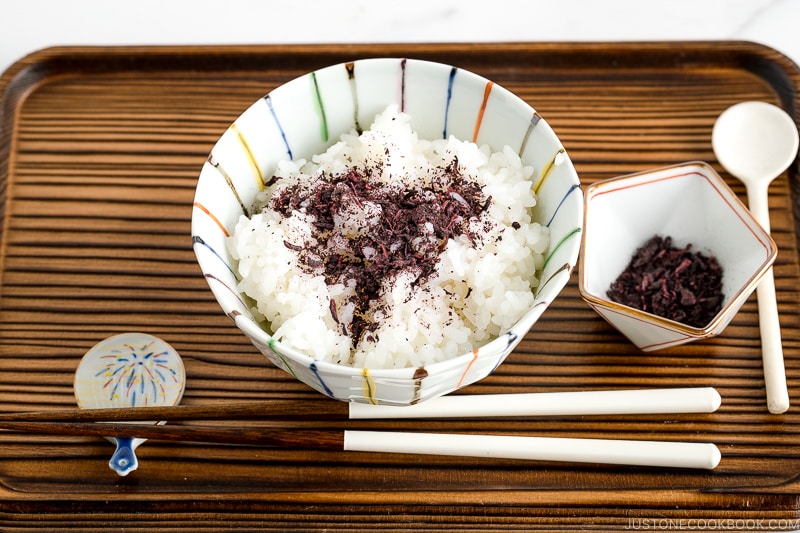 The plain rice suddenly gets very appetizing, and that's the very essence of shiso! You can also mix Yukari with steamed rice, and then make it into rice balls. I LOVE yukari onigiri.
Besides flavoring the rice, you can also use Yukari as an all-purpose seasoning. The possibilities are endless, but here are some ideas:
Over noodles or pastas
Over fish or chicken
Sprinkle on sashimi bowls or poke
Sprinkle on avocado toast
Over boiled eggs
On steamed veggies or salads
Over tofu
Sprinkle on popcorn
How Long Does Yukari Last?
As long as the seasoning is stored in a sealed container in a dry, cool place. it can last up to a year. But if you managed to make extra jars, why not share them with friends and family. Yukari makes a thoughtful, delicious hostess gift.
Have fun using this homemade rice seasoning!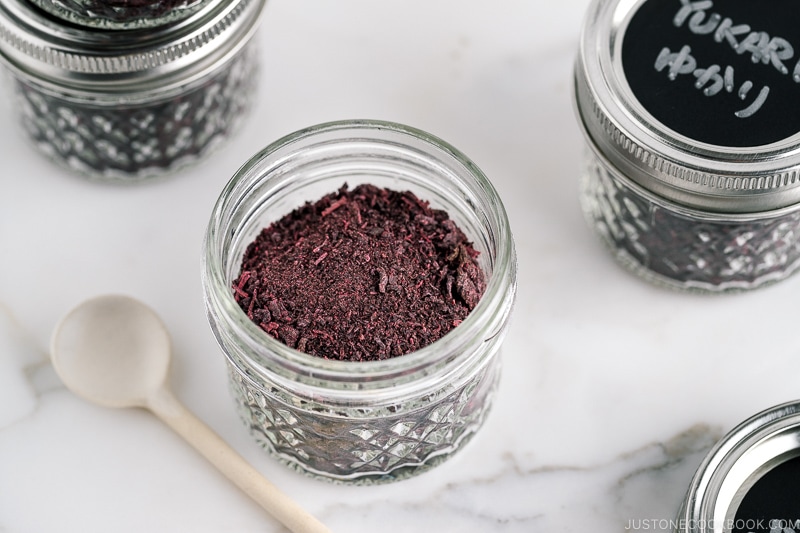 Wish to learn more about Japanese cooking? Sign up for our free newsletter to receive cooking tips & recipe updates! And stay in touch with me on Facebook, Pinterest, YouTube, and Instagram.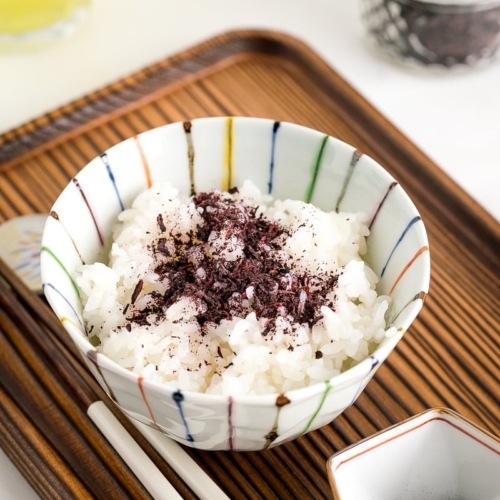 Yukari (Shiso Rice Seasoning)
Tangy, fragrant, and flavorful, Yukari (Shiso Rice Seasoning) is made of dried red shiso leaves and salt. Sprinkle this traditional Japanese-style seasoning over rice, pasta, and salads.
Servings:
1
jar (5 oz/150 g)
Ingredients
used red shiso leaves (perilla)

(drained well)
Japanese Ingredient Substitution:
If you want substitutes for Japanese condiments and ingredients, click
here
.
Instructions
Place the

used red shiso leaves (perilla)

over a strainer set above a bowl/measuring cup, and let it drain.

Squeeze out the liquid (called umezu or ume plum vinegar). Transfer the drained shiso on a baking sheet lined with aluminum foil or parchment paper.
To Use the Red Shiso Leaves from Making Aka Shiso Juice
Take out the

used red shiso leaves (perilla)

and drain well.
To Dry the Shiso Leaves
You have two options to dry the shiso. Method 1: Use a dehydrator or the dehydrator mode (140ºF/60ºC) of your oven to dry the leaves for 2–3 hours. Method 2: Dry the shiso in the breezy air outdoors (I recommend using a a drying rack net) for 2 days until they dry out completely.
To Process Shiso Leaves in Food Processor
Put the dried shiso in a food processor and process until it becomes a fine powder.

Transfer to airtight jars and add salt to your liking. Salt tends to sink to the bottom of the jar, so mix well before you use it.
To Serve
Sprinkle over rice to enjoy. You can also use it in salads, pasta, mixed rice, and more!
To Store
You can keep the jars in a cool dark place for up to a year.
Nutrition
Nutrition Facts
Yukari (Shiso Rice Seasoning)
Amount per Serving
% Daily Value*
* Percent Daily Values are based on a 2000 calorie diet.
©JustOneCookbook.com Content and photographs are copyright protected. Sharing of this recipe is both encouraged and appreciated. Copying and/or pasting full recipes to any website or social media is strictly prohibited. Please view my photo use policy
here
.