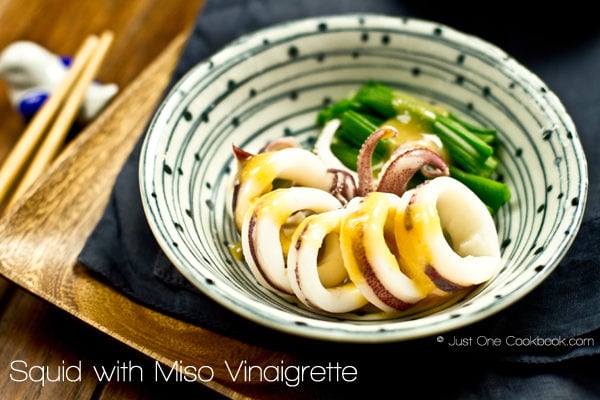 My 6-year-old son finished a 4-week swim camp last week and the teacher said he's ready for a more advanced class when he finished! We didn't sign up for more swim camp though, and he starts science camp tomorrow. It'll be the first time for him to eat lunch at school because his kindergarten was half day. I am looking forward to making lunch for him to bring.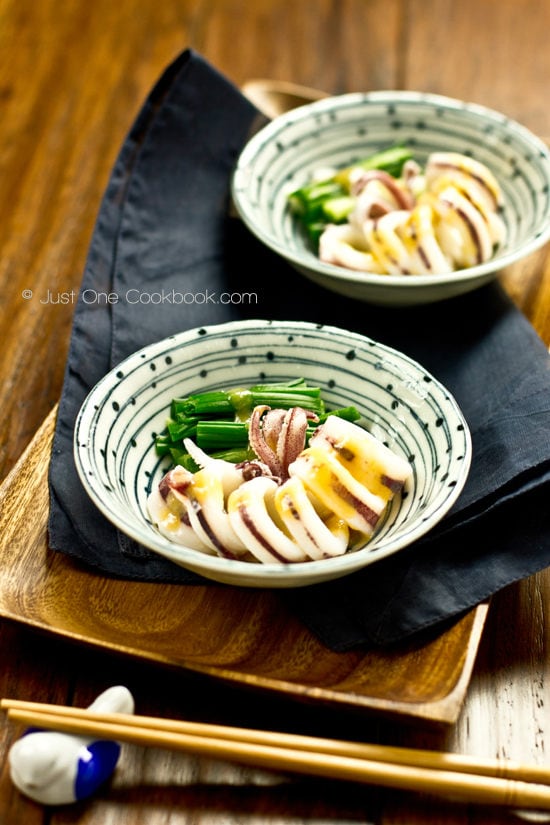 However, to be completely honest I am a bit nervous if I can wake up early enough to prepare his lunch, not sure exactly what to pack, and worried if he's going to eat everything I pack in a short lunch break… I'm just a worry bug.
I'm planning to pack Japanese bento for a couple of days a week and sandwiches in between. He had been enjoying nice warm lunch every day till now so hopefully, he'll be able to adjust to lukewarm or cold lunch. Although it'll be fun for him to eat lunch with his friends, I'll miss our lunchtime… well at least I still have my daughter to eat lunch with me. Anyway, let's move on as I will have to go sleep right after writing this, so I can wake up early to prepare! My husband thinks I am really silly – instead of worrying about whether he'll understand the subjects being discussed at camp, I am worried about his lunch!
Now today's recipe. Japanese loves seafood and it seems like we eat almost everything from the ocean. One of the more common seafood ingredients we enjoy is squid. Squids are served in many ways, as sashimi, and on sushi, deep-fried, baked, grilled, and even sold dried as a snack. Although squids seem less popular in the US, besides deep-fried calamari, they have great health benefits. They are low in fat and calorie and high in protein, and they also reduce cholesterol in the blood.
Maybe fresh squids look too intimidating for you to prepare and cook? Well, focus on the end product and hopefully, you won't mind. 🙂 One of the more popular squids is Spear squid, we call it Yari Ika in Japanese, and the meat tastes sweet and it's soft and super delicious. The dish I am sharing today can be served as an appetizer or side dish, and it goes well with alcoholic drinks.
The sauce I used to compliment squid is Miso vinaigrette, which is sweet and tart from mirin and rice vinegar. The miso flavor provides a nice body to the vinaigrette. If you are not a fan of squid, you can simply use this miso vinaigrette for blanched vegetables, sashimi, shabu shabu pork, etc. Hope you will give it a try!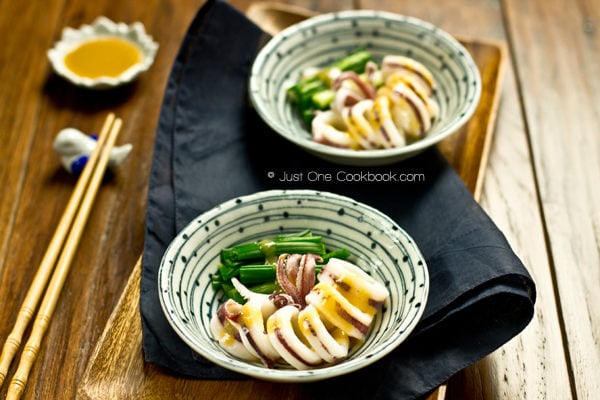 Wish to learn more about Japanese cooking? Sign up for our free newsletter to receive cooking tips & recipe updates! And stay in touch with me on Facebook, Pinterest, YouTube, and Instagram.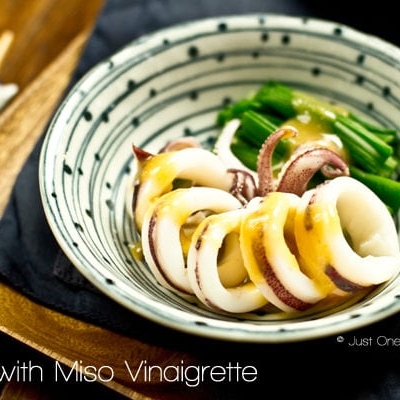 Boiled Squid with Miso Vinaigrette
The sauce I used to compliment squid is Miso vinaigrette, which is sweet and tart from mirin and rice vinegar. The miso flavor provides a nice body to the vinaigrette.
Ingredients
2

spear squid

(fresh; yari ika in Japanese)

3

green onions/scallions
Miso Vinaigrette (Sumiso Sauce):
Japanese Ingredient Substitution:
If you want substitutes for Japanese condiments and ingredients, click
here
.
Instructions
Gently pull the head and tentacle from the body and set aside. With the back of the knife press out the insides and discard. Clean the squid thoroughly under running water.


Remove the quill (the clear sword shaped cartilage) from the squid. Insert your finger to remove any bits that might be left inside.


If you prefer, take off the outer skin by peeling it. I kept it on today so that after boiling it gives nice red color. Also, removing fin is optional.

Cut off tentacles just above the eyes. The tentacles have a tiny piece of cartilage which is the beak and you can cut off the beak with scissors or knife.

Then cut the body to rings and cut tentacles into small pieces.


Cook the squid in boiling water until it becomes completely white. Soak in iced water to cool it down.


Boil water in a small saucepan. When boiling, add salt and soak the white part of the green onions in the boiling water for 10 seconds. This way the thick part will cook longer than green tender part. Bend the green parts and boil for a few seconds. Take the green onion out and let it cool down, cut into 2 inch pieces.


Combine the vinaigrette ingredients and mix well.

To Serve
Serve the squid cold or at room temperature and pour the vinaigrette on the squid right before you serve.
To Store
Keep the leftovers in an airtight container and store in the refrigerator for 1-2 days.
Nutrition
Nutrition Facts
Boiled Squid with Miso Vinaigrette
Amount per Serving
% Daily Value*
* Percent Daily Values are based on a 2000 calorie diet.
©JustOneCookbook.com Content and photographs are copyright protected. Sharing of this recipe is both encouraged and appreciated. Copying and/or pasting full recipes to any website or social media is strictly prohibited. Please view my photo use policy
here
.