When you're in Japan, don't miss the opportunity of taking long-distance trains. While you're at it, treat yourself to an Ekiben (駅弁), the elaborate bento box specifically designed for train travel.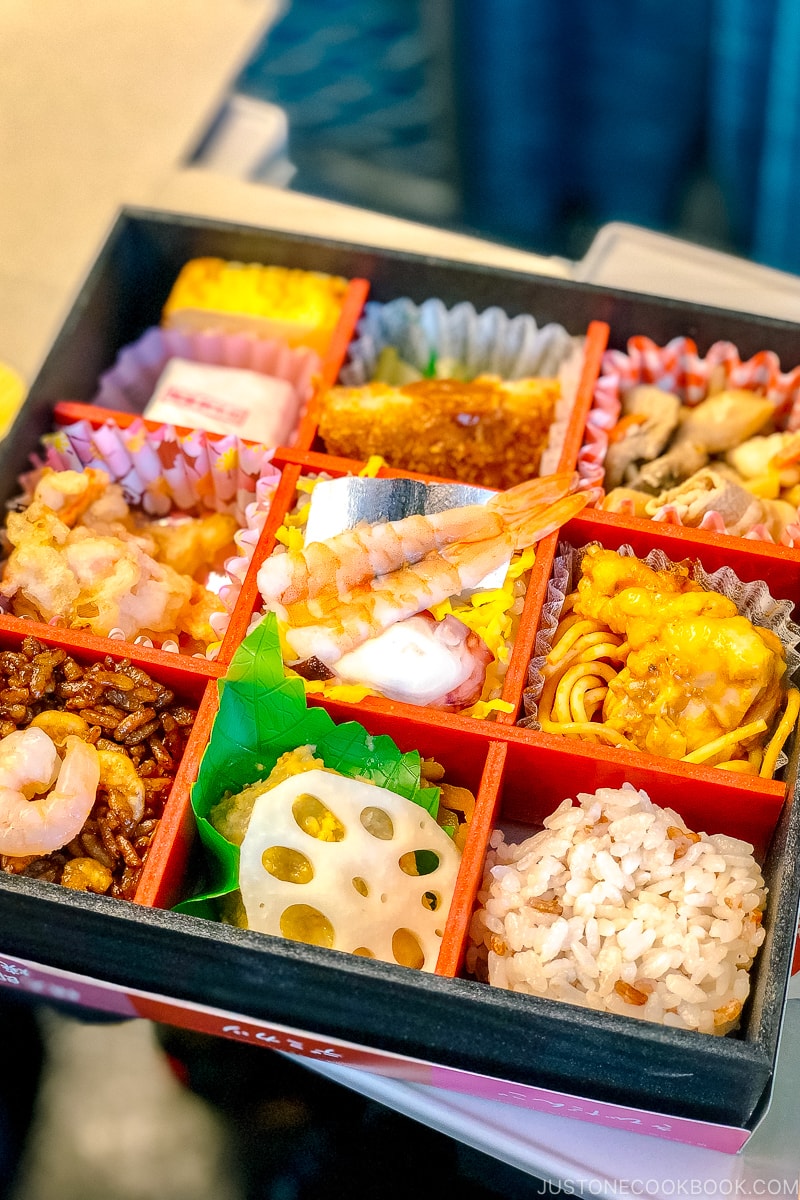 The small island nation of Japan is great for train enthusiasts and travelers in general, as the railway network is vast and expansive. The Shinkansen (bullet train; 新幹線), high-speed rail, and local trains can transport you from all the way north from Hokkaido to southern Kyushu. While you can opt to fly, traveling by train is relatively convenient, safe, punctual, and a totally different experience! You may pass spectacular views of the mountains and ocean, or scenic countryside. Train travel is not just for foreign tourists, so you may be seated next to a friendly Japanese traveler! Plus with a JR pass, you can run around Japan on the JR lines, including the Shinkansen!
When you do travel on the train, start your journey by feasting on a bento box you picked up at the station. Once you board, push back your chair, kick back, and enjoy the beautiful spread in front of you!
What is Ekiben 駅弁?
Portable food for long-distance travel is not unique to Japan, but "Ekiben" (pronounced ey-key-ben; 駅弁) is perhaps quite Japanese. The word Ekiben consists of the Chinese characters "Eki" (station; 駅) and "Ben" (bento; 弁), therefore "train station bento" = bento you can buy at the train station.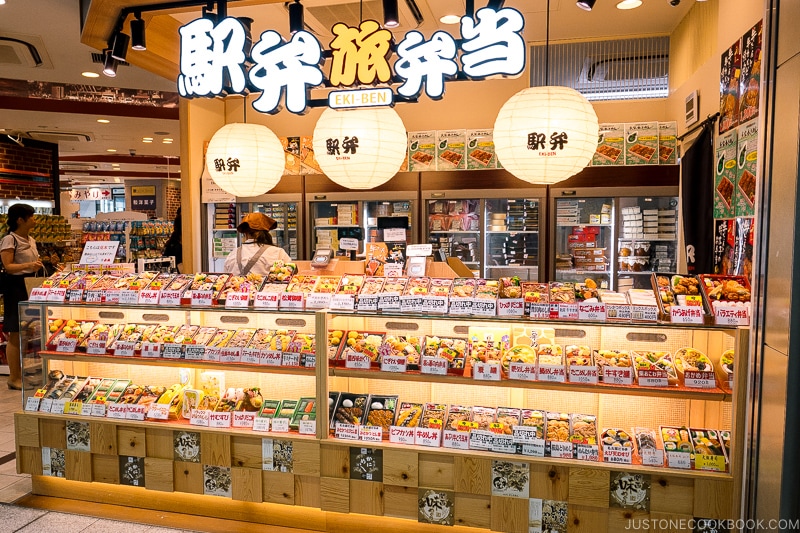 There are no set definitions for Ekiben, but it loosely refers to any packaged meal sold at train stations. While bento boxes will always have rice in some form, bento containing sandwiches, noodles, and non-rice dishes such as Shumai and Gyoza can also be called Ekiben. Throughout history, there have been agencies and organizations who have attempted to narrow the definition, however, the term is broadly used today.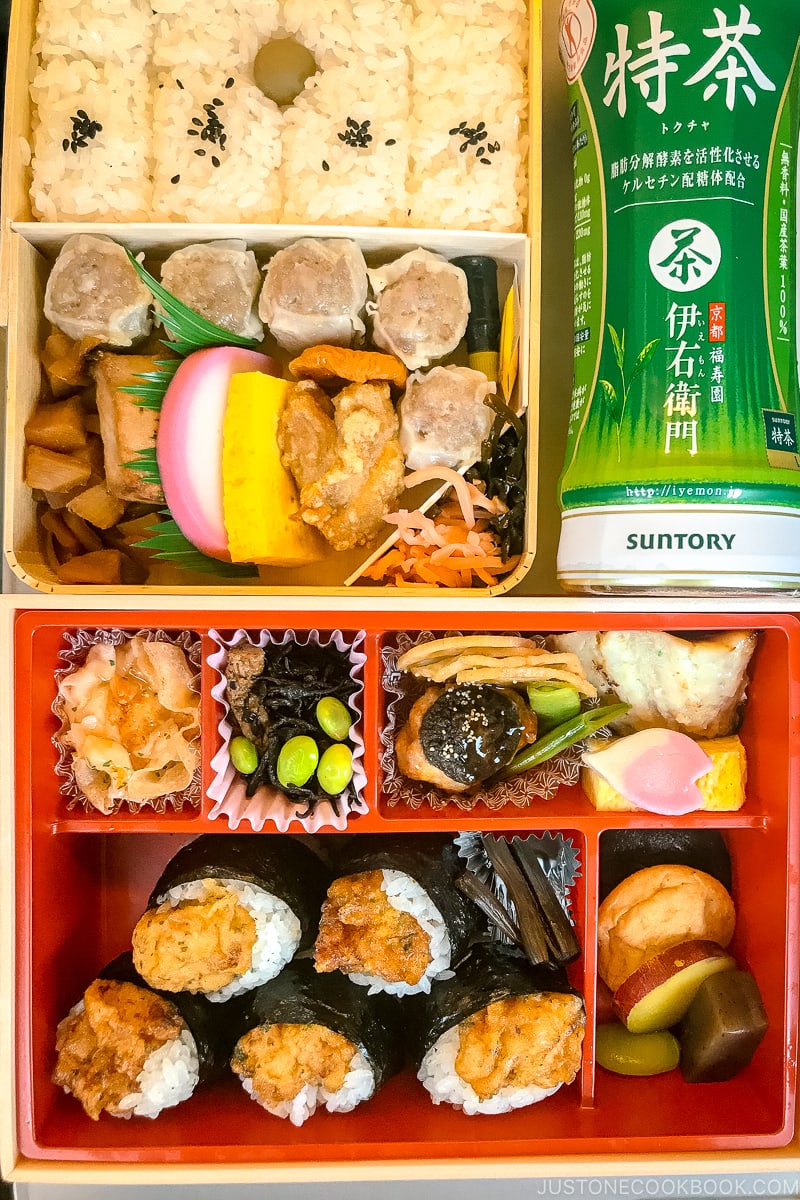 Compared to the bento found at konbini (convenience stores) or the supermarket, Ekiben are more expensive, usually around 1000-2000 yen (if not more!) So how is Ekiben different from everyday bento? First, Ekiben are a luxurious treat (because travel is also a luxury!) and oftentimes showcase local or seasonal produce and specialties. It could be made at upscale restaurants with high-end ingredients, highlight local specialties and produce only available at certain regions or stations, or feature popular characters such as Doraemon or Pikachu!
Another type of bento for travel include "Soraben" 空弁 (Sora = sky, Ben = bento), bento sold at airports.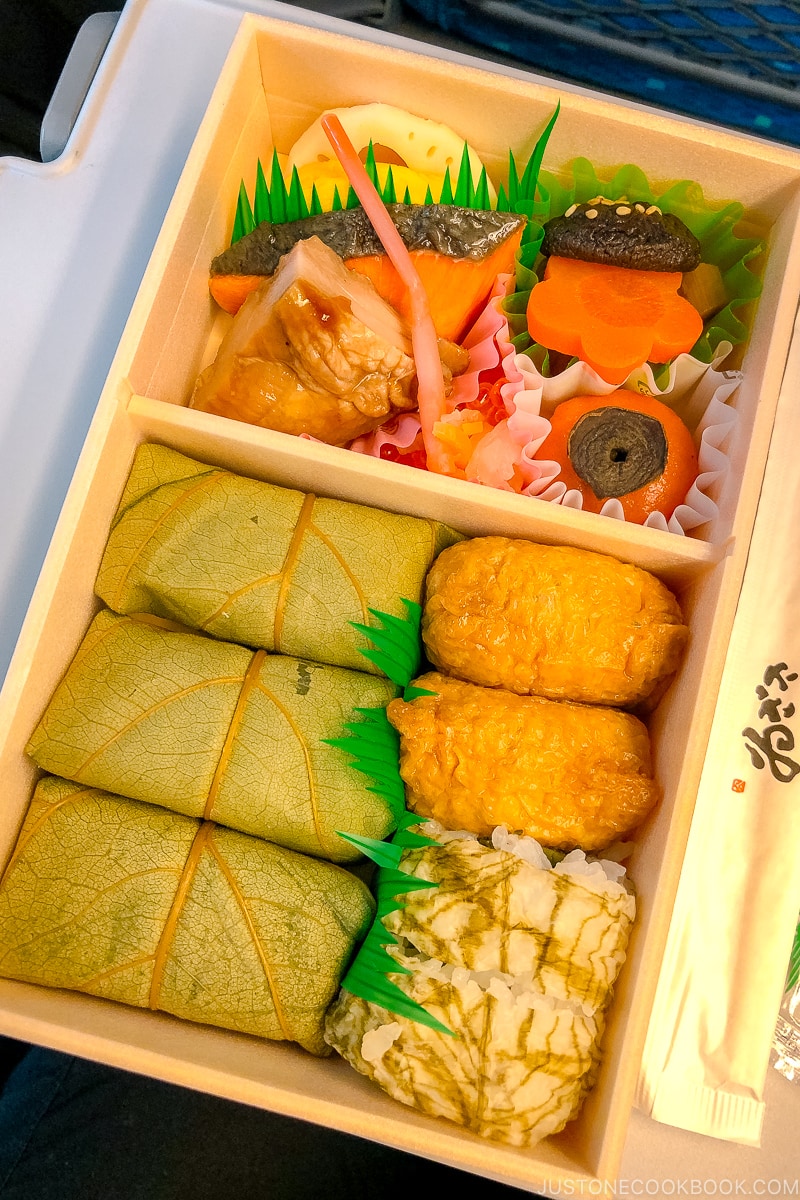 Where can I buy Ekiben?
Ekiben are sold at train station hubs, major department stores, and sometimes inside the train. You don't need to be a traveler to indulge in one, and you can easily purchase them at Shinkansen stops such as Tokyo, Nagoya, Kyoto, and Osaka stations. They're not necessarily marketed towards foreign tourists, and so anyone can get a taste of what the Japanese eat.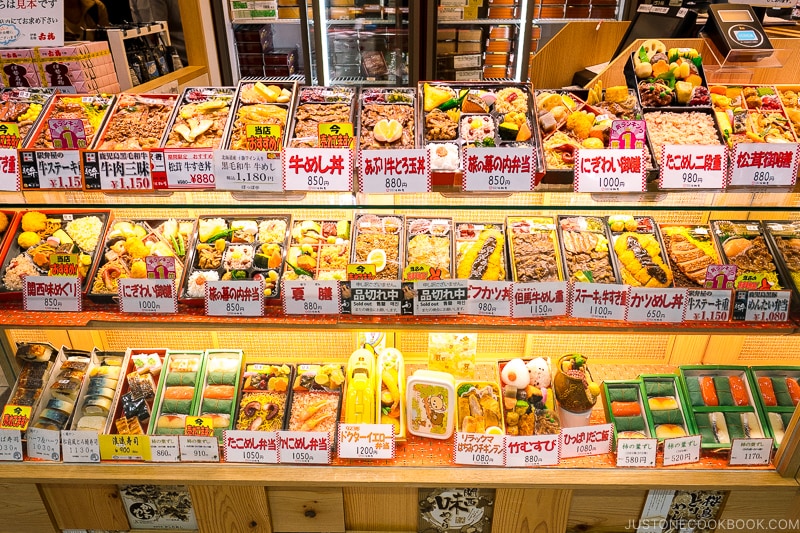 If you're passing by Tokyo station, do browse through the vast selection at Ekibenya Matsuri, located near Marunouchi exit. This store specializes in Ekiben, carrying around 200 varieties sold around Japan. So if you're tight on time and budget during your stay, you can easily savor regional cuisines without a train ticket!
The History of Ekiben
The history of Ekiben is intertwined with the development of the Japanese railway system in 1872. Since the first opening of Japan's first railway, it has been the most important means of transportation, connecting the scattered metropolitan regions and delivering goods and services around the island nation.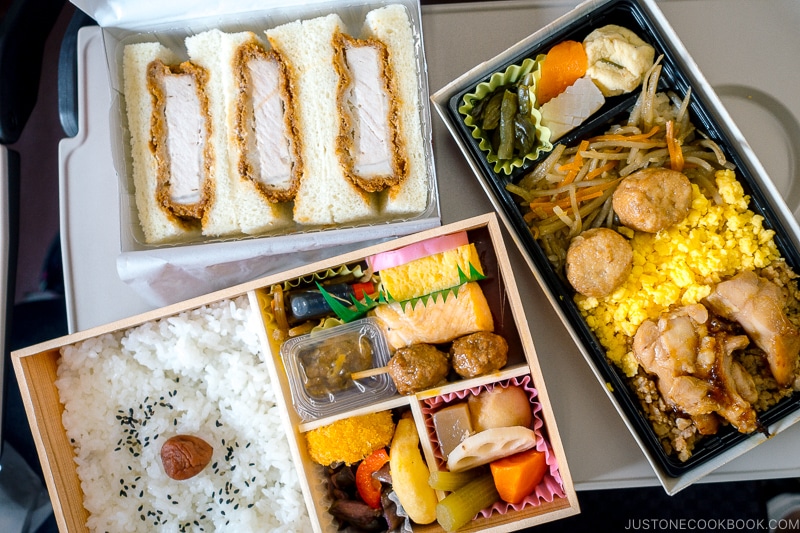 There are several contested theories of where Ekiben was first sold, but most say it started in 1885 in Utsunomiya station. The "bento" consisted of two onigiri with umeboshi  (pickled plum) and takuan (pickled daikon) wrapped in bamboo leaves. Shirokiya Ryokan in Utsunomiya claims to create the first Ekiben, told via oral history, as written records were destroyed during the air raids of WWII. The price in today's currency was 600 yen, which was expensive at the time as white rice was a luxury.
The claim to sell the first bento boxes is in 1890 in Himeji station by Maneki Shokuhin. The bento consisted of several dishes such as sea bream, Date Maki, Tamagoyaki, kamaboko fish cakes, cooked beans, and other tasty morsels along with white rice.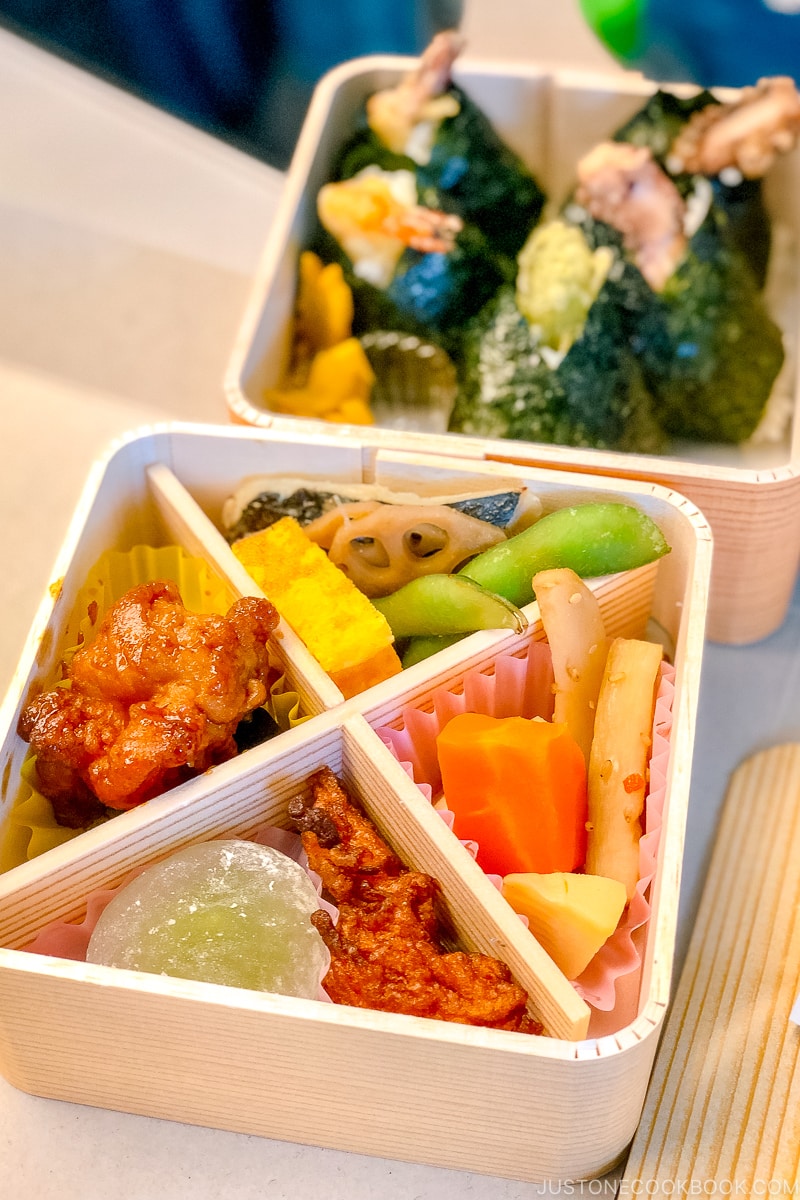 Ceramic pots of green tea called Kisha Dobin (汽車土瓶) would often accompany the Ekiben, where the lid served as a teacup. It is said that the first Kisha Dobin appeared in 1889 in Shizuoka station (Shizuoka prefecture being a major producer of green tea).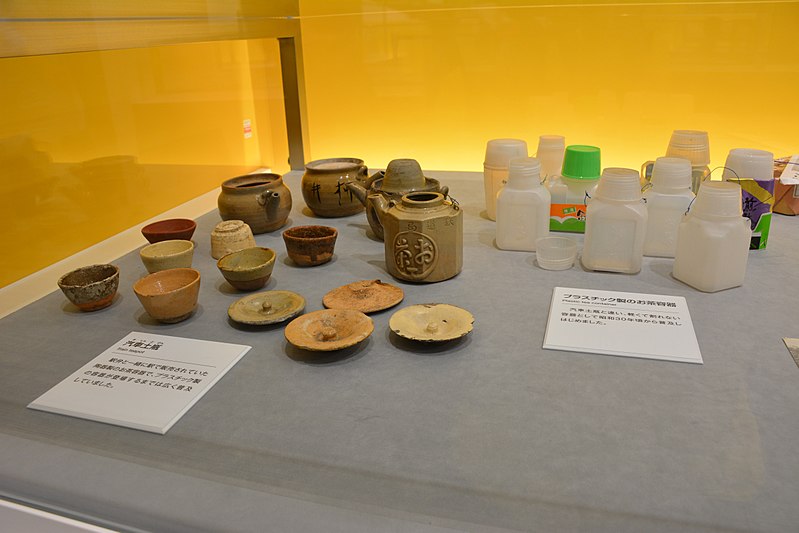 The teapots were phased out due to sanitation issues and replaced by cheaper disposable plastic bottles, but you can still purchase the old fashioned Kisha Dobin at Kobuchizawa Station in Yamanashi prefecture as well as other stations in limited quantity.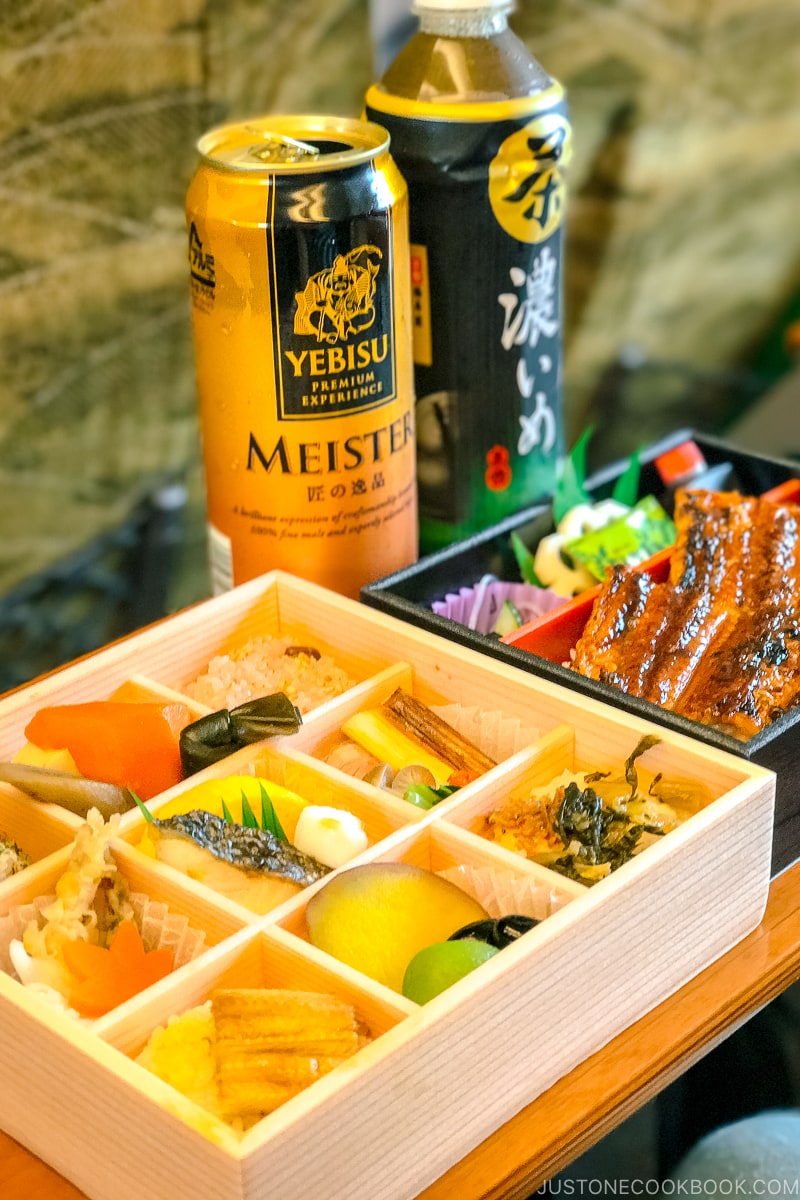 Eating & Drinking Etiquettes on Train
Ready to board? Here are a few etiquette tips for a comfortable ride for both you and your fellow travelers.
Eating and drinking on commuter/local trains (not Shinkansen and long-distance trains) are generally frowned upon. A quick sip from an enclosed drinking vessel is okay, just don't spill or make a mess!
Not sure if it's ok to eat and drink on the train? Observe your surroundings! As a rule of thumb, it's fine on the Shinkansen and long-distance trains.
For common courtesy, avoid strong smelling foods. Most ekiben and store-bought bento tend to avoid these foods, but if you packed your own or bought something unique, perhaps it can wait until you've disembarked.
Similarly, avoid noisy food that requires loud crunching or makes loud noises to open.
Consuming alcoholic beverages is acceptable but getting rowdy is not, so be mindful of your tolerance (for those curious, the drinking age in Japan is 20 and public drinking is tolerated).
After finishing your meal, wipe down the tray table for the next passenger.
Don't leave trash in the seat pocket or on your seat. There are trash bins near the train doors and on the platform. If you don't see a trash bin, take it with you when you disembark.
When tossing your trash, don't forget to separate! There are separate receptacles for glass, cans, paper, burnable/non-burnable.
Lastly, sit back and enjoy your meal and experience!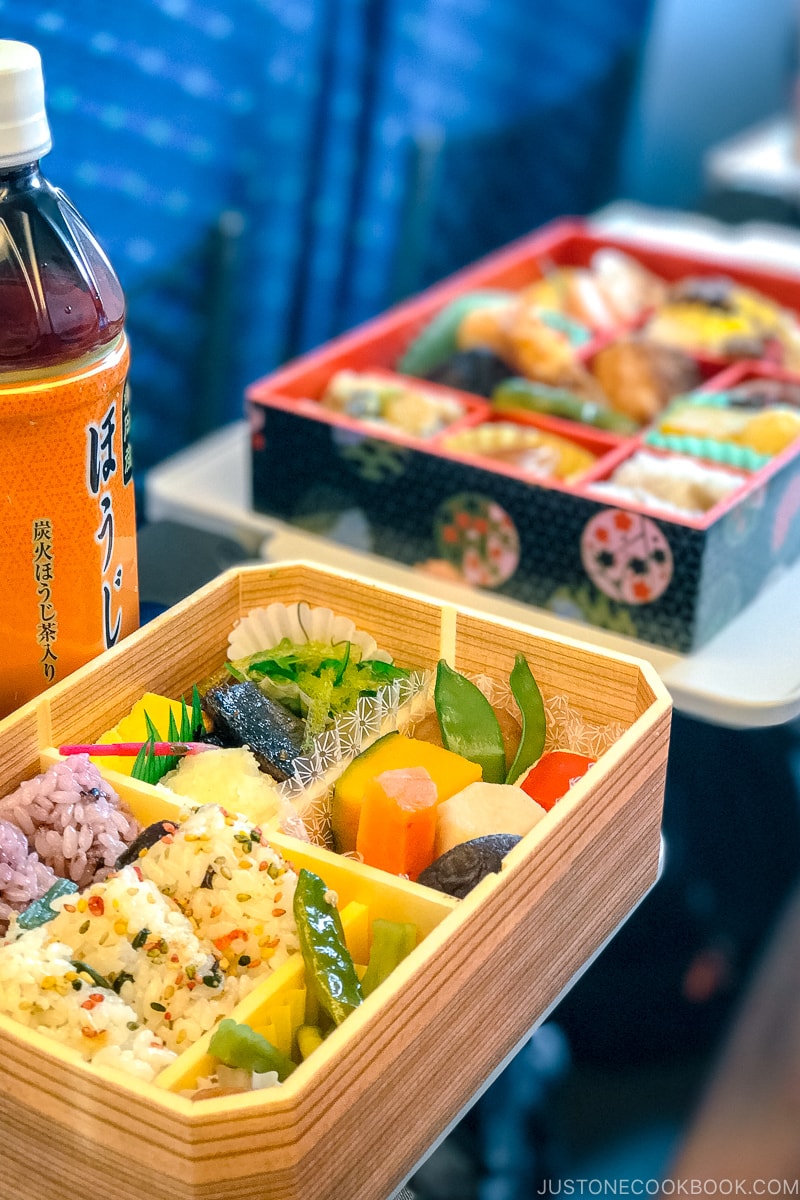 Ready to board?
Do you have any memories of train travel in Japan or eating an Ekiben? Have you eaten an Ekiben equivalent pre-packed meal outside of Japan? Please share your stories in the comment box below!
---
Interested to Learn More about Japan?
---
Kayoko happily grew up in the urban jungle of Tokyo and in the middle of nowhere East Coast, U.S. After a brief stint as a gelato scooper and a slightly longer employment at an IT company, she decided to drop her cushy job to enroll in culinary school. Kayoko resides in Tokyo with her husband, a penguin pillow, and many half-dead plants. More from Kayoko →