A dense, ultra-savory, and dark, Hatcho Miso (八丁味噌) is made of 100% soybeans. It's a flavorful miso from central Japan.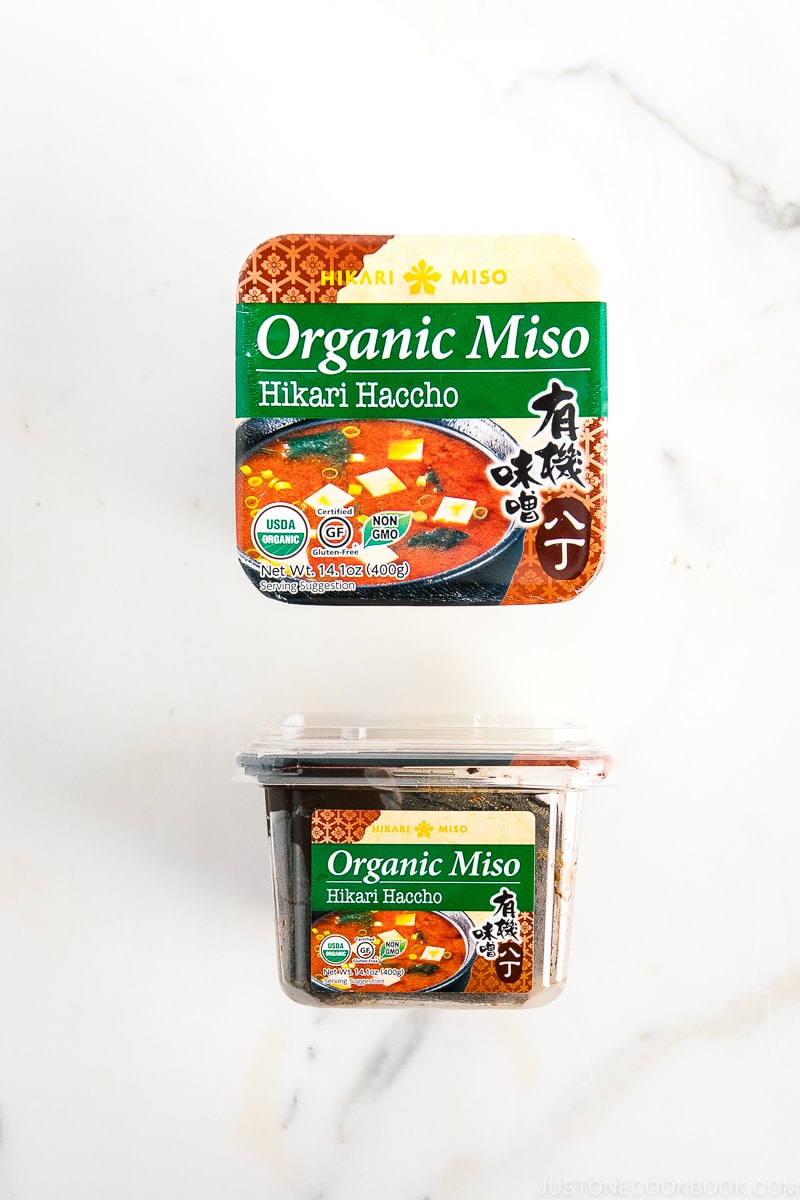 Hatcho Miso (八丁味噌) is traditionally made of 100% soybeans (no grains, like rice, barley, or wheat). It has a darker, reddish-brown color and is denser than miso made with rice (kome miso 米味噌).
What Is Hatcho Miso
A regional miso consumed in Aichi prefecture (where Nagoya is), parts of Gifu prefecture, and Mie prefecture, hatcho miso is soybean miso. It consists of soybeans, koji (aspergillus oryzae, the fungus used to make soy sauce, rice vinegar, and sake), and salt. It undergoes a long fermentation process, between 24 to 30 months.
Hatcho miso is a variety of mame miso (豆味噌) soybean miso, produced in Hatcho village. It was first made in a village about 870 meters (Hatcho 八丁, cho was a unit of measurement, approximately 109 meters or 119 yards) west of Okazaki Castle in Aichi prefecture.
You can purchase the miso throughout Japan, but it is rarely used outside the Aichi-Gifu-Mie prefectures.
What Does It Taste Like
Compared to other miso, it is less sweet and has an intense, bold flavor with good umami. Because of its rich flavor, you only need a small amount for soup, sauce, noodle soup broth, and hot pot broth.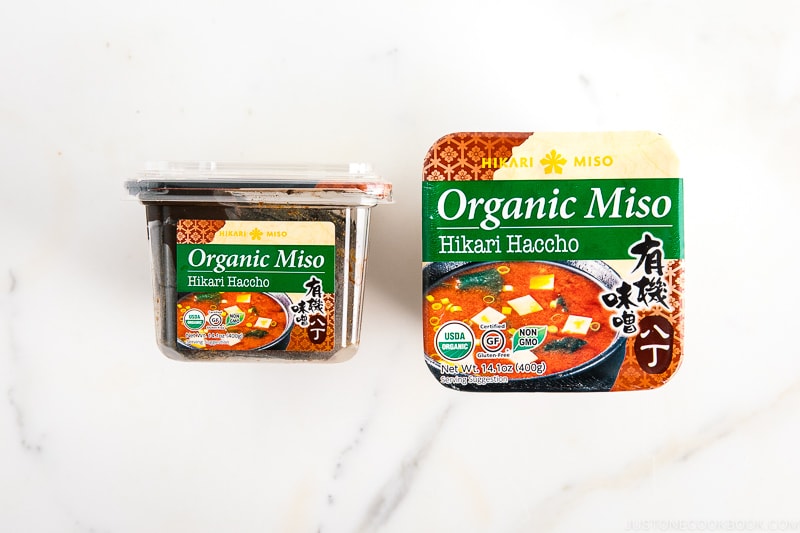 How To Use
You can use it like regular miso. If it's too strong, you can blend it with other types of miso to make miso soup. The Nagoya region uses it for Miso Katsu, Miso Nikomi Udon, Miso Oden, and pours miso sauce on fried foods and various regional dishes.
Recipes Using Hatcho Miso
Where To Buy
You can find it at Japanese or Asian grocery stores, Whole Foods, or health food stores. Eden Foods, a U.S.-based food company, produces its miso.
How To Store
Since miso is a fermented food, you can generally keep it for a while. Once opened, store it in the refrigerator. It doesn't go bad due to its high salt content, but the color darkens over time, especially in warm environments. That is normal and doesn't mean it has gone off.
The taste degrades if kept for more than a year, so check to taste before use. If you notice any change in smell, color, texture, or spotty molds, toss the product.
Health Benefits
Hatcho miso is made of 100% soybeans, but check the label to see if it's completely gluten-free if you're looking for gluten-free miso. Miso, in general, is a source of essential amino acids, minerals, vitamins, isoflavones, and fatty acids.
For more on the general health benefits of miso, read The Health Benefits of Miso.
---
Wish to learn more about Japanese cooking? Sign up for our free newsletter to receive cooking tips & recipe updates! And stay in touch with me on Facebook, Pinterest, YouTube, and Instagram.