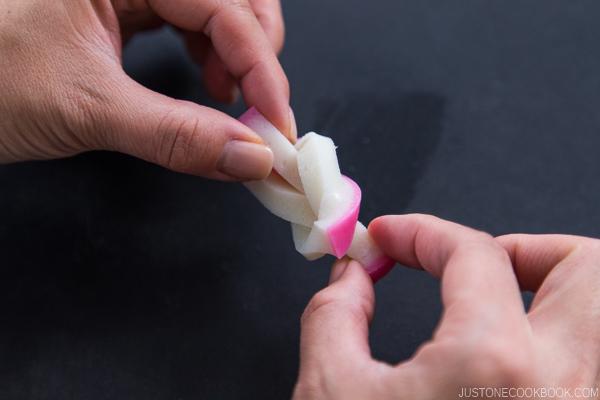 The knot design for kamaboko is universal and it is pretty to look at when served on a platter or as a garnish on top of a dish. The elasticity of the fish cake makes it possible to create this beautiful design.
Watch How to Make Kamaboko Knot
Two Japanese fish cakes (Kamaboko), seven beautiful designs! Make ordinary fish cake into decorative designs on this Oshogatu (Japanese New Year)!
---
Step 1: Remove kamaboko from the wooden board.
Step 2: Slice off the uneven edge on both ends.
Step 3: Cut red-skin kamaboko into a 1/3-inch (8-mm) slice.
Step 4: Place the kamaboko flat on the work surface. Make a 1-inch (2.5-cm) slit parallel to the bottom of fish cake one forth from the pink-skin top. See Step 6 for reference.
Step 5: Flip the fish cake and make a similar slit one forth from the bottom of the fish cake. Make a slit in the center. See Step 6 for reference.
Step 6: Lift up and insert the ends in the center slit, one from the front and one from the back.
Step 7: Gently pull out both ends. And here you have a beautiful knotted kamaboko that symbolizes happy union.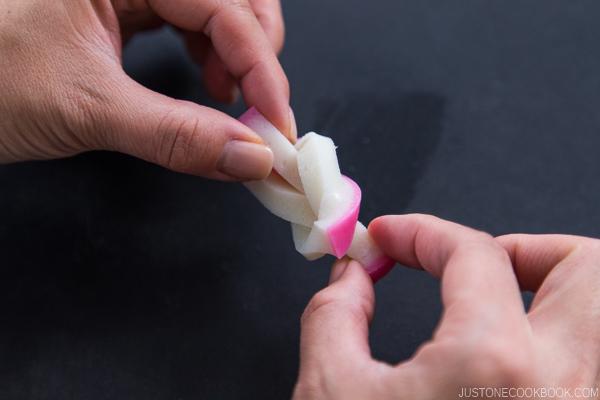 To learn about other beautiful designs of kamaboko (Japanese fish cake), click here.