Kanpyō is long, dried gourd strips. It's cooked in a sweet-savory broth and used as an ingredient in futomaki or chirashi sushi, or as an edible string to tie foods together.
Kanpyo or kampyō (干瓢・かんぴょう) are dried shavings of Lagenaria siceraria var. hispida, a white-flowered gourd. These long, thin dried strips are commonly used as an ingredient in sushi dishes, Nimono (煮物) simmered dishes, and Aemono (和物) marinated foods. Once cooked, they have a unique sweet and savory flavor.
What Is Kanpyo
Kampyo is the dried shavings of a calabash gourd. It resembles cream-colored ribbons. Most of the gourd grown in Japan comes from Tochigi prefecture, north of Tokyo.
Although the gourd originated in the tropical regions of Africa and Asia, Japan is the only country where kanpyo has been eaten since the Edo period (1603-1867). It is a valued and unique traditional food in Japanese cuisine.
It's used in sushi dishes such as futomaki, as thin rolls called kanpyo-maki (かんぴょう巻き), and the pieces scattered on top of chirashi sushi. It's also used as an edible string to bind foods, such as kombu rolls and mochi kinchaku (deep-fried tofu skins stuffed with mochi).
What Does It Taste
It has a sweet-savory taste from cooking in a soy sauce-based broth. It has a soft, fibrous, and slightly chewy texture.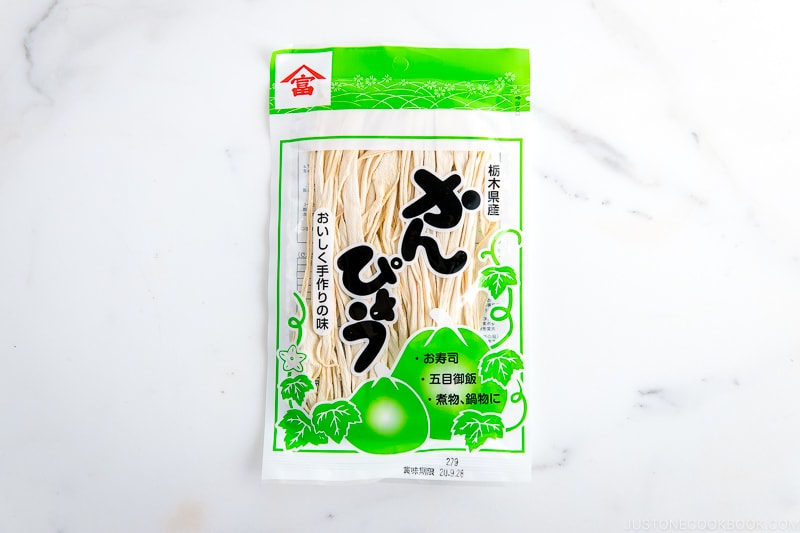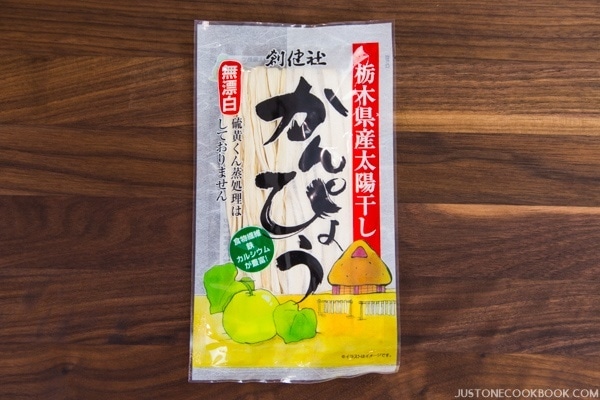 How To Use
To prepare kanpyo, bring a pot of water to a boil. Meanwhile, rinse kanpyo under running water and drain well, then rub it with 1 tsp. salt. Rinse and drain well again. Once the water is boiling, add kanpyo and cook for three minutes. Transfer to iced water to stop cooking and squeeze out the water.
Depending on the recipe, you can rehydrate kanpyo directly in water for 15 minutes and drain. Quickly rinse it under running water and rub it with 1 tsp kosher salt. Rinse again and drain well.
You can also find seasoned kanpyo, which omits this cooking step. It's much more convenient than cooking it from scratch.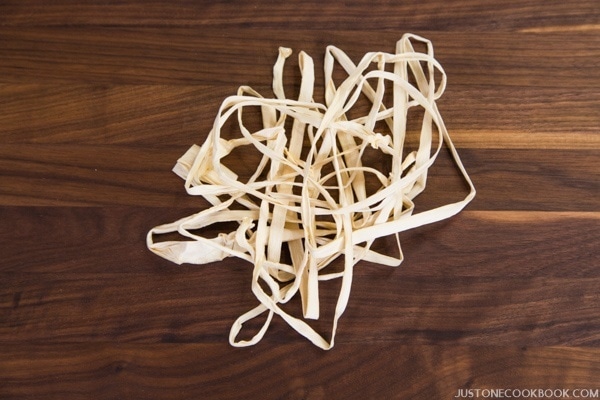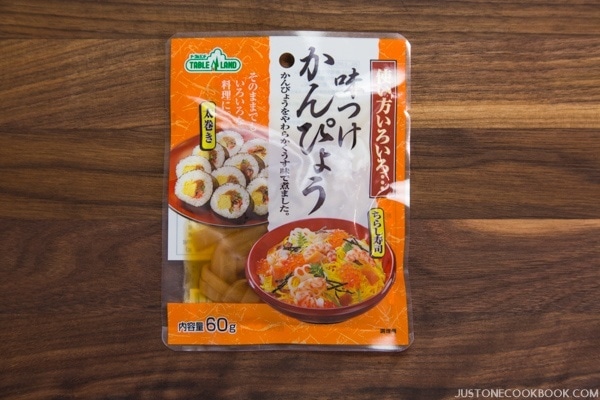 Recipes with Kanpyo
Where To Buy
You can buy kanpyo unseasoned or seasoned at most Asian and Japanese grocery stores. The seasoned version tends to be much sweeter, but it's one less hassle to cook down the dried strips.
How To Store
Like any dried food, store unseasoned or seasoned kanpyo in a cool and dark place like a pantry. Seal the bag well once opened. Keep seasoned kanpyo in the refrigerator once opened and use it quickly.
Health Benefits
Kanpyo is rich in minerals, calcium, dietary fiber, potassium, and iron. Like other dried foods such as kiriboshi daikon, the drying process concentrate its nutritional value. Low in calories and high in fiber, it is also great for diets and said to aid digestion.
---
Wish to learn more about Japanese cooking? Sign up for our free newsletter to receive cooking tips & recipe updates! And stay in touch with me on Facebook, Pinterest, YouTube, and Instagram.