Buttery, creamy, and umami-packed, these Mashed Potatoes with Shio Koji have a Japanese flair to the classic recipe. Be ready to be blown away! Also, get the important tips on how to make the fluffiest, silkiest, and creamiest mashed potatoes.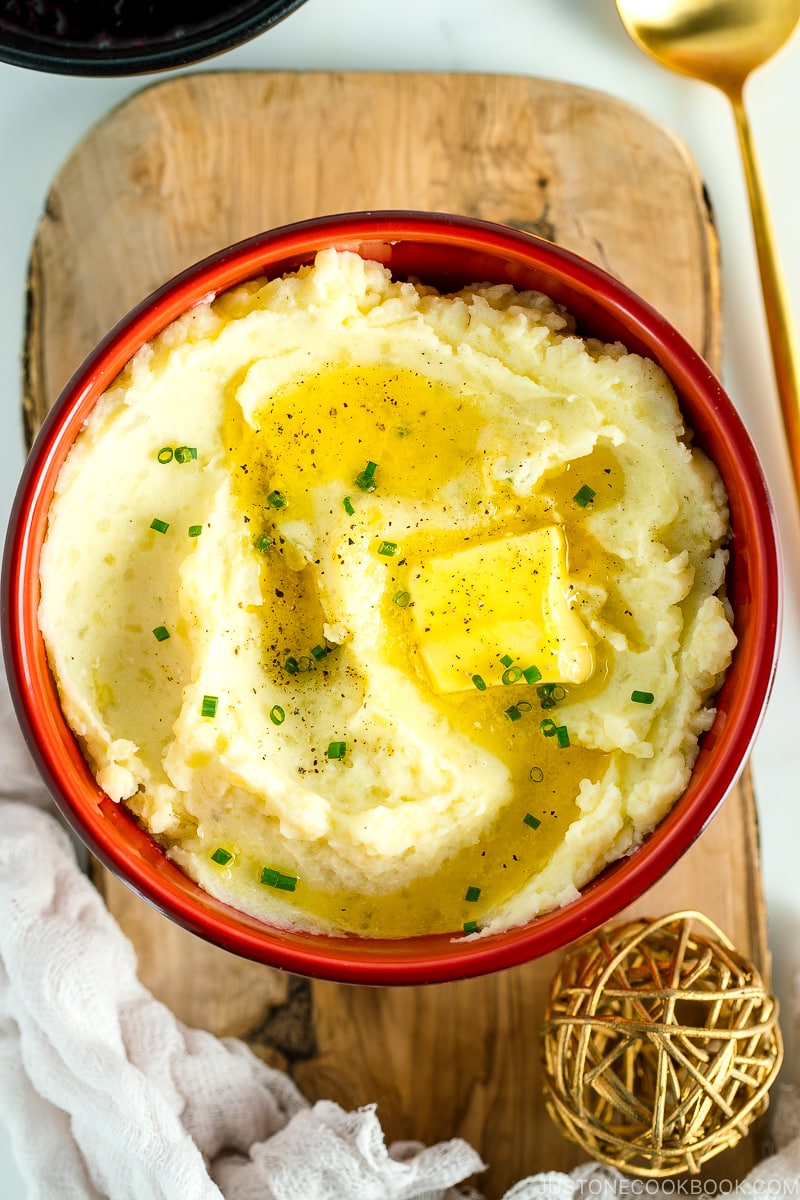 There's nothing quite like a nice warm bowl of creamy, comforting mashed potatoes. In fact, it ranks at the top of the list for my family's Thanksgiving & Christmas menu. Today I'm sharing a truly special, Japanese-inspired Creamy Mashed Potatoes with Shio Koji (マッシュドポテト塩麹入り).
If you're looking to take the classic side dish up a notch, this recipe is going to be your instant favorite. You may not tell it apart at first glance, but after the first bite, you'd be blown away by the deep, savory flavor of these mashed potatoes. That's the magic of Shio Koji!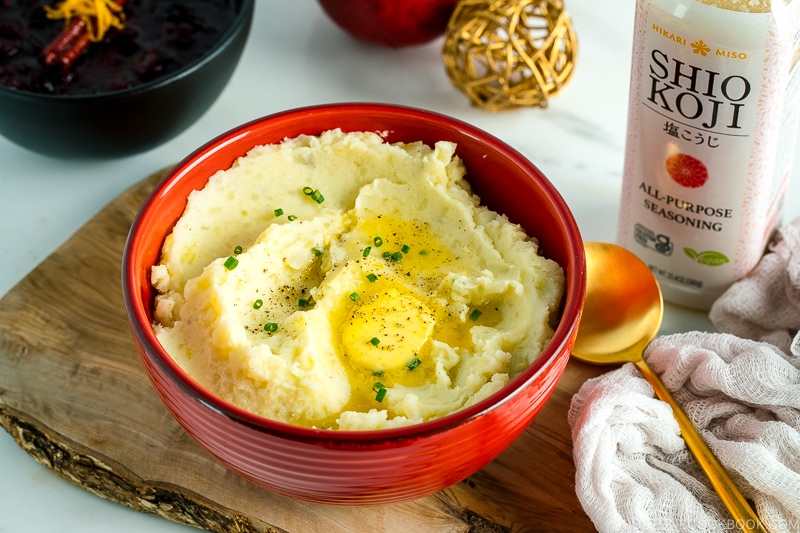 What's Shio Koji and What Does It Do?
Made with salt, water, and rice koji, Shio Koji is a traditional natural seasoning used in Japanese cooking. We use it to marinate, tenderize, and enhance the umami, or richness in foods.
Shio Koji is a live food that is rich in enzymes, so it's ideal to use in potato dishes like mashed potatoes. Just like miso, it does wonder in bringing out the umami and natural sweetness of your food. With Shio Koji, you can really keep the ingredients simple because the all-purpose seasoning alone will bring out so much depth of a dish.
To make these mashed potatoes, I use this Shio Koji All-Purpose Seasoning from Hikari Miso. This is a simple seasoning, but utterly game-changing!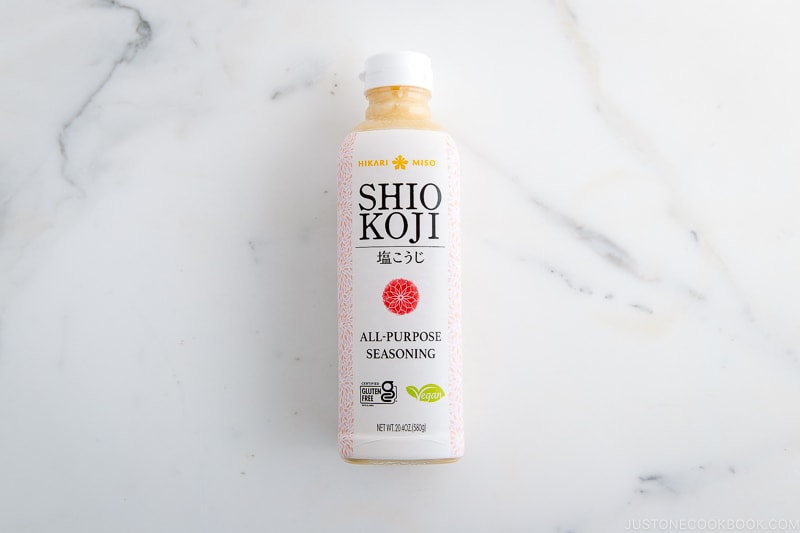 Where Can I Find This?
You can find Hikari Miso Shio Koji in Japanese and Asian grocery stores such as Nijiya and H-Mart. You can also find it on Amazon.
Substitute
If you want to stick with the classic mashed potatoes without shio koji (still delicious, do follow my tips!), please add salt in the following two steps.
Add salt to your water as the starch in the potatoes will absorb it as they boil. This gives you more flavorful potatoes for mashing.
Then season with salt after taste check (it's important to actually taste it before seasoning!).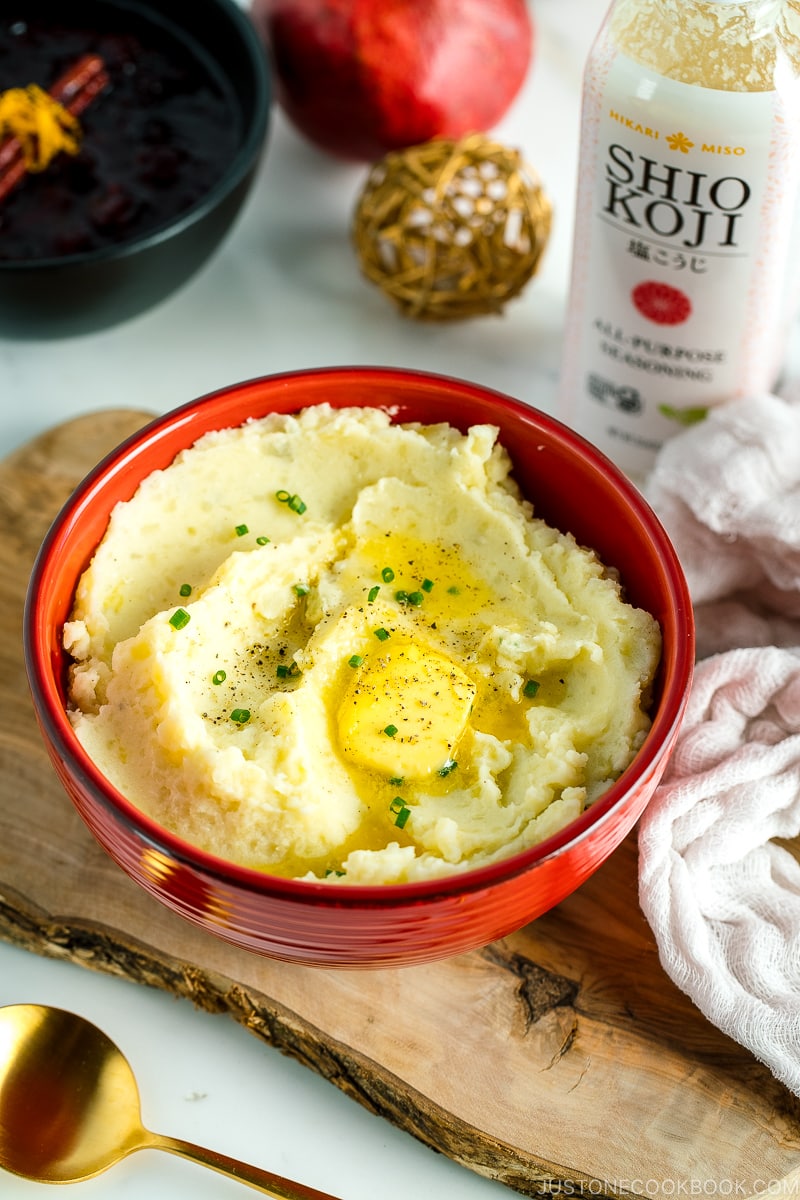 7 Tips to Make the Fluffiest Mashed Potatoes
1. Use Both Russet Potatoes and Yukon Gold Potatoes.
There are enough articles online about which potatoes are better for mashed potatoes. Higher starch Russets are always a classic choice. They are soft and can be mashed up light and fluffy. Since they don't require much work to break down, less starch is released in the process.
Yukon Golds have a beautiful, yellow flesh, and has a creamy, dense texture, and buttery flavor. They are in the medium-starch category, which means they require more work and release more starch along the way.
After making mashed potatoes using a variety of potatoes, we truly believe that the combination makes the best, mashed potatoes. PERIOD. Using both Russets & Yukon gives you the best of textural satisfaction. Give it a try!
2. Cut Potatoes into 2-Inch Uniform Shape.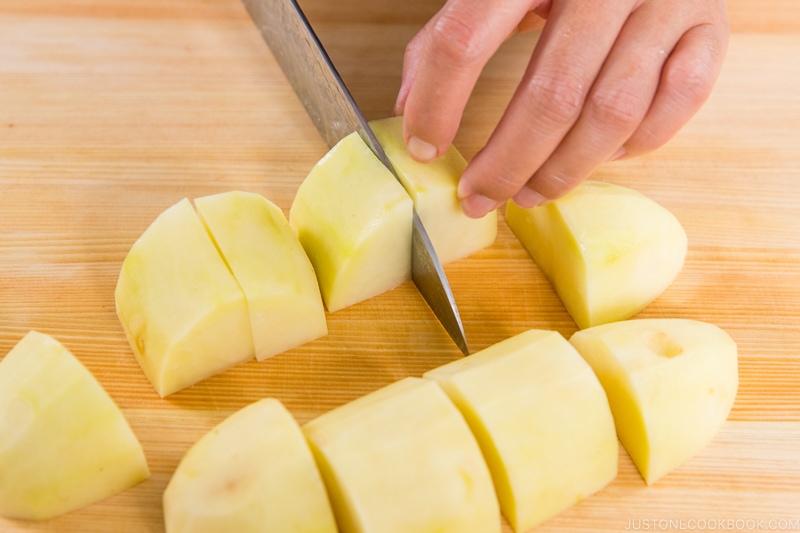 My mom believes that potatoes should be boiled with skin on and then remove the skin while the potatoes are hot with your hands. I can never get it done properly (my fingers are too sensitive to the heat!) so I go with peeling the skin route. I think it doesn't make a huge difference (don't tell her). It's important, however, to cut the potatoes into a uniform size, so that they will be done cooking at the same time. Typically I cut each Russet potato into 6 equal pieces and Golden Yukon into 4.
3. Cook Potatoes from Water.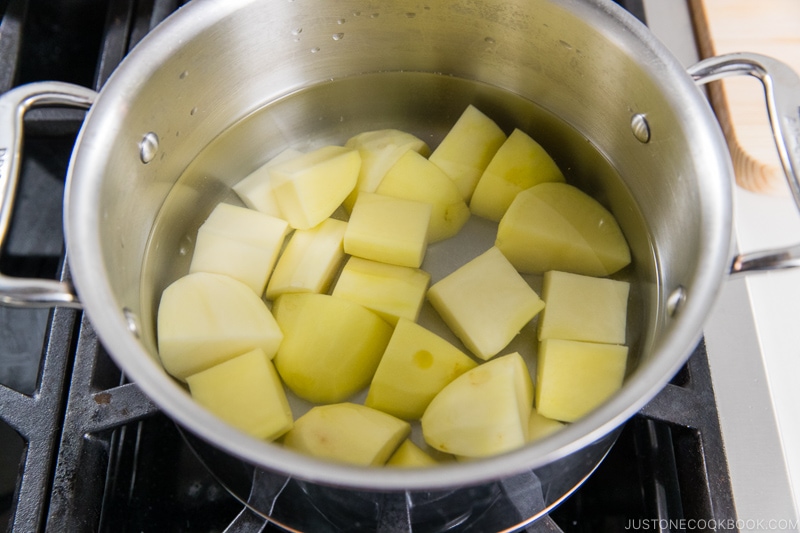 Potatoes take time to cook until tender inside. It's important to cook them starting from room temperature water, and slowly cook it through. It takes roughly 10-15 minutes till the water comes to a boil, and 10-15 minutes to cook the potatoes. Add salt in the water as the starch in the potatoes will absorb it, which gives you more flavorful potatoes (similar concept to boiling pasta).
4. Double Rinse, Please.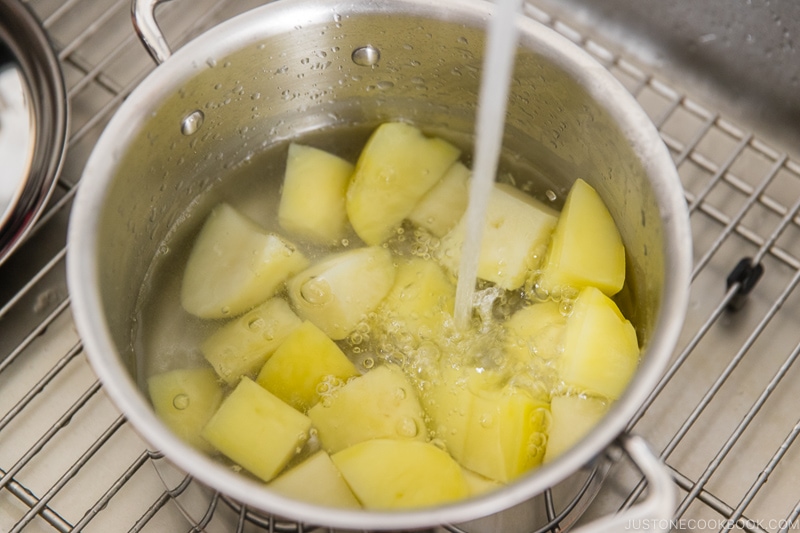 I used to make Japanese croquettes with my mom growing up, so I knew we have to soak and rinse the potatoes with cold water before cooking to remove excess starch.
What I didn't know until recently is that we can also rinse the potatoes AFTER cooking. As J. Kenji López-Alt explains in his book The Food Lab (Mr. JOC and I love this book for cooking science reference), after draining the water, quickly rinse boiled potatoes with hot water to ensure even more starch is out of the way. To my surprise, I think this trick really improved the texture of my mashed potatoes.
5. Dry Up Potatoes.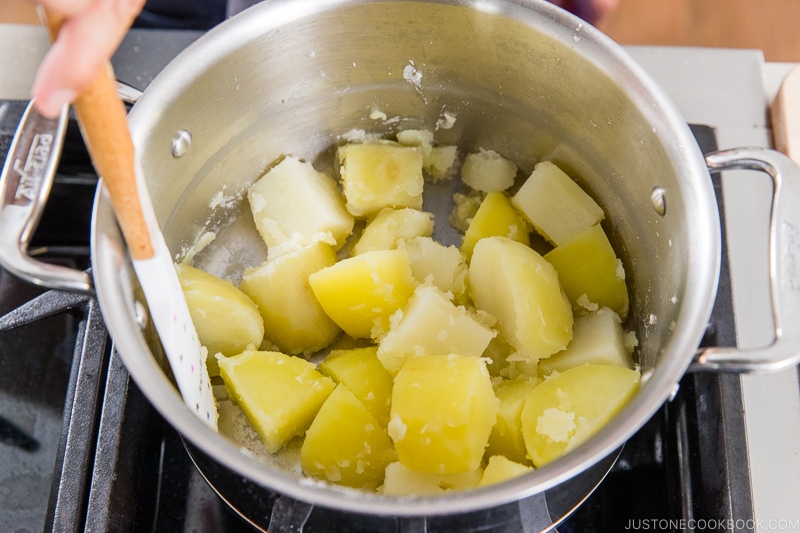 Russets are higher in starch than Yukon Golds; therefore they absorb water more easily. Therefore, you can do the following two things to avoid both starch and moisture:
Get rid of starch by rinsing the potatoes before and after boiling.
Dry up the potatoes properly to let moisture evaporate before mashing.
I'll show you how to do it in the recipe card, it's super easy! No one wants soggy mashed potatoes!
6. Use Good Old Potato Masher or Ricer.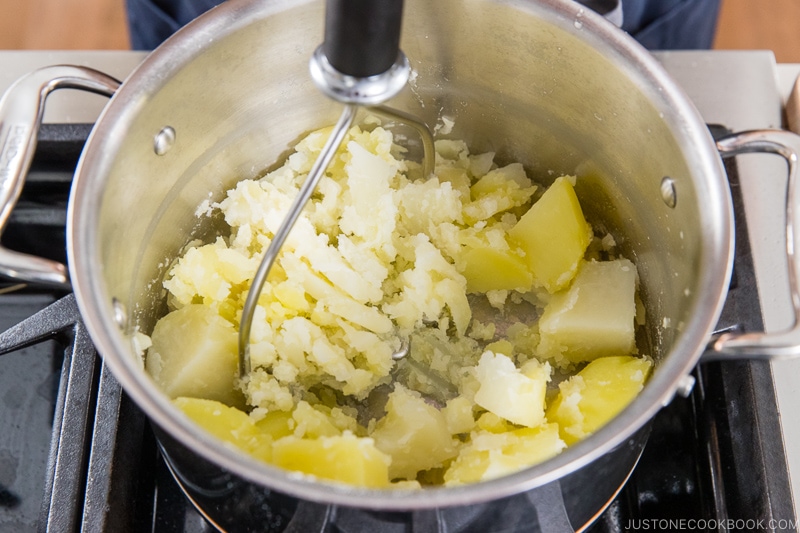 A ricer is probably the best tool for mashed potatoes, but not everyone has one in limited kitchen space. The next best option is a good old potato masher (I use this brand). Don't use a blender, a food processor, or an electric mixer.
7. Warm the Butter and Cream.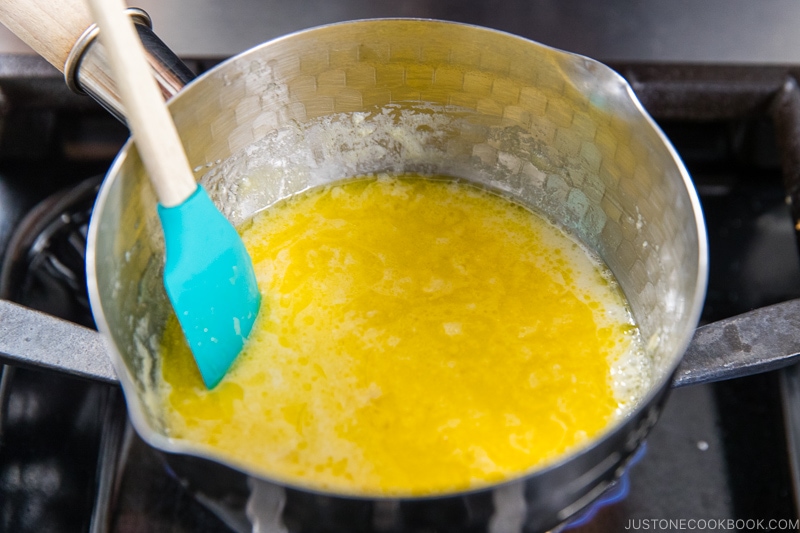 Heat up the butter, cream, and Shio Koji in a saucepan before adding them to the mashed potatoes. This will make it easier for the potatoes to absorb them, especially when they are warmer. Plus, you don't want to decrease the temperature of the mashed potatoes with cold ingredients!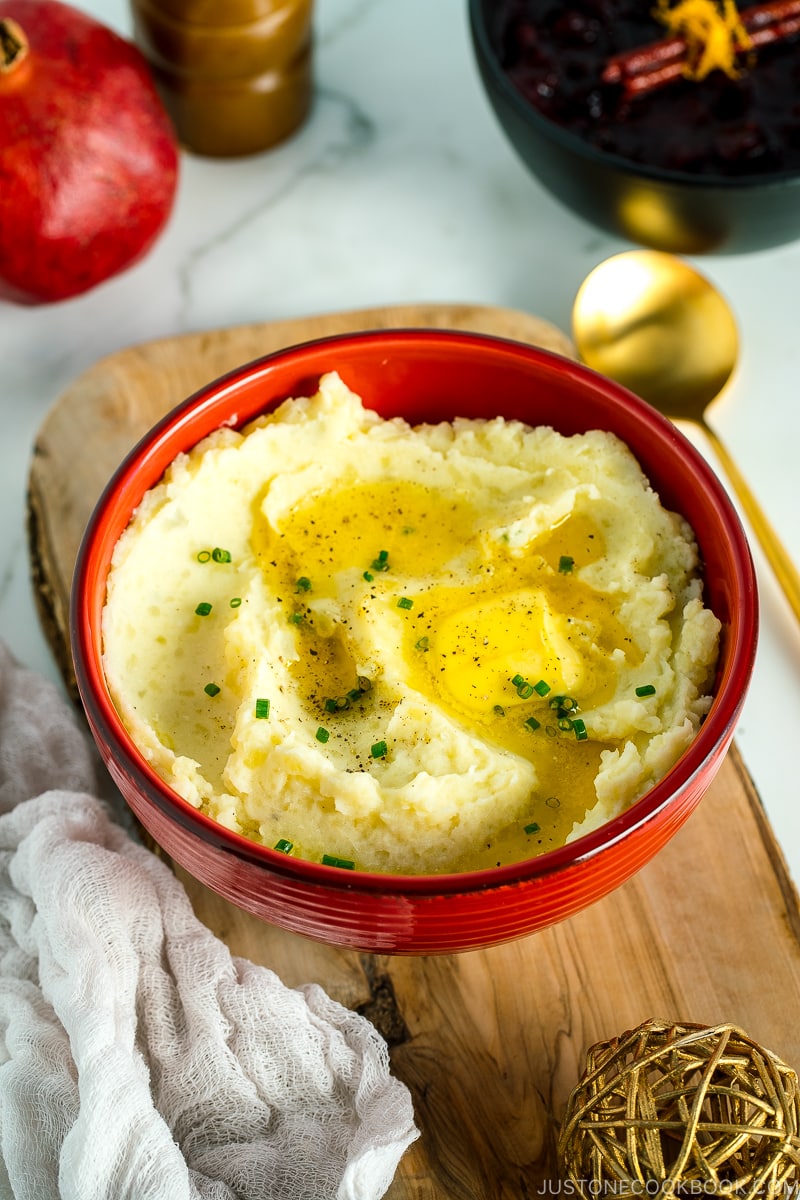 How to Store & Reheat Mashed Potatoes
Mashed potatoes are freezer-friendly, so you can definitely make-ahead or save your leftovers for later. Be sure to coat the potatoes with butter and cream. The dairy/fat helps to keep them well, and heat up nicely and creamy.
To store, you can either portion out the mashed potatoes using a cookie scoop onto a parchment-lined baking sheet, then freeze for at least a few hours, or until frozen. Transfer the individual servings to a large freezer bag or container, and store them in the freezer. Another easy option would be to transfer the cooled mashed potatoes directly to a container or large freezer bag, and store in the freezer.
You can choose to thaw in the refrigerator a day before reheating. This will shorten the heating time. Or reheat directly from the freezer.
To reheat, there are a few choices, but below are my preferred ways:
1. Microwave – Place a portion in a microwave-safe bowl, cover, and microwave at 50 percent power for about 5 minutes, stirring occasionally, until they're heated through. The time may vary based on the amount of potatoes and your microwave wattage. Once cooked through, stir well, and add butter or seasoning, as needed.
2. Oven – Place the potatoes, thawed or straight from the freezer, in a covered casserole dish at 350°F (177ºC) for about 30 minutes, or until heated all the way through. Fluff and taste the potatoes. Add more butter, cream, and seasoning as needed.
What to Do with Leftover Mashed Potatoes?
If you're tired of eating mashed potatoes, use them for these recipes!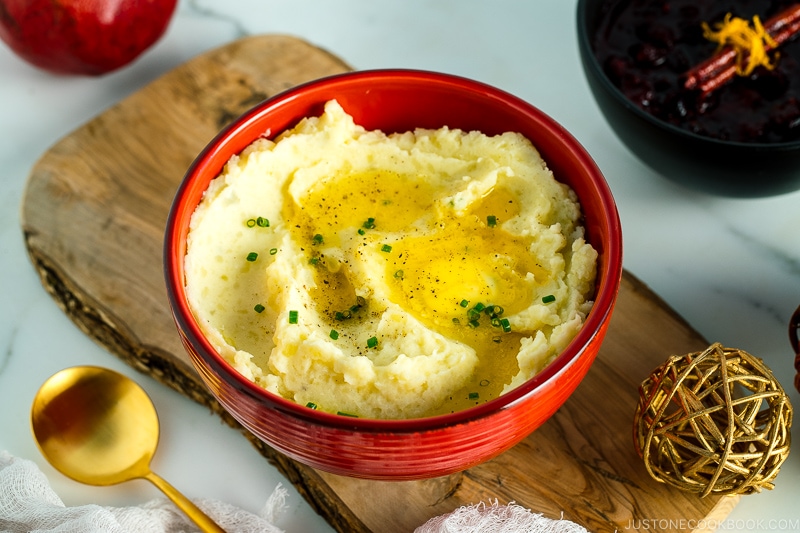 Japanese Ingredient Substitution: If you want substitutes for Japanese condiments and ingredients, click here.
Wish to learn more about Japanese cooking? Sign up for our free newsletter to receive cooking tips & recipe updates! And stay in touch with me on Facebook, Pinterest, YouTube, and Instagram.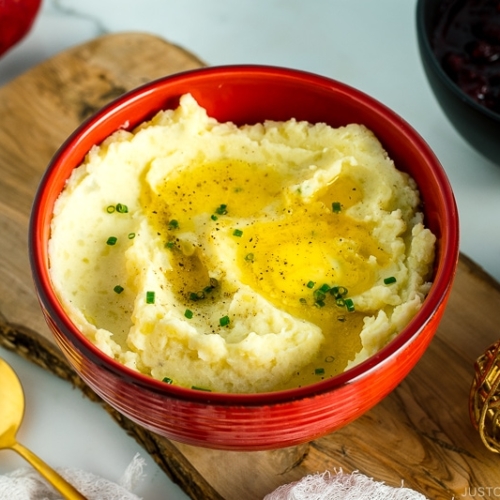 Creamy Mashed Potatoes with Shio Koji
Buttery, creamy, and umami-packed, these Mashed Potatoes with Shio Koji have a Japanese flair to the classic recipe. Be ready to be blown away! Also, get the important tips on how to make the fluffiest, silkiest, and creamiest mashed potatoes. 
Ingredients
1 ½

lb

russet and Yukon Gold potatoes

(2 large potatoes should be about 1 ½ lb)

1

tsp

Diamond Crystal kosher salt

(for boiling potatoes; use it when you do not use Shio Koji)
Seasonings
2

Tbsp

unsalted butter

¼

cup

heavy (whipping) cream

2

Tbsp

shio koji

(you can replace it with ½ tsp kosher/sea salt)

freshly ground black pepper
Garnish
1

Tbsp

unsalted butter

a few stalks

chives

freshly ground black pepper
Japanese Ingredient Substitution:
If you want substitutes for Japanese condiments and ingredients, click
here
.
Instructions
Gather all the ingredients.

Peel potatoes and remove the eyes.

Cut each potato in half lengthwise and then cut into rough chunks, about 2 inches cubes.

Transfer to a pot of cold water to soak for 2-3 minutes.

Drain water and rinse the potatoes under cold running water. Use a lid of the pot when draining, so the potatoes don't fall off.

Add cold water about 1 inch above the potatoes. If you are not using Shio Koji, sprinkle a bit of salt into the water to season the potatoes. Put the lid on, leaving a small gap, and bring to a boil over medium-high (it'll take about 10-15 minutes to boil).

Once boiling, reduce heat to medium (or even lower heat to maintain the boil). Cook the potatoes until tender, about 15 minutes (I usually cover the lid, slightly ajar, so water won't evaporate too fast.

Meanwhile, in a saucepan, heat the butter, heavy cream, and shio koji over medium-low heat. Turn off the heat and set aside to keep warm (you may need to reheat before adding to the potatoes).

When a skewer goes through the potato easily, turn off the heat. Drain the water completely.

Rinse under hot running water and drain. Repeat 1-2 times to wash away excess starch. Drain really well.

Put the pot back on the stove and let them dry for a few minutes on low heat. With a stainless steel potato masher, mash the potatoes until you have a creamy and even mash.

Pour the warm butter mixture over the mash and fold gently with a silicone spatula to combine.

Season to taste with freshly ground black pepper and salt (if you are not using Shio Koji). Transfer to a serving bowl.

Using a spoon to create grooves and top with a slice of butter, chives, and more freshly ground black pepper. Enjoy!
To Store
Mashed potatoes keep for 3 days in the refrigerator. You can also freeze them for a month in an airtight container or freezer bag.
Notes
Recipe by Namiko Chen of 
Just One Cookbook
. All images and content on this site are copyright protected. Please do not use my images without my permission. If you'd like to share this recipe on your site, please re-write the recipe in your own words and link to this post as the original source. Thank you.
Nutrition
Nutrition Facts
Creamy Mashed Potatoes with Shio Koji
Amount per Serving
% Daily Value*
* Percent Daily Values are based on a 2000 calorie diet.
©JustOneCookbook.com Content and photographs are copyright protected. Sharing of this recipe is both encouraged and appreciated. Copying and/or pasting full recipes to any website or social media is strictly prohibited. Please view my photo use policy
here
.