Easy and simple Japanese Pork Roast with caramelized vegetable gravy. Seared in a cast iron pot, then roasted in the oven, this juicy, moist, tender pork is cooked to perfection in Japanese seasoning.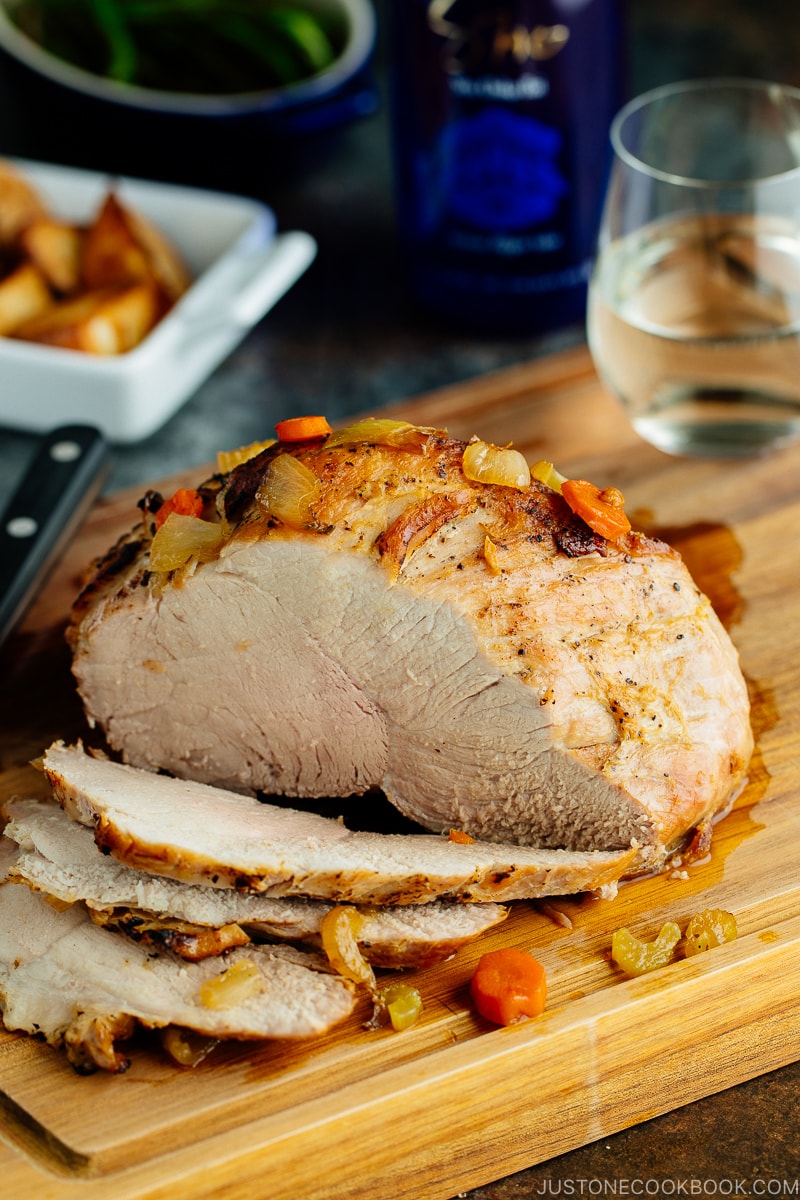 Pork roast is a great family meal to prepare for a relaxing Sunday dinner, but my Japanese Pork Roast (和風ローストポーク) recipe is so easy and simple that I actually work it in on weeknights when I have an hour to spare.
Japanese seasonings are a wonderful complement to this classic Western dish. The pork is roasted in sake, mirin, soy sauce, and brown sugar, just until it slightly thickens, allowing the sauce to coat the sliced pork roast. Give it a try this week! Even if you only cook Japanese food occasionally, it's likely you have the ingredients for this Japanese seasoning in your kitchen already. There is nothing better than surprising your family with a "weekend dinner" on a weeknight.
Juicy and Tender Japanese Pork Roast
Pork roast can be difficult meat to cook because when it is overcooked, it becomes increasingly tough, chewy, leathery, and it is very unappetizing.
When my children were smaller, they had trouble eating and swallowing tough, dry, stringy cuts of meat. Their challenge actually encouraged me to create meat recipes that they would enjoy and ask for seconds (okawari). This Japanese Pork Roast yields juicy, moist, and tender meat that my children enjoy each bite with piles of delicious vegetable gravy on top.
If you have been reluctant to make pork roast worrying about overcooking or undercooking, read on for some cooking techniques that will help you to tackle the task with confidence!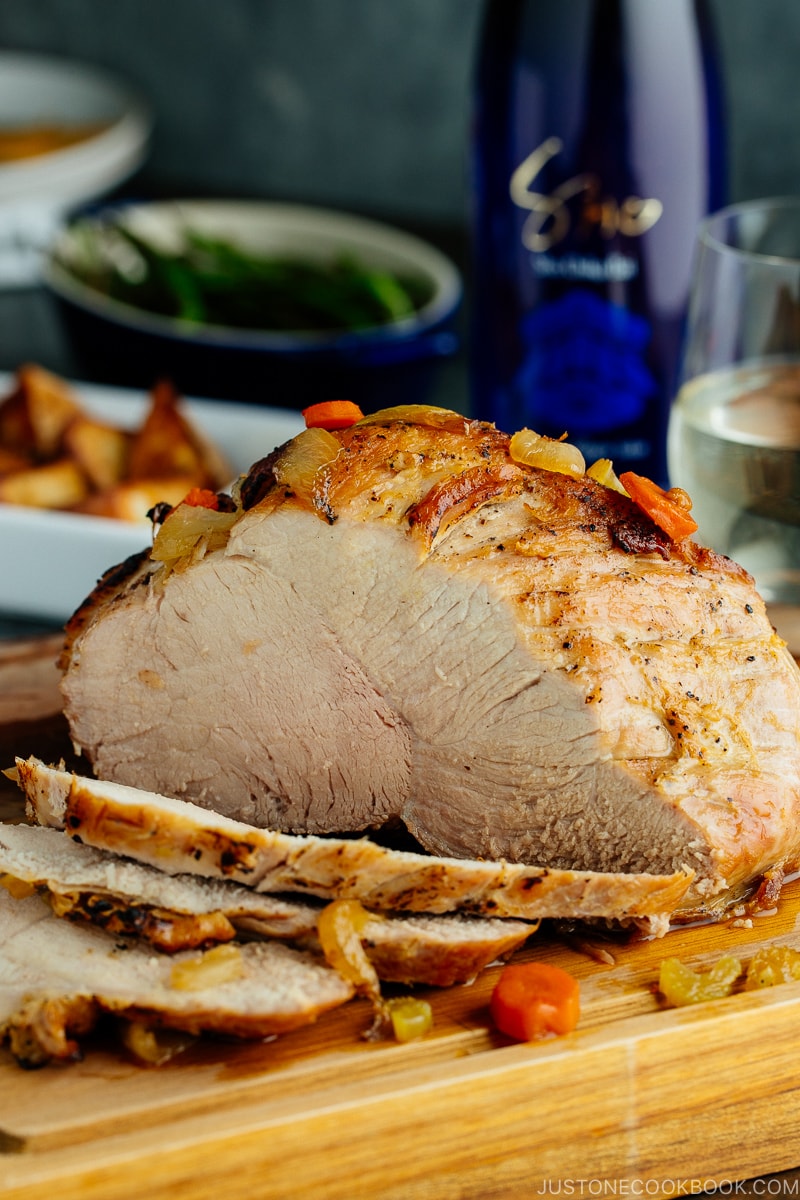 The Benefits of Cooking with Sake & Mirin
Two of the main flavorings for this pork roast include sake and mirin. If you are familiar with Japanese cooking and recipes, you may have noticed a lot of Japanese recipes require sake and mirin. Do we need to them? Where can we find them?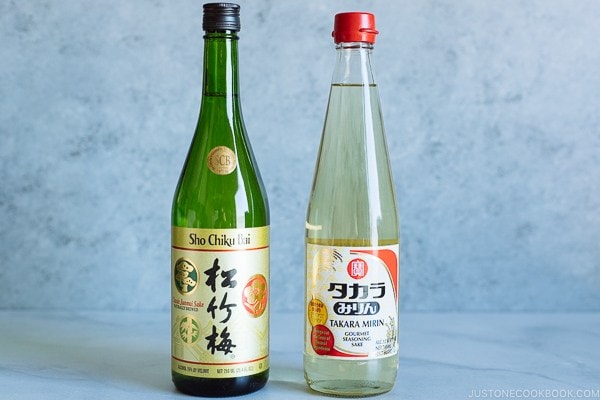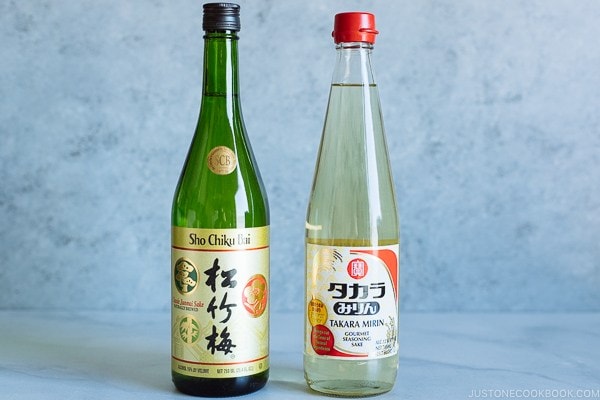 We recently shared this post on the blog about the differences between sake and mirin, and the benefits of cooking with them. Let's have a quick look here:
Sake
use in marinades to remove any odor of meat and fish 

tenderizes meat with its moisture

adds umami and naturally sweet flavor to soup stocks, sauces, simmered and grilled dishes

use as a key flavoring to a dish just like wine

use to enhance, intensify and accent the overall flavor and aroma of a dish
because sake is a fermented product which contains antioxidants, cooking with sake also offers you some great health benefits
Mirin
adds a mild sweetness to dishes

helps tenderize meat

helps to mask dishes with a strong fishy and gamey taste

helps the flavors to better absorbed into a dish. 

adds luster and a nice glaze to dishes
If you cook Japanese food, mirin and sake are as important as soy sauce. In fact, I use them more frequently than soy sauce! Now you see the roles of both sake and mirin in maximizing the flavor and texture for this Japanese pork roast.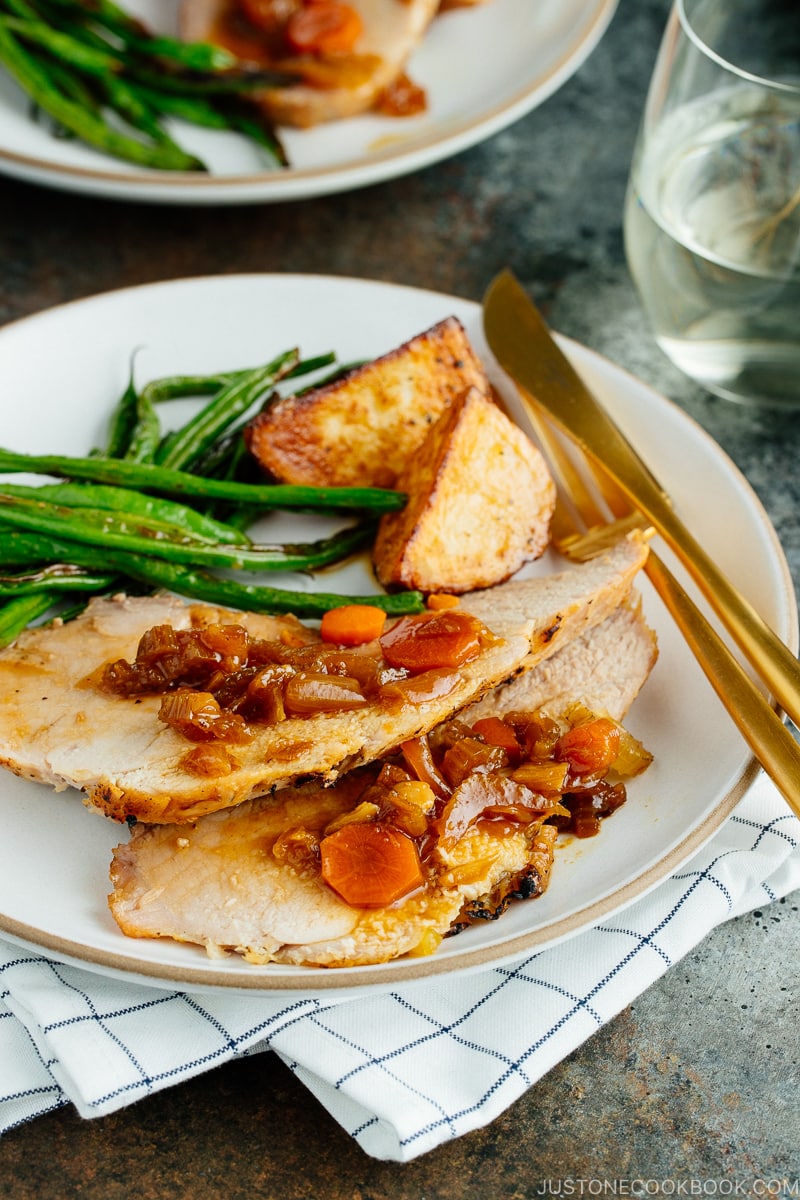 3 Important Tips to Make Juicier and Tender Japanese Pork Roast
No one wants to eat dry and tough pork roast. The following tips ensure juicy, tender, flavorful, and perfectly pink pork roast every time!
1. Use Pre-Brined Pork (or Brine Pork Yourself with Ingredients You Already Have)
Brining meats add extra liquid and salt prior to cooking, resulting in juicier, tenderer, and more flavorful final dish. You can find pork that has been pre-brined, like the pork sirloin tip roast from Costco I used in this recipe, or use my go-to easy brine recipe if your pork has not been brined. Please see the Notes section in the recipe below for reference.
2. Use a Cooking Thermometer
For those who are fairly well versed in the kitchen, you may feel comfortable with deep frying, roasting chicken, or making candies without knowing the exact temperatures. Do you really need a thermometer then?
Being a home cook for over 2 decades, I believe having a good thermometer in the kitchen guarantees safe food with better and tastier quality (my favorite is this instant-read thermometer).
Knowing the internal temperature of the thickest part of the pork is very crucial to the success of roasting pork. The USDA recommends cooking whole cuts of pork to 145°F (63 ºC) internal temperature (resting for 3-minute afterward).
I remember my own mistakes and disappointments when the meat turned out slightly undercooked or chewy tough. Once I get into the habit of utilizing a cooking thermometer, I have been able to avoid the blunders completely. So yes, it is a must-have kitchen tool I would recommend, especially when comes to cooking big cuts of meat.
3. Rest the Meat
It's tempting to slice the meat right away once it is out of the oven. However, like other types of meat, it's best to wait for 5 to 10 minutes and let the meat rest. Resting allows the meat fibers, which contracted when hot, to relax and reabsorb juices that have been squeezed out. This means a more tender and juicier piece of meat.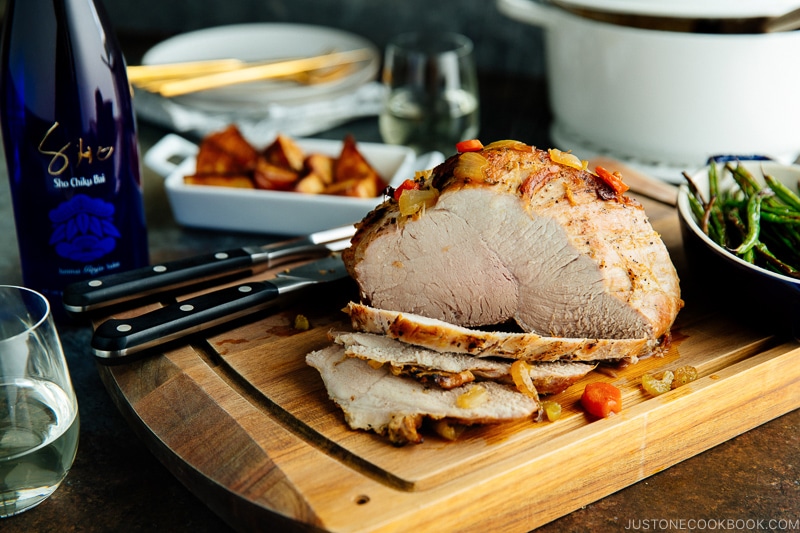 Sake Pairing with Japanese Pork Roast
For this Japanese Pork Roast recipe, we decided to pair it with Sho Chiku Bai SHO Junmai Ginjo by Takara Sake in Berkeley, California. The reason is this dish can be enjoyed in many ways and we wanted a versatile drink that will work regardless of how you serve it.
If you eat the roast pork by itself without any sauce, you don't want a strong drink overpowering the delicate flavors. The pork itself is already juicy, and the roasted vegetables add a whole layer of umami to the dish. We love to spoon the vegetable sauce over the pork slices and savor the rich caramelized flavors with the tender pork. Taking sips of Sho Chiku Bai SHO Junmai Ginjo sake in between accentuates the sweetness of the meat and the sauce.
Since the Ginjo sake is not too dry or too sweet, it neutralizes the flavors and refreshes your taste buds with each bite. The flexibility of this well-balanced sake, with hints of flowers, berries, and pear, not only goes down well with pork roast, it is also a wonderful drink to enjoy with different types of recipes.
If you live in the SF Bay Area or plan on visiting San Francisco, we recommend stopping by the beautiful Takara Sake tasting room in Berkeley. They have an amazing selection of sake and you get to sample different flights of the Japanese rice wine. Whether you are a sake connoisseur or just a novice, it is definitely a fun place to go. And don't forget to grab a bottle of Sho Chiku Bai SHO Junmai Ginjo to enjoy with this Japanese Pork Roast when you get home!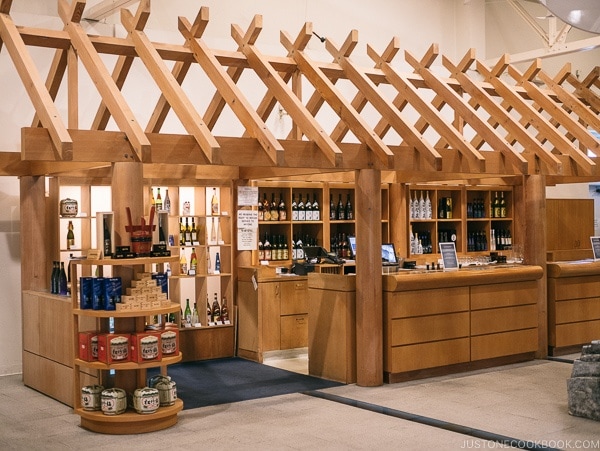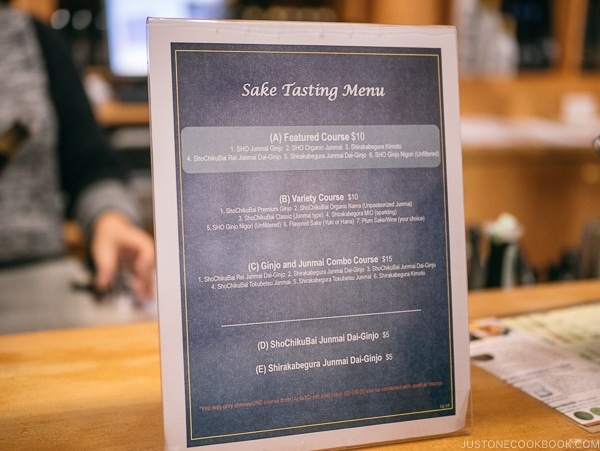 Japanese Ingredient Substitution: If you want to look for substitutes for Japanese condiments and ingredients, click here.
Sign up for the free Just One Cookbook newsletter delivered to your inbox! And stay in touch with me on Facebook, Pinterest, YouTube, and Instagram for all the latest updates.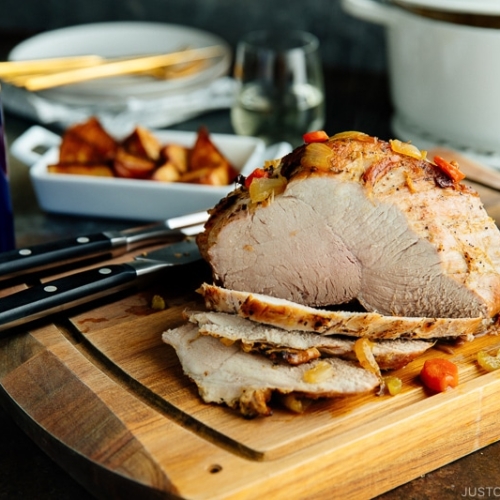 Japanese Pork Roast
Easy and simple Japanese Pork Roast with caramelized vegetable gravy. Seared in a cast iron pot, then roasted in the oven, this juicy, moist, tender pork is cooked to perfection in Japanese seasoning.
Ingredients
2

stalks

celery

2

carrots

½

onion

4

cloves

garlic

1.5-2

lb

boneless pork sirloin

(or center-cut pork loin; at room temperature)

freshly ground black pepper

2

Tbsp

extra virgin olive oil
Japanese Ingredient Substitution:
If you want substitutes for Japanese condiments and ingredients, click
here
.
Instructions
Preheat oven to 350ºF (180ºC). For a convection oven, reduce cooking temperature by 25ºF (15ºC). Gather all the ingredients. Make sure to take the pork out of the refrigerator about 15 minutes before you plan to start cooking. Room temperature meat cooks more evenly throughout.

Chop the celery and carrot into small pieces.


Dice the onion. Smash the garlic with the side of the knife.


Dry the pork with paper towel and season all sides with kosher salt and freshly ground black pepper.


Heat a large Dutch oven or cast-iron skillet on medium heat. Add 2 Tbsp olive oil and sear the pork on all sides until a crust forms, about 2 minutes per side. Remove the pork from the pan and set it aside.

Lower the heat to medium low, and add a little bit of olive oil if necessary. Sauté the onion and garlic until fragrant and slightly soften.

Then add the celery and carrot.

When the vegetables are well-coated with oil, add 4 Tbsp sake and scrape off the juicy brown bits stuck to the bottom of the pot.

Add 4 Tbsp mirin, 1 tsp brown sugar, and 3 Tbsp soy sauce.

Mix all together and place the pork back in the skillet and spoon some sauce over the pork.

Cover the pork with the oven-safe lid or aluminum foil and roast for 30-40 minutes (30 mins for 1 ½ lb and 40 mins for 2 lb), or until the pork interior temperature reaches about 145ºF (63ºC).

Remove the Dutch oven from the oven and transfer the pork to a plate. Cover the pork with foil to keep the moisture and let it rest for about 15 minutes.

Meanwhile, heat the Dutch oven on medium-low heat. Skim off any foam or scums. Simmer, stirring often, until the sauce has thickened to your preferred thickness. Once the sauce is reduced, the saltiness and flavors will concentrate so adjust how far you want to reduce. Slice the pork against the grain and serve hot with the sauce.
To Store
Keep the leftovers in an airtight container and store in the refrigerator for up to 4 days and in the freezer for a month.⅛
Notes
The Cook Time: Pork sirloins/loins can vary in size and thickness. The rule of thumb is to cook 20 minutes per pound. Cook the pork until it reaches an internal temperature of 145ºF (63ºC) in its thickest part. Remember that the higher the temperature, the drier the pork will be, so don't overcook the pork. If you're working with a thinner/smaller cut, try reducing the cook time by a few minutes and test with a thermometer.
The Boneless Pork Sirloin: Recommend 6-8 oz (⅓-½ lb, 170-227 g) per person. 
Brining the Pork: Brining meats can add a significant amount of water to them before you cook to make meats juicier and tenderer.
Ingredients:
4 cups (950 ml) water
⅛ cup (2 Tbsp) sugar
¼ cup (4 Tbsp) k

osher salt, or ⅛ cup (2 Tbsp) table salt
Directions:
Mix cold water, sugar, and salt and stir to dissolve.
In a large container that fits the meat, place the brine and the meat, seal, and refrigerate.
Notes:
Use 4 cups of brine per pound of meat.
Brine for 1 hour per pound. Do not brine for less than 30 minutes or more than 8 hours.
Nutrition
Nutrition Facts
Japanese Pork Roast
Amount per Serving
% Daily Value*
* Percent Daily Values are based on a 2000 calorie diet.
©JustOneCookbook.com Content and photographs are copyright protected. Sharing of this recipe is both encouraged and appreciated. Copying and/or pasting full recipes to any website or social media is strictly prohibited. Please view my photo use policy
here
.
Full Disclosure: This post was sponsored by Takara Sake. Thoughts and opinions stated are my own.