Nameko are small fungi with a shiny gelatinous covering. The Japanese eat the slippery, slimy mushroom in miso soup, soba noodles, grated daikon, and more.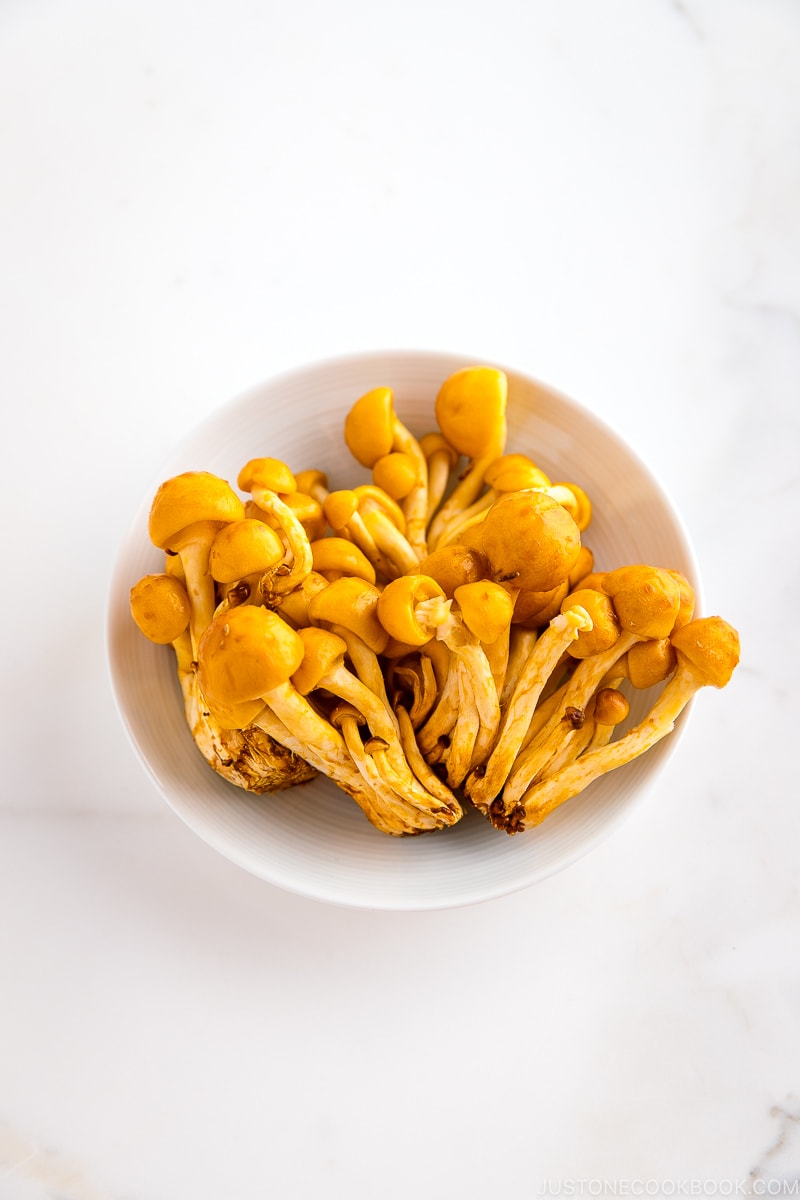 These strikingly orange Nameko mushrooms (滑子・なめこ) are native to Japan and are a popular ingredient in Japanese cuisine. They are covered in a layer of natural gelatin called mucin, which helps absorb proteins and protects the stomach wall. They are also known as Butterscotch Mushroom, Forest Nameko, and Forest Mushroom.
What Are Nameko Mushrooms
Nameko (Pholiota nameko) are small mushrooms with slender, straight stems and smooth, round caps. It has a glossy, shiny appearance due to the natural layer of gelatin coating. This sliminess is a natural thickener for miso soup, nabemono, and aemono (和物, vegetable-based side dishes).
Wild nameko grows in clusters on oak and beech trees and is available between September and November. They're also available year-round due to sawdust cultivation.
What Do They Taste
They are firm and silky, with toothsome bite, a cashew-butterscotch aroma, a mildly fruity, nutty, earthy flavor, and a gelatinous texture.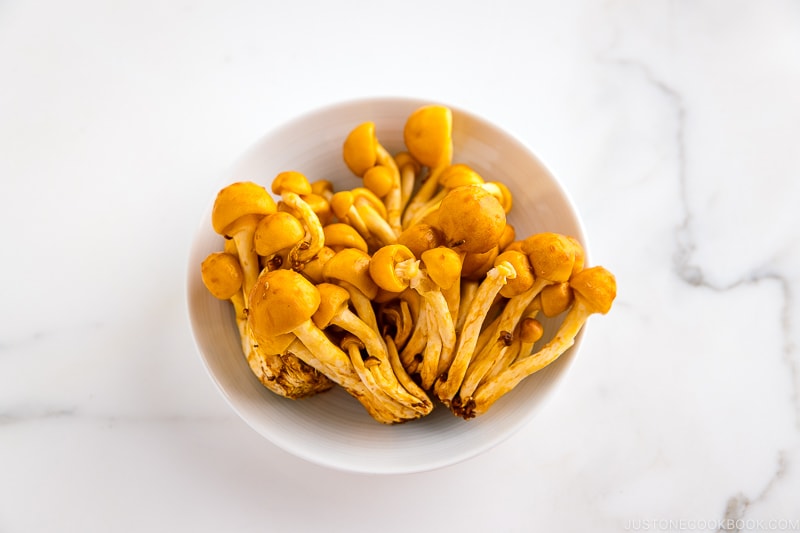 How To Use
You can find nameko fresh or dried. If using fresh, rinse them under running water to remove some of the sliminess. Then drain well, discard the ends, then add them to your cooking. It must be cooked before eating as they can cause food poisoning.
Like any variety of mushrooms, nameko mushrooms are highly versatile and pair well with many ingredients.
Add to stir-fries or sautees
Grill or roast
Toss in pasta, noodle dishes, or over tofu
As toppings for pizza or crostini
When you need to add body to soups, stews, and sauces, add nameko mushrooms, as the gelatinous compound of the mushrooms acts as a natural thickener and helps to improve the texture.
You can also use nameko mushrooms in Japanese-style egg drop soup, as topping over Hiyayakko, in ankake doufu (餡かけ豆腐, tofu covered in sauce), or as an addition in warm mushroom salad.
Recipes Using Nameko
Where To Buy
You may find it sold at large supermarkets like Whole Foods or specialty local markets in North America. If not, check the Asian or Japanese grocery store. You can buy a nameko mushroom kit online if you're into growing food.
How To Choose The Best
Choose those with thick and closed caps. If packed in water, check if the water is not cloudy.
How To Store
Keep fresh mushrooms in an open paper bag in the fridge. As they are highly perishable, consume within a few days of purchase. They also freeze well; you can either blanch the mushrooms before putting them in a freezer bag or freeze the entire package. Make sure to flatten the bag and remove excess air.
Health Benefits
The gelatin goop known as polysaccharide in nameko is highly prized. They contain essential nutrients such as vitamins C and D, minerals, proteins, amino acids, fiber, and antioxidants. Some health benefits include weight loss, lower cholesterol levels, and diabetes. Like other mushrooms, they can strengthen your immune system and protect you from free radicals.
---
Wish to learn more about Japanese cooking? Sign up for our free newsletter to receive cooking tips & recipe updates! And stay in touch with me on Facebook, Pinterest, YouTube, and Instagram.