With an earthy, nutty flavor, and a wonderfully creamy texture, this Nameko Mushroom Miso Soup is a perfect way to welcome autumn!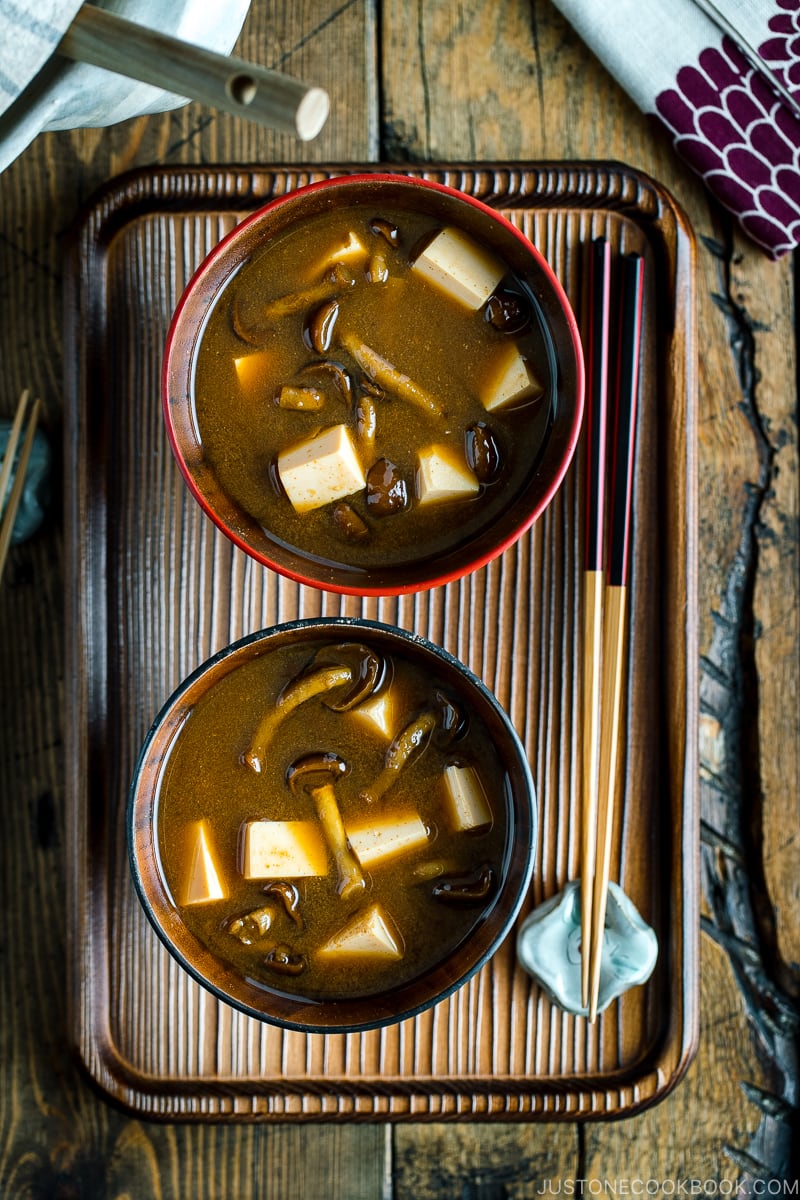 Have you tried this variety of Japanese mushrooms called nameko mushrooms (なめこ)? During autumn when mushrooms are in season, we often enjoy nameko mushrooms in our miso soup.
Nameko mushrooms have a glossy viscid texture, and they are extremely slippery especially when you try to pick them up with a pair of chopsticks. When I was young, I would challenge myself by lifting the mushrooms one at a time without letting it fall back into the soup. Well, until my mom told me not to play with food. Now it's time to test out your chopstick skill and enjoy the delicious Nameko Mushroom Miso Soup (なめこ汁) while you're at it.
In addition to the mushrooms, we normally add silken tofu to enhance the texture of the miso soup. I definitely recommend keeping it simple with two ingredients or just nameko mushrooms for the best result.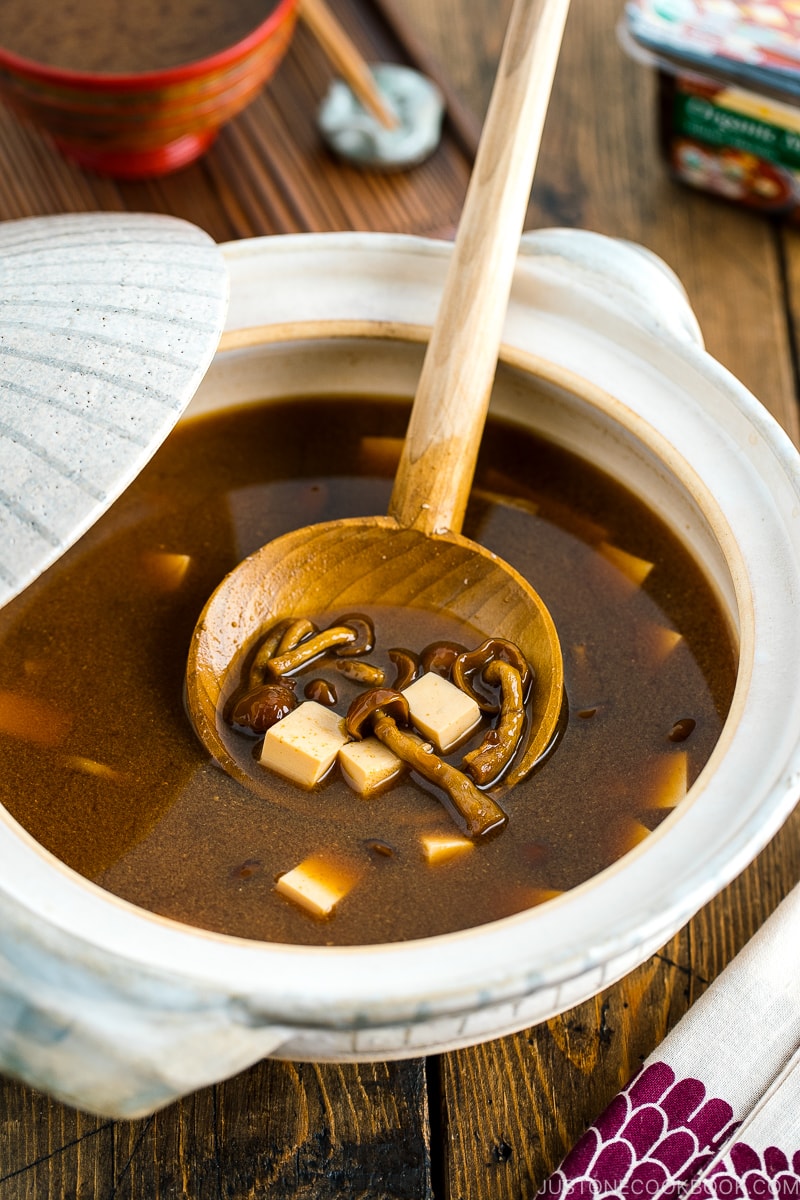 What Are Nameko Mushrooms?
With small round caps and slender stems, nameko mushrooms are one of the popular culinary mushrooms in Japan. We call them the 'slimy mushroom' because of their slippery, gooey texture. In English, the mushrooms are also known as the Forest Nameko and the Butterscotch mushroom.
Nameko come in clusters just like shimeji mushrooms, but you can easily tell them apart by their orange-amber color and glossy sheen appearance. The unique texture is caused by a layer of natural gelatin that coats the surface of the mushrooms.
When cooked, nameko mushrooms have a mild earthy flavor and a nutty aroma. In Japanese cuisine, nameko mushrooms are most commonly incorporated into miso soup. The gelatinous texture of the mushrooms helps to thicken and enhance the salty taste of the soup.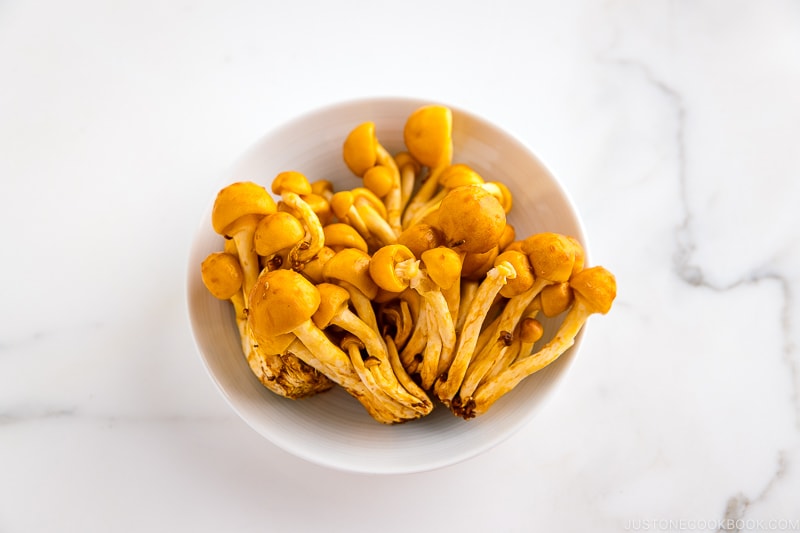 In my elementary school days, boys used to call me nameko as my name Namiko sounded just like these mushrooms. I took it as a compliment since the mushrooms are small but mighty. 🙂
Anyway, if you can find these nameko mushrooms locally, you should definitely give this miso soup a try! They are great for stir-fry, pasta, and soups! Nameko mushrooms are gaining popularity internationally, so it's worth looking out for them. In case you wondered, I bought mine from a local American grocery store.
Why Japanese Eat Slimy Foods
It is common knowledge that slimy and sticky foods are good for our bodies and we try to eat them regularly. Examples of slimy and sticky foods include:
Natto (fermented soybeans)
Seaweed (mekabu, mozuku)
Okra
Taro and yamaimo/nagaimio, lotus root
and nameko mushrooms
All of these foods have a sticky substance that is made of a combination of protein and sugar. It is believed that it helps clean the blood and stop blood sugar from going up. And this prevents stroke, heart attack, and hardening of the arteries.
The substance also protects the mucous membranes of digestive organs, which lowers the risk of gastritis and gastric ulcers. It also protects the mucous membranes in your nose and prevents you from getting a cold and has an anti-aging effect that stimulates the cells.
As these superfoods have been a part of our diets growing up, we've learned to appreciate the natural texture of these foods. Nameko mushrooms are one of the easier slimy ingredients that you can try first. Natto should be the final level!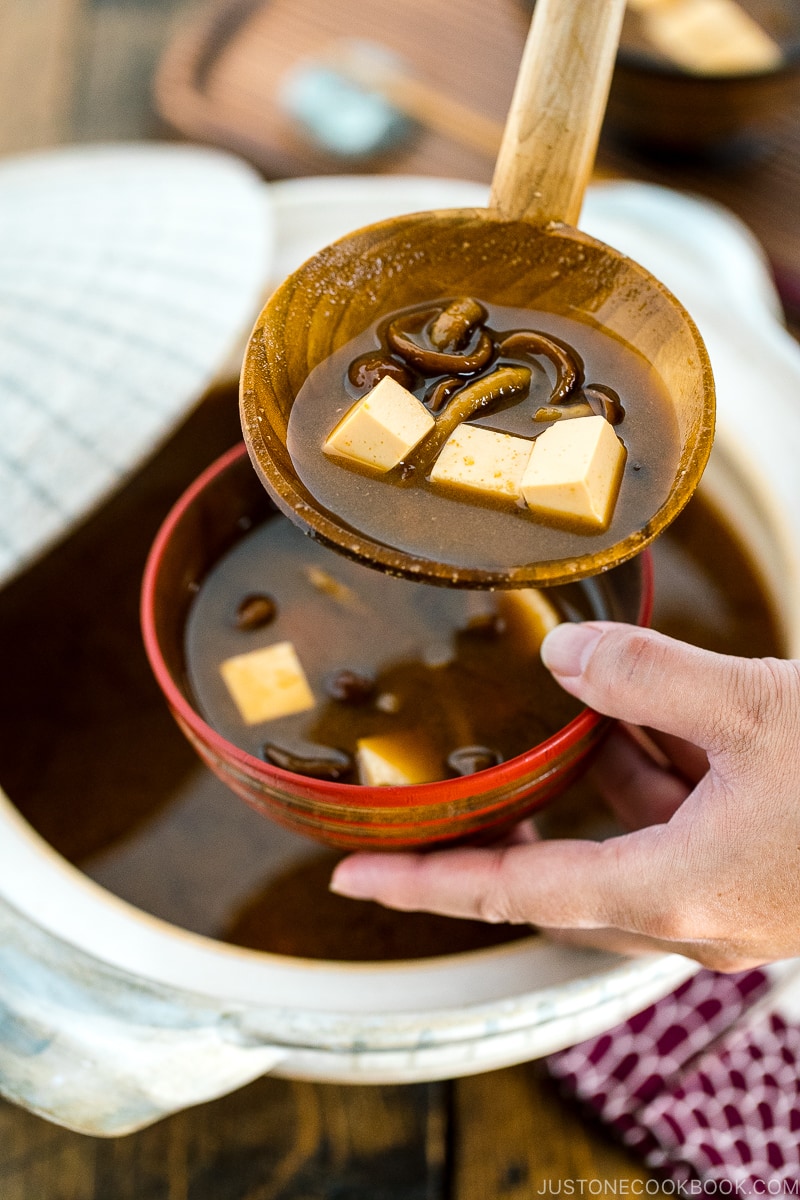 What Kind of Miso Goes Well with Nameko Mushrooms
In Japan, nameko mushroom miso soup is typically made with Akadashi.
Akadashi (赤だし) refers to a miso soup that is seasoned with Mame Miso (豆味噌) or miso made with soybeans, salt, and water. Popular in the Nagoya region, Mame Miso is darker, more reddish-brown than Kome Miso (米味噌), which is the most widely known miso that's made with soybeans, rice koji, and salt.
Akadashi Miso (赤だし味噌) is a combination of Mame Miso and Kome Miso. I'm not sure the official ratio but it contains more Mame Miso (100% soybean miso) than Kome Miso (soybean + rice koji miso).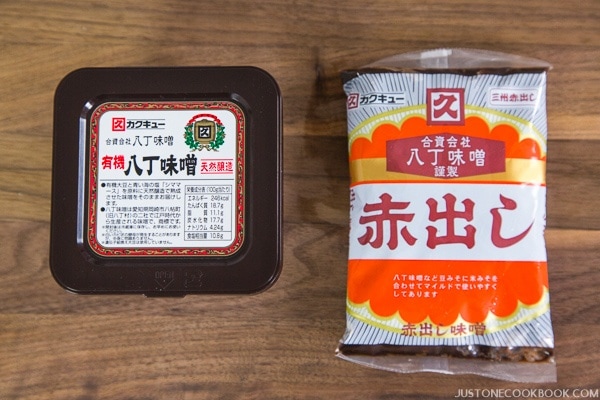 Today I'm using Organic Haccho Miso from Hikari Miso as Mame Miso with the addition of Kome Miso (regular miso). You can season your soup with just Hatcho Miso, but the taste is too strong and my recommendation is to mix with Kome Miso you have in the fridge.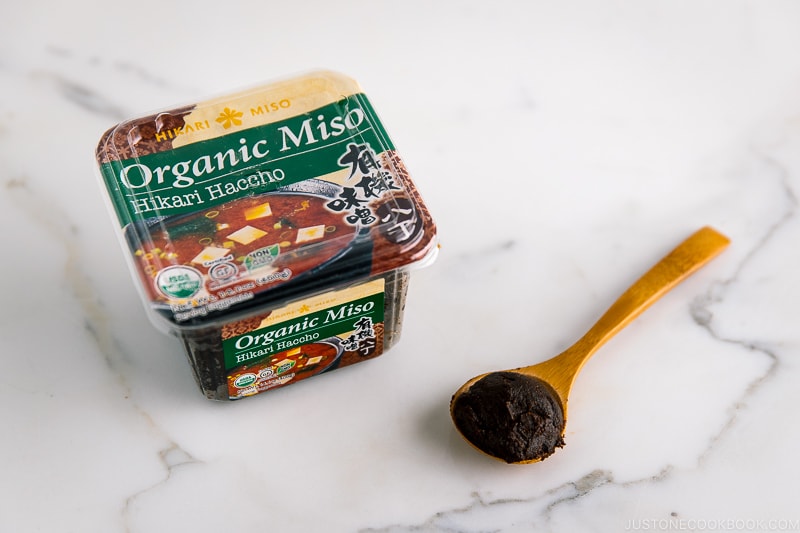 Organic Haccho Miso from Hikari Miso is made from organic soybeans. The product is USDA Certified Organic. It has a distinctive dark color which comes from a long fermentation of soybeans alone and no grains. The miso has a robust flavor and less sweetness and is perfect for noodle soup and katsu (deep fry) sauce.
No Hatcho Miso? You can simply use whatever type of miso you have in the fridge to make this soup.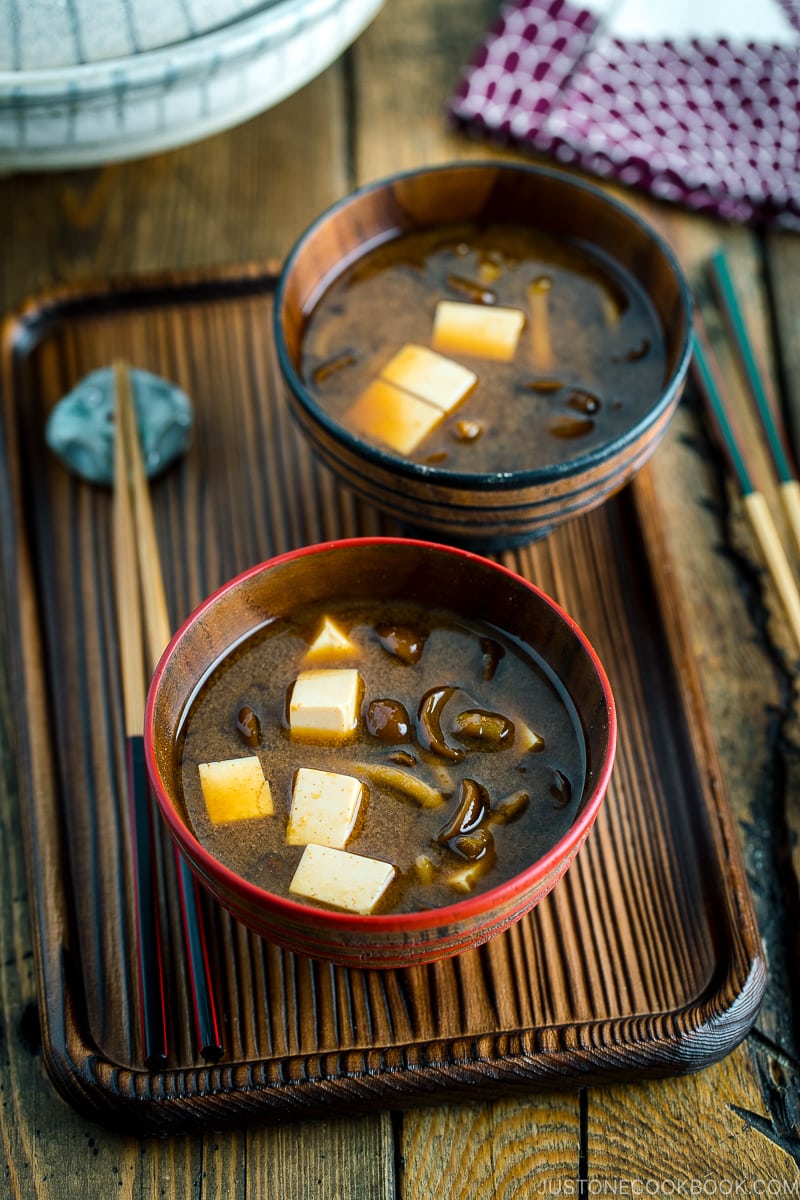 Vegan/Vegetarian-Friendly Miso Soup
You can make this miso soup completely vegan by using Vegan Dashi made with kombu and dried shiitake mushrooms.
What to Serve with Nameko Mushroom Miso Soup
Wish to learn more about Japanese cooking? Sign up for our free newsletter to receive cooking tips & recipe updates! And stay in touch with me on Facebook, Pinterest, YouTube, and Instagram.
Nameko Mushroom Miso Soup
With an earthy, nutty flavor, and a wonderfully creamy texture, this Nameko Mushroom Miso Soup is a perfect way to welcome autumn!
Japanese Ingredient Substitution:
If you want substitutes for Japanese condiments and ingredients, click
here
.
Instructions
Gather all the ingredients.

Add dashi in a pot and bring it to a simmer on medium-low heat.

Rinse the mushrooms thoroughly but quickly under running water, and discard the ends.

Cut the tofu into small cubes.

Once dashi is boiling, add nameko mushrooms and cook for 2-3 minutes. Turn off the heat.

For the best result, add miso in the soup right before serving.

Add tofu and bring it to a simmer (not boiling). Turn off the heat and serve. Enjoy!
To Store
You can keep the leftover in the refrigerator for up to 2 days. I do not recommend making miso soup ahead of time as miso will lose its flavors.
Notes
Recipe by Namiko Chen of 
Just One Cookbook
. All images and content on this site are copyright protected. Please do not use my images without my permission. If you'd like to share this recipe on your site, please re-write the recipe in your own words and link to this post as the original source. Thank you.
Nutrition
Nutrition Facts
Nameko Mushroom Miso Soup
Amount per Serving
% Daily Value*
* Percent Daily Values are based on a 2000 calorie diet.
©JustOneCookbook.com Content and photographs are copyright protected. Sharing of this recipe is both encouraged and appreciated. Copying and/or pasting full recipes to any website or social media is strictly prohibited. Please view my photo use policy
here
.