Enjoy this tender, juicy Pressure Cooker Steamed Pork with a savory garlic soy sauce or ginger miso sauce using Instant Pot pressure-steaming method.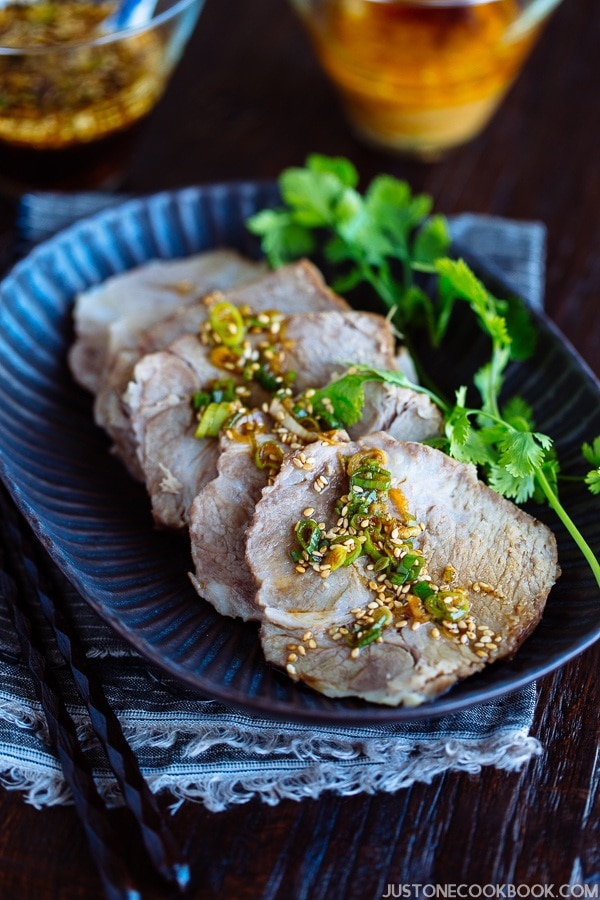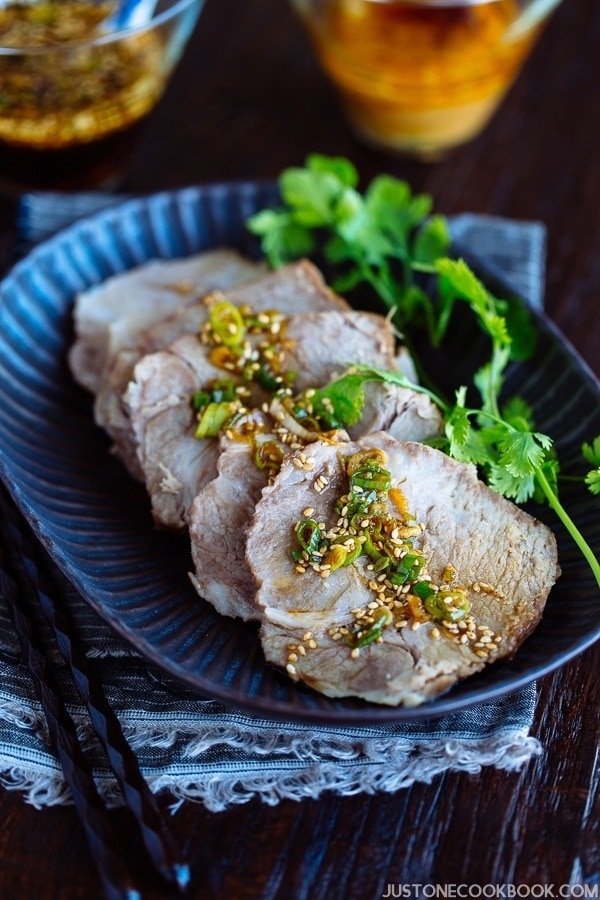 Pressure Cooker Steamed Pork or Mushibuta (蒸し豚) is one of our favorite ways to enjoy pork. With my Instant Pot, I simply use the pressurized steam cook function to steam the big chunk of pork collar. Once cooked, I thinly slice the meat and drizzle on the sauce – either garlic soy sauce or ginger miso sauce. Both add rich flavors to the succulent pork slices.
3 Reasons to Make Pressure Cooker Steamed Pork 
1. Easy and Quick
I can't stress enough how easy it is to make this recipe. Which makes it even more rewarding when the final dish looks so amazing! Most of the cooking time and hard work is left to the Instant Pot's pressure-steaming. You just need to make two dipping sauces while the pork is being steamed. Or if you already have your favorite pork dipping sauce, you can definitely use that as well.
2. Enjoy year-round
This steamed pork recipe can be served at room temperature or even chilled, so add it to your meal planner in the summer or winter as a great way to enjoy a simple, clean, light pork dish.
3. Make it into an appetizer, side, or main dish
This dish makes an elegant appetizer to start your Asian-themed meal. It's also wonderful as a topping for your warm or chilled noodles. It's a dynamic recipe that can be served as a main dish on its own, or as a complement to others.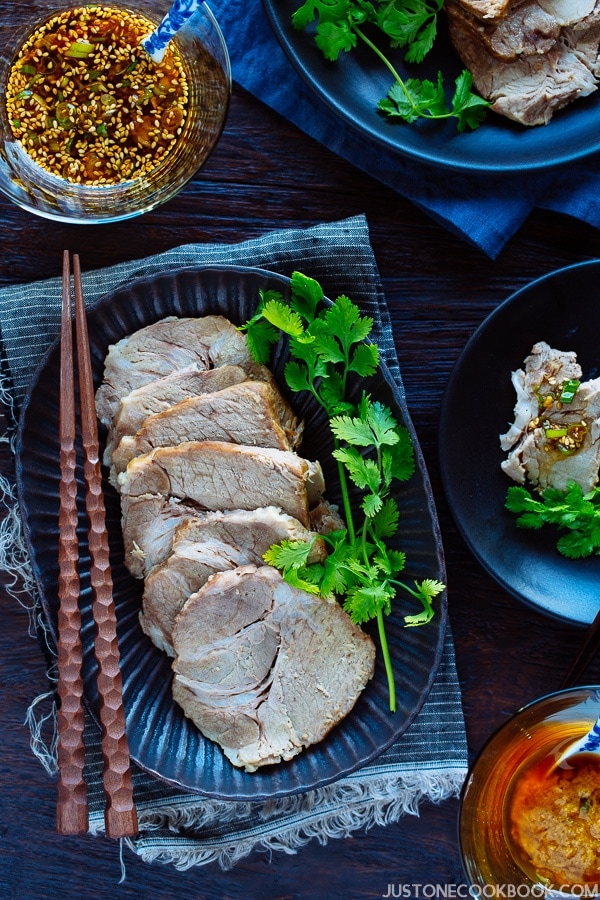 Best Cuts of Pork for Pressure Cooker Steamed Pork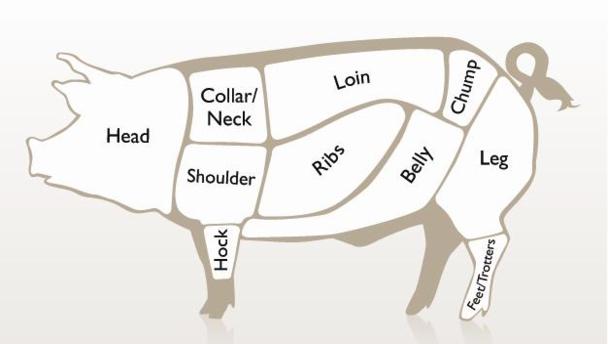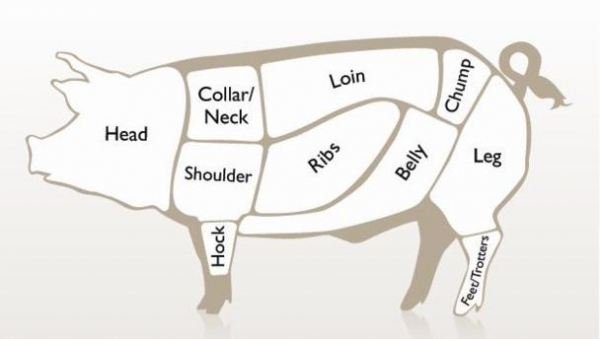 Which cut of pork is best for this steamed pork recipe?  I have tried the pork belly, collar, and shoulder for this recipe, and the clear winner was pork collar.
The cut "pork collar" may not be a familiar term in the US, so you may want to request a "Boston butt" or "pork butt" – despite what its name implies, this larger cut consists of parts of the neck (collar), shoulder blade, and upper arm.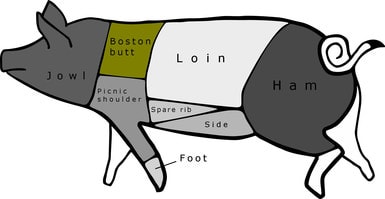 The pork collar is a moderately tough cut of pork, unlike the tender cuts like pork loin or spare rib. Hence, it's often used for roasting, braising, stewing or even for making ground pork or sausages. Pork butt is also the most common cut used for pulled pork.
I learned about pork collar from a butcher in my favorite Korean meat shop. I explained to the butcher that pork belly was too fatty, and that pork shoulder became too dry and then shredded when I tried to cut it into slices. He highly recommended trying the pork collar instead.
Pork collar was an excellent choice (a fairly inexpensive choice too). After steaming for 45 minutes, the meat was really tender and moist, and not fatty like pork belly. It also held together nicely for slicing. It was perfect for this recipe.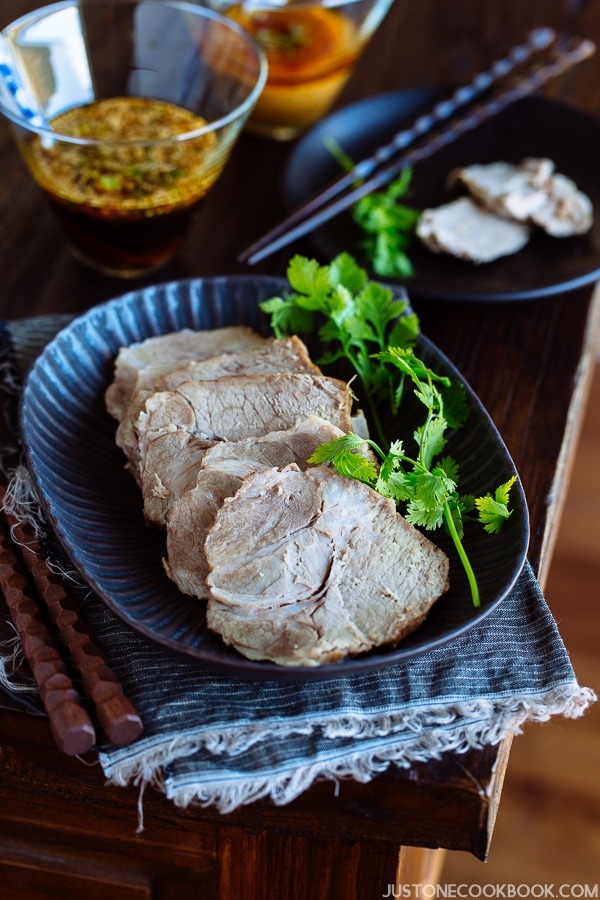 Why Steamed and not Boiled?
You might wonder why I steam the pork collar instead of boiling it. The steam cooks the pork while locking in the moisture, giving the meat that juicy texture and flavor.
2 Dipping Sauces to Enjoy with Pressure Cooker Steamed Pork
Although you can make many different dipping sauces for this steamed pork recipe, I recommend trying two of my favorites: Garlic Soy Sauce and Ginger Miso Sauce.
Making a great Japanese sauce does not have to be complicated. It can be simply incorporating a base Japanese ingredient like miso or soy sauce with a strong aromatic like fresh ginger or garlic. Try either or both when you make this recipe.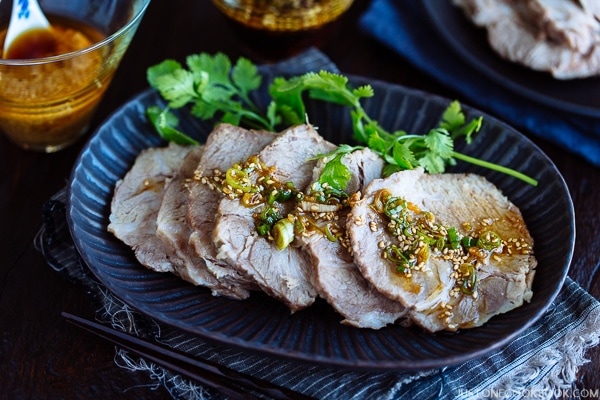 Japanese Ingredient Substitution: If you want to look for substitutes for Japanese condiments and ingredients, click here.
Wish to learn more about Japanese cooking? Sign up for our free newsletter to receive cooking tips & recipe updates! And stay in touch with me on Facebook, Pinterest, YouTube, and Instagram.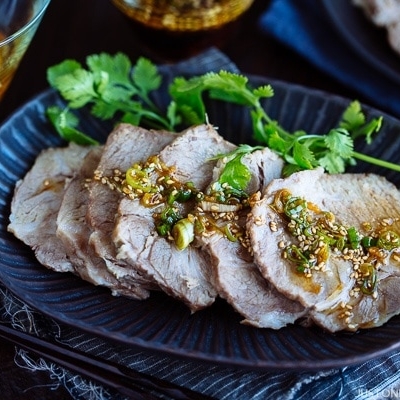 Pressure Cooker Steamed Pork
Enjoy this tender, juicy Pressure Cooker Steamed Pork with a savory garlic soy sauce or ginger miso sauce using Instant Pot pressure-steaming method.
Ingredients
1 ½

cup

water

(for steaming)

3

green onions/scallions

1

knob

ginger

(2", 5 cm)

2

lbs

pork collar

4

Tbsp

sake
Garlic Soy Sauce (yield: 1/3 cup)
Ginger Miso Sauce (yield: ¼ cup)
Japanese Ingredient Substitution:
If you want substitutes for Japanese condiments and ingredients, click
here
.
Instructions
Gather all the ingredients.
To Make Steamed Pork
In the Instant Pot, place the steamer rack and put 1 ½ cups (360 ml) water.

Cut the green onions to separate the green part and white part (we don't need in this recipe, but you can make Shiraga Negi for garnish). Cut green part into 2-3 pieces. Cut the ginger into thin slices, keeping the skin on.

Cut the pork collar in half and place it in the heat-resistant container (I use a Pyrex glass container) and place on top of the steamer rack.

Put green onions and ginger, and pour sake over the pork. Sake removes the unwanted smell from the meat and adds umami and flavors.

Cover and lock the lid on the pressure cooker. Make sure the steam release handle points at "sealing" and not "venting". Press the "Steam" button on the Instant Pot to the pressure cooking steam mode. Press "plus" button to change the cooking time to 40-45 minutes (20 minutes/lb). Meanwhile, you can make two kinds of the sauce.

As soon as the cooking time has reached, you will need to use the 'Quick Release' method to release the pressure. When the valve goes down, you can open it and take out the steamer basket and container that has pork in it.

Transfer the pork to a dish. Save a few tablespoons of cooking liquid (in case you want to drizzle over meat or slices of meat to moisten later) and discard the green onions and ginger slices. Cover the pork with plastic wrap to keep it moist and let cool until you can touch the pork to cut into slices.

After 15 minutes or so, you can slice into thin rounds (I discarded the fat). Transfer to a serving platter and serve with the dipping sauce immediately.
To Make Garlic Soy Sauce
Combine the ingredients for Garlic Soy Sauce in a bowl or liquid measuring cup.

Cut the green onion into thin slices and add to the sauce. Add the crushed garlic (or minced garlic) to the sauce. Whisk all together and transfer to a serving bowl.
Nutrition
Calories:
711
kcal
·
Carbohydrates:
6
g
·
Protein:
40
g
·
Fat:
56
g
·
Saturated Fat:
19
g
·
Polyunsaturated Fat:
8
g
·
Monounsaturated Fat:
24
g
·
Cholesterol:
163
mg
·
Sodium:
530
mg
·
Potassium:
734
mg
·
Fiber:
1
g
·
Sugar:
2
g
·
Vitamin A:
139
IU
·
Vitamin C:
5
mg
·
Calcium:
65
mg
·
Iron:
2
mg
©JustOneCookbook.com Content and photographs are copyright protected. Sharing of this recipe is both encouraged and appreciated. Copying and/or pasting full recipes to any website or social media is strictly prohibited. Please view my photo use policy
here
.