Jump To Recipe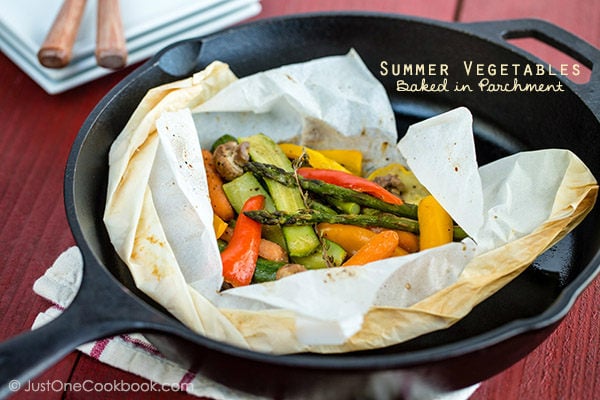 Have you tried baking vegetable in parchment paper?  This moist-heat cooking technique is often called "En Papillote" (ahn-poppy-YOTE), French for "in parchment".   With this cooking method, food is enclosed in a packet of parchment paper (or you can substitute with aluminum foil) and baked in the oven.
Today I prepared Summer Vegetables Baked in Parchment which are seasoned with delicious Maple Miso Sauce.
For this recipe, I used only summer vegetables but you can also cook fish in parchment paper.  The food cooks quickly, so fish or vegetables are the best choice for this technique.  To flavor the dish, herbs and seasonings are added to the packet along with the main ingredient.  You serve the the dish immediately after cooking and slice the packet open at the table so you can enjoy the food while it's warm.
This light yet flavorful summer-inspired baked vegetables dish is perfect for that backyard dinner.  The best part is it's a low-mess meal and easy to clean up after.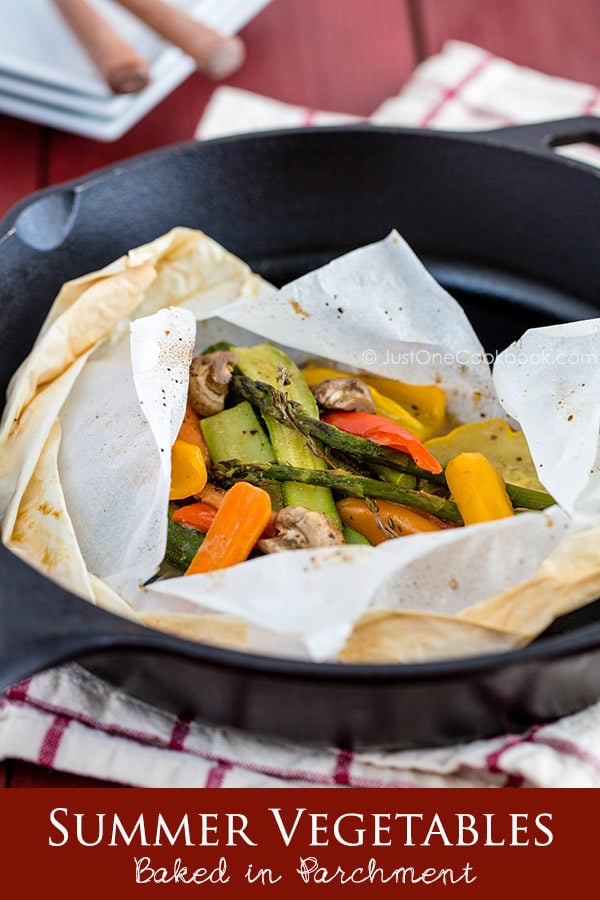 To get the Summer Vegetables Baked in Parchment recipe, click here over at the Hikari Miso's website. Enjoy!
Hikari Miso products will be available in Amazon soon (some are available already).  You can also buy Hikari Miso products in Japanese grocery stores (my local Japanese and Asian stores carry their product).
Disclosure: This post is sponsored by Hikari Miso.  To read more about my partnership with Hikari Miso (press release), click click here.