Print Recipe
Jump To Recipe
I think by now most of you know that I don't bake often despite the fact that I love sweets.  I wonder I wasn't interested in baking cookies and cakes because I never seem my mom baked.  I remember she baked really good apple pies once in a while but she isn't much of a baker.

After I came to the US, every house I lived in came with a humongous oven (no, it's a regular size, but a lot bigger than Japanese oven that's about the size of a microwave in the US).  I started to use the oven for savory dishes, but I still don't bake sweets that much.
Today I made these little cakes!  But they are "steamed" in a frying pan!  I know, I promise I'll be making more sweets and I will "bake" more often.
A few weeks ago, my new foodie friend, Ellena from Cuisine Paradise in Singapore, asked me if I know how to make Japanese Steamed Cake (Mushi-pan).  I have eaten mushi pan many times but I had never made them at home.  So I researched Japanese cooking websites and gave her a recipe that looks good.  However, I've been feeling a bit guilty that I passed a recipe without trying it myself first.  So, I got a different recipe from a friend of mine and I tried making from scratch.
These Steamed Cakes turned out really great and my children enjoyed especially the chocolate ones.  Ellena, I hope you will like this recipe!
Do you like green tea flavor?  Check out my other steamed cake, Green Tea Steamed Cake too!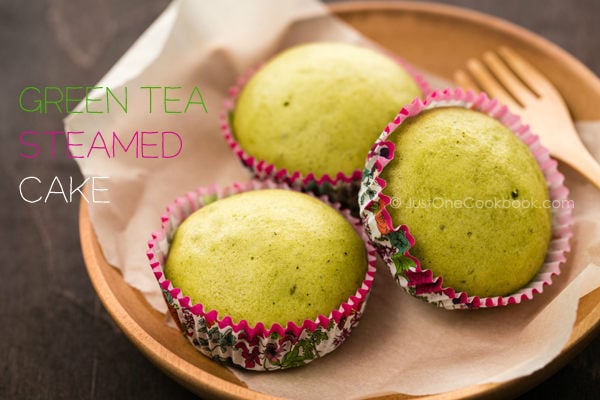 Don't want to miss a recipe? Sign up for the FREE Just One Cookbook newsletter delivered to your inbox! And stay in touch on Facebook, Google+, Pinterest, and Instagram for all the latest updates. Thank you so much for reading, and till next time!
Steamed Cake
Ingredients
Basic Steamed Cake
½ cup (60g) all purpose flour
1 tsp. baking powder
1 egg
2 Tbsp. milk
2 Tbsp. sugar
1 Tbsp. vegetable oil
You will also need
4 cupcake liners
4 ramekins
For Corn & Cheese Steamed Cake, add:
¼ cup corn kernels
¼ cup shredded cheese
For Double Chocolate Steamed Cake, add:
1½ Tbsp. unsweetened cocoa powder
3 Tbsp. milk (instead of 2 Tbsp.)
2 Tbsp. vegetable oil (instead of 1 Tbsp.)
2-3 Tbsp. chocolate chips
Instructions
Cover the lid with kitchen towel. This will prevent the water formed from condensation to drop on the steamed cakes.

Pour water into a large frying pan to come halfway up the sides of the ramekins. Cover the pan with the lid and slowly bring water to a boil.

Put a cupcake liner in ramekins.

In a medium bowl, combine flour and baking powder (and cocoa powder for Chocolate Steamed Cake).

Whisk them about 20 times (This is a shortcut method for sifting).

In a small bowl, whisk egg, milk, sugar, and vegetable oil together until combined.

Pour the egg mixture into the flour mixture and mix until smooth.

Add additional ingredients (corn & cheese, or chocolate chips) and mix until combined.

Pour the mixture into the cupcake liners.

Place the glass ramekins in the boiling water and cook covered on medium heat for 8 minutes. They're done when a skewer comes out clean without wet batter.

Turn off the heat and remove the ramekins from the pan and let them cool. Serve warm or at room temperature.

Notes
Recipe by Namiko Chen of Just One Cookbook. All images and content on this site are copyright protected. Please do not use my images without my permission. If you'd like to share this recipe on your site, please re-write the recipe in your own words and link to this post as the original source. Thank you.