Chicken thighs simmered in a white wine and herb broth with chunks of potatoes and carrots, this Braised Herb Chicken with Shio Koji is a flavorful dish to serve at the holiday table.
My family loves Braised Herb Chicken, where juicy chicken thighs are slow simmered in a white wine and herb infused sauce until tender. There's plenty of rich, flavorful sauce to slop up with crusty bread. I get hungry simply thinking about it.  It's a recipe that I've been cooking for many years.  However, I made one change to this staple dish of ours this year, and the result was beyond amazing!  What did I do?  I simply replaced salt with Shio Koji.
Braised Herb Chicken

 – Seasoned with Shio Koji for Tenderest Meat
Shio Koji (塩麹, 塩糀) is a rice malt (koji) that has been fermented with sea salt (shio).  It is a live food that is rich in enzymes and brings out the umami in foods.
The texture looks like porridge and has a subtle taste of both sweet and salty.  It is often used in place of salt to enhance all kinds of foods.  It marinates and tenderizes meat and can be used to season fish and vegetables (read more about it here).
For this braised herb chicken recipe, shio koji not only brings out so much flavors from the meat and vegetables, it also tenderizes the meat so it's extra juicy.
Last week Hikari Miso released their Shio Koji products in the United States.  They are currently hosting sweepstakes to give away 30 Shio Koji bottles on their website.  If you want to try shio koji but it's hard to find in your area, this is a great chance to win a bottle!  You can click here to enter.  Good luck! (Photo Courtesy: Hikari Miso Co., Ltd.)
We're celebrating Thanksgiving this week in the United States. If you are looking for a non-turkey dish for a smaller get together, I recommend this easy braised chicken recipe for a small party.
To get the Braised Herb Chicken with Shio Koji recipe, click here over at the Hikari Miso's website.  Thank you for reading my blog, and enjoy cooking with shio koji!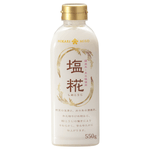 Note: If you cannot find shio koji, use 1 tsp. salt instead for this recipe. Hikari Miso products are available in Japanese grocery stores and Amazon. Disclosure: This post is sponsored by Hikari Miso.  To read more about my partnership with Hikari Miso, click click here.