Jump To Recipe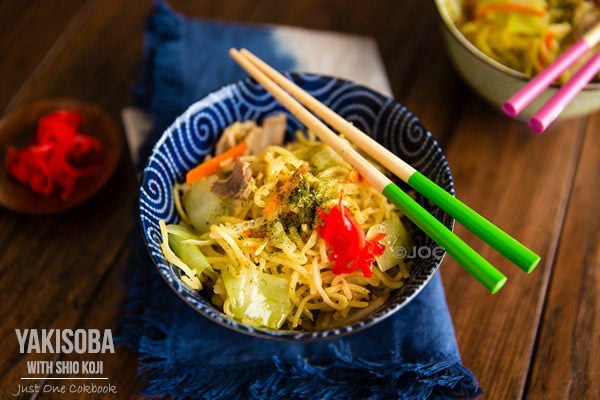 Yakisoba (焼きそば) is a popular Japanese stir fried noodle dish; similar to chow mein.  The noodles are much thinner than the Chinese version and it's seasoned with Worcestershire-like sauce instead of soy sauce.
Recently, a college friend in Japan shared a picture of her bento on Facebook and I was really intrigued because it was Yakisoba seasoned with shio koji.  I knew this would be fun and tasty to try!
And it was!  I had no idea how shio koji's simple ingredients can enhance the flavor so dramatically for yakisoba.  I was also pleasantly surprised with its elegant flavors.  Shio koji adds nice umami to the simple ingredients of noodles, meat, and veggies.  Instead using a lot of yakisoba sauce for my family on the noodles, I now use shio koji in my yakisoba as a the alternative.  Plus it tastes much better, you'll have to try it to believe it.
Yakisoba is really simple to make and it's versatile.  Throw in your favorite protein (chicken, shrimp, sausages, etc) and veggies in a wok and finish with noodles and seasonings.  It's a great week night meal for a busy day.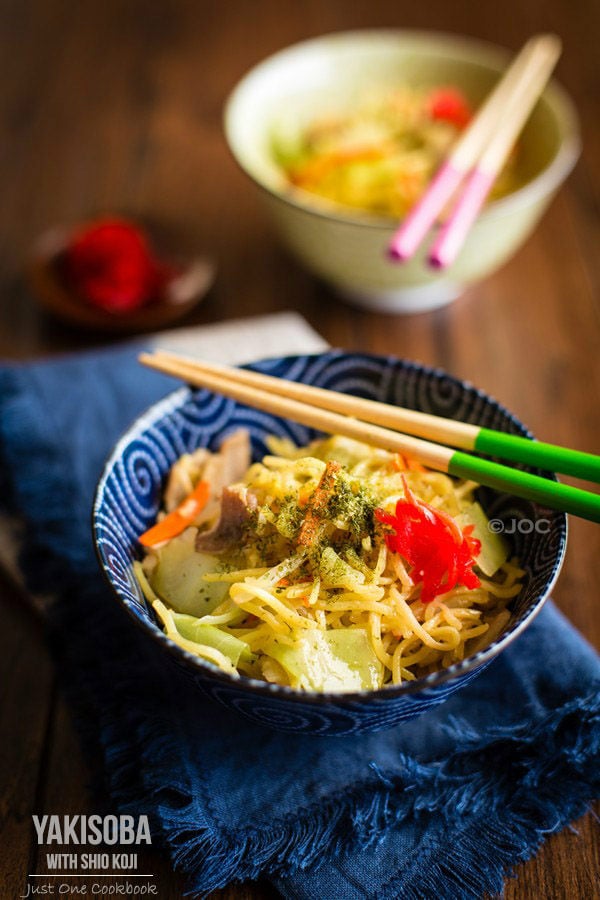 By the way, Hikari Miso is currently hosting sweepstakes to give away 30 Shio Koji bottles on their website (U.S. only).  Entries will be accepted until 11:59 pm PST December 15, 2013 (2 more days!).  Don't miss out on a chance to win a bottle!  You can click here to enter.  Good luck!
To get the Yakisoba with Shio Koji recipe, click here over at the Hikari Miso's website.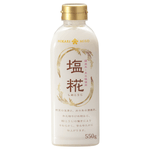 Note: If you cannot find shio koji, use 1/2 tsp. salt for marinating and 1 to 1 1/2 tsp. salt for seasoning instead for this recipe.  However, I haven't tried seasoning with just salt yet.  If you want the regular Yakisoba recipe, please click here.
Hikari Miso products are available in Japanese grocery stores and Amazon.
Disclosure: This post is sponsored by Hikari Miso.  To read more about my partnership with Hikari Miso, click click here.
Thank you for reading my blog, and enjoy cooking with shio koji!