Juicy succulent white steamed fish with soy sauce served with shiitake mushroom, green onion, and tomato slices. It's a classic Cantonese way to prepare fresh whole fish.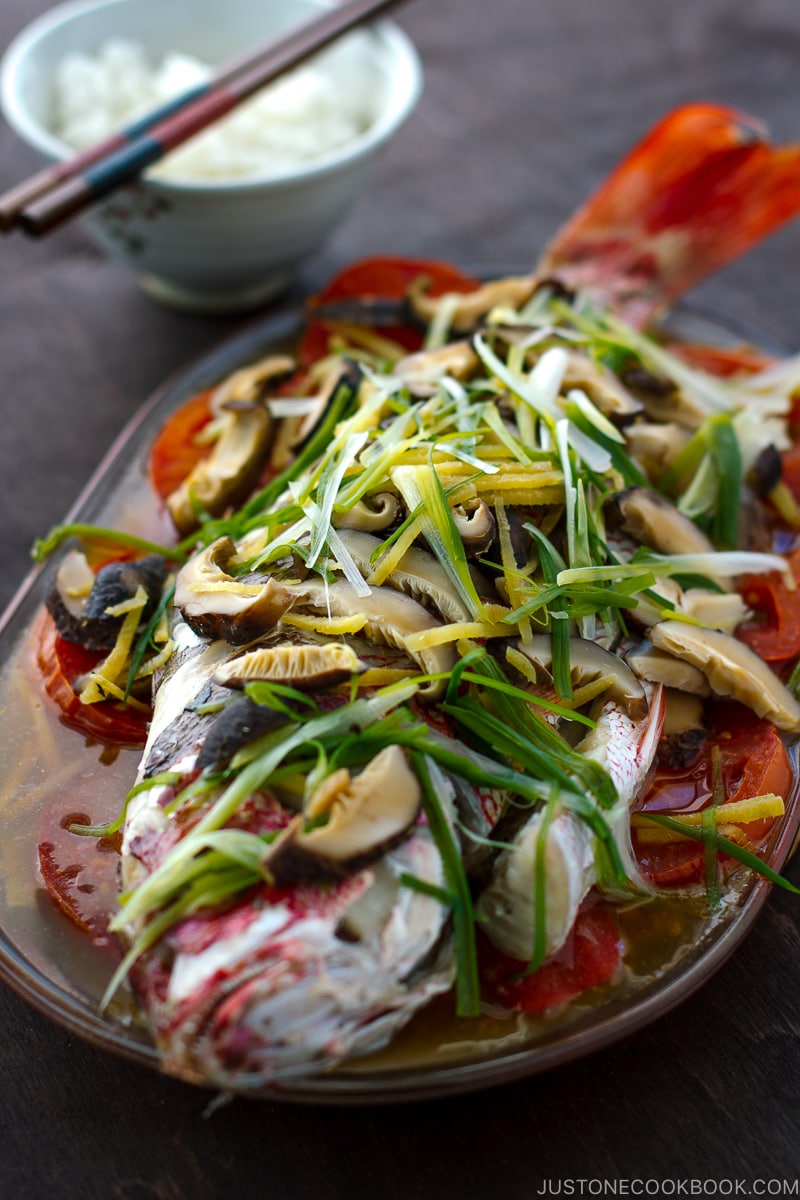 Today I'm honored to introduce my favorite new book called Lemongrass & Ginger Cookbook: Vibrant Asian Recipes. When the cookbook author Leemei Tan contacted me if I was interested to review her cookbook a month ago, I was thrilled with joy to have this wonderful opportunity. This is not just a review from an ordinary cookbook – it's now my favorite cookbook.
Leemei Tan is a freelance recipe writer, food stylist, and photographer. Born in Malaysia, she is now based in London and travels extensively. She has been authoring the ever-popular and well-known food blog My Cooking Hut since 2007.
I have been following her blog ever since I discovered it last year, and when she talked about her new cookbook release a few months ago, I was really happy for her great achievement and I remember telling her how beautiful the book cover design is.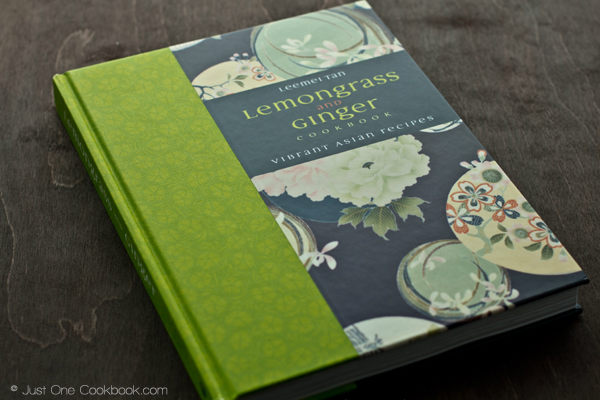 Thanks to Leemei, home cooks can now easily master the art of preparing delectable Asian cuisine. From Korean Spicy Seafood Noodle Soup and Japanese Pork Dumplings to Thai Green Papaya Salad and Indian Aubergine Curry, these imaginative recipes will inspire and delight, whether you have in mind a quick weekday meal or a feast for friends and family.
There are 7 chapters in the book that cover more than 100 recipes from all over Asia – Japan & Korea, China, Philippines & Indonesia, Malaysia & Singapore, Thailand, Cambodia & Vietnam, and India & Sri Lanka. You can read more about her cookbook and take a sneak preview of the book here.
After reading her cookbook thoroughly, I had a few questions that came to my mind and I wanted to ask her personally, so I interviewed her.
You have traveled quite a bit all over the world. Can you name 3 of your favorite dishes from 3 countries you have been to?
This is really tough as I have so many dishes that I love from all the countries that I have been to so far. If I had only 3 favorites, the first one has to be Pho Ga (Chicken Pho) that I had in Ho Chi Minh City. There are many shops and even mobile stalls that can easily be spotted for a good bowl of Pho. I love the light and fragrant chicken soup base. I could eat Pho every day!
Sushi is another of my favorites. The freshest sushi I have ever had was at one tiny sushi shop at Tsukiji Fish Market in Tokyo. Last but not least, a good Bouillabaisse (a traditional Provençal fish stew originates from Marseille, France) is always a must-eat whenever I go to France. The best bouillabaisse experience was at a random brasserie that I walked in near Gare du Nord, Paris.
Can you share with us how much time and effort took you to complete this book?
I had a very tight deadline. I was given only slightly more than 3 months to complete my manuscript and get all the recipes in the book tested. So, I worked more than 8 hours a day in order to keep everything on track.
What's your must-have kitchen utensil?
Wok – a good wok! I use a wok to cook everything! It's such a versatile piece of kitchen utensil that you can just rely on to stir-fry, deep-fry or even steam.
Can you share with us which recipe in the book reminds you most of your mother's flavor?
It has to be Cantonese steamed fish. There are many different styles of Cantonese steamed fish that one can come out with. But my mom's signature is the addition of a tomato.
My mom made me prep for dinner for years similar to how your mom trained you. What advice do you have for someone who has to cook for the first time in their life as the best way to start their culinary journey?
For me, prepping food is really important to make sure that you don't miss any ingredients. Besides, if you allow more prepping time, then it makes the whole cooking process to run more smoothly. Cooking is an art and it shows one's personality too. During the cooking process, try not to be shy to taste and adjust the seasonings. Always have confidence when you cook as the more confident you are, the tastier the food is! So, never say that you can't cook. Everyone can cook!
If you, your family, or your friends love Asian food, but you don't know which book to buy for trying some Asian dishes, Lemongrass & Ginger will be a great introduction. It can be purchased at all major bookstores and online stores such as Amazon (US, Canada, UK), Barnes & Noble, Book Depository (US, UK) and etc.

Making Cantonese Steamed Fish for the First Time!
After I was inspired by many of her recipes and placed post-it notes to mark my favorite ones, I decided to cook her mom's signature dish Cantonese Steamed Fish for my family's lunch. Her mom uses a tomato in this recipe which had intrigued me to try this unique recipe. My family enjoys fish, especially my children, and we always love steamed fish when we go to Chinese restaurants with a large group of friends or family.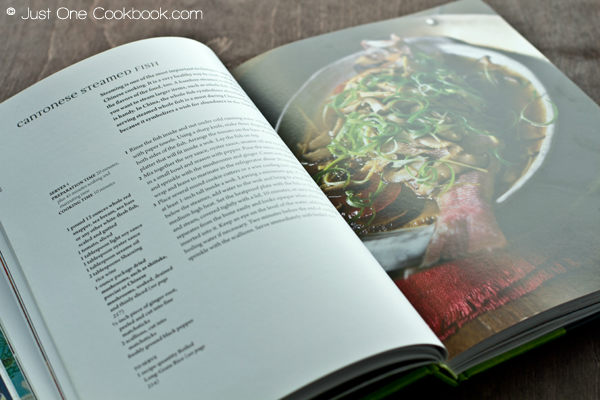 The ingredients are pretty easy to find. Besides the fresh red snapper, I have everything in my fridge and pantry. I asked my fishmonger to scale and gut the fish for me so that my cooking time is minimized.
Since this recipe uses a whole fish which can be pretty big, you must have proper cooking equipment such as a wok and a large slightly deep plate that holds the entire fish with sauce. Make sure your wok has a large lid that covers the entire wok tightly.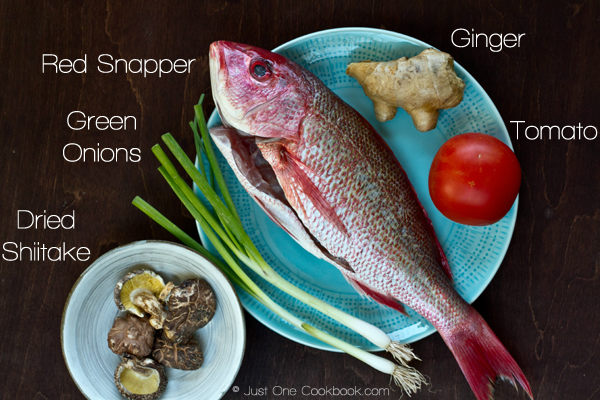 Since it was Sunday and my kids were at home, they were so excited to see me photographing uncooked fish by the window in the living room. I usually do photo shooting when my kids are not at home so this suddenly became a huge family event.
When the fish was about to finish cooking, my entire family was in the kitchen. I had to cook a little longer than the time the recipe suggested as my fish was slightly bigger. When I opened the lid, everyone said WOW! for my first Cantonese Steamed Fish. The steamed rice was done cooking just minutes ago and we were waiting for this moment.
My family was supportive of me taking pictures before our lunch, and when I finally brought the fish to the dining table, everyone couldn't wait to taste this fish.
I put my first piece of fish in my mouth. Hmmm!!!  I could taste both acidity and sweetness from the tomato in the sauce and the complexity was just wonderful. I love this sauce so much that I dip the fish in the sauce before I eat it with steamed rice.
Whether you are Asian or not, this dish definitely makes you feel at home. It's a great choice to serve to guests as it is very inviting and welcoming. I cooked several side dishes along with this steamed fish and we felt light even after the full meal. This will become our staple fish recipe from now on. Now here is the delicious recipe.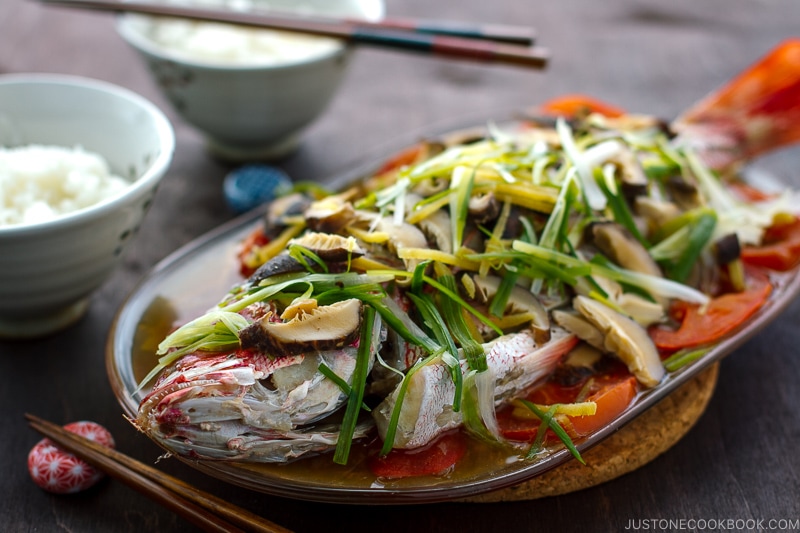 Wish to learn more about Japanese cooking? Sign up for our free newsletter to receive cooking tips & recipe updates! And stay in touch with me on Facebook, Pinterest, YouTube, and Instagram.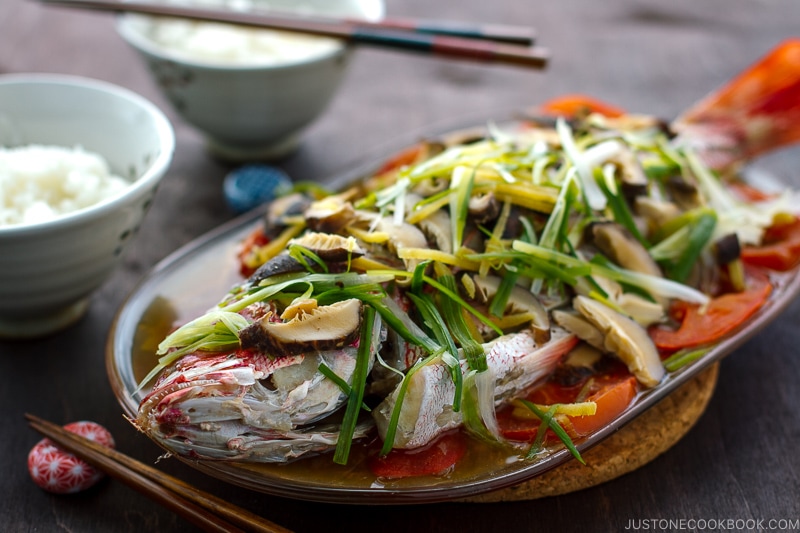 Cantonese Steamed Fish
Juicy succulent white steamed fish with soy sauce served with shiitake mushroom, green onion, and tomato slices. It's a classic Cantonese way to prepare fresh whole fish.
Ingredients
1

whole red snapper

(1.8 lb, 800 g; you can also use sea bream, sea bass, or any other white-flesh fish; scaled and gutted by your fishmonger)

1

tomato

1

knob

ginger

(½ inch, 1.3 cm)

2

green onions/scallions
Japanese Ingredient Substitution:
If you want substitutes for Japanese condiments and ingredients, click
here
.
Instructions
Gather all the ingredients.

Soak dried mushrooms. Put the dried mushrooms in a bowl. Pour over boiling water to cover and soak 20 minutes until soft. Meanwhile, you can prepare other ingredients. Once hydrated, strain the liquid into another bowl, squeezing any excess liquid from the mushrooms (this is Shiitake Dashi, and you can use this umami-rich broth in other cooking). Cut off the stems (discard them) and slice the mushrooms.

Slice the tomato, cut green onions into matchsticks, and peel ginger and cut into fine matchsticks.

Rinse the fish inside and out under running cold water and pat dry with kitchen paper. Using a sharp knife, make three diagonal slits on both sides of the fish.

Arrange the tomato on the base of a heatproof platter that will fit inside a wok. Lay the fish on top.

Mix together the soy sauce, oyster sauce, sesame oil and rice wine in a small bowl and season with pepper.


Pour the sauce over the fish and sprinkle over the mushrooms and ginger. Cover with saran wrap and leave to marinate in the fridge for about 20 minutes.
To Cook The Fish
I don't have a good steamer to cook the fish, so I had to improvise. Place several round cookie cutters or a wire cooling rack with legs at least 1 inch (2.5 cm) in tall inside a wok. Leaving a minimum gap of ½ inch (1.3 cm) below the steamer, add water to the wok and bring to the boil over medium-high heat. Below was my creative setting as cookie cutters were too low for my plate to be supported.

Set the heatproof plate with the fish on the rack and steam, covered, for 10 minutes, or until the flesh separates from the bone easily and looks opaque when a fork is inserted. Keep an eye on the level of the water, adding more boiling water if necessary. Two minutes before the end of cooking, sprinkle over the spring onions. Serve immediately with boiled rice.
To Store
You can keep the leftovers in an airtight container and store in the refrigerator for up to a day.
Notes
The recipe is from "Lemongrass and Ginger" by Leemei Tan.
Nutrition
Nutrition Facts
Cantonese Steamed Fish
Amount per Serving
% Daily Value*
* Percent Daily Values are based on a 2000 calorie diet.
©JustOneCookbook.com Content and photographs are copyright protected. Sharing of this recipe is both encouraged and appreciated. Copying and/or pasting full recipes to any website or social media is strictly prohibited. Please view my photo use policy
here
.