Garlic Onion Chicken – Succulent pan-fried chicken smothered in a flavorful and robust garlic onion sauce, this is a weeknight winner! It's quick and easy, and utterly satisfying. Since everything cooks in one pan, clean-up is a breeze too.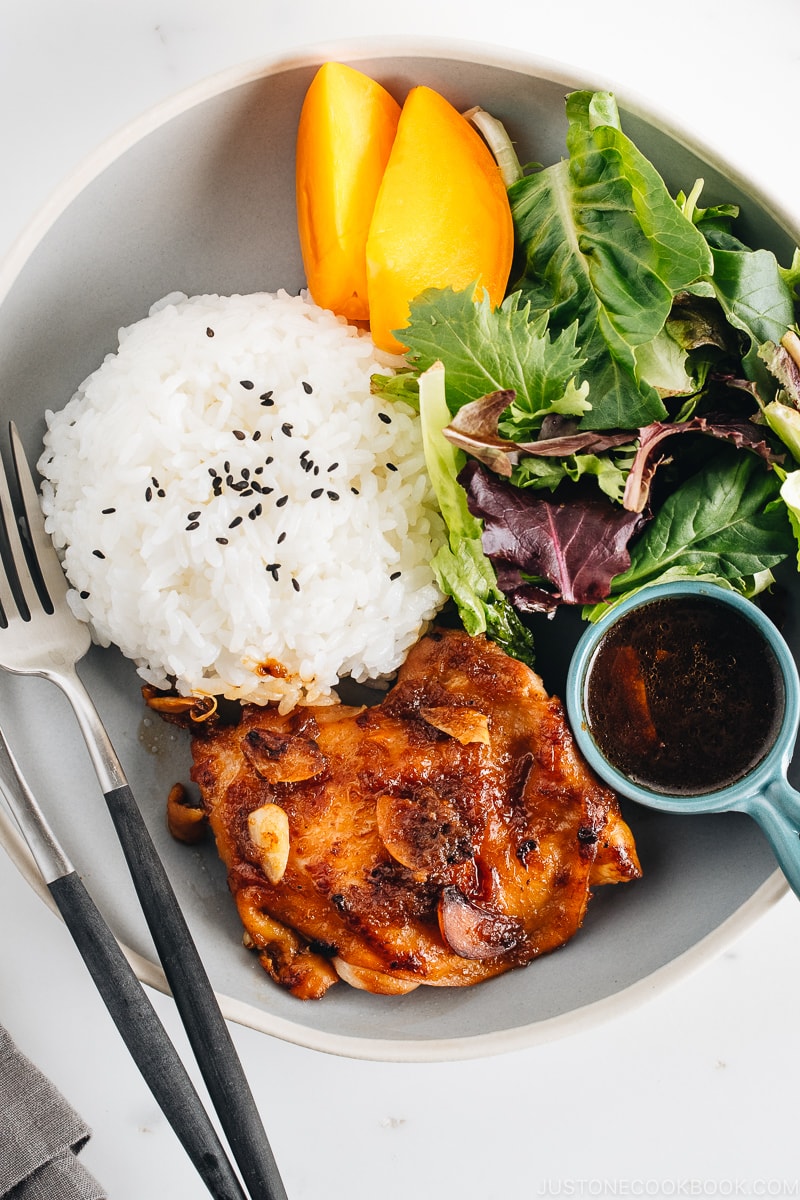 Over the years, I've gathered enough recipes that are delicious yet simple enough to make any day of the week. These weeknight meals, my true heroes, nourish my family and allow us to have a special time together every night. I am thankful for them, and one of my recipe keepers is this one-pan Garlic Onion Chicken (鶏肉のガーリックオニオンソース). It's our all-time favorite chicken dinner that boasts crispy skin, juicy meat, and an amazing sauce. I hope it will be your weeknight dinner superhero too!
Why You'll Love This Recipe
It's quick! While the chicken marinates, you can make steamed rice or a quick side dish (I just tossed together a simple green salad with heirloom tomatoes). When everything else is ready, cook the chicken and serve.
It's easy! This is one of the first dishes that I learned when I started cooking. With very basic ingredients and a minimal approach, it doesn't get much easier. So yes, you can make it too.
It's delicious! The criteria for good weeknight recipes have to be more than just quick and easy. If the final dish is not satisfyingly tasty, there's no reason to keep cooking it. That's not the case with this Garlic Onion Chicken. It's so good that I never cease making it for my family.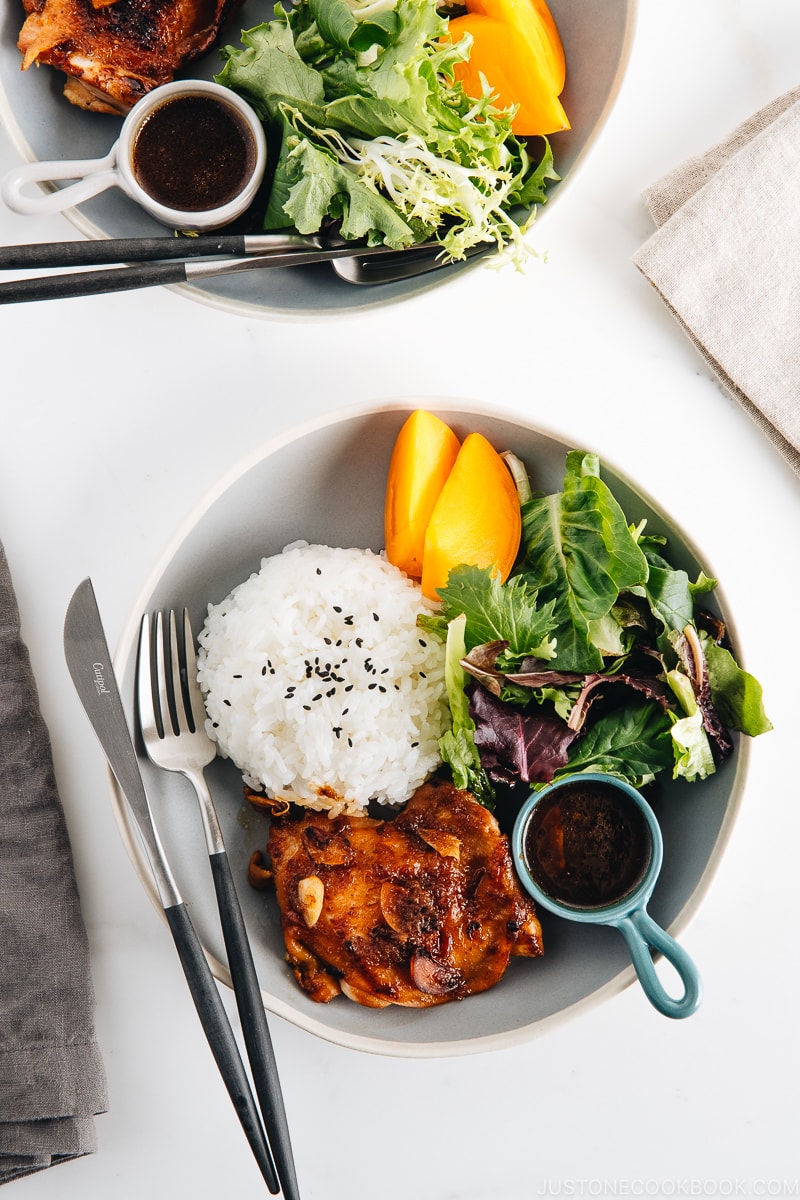 3 Cooking Tips
I believe small care and attention to detail make a difference in the food you make. And it reflects your love in the most delicious way. Here are 3 tips that I recommend for making perfect garlic onion chicken!
1. Prick Chicken Skin with Fork
For this dish, I recommend using skin-on chicken thighs for better flavor and juicy meat. If you live in the US, skin-on-thighs typically include bone. You can always ask the butcher to remove it for you (they debone so fast!).
The skin, however, prevents the sauce from absorbing. So we help facilitate the marination by pricking the skin with a fork a few times.
2. Save the marinade for later
When I first started cooking on my own, I had a different assumption that the ingredient should be cooked together with the marinade so that it will become more flavorful. For some food, that may work, but not when you want to have nicely seared meat.
If you add the sauce to the frying pan together with the chicken, it ends up simmering the meat in the liquid. The chicken will never get crispy brown or any grill marks on the skin. Therefore, remove the marinate the best you could, pan-fry until golden brown, and then add the sauce to simmer down.
3. Spoon the sauce over the chicken
It is a basic tip, yet so easy to overlook. As the sauce simmers down and thicken, spoon it over the chicken several times. This allows the meat to absorb all the wonderful flavors. Even if you're just making dinner for yourself, put your heart and soul into making it. Small care makes a difference in the end!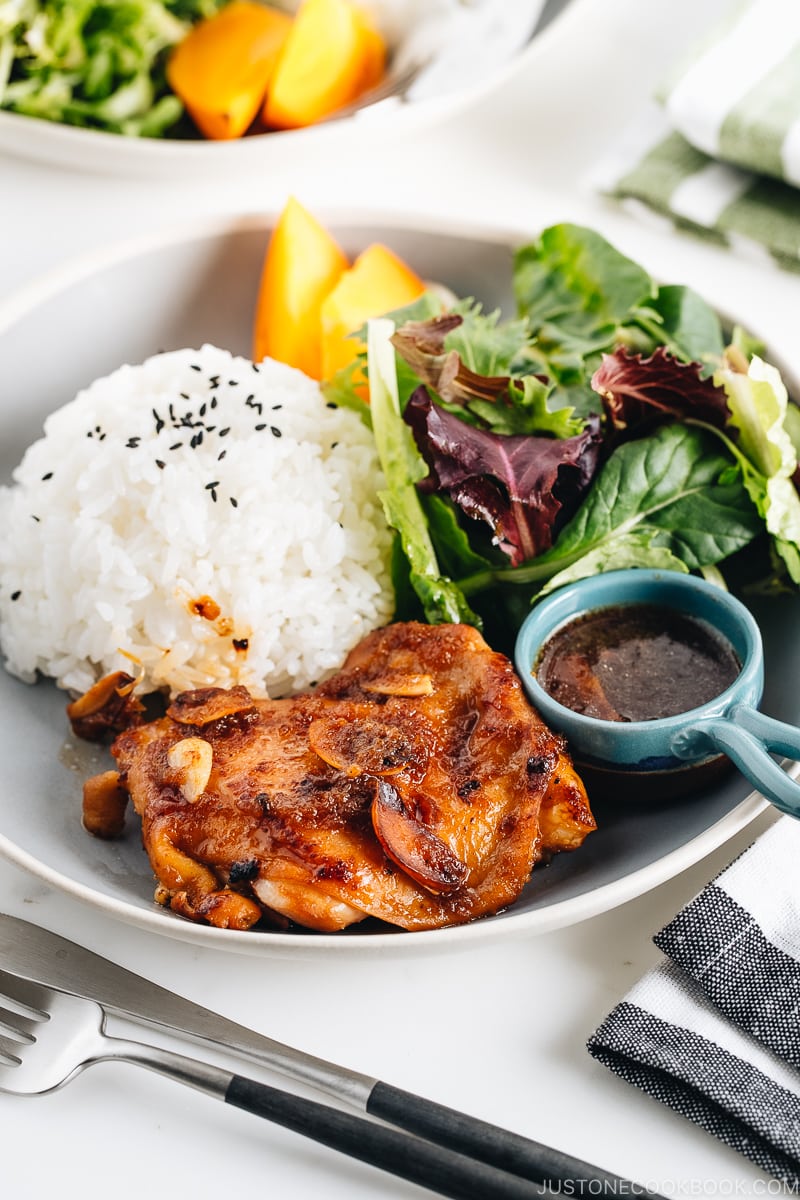 The Luscious Garlic Onion Sauce
If you have never grated onion for your marinade, you might be surprised by the power of this allium. It not only gives a refreshing taste, but it adds natural sweetness to the sauce.
Here, I used four cloves of garlic, which may be a little unusual in Japanese recipes, but don't be afraid to use them. Each chicken thigh gets one garlic clove, so it's not too bad.
We only marinate for 20-30 minutes and you may wonder if that's enough. Don't worry. You will be using the marinade to simmer down later and coat the chicken with this delicious sauce. The chicken will get plenty of flavor from cooking in the sauce, so you don't need to marinate overnight. Your chicken may end up too salty, so be careful.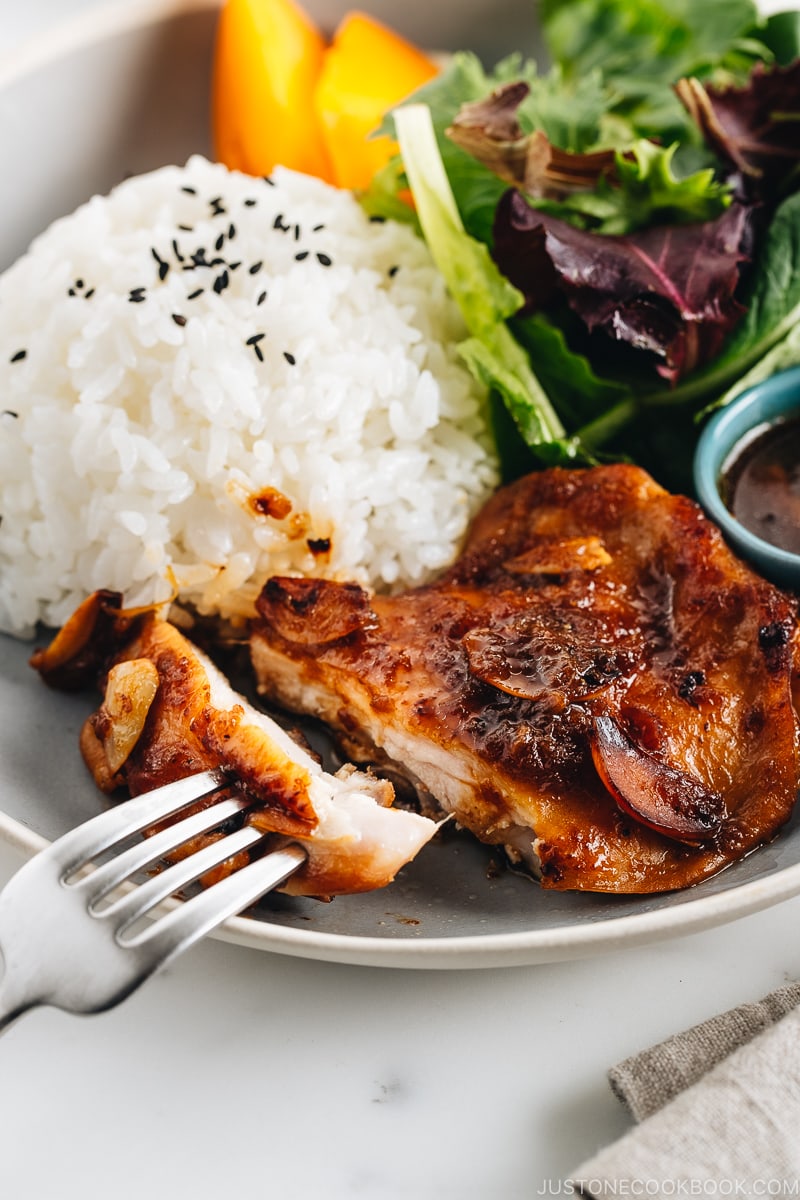 Other Quick, Easy, and Delicious Chicken Recipes
If you love Garlic Onion Chicken and want to try similar recipes, here are some of my recommendations. Enjoy!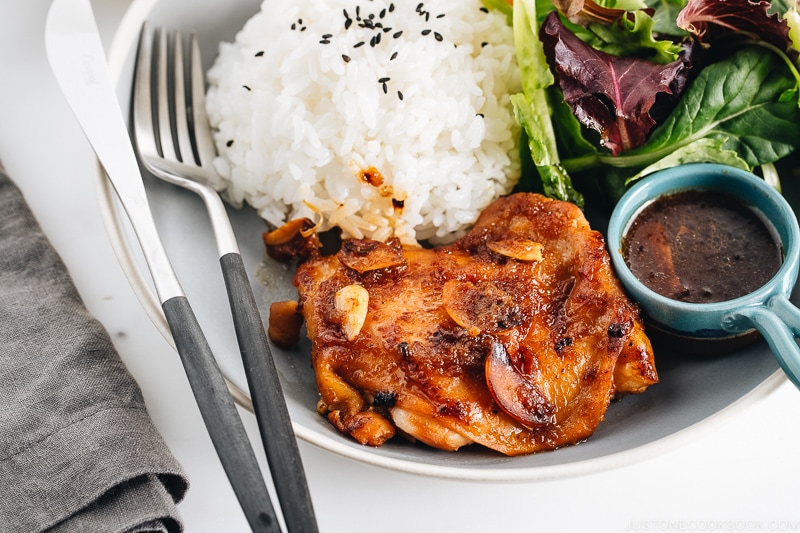 Wish to learn more about Japanese cooking? Sign up for our free newsletter to receive cooking tips & recipe updates! And stay in touch with me on Facebook, Pinterest, YouTube, and Instagram.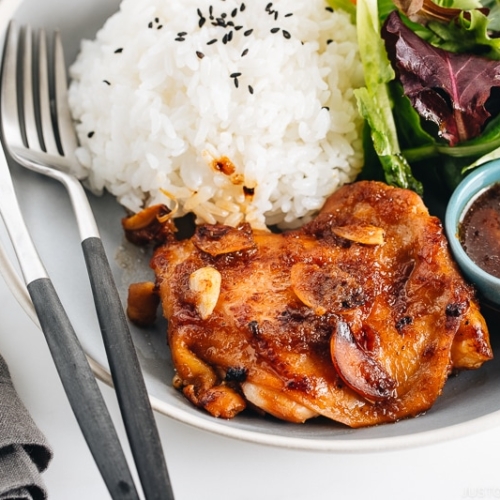 Garlic Onion Chicken
Garlic Onion Chicken – Succulent pan-fried chicken smothered in a flavorful and robust garlic onion sauce, this is a weeknight winner! It's quick and easy, and utterly satisfying. Since everything cooks in one pan, clean up is a breeze too.
Ingredients
4

boneless, skin-on chicken thighs

½

tsp

freshly ground black pepper

1

Tbsp

neutral oil
Japanese Ingredient Substitution:
If you want substitutes for Japanese condiments and ingredients, click
here
.
Instructions
Gather all the ingredients.

Slice

4 cloves garlic

and put them in a large container or bowl (I used an 8 x 8 inch or 20 x 20 cm baking dish).

Peel

½ onion

but don't cut off the root section as it's easier to grate when the layer is connected. Using a grater (my favorite is this one), grate as much as you can, keeping the juice (I left 30% of it—it's hard to grate everything).

To the garlic, add the grated onion with juice,

4 Tbsp sake

, and

2 Tbsp mirin

.

Add

3 Tbsp soy sauce

and mix it all together.

With a fork, prick the skin of

4 boneless, skin-on chicken thighs

. This will help absorb the marinade.

Season the chicken with half of the

½ tsp Diamond Crystal kosher salt

and half of the

½ tsp freshly ground black pepper

on the skin side.

Season the other side with the remaining salt and freshly ground black pepper.

Add the chicken and keep in the refrigerator for 20–30 minutes to marinate.

In a non-stick frying pan, heat

1 Tbsp neutral oil

on medium heat. When the pan is hot, add the chicken, skin side down. Make sure to leave the marinade behind; the sauce will burn quickly, so do not add at this time.

Be sure to add all the garlic.

Pan-fry the chicken until the skin side is nicely golden brown, about 3 minutes. Do not flip until then.

After you flip over the chicken, lower the heat to medium low. Put the lid on, leaving slightly ajar, and cook for 6–7 minutes.

Remove the lid and see if the chicken is cooked through (the internal temperature should be 165ºF or 74ºC). If the chicken is done, wipe off the excess oil with a paper towel. Then, add the reserved marinade into the pan.

Simmer on medium-low heat for 2–3 minutes. Use a spoon to coat the chicken with the pan sauce.

When the sauce has been reduced and thickens slightly, turn off the heat. Serve the chicken on a plate and pour the sauce over. Serve immediately.
To Store
You can keep the leftovers in an airtight container and store it in the refrigerator for up to 3–4 days or in the freezer for up to a momnth.
Nutrition
Nutrition Facts
Garlic Onion Chicken
Amount per Serving
% Daily Value*
* Percent Daily Values are based on a 2000 calorie diet.
©JustOneCookbook.com Content and photographs are copyright protected. Sharing of this recipe is both encouraged and appreciated. Copying and/or pasting full recipes to any website or social media is strictly prohibited. Please view my photo use policy
here
.
Editor's Note: This post was originally published on May 2, 2011. The post has been updated with new images and content in November 2019.