From ramen to gyoza to flavorful curry, you'll find a collection of our most favorite Japanese vegetarian recipes that everyone will love. They are vegan adaptable too. Bookmark the recipes and get ready to satisfy your cravings for all things delicious!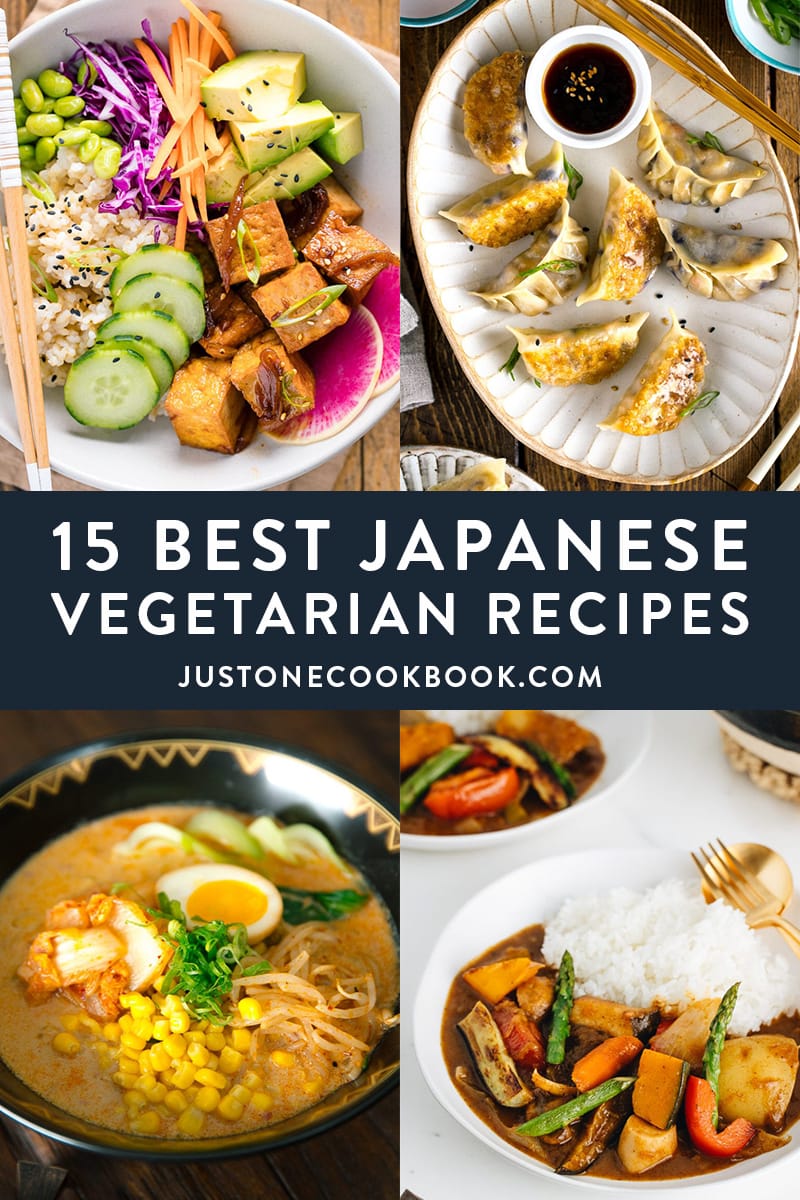 Whether you're vegetarian or vegan, or just looking to adopt more plant-based eating, Japanese cooking could be your next choice that caters to a meat-free food lifestyle. There are plenty of vegetables and ingredients such as tofu, mushrooms, and seaweed in the cuisine that will awake your taste buds. The food is so flavorful and easily adaptable without sacrificing great taste.
Here we've rounded up our favorite Japanese vegetarian recipes to inspire you. Each recipe has been tested and loved by our readers, and we know you'll going to enjoy them too!
15 Favorite Japanese Vegetarian Recipes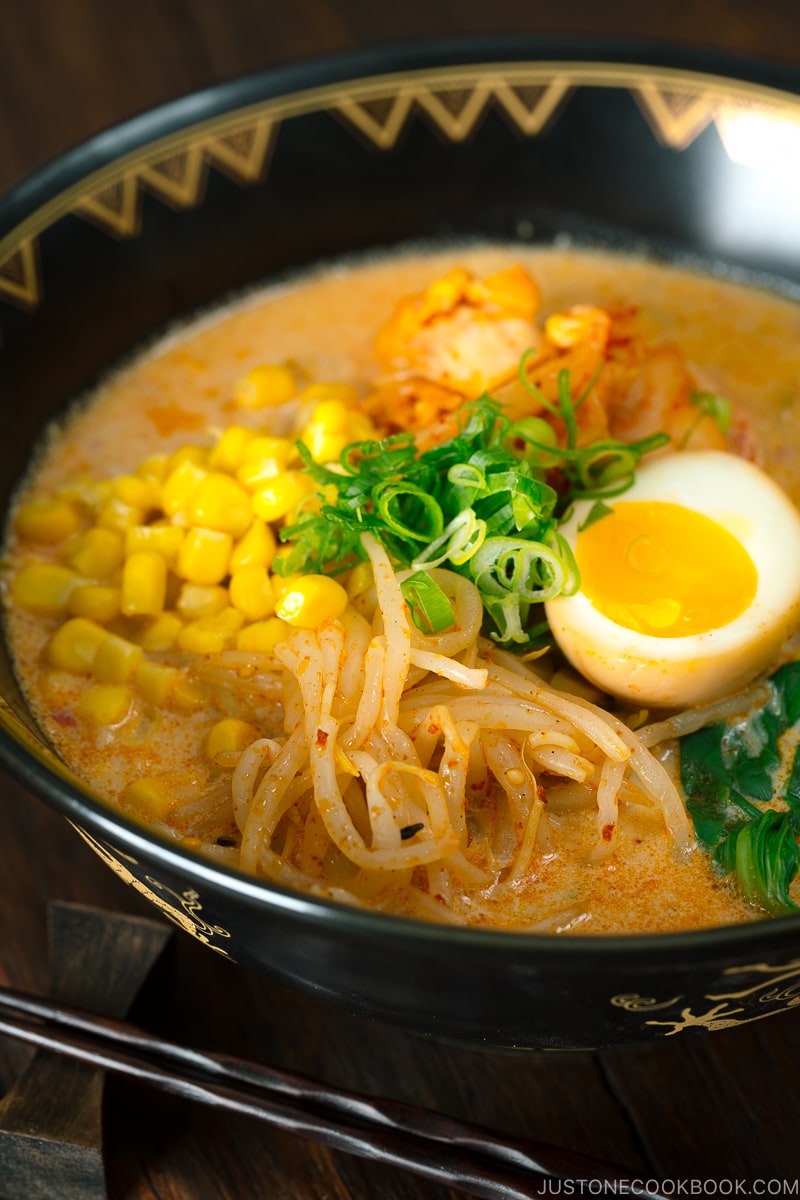 This Vegetarian Ramen recipe is so full of umami that it's going to rock your world! Learn the secret of creating a super-rich & creamy broth without any meat bones. You'd be so glad that your homemade ramen is superior enough to rival the ramen shop.
'I made this ramen last week, and it tasted so good! I couldn't believe how delicious it could be! I made it for seven people, and everyone loved it! I even made the ramen eggs. I'm not a vegetarian so I was definitely skeptical at first, but once I made it I knew it was a winner. It reminds me of Tonkotsu ramen flavour.' – H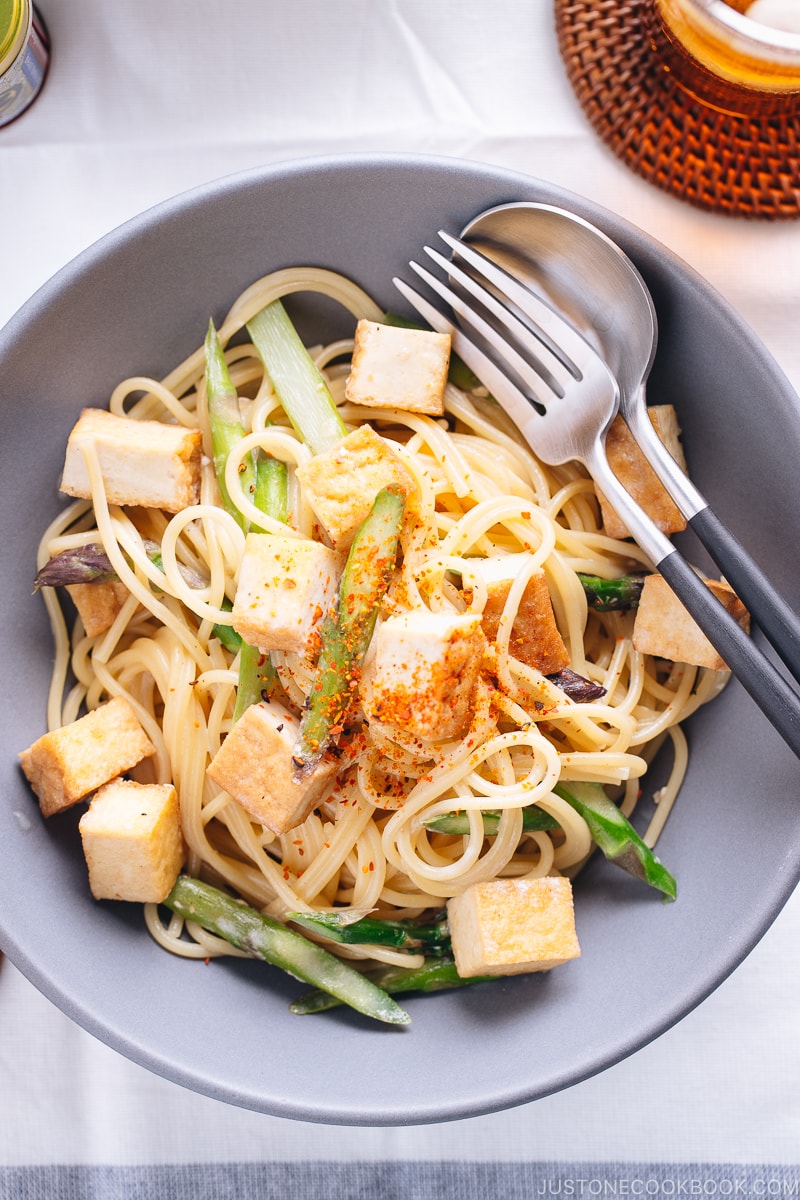 This creamy miso pasta provides the best comfort whenever you need it! To keep things interesting, switch the asparagus with other seasonal vegetables, or sprinkle with furikake instead of shichimi togarashi. It's the kind of low-fuss, all-season vegetarian/ vegan dish you need in the back pocket.
'I tried the recipe and I loved it! I used white miso this time so that it would have a milder creamy flavor.' – Lion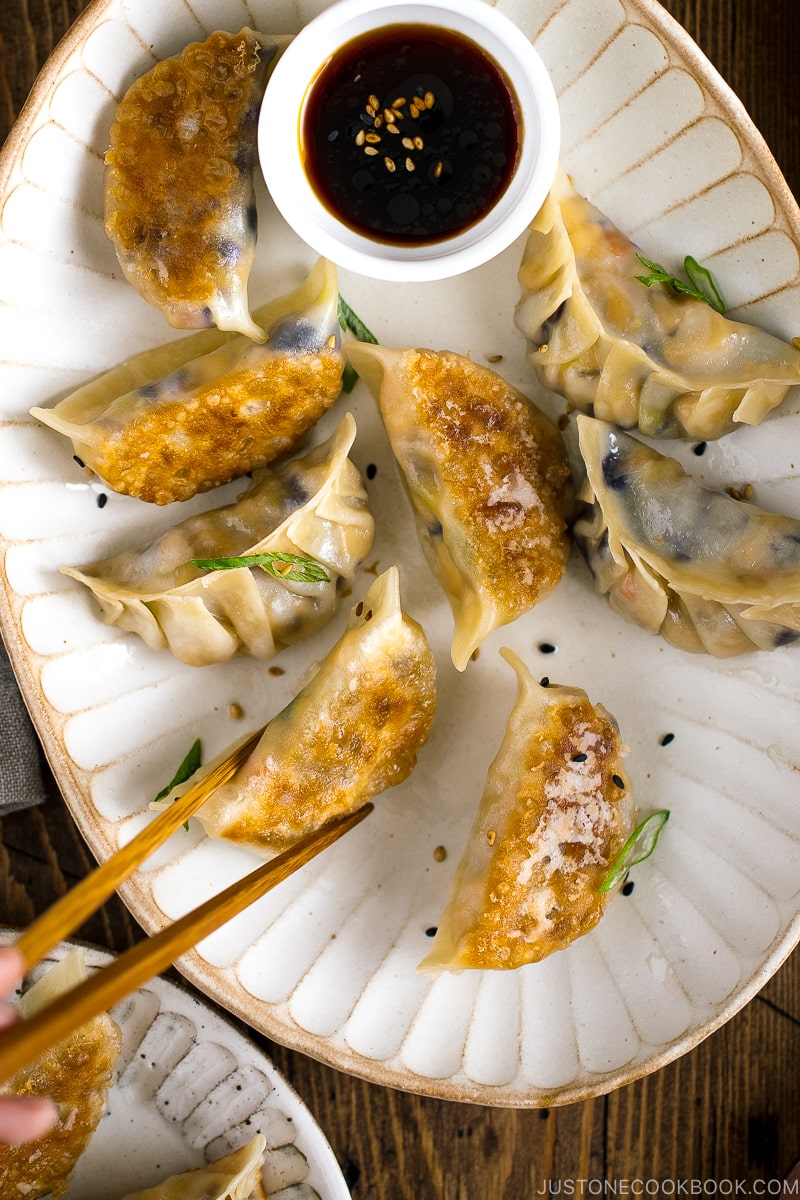 Stuffed with a delicious mix of tofu, cabbage, carrots, and shiitake mushrooms, these vegetable gyoza are incredibly fresh and juicy. It's one of those treats you can't stop eating! Best of all, you can make a large batch and freeze for later enjoyment.
'Thanks so very much for this recipe! I can buy veggie Chinese gyoza but appreciate yours so much. The texture was so good.' – Vanda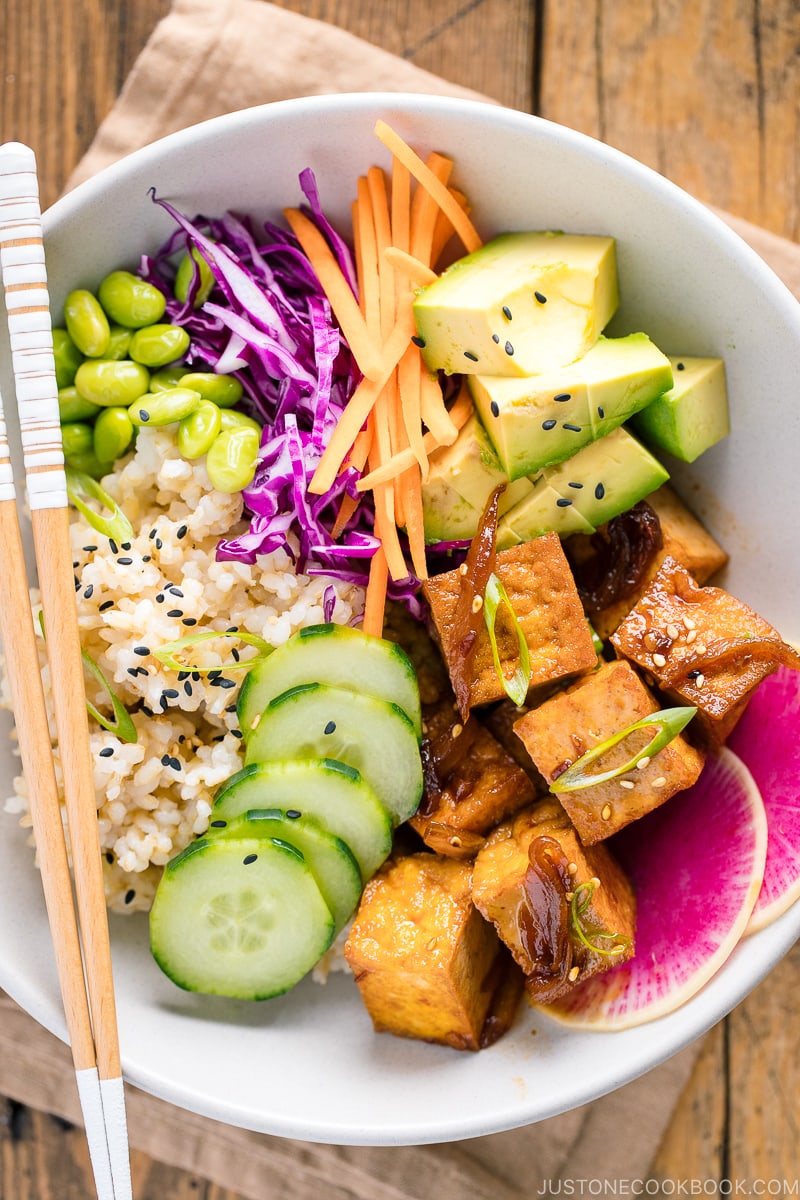 This Vegan Poke Bowl is a winner for midweek dinner! With savory tofu, an assortment of vegetables, and toothsome brown rice, it makes a well-balanced meal for vegetarian and vegan eating.
'I made the pan-fried tofu from this poke bowl today, and it was very tasty! I had never bought fried tofu before; glad I tried it, I'll be using it often. The flavor of the little sauce coating was very nice. I didn't make the whole poke bowl, I just had the tofu on the side of some stir-fried kale, and I had rice, too'. – Lisa M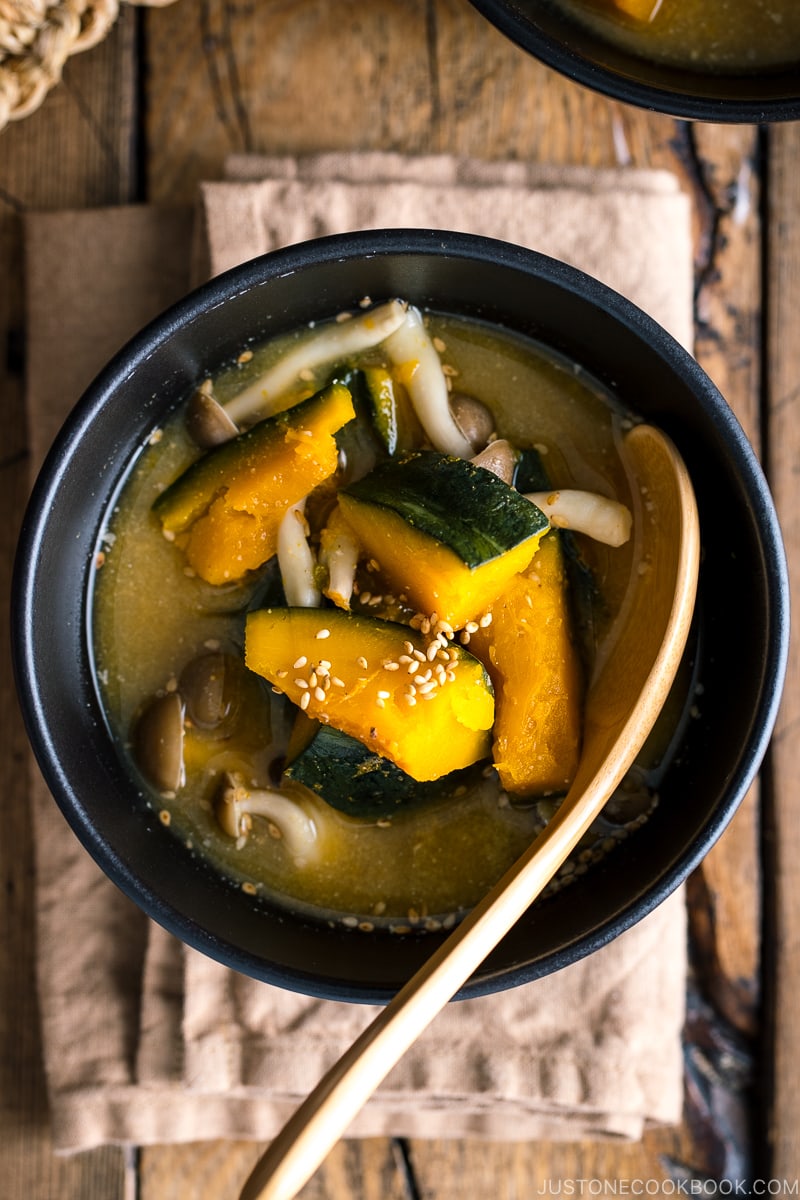 This soulful bowl of Kabocha Miso Soup is filled with sweet kabocha and umami-rich mushrooms. It makes a fantastic side to accompany rice and a few other dishes, but also hearty enough to enjoy as a standalone dish.
'I made this soup tonight with shiitake dashi, the shiitakes that I re-hydrated, and some white mushrooms (for bulk). It was so delicious and enjoyably easy. ' – Lilly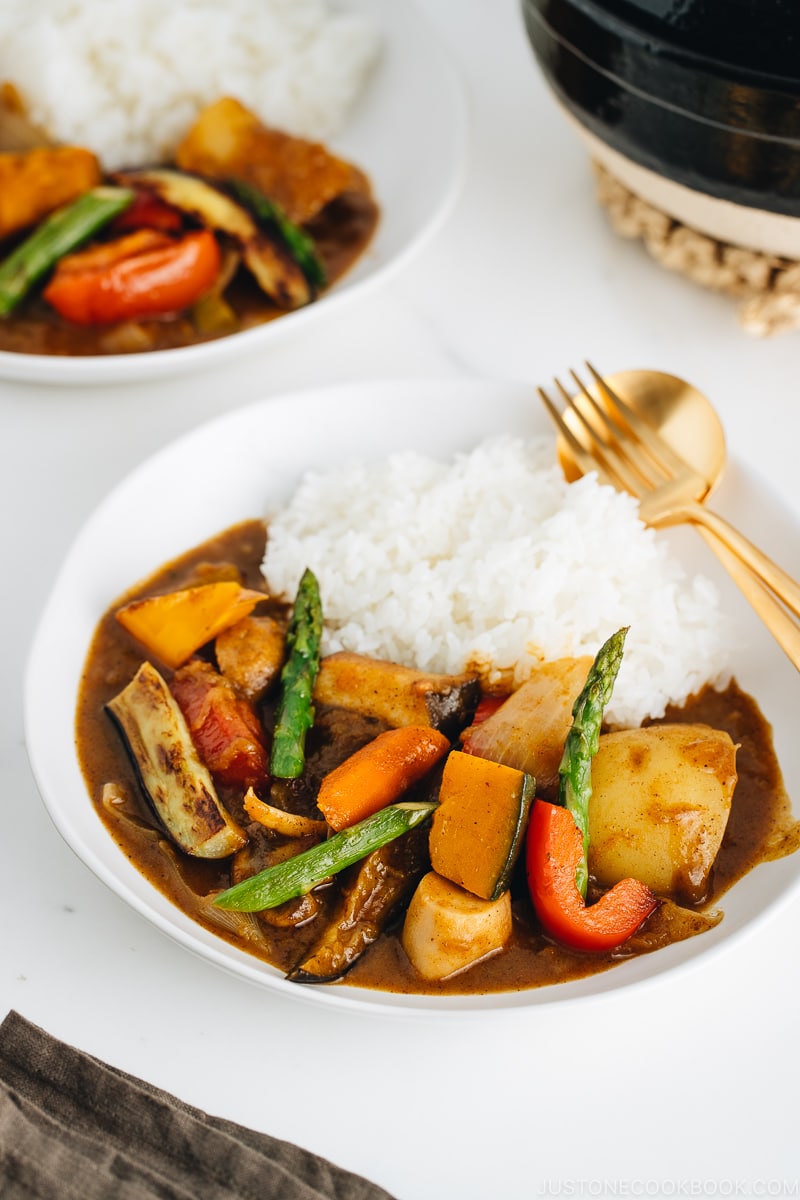 What makes this vegetarian Japanese curry exceptionally delicious is the colorful mix of vegetables, meaty mushrooms, and the homemade curry roux. Cooking the vegetables in different stages and techniques based on their density makes a difference. The result is a curry dish with optimal texture.
'Wow. Just wow. This was so yummy. I find cutting up vegetables very enjoyable and it was very pleasing seeing a variety of colours. It is also great being able to use up any amount of vegetables I have as the curry sauce works so wonderfully with anything.' – Julia VB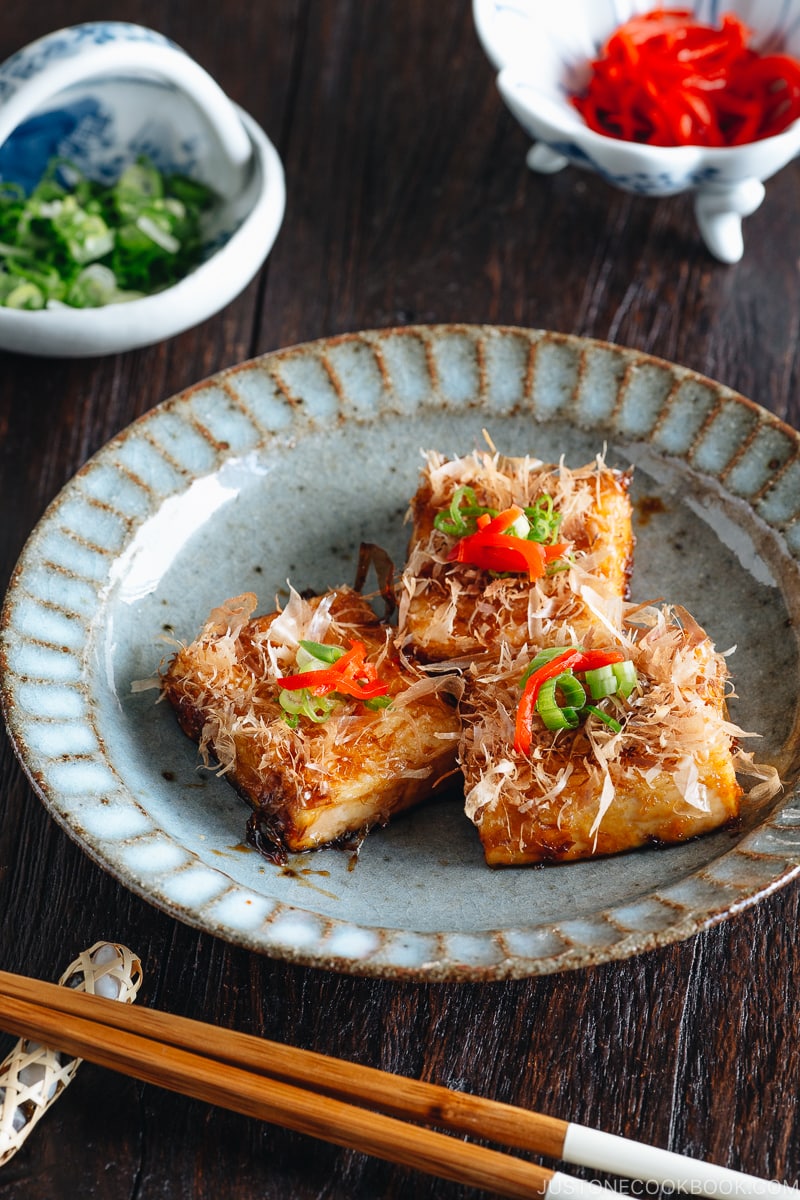 Crispy on all edges yet tender on the inside, this pan-fried Teriyaki Tofu is the bomb. The savory sauce takes the tofu to another level. Simply leave out the dried bonito flakes, and sprinkle with sesame seeds and green onions.
'This was sooooo good and very simple to prepare. Will definitely be making it again.' – Jenni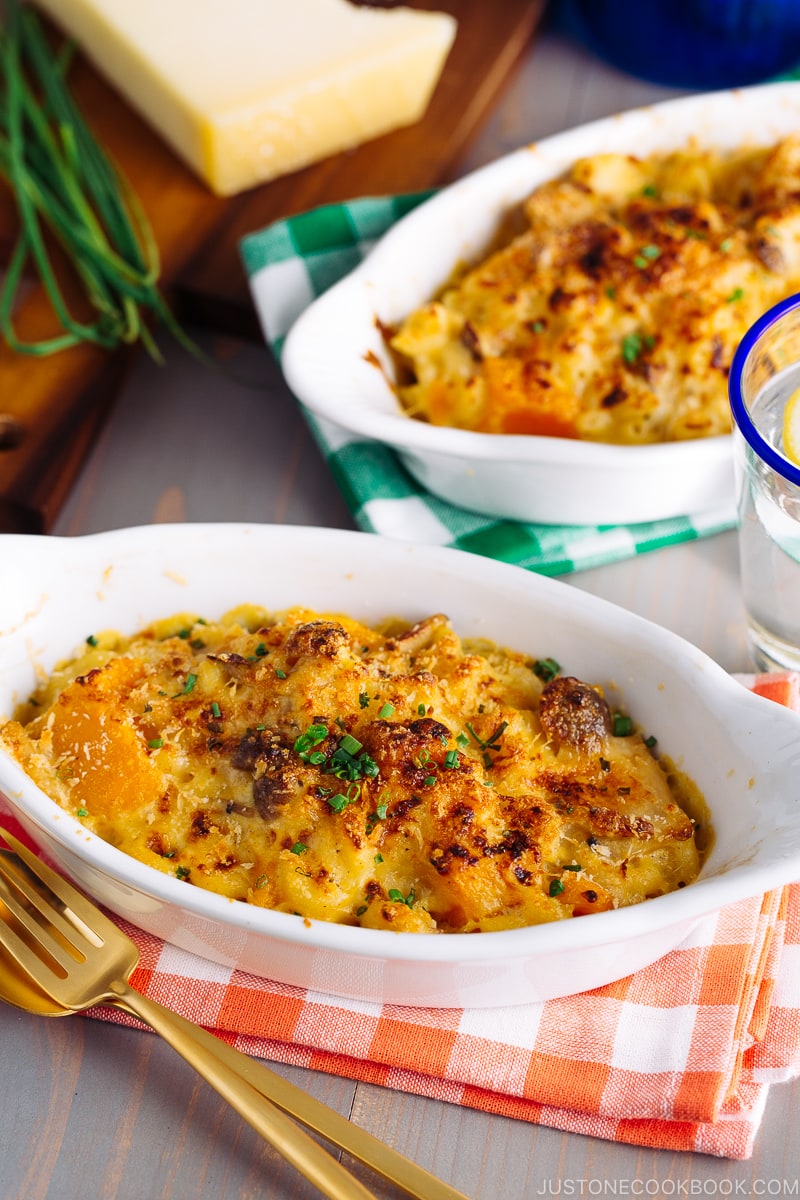 This Kabocha Gratin with a Japanese twist is the ultimate comfort food in cold weather months. Tender chunks of sweet kabocha, umami mushrooms, and macaroni in a creamy béchamel sauce, topped off with panko breadcrumbs and baked until crispy golden. Get your fork ready and dig in!
'I am a fan, it reminds me of the macaroni and ham, which is so popular here in Belgium but without the meat. The funny thing is I forgot to mix the macaroni in the end, so I decided to cook the gratin in one dish anyway, put some pasta in each individual plate and layered the cooked gratin on top. Even with my blunder, it was great.' – CÉCILE
Sweet and tangy vinegared rice tugged inside tofu pouches, Inari Sushi is easily one of the easiest sushi for anyone to make at home! They are fast and easy, and highly portable. It's our absolute favorite food for bento, picnic, or road trip!
'I just made this. The flavour is soooo amazing with shisho leaves and seaweed. It really took one of my favorite comfort foods to the next level!' – Vivi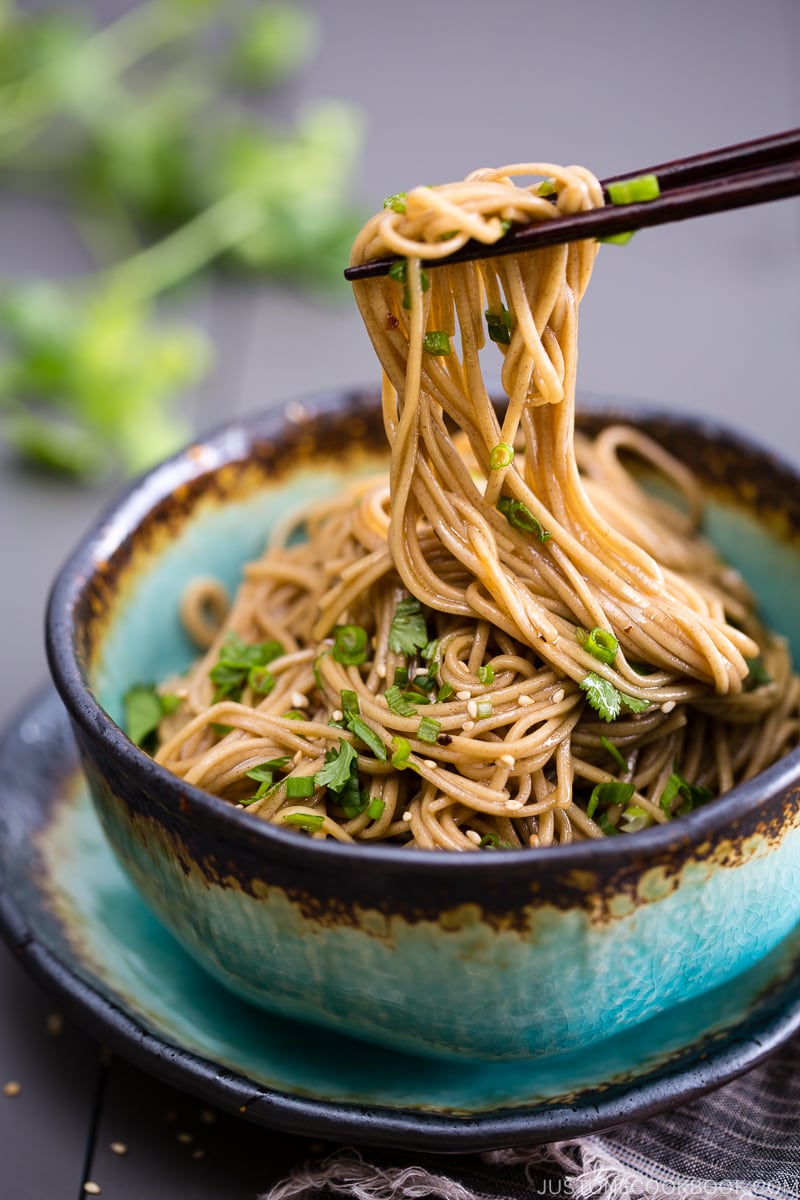 For a light and easy lunch, you'll love this Soba Noodle Salad with Honey Soy Dressing! To bulk things up, feel free to toss in some fresh greens, cucumber, kimchi, or a side of boiled egg.
'I have made this soba salad about 5 times already! Despite the heat, it's so refreshing and needless to say, it's my favorite soba salad! I have the recipe memorized! Thank you again for sharing a wonderful recipe!' – Donna
Tender green beans dressed with flavorful mashed tofu, this is a classic Japanese dish you can enjoy year-round. The tofu provides all the protein you'd need while the greens add freshness, color, and texture.
'I LOVE this recipe! It's so easy to put together and it's perfect for my vegetarian and vegan guests. I never would have thought to use tofu like this, but it is so delicious. Even people that tell me they "don't like tofu" seem to like this.' – Carolyn'
Searing the thinly sliced eggplant is key to the amazing texture for this vegan rice bowl. You will never forget the first bite when the flavorful eggplant melts in your mouth.
'This was absolutely delicious. Crunchy, salty and sweet, and it came together very quickly. Best part- it doesn't require a ton of ingredients that aren't already in the pantry. Will definitely be making this one again.' – Mae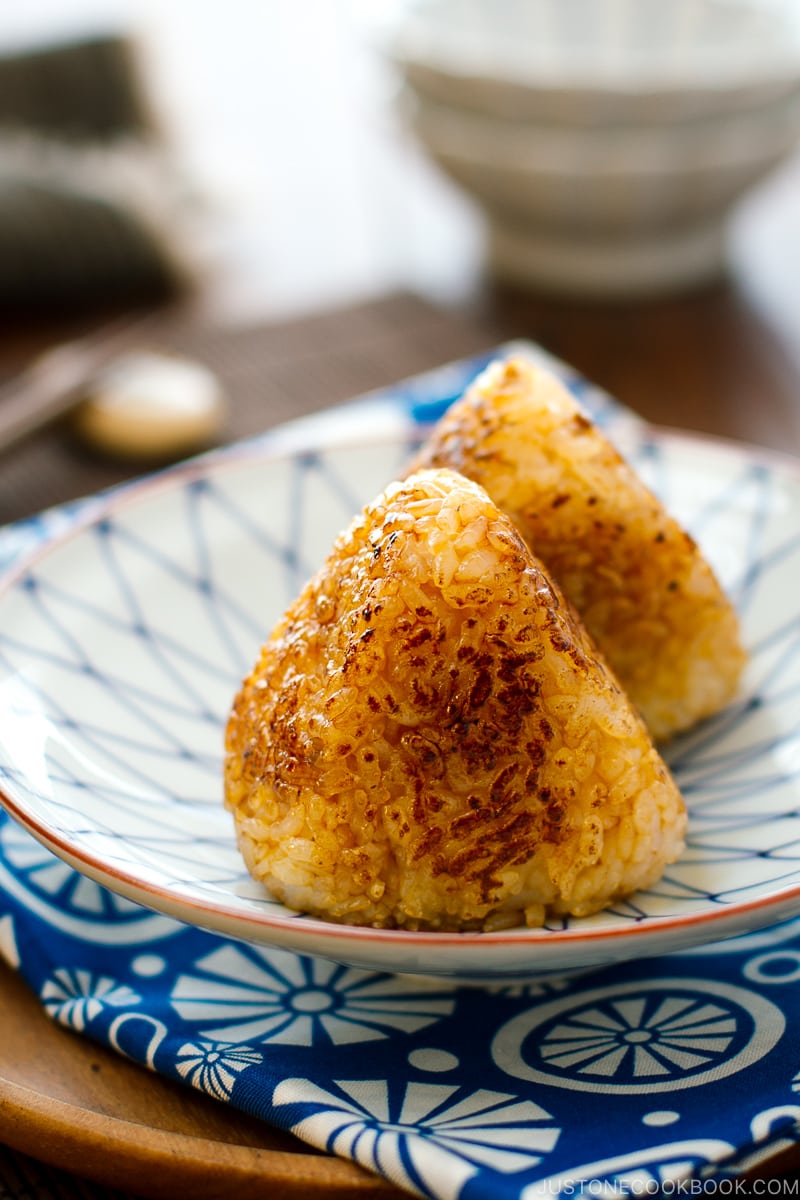 With a crispy crust and soft sticky rice on the inside, these grilled rice balls with soy sauce glaze are simply irresistible. You can make the rice balls with or without fillings. They happen to be our favorite snack to serve along with edamame on Japanese movie night!
 'I made these with brown rice and baked them over a charcoal grill. Even my Japanese wife was impressed.' – Patrick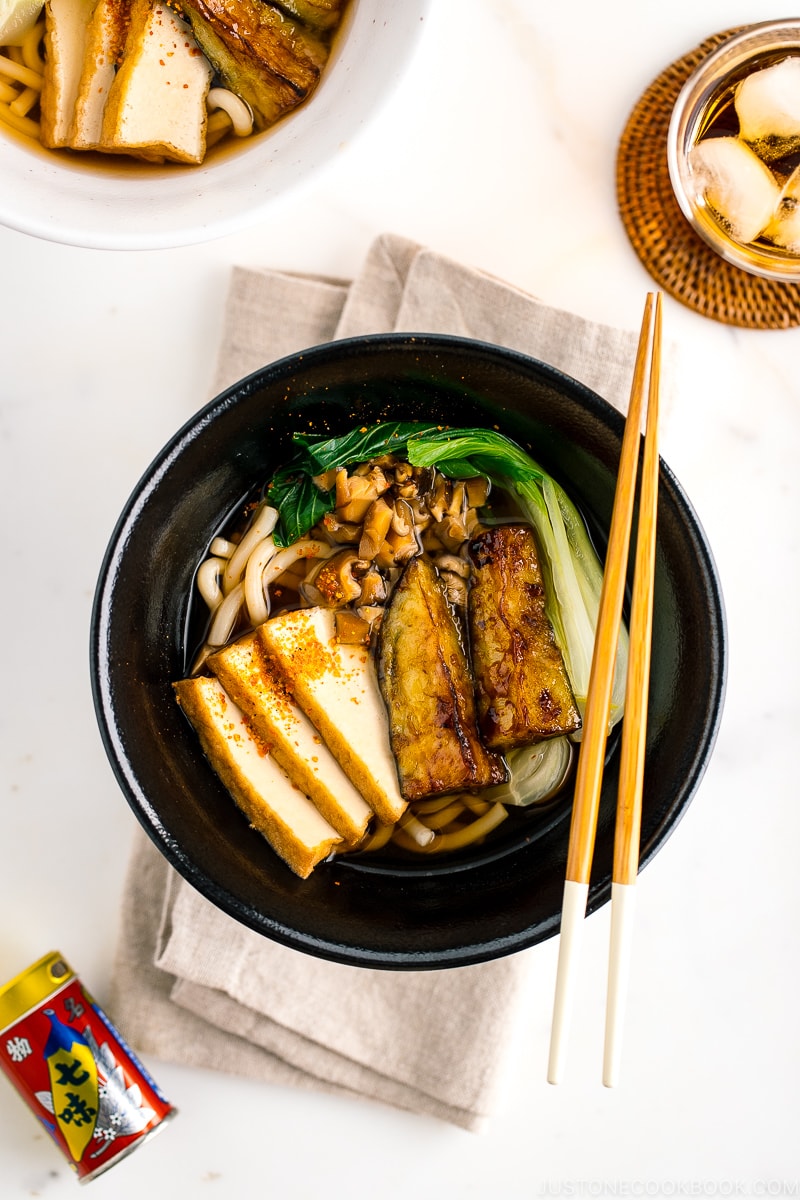 So comforting and soothing at the same time! Topped with minced mushroom, tofu, crispy fried eggplant, and bok choy, this Vegetarian Udon Noodle Soup is going to be your favorite thing to eat all year round. Feel free to customize the toppings with whatever you have on hand.
'By being a vegetarian/vegan and loving the Japanese way of cooking I will treasure this recipe.' – ADRIANO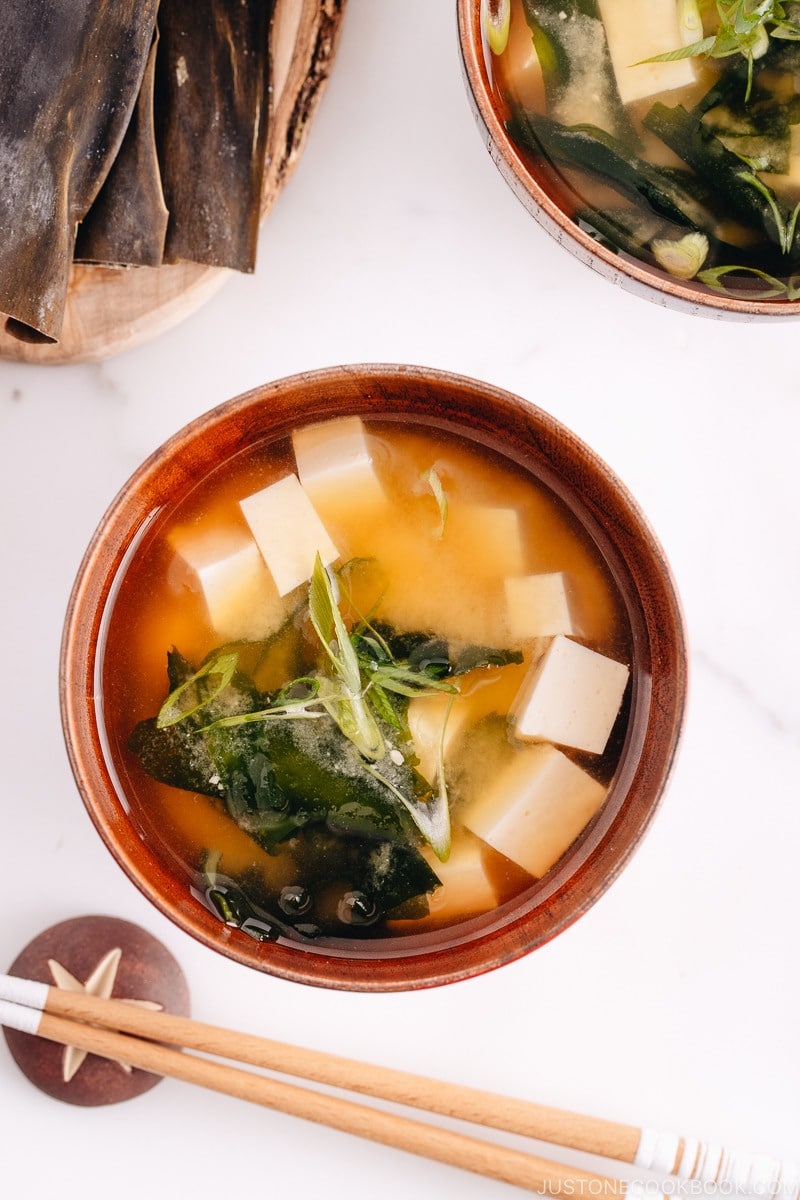 Made with kombu dashi, this authentic Japanese Vegan Miso Soup is filled with silken tofu and wakame, and packed with goodness! It's hands-down the easiest soup anyone can pull off on a busy weeknight.
'This miso soup is so good! So simple to make too! Thank you for sharing this recipe.' – Szasza

Wish to Learn More About Japanese Vegetarian & Vegan Cooking? Read Our Guide Below!